May, 11, 2011
5/11/11
1:00
PM ET
What key event significantly changed the fortunes of the Jets -- for better or worse? Give us your take and we'll give you our definitive moment on May 26.
How many defining moments can a franchise have when it has won a single championship, and that was 42 years ago?
The
New York Jets
won Super Bowl III after quarterback Joe Namath made his famous guarantee. That moment didn't make my short list because the Super Bowl didn't necessarily change the Jets' fortunes; it
was
the Jets' fortune.
The pivotal development to get the Jets to their lone championship was Namath eschewing the NFL's St. Louis Cardinals and taking a chance on the upstart AFL. Broadway Joe became the face of the league and remains a transcendent New York icon. In four decades, no other Jets player has come close to matching the impact Namath made.
Highlights have been minimal in the years since, but the New York Sack Exchange of Mark Gastineau, Joe Klecko, Marty Lyons and Abdul Salaam provided the franchise milepost of the 1980s.
The Jets made a splash when they hired Bill Parcells as general manager and head coach in 1997. His arrival sparked a Jets-Patriots rivalry that has grown into one of the NFL's best, featuring
Curtis Martin
's jump to the Jets out of loyalty to the coach.
Although he has been with the Jets only two seasons, I don't think it's premature to include head coach Rex Ryan's arrival as an option for the defining moment. The culture under Ryan is a stark contrast to the organization under predecessor Eric Mangini. The Jets have gone to back-to-back AFC Championship Games and are considered a hot destination because free agents want to play for Ryan.
Submit your vote with the SportsNation poll. If you vote Other, please give us your suggestion in the comments area below this article.
August, 25, 2010
8/25/10
3:47
PM ET
Who was the greatest NFL player to wear a specific jersey number?
SI.com decided to find out and produced a list sure to create debate.
The package, which includes plenty of vintage photos
, was published Wednesday.
SI.com's Richard Deitsch explained the process
:
A team of SI.com's finest numerologists crunched the data on jersey numbers to come up with the best performers in professional football at each number from 00 to 99. We based our decision on a combination of impact on the game, statistics and team success during the player's time wearing that number.
Here are the AFC East fellows who made the rundown from 00 to 99 ...
4.
Brett Favre
, Jets quarterback: Hey, he spent a season there.
12.
Tom Brady
, Patriots quarterback: Deitsch called this the toughest call over Terry Bradshaw. There's also Joe Namath and Roger Staubach.
13. Dan Marino, Dolphins quarterback: This selection was listed among the eight simplest to make.
23. Troy Vincent, Patriots and Bills defensive back: Next runner-up was Mel Gray.
39. Larry Csonka, Dolphins running back: Selected ahead of Hall of Famer Hugh McElhenny and Patriots fullback Sam Cunningham.
55.
Junior Seau
, Dolphins and Patriots linebacker:
Willie McGinest
and
Joey Porter
mentioned as "worthy of consideration."
57. Dwight Stephenson, Dolphins center: Thin crew when
Bart Scott
was in the all-time mix.
62. Jim Langer, Dolphins center: Name another No. 62. Quick!
67. Reggie McKenzie, Bills guard: Member of O.J. Simpson's famed Electric Company, but ahead of Dolphins guard Bob Kuechenberg?
73. John Hannah, Patriots guard: Other AFC East runners-up include Joe Klecko and Bob Baumhower.
July, 20, 2010
7/20/10
3:01
PM ET
The
New York Jets
will display a Ring of Honor inside their new stadium, and there are no surprises in their inaugural class.
The Jets announced Tuesday they will celebrate six legends: coach Weeb Ewbank, quarterback Joe Namath, receiver Don Maynard, offensive lineman Winston Hill, defensive lineman Joe Klecko and running back
Curtis Martin
.
An unveiling ceremony will take place at halftime of the Aug. 16 exhibition against the
New York Giants
.
"This organization has always had a deep appreciation for and admiration of those who have worn this team's uniform," Jets owner Woody Johnson said in a statement issued by the club. "These six men span generations of Jets football, all embodying the best of this game and what it means to truly be a Jet. With this new stadium we now have a proper way to salute those who have helped make this franchise what it is today."
The plan for future honorees involves yearly nominations but not minimum or maximum number to be added.
July, 8, 2010
7/08/10
12:00
PM ET
A weeklong look at current or former players or coaches with Hall of Fame potential in the division.
Buffalo Bills:
Steve Tasker
, special teams.
Claim to fame:
Tasker perhaps is the greatest special-teams ace in NFL history. He was a notable weapon on Buffalo's four consecutive AFC championship teams in the 1990s.
Case for enshrinement:
Tasker was so dominant in his role, the NFL changed its Pro Bowl rules to include special-teamers on rosters. He went to seven Pro Bowls, putting him in select company, and was named the MVP in 1993. He has been a semifinalist on the Hall of Fame ballot four times. The NFL Network named him the
ninth-best player -- of any position -- not in the Hall of Fame
.
Tasker blocked seven punts and made 204 special-teams tackles. He forced seven fumbles and recovered six. He returned kickoffs, punts and held on extra points and field goals. As a receiver, he caught 51 passes for 779 yards and nine touchdowns.
Case against enshrinement:
Special-teamers just don't get enshrined. Kicker Jan Stenerud is the only pure special-teamer with a bust. Legendary punter Ray Guy isn't in. No return specialist has been honored, either.
The common retort to that is one of the silliest sayings in football: Special teams are one-third of the game. Sorry, but that's not true. If each team plays a perfect defensive game and forces the opponent to go three-and-out on every possession, then special teams are needed once every four plays. And if football people truly believed special teams were that integral to the game, they would draft special teamers rather than fill out those units with offensive and defensive reserves.
Parting shot:
I'd like to see more special-teamers recognized in Canton. But unless there's a substantial change in selection philosophies, Tasker won't make it into the Hall of Fame.
Miami Dolphins:
Jake Scott, safety.
[+] Enlarge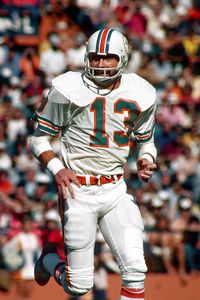 Malcolm Emmons/US PresswireMiami's Jake Scott was the MVP of Super Bowl VII.
Claim to fame:
Scott was among the greatest safeties and most dangerous punt returners of the 1970s. He was voted MVP of Super Bowl VII, when the Dolphins closed out their undefeated season.
Case for enshrinement:
Scott is one of the most overlooked players in NFL history. His career was relatively short, but it burned brightly. For five years in a row, starting with his second season, Scott went to the Pro Bowl and was named first- or second-team All-Pro.
Despite playing only nine NFL seasons, Scott recorded 49 interceptions, a total that ranked 18th all time when he retired. Hall of Fame safety Ken Houston played 14 seasons and finished with the same total. Scott still holds the Dolphins record with 35 interceptions. He added 14 more in three seasons with the
Washington Redskins
. Scott recovered 13 fumbles in his career.
He also was a slick punt returner. He holds Miami career records in returns and yardage and ranks third in average.
Case against enshrinement:
There's a stigma that comes with playing on the No-Name Defense. Only one player from that great unit, linebacker Nick Buoniconti, is in the Hall of Fame, and his cause certainly was helped by previous work with the Boston Patriots and by remaining in public view as a broadcaster.
Scott, meanwhile, became a recluse. He moved to Hawaii and for a time avoided attention at all costs. He reportedly declined the chance to be inducted into the College Football Hall of Fame because he wouldn't commit to attending the ceremony.
Also working against Scott, who never has made the cut to 15 modern-day finalists, is the dearth of safeties enshrined in Canton. Only seven have been inducted.
Parting shot:
Scott didn't play long enough to get traditional consideration. His best hope would be through the senior committee.
New England Patriots:
Adam Vinatieri
, kicker.
Claim to fame:
If Vinatieri is not the greatest clutch kicker in NFL history, then he's in a short conversation. He won the Patriots' first two Super Bowls with field goals in the final seconds.
Case for enshrinement:
Vinatieri has kicked for six Super Bowl teams, played in five Super Bowls and won four rings -- three with the Patriots and one with the
Indianapolis Colts
. He directly delivered a pair of Lombardi Trophies for the Patriots. He kicked a 48-yarder as time expired to win Super Bowl XXXVI and a 41-yarder with four seconds left to win Super Bowl XXXVIII.
In blizzard conditions at the end of the infamous Tuck Rule game, Vinatieri kicked a 45-yard field goal with 1:39 left in regulation to force overtime and then won it with a 23-yard field goal.
Vinatieri has been an All-Pro twice. He has kicked a record-tying five field goals in a postseason game twice and owns multiple playoff and Super Bowl records. He has scored the most points for a kicker (34) in Super Bowl history and converted the most field goals (seven) and extra points (13). His 177 postseason points rank first.
Case against enshrinement:
Stenerud is the only true kicker in the Hall of Fame.
Morten Andersen
and
Gary Anderson
will have to get in first, and the idea of quadrupling the number of kickers (if you consider Vinatieri the next one inducted after Andersen and Anderson) won't be an easy sell to the voters.
Vinatieri has led the NFL in scoring and field goals once and probably won't finish with attractive enough career stats. At 37 years old and showing signs of slowing down -- he played six games for the Colts last season because of hip and knee surgeries -- and he ranks 15th in scoring and 13th in field goals made. Players such as
John Carney
,
Matt Stover
and
John Kasay
have more. Vinatieri has kicked almost 100 fewer field goals than
Jason Elam
. Nobody envisions Canton when they think of those guys.
Parting shot:
Vinatieri provided two of the most indelible memories in Patriots history. As his career stands now, however, two big kicks won't overcome the circumstances of his position.
New York Jets:
Joe Klecko, defensive lineman.
[+] Enlarge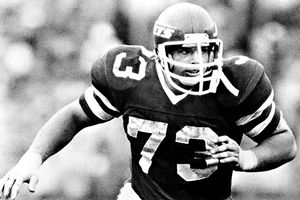 TSN/Icon SMIUnofficially, Joe Klecko recorded 20.5 sacks in 1981 as part of the New York Sack Exchange.
Claim to fame:
Klecko was a key member of the New York Sack Exchange defensive line. Many consider him the greatest Jet not in the Hall of Fame and one of the best sixth-round draft picks of all time.
Case for enshrinement:
Klecko was the first player to make the Pro Bowl at three positions. He went as a defensive end in 1981, a defensive tackle in '83 and '84 and a nose tackle in '85. To illustrate his importance, the Jets made his No. 73 the third number retired in club history after Joe Namath and Don Maynard.
Unlike the Fearsome Foursome or Purple People Eaters, the Sack Exchange doesn't have a single Hall of Fame representative. While Mark Gastineau's histrionics garnered the most attention, Klecko was the most complete player of the four. He was a dangerous pass-rusher and nasty against the run.
Klecko unofficially recorded 20.5 sacks in 1981 and notched at least one sack in 10 straight games, a franchise record.
Case against enshrinement:
What hurts Klecko is that he somehow remained relatively anonymous in New York. He was overlooked because he played thankless positions and was trumped by Gastineau's sack dances.
Klecko also played on some lousy teams. The Jets went to the playoffs only four times during his tenure (1977 through 1987). Once was in the strike-shortened 1982 season and he was hurt for the 1986 postseason.
Parting shot:
Klecko never has made the cut of 15 modern-era finalists. He might need to rely on the senior committee.
June, 26, 2010
6/26/10
9:32
AM ET
Let's have another "Speed Dial," where I call three people from my Rolodex to get their insight on a particular subject.
Today's question: After watching
John Isner and Nicolas Mahut play their epic, 11-hour Wimbledon match
, "What do you recall from the most grueling game you played in?"
Former Miami Dolphins tight end Joe Rose, who caught two touchdown passes in the epic, January 1982 overtime playoff loss to the San Diego Chargers:
"If you're ever sitting around at a sports bar and you run into somebody who was at that game, you have two hours of stuff to talk about. That was a friggin' hot night. The guys were cramping up. On that second touchdown, I got clipped going into the end zone, and I cramped up like everybody else. Of course, we weren't hydrated like the guys are today.

"I remember seeing Kellen Winslow get helped off the field, like, 20 times. It was tough, especially on their guys because they weren't used to the humidity in South Florida. The game was wide open. The numbers were crazy. It was a track meet. We were so far down, we had to throw the ball every down to catch up. We weren't a throwing team at that time.

"Emotionally afterward, the season was over. It was one of the toughest losses I've ever experienced. We thought we had the game and then the season is done. It was emotionally draining. I remember the next day being absolutely depressed."


Former New York Jets defensive lineman Joe Klecko on a 1983 game against the Pittsburgh Steelers in Shea Stadium:

"It was a knock down, drag out. It was a game they had to win, and we were hoping to win to get into the playoffs. The Steelers were a bruising team. They were the kind of team that when you woke up on Monday morning, you knew you were in a war. I remember the game being extra heavy because of who they were. We were a young team and up and coming, but we didn't really know where we were yet. This was a big test for us.

"I faced Mike Webster all game. I didn't get a break anywhere I went. I remember going into the complex for ice baths for two days. It was the toughest game I've ever been in. You don't recover for a couple weeks, and if you play a smash-mouth game two weeks in a row, it would take its toll. A game like that, it's a two- or three-week recovery."


Former Buffalo Bills receiver Andre Reed, who scored three second-half touchdowns to help overcome a 32-point deficit and eliminate the Houston Oilers in overtime in January 1993:
"Every time we played Miami down there in the heat it was grueling. I never played a game like the Chargers and the Dolphins. That game was for the ages. I'd probably have to go with the Comeback Game against Houston. It was exhausting, mentally challenging. We had to grind, coming back like that.

"Every play it was a track meet, bro. That was our offense. They used to call the St. Louis Rams the "Greatest Show on Turf." We were the "Greatest Show in Football." We were non-stop. We were trying to run people out of the stadium. We were getting run out of our own stadium that game. Jim Kelly wasn't even in that game. I sat in the training room for a little while. I probably played in more-physical games, but that game was a mental drain."
April, 18, 2010
4/18/10
12:09
PM ET
In case you overlooked it, NFL editor Sheldon Spencer delivered an impressive series in which he assembled the best teams by draft round in NFL history.
The project was considerable, and the results make for a fun read.
A breakdown of AFC East representatives underscores how important a strong draft is to winning championships. All but a handful of those players belonged to a team that was great for a long time.
Five players who made the cut played for the
Miami Dolphins
' undefeated 1972 squad and won multiple Super Bowls.
Seven more played in at least on Super Bowl for the
New England Patriots
, with three joining as free agents.
Three played in four straight Super Bowls for the
Buffalo Bills
.
Before you take a look at the list, check out Spencer's explanation of
how the draft all-stars were selected
.
First round:
Bills defensive end
Bruce Smith
, Patriots defensive end
Richard Seymour
, Chargers linebacker
Junior Seau
(Dolphins, Patriots).
Second round:
Bills running back
Thurman Thomas
(Dolphins), Dolphins center Dwight Stephenson, Dolphins defensive tackle Bob Baumhower.
Third round:
Dolphins running back Mercury Morris, 49ers receiver
Terrell Owens
(Bills), Patriots linebacker
Tedy Bruschi
.
Fourth round:
Bills receiver
Andre Reed
, Patriots cornerback
Asante Samuel
.
Fifth round:
Dolphins running back Jim Kiick, Patriots tight end
Ben Coates
, Dolphins linebacker
Zach Thomas
, Chargers safety
Rodney Harrison
(Patriots).
Sixth round:
Patriots quarterback
Tom Brady
, Jets defensive tackle Joe Klecko, Dolphins defensive end Doug Betters, Ravens outside linebacker
Adalius Thomas
(Patriots).
Seventh round plus:
Dolphins defensive tackle Manny Fernandez, Ravens linebacker
Bart Scott
(Jets).
March, 12, 2010
3/12/10
1:50
PM ET
To mark the NFL's 75th draft next month, the league has launched a neat venture to sort out the 75 greatest draft picks and
determine the all-time most valuable selection
.
NFL.com editors narrowed each team's list of candidates down to the top 10, which seems a little unfair to the organizations steeped in history. The Dallas Cowboys' 20th most impressive pick is more deserving than the Houston Texans' sixth.
[+] Enlarge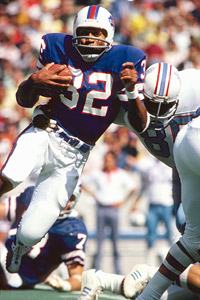 Malcolm Emmons/US PresswireO.J. Simpson is one of the best selections the Bills ever made.
I disagree with the decision to include players who didn't suit up for the teams that drafted them. For instance, tackle Leon Gray is listed for the Dolphins, kicker Gary Anderson for the Bills and punter Craig Hentrich for the Jets.
How can they be considered great draft picks if the teams that evaluated them declined to include them on their final rosters? Sounds to me like they were accidental draft picks more than savvy selections.
But if that's how they're going to do it, then I'd like to see Gary Fencik, a 10th-round pick in 1976, listed under the Dolphins.
Anyway, each team has 10 candidates fans can choose from when voting through April 18 at NFL.com. Parts of the list will be revealed on NFL.com and the NFL Network beginning April 19. The top 10 will be saved for the draft telecast.
The AFC East candidates, in alphabetical order:
Buffalo Bills:
Gary Anderson (seventh round, 1982); Ruben Brown (first round, 1995); Joe DeLamielleure (first round, 1973); Jim Kelly (first round, 1983); Reggie McKenzie (second round, 1972); Andre Reed (fourth round, 1985); O.J. Simpson (first round, 1969); Fred Smerlas (second round, 1979); Bruce Smith (first round, 1985); Thurman Thomas (second round, 1988).
Miami Dolphins:
Dick Anderson (third round, 1968); Larry Csonka (first round, 1968); Leon Gray (third round, 1973); Bob Griese (first round, 1967); Sam Madison (second round, 1997); Dan Marino (first round, 1983); Jake Scott (seventh round, 1970); Dwight Stephenson (second round, 1980); Jason Taylor (third round, 1997); Zach Thomas (fifth round, 1996).
New England Patriots:
Tom Brady (sixth round, 2000); Nick Buoniconti (13th round, 1962); John Hannah (first round, 1973); Mike Haynes (first round 1976); Lee Roy Jordan (second round, 1963); Ty Law (first round, 1995); Curtis Martin (third round, 1995); Lawyer Milloy (second round, 1996); Richard Seymour (first round, 2001); Andre Tippett (second round, 1982).
New York Jets:
Joe Fields (14th round, 1975); Mark Gastineau (1979); Craig Hentrich (eighth round, 2000); Keyshawn Johnson (first round, 1996); Joe Klecko (sixth round, 1977); Mo Lewis (third round, 1991); Joe Namath (first round, 1965); Marvin Powell (first round, 1977); John Riggins (first round, 1971); Wesley Walker (second round, 1977).
January, 1, 2010
1/01/10
9:42
AM ET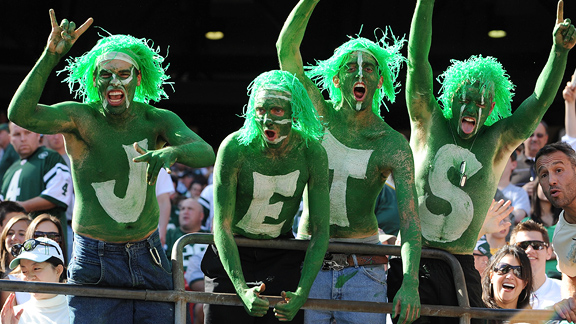 Al Bello/Getty ImagesJets fans haven't had a Super Bowl win to celebrate in 40 years, but they can take some solace in knowing the Jets have performed well in do-or-die games to get into the playoffs.
New York Jets
fans have disappointment in their DNA.
Perhaps it stands for Did Not Advance.
The Jets have maneuvered into the unlikely position of controlling their own destiny Sunday night against the
Cincinnati Bengals
at the Meadowlands.
It's essentially a postseason play-in game for the Jets. If they win, then they're in. If they don't, their season is over.
Jets fans are predisposed to heartbreak. The Jets have done little since Joe Namath wagged his index finger as he trotted off the Orange Bowl field after winning Super Bowl III.
In a feature story that ran this week, ESPN.com senior writer Greg Garber ventured to explain
the miserable existence Jets fans have endured
over the past four decades.
"Realistically, the glass is half full," legendary Jets defensive lineman Joe Klecko said of Sunday night's game. "But I can understand the [fans'] fatalism with all the bad cards they were dealt through this thing."
But I have some encouraging news for Jets fans.
When it comes to do-or-die games, they actually have won more than they've lost.
ESPN Stats & Information researchers Mark Simon and Mark Kelly compiled the list of finales the Jets had to win to get into the playoffs. The Jets have gone 5-3.
Dec. 20, 1981: Jets 28, Packers 3
Not only did the Jets put themselves into the playoffs by routing the Packers in the season's final game (the defense sacked Packers quarterback Lynn Dickey nine times), but they also helped the Giants clinch a playoff berth by eliminating the Packers.
[+] Enlarge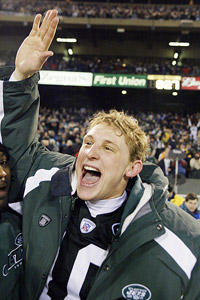 Al Bello/Getty ImagesChad Pennington celebrated winning the AFC East after tossing 4 TDs in a Dec. 2002 win over the Packers.
Dec. 22, 1991: Jets 23, Dolphins 20
The final game of the season was do or die for a wild-card spot. The Dolphins took the lead late in the fourth quarter on a fourth-down touchdown pass from
Dan Marino
to
Ferrell Edmunds
, but the Jets tied the game on a Raul Allegre 44-yard field goal as regulation time expired. The Jets won in sudden death. Allegre, in his first game with the Jets, made a 30-yard field goal.
Jan. 2, 1993: Oilers 24, Jets 0
The Jets were 8-5 but lost their last three games of the season, including an embarrassing defeat against the Oilers in the regular-season finale. A win in this Sunday night game (best known for Buddy Ryan punching Kevin Gilbride) would've put the Jets in the playoffs, but the loss knocked them out. This was Bruce Coslet's last game as Jets head coach.
Dec. 21, 1997: Lions 13, Jets 10
Jets fans remember this game well for a gamble by Bill Parcells, who asked Leon Johnson to throw a halfback option. Johnson's pass was intercepted in the end zone by Bryant Westbrook midway through the fourth quarter. The Lions held on for the win, keeping the Jets from a playoff spot. Barry Sanders cleared 2,000 yards rushing for the season earlier in a victory that clinched a playoff spot for the Lions.
Dec. 24, 2000: Ravens 34, Jets 20
The Jets were 9-4 and needed one victory to make the playoffs, but they lost three straight, including a deplorable loss to the Lions in Week 15. The Jets blew an early 14-0 lead to the eventual Super Bowl champs in the season finale and lost 34-20. Jermaine Lewis, returning after the tragic death of his son, led the way with two punt returns for touchdowns. Chris McAlister returned a Vinny Testaverde interception 98 yards for a score to put the Ravens ahead for good. Al Groh left the Jets after one season.
Jan. 6, 2002: Jets 24, Raiders 22
One week after John Hall missed a kick to cost the Jets a game, he nailed a 53-yard field goal with 59 seconds remaining to win at Oakland and put the Jets into the postseason. A loss would've eliminated them. The Raiders would beat the Jets in the playoffs a week later.
Dec. 29, 2002: Jets 42, Packers 17
The Jets needed some help in the 1 p.m. games and got it when the Patriots rallied late to beat the Dolphins in overtime. That put the Jets in a win-and-in scenario at 4 p.m. The game was a Jets romp.
Chad Pennington
threw four touchdown passes, and the defense shut down Packers quarterback
Brett Favre
. The win made the Jets AFC East champs.
Dec. 31, 2006: Jets 23, Raiders 3
To make the playoffs, the Jets had to win at Miami in Week 16, then beat the Raiders in the season finale. The Jets managed both under rookie head coach Eric Mangini. With the loss, the Raiders clinched the No. 1 pick in the NFL draft. Pennington was 22 for 30 for 157 yards and a touchdown in the win.
April, 1, 2009
4/01/09
4:48
PM ET
Posted by ESPN.com's Tim Graham
ESPN Stats & Information rated 13,808 draft picks to assemble a field of the NFL's top 32 draft classes for a tournament to determine the best of all-time. Fans will have a chance to vote starting Thursday.
Each team is represented and has been seeded No. 1 through No. 32 based on the best class in franchise history.
The classes were chosen using a formula that awarded points to each player for various individual and teams accomplishments.
1 point: Super Bowl loss
2 points: Offensive rookie of the year
2 points: Defensive rookie of the year
2 points: Pro Bowl
3 points: Super Bowl victory
3 points: second-team All-Pro
4 points: first-team All-Pro
6 points: AP Defensive Player of the Year
6 points: AP Offensive Player of the Year
8 points: AP Most Valuable Player
15 points: Hall of Fame
The Buffalo Bills earned the third seed because of their 1985 draft class, which included defensive end Bruce Smith, receiver Andre Reed and quarterback Frank Reich.
The Miami Dolphins are the No. 8 seed behind their 1983 draft class that featured quarterback Dan Marino, punter Reggie Roby and receiver Mark Clayton.
The New England Patriots are a fine example of how the formula isn't perfect. They're seeded 19th because some of their greatest players still are active and, therefore, ineligible for the Hall of Fame. Four of their top six classes, according to ESPN Stats and Information, have been drafted in the past 14 years. They are the best overall since 2000, when Bill Belichick came aboard.
But the formula rates the Patriots' best draft class as 1973, the year they drafted one of their few Hall of Famers, guard John Hannah, and running back Sam Cunningham.
The New York Jets are seeded No. 25 based on their 1977 draft class. The selected offensive lineman Marvin Powell, receiver Wesley Walker and defensive tackle Joe Klecko.
ESPN Insider subscribers can see detailed breakdowns and find out which classes received honorable mentions for each club.
February, 16, 2009
2/16/09
9:45
AM ET
Posted by ESPN.com's Tim Graham
After two weeks of polling, the ballots have been counted to determine your picks for the Mount Rushmore of each AFC East team.
To play off ESPN's quest to determine the best sports Mount Rushmore from the 50 states, Washington, D.C., and Puerto Rico, I asked for your thoughts on the four legends who best symbolize the Buffalo Bills, Miami Dolphins, New England Patriots and New York Jets.
Readers mentioned 18 Jets, creating the most eclectic menu of the four clubs. Fireman Ed was nominated. So were former public relations director Frank Ramos and, despite one wildly erratic season, Brett Favre.
But the votes piled up for an unmistakable foursome of quarterback Joe Namath, running back Curtis Martin, receiver Wayne Chrebet and defensive lineman Joe Klecko.
There was a huge drop from Klecko to the fifth-place candidate, old-school receiver Don Maynard.
I was surprised to see Maynard not make the list. He's one of only two Hall of Fame players known primarily as Jets. I included him in the Jets Mount Rushmore I set forth in the original post.
But I do realize Chrebet's popularity and agree he's a symbolic figure in Jets history. It's tough to argue with him being etched into the Jets' Mount Rushmore.
Here is a breakdown of the top 10:
Joe Namath
Curtis Martin
Wayne Chrebet
Joe Klecko
Don Maynard
Weeb Ewbank
Dennis Byrd
Mark Gastineau
Mo Lewis
Brett Favre
Take a look at a few comments from those who voted in the AFC East mailbag and in the comments section of the original post:
The Kid in Staten Island, N.Y., writes: JETS Mount Rushmore: Broadway Joe Namath- that guarantee will live in infamy Mark Gastineau- 22 sacks in a season stood for 17 years until Strahan broke it. Had a swagger. Part of the NY Sack Exchange Wayne Chrebet- the little man that could. Hofstra kid came from nowhere, and was a fan favorite because of his heart. The "Rudy" of the NY Jets Dennis Byrd- temporarily paralyzed, still a role model for Jets fans in the way he perservered.
Mike from Parts Unknown writes: Does it have to be players only? More so than Namath himself I'd say Weeb Ewbank is the most important figure for the Jets of that era. Namath won one with him, but not without. Joe Klecko is a must. He represents an era my father dubs "the weakest golden years in all of pro sports." The NY sack exchange almost brought the Jets back to the Super Bowl twice, but ultimately failed. Curtis Martin represents the best in all of us, and as a Jets fan he is a symbol of our fandom: full of hope but ultimately just a good guy who came up short in his one real chance. Has there ever been a better RB that so many just don't care about outside of his team's fanbase? Finally I believe Chad Pennington needs to be on the Mount Rushmore of the Jets. He was the best QB in franchise history and though he never won the big game like Namath, he simply was so identifiable for us. Joe Willy is like that much older sibling you think of as a second parent. Sure they are your sibling, but you just don't think of them in that way. They are also likely you wish you could be more like. Broadway Joe is such a larger than life figure even today, but the team never lived up to his legacy and as Jets fans I don't think any of us really identify with him very well at this point, though we wish we could.
Mark in Palm Coast, Fla., writes: Hey Tim, There are more than a few names that come to mind here, but if I had to go with just four they would be as follows: 1: Joe Namath (Goes without saying) 2: Wayne Chrebet (3rd down specialist) 3: Leon Hess (Is there any owner who cared more for their team) 4: Fireman Ed (The Ultimate 12th Man) Honarable mention should also be given to Dennis Byrd for his inspiration, and perhaps Curtis Martin.
Chris in Hartsdale, N.Y., writes: Though I think Joe Namath is incredibly overrated I guess he belongs on the Jets Mt. Rushmore. The other 3: -Curtis Martin. Not the most talented RB in Jets history(that was Freeman Mcneil but he was always hurt) but the best overall. -Al Toon. Would have been a Hall of Famer had his career not been cut short. -Joe Klecko. Should be in the Hall of Fame but may never make it. If he was a Steeler and had a lesser career than he had they would have enshrined him 15 years ago.
delfiorio writes: Nothing symbolizes the Jets quite like Ken O'Brien falling on the ball as 4 pass rushers converge on him.
wOoDfOoTbAlL writes: Joe Klecko, Weeb, Curtis Martin, Don Maynard.....forget about Namath he cursed our franchise when he made a deal with the devil 40 years ago. were never going to win another super bowl
February, 3, 2009
2/03/09
12:30
PM ET
Posted by ESPN.com's Tim Graham
Eric Mangini named his newborn son after Brett Favre. At least Mangini didn't set it in stone.
When carving a permanent homage, you better make sure you choose the correct folks because forever is a mighty long time. That's why I have a feeling New York Jets fans will be wiser in selecting four representatives for a Mount Rushmore-style tribute.

ESPN is running an ambitious campaign to determine the sports Mount Rushmore for all 50 states, Washington, D.C., and Puerto Rico.
After 10,000 submissions from ESPN.com readers, each Rushmore has been determined. The list will be narrowed down to the top five before the ultimate quartet is chosen. You can see the list and vote here.
To play off that theme, I'm asking visitors to the AFC East blog to name their favorite team's Mount Rushmore.
We're looking for the four legends you believe best symbolize the Jets.
While I wouldn't name a child after any of them, my choices would be Joe Namath, Don Maynard, Curtis Martin and Joe Klecko.
But this isn't about what I think. I want to know who you would choose. Leave your suggestions in the comments section below or drop a note into my AFC East mailbag.
I'll tabulate the results and deliver your Jets Mount Rushmore on Feb. 16, the scheduled date when ESPN.com will announce the top five finalists in the big poll.
November, 11, 2008
11/11/08
2:00
PM ET
Posted by ESPN.com's Tim Graham
FOXBOROUGH, Mass. -- The New York Jets have asserted themselves as one of the NFL's best big-play defenses.
A substantial reason for that is their inclination to force fumbles while sacking quarterbacks, a trend the New England Patriots are concerned about heading into Thursday night's game in Gillette Stadium.
By the Numbers: Strip Sacks
Team
Sacks
Fumbles Forced
Fumbles Recovered
Pittsburgh
34
5
3
N.Y. Jets

31
8
6
N.Y. Giants

30
5
0
Philadelphia

28
5
4
Dallas
26
3
2
Minnesota
25
6
4
Tennessee
24
4
2
Seattle
22
7
3
Arizona
21
7
6
Oakland
21
4
2
Miami
21
3
2
Denver
20
2
2
Baltimore
19
2
0
Carolina
18
5
1
San Diego

18
3
1
Jacksonville
18
3
1
St. Louis

18
1
0
Detroit
17
5
3
Atlanta
17
4
2
Houston
17
3
2
Chicago
17
1
1
New England

16
1
1
Green Bay

16
1
0
Washington
15
0
0
Tampa Bay

15
0
0
New Orleans

14
3
2
Buffalo
14
3
3
Cleveland
14
1
1
San Francisco

14
1
0
Indianapolis
12
6
2
Cincinnati
9
2
1
Kansas City

6
0
0
"Their defense is playing very well," Patriots guard Logan Mankins told me Monday. "They're getting after the quarterback better, causing a lot of turnovers, a lot of strip sacks. It's going to be a challenge."
The Jets have jarred quarterbacks into fumbling eight times and have recovered six. Both figures lead the NFL, according to data compiled by Puneet Nanda of ESPN's Stats and Information department.
The Jets have amassed 31 sacks, meaning they force a fumble on 26 percent of them.
The Pittsburgh Steelers lead the NFL with 34 sacks, but they've forced only five fumbles. They've recovered three.
"We do a lot of work in that area," Jets coach Eric Mangini said. "That's something that I learned when I was first with the Jets. We spent a lot of time on what's called ball disruption. I know [Patriots defensive line coach Pepper Johnson] does it a
lot up there.
"We focus on individual players, and you look at different areas you can exploit, maybe the way they hold the ball. It's maybe where the quarterback holds the ball and scramble patterns and giving the guys the awareness of 'If you do get an opportunity to get a sack or be the second guy in a pile, where you should pressure the ball, what would be the most vulnerable point?' "
Shaun Ellis leads the Jets with seven sacks. He's one of 15 Jets with at least a half-sack.
The Jets had 29 sacks after eight games, a franchise record. Not bad considering this is the team that brought us the New York Sack Exchange. The celebrated crew of Joe Klecko, Mark Gastineau and Marty Lyons had 27 sacks at the midpoint of 1981.
The Patriots have been susceptible. Matt Cassel has been sacked 29 times, behind J.T. O'Sullivan of the San Francisco 49ers.
Cassel, however, has been sacked just once over the past two games. The Buffalo Bills did force him to fumble. The Bills recovered.
Overall, Cassel has done a decent job protecting the ball. He has fumbled three times while being sacked, losing two.
The Jets have recorded at least two sacks in all but one of their games. They've recorded four or more sacks in six games.
In their past six games, the Jets have forced 15 fumbles and recovered nine. They recovered all three fumbles they caused in Sunday's victory over the St. Louis Rams, returning one for a touchdown.
"I was really happy the last game because of the types of fumbles that we were able to generate, where guys went in and really ripped the ball out," Mangini said. "Sometimes those fumbles are a function of how you hit the player as opposed to a conscious effort of finding the ball and getting it out."
August, 2, 2008
8/02/08
10:58
AM ET
Posted by ESPN.com's Tim Graham
Joe DeLamielleure is considered a football student of the highest order.
He estimates he has visited the Pro Football Hall of Fame a dozen times before he was inducted in 2003. Conversations with him are sprinkled with obscure trivia questions and name dropping that demonstrates a humbling knowledge.
He also is a vocal advocate for retired players in need of financial assistance, waging war against NFL Players Association executive director Gene Upshaw.
DeLamielleure has passionate opinions and backs them up.
So people ought to listen when the sensational pulling guard for the Buffalo Bills and Cleveland Browns declares Andre Tippett was a better outside linebacker than Lawrence Taylor.
Tippett, who recorded 100 sacks for the New England Patriots, will be inducted into the Pro Football Hall of Fame Saturday.
"I thought he was better all around," DeLamielleure told ESPN.com by phone from Canton. "A lot of guys thought he was better.
"He played the run better than Lawrence Taylor. They never asked Lawrence Taylor to put his hand down on the ground. Lawrence Taylor was just a standup rusher.
"I always said if Tippett would have put his hand down on the ground every down, he probably would have been one of the top rushing defensive ends to ever play."
DeLamielleure was a member of the Electric Company, the gang who blocked for O.J. Simpson. Their coach was Jim Ringo, another Hall of Famer.
DeLamielleure said Ringo, a position coach for four Hall of Fame linemen, shared his belief Tippett was the best.
"Think of how many sacks Tippett had, and he always had a tight end on his side," DeLamielleure said. "He played the strong side. Lawrence Taylor was a weak-side linebacker."
Not surprisingly, DeLamielleure had a couple other names to push for induction. The first was his football role model, former Miami Dolphins guard Bob Kuechenberg, a finalist each of the past five years.
"John Hannah and I both looked at him when we were younger and said 'That's the guy we want to be like,' and we're in the Hall of Fame and he isn't," DeLamielleure said. "Strange."
Another oversight in DeLamielleure's mind is former New York Jets defensive lineman Joe Klecko.
"He made the Pro Bowl as a nose guard, as a defensive tackle and as a defensive end," DeLamielleure said.
"Think about that."