January, 22, 2012
1/22/12
1:13
PM ET
FOXBOROUGH, Mass. -- New England Patriots offensive coordinator and new Penn State head coach Bill O'Brien released a statement on the
passing of coaching legend
Joe Paterno.
Here is O'Brien's statement, courtesy of the Patriots:
"It is with great sadness that I am compelled to deliver this message of condolence and tribute to a great man, husband, father and someone who is more than just a coach, Joe Paterno. First, on behalf of Penn State Football, we offer our sincerest condolences to the Paterno family for their loss. We also offer our condolences to the Penn State community and, in particular, to those who wore the Penn State colors, our Nittany Lion football players and alumni. Today they lost a great man, coach, mentor and, in many cases, a father figure, and we extend our deepest sympathies. The Penn State Football program is one of college football's iconic programs because it was led by an icon in the coaching profession in Joe Paterno. There are no words to express my respect for him as a man and as a coach. To be following in his footsteps at Penn State is an honor. Our families, our football program, our university and all of college football have suffered a great loss, and we will be eternally grateful for Coach Paterno's immeasurable contributions."
O'Brien will be Penn State's next head coach when the Patriots' season is over. New England will host the Baltimore Ravens in the AFC Championship Game at 3 p.m. E.T.
March, 22, 2011
3/22/11
12:43
PM ET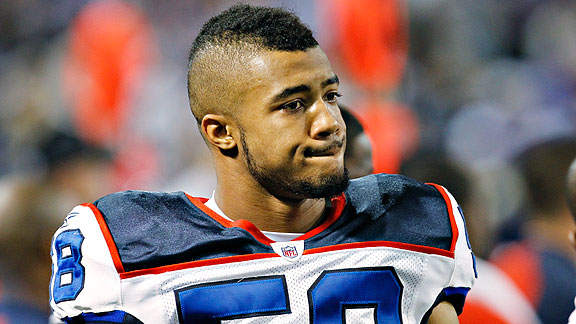 AP Photo/Ann HeisenfeltBills head coach Chan Gailey says 2009 first-round choice Aaron Maybin has "got to get his own fire going."
NEW ORLEANS --
Buffalo Bills
head coach Chan Gailey appeared to gather himself when talking about 2009 first-round draft choice
Aaron Maybin
.
Gailey sat up a little straighter in his chair, cleared his throat, narrowed his eyes and spoke a little more sharply.
He's a straight shooter. And you could almost see Gailey inserting verbal bullets into the revolver.
Gailey delivered strong words Tuesday morning at the NFL coaches' media breakfast, a traditional event during the annual owners meeting. Gailey declared it was put-up-or-shut-up time for Maybin, an alleged edge rusher who "hasn't shown it in practice or in games."
Maybin knows what's expected of him, Gailey insisted. The kid just hasn't done it.
To be clear, I asked whether the failure came down to Maybin not trying hard enough or simply not being good enough.
"I think he wants to. I think he wants to," Gailey said, leaving pauses between each sentence. "He works at it. I'm glad you [asked that]. I don't want anybody to think he doesn't work at it."
Another pause.
So that must mean he's not good enough, I deduced aloud.
Gailey didn't blink.
"I don't want anybody to think he doesn't work at it," Gailey replied with a raised-brow expression that confirmed the unspoken point had found its bull's-eye.
Gailey's frustration is obvious when it comes to Maybin. Bills fans aren't too pleased either.
Maybin, the 11th overall selection in 2009, has started one NFL game. He was selected to chase quarterbacks, yet has zero sacks. Other prospects still on the draft board when the Bills took Maybin included
Brian Orakpo
and
Clay Matthews
.
The Bills were enamored with Maybin's one good season at Penn State. He didn't become Joe Paterno's starter at left defensive end until the third game but recorded 12 sacks and 20 tackles for losses. Maybin was named an All-American and was one of three finalists for the Bednarik Award.
"We all know his speed," Gailey said. "He tried to get bigger as the season went on to handle the run better. But it's more than just getting bigger."
Maybin entered the draft with two years of eligibility left. His game hasn't translated.
Since Maybin entered the NFL, 797 players have recorded at least a half-sack. Of that group, 132 weren't drafted.
"I don't think I've lit very many fires," Gailey said. "We might provide a spark, but he's got to get his own fire going.
"He's got to understand where he is. I always talk to guys about 'This is where we are. This is where we want to be, and this is how we get there.' Individually, guys have got to do that. 'This is where I am. This is where I want to be. Now, how do I get there?'
"We tell him all the time how to get there. He's got to do it. Talking's over. You've got to go get it done."
Maybin was a healthy scratch fives times last year, watching in street clothes. The Bills credited him with four solo tackles. So he must have competed on special teams, right? No, he had zero tackles there.
Bills general manager Buddy Nix said at the NFL scouting combine last month the Bills won't cut Maybin.
Nix insisted they will find a way to use him somehow, somewhere
.
What Maybin might have going for him is he has considerable room to mature. He turns 23 in two weeks. His progress was stunted by missing his entire rookie training camp, eventually
signing a five-year deal worth as much as $25 million
. He quickly needed to absorb Dick Jauron's 4-3 defensive system and then had to switch to 3-4 outside linebacker last year under new defensive coordinator George Edwards.
"Right now all it is is potential because he hasn't shown it in practice or in games," Gailey said. "He's got to understand about pass-rush. He's got to understand about leverage and changing direction and not running past the quarterback and all those little things that go into a great pass-rusher's feel for beating an offensive tackle and getting to the passer. He's got to be a better special-teams player. He's got to be better versus the run."
That pretty much covers it.
November, 18, 2009
11/18/09
5:06
PM ET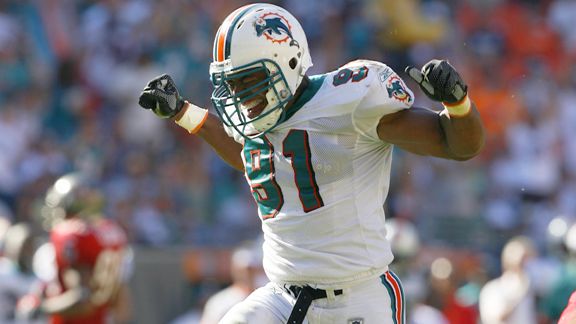 AP Photo/Hans DerykCameron Wake's professional football journey has taken him from Canada to Miami.
This is not your first time. ... You've done this before. ... It's just a different-colored uniform and a little warmer. ... Get to the quarterback.
The words scrolled through
Cameron Wake
's mind in an endless loop on a steamy August night. He was about to play his first NFL preseason game, something he'd waited five years to experience. He didn't want to blow it.
Wake was a dynamic linebacker at Penn State, a captain. But when he left campus he might as well have fallen off the face of the earth. He wasn't drafted, and although he signed with the
New York Giants
, they cut him before training camp began.
So he floated. For years. He took a job shuffling mortgage papers, another as a personal trainer. A pro tryout got mixed in here or there. He assumed a new name.
Wake finally landed in the Canadian Football League and
created enough of a ruckus to get another shot
at the NFL.
He signed with the
Miami Dolphins
, and that's what brings him to that seminal moment in August at Land Shark Stadium. It's only the preseason, but he feels the moment and wants to make sure he experiences many more.
"I don't know if it's fear, but it's a feeling of wanting to make sure you're as ready as you can be when the moment comes," Wake said. "If you're not nervous when that situation comes up, then something's wrong with you. But that situation has happened many, many times.
"When I went up to Canada, every game was a chance. Coming down here [to the Dolphins] and auditioning for the various teams, this was my chance. Getting on the field was my chance. The first preseason game, 'Don't blow it.' It's something I've definitely come across more than once."
Wake has showed he belongs in the NFL. He was deactivated the first three games and gets the scrap snaps left over from veteran outside linebackers
Joey Porter
,
Jason Taylor
,
Matt Roth
and
Charlie Anderson
.
But Wake has managed to get to the quarterback a few times anyway. He enters Thursday night's game against the
Carolina Panthers
with 4.5 sacks, tied for second on the team and one behind Taylor.
Symbolic of Wake's journey, he traveled as far as a professional football geographically could -- about 2,800 miles from Vancouver to Miami -- to get his big break. He spent the past two seasons as a 4-3 defensive end for the BC Lions. He collected 39 sacks and was named the CFL's best defensive player each year.
"It's amazing," Wake said. "I changed positions, changed leagues, changed climates, changed coaches, changed countries. I'm literally in the opposite corner of the continent. It has been a major journey."
Wake, however, won't ever admit to feeling like he has arrived.
"Once you get a little bit, you want a lot more," Wake said. "When I signed, that was fine. I was part of the Dolphins. But that wasn't enough. I wanted to make the team. I made the team. That wasn't enough. I wanted to play. When I played and got a couple sacks, that's not enough.
"I need more. Give me more. I want more responsibility. I want more everything. I know it's not going to happen overnight, but I'm hungry."
Wake will turn 28 in January. Brigham Young grads and even Chris Weinke think that's pretty old for someone with one season of NFL experience.
"

It's amazing. I changed positions, changed leagues, changed climates, changed coaches, changed countries. I'm literally in the opposite corner of the continent. It has been a major journey.

"

-- Dolphins linebacker Cameron Wake
The long road to quasi-rookie status has given Wake perspective.
He calls himself "a sponge," trying to absorb as much as he can from the wisdom that surrounds him. He played for Joe Paterno (under the name Derek Wake), but for the past nine months he has been inundated by highly concentrated football lessons from the likes of football operations boss Bill Parcells, head coach Tony Sparano, defensive coordinator Paul Pasqualoni, the NFL's active sacks leader (Taylor) and last season's AFC sacks leader (Porter).
"Sitting in the locker room, you can see all the guys who were big names coming out of college," Wake said. "No disrespect to the easy way to the NFL, but I had to sit on the couch. Being cut from football and having to go off somewhere and having to work your way back in, you appreciate every day moreso than maybe somebody who hasn't had to go through that."
Many Dolfans would like to see Wake get more chances to produce in games. Porter hasn't been getting it done. Porter has been bothered by a hamstring problem and was benched for Sunday's victory over the
Tampa Bay Buccaneers
.
Wake had a sack against the Buccaneers, giving him one in consecutive games.
But his signature NFL performance thus far came in his second regular-season game. He recorded 2.5 sacks and forced a fumble against the
Buffalo Bills
in Week 4.
He abused Bills right tackle
Kirk Chambers
. Wake used speed and power to record his first NFL sack. He sprinted deep into the Bills' backfield, made a U-turn to shake off Chambers and charged at
Trent Edwards
from behind, jarring the ball loose.
Wake slowly climbed to his feet, stomping as he rose. He clenched his fists, and in a sudden motion arched his back, threw his arms outward and yelled at the sky.
"It's amazing to go from the couch to a game ball," Wake said. "It's hard to put into words. That journey, to get to that point, it's just the beginning."
May, 4, 2009
5/04/09
1:23
PM ET
ESPN's Dana Jacobson talks to Bills rookie defensive end Aaron Maybin about his rookie camp experience. Be sure to watch until the end for Maybin's Joe Paterno impersonation.
In case you missed it, we featured Maybin's path to the NFL last Friday.
May, 1, 2009
5/01/09
1:40
PM ET
| | |
| --- | --- |
| | |
| | Ned Dishman/Getty Images |
| | The Buffalo Bills hope rookie defensive end Aaron Maybin can provide a serious pass-rush threat that was missing in 2008. |
Posted by ESPN.com's Tim Graham
ORCHARD PARK, N.Y. -- The scene was typical for a teenage boy and his father.
Together in a van on a long drive, the father began to preach a little. In this particular case, he really was a preacher. With nowhere to escape, his son stared out the window and looked for anything amid the passing landscape to distract him from the lecture.
Only this wasn't some mundane interlude. The teen wasn't ignoring the speech or rolling his eyes. He was absorbing every word. The tears welled.
"It was a very pivotal time for me in my life," Buffalo Bills rookie defensive end Aaron Maybin said of the intimate talk he had four years ago with his father.
| | |
| --- | --- |
| | |
| | NFL.com Video |
| | Aaron Maybin talks about what he will bring to the table as a member of the Buffalo Bills. |
Maybin was 17 and on his way to Penn State for a Nike camp. College football recruiters from across the country had begun to notice his athletic ability. He had the size, the speed, the explosiveness that made them slobber. He was on the verge of landing a full scholarship to practically any college in the East.
"Everything was really starting to come together," he said.
Michael Maybin reminded Aaron of what they had endured, shared some painful regrets. Aaron's mother died while delivering his little sister. He was 6.
Michael Maybin was the 12th of 14 children and the son of a steelworker. Nobody in the family earned a college degree. He attended Penn State for a while but didn't finish. That kept him from being the provider he wanted to be.
"Before we both knew it we both were looking out the window, trying not to make eye contact with each other because we were both crying," Aaron Maybin said. "He spent a lot of time relaying how badly he wanted to see his son be successful.
"That was a time when he allowed himself to be vulnerable and express to me how much he really loved me. We expressed to each other what our feelings were. We both put it out on the table how important it was for us to see that moment happen for us the right way."
One day after his father's seminal speech, Aaron Maybin was incandescent at that Nike camp. Penn State coach Joe Paterno offered him a scholarship that opened the door for all sorts of glorious possibilities.
The tears returned Saturday. Aaron Maybin's dream of being in the NFL came true.
The Bills drafted him 11th overall. He left Penn State a year early, but he's looking at a contract that will pay him around $4 million a year and about $14 million in guarantees.
"This whole thing is mind-blowing," said Michael Maybin, a fire inspector and associate minister at Transformation Church of Jesus Christ in Baltimore. "He went into a press conference at his school as Aaron Maybin, a defensive end heading to Penn State and walked out a corporation."
April, 29, 2009
4/29/09
3:51
PM ET
Posted by ESPN.com's Tim Graham
ORCHARD PARK, N.Y. -- Former Penn State and NFL star LaVar Arrington was knocking around the Buffalo Bills' facility Sunday with his protégé, Aaron Maybin.
Arrington has been mentoring him for years. Maybin was in middle school when he met the three-time Pro Bowler, so one could understand why Arrington was wearing a Bills T-shirt a day after they made Maybin the 11th overall pick in the draft.
| | |
| --- | --- |
| | |
| | AP Photo/John Ulan |
| | Cameron Wake collected 31 sacks during two seasons with the CFL's BC Lions. |
I'll have more on Maybin and his inner circle later this week, but I also had the opportunity to ask Arrington about another Penn State pass-rusher who's entering the AFC East this year.
The Miami Dolphins in January signed Canadian Football League sackmaster Cameron Wake, who played under the name Derek Wake at Penn State.
Wake arrived at Happy Valley with comparison's to Arrington, who turned pro the year Wake got there. Wake, however, left Penn State undrafted. He got into banking, then personal training and had to reinvent himself with the BC Lions, recording 31 sacks in two seasons.
The Dolphins signed him to a four-year, $5 million deal, the richest contract ever given to a CFL import.
"That's a heck of a story," Arrington said. "He's like Cinderella Man. That's one of those stories where you've got to say 'Man, if you don't believe that dreams can come true, then he's one of those you have to look at.'
"He has to say 'If I didn't go that extra mile, if I didn't work a little bit harder, I actually cheated myself out of possibly realizing my dream.' That personifies what he represents."
Arrington remains blown away by Wake's athleticism, but pointed to a lack of dedication that often drew Joe Paterno's ire.
"He went there and was athletic as all get-out," Arrington said. "There never was a question about his athletic ability. It was a question about his desire and his intensity.
"What happened from that time when he left Penn State to when he started playing in Canada, I don't know. But it wasn't the same man. It's not the same guy. That's pretty awesome that he's getting an opportunity to play in the NFL after all that."
February, 4, 2009
2/04/09
10:57
AM ET
| | |
| --- | --- |
| | |
| | AP Photo/John Ulan |
| | After proving himself in the CFL, Cameron Wake (91) hopes to capitalize on an opportunity with the Miami Dolphins. |
He had been somebody, the best linebacker from a place that cranks them out with such assembly line efficiency it's known as Linebacker U. He was a captain. He was important.
Then -- poof -- Derek Wake vanished. No NFL team drafted the freakish athlete who both thrilled and irritated Penn State coach Joe Paterno.
The
New York Giants
signed Wake as a rookie free agent in 2005. They cut him in June, having seen enough not to bother with a look-see at training camp.
And that, apparently, was that. Wake disappeared into an office here, a fitness center there. He wasn't famous anymore. The Big Man on Campus was shuffling bank papers, and they weren't even his. Bank advisors don't receive signing bonuses, and when he quit that job to become a personal trainer, the move didn't make the transaction wires.
One season came and went. Then another.
Wake slipped out of football's consciousness and into everyman oblivion. He stopped being somebody.
Yet he was somewhere, turning himself into somebody else.
"Everybody has their past," Wake said last week from his parents' home in suburban Washington, D.C. "I guess mine was a little more unorthodox than most."
Derek Wake had humbly gone about his life since the Giants axed him. But defensive end
Cameron Wake
popped up in the Canadian Football League in 2007 with about as much subtlety as a karate chop to the throat.
Cameron Wake was a whipsaw pass rusher with an insatiable craving for quarterbacks. Helpless tackles would've preferred trying to split an atom with a spork to blocking him. His sack totals for the BC Lions were obnoxious: 16 as a rookie, 23 last season. The CFL honored him as its best defensive player both seasons.
NFL scouts broke out their passports to spy Cameron Wake in person. He was a marvel to behold. But when his agent, Paul Sheehy, contacted teams to gauge their interest, some had no idea who Cameron Wake was. He didn't turn up in their scouting files.
Derek Cameron Wake had reinvented himself, all right. The former NFL washout, now playing under his middle name, became a hot commodity. Seventeen NFL clubs showed interest, and each of the eight teams that worked him out offered a contract.
The
Miami Dolphins
outbid the
Indianapolis Colts
,
Buffalo Bills
and
Denver Broncos
with the richest contract in CFL-to-NFL history, a four-year deal potentially worth almost $5 million with nearly $1 million in guarantees.
He turned 27 last week and hasn't participated in an NFL training camp.
"From the first day I played football to signing the letter of intent to play at Penn State to sitting on the couch to signing a multimillion dollar deal," Wake said, "it's a crazy, crazy road. My head's still spinning."