AFC East:

Joey Clinkscales
May, 19, 2012
5/19/12
10:00
AM ET
By
ESPN.com staff
| ESPN.com
Buffalo Bills
The Bills signed second-round pick Cordy Glenn, an offensive tackle from Georgia; the move leaves
only one of the team's nine draft picks
-- third-round receiver T.J. Graham -- unsigned, Chris Brown reported.
Miami Dolphins
Lydon Murtha
told the Sun-Sentinel
that he's not ready to cede the starting right tackle job to second-round draft pick Jonathan Martin, the former Stanford left tackle whom the team aims to switch to the right side to challenge Murtha.
On the day he picked up the 2011 MVP from the Miami Dolphins Foundation, quarterback Matt Moore sang the praises of the West Coast offense new coordinator Mike Sherman is installing. And of comments that he's not starter material,
Moore said Friday
, "When I hear it over and over 100 times it gets a little annoying. I just try to win ballgames and do my best. They'll talk about me when they need to talk about me."
In his second turn as a guest host on her nationally syndicated talk show, running back
Reggie Bush "mesmerized" Kelly Ripa
on Friday. After Bush presented Ripa with a customized jersey -- his number, her name on the back -- during Friday's "LIVE! with Kelly" taping, Ripa gushed, "I will worship this jersey. I will wear this to bed every night ... think about our time together."
New England Patriots
The Patriots were just
doing their due diligence
in bringing tight end Dallas Clark, late of the Indianapolis Colts, in for a workout, writes Mike Reiss for ESPNBoston.com. The team already has three tight ends, one of whom -- Daniel Fells -- it signed in March, when Clark was on the market.
Former Patriots linebacker Ted Johnson said the recent death of Junior Seau caused him to reflect on his own post-concussion struggles after his 2005 retirement. "If that can happen to him,"
Johnson told a conference on pediatric concussions
, "I've got to be more diligent in how I live my life."
Boston.com columnist Tony Massarotti
wonders whether the Patriots are trying to keep Wes Welker
, or drive him away.
New York Jets
The Tebow Takeover -- Tim taking over the starting quarterback's job from Mark Sanchez, that is --
is happening
, Jeff Darlington writes, with the ongoing Phase 2 a charm offensive that's winning over veteran Jets like Bart Scott and Darrell Revis.
The team made
a pair of moves
in its scouting department, ESPNNewYork.com reports, promoting Midwest scout Jeff Bauer to director of college scouting; he replaces Joey Clinkscales, who left for the Oakland Raiders. Kevin Kelly, meanwhile, was named an area scout.
May, 9, 2012
5/09/12
8:00
AM ET
Here are the most interesting stories Wednesday morning in the AFC East:
Morning take: Buffalo has a shot with recent improvements and an easy schedule. I'm picking the Bills to make a solid jump and contend for a wild card.
Morning take: The names out there don't fit what Miami is looking for. Braylon Edwards and Plaxico Burress have talent, but Donald Driver would be a better fit if he is released by the Green Bay Packers.
Morning take: Fells is a former teammate of Tebow. Opinions of Tebow as a starting quarterback are all over the place, even among players. But no one denies he's a tough football player.
Former Jets vice president of college scouting Joey Clinckscales reportedly is leaving the team for the Oakland Raiders.
Morning take: This is no surprise and appears to be a good move up. But I did find it strange recently when Clinkscales said he expects to stay in New York when this was in the works for a while.
January, 10, 2012
1/10/12
5:15
PM ET
Here are the latest happenings Tuesday evening in the AFC East:
April, 8, 2011
4/08/11
1:55
PM ET
When Rex Ryan took over as
New York Jets
head coach, his general attitude toward pass-rusher
Vernon Gholston
was bullish.
Ryan thought if he couldn't develop Gholston, then nobody could.
After three NFL seasons and two under Ryan, the Jets released Gholston in March. The sixth overall draft choice in 2008 never got it. He started five games, was a healthy scratch three times and recorded zero sacks.
[+] Enlarge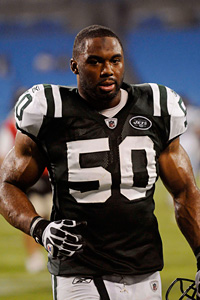 Sam Sharpe/US PresswireVernon Gholston was the No. 6 overall pick in the 2008 NFL draft.
At the NFL owners meeting in New Orleans a couple weeks ago, I had a chance to speak to Ryan for the first time since the Jets cut Gholston.
Ryan was little defensive about not being able to mold Gholston into an effective player.
Ryan claimed circumstances got in the way. Gholston went from 4-3 defensive end at Ohio State to 3-4 outside linebacker with the Jets under previous head coach Eric Mangini to 3-4 defensive end last year under Ryan.
The Jets also added
Trevor Pryce
during the season, an acquisition Ryan said hurt Gholston's snap count.
"I think Vernon improved," Ryan said. "Last year, I thought he gained strides. Unfortunately, I never knew this when we picked up Trevor and he played well for us, but that took a little away from Vernon. We had
Shaun Ellis
, so it was kind of hard to get [Gholston] more reps.
"But the guy is an excellent teammate. He did what was asked and he got better."
Even so, the Jets dumped him. Ryan spent a lot of time talking up Gholston to reporters and expressing optimism he would become a productive defender. Given that, I asked Ryan if he failed when it came to Gholston.
"Well, then I failed as far as the numbers go," Ryan said. "But I thought he got better, though. We'll see what happens to him. He's not done playing.
"I think I've had a long list of guys I've developed in my coaching career. Some guys develop faster than others. But I'll put how I coach up against anybody in this league when it comes to defense and technique."
Gholston will go down as one of the biggest draft busts in Jets history and a rare miss in recent years. The pick hurts even more because pass rushing is one of the Jets' biggest weaknesses.
Mangini was head coach and had influence when the Jets drafted Gholston. He's gone now, but general manager Mike Tannenbaum and vice president of college scouting Joey Clinkscales remain in place.
"I think Vernon still has the chance to have a productive NFL career," Tannenbaum said in New Orleans. "Obviously, he didn't play to the level of the sixth pick in the draft, but he's a great kid. His career is far from over.
"We'll have to look at our scouting process and have to see what we can learn from that experience."
March, 31, 2011
3/31/11
12:00
PM ET
»
NFC Draft Watch
:
East
|
West
|
North
|
South
»
AFC
:
East
|
West
|
North
|
South
Each Thursday leading up to the NFL draft (April 28-30), the ESPN.com NFL blog network will take a division-by-division look at key aspects of the draft. Today's topic: decision-makers.

Buffalo Bills
This will be the second draft for general manager Buddy Nix, assistant general manager Doug Whaley and head coach Chan Gailey. Vice president of college scouting Tom Modrak is back for his 11th draft. Bills founder Ralph Wilson has been known to get involved on draft day, but Gailey recently said he hasn't seen the Hall of Fame owner meddle. "He is the boss," Gailey said. "He has all influence, every bit of influence. He says 'Take this guy,' we take him. But he's smart enough not to do that. He hired people to do a job. He lets them do their job. He's letting us do our job. That's what I've seen."

Miami Dolphins
For the first time since general manager Jeff Ireland joined the club in 2008, he will run the show without Bill Parcells watching over his shoulder. Parcells stepped away from the Dolphins a few days before the 2010 season opener, leaving his hand-picked GM at the controls. Head coach Tony Sparano also would appear to have a bigger voice with his contract extension. Dolphins owner Stephen Ross made the move to make amends after an embarrassing flirtation with Stanford coach Jim Harbaugh.

New England Patriots
Bill Belichick is entering his 12th draft with New England. He remains in control of every personnel move and hasn't missed without Scott Pioli, who departed for the
Kansas City Chiefs
in 2009. Belichick receives help from senior football adviser Floyd Reese and director of player personnel Nick Caserio. The Patriots' draft room must be a sight to behold. On the first two days of last year's draft, they made a series of trades in which they acquired 10 picks (including a 2011 second-rounder) with an average value of the 69th pick and peddled eight picks with an average value of the 85th pick. So these minds somehow accumulated more picks and higher in the order.

New York Jets
General manager Mike Tannenbaum and head coach Rex Ryan enter their third draft together. Top college scout Joey Clinkscales is highly respected in the business, but Ryan has considerable say on whom the team selects, especially when it comes to defensive players. Tannenbaum isn't afraid to make moves on the fly, executing several trades to move up and select key players: quarterback
Mark Sanchez
, running back
Shonn Greene
, cornerback
Darrelle Revis
and linebacker
David Harris
.
April, 28, 2010
4/28/10
4:53
PM ET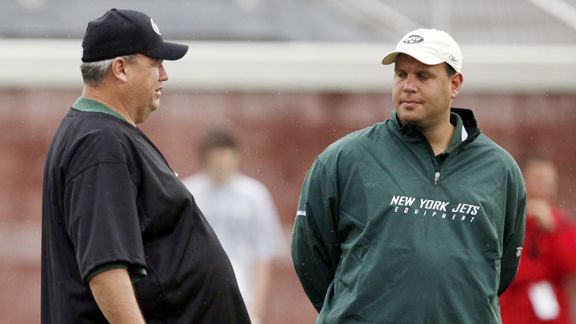 William Perlman/US PresswireMike Tannenbaum, right, has gained a reputation as a wheeler and dealer and is constantly working to improve New York's roster.
Why do I get the feeling that if Mrs. Tannenbaum sent her little Mike off to school with his packed lunch, he rarely ate whatever she made?
By the time the lunch bell rang, he would've traded his bologna for a PB&J, his pretzel sticks for a fruit cup and offered recess services for a pudding to be named later.
"Our needs don't call for tapioca at this time, but we can revisit when chocolate becomes available and keep Jell-O as a contingency," I can imagine him saying during those formative years in Needham, Mass.
Mike Tannenbaum seems born to make his trades. As general manager of the
New York Jets
, he has gained a reputation as the consummate wheeler-dealer, unafraid to pull the trigger on any move that might improve his roster.
"I applaud him," former
Green Bay Packers
vice president Ron Wolf said, "because he's at least willing to put his nuts on the line."
Wolf knows Tannenbaum through mutual friend Bill Parcells. Tannenbaum considers both mentors and has invited Wolf to visit with the Jets' scouting department at the team facility in Florham Park, N.J.
"Everybody there's got to be proud of what he's doing," Wolf said. "They're a viable team."
A substantial reason for the Jets' outlook is Tannenbaum's maverick approach to building the team.
Any time is a fine time to make a trade in Tannenbaum's world.
He'll do it at the draft, trading up to snag cornerback
Darrelle Revis
, linebacker
David Harris
, tight end
Dustin Keller
quarterback
Mark Sanchez
and running back
Shonn Greene
.
He'll do it after training camp starts, bringing
Brett Favre
aboard in August. He'll do it during the season, adding
Braylon Edwards
in October. He'll do it as a component of free agency, taking gambles on cornerback
Antonio Cromartie
and receiver
Santonio Holmes
in the spring.
Makes no difference to Tannenbaum.
"Opportunities come, and you just don't know when they're going to come along," Tannenbaum said. "We just take our sheet and say, 'Here are our needs. Here's the trade possibilities here, the restricted free agents here, the guys that got cut, and here are the UFAs that we can't touch. What's best for the Jets?
"That's our charge. That's our obligation. I love it. I draw everything from it and, hopefully, we take those opportunities."
Tannenbaum carries on like he's running a fantasy football team, and by the looks of the Jets' roster, that might not be too far removed from reality. He also has added highly decorated running back
LaDainian Tomlinson
and pass-rusher
Jason Taylor
through free agency in a bid to win the Super Bowl this season.
"Anything worth fighting for is going to require some risk," said Jets senior personnel executive Terry Bradway, who preceded Tannenbaum as GM. "Expectations are high.
"We feel like we've done a good job putting this team together. But it won't stop. Nobody's going to be fooled by getting to the AFC Championship game and think that we're OK."
The Jets were supposed to be handcuffed by the "final eight" plan, a mechanism put in place for the uncapped season to prevent teams that went deep into the playoffs from loading up rosters. Teams that reached the second round of the playoffs essentially had to lose an unrestricted free agent before they could sign one.
Taylor was the only acquisition that fell under that category. He joined the Jets after they lost kicker
Jay Feely
. The Jets collected the other players by working the phones and hammering out deals the old-fashioned way.
As the Jets did with Edwards last year, they found more risk-reward players who were available for less than market value. As a result, Cromartie and Holmes were added to the roster for a fifth-round pick this year and a third-round pick in 2011.
"You can play it right down the middle and swing nice and easy, or you can take a shot and swing hard," Bradway said. "But all the risks are calculated. In some cases, there's a risk-reward that we're aware of before we make a decision.
"People might look at it as fantasy football, but what really happens is a tremendous amount of research that goes into all these decisions. Mike is really good at gathering all that information, getting all the people pulled in the right direction and making the decision."
Tannenbaum surprised many last week by not making a splashy maneuver through the first three rounds of the draft.
But he made headlines Saturday, when the Jets cut perennial Pro Bowl guard
Alan Faneca
and dealt running back
Leon Washington
, a Pro Bowl kick returner two seasons ago, to the
Seattle Seahawks
.
"There's a lot of ways to improve your football team," Bradway said, "and I think what he has done, with his vision, is to work at every day and see if something makes sense. There's a lot of scenarios we talk about that never come about, but it's very stimulating conversation."
One prominent opposing team official contacted for this story declined to be interviewed, but before hanging up the phone stressed Tannenbaum shouldn't be lauded as some sort of mastermind visionary behind the Jets' success.
The official, while expressing deep respect for Tannenbaum as an organizational manager, claimed more credit should be given to head coaches Eric Mangini (now with the
Cleveland Browns
) and Rex Ryan and chief college scout Joey Clinkscales. The official lauded them for pushing Tannenbaum to pursue the players that make up the team's core.
"Mike is willing to be aggressive, and he deserves credit for that," the official said, "but somebody has to point him. He's not a talent evaluator."
Even so, Tannenbaum's intrepidness and faith in the support staff with which he has surrounded himself allows the Jets to make moves other teams seem to shy away from.
It's not like the Jets had exclusive negotiating rights on Favre, Edwards, Holmes or Cromartie. Other front offices had the opportunity to make similar -- or even better -- deals, but chose not to.
"If you like the player, go get the player," Wolf said. "It seems pretty simple between the two of us talking about it, but a lot of people don't do that.
"Why not take a shot? If you think the guy is good, why not take a shot? What's the risk here? The only risk is the guy's not good. If you go out and get four guys and only two of them play, shoot, that's two more than another team has. Even one out of four isn't bad."
April, 14, 2010
4/14/10
1:00
PM ET
»
NFC decision-makers
:
East
|
West
|
North
|
South
»
AFC
:
East
|
West
|
North
|
South
»
Draft Watch
:
Biggest needs
(2/17) |
Busts/gems
(2/24) |
Schemes, themes
(3/3) |
Recent history
(3/10) |
Needs revisited
(3/17) |
Under-the-radar needs
(3/26) |
History in that spot
(3/31) |
Draft approach
(4/7) |
Decision-makers
(4/14) |
Dream scenario/Plan B
(4/21)
Each Wednesday leading up to the NFL draft (April 22-24), the ESPN.com blog network will take a division-by-division look at key aspects of the draft. Today's topic: The decision-makers.

Buffalo Bills
Several key members of the Bills' front office will be in unfamiliar roles for the draft. Rookie general manager Buddy Nix has been a consigliere for decades, but he has never overseen a draft. Assistant general manager Doug Whaley will be in Buffalo's war room for the first time after handling pro personnel for the
Pittsburgh Steelers
. Chan Gailey hasn't gone into a draft as the head coach for 11 years. The most prominent holdover is vice president of college scouting Tom Modrak. The Bills fired pro personnel chief John Guy after last season.

Miami Dolphins
This will be the third Dolphins draft for football operations boss Bill Parcells, general manager Jeff Ireland and head coach Tony Sparano. There's little doubt whose voice is most authoritative in the command center. Parcells handpicked Ireland and Sparano. Each is beholden to him. But that doesn't mean they're "yes" men. One of the qualities Parcells values most from his support staff is the ability to proffer a dissenting opinion. With that in mind, it's interesting Miami's director of college scouting is Chris Grier, son of former Patriots and Texans executive Bobby Grier. Parcells eventually left the Patriots after a disagreement with Bobby Grier about drafting receiver Terry Glenn. Parcells didn't want Glenn. Grier did. Patriots owner Robert Kraft sided with Grier, instigating Parcells' infamous "buy the groceries" lament.

New England Patriots
Patriots overlord Bill Belichick is entering his second draft without right-hand man Scott Pioli, who is now running the show in Kansas City. Belichick manages every personnel move within the organization. He receives help from senior football adviser Floyd Reese (the former
Tennessee Titans
general manager) and director of player personnel Nick Caserio, but Belichick has the first, second and final say. We've already noted Kraft reserves the right to get involved. But he won't go against a coach who has brought him three Lombardi trophies.

New York Jets
Parcells protégé Mike Tannenbaum is entering his fifth draft as general manager and his second with Rex Ryan. The opinionated coach has considerable say on whom the team selects, especially when it comes to defensive players. Tannenbaum isn't afraid to make moves on the fly, executing several trades to move up and select key players: quarterback
Mark Sanchez
, running back
Shonn Greene
, tight end
Dustin Keller
, cornerback
Darrelle Revis
and linebacker
David Harris
. Tannenbaum and Ryan lean on top college scout Joey Clinkscales, who interviewed to be Dolphins general manager before Ireland got the gig.
March, 24, 2010
3/24/10
12:01
PM ET
ORLANDO, Fla. -- I wonder if the New England Patriots sent the NFL a thank-you note for breaking up the draft into three days.
On April 22, the first round will take place in prime time and stand alone, the next step in the evolution of the NFL draft as an event. The first round is special, and the league wanted to treat it as such by separating it from the rest of the process.
"We think moving it to prime time on Thursday night is just going to expose it to a much wider audience," NFL commissioner Roger Goodell said Wednesday at the annual owners meetings. "We think it's going to be a terrific thing for our fans. We're excited about it."
The new format also should invigorate trade talk before the second round begins April 23 because general managers and coaches will have several hours to review their updated draft boards and plot their next maneuver.
The Patriots, the only club with three second-round picks, will be awaiting calls.
As ESPNBoston.com's Mike Reiss points out, the
three-day draft has improved the Patriots' leverage
.
"I'm sure there will be some interest in those picks," Belichick said Tuesday during a coaches media breakfast at the NFL owners meetings. "I can't imagine [otherwise] because that's usually the way it is, when you have multiple picks after the draft just stopped at a point and you've restarted."
The New York Jets wound up with Iowa running back Shonn Greene last year because they had all night to contemplate it. Last year's draft ended after two rounds, and Greene still was available.
Jets coach Rex Ryan, vice president of college scouting Joey Clinkscales, senior personnel executive Terry Bradway and general manager Mike Tannebaum debated their next move and decided to trade up, snagging Greene with the first pick of the second day.
"I think the emotion dies down and you sleep on it," Jets general manager Mike Tannenbaum told Reiss. "We decided we'd make one call to Detroit because of the value he had on our board, and if the price was right, we would go ahead and do it."
Belichick is interested to see how the new format will stimulate interest and creativity.
"I don't know whether that will happen or not," Belichick said. "I think it's certainly a possibility because historically that's been the way it's gone. To move up you have to give up something, and it's a question of whether there are teams that want to do that.
"I've been sitting there before thinking, 'If we could just get anything for this -- a case of beer, a gift certificate -- we'd gladly trade this pick.' But there are no takers. You just never know how that's going to go."
April, 18, 2009
4/18/09
8:45
AM ET
Posted by ESPN.com's Tim Graham
An old friend of mine used to be the supervisor of a customer service call-in center. She was the person who monitored your call for quality-control purposes.
She explained to me once that people don't realize even when they're listening to the soothing sounds of Lionel Richie or punching in their keypad options, they're still being recorded.
Think of all those embarrassing things you've done while you waited for the next available agent. Cursing out your spouse. Using the lavatory. Singing along with the hold music.
That's what I thought of when I read an exchange from the New York Jets' pre-draft news conference Friday.
Jets general manager Mike Tannenbaum, senior personnel executive Terry Bradway and vice president of college scouting Joey Clinkscales were discussing all the ways they judge a prospect's character.
Even when you don't think they're listening or watching, they are.
Joey Clinkscales: "We evaluate guys from the time they step off the plane coming here to the time they leave the door. So if he has a car service coming to the building, we'll find out what happened in the car. And when he goes to meet the doctors, we'll find out how he was with the doctors."
What type of information would the Jets expect from the car service?
JC: "I'm from the South. I'm a southern guy. If I have a player that gets in a car service and he wants to blast the music and he doesn't know [the driver] from Adam, then that's a problem."
You're looking for common courtesy?
JC: "Not only do you want a good player, but you want a good person. It's just part of the process."
Mike Tannenbaum: "I think just philosophically, you say from college to pro they have more time, more money. What is this individual going to do with more time and more money? The more information you can get to project how they'll be as a professional player and how they use their time -- whether it's getting better, what kind of teammate are they going to be, how they are going to affect locker room chemistry -- that's all part of the picture we're trying to build and filling out our roster and building the team the way Rex [Ryan] sees it. And as Rex has told us many times, he doesn't want to coach effort and you can look for those things in a lot of different areas."
In other words, if you're a draft-eligible player and the Jets dispatch a car to bring you to their facility in Florham Park, N.J., don't be a hammerhead.