December, 5, 2014
Dec 5
8:00
AM ET
When:
4:05 p.m. ET, Sunday
Where:
Sports Authority Field at Mile High, Denver
TV:
CBS
Denver Broncos
cornerback
Chris Harris
pretty much spoke for any and all folks who still find themselves in the playoff conversation this week.
Asked what the Broncos (9-3) need to do over the last four games of the regular season, Harris said: "I've been saying, we need to treat every game like a playoff game because everybody we play is going to be looking at us like that. So, we need to be our best, play our best, because anybody we play is going to be doing that. You don't want to look back and think you let a game slip away."
The "fourth quarter" of the regular season, as Broncos coach John Fox calls it, starts with the
Buffalo Bills
' visit to Denver. The Bills (7-5) have designs on a playoff spot as well, and bring along a familiar face to Broncos fans in quarterback
Kyle Orton
.
Orton started 33 games for the Broncos before Denver's coaching staff benched him after the team's 1-4 start in 2011, replacing him with Tim Tebow. Orton won the most recent game he started against the Broncos -- a 7-3 Chiefs win to close out that '11 season after Denver had released him.
ESPN Bills reporter Mike Rodak and Broncos reporter Jeff Legwold take a look at Sunday's matchup.
Legwold:
Mike, the Bills have had an ownership change this season, a home game in Detroit because of the enormous winter storm, and their share of injuries. How have they kept their balance, and do they feel like they are an ascending team?
Rodak:
It definitely has been a season unlike any other for the Bills, especially when you consider their change at quarterback. From this perspective, players and coaches have shown poise throughout all of the bumps in the road. Buffalo's 38-3 win over the Jets at Ford Field two weeks ago was a good example of that: Despite the upheaval of its normal week of preparation, the team turned in its best all-around game of the season. Players have credited a long training camp (they stayed in dorms for nearly five weeks), an extra preseason trip to Canton, Ohio, and two days of joint practices with the Steelers on the road with helping the team bond. So when some of these outside factors have invaded, the team has responded well.
Jeff, I get the sense that Bills fans have some hope in this game after watching the Dolphins go into Denver a few weeks ago and nearly take down the Broncos. Between that game and Denver's loss to the Rams a week earlier, what made the Broncos so vulnerable?
Legwold:
Denver's 22-7 loss to the Rams in St. Louis is certainly one that got most people's attention. So much so that this past Sunday, the Chiefs tried to run the same play the Rams used for a 63-yard scoring pass. It didn't work for the Chiefs, a small indication the Broncos learned at least some of their lessons from a bad outing in St. Louis. For the most part, the same formula gets the Broncos in trouble at times. They allow pressure on quarterback
Peyton Manning
in the middle of the field, they don't run the ball effectively enough to slow down opposing pass-rushers with play-action, and they don't defend the run well enough out of some of their specialty packages on defense. The hangover from the Rams loss lasted until almost halftime of the following week's game against the Dolphins, when the Broncos trailed Miami 21-10 with less than two minutes to go in the first half. But Manning and the Broncos put together an 80-yard touchdown drive before halftime, dominated the second half against the Dolphins, and overpowered the Chiefs this past Sunday. They've used a far more balanced look on offense -- 80 run plays over the past two games -- and it has settled things down on both sides of the ball.
Staying with the quarterbacks: Orton arrives to face his former employer with a team in the playoff mix. How has he played for the Bills?
Rodak:
Orton has teetered between adequate and inadequate -- never truly great and never a disaster. His QBR since taking over the starting job is 44.1, which is ahead of only a handful of other quarterbacks, some of whom have lost their jobs. He's been worse over the past month than he was in his first month as the starter, losing some of his accuracy that made him an instant upgrade over
EJ Manuel
. Orton completed 67.4 percent of his passes and averaged eight yards per attempt over his first four starts. His completion percentage has dropped to 61.3 over his past four starts, while he's been averaging 5.81 yards per attempt. Yet it's still arguably better than what the Bills were getting from Manuel over the first four games -- a 58 percent completion rate and 6.4 yards per attempt -- so Orton remains the starter. As far as returning to Denver, Orton brushed off the notion of Sunday's game having any extra meaning when we asked him about it Wednesday. Of course, defensive coordinator Jim Schwartz also did that before the Bills' game in Detroit this year, and he ended up getting carried off the field, per his wishes. So you never know.
The strength of the Bills' defense is their line and its ability to create pressure, yet Manning is notorious for getting the ball out quickly. How well have opposing defenses been able to get pressure on Manning this season?
Legwold:
The short answer is not very well overall. Manning, even with all of Denver's offensive line struggles, is still the least-sacked starter in the league (13 times). The Jets, 49ers and Rams are the only teams to have sacked him at least twice in a game. Those defenses that have some success usually have to do it with four rushers with the ability to drop seven players into coverage. Patriots coach Bill Belichick, who has had more success than most against Manning, routinely chooses coverage over pressure as he rushes three or four defenders at Manning much of the time. The pressure in the middle is the key since Manning tends to identify any potential pressure from the outside in his pre-snap work, and gets the ball out. Those teams that take away his ability to climb the pocket and step into his throws do far better against him. The Broncos, at least until the past two games, have surrendered more than their share of unblocked rushers in the A gaps. But as they have pounded out 201 and 214 yards rushing in the past two games, they slowed down the Dolphins' and Chiefs' fronts. The Raiders, Rams and Chiefs did bat down some of Manning's passes by making a conscious effort to get their hands up into the throwing lanes when they couldn't get to Manning.
In that vein, the Bills lead the league in sacks, and
Marcell Dareus
was a player the Broncos took a long look at in 2011 when they selected
Von Miller
. How aggressive do you think the Bills will be in coming after Manning?
Rodak:
I wouldn't expect them to blitz much. First of all, that's not their forte; they've done an excellent job generating pressure just from their four-man line, which includes three Pro Bowlers and can be considered the best in the NFL. Because of their strength up front, they've blitzed on just 19.8 percent of plays, the third-lowest rate in the league. Second of all, I don't think blitzing Manning is the wisest idea, given his ability to diagnose defenses and get the ball out quickly. Manning averages 2.22 seconds before he passes, the quickest rate in the NFL. The better strategy from the Bills may be to drop more players into coverage. There aren't many weaknesses on this defense, but their secondary and linebackers have shown some vulnerability when their front four isn't as effective. Having the numbers advantage against the Broncos' receivers should help.
Opposing defenses have tried (and succeeded) in taking
Sammy Watkins
out of the Bills' most recent games, whether it's been by "rolling" coverage or putting a top cover man on the rookie. How well-equipped are the Broncos to do that?
Legwold:
When all hands are in the lineup, the Broncos have two matchup cornerbacks in
Aqib Talib
and Harris. That gives them more flexibility than most in how they disperse their resources in coverage. Champ Bailey said last month that Harris is playing "the best of anybody at his position in the league," and the Broncos use Harris all over the formation since he has been the nickel cornerback early in his career, so he can play the outside spots or in the slot on either side of the formation with equal comfort. Rookie
Bradley Roby
has also played well enough. He should get at least some consideration for defensive rookie of the year. The Broncos do play more man coverage than most teams in the league, so there is always potential for a big play if a receiver can win the matchup down the field before Miller and
DeMarcus Ware
disrupt things up front. Miller and Ware are a key part of the coverage equation as well. Overall, the Broncos have surrendered just 11 pass plays of more than 25 yards, and no team has had more than two pass plays of more than 25 yards in any game against them this season. There are opportunities for offenses, it's just that when receivers have found some room to get open, Miller and Ware have closed the deal before the quarterback can deliver the ball.
January, 10, 2012
1/10/12
1:25
PM ET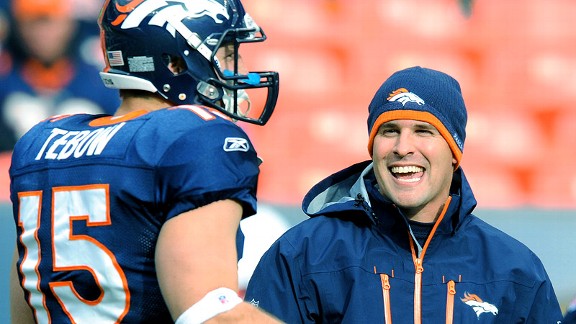 Ron Chenoy/US PresswireFormer Denver coach Josh McDaniels, right, is back with the Patriots. He'll help New England prepare for a Broncos team led by quarterback Tim Tebow, whom he drafted.
Someone has to lose Saturday's divisional-round playoff game between the
New England Patriots
and
Denver Broncos
. But one person will smell like roses this weekend no matter the outcome: Josh McDaniels.
The formers Broncos head coach and current Patriots assistant has cleverly positioned himself in a win-win situation.
On one hand, McDaniels rejoins New England at the perfect time to help the team make a deep playoff run. McDaniels has plenty of inside knowledge on the Broncos' roster and would get a lot of credit if he helped New England win its first playoff game since the end of the 2007 season.
On the other hand, if New England (13-3) were upset by the Broncos (9-8), it would be in large part due to McDaniels' most controversial draft pick in Denver:
Tim Tebow
. McDaniels was heavily ridiculed for "reaching" to take the former Florida quarterback in the first round. One more win by Tebow would advance Denver to the AFC Championship Game and within one game of the Super Bowl. That would be the ultimate vindication for McDaniels, who believed in Tebow from the start when no one else did.
Obviously McDaniels would prefer the former outcome, not the latter. But both options have McDaniels sitting pretty in this AFC playoff game filled with interesting storylines.
After an ugly two-year stint in Denver, after which he was fired, and one year with the
St. Louis Rams
, McDaniels was welcomed back in New England.
"I have a lot of respect for Josh, not only as a coach, but as a friend," Patriots director of player personnel Nick Casario said this week. "I've known Josh a long time, it's no secret. I think it's great to have him back. It's great to have him a part of our program and our system again. His goal and our goal is for everyone to work as hard as they can in preparation for this game, and that's what we'll try to do."
What is McDaniels' role during the playoffs with New England? Patriots head coach Bill Belichick has been vague.
McDaniels' title is "offensive assistant." But this week, because of the opponent, McDaniels could serve as more a scout on both sides of the football.
McDaniels, who was head coach of the Broncos from 2009 to 2010, has great intel on many of their key players. He drafted Denver's building blocks on offense -- Tebow and receivers
Demaryius Thomas
and
Eric Decker
. McDaniels also coached defensive stars
Champ Bailey
and
Elvis Dumervil
. This is priceless inside info that the Patriots could not get from simply studying tape.
McDaniels also should fit in seamlessly with New England's coaching staff. He spent eight seasons with the Patriots as an assistant and position coach, and three additional seasons as offensive coordinator. The system and terminology is virtually the same. This is a great way to ease McDaniels back into the fold to eventually take over for offensive coordinator Bill O'Brien when O'Brien leaves for Penn State after the playoffs.
"[McDaniels] is a person that I spent a lot of time with in a lot of different situations," Patriots head coach Bill Belichick said. "I have a lot of confidence in him, he's smart, he's got great experience and background, and he knows our system. I've enjoyed our conversations the past couple days as we've gotten caught up on some things and moved forward into the playoffs here. I think that he'll be a good asset to our team for the remainder of the season."
McDaniels is reviled by Broncos fans. He was expected to be the next prodigy at head coach. Instead, he went 11-17 and didn't complete his second season. Joining New England's staff this week in an effort to end the Broncos' season certainly doesn't help his reputation in Denver.
Still, no one can deny first-year head coach John Fox is advancing through the playoffs with a roster McDaniels helped build. Starters Tebow, Thomas, Decker and offensive linemen
Zane Beadles
and
J.D. Walton
were all from McDaniels' final draft class in 2010. McDaniels' 2009 draft picks
Robert Ayers
, who had two sacks in last week's playoff win against the
Pittsburgh Steelers
, and safety
David Bruton,
also are contributors on defense.
But Tebow and Thomas are McDaniels' greatest parting gifts to the Broncos. The quarterback-receiver tandem connected for one of the greatest plays in Broncos' history last week.
Denver's playoff run probably will end this weekend in New England. The Broncos are nearly two-touchdown underdogs. The matchup is perfect for the Patriots, who won the regular-season meeting in Denver by 18 points.
But if the Broncos pull a monumental upset, players like Tebow, Thomas, Decker (if healthy) and Ayers will have a huge role. For that, McDaniels would still deserve a lot of credit.
Sometimes the stars align.
McDaniels simply can't lose this week.
October, 23, 2011
10/23/11
8:02
PM ET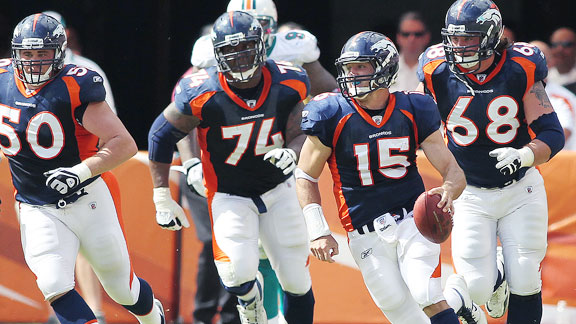 Robert Mayer/US PresswireTim Tebow led Denver to a comeback win after trailing Miami by 15 points in the fourth quarter.
MIAMI -- What do you make of
Tim Tebow
?
Is he the quarterback who looked lost for three quarters and could not hit open receivers against the winless
Miami Dolphins
? Or is Tebow the magical player who led the
Denver Broncos
to 18 unanswered points in the fourth quarter and overtime during a thrilling
18-15 victory
?
After watching Tebow on Sunday, I don't have a clear answer. Neither do the Denver Broncos (2-4).
But the Broncos left Sun Life Stadium knowing their starting quarterback is capable of overcoming three quarters of awful football.
In essence, Tebow simultaneously added to his myth and legend in one wild game.
"Without a doubt, not everybody that plays in this league, or any league has 'it,'" Broncos coach John Fox said, praising Tebow. "It's a great quality to have. We got a guy, No. 7 [
John Elway
], who I work with every day, he had 'it.'"
The intangibles are apparent. Tebow has heart, smarts and charisma. He works extremely hard and says the right things. Broncos players in the locker room also said they believe in their new starting quarterback. Tebow feels the same about his teammates. That is part of his legend.
But heart doesn't throw the ball accurately downfield for 20 yards. Tebow failed miserably in that department. Charisma cannot fix questionable throwing mechanics, which led to Tebow completing only 13 of 27 passes for 161 yards. That has some thinking Tebow is all hype, all myth.
Tebow did not look like a starting NFL quarterback for a majority of the game against Miami. He wasn't accurate, he held the ball too long and was sacked seven times. Things were so bad that Denver ran the ball 39 times to protect Tebow, who was putting on an embarrassing display of errant passes. Tebow and the Broncos didn't convert on third down until the second half.
When asked if Tebow played well enough to win, unimpressed Dolphins linebacker
Karlos Dansby
bluntly said, "No. No. Not at all."
Tebow admitted he has to get "a lot better." He had two weeks to prepare for the Dolphins and only played well for about eight minutes, including overtime. Tebow led two scoring drives of 80 and 56 yards -- capped by a pair of touchdown throws -- and was clutch on a two-point conversion to force the extra period.
[+] Enlarge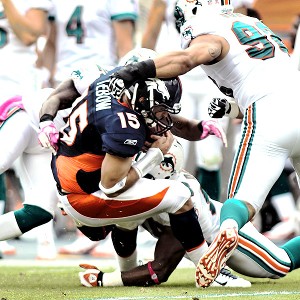 Marc Serota/Getty ImagesThe Dolphins did manage to sack Tim Tebow seven times and limited him to 13-of-27 passing.
"As a football player, as an athlete, you can't lose confidence in yourself," Tebow said. "Because if you do, then you've lost already. More importantly, I kept believing in the people around me that eventually we were going to be able to get things going. Eventually we did."
Tebow now is in tricky territory.
Denver won the game. Therefore, Tebow is entrenched as the starting quarterback. But the Broncos need to dig deeper to find out if their 2010 first-round pick is good enough to win games long term.
Based on what I saw for most of the game, Tebow is not the best quarterback on Denver's roster right now.
Kyle Orton
is. But Tebow is the most popular Broncos quarterback -- and that's part of the problem.
The Broncos might not admit it, but the team succumbed to the immense public pressure to start Tebow. There is a very large following of Tebow supporters who want to see him succeed. But if Denver's coaching staff truly thought he was the best quarterback, the Broncos would have given Tebow the job in Week 1.
Fox was able to endorse his bye-week decision with a victory in hand.
"Anytime you win, that helps validate just about everything," Fox said. "This game is no fun when you lose and we were able to pull it out today."
Tebow might have been one quarter away from playing himself back out of the starting lineup. He was shut out for three quarters against a Miami defense that entered the game ranked No. 26 in the NFL. In addition, the Dolphins (0-6) are in chaos with a head coach (Tony Sparano) who could be fired soon.
It's up to each individual to determine how much weight to place on Tebow's first three quarters versus the hot streak at the end of the game. Was it a fluke? Or is this part of the Tebow package?
"It's never as good as it seems and it's never as bad as it seems," Tebow said afterward.
The bottom line: Tebow is 1-0 as a starter for the Broncos in 2011. That's enough to give him more looks this season.
But Tebow's uneven performance against Miami certainly raised more questions than answers.
July, 20, 2011
7/20/11
3:00
PM ET
Former Panthers and Jets defensive tackle
Kris Jenkins
just announced his retirement on his Facebook page.
Jenkins
"Wanted to let you all know that I have loved the support and respect that you all have given me throughout my career,'' Jenkins wrote. "But it is time for the torch to be passed to the younger players. I am going to hang up the cleats! The mind is always willing to play but my body deserves the rest. Thank you for the opportunities to play Carolina and New York.''
Jenkins is 31 and played seven seasons with the Panthers and the last three with the Jets. I had the chance to cover Jenkins throughout his time with the Panthers when I was the beat writer for The Charlotte Observer and can honestly say he might be the most unique player I ever covered.
For a time, he also was one of the best players I covered. Jenkins had a stretch as the dominant defensive tackle in the league, but injuries and the fact he wasn't happy in Carolina got in the way and might have prevented what could have been a Hall of Fame career. Jenkins didn't like the locker-room atmosphere in Carolina and felt he was an outcast because he was outspoken and didn't like to play by what he viewed as corporate rules.
Jenkins could be loud and immature at times and he could be downright mean, especially to reporters named "Stan'', who tried to interview him moments after he'd backed a golf cart over the leg of a team employee.
[+] Enlarge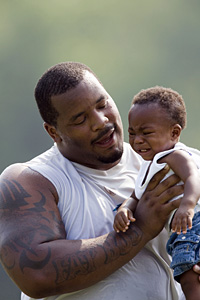 Bob Donnan/US PresswireFormer Panthers and Jets defensive tackle Kris Jenkins, shown with his son Marcus in 2005, often showed a lighter side to his personality.
But there was another side to Jenkins that few got to see. He wasn't particularly liked by the Carolina media or fans. My opinion of Jenkins began to go in another direction early in his career when his agent approached me about doing a training camp diary.
My first reaction was that it was a dangerous proposition because my early impressions of Jenkins were that he wasn't all that reliable. I told the agent that, if we were going to do the diary, I would need to be absolutely certain Jenkins showed up and was ready to talk on the days we designated. He gave me his word and Jenkins came through.
He showed up every time he was supposed to, sometimes with little notes to remind him what he wanted to talk about. More often than not, Jenkins just talked off the top of his head.
He talked about football, but he could talk in-depth about a lot of other things and he frequently did. I remember coach John Fox walking by one day and seeing Jenkins talking into my tape recorder.
Later that day, Fox saw me in the cafeteria and said, "Who thinks it's a good idea to let Jenks to a diary?''
I got Fox's point of view. He was a coach who liked to keep his players quiet and free of controversy. Jenkins didn't fit that profile, but he did provide some fresh air in a locker room that often was stale.
Whether coaches, the front office or fans liked it or not, Jenkins always said whatever was on his mind. There are a lot of other things beside football in that mind, and I hope Jenkins gets to fully enjoy them now.
April, 12, 2011
4/12/11
4:19
PM ET
A day after ESPN draft expert Mel Kiper called the
Buffalo Bills
a perfect fit for Auburn quarterback
Cam Newton
with the third overall draft choice, Kiper switched to the defensive side and said the same thing about Texas A&M outside linebacker
Von Miller
.
Kiper broke down the top defensive prospects in this year's draft class by projecting where they would be ideal fits instead of predicting where they will be drafted in the order.
Kiper said the Bills need a pass-rusher because 2009 first-round pick
Aaron Maybin
hasn't worked out.
"They thought he would be that attacker off the edge," Kiper said of Maybin. "Now you've got to get that player in that 3-4 scheme. Von Miller led the nation in sacks two years ago. An ankle injury early on this year prevented that from happening [again].
"For the Buffalo Bills, yeah, they could look at quarterback. But they like Ryan Fitzpatrick a lot. That's why they could go defense in Von Miller."
March, 17, 2011
3/17/11
6:31
PM ET
The
Buffalo Bills
handled
Blaine Gabbert
's pro day the same way they did
Cam Newton
's, by taking the touted quarterbacks out to dinner the night before.
NFL.com personnel analyst Gil Brandt blogged Thursday that general manager
Buddy Nix "and other Bills representatives" dined with Gabbert
on Wednesday night.
Gabbert, who didn't throw at the NFL scouting combine last month, performed well Thursday at Missouri's workout event. The Associated Press reported
Gabbert completed 44 of his 49 throws scripted
by quarterbacks coach Terry Shea, a former
Miami Dolphins
assistant.
Reporters on location counted three dropped passes among Gabbert's five incompletions.
Brandt wrote Gabbert threw only one uncatchable ball
and called the workout "outstanding -- much better than Cam Newton's at Auburn's pro day on March 8." Brandy counted six uncatchable balls for Newton.
Because of NFL lockout restrictions, Gabbert could throw only to draft-eligible receivers. His targets came from Division II Central Missouri and Northwest Missouri State and NAIA Lindenwood.
Brandt wrote six head coaches were in attendance. Buffalo coach Chan Gailey was not among them. He didn't attend Auburn's pro day either.
The coaches in Columbia, Mo., were Rex Ryan of the
New York Jets
(but almost certainly not for the purpose of watching Gabbert), John Fox of the
Denver Broncos
, Marvin Lewis of the
Cincinnati Bengals
, Mike Munchak of the
Tennessee Titans
, Leslie Frazier of the
Minnesota Vikings
and Jim Harbaugh of the
San Francisco 49ers
.
March, 26, 2009
3/26/09
11:39
AM ET
Posted by ESPN.com's Tim Graham
Buffalo Bills
Miami Dolphins
New England Patriots
New York Jets
January, 3, 2009
1/03/09
8:30
AM ET
Posted by ESPN.com's Tim Graham
DAVIE, Fla. -- This notion is insinuated but never really delved into when discussing the merits of Chad Pennington as an MVP candidate:
The guy who would have been the Miami Dolphins' quarterback couldn't have gotten them to the playoffs.
| | |
| --- | --- |
| | |
| | Jonathan Brownfield-US PRESSWIRE |
| | Through a series of fateful "ifs, former Dolphins quarterback Josh McCown, now with Carolina, won't be starting in Miami's playoff game Sunday. |
So I decided to ask the man himself.
"As a competitor, I don't agree because I have confidence in myself," said Josh McCown, who the Dolphins dealt to the Carolina Panthers after they acquired Pennington. "But at the same time I can't play that game. I can't get in a time machine to prove myself.
"I just give Chad all the credit for getting it done. He ran that offense and made the most of that opportunity."
That McCown wasn't the Dolphins' quarterback this year was a series of "ifs" come true.
If Brett Favre hadn't decided to play again ... and if the Green Bay Packers hadn't rebuffed him ... and if the New York Jets hadn't swung the trade ... and if the Jets hadn't released Pennington ... and if Pennington hadn't been convinced a 1-15 team was worth his while ... then the Dolphins wouldn't have traded McCown to Carolina.
And maybe McCown is starting against the Baltimore Ravens on Sunday. Maybe.
"The way Chad's playing, maybe the Jets are in the playoffs," McCown said with a laugh. He's spending the Panthers' first-round bye weekend in Davie, where his wife and four children have stayed at their house a few blocks from the Dolphins complex.
"I'm a human being. I'm not going to sit here and say it wouldn't be fun to be playing down here and be on the field and have a chance to lead those guys.
"It's hard to say. All I know is that's where my faith comes into play. The big man had a different plan for me, and I was supposed to be in Carolina this year."
McCown has backed up Jake Delhomme all season, appearing in two games but not throwing a pass.
But when McCown signed a two-year contract with the Dolphins on the opening day of free agency, he thought he would stick around. His career numbers are pedestrian, but he has played for some awful Arizona, Detroit and Oakland teams.
Dolphins football operations boss Bill Parcells and general manager Jeff Ireland obviously saw something they liked when they brought McCown aboard.
But McCown knew his days were numbered when they signed Pennington in August.
"I don't want to sound like a super-righteous man," McCown said, "but at the end of the day after I punched the pillow and screamed and got upset I said 'This is God's plan' and just moved on. That's how I don't get down in the dumps."
McCown said he and his agent began to examine other rosters because he assumed he would be cut. Most teams had their starters by then, so they looked at strong organizations with attractive offensive systems in need of a quality backup. They narrowed their best options down to three teams, one of which was Carolina.
"When Jeff Ireland called, that's the only thing that was disheartening. When he said 'We've traded you to Carolina,' I was excited. That was a big blessing.
"It was mixed emotions. I was excited about the new team, but at the same time you go into this thing with the mind-set of what you're trying to build and you have a bond with those guys.
"I was involved in the offseason program here. I was, to a certain degree, providing leadership to the program. I feel I helped lay some of the groundwork because when so much is new you're trying hard to lay down a culture."
McCown, playing on his fifth team in the past four years, insisted he wouldn't trade his current situation aside from being separated from his family. McCown, after playing under Lane Kiffin, Rod Marinelli and Dave McGinnis, is enjoying John Fox's established and proven program.
"Would I have won games the same way Chad won them? Maybe not," McCown said. "I would like to think that I could have had the same success, but nothing against Chad. He stepped into a situation and made the most of it. For me, I'll just wait for the next opportunity.
"But I guess I was destined to win the division one way or the other."