November, 5, 2010
11/05/10
10:23
AM ET
The NFL Network on Thursday night concluded its
persuasive series "The Top 100: NFL's Greatest Players"
by revealing the best 10 in league history.
As expected, no AFC East players made the top 10 because all of the big names already had been revealed. Some
New England Patriots
fans probably would argue about their three-time champion quarterback being listed 21st compared to a certain
Indianapolis Colts
quarterback being eighth.
Here's the rundown of players from the AFC East (with the fan ranking):
11 (17). Ronnie Lott, Jets safety
20 (6). Brett Favre, Jets quarterback
21 (20). Tom Brady, Patriots quarterback
24 (--). John Hannah, Patriots guard
25 (7). Dan Marino, Dolphins quarterback
31 (33). Bruce Smith, Bills defensive end
40 (44). O.J. Simpson, Bills running back
49 (--). Mike Haynes, Patriots cornerback
61 (31). LaDainian Tomlinson, Jets running back
65 (24). Randy Moss, Patriots receiver
71 (--). Paul Warfield, Dolphins receiver
100 (42). Joe Namath, Jets quarterback
What do you think of the list?
Who is missing? Who is overrated? Who isn't high enough?
Reviewing the list made me think back to a phone call I had with Moss two springs ago. In addition to forecasting better offensive numbers in 2009 than the Patriots posted in their record-breaking 2007 season,
Moss proclaimed himself the greatest receiver -- and maybe player -- in NFL history
.
"I'm the best wide receiver of all-time, hands down," Moss told me.
"I don't really like to judge people or other athletes. I know what I'm able to do on the field, but the things I'm able to do to dictate how a defense plays the game, I don't think there's no other receiver but myself and
Jerry Rice
to be able to do that."
Moss later added: "To hell with wide receiver. I think I go down as one of the greatest players to ever play this game."
The NFL Network rated Rice as the greatest player of all-time and Don Hutson ninth. Moss was ranked the third-best receiver on the list.
August, 25, 2010
8/25/10
3:47
PM ET
Who was the greatest NFL player to wear a specific jersey number?
SI.com decided to find out and produced a list sure to create debate.
The package, which includes plenty of vintage photos
, was published Wednesday.
SI.com's Richard Deitsch explained the process
:
A team of SI.com's finest numerologists crunched the data on jersey numbers to come up with the best performers in professional football at each number from 00 to 99. We based our decision on a combination of impact on the game, statistics and team success during the player's time wearing that number.
Here are the AFC East fellows who made the rundown from 00 to 99 ...
4.
Brett Favre
, Jets quarterback: Hey, he spent a season there.
12.
Tom Brady
, Patriots quarterback: Deitsch called this the toughest call over Terry Bradshaw. There's also Joe Namath and Roger Staubach.
13. Dan Marino, Dolphins quarterback: This selection was listed among the eight simplest to make.
23. Troy Vincent, Patriots and Bills defensive back: Next runner-up was Mel Gray.
39. Larry Csonka, Dolphins running back: Selected ahead of Hall of Famer Hugh McElhenny and Patriots fullback Sam Cunningham.
55.
Junior Seau
, Dolphins and Patriots linebacker:
Willie McGinest
and
Joey Porter
mentioned as "worthy of consideration."
57. Dwight Stephenson, Dolphins center: Thin crew when
Bart Scott
was in the all-time mix.
62. Jim Langer, Dolphins center: Name another No. 62. Quick!
67. Reggie McKenzie, Bills guard: Member of O.J. Simpson's famed Electric Company, but ahead of Dolphins guard Bob Kuechenberg?
73. John Hannah, Patriots guard: Other AFC East runners-up include Joe Klecko and Bob Baumhower.
March, 12, 2010
3/12/10
1:50
PM ET
To mark the NFL's 75th draft next month, the league has launched a neat venture to sort out the 75 greatest draft picks and
determine the all-time most valuable selection
.
NFL.com editors narrowed each team's list of candidates down to the top 10, which seems a little unfair to the organizations steeped in history. The Dallas Cowboys' 20th most impressive pick is more deserving than the Houston Texans' sixth.
[+] Enlarge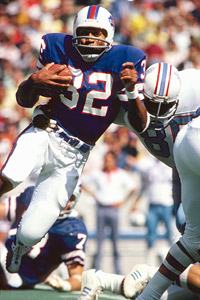 Malcolm Emmons/US PresswireO.J. Simpson is one of the best selections the Bills ever made.
I disagree with the decision to include players who didn't suit up for the teams that drafted them. For instance, tackle Leon Gray is listed for the Dolphins, kicker Gary Anderson for the Bills and punter Craig Hentrich for the Jets.
How can they be considered great draft picks if the teams that evaluated them declined to include them on their final rosters? Sounds to me like they were accidental draft picks more than savvy selections.
But if that's how they're going to do it, then I'd like to see Gary Fencik, a 10th-round pick in 1976, listed under the Dolphins.
Anyway, each team has 10 candidates fans can choose from when voting through April 18 at NFL.com. Parts of the list will be revealed on NFL.com and the NFL Network beginning April 19. The top 10 will be saved for the draft telecast.
The AFC East candidates, in alphabetical order:
Buffalo Bills:
Gary Anderson (seventh round, 1982); Ruben Brown (first round, 1995); Joe DeLamielleure (first round, 1973); Jim Kelly (first round, 1983); Reggie McKenzie (second round, 1972); Andre Reed (fourth round, 1985); O.J. Simpson (first round, 1969); Fred Smerlas (second round, 1979); Bruce Smith (first round, 1985); Thurman Thomas (second round, 1988).
Miami Dolphins:
Dick Anderson (third round, 1968); Larry Csonka (first round, 1968); Leon Gray (third round, 1973); Bob Griese (first round, 1967); Sam Madison (second round, 1997); Dan Marino (first round, 1983); Jake Scott (seventh round, 1970); Dwight Stephenson (second round, 1980); Jason Taylor (third round, 1997); Zach Thomas (fifth round, 1996).
New England Patriots:
Tom Brady (sixth round, 2000); Nick Buoniconti (13th round, 1962); John Hannah (first round, 1973); Mike Haynes (first round 1976); Lee Roy Jordan (second round, 1963); Ty Law (first round, 1995); Curtis Martin (third round, 1995); Lawyer Milloy (second round, 1996); Richard Seymour (first round, 2001); Andre Tippett (second round, 1982).
New York Jets:
Joe Fields (14th round, 1975); Mark Gastineau (1979); Craig Hentrich (eighth round, 2000); Keyshawn Johnson (first round, 1996); Joe Klecko (sixth round, 1977); Mo Lewis (third round, 1991); Joe Namath (first round, 1965); Marvin Powell (first round, 1977); John Riggins (first round, 1971); Wesley Walker (second round, 1977).
April, 1, 2009
4/01/09
4:48
PM ET
Posted by ESPN.com's Tim Graham
ESPN Stats & Information rated 13,808 draft picks to assemble a field of the NFL's top 32 draft classes for a tournament to determine the best of all-time. Fans will have a chance to vote starting Thursday.
Each team is represented and has been seeded No. 1 through No. 32 based on the best class in franchise history.
The classes were chosen using a formula that awarded points to each player for various individual and teams accomplishments.
1 point: Super Bowl loss
2 points: Offensive rookie of the year
2 points: Defensive rookie of the year
2 points: Pro Bowl
3 points: Super Bowl victory
3 points: second-team All-Pro
4 points: first-team All-Pro
6 points: AP Defensive Player of the Year
6 points: AP Offensive Player of the Year
8 points: AP Most Valuable Player
15 points: Hall of Fame
The Buffalo Bills earned the third seed because of their 1985 draft class, which included defensive end Bruce Smith, receiver Andre Reed and quarterback Frank Reich.
The Miami Dolphins are the No. 8 seed behind their 1983 draft class that featured quarterback Dan Marino, punter Reggie Roby and receiver Mark Clayton.
The New England Patriots are a fine example of how the formula isn't perfect. They're seeded 19th because some of their greatest players still are active and, therefore, ineligible for the Hall of Fame. Four of their top six classes, according to ESPN Stats and Information, have been drafted in the past 14 years. They are the best overall since 2000, when Bill Belichick came aboard.
But the formula rates the Patriots' best draft class as 1973, the year they drafted one of their few Hall of Famers, guard John Hannah, and running back Sam Cunningham.
The New York Jets are seeded No. 25 based on their 1977 draft class. The selected offensive lineman Marvin Powell, receiver Wesley Walker and defensive tackle Joe Klecko.
ESPN Insider subscribers can see detailed breakdowns and find out which classes received honorable mentions for each club.
February, 16, 2009
2/16/09
11:15
AM ET
Posted by ESPN.com's Tim Graham
After two weeks of polling, the ballots have been counted to determine your picks for the Mount Rushmore of each AFC East team.
To play off ESPN's quest to determine the best sports Mount Rushmore from the 50 states, Washington, D.C., and Puerto Rico, I solicited your thoughts on the four legends who best symbolize the Buffalo Bills, Miami Dolphins, New England Patriots and New York Jets.
Patriot Nation responded with 16 nominees, and the polling was the closest among the four AFC East clubs.
The final four are quarterback Tom Brady, head coach Bill Belichick, linebacker Andre Tippett and guard John Hannah. The last two are in the Pro Football Hall of Fame. The first two are on their way.
Brady and Belichick were runaway selections. Tippett and Hannah tied for third, while owner Robert Kraft was one vote behind them. Fan-favorite receiver Troy Brown finished one vote behind Kraft.
Top 10 voting went like this:
1.Tom Brady
2. Bill Belichick
3. Andre Tippett
John Hannah
5. Robert Kraft
6. Troy Brown
7. Tedy Bruschi
8. Drew Bledsoe
9. Steve Grogan
10. Adam Vinatieri

Here are a few of the comments from the readers who participated:
Mike in Natick, Mass., writes: My Top 4: Tom Brady Bob Kraft John Hannah Bill Belichick I think Brady and BB are on the list for obvious reasons. Hannah was one of the most, if not the most dominating interior linemen in the league in his era, maybe even the most dominating lineman. And Bob Kraft took a franchise which was heading in the wrong direction since Super Bowl XX. He bought the franchise, hired the best coach at the time to run his team (though Parcells didn't have full control) and eventually built a state of the art stadium. He has taken the team from a second class citizen in the NFL to the benchmark of success and the class of the NFL. For as much as anybody else has done for the New England Patriots on the field, the Patriots would not be who they are today without the ownership of Bob Kraft.
Jeff W in Boston writes: Hey Tim, As for a Patriots Mount Rushmore, it's a very difficult decision, but I have to go with championships. Tom Brady obviously makes it in, as does Bill Belichick. My last two choices are a bit more controversial, but I think they represent everything the Patriots stand for. Those two would be Bob Kraft and Troy Brown. Kraft turned around a losing culture and helped make the Patriots relevant, while Brown was the ultimate team player. It's tough for me to leave Andre Tippett off of here, and while he was certainly one of the top Patriots players of all time, I have to think of who brought championships to New England.
Quinton from Parts Unknown writes: I would say Brady, Belichick, Bob Kraft, and my uncle Bruce Armstrong(LT) who after his 14 year career ended up with the patriots record for career and consecutive starts and bridged that gap from the bad years to the good.
Pats_fan_1961 writes: I would have to put at least one member from the original AFL days, and one from today's team, and fill in the other two spots in between. So, My selections would be Gino Capaletti, John Hannah, Andre Tippett, and "In Bill We Trust" Belichick.
Gino was Mr. Patriot in the 60s, you have to include him. Honorable mention: Steve Grogan, Sam Cunningham, Darryl Stingley, Steve Nelson, Mike Haynes, Babe Parelli, Tom Brady, and Tedy Bruschi, Billy Sullivan, and finally Bob Kraft.
Sullivan gets an honorable mention because, after all, he was the founder of the Patriots, and Sam "Bam" Cunningham was the best back the Pats have ever drafted and remained a Patriot.
rickstoneburnersr writes: How could you leave out Tedy Bruschi and Adam Vinatieri? Also give Drew Bledsoe some respect, don't forget what the team was like before Bledsoe. Patriots Rushmore: Tom Brady, Drew Bledsoe, Tedy Bruschi, and Adam Vinatieri!!!
February, 3, 2009
2/03/09
11:30
AM ET
Posted by ESPN.com's Tim Graham
If Patriots Nation could select four visages to be carved into the side of a mountain for generations to behold, who would it select?

ESPN has mounted an ambitious campaign to determine the sports Mount Rushmore for all 50 states, Washington, D.C., and Puerto Rico.
After 10,000 submissions from ESPN.com readers, each Rushmore has been determined. The list will be narrowed down to the top five before the ultimate quartet is chosen. You can see the list and vote here.
To play off that theme, I'm asking visitors to the AFC East blog to name their favorite team's Mount Rushmore.
We're looking for the four legends you believe best symbolize the New England Patriots.
My choices would be Tom Brady, Bill Belichick, John Hannah and Andre Tippett.
But nobody asked me.
I want to know what you think. Leave your suggestions in the comments section below or drop a note into my AFC East mailbag.
I'll tabulate the results and deliver your Patriots Mount Rushmore on Feb. 16, the scheduled date when ESPN.com will announce the top five finalists in the big poll.
October, 23, 2008
10/23/08
8:20
AM ET
Posted by ESPN.com's Tim Graham
FOXBOROUGH, Mass. -- I've seen enough halls of fame to know what a great one looks like.
The better ones I always return to. In the past two years I've visited the Pro Football Hall of Fame, National Baseball Hall of Fame, Hockey Hall of Fame and International Boxing Hall of Fame. I've attended induction ceremonies at most.
But the best I've seen belongs to the New England Patriots.
Before Monday night's game in Gillette Stadium, I had the chance to tour The Hall at Patriot Place, a dazzling collection of exhibits, multimedia presentations and high-tech interactive displays on 36,000-square feet.
The Hall at Patriot Place opened last month at a cost of roughly $24 million.
I took the tour with Pro Football Hall of Fame executive director Stephen A. Perry and vice president of communications and exhibits Joe Horrigan. Both were seeing The Hall at Patriot Place for the first time.
"This is first-class, on par with anything we've seen and better than most," Horrigan said. "It's a really remarkable use of space, really creative. Everyone in the industry is going towards a lot of these elements, from the traditional display to the interactive motif. This is what a visitor looks for when he goes to a museum.
"I'm stealing ideas as I go through here. They've scored a touchdown."
Bryan Morry, The Hall at Patriot Place's executive director, explained the vision wasn't a graveyard for artifacts. Patriots president Jonathan Kraft wanted to establish a destination that allowed fans and alumni to embrace the team's tradition.
As I passed through, I found guard John Hannah playing with one of the interactive kiosks. Hannah, in his gold Pro Football Hall of Fame blazer, was at the game for a halftime ceremony to honor linebacker Andre Tippett, who was enshrined in Canton this summer.
Hannah praised the Krafts for building a monument that celebrates the Patriots legacy.
There's plenty to look at: multimedia stations that can engage you for as long as your curiosity of Patriots history can handle, a 150-seat theater and all the standard displays of uniforms and hardware. Hanging from the rafters is the John Deere tractor convict Mark Henderson used to clear a spot for John Smith's infamous field goal to beat the Miami Dolphins in 1982
The Hall at Patriot Place also strives to be a New England football archive, including preps and colleges.
But the most impressive elements are interactive. Educated football fans will leave smarter than when they walked in. A presentation by Bill Belichick insightfully breaks down actual plays from the Patriots' playbook. You pick the play, and Belichick tells you why it works in detail.
Visitors also can listen to offensive coordinator Josh McDaniels relay plays into a quarterback's helmet, step inside an actual-sized Patriots huddle to hear how plays are called and pick up sideline phones to hear how the coordinators communicate with players during the game.
"Museums are no longer a place where you go to view dinosaur bones," Horrigan said. "They expect the dinosaur to move, breathe and shoot fire. That's what happens here."
The Patriots do not have a ring of fame. The Hall at Patriot Place is the ultimate team honor a Patriot can receive.
There are 13 members: tackle Bruce Armstrong, linebacker Nick Buoniconti, kicker Gino Cappelletti, tight end Ben Coates, defensive lineman Bob Dee, quarterback Steve Grogan, Hannah, cornerback Mike Haynes, tackle Jim Lee Hunt, receiver Stanley Morgan, linebacker Steve Nelson, quarterback Babe Parilli and Tippett.
August, 18, 2008
8/18/08
1:06
PM ET
Posted by ESPN.com's Tim Graham
| | |
| --- | --- |
| | |
| | Gabriel Bouys/AFP/Getty Images |
| | Tom Brady has guided the Patriots to three Super Bowl titles. |
Readers' pick: Tom Brady, QB
With the exception of young franchises such as the Houston Texans or Baltimore Ravens, active players can be difficult to vote for as the greatest ever. Their careers are still unfolding, their legacies changeable.
Despite 48 years of players, Tom Brady's career towers over all other New England Patriots.
Part of Brady's colossal stature is that only two career Patriots -- guard John Hannah and outside linebacker Andre Tippett -- have been inducted into the Pro Football Hall of Fame.
But even a crowded field would have trouble touching Brady.
Through their first 42 years the Patriots won zero championships. Brady has since guided them to three Super Bowl titles, claiming the game's MVP award twice. That's enough to cement his status as a first-ballot Hall of Famer.
Brady last year directed perhaps the most merciless offense in NFL history. He threw for a record 50 touchdowns and just eight interceptions, propelling the Patriots to an unprecedented 16-0 regular-season record and two playoff victories. His ankle injury in the Super Bowl played a role in their inability to close out their perfect campaign.
He owns the best winning percentage (.782) of any quarterback in the Super Bowl era, higher than Joe Montana, Roger Staubach, Troy Aikman, Terry Bradshaw and Bart Starr. Brady owns the second-highest playoff winning percentage (.824) behind only Starr.
Not many active players can be mentioned in the same sentence as those names.
August, 2, 2008
8/02/08
10:58
AM ET
Posted by ESPN.com's Tim Graham
Joe DeLamielleure is considered a football student of the highest order.
He estimates he has visited the Pro Football Hall of Fame a dozen times before he was inducted in 2003. Conversations with him are sprinkled with obscure trivia questions and name dropping that demonstrates a humbling knowledge.
He also is a vocal advocate for retired players in need of financial assistance, waging war against NFL Players Association executive director Gene Upshaw.
DeLamielleure has passionate opinions and backs them up.
So people ought to listen when the sensational pulling guard for the Buffalo Bills and Cleveland Browns declares Andre Tippett was a better outside linebacker than Lawrence Taylor.
Tippett, who recorded 100 sacks for the New England Patriots, will be inducted into the Pro Football Hall of Fame Saturday.
"I thought he was better all around," DeLamielleure told ESPN.com by phone from Canton. "A lot of guys thought he was better.
"He played the run better than Lawrence Taylor. They never asked Lawrence Taylor to put his hand down on the ground. Lawrence Taylor was just a standup rusher.
"I always said if Tippett would have put his hand down on the ground every down, he probably would have been one of the top rushing defensive ends to ever play."
DeLamielleure was a member of the Electric Company, the gang who blocked for O.J. Simpson. Their coach was Jim Ringo, another Hall of Famer.
DeLamielleure said Ringo, a position coach for four Hall of Fame linemen, shared his belief Tippett was the best.
"Think of how many sacks Tippett had, and he always had a tight end on his side," DeLamielleure said. "He played the strong side. Lawrence Taylor was a weak-side linebacker."
Not surprisingly, DeLamielleure had a couple other names to push for induction. The first was his football role model, former Miami Dolphins guard Bob Kuechenberg, a finalist each of the past five years.
"John Hannah and I both looked at him when we were younger and said 'That's the guy we want to be like,' and we're in the Hall of Fame and he isn't," DeLamielleure said. "Strange."
Another oversight in DeLamielleure's mind is former New York Jets defensive lineman Joe Klecko.
"He made the Pro Bowl as a nose guard, as a defensive tackle and as a defensive end," DeLamielleure said.
"Think about that."
July, 30, 2008
7/30/08
11:14
AM ET
Posted by ESPN.com's Tim Graham
FOXBOROUGH, Mass. -- It's another resplendent day at New England Patriots camp. Low 80s, tolerable humidity and blue skies straight out of a travel brochure.
The Patriots will take the practice field at 2:30 p.m., but there are a few other things going on.
Bill Belichick's daily news conference is coming up in Gillette Stadium. Then we'll hear from former Patriots linebacker Andre Tippett, who on Saturday will be inducted into the Pro Football Hall of Fame.
Tippett is the second career Patriot to get in. Guard John Hannah was the first.
Hey, AFC East observers: How about sharing some of your favorite Tippett moments in the comments section.