February, 3, 2011
2/03/11
6:47
PM ET
The
New England Patriots
already had the NFL's best quarterback, best offensive player and best coach for 2010.
Now they have the best offensive line, too.
John Madden -- the actual guy, not the video game -- announced the Patriots won the 2010 Madden Most Valuable Protectors Award, an honor established last year to recognize the NFL's best offensive line.
The award is based on a combination of criteria including O-line stats (sacks allowed, rushing and passing yardage, time of possession, penalties, conversion percentages and red-zone efficiency), fan voting and Madden's evaluation.
"All season long, these guys proved they had the mental and physical toughness that enabled the Patriots offense to put up impressive numbers on the ground and in the air," Madden said.
Patriots offensive line coach Dante Scarnecchia's boys beat out the other finalists: the
Atlanta Falcons
,
Kansas City Chiefs
,
New Orleans Saints
and
New York Giants
.
Patriots left guard
Logan Mankins
was first-team All-Pro and started in the Pro Bowl despite a contract dispute that caused him to miss the first seven games of the season. Left tackle
Matt Light
was chosen for the Pro Bowl as an alternate. Right tackle
Sebastian Vollmer
was voted second-team All-Pro.
The Patriots also endured two significant O-line injuries. Last year's right tackle and projected left guard
Nick Kaczur
missed the entire season with a back injury. A bad shoulder placed right guard
Stephen Neal
on injured reserve after eight games.
Dan Connolly
was the super sub who filled in at left guard for Mankins and Kaczur and then at right guard for Neal.
The Patriots led the NFL in scoring. They ranked eighth in total offense, ninth in run offense, 11th in pass offense and fourth in sacks allowed.
New England surrendered 25 sacks. Ten of them came in a three-game stretch in October and nine more in a three-game stretch in December. That left 10 games in which New England gave up zero or one sacks.
January, 19, 2011
1/19/11
10:33
AM ET
The NFL has announced 28 finalists for the inaugural
Don Shula NFL Coach of the Year Award
.
NFL commissioner Roger Goodell created the award a year ago "to honor exemplary football coaches at all levels of the sport that display the integrity, achievement, and leadership demonstrated by the winningest coach in NFL history."
Candidates must be active coaches at the youth, high school, college or pro levels.
Those nominated from AFC East clubs:
Five teams nominated their own head coaches: the
Baltimore Ravens
,
New Orleans Saints
,
New York Giants
and
Seattle Seahawks
.
The
Tennessee Titans
nominated assistant Mike Heimerdinger, who was diagnosed with cancer in November but kept coaching while undergoing chemotherapy.
The judging panel includes Shula, Goodell, former
Oakland Raiders
coach John Madden, former
Indianapolis Colts
coach Tony Dungy, former Secretary of State Condoleeza Rice, Gen. Raymond Odierno (commander of the U.S. Joint Forces Command), IBM boss Sam Palmisano and Aplington-Parkersburg athletic director Aaron Thomas (son of legendary prep coach Ed Thomas).
The winner of the national Shula Award will receive $25,000 and will be invited to the Super Bowl.
February, 12, 2010
2/12/10
10:16
AM ET
Hidden amid the Super Bowl coverage last weekend was an interesting comment from NFL commissioner Roger Goodell, who hinted one of the game's most fundamental images could vanish.
The three-point stance could be outlawed as a safety measure to reduce helmet-to-helmet contact. Goodell, appearing Sunday on "Face the Nation," acknowledged the possibility while explaining to host Bob Schieffer even basic football chestnuts are on the table when it comes to addressing brain injuries.
ESPN.com reader mistH2O doesn't like it.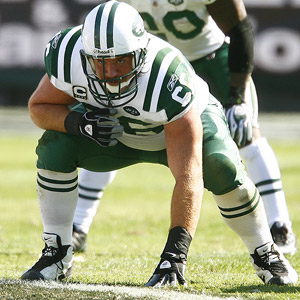 Kevin Terrell/Getty ImagesA rare sight in the NFL these days, Jets guard Alan Faneca still can be spotted firing out of a three-point stance.
"Theres nothing wrong with a good clean football game, however, sooner or later it might look like a totally different game," mistH2O wrote in the comments section of
my feature on the long-lasting impact of head trauma
in football. "They're going to consider taking away the three point stance! I don't watch football to see pansies with helmets play pattycake."
Take it easy, fella.
Two voices of reason say the three-point stance is moot.
One legendary analyst notes it's becoming as obsolete as the jump pass, fumblerooski and
single-bar facemask
. And a former NFL lineman from the Ivy League contends interior collisions don't cause concussions in the first place.
Last week, I attended the news conference for the
inaugural Madden Most Valuable Protectors Award
, given each year to the league's best offensive line. The
New Orleans Saints
beat out the
New York Jets
for one of the handsomest trophies I've seen -- five men crouched and ready to fire out of a three-point stance.
John Madden, the award's namesake, appeared via satellite. A reporter asked how offensive line play has changed over the decades.
"One of the big things that I see is that they don't get in a three-point stance much anymore," Madden said. "It's all about pass protection. There was a time for an offensive lineman in NFL where maybe it was maybe half run block, half pass protection. ... Now it's about 90 percent pass protection. You see so much shotgun, spread formations. When you're in that, you're going to run a draw anyway so there's no reason to get in a three-point stance.
"The three-point stance is out. Drive blocking is kind of dying out. I'm sure that bothers old offensive linemen, but it's a passing league, it's a spread league and it's a pass-protection league."
Whatever vestige of the three-point stance remains, former
Buffalo Bills
and
New England Patriots
offensive lineman Ross Tucker doesn't see any reason to abolish it. Tucker is a Princeton alum and
columnist for SI.com
.
"You don't generate big hits on defensive linemen because you just don't get enough momentum," Tucker told me. "So I don't know what Goodell's talking about. I don't think that would fix the problem.
"It would be a different game, and you would have to start that all the way at Pop Warner, and it would be a lot easier to run the football. It would be very difficult for the defensive linemen to hold their ground [when starting out of a two-point stance] than for the offensive linemen to attack them.
"I respect the fact that everything's on the table, but that's not something worth considering."
February, 3, 2010
2/03/10
2:36
PM ET
FORT LAUDERDALE, Fla. -- The
New York Jets
' offensive line paved the way for the NFL's top rushing attack and featured three Pro Bowlers.
But it wasn't the NFL's best.
In an award that was long overdue and bestows a pretty cool statue, the
New Orleans Saints
were given the inaugural Madden Most Valuable Protectors Award on Wednesday at the Super Bowl media center.
Other finalists for the award were the
Indianapolis Colts
,
Tennessee Titans
and
Philadelphia Eagles
. Voting was handled through a combination of fan ballots and NFL Network analysts.
The Jets didn't do enough, apparently. I thought it would come down to the Jets and the Titans, who blocked for a 2,000-yard rusher and allowed only 15 sacks, second fewest in the league after the Colts.
The Jets had All-Pro center
Nick Mangold
and two other Pro Bowlers, left guard
Alan Faneca
and left tackle
D'Brickashaw Ferguson
. They blocked for an offense that averaged an obnoxious 172.2 rushing yards a game.
"They were really impressive, especially towards the end of the season," John Madden said. "I liked them earlier in the season, but at the end of the season, when they were making their playoff run, they led pro football in rushing. You know that has to go to the offensive line, and they were just fun to watch."
The Saints also had three Pro Bowlers. They anchored an offense that led the NFL in scoring and averaged 131.6 yards rushing and 272.2 yards passing a game.
January, 28, 2010
1/28/10
4:34
PM ET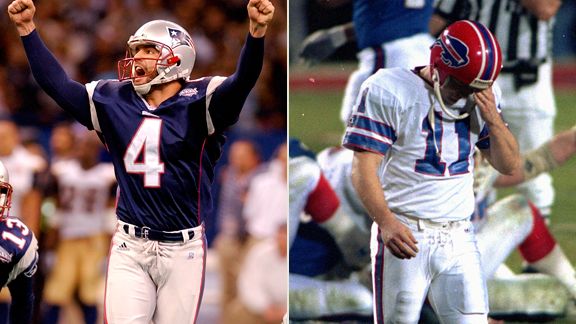 AP PhotoAdam Vinatieri and Scott Norwood played key roles in the best and worst AFC East Super Bowl plays.
ESPN's John Clayton put together his list of the
10 most memorable plays in Super Bowl history
.
AFC East clubs have been involved in many unforgettable moments, and in attempting to put together a list, the heartbreakers seemed more distinguished than the triumphs. Rather than combine them, I've decided to break down the five best plays and the five worst.
Think I missed one or disagree with the way I ranked them? Add your suggestions in the comments section below.
Five best
1. Vinatieri's field goal clinches Patriots' first title:
With broadcaster John Madden advising the
New England Patriots
to kneel out the clock and go to overtime,
Tom Brady
orchestrates a drive against the
St. Louis Rams
that lays the foundation for a Hall of Fame career.
Adam Vinatieri
kicked a 48-yard field goal as time expired to win Super Bowl XXXVI.
[+] Enlarge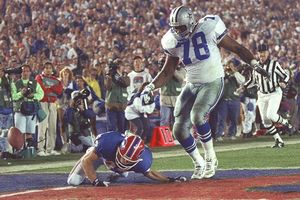 Getty ImagesDon Beebe saved a Dallas touchdown and proved that showboating doesn't pay.
2. Beebe strips Lett:
Super Bowl XXVII was getting out of hand when the
Dallas Cowboys
sacked
Buffalo Bills
quarterback Frank Reich, forcing him to fumble. Leon Lett scooped the ball and rumbled for what should have been a 60-yard touchdown, but he celebrated too soon. Don Beebe racing from behind knocked the ball out of Lett's hand at the goal line to revert possession to the Bills.
3. Law's interception:
In the second quarter and with the favored Rams ahead 3-0, Law made a statement when he intercepted a
Kurt Warner
pass and returned it 47 yards for a touchdown. The Patriots went on to score 17 straight points. The Rams never led again, and the Patriots launched a mini-dynasty.
4. Walker's kickoff return TD:
In a game full of big plays, Fulton Walker returned the first kickoff for a touchdown in Super Bowl history. Walker went 98 yards to give the
Miami Dolphins
a 17-10 halftime lead, but the
Washington Redskins
scored 17 points in the second half to win.
5. Maynard's incomplete bomb:
Speedy receiver Don Maynard was a significant contributor to the
New York Jets
' championship team, but he was shut out in Super Bowl III. "I didn't catch a single pass," Maynard recently told the Bergen Record, "
but I really had a great game
." With no score, Maynard raced behind the Baltimore Colts secondary for what should have been a long touchdown. Joe Namath barely overthrew him, but the play spooked the Colts enough to double- and triple-team Maynard the rest of the game, leaving George Sauer free to catch eight passes for 133 yards.
Five worst
1. Wide right:
So many fates swung on Scott Norwood's right hip socket when he attempted a 47-yard field goal that would've beaten the
New York Giants
in Super Bowl XXV. Norwood's kick sailed wide ride, spoiling what would turn out to be the Bills' best shot to win any of their four straight Super Bowls. The kick also propelled Bill Parcells to legend.
[+] Enlarge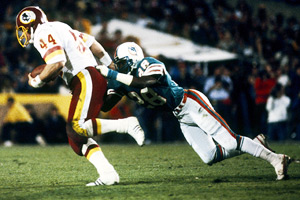 Alan H. Schwartz/Getty ImagesJohn Riggins broke a tackle from Don McNeal en route to a 43-yard touchdown run.
2. Tyree's catch:
Giants afterthought
David Tyree
made the most miraculous catch in Super Bowl history to help ruin the Patriots' pursuit of perfection in 2007. In the final minute and down by four points,
Eli Manning
made an unbelievable scramble and heaved the ball to Tyree, who outbattled Patriots safety
Rodney Harrison
and made the reception by pinning it against his helmet.
3. Riggins' run:
Redskins locomotive John Riggins made an iconic run in Super Bowl XVII that still symbolizes power football at its finest. On a fourth-and-1 play in the fourth quarter, Riggins ran off left tackle and steamrolled Dolphins cornerback Don McNeal on his way to a 43-yard touchdown to give the Redskins their first lead.
4. Howard's 99-yard return:
Desmond Howard
sealed a victory for the
Green Bay Packers
when he returned a kickoff 99 yards in the fourth quarter against the Patriots in Super Bowl XXXI. Howard was awarded the MVP for rolling up 244 return yards.
5. Yepremian's blunder:
The Dolphins were trying to achieve perfection in 1972 and seemed to have everything under control against the Redskins in Super Bowl VII. The Dolphins were ahead 14-0 with about two minutes left, when Garo Yepremian lined up for a 51-yard field goal. The kick was blocked and ricocheted to Yepremian, who comically tried to pass. The ball rolled off his hand and was bobbled. Mike Bass snatched it out of the air and ran 49 yards for a touchdown.
April, 22, 2009
4/22/09
2:18
PM ET
Posted by ESPN.com's Tim Graham
The Madden Curse won't strike anybody in the AFC East this year.
The cover boy for Madden NFL 10, the most popular football video game since George Plimpton told us how realistic Intellivision was, will be revealed Friday afternoon at the Edison Ballroom in New York.
None of the nine cover finalists hails from the AFC East -- anymore.
But one made his mark last year for the New England Patriots. Here's the list:
I thought Miami Dolphins quarterback Chad Pennington or running back Ronnie Brown -- the Wildcat formation supposedly has been installed in the upcoming game, due on shelves Aug. 14 -- easily could be justified on that list.
Does Cassel really belong on that list? He might be the one actually chosen for the cover. Cassel, Fitzgerald and Jacobs were the only candidates invited to Friday's unveiling.
I predict Fitzgerald will be selected for the cover.
NFL analyst Cris Collinsworth, the man replacing John Madden in the "Sunday Night Football" booth, and veteran play-by-play man Tom Hammond break down each player in a series of nine videos at the Madden NFL 10 site.
"Probably the most stunning story that I can remember in a long time in the NFL," Collinsworth says. "Here's a guy that didn't even play college football. It was at USC and standing in line behind some great players.
"But you think of taking off not only that gap in years of college but that gap in years behind Tom Brady and then being asked to come in and take over for an undefeated team and the pressure that went with it. He wasn't perfect, but to be put in that situation ... I thought he handled himself tremendously well.
"As far as a great story of what happened in the NFL a year ago, [Cassel] was as good as it got."
Brett Favre was selected last year before he came out of retirement and was traded to the New York Jets. We all know how that turned out.
Other cover boys include Michael Vick, Daunte Culpepper, Vince Young, Shaun Alexander and Garrison Hearst.
December, 15, 2008
12/15/08
8:30
PM ET
Posted by ESPN.com's Tim Graham
As much as Mike Smith, Tony Sparano and Jeff Fisher deserve coach-of-the-year consideration, I still contend Bill Belichick is doing the best job of his career.
When Belichick's ramshackle team shellacked the Oakland Raiders 49-26 on Sunday, he recorded his 100th victory in 142 games with the New England Patriots.
Only three other NFL coaches reached the century mark faster with one team: John Madden (136), Don Shula (137) and Paul Brown (138).
I hear those guys were somewhat respected in their day.
New England's victory also guaranteed a winning record for the eighth consecutive season and improved an already-gaudy late-season win percentage over the past six seasons.
Since 2003, the Patriots are 23-3 in regular-season games played after November. All three losses were to the Miami Dolphins. Go figure.
The Patriots have won 10 straight games in December.
Here are the top five regular-season records after November since 2003:
New England Patriots 23-3
San Diego Chargers 19-6
Pittsburgh Steelers 18-7
Indianapolis Colts 17-8
Green Bay Packers 16-8
August, 18, 2008
8/18/08
1:04
PM ET
Posted by ESPN.com's Tim Graham
| | |
| --- | --- |
| | |
| | Tony Tomsic/Getty Images |
| | Joe Namath was the first to throw for 4,000 yards in a season. |
Readers' pick: Joe Namath, QB
Four decades later, when you think of the New York Jets, you still think of Joe Namath.
Jets fans whose fathers weren't even born when Namath made his famous Super Bowl III guarantee know all about it. They've seen the slow-motion trot into the Orange Bowl tunnel, his finger defiantly wagging No. 1 after beating the favored Baltimore Colts.
Namath received the most votes in our poll, finishing ahead of defensive end Mark Gastineau and running back Curtis Martin, who last year had the team's MVP award named after him. Namath's favorite target, Don Maynard, was a distant fourth.
But there was little doubt Broadway Joe would be chosen the greatest Jet.
His celebrity magnetism and majestic passes drew fans to the AFL and forced the NFL to acknowledge the brazen start-up. Namath helped revolutionize the passing game. He was the first to throw for 4,000 yards in a season -- in 14 games, no less.
"Some guys have had a lot of accomplishments," John Madden said while criticizing Namath's omission from the NFL's 75th anniversary team. "But with Joe, here's a guy who made a league."
Let alone a franchise.

AFC EAST SCOREBOARD
Friday, 8/22
Saturday, 8/23