January, 24, 2012
1/24/12
1:30
PM ET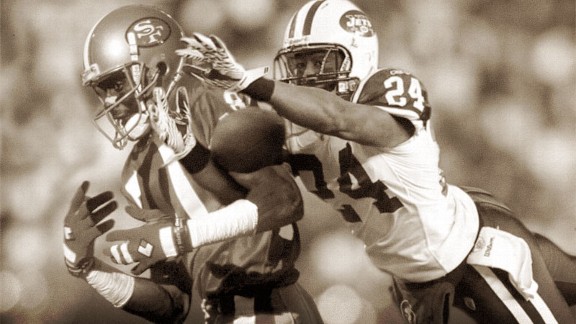 ESPN.com IllustrationWould Hall of Famer Jerry Rice manage to escape from "Revis Island"?
Starting this week, ESPN.com and ESPN The Magazine are working together on a comprehensive series that examines which current NFL players could
thrive in any era
. Tuesday's group included
New York Jets
Pro Bowl cornerback
Darrelle Revis
.
A panel of Hall of Famers created their top 20 and Revis came in at No. 15. Here were some comments:
JAMES LOFTON: "Sometimes the promotion of 'Revis Island' can enhance or even supersede someone's image. When you watch this guy play, how is he able to move the receiver off his spot? It's like Superman strength. Darrelle Revis has that same type of strength. When he puts his hand on a receiver, the receiver that is headed there ... is now over there. It's really slight and really subtle, and he's not pushing off, but he's just so strong and compact, he just moves them off their route."
JOHN RANDLE: "When you watch him, he's a quiet killer. Like a sniper because he's drawing attention to himself, but you know that receiver is not going to have a good game. That receiver is shut down. The quarterback looks out there and goes, 'Well, my No. 1 is down. Let's look to my No. 2.'"
This was a good selection by the panel. Revis' elite coverage skills and hand-eye coordination would thrive in any era. In fact, due to many rule changes that favor high-scoring offenses, this is the most difficult era in NFL history to be a corner. But Revis is doing just fine.
I've said before in the blog that Revis is on his way to being an all-time great. It's clear that current Hall of Famers are taking notice. We will have more on ESPN.com's Any Era project later in the week as other players in the AFC East are revealed.
February, 6, 2010
2/06/10
5:42
PM ET
FORT LAUDERDALE, Fla. --
Andre Reed
deserves to be in the Pro Football Hall of Fame.
He just has to wait his turn.
For the fourth time, the legendary
Buffalo Bills
receiver was a semifinalist who didn't make the cut. Receiver
Jerry Rice
, running backs
Emmitt Smith
and Floyd Little, guard Russ Grimm, defensive tackle
John Randle
, linebacker
Rickey Jackson
and cornerback and esteemed coach Dick LeBeau were selected Saturday for the class of 2010.
Nobody expected Reed to be honored with Rice and Smith on the ballot for the first time. That left two fewer spots available for the others.
But there were some interesting developments in this year's selection process that bode well for Reed's candidacy in 2011.
There had been a belief among Hall of Fame voters
Cris Carter
must be inducted before Reed could make it. But
for the first time, Reed finished ahead of Carter
in the process.
When the list of 15 semifinalists was pared down to 10, Carter and
Tim Brown
(in his first year of eligibility) didn't advance. Reed did after failing to make the final 10 last year.
And as Reed's career numbers continue to slide down the all-time list each season -- a tight end passed him this year, and
Randy Moss
,
Torry Holt
and
Hines Ward
probably will knock him out of the top 10 next year -- there was concern Reed's credentials would dim.
Maybe that won't be the case.
Reed caught 951 passes for 13,198 yards and 87 touchdowns. He went to four straight Super Bowls. Had the Bills won one of them, the chances for his induction would be moot. He'd probably already be in.
"It's not just about how many you caught, but when you caught them," Hall of Fame receiver
Michael Irvin
said on the NFL Network's induction show. "To go to four Super Bowls, that means all of your catches meant something. So hopefully he will be here one day."