June, 22, 2010
6/22/10
1:00
PM ET
»
NFC Big Question
:
East
|
West
|
North
|
South
»
AFC
:
East
|
West
|
North
|
South
What's the worst call to have spoiled the result for an AFC East team?
In the past few weeks, Koman Coulibaly and Jim Joyce made two of the most infamous officiating blunders.
On a global stage,
Coulibaly's no-goal gaffe might cost the U.S. soccer team
a place in the knockout round of the World Cup.
Joyce spoiled baseball history when he blew a call
at first base on what should have completed a perfect game.
[+] Enlarge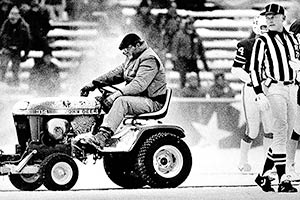 AP Photo/Mike KullenJohn Smith had better footing after a plow cleared away the snow for his game-winning kick.
At least they're not alone in sports history. Plenty of other officials have made dubious calls that have changed the outcome of a big game.
The AFC East has seen its share.
With help from my Facebook friends
, I came up with a short list of controversial calls to consider.
We'll steer clear of the calls that helped an AFC East team win. So forget the Tuck Rule or Vinny Testaverde's phantom touchdown plunge. We're looking for heartbreak here.
With 52 seconds left in their 1976 playoff game,
New England Patriots
defensive lineman Ray Hamilton was called for a highly questionable roughing penalty on
Oakland Raiders
quarterback Ken Stabler. The Patriots were up by four points. The Raiders faced a third-and-18 from New England's 27-yard line. Stabler's pass was incomplete, but the flag gave the Raiders a first down, and they eventually punched into the end zone.
The Patriots defeated the
Miami Dolphins
in the Snow Plow Game in 1982. On a winter wonderland of a field, Patriots coach Ron Meyer ordered a plow onto the field to clear kicker John Smith's placement for a 33-yard field goal with 4:45 to play. Officials didn't prevent it. Final score: Patriots 3, Dolphins 0.
In 1998, a questionable fourth-down conversion immediately followed by a wild penalty in the end zone as time expired infuriated the
Buffalo Bills
so much they didn't line up for the extra point in a vexing loss to the Patriots.
A Hail Mary pass interference
gave New England the ball on Buffalo's 1-yard line. Down by four points,
Drew Bledsoe
tossed to
Ben Coates
for the touchdown.
Bills fans bemoan the Music City Miracle
, one of the most controversial plays in NFL history. The
Tennessee Titans
pulled off what I believe was a perfect lateral to eliminate the Bills from the 1999 playoffs. Despite a video review that seemed to have more interpretations than a Salvador Dali painting, the touchdown stood. The Bills haven't returned to the postseason.
Last year, a Sports Illustrated photo
showed Dolphins receiver
Ted Ginn
stripped
New Orleans Saints
safety
Darren Sharper
shy of the goal line. The ball bounded out of the end zone for what should have been a Dolphins' touchback, but a review upheld Sharper's pick-six, a critical play in a dramatic Saints' victory. Had the Dolphins won, it might have helped them get into the playoffs.
There are so many others to choose from. Please share your thoughts in the comments section.
February, 24, 2010
2/24/10
1:19
PM ET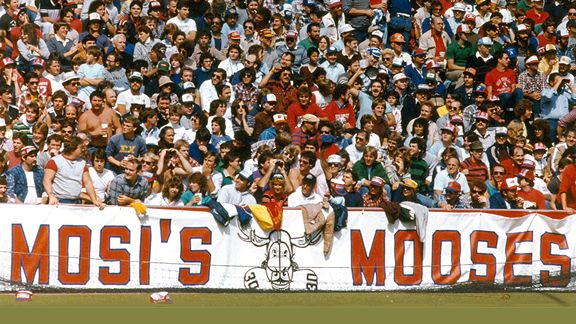 New England PatriotsMosi Tatupu had his own cheering section, "Mosi's Mooses," in Sullivan Stadium.
The
New England Patriots
are mourning the loss of a fan favorite.
Fullback and special-teams ace Mosi Tatupu died Tuesday in Attleboro, Mass. He was 54.
Tatupu, a gritty eighth-round draft choice in 1978, played 13 seasons with the Patriots. He was the lead blocker for Craig James when the Patriots went to their first Super Bowl and was selected to the Pro Bowl for 1986.
[+] Enlarge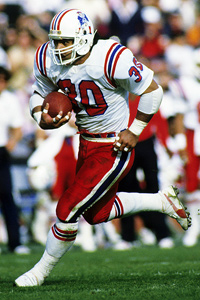 Rob Brown/Getty ImagesMosi Tatupu spent 13 seasons with the Patriots.
Tatupu had his own cheering section called "Mosi's Mooses" in Sullivan Stadium. He was named to the Patriots' 50th anniversary team.
He briefly played for the
St. Louis Rams
before retiring in 1991. He coached his son,
Seattle Seahawks
linebacker
Lofa Tatupu
, at King Philip Regional High in Wrentham, Mass.
The Patriots have released statements from the organization and some of Tatupu's teammates.
Patriots owner Robert Kraft
"I know that I share a heavy heart today with Patriots fans everywhere who have learned of Mosi Tatupu's passing. I was shocked by the news this morning. My sons and I loved to watch Mosi. He was one of our favorite players for more than a decade. I don't think you could watch a Patriots game in the '80s without becoming a fan of his. He was a dominant special-teams player and a punishing rusher who loved the Patriots as much as the fans did. He gave everything that he had on every play. ... He was an iconic player and will be remembered for all of his contributions as a Patriot, both on and off the field."
Former Patriots receiver Stanley Morgan
"There was only one Mosi. I first met Mosi the year after I came to the Patriots, when he got here in 1978, and it was love at first sight, I guess you could say. He got along great with everybody. He had that air about him that you were comfortable around him all the time, and nobody was a stranger around him. People were attracted to that."
Hall of Fame linebacker Andre Tippett
"You probably couldn't ask for a better teammate than Mosi. It was the way he approached the game. He worked hard. He practiced hard. He had a way about him. He always had an upbeat attitude. He was happy all the time and just pleasant to be around. He had a special connection with the fans and his teammates. Everybody loved him."
Former Patriots quarterback Steve Grogan
"As a teammate, he was one of the best. He was one of those guys that made life fun, whether it was in the locker room or on the practice fields. He had a smile that radiated. The fans appreciated him because he was a lunch-pail kind of guy and did whatever was asked of him, whether it was on special teams, on the goal line, in blocking or catching situations. I think Patriots fans really appreciated that."
Former Patriots center Pete Brock
"The thing about Mosi was that he did everything. He wasn't the glamour guy out in front, getting all the carries. He just played football and he played hard. A lot of people remember the 'Snow Plow Game' and, of course, John Smith's kick won it. But it was Mosi, who ran for more than 100 yards that day, that really won that game.
"It's really a shock, and it's so much tougher because we played before the era of free agency. So you really got to know everybody. We were a community. We raised our children together. Because of that it's just like losing a family member."

AFC EAST SCOREBOARD
Friday, 8/22
Saturday, 8/23