January, 7, 2010
1/07/10
9:04
PM ET
Any speculation of the
Buffalo Bills
' timetable in pinpointing a new head coach would be a guesstimate.
But nothing will happen until owner Ralph Wilson gives his blessing.
Bills general manager Buddy Nix on Thursday interviewed
Minnesota Vikings
defensive coordinator Leslie Frazier, their second known interview of the week in addition to Bills interim coach Perry Fewell.
John Wooten, chairman of the Fritz Pollard Alliance, which advocates minority hiring in the NFL, spoke with Nix after Frazier's interview. While Nix offered glowing reports on both interviews, he also conveyed the process wasn't nearing completion.
"I think Buddy has a couple more candidates he wants to interview," Wooten said. "He'll decide on one or two guys he feels good about, and then those guys will have an opportunity to meet with Mr. Wilson and go from there."
When the Bills essentially dismissed their entire coaching staff Monday, many NFL insiders believed that was a harbinger for a quick hire.
The Bills haven't disclosed any details about their list of candidates or their agenda.
They have until the end of the week to interview assistants of teams that have first-round playoff byes.
One supposed aspirant,
San Diego Chargers
defensive coordinator Ron Rivera, told Buffalo NBC affiliate WGRZ on Thursday
he hadn't been contacted
. Free agent Brian Billick, the former
Baltimore Ravens
head coach, also told the station he hadn't been approached.
ProFootballTalk.com reported Stanford coach
Jim Harbaugh is a possible candidate
for the Bills and
Oakland Raiders
.
If the Bills have their eye on an assistant who's involved in the first round of the playoffs, then they will have to wait until that team is eliminated to interview him.
Wooten spoke with Nix because as part of the protocol for Rooney Rule interviews. The Rooney Rule mandates at least one minority be interviewed for every head coach or top personnel opening.
"We got some real good reports from the Bills on Perry and Leslie," Wooten said. "Both of them felt good about their interviews.
"Buddy Nix was extremely generous with his compliments, and they had great interviews and felt things were moving forward. We feel good about it."
But nobody expects Fewell to be back in Buffalo. Wooten confirmed Fewell interviewed Thursday with the
New York Giants
to be their defensive coordinator and will meet with the
Chicago Bears
next about the same position.
January, 6, 2010
1/06/10
4:08
PM ET
Minnesota Vikings
defensive coordinator Leslie Frazier has been viewed as a token interview over the years, an obligatory candidate for various head-coaching vacancies because he's black. NFL policy stipulates that at least one minority be interviewed for every vacancy.
[+] Enlarge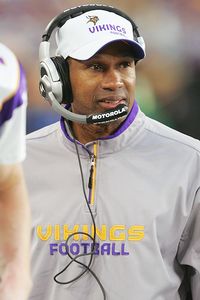 Paul Jasienski/Getty ImagesThe Bills will interview Leslie Frazier on Thursday for their head-coaching job.
But we can safely state the
Buffalo Bills
don't view Frazier as a required interview. The Bills will meet with Frazier on Thursday morning to discuss their opening.
The Bills aren't searching for a minority to interview as many teams have done in the past. They interviewed interim coach Perry Fewell on Monday afternoon. The Bills also are reportedly interested in
San Diego Chargers
defensive coordinator Ron Rivera. Fewell is black. Rivera is Puerto Rican.
John Wooten, chairman of the Fritz Pollard Alliance, which oversees the so-called Rooney Rule on minority hires, said he anticipated the Bills will interview Rivera later this week.
Frazier and Rivera are permitted to interview for the Bills' opening before the end of their teams' seasons because they have first-round postseason byes.
"I'm impressed," Wooten said of the Bills' search. "They didn't have to interview any of these minority guys. They've already satisfied the Rooney Rile with the interview they gave Perry Fewell."
Wooten couldn't confirm a scheduled interview for Rivera, but the Fritz Pollard Alliance stages preparatory sessions for candidates before they interview. The organization already has met with Rivera about the Bills.
Frazier declined to comment on Thursday's interview when I reached him at the Vikings' facility because he was on his way to a team meeting.
Frazier has interviewed for five openings over the past two years. He was the lone minority the
Miami Dolphins
interviewed for the job Tony Sparano assumed in 2008.
"He has absolutely earned it," said Wooten, a Pro Bowl guard for the
Cleveland Browns
in the 1960s. "I think he's really ready to take the step up. I think he should have gotten the job with St. Louis and Detroit. I really thought he'd fit right in with those particular spots last year. He was disappointed, and I told him there was nothing wrong with becoming disappointed, but don't get discouraged.
"He'll do a fantastic job tomorrow. His stinger will be up and he'll give a good interview. I think he brings the fire they need."
October, 6, 2008
10/06/08
4:52
PM ET
| | |
| --- | --- |
| | |
| | Darryl Norenberg/Getty Images |
| | In 1968, Marlin Briscoe became the first black quarterback in the modern era to start a game. |
Forty years have passed -- a long time, but not a lifetime.
What a big moment it was then. Now it's a weekly occurrence in multiple NFL stadiums.
A black quarterback starting in the NFL is no big deal these days. A couple generations have grown up with Doug Williams and Warren Moon and Donovan McNabb and Daunte Culpepper and Michael Vick running offenses.
But when
Marlin Briscoe
broke the Denver Broncos huddle and surveyed the Cincinnati Bengals defense as he walked to the line of scrimmage Oct. 6, 1968, he became the first black quarterback in the modern era to start a game.
"It's come a long way," Briscoe said from his home in Long Beach, Calif. "They thought a black man could not think, throw and lead at that level."
Now the United States could be on the verge of electing its first black president.
Willie Thrower was the first black quarterback to get into an NFL game in 1953, but stereotypes and small-mindedness prevented coaches from providing a real opportunity until Lou Saban, partially out of desperation, handed the job to Briscoe.