February, 21, 2014
Feb 21
6:10
PM ET
INDIANAPOLIS -- Here's a rundown of what we learned on the second day of the 2014 NFL scouting combine.
1. Quiet on the Patriots front:
There wasn't much to pass along as it relates to news on the New England Patriots, though we did highlight the budding friendship between
Tom Brady
and Texas A&M's
Johnny Manziel
.
Talib
2. Free-agency thoughts:
We're a few weeks away from free agency, but teams are hard at work, as the combine serves as an opportunity for teams to meet with agents, who held their annual meeting Friday. Patriots director of player personnel Nick Caserio explained as much in a recent video with Patriots.com. Along these lines, Jeff Howe of the Boston Herald reports the team will meet with cornerback
Aqib Talib
, a pending free agent, here in Indianapolis.
3. Bench press takes stage:
The on-field workouts begin Saturday, but the physical testing has already begun. Tight ends, offensive linemen and specialists did the bench press Friday, with word from those inside that North Carolina center
Russell Bodine
led the way with 42 reps. Another player that impressed: Dixie State tight end Joe Don Duncan with 35 reps ... with a broken foot.
4. McCarron likens self to Brady:
Alabama quarterback AJ McCarron had some Patriots-related thoughts, as he likened his game to Brady's. He also proclaimed that the Patriots are the "Alabama of pro football."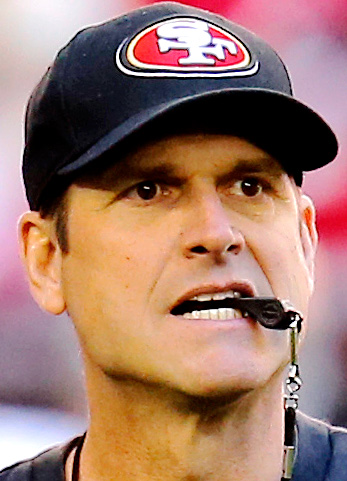 Harbaugh
5. Coaching trade thoughts:
Word came out late Friday afternoon via Mike Florio of Pro Football Talk that
the Browns and 49ers nearly consummated a trade for San Francisco head coach Jim Harbaugh
prior to Cleveland hiring Mike Pettine. Coaching trades aren't common in the NFL, but the Patriots pulled one off with the Jets back in 2000 for Bill Belichick. Even if the price is steep (the Patriots shipped a first-round pick), finding the right coach is a wise long-term investment.
6. Odds and ends:
Defensive end
Jake Bequette
turns 25 today ... Add Bill O'Brien to those who value big hands on quarterbacks ... The Ravens won't rush to make a decision on the future of running back
Ray Rice
... John Elway is aiming to sign head coach John Fox to a contract extension ... We appreciate the candor of
Minnesota Vikings
head coach Mike Zimmer, who admitted he hasn't had time to study college prospects yet as he transitions into his new job. His first tasks in Minnesota involve laying his own foundation ... We also admire the confidence of
Arizona Cardinals
head coach Bruce Arians. That appeared to trickle down to his team in their resurgent 2013 season.
December, 30, 2013
12/30/13
7:00
AM ET
MIAMI -- It has been nearly three years since that magical day in Foxborough, where the
New York Jets
delivered their biggest win since that other magical day in the franchise's history, Super Bowl III, in 1969.
In January 2011, Rex Ryan conquered his nemesis, the
New England Patriots
, creating a big, loud and cocky green monster that figured to wreak havoc for seasons to come. But instead of the Incredible Hulk, they turned into Shrek -- ugly and goofy.
On Sunday, the Jets completed their third consecutive non-playoff season. It's their longest postseason drought since the dark ages of the 1990s, when they failed for six straight years under four different coaches. Their record since 2011 is just 22-26.
Without question, they overachieved in 2013, squeezing eight wins out of a young roster devoid of stars. Ryan did a commendable job in a rebuilding year
and will return in 2014
, the team announced after a season-ending 20-7 victory in Miami.
For GM John Idzik, the honeymoon is over. It's on him, and he faces an offseason with many challenging issues. Such as:
Augment the quarterback position:
This is the biggest decision facing the Jets. They have to decide if
Geno Smith
is a true No. 1 quarterback or whether they should hedge their bet by bringing in legitimate competition. They have 16 games on tape to evaluate.
While Smith's late-season rally reduces the need to make a major acquisition, the smart play would be to add a competent veteran. Problem is, it's hard to find that guy, a No. 1/No. 2 quarterback.
Mark Sanchez
fits the description, but there are health and salary-related questions, not to mention the entire issue of whether they'd want to re-create last summer's competition. Been there, done that.
An interesting target would be
Kirk Cousins
, who probably will be dangled in trade talks by the
Washington Redskins
. He wouldn't come cheaply in terms of compensation, maybe a second-round pick. That's a lot to surrender for a possible backup, but they have to look at the long view. He'd be an asset that appreciates in value.
They could go for
Matt Schaub
, the 2006 version of Cousins. Schaub would bring some baggage to the party, assuming he's released by the
Houston Texans
, but he's still only 32 and would be a worthwhile reclamation project/insurance policy.
What about the draft? Unless Idzik absolutely falls in love with someone (
Johnny Manziel
, anyone?), it wouldn't make much sense to sink a first-round pick into a quarterback, one year after using a No. 2 on Smith.
Jay Cutler
could be the big fish in free agency if the
Chicago Bears
let him hit the market, but he'd be a disaster in New York.
Rebuild the offense:
The Jets' skill-position talent has deteriorated steadily since 2010. Since 2011, they're ranked 26th in scoring, due largely to a lack of playmakers and poor quarterback play. They've ignored this side of the ball under the defensive-minded Ryan. It's time to pour money and resources into the offense so they compete in an offense-obsessed league.
They need a new tight end and two new wide receivers, preferably a game-breaker.
Stephen Hill
was supposed to be that guy, but he can't be counted on after two disappointing seasons.
The free-agent market for receivers is thin --
Eric Decker
of the
Denver Broncos
might be the best -- so look for Idzik to address the need in the draft. There are a couple of good ones,
Sammy Watkins
(Clemson) and
Marqise Lee
(USC), assuming they turn pro. The top free-agent tight end is
Jimmy Graham
, but there's little chance he gets away from the
New Orleans Saints
.
[+] Enlarge
AP Photo/Alan DiazWill Antonio Cromartie, a Pro Bowl cornerback in 2012, be playing in the Jets' secondary in 2014?
Spend money:
Facing a tight cap situation last offseason, Idzik operated on a shoestring budget, doling out modest contracts. Cap space won't be an issue this time. With
Darrelle Revis
coming off the books, and with
Mark Sanchez
and
Santonio Holmes
likely to be released (a total savings of $16.5 million), the Jets will have close to $40 million in cap space.
In theory, the Jets could stage their biggest spending spree since 2008, the year they acquired
Alan Faneca
,
Kris Jenkins
,
Calvin Pace
and
Damien Woody
, but Idzik believes in building through the draft. He owns eight choices, a total that could grow to 10 or 11 with expected compensatory picks.
This is "go" time for Idzik, a chance to show his acumen as a team-builder.
The first thing they should do is take care of couple of their own free agents, namely right tackle
Austin Howard
and kicker
Nick Folk
. Both earned long-term deals with their play in 2013. Linebacker Pace and guard
Willie Colon
are B-list free agents who have value for the short term.
Out with the old:
Sanchez, Holmes and
Antonio Cromartie
-- key players on the 2010 team that reached the AFC Championship Game -- are highly paid players with injury questions. It's possible all three could be playing elsewhere in 2014.
Holmes is a goner, for sure. They would've cut him two years ago if it weren't for $24 million in guarantees, one of the contracts that got Mike Tannenbaum fired. Sanchez fits the profile of what they need, but he's due a $2 million roster bonus in March -- and there's no way that will be paid. He'd have to agree to a massive pay cut, and that's unlikely to happen. Chances are, he'll be released.
Cromartie is a tough call, with a lot depending on his bad hip. His contract, which runs through 2014, is prohibitive -- a $15 million cap charge, including a $5 million roster bonus. He says he wants to retire a Jet, but let's see if he changes his tune when they propose a pay cut. Chances are, they'll cut him, letting him establish a market price before deciding whether to bring him back on a new deal.
August, 12, 2013
8/12/13
5:02
PM ET
DAVIE, Fla. --
Miami Dolphins
quarterback
Ryan Tannehill
admitted he's swamped with NFL training camp and hasn't kept close tabs on his college alma mater. But Tannehill did take a couple minutes after practice Monday to discuss the recent controversy at Texas A&M involving former teammate Johnny Manziel.
The latest story involves
an ESPN report
that Manziel allegedly accepted money for autographs, which could lead to an NCAA investigation. Tannehill was the starting quarterback at Texas A&M before Manziel and has known the Heisman Trophy winner for a few years.
"I haven't followed it too closely," Tannehill said of the controversy involving Manziel. "Obviously I see the headlines, but I think they'll get to the bottom of it. Whatever happens, they'll find the truth out."
Manziel was a red-shirt freshman during Tannehill's final year at Texas A&M. Manziel was recruited at the university to eventually fill the void Tannehill would leave behind. Tannehill left Texas A&M in 2012 and became the No. 8 overall pick for the Dolphins.
Manziel went on to win the Heisman Trophy as a freshman, his first year as a starter. But since then, Manziel hasn't been able to stay out of the headlines and could face discipline as a sophomore.
"I wish him the best," Tannehill said of Manziel. "He's been great for (Texas) A&M. He had a heck of a year last year, and hopefully we get to see him on the field this year."
May, 16, 2013
5/16/13
5:00
PM ET
Quarterbacks are the lifeblood of any NFL organization. With a franchise quarterback, a team can consistently contend. Without a quality quarterback, it's difficult to even make the playoffs.
Therefore, it's never too early to take a look at
2014 quarterback rankings

from ESPN's Mel Kiper Jr. Here is an early projection of the top signal-callers in next year's draft.
The 2014 quarterback class is stronger than this year's -- assuming Bridgewater and Manziel indeed decide to leave school early. The top three are Heisman Trophy candidates with a lot of hype. If this trio stays healthy and productive, teams will be looking at each prospect as a future first-round pick.
The AFC East saw two teams draft top-rated quarterbacks this year. The
Buffalo Bills
selected
EJ Manuel
No. 16 overall in the first round, and the
New York Jets
took
Geno Smith
No. 39, near the top of the second round. If both players show promise this season, the entire division could be out of the quarterback market.
The
New England Patriots
are set at quarterback with future Hall of Famer
Tom Brady
and young backup
Ryan Mallett
. The
Miami Dolphins
also believe they have a franchise quarterback in
Ryan Tannehill
. The 2012 first-round pick showed flashes as a rookie and is set to enter a crucial second season.