January, 21, 2012
1/21/12
1:42
PM ET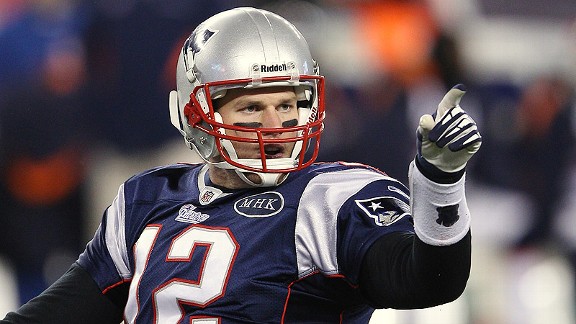 Elsa/Getty ImagesDoes Tom Brady have what it takes to be an NFL starting quarterback until he's 40?
Here is scary news for the rest of the NFL:
Tom Brady
wants to play quarterback for the
New England Patriots
until he's 40 years old.
That means, theoretically, Brady and coach Bill Belichick plan to
dominate the AFC East
and keep New England in title contention until 2017. Brady will turn 35 in August.
But five more years? That is an eternity in the NFL in which the average career span is approximately 3-4 seasons. Does Brady have enough in the tank to play 17 years at such a demanding position?
According to the Elias Sports Bureau, only four quarterbacks in NFL history have started on opening day at 40 or older.
Warren Moon
(41) was the oldest, followed by
Brett Favre
(40),
Vinny Testaverde
(40) and Johnny Unitas (40). Brady wants to become the fifth player to accomplish that feat.
Former quarterback and ESPN analyst
Trent Dilfer
played 14 seasons in the NFL and believes Brady will reach that goal. According to Dilfer, the key to quarterback durability is the lower body, not the upper body.
"What goes first with quarterbacks is their legs. Once you lose your legs, you kind of lose everything else," Dilfer explained. "I remember
Kurt Warner
talking about that late in his career, and obviously I experienced it. Every quarterback experiences it. I think Tom works hard enough to maintain the leg strength he needs to be as precise as he is, and I think he's a competitor that if he puts something in his mind that he's going to do something, he's a guy that goes out and does it.
"There's very few people in sports like that, talk about the Kobe Bryants and the greats in all sports. I think Tom is right up there. When he puts his mind to something, he's going to do it. So I fully expect him to be playing at 40 if he says he's going to."
It's hard to say when that window will close for Brady, who will lead the Patriots (14-3) in Sunday's AFC Championship Game against the
Baltimore Ravens
(13-4). He's proved over the past dozen years that as long as he's healthy, he's an elite player. Brady is an MVP candidate this season and by far the best remaining quarterback in the playoffs.
A case can made that Brady's three best statistical seasons occurred after 30 -- in 2007, 2010 and 2011. He also is coming off a record-tying, six-touchdown performance in a 45-10 playoff victory over the
Denver Broncos
. It was one of his top single-game performances.
Brady projects to be an elite player for at least the next two or three seasons. Injuries are probably the only thing that can derail him at this stage of his career.
Brady had reconstructive knee surgery and missed 15 games in 2008. Otherwise, he has had a clean bill of health. Outside of 2008, he has missed just one start since taking over the job in 2001.
"If anybody can pull it off, it's Brady, but like we saw with
Peyton Manning
, he could break down easier [with age] too," Matt Williamson of Scouts Inc. said. "Manning may never be the same. He may never play at that same high level. Who knows? If Brady hits one stumbling block like Peyton did, all of a sudden 40 is a long way away for him. But nobody is playing better than Brady right now."
Brady has been fortunate with pass protection throughout his career. He has been sacked 26 times or fewer in six of the past seven seasons.
Former Patriots linebacker Tedy Bruschi was a longtime teammate of Brady's and knows firsthand the importance of protecting the veteran quarterback. Brady is a classic pocket passer who moves well in the pocket. But he doesn't have the ability to run away from defenders.
"As players progress up into the years, the more shots you take, the shorter the second half of your career will be," Bruschi said. "And I think Tom Brady will play as well as his offensive line, his protection, allows him. I think he's shown over the course of the last few years that there are the usual [ailments], they're becoming normal now. Late in the season, where he had a rib or a shoulder or various injuries like that over the course of a season.
"You end up accumulating some damage, especially as a quarterback, because you're the most sought-after hit in terms of the defensive perspective. So if he can be protected, I think that goal is possible. He can play as long as he wants to."
Brady currently is playing with a left shoulder (non-throwing) injury that has to be managed during the playoffs. This week Brady
sat out of Wednesday's practice
to rehab and watched extra film of Baltimore's defense.
An under-the-radar aspect of Brady's longevity could be the development of tight ends
Rob Gronkowski
and
Aaron Hernandez
. Both have been tremendous weapons and security blankets for Brady in their second season together.
Throwing in the middle of the field is the quickest and easiest completion for quarterbacks. It also keeps the pass rush at bay.
"They're obviously a huge part of what we do," Brady said of his tight ends this week. "They are on the field quite a bit and they've been healthy so it's been good to have them both out there. ... They're pretty good with the ball in their hands and break a lot of tackles so that's definitely a plus for us also. We have a lot of yards after catch this year, and those two guys certainly do a great job with the ball in their hands."
Patriots owner Robert Kraft still remembers when the late-round draft pick came to Foxborough as a long shot in 2000. Kraft shared a great story about his first encounter with Brady this week.
"I still have the image of Tom Brady coming down the old Foxboro Stadium steps with that pizza box under his arm, the skinny beanpole," Kraft said. "When he introduced himself to me and he said, 'Hi, Mr. Kraft,' and he was about to say who he was and [I said], 'I know who you are, you're Tom Brady, you're our sixth-round draft choice.' He looked me in the eye and said, 'I'm the best decision this organization has ever made.' It looks like he could be right, although hiring Bill Belichick, I think, also has been a pretty good decision."
Brady's Hall of Fame legacy is secure. If he retired today, Brady already would be among the top quarterbacks ever to play the position. He has three Super Bowl rings and could tie his childhood hero --
Joe Montana
-- for the most playoff victories (16) with a win over Baltimore Sunday.
But the difference between being a top-five quarterback and the greatest ever could come down to these next five years. Brady can tie Montana (four) and Terry Bradshaw (four) for the most titles in these playoffs. But if Brady plays through age 40, he has a legitimate shot at being the winningest quarterback in NFL history.
"I'm really happy that we have him as our quarterback," Kraft said. "I hope we have the best quarterback and coach in the history of the game. I guess to prove that, we have a little more execution that we have to do over the next few years. I certainly hope we do it."
February, 6, 2011
2/06/11
12:54
PM ET
There's this guy named
Tom Brady
, and he had a pretty good season playing football for the
New England Patriots
...
Brady
For those who hadn't heard about his campaign or weren't quite sure that 14 wins, 36 touchdown passes and only four interceptions are desirable, Brady unanimously won The Associated Press 2010 Most Valuable Player Award.
What made Sunday's announcement newsworthy
was how completely obvious Brady was the top candidate
. Brady is the first unanimous selection for MVP under the Associated Press' current selection process.
Brady received all 50 votes from AP's panel of media who cover the league. He also was a unanimous All-Pro selection and won the
AP's offensive player of the year award on Tuesday
.
Brady came one vote short of being a unanimous MVP choice in 2007, with the dissenting vote going to
Brett Favre
. Brady is the eighth player to take MVP honors multiple times, joining Jim Brown, Johnny Unitas, Joe Montana, Steve Young, Favre, Kurt Warner and
Peyton Manning
.
January, 13, 2011
1/13/11
9:25
PM ET
The man who once called himself "the straw that stirs the drink" in the Bronx is advising the
New York Jets
to chill out.
New York Yankees legend Reggie Jackson thinks the Jets should shut up and concentrate on getting ready for Sunday's playoff game against the
New England Patriots
.
Jackson actually called in to ESPN 1050 host Michael Kay's show

Thursday specifically to blast the Jets for calling out
Tom Brady
and Bill Belichick. Jackson said it's as absurd as insulting Sandy Koufax or Tom Seaver or Jack Nicklaus before playing them.
"What are you talking about? What are you doing? Shut up! Play football!" Jackson said.
Jackson, a Baseball Hall of Famer, played football at Arizona State before switching full-time to the diamond.
He was particularly agitated by Jets cornerback
Antonio Cromartie
calling
Patriots Brady an "ass----"
and Jets head coach Rex Ryan for making fun of Brady. Ryan jabbed Brady for seeing the Broadway play "Lombardi" on Saturday night instead of watching the Jets beat the
Indianapolis Colts
.
Kay asked Jackson if he ever talked smack to an opponent.
"For what?" Jackson replied incredulously. "So that Don Sutton or Tom Seaver or Jerry Koosman or somebody would bear down harder on me? They're tough enough! And what's that make me? It makes me a fool.
"There are only two guys that made predictions. One guy did it every week that he fought in the '60s, and that was Ali, and he was real. He truly was the greatest. The other guy made one prediction in his career. It was a fluke, and it worked: Joe Namath.
"The greatest players in history, Woods, Nicklaus -- name all the greats -- Jimmy Brown, Johnny Unitas, Montana. They don't run their mouth. The wannabes, the imitations do."
Jackson admitted he generally gets a kick out of Ryan, but Mr. October scolded Cromartie like a Mr. December.
"Go look at the hardware, dude," Jackson said of the Patriots' success. "Walk through the lobby up there and look at the stuff that's there. You don't have that. You don't have anything close to it.
"Shut up. You might learn something. Read. You might figure something out. Watch film. You might get educated. If not, you got a chance to get embarrassed on Sunday. I hope you don't because I like the Jets."
Jackson later added: "You don't know what he's talking about because you've never won. So don't tell me how he thinks. You don't know. Acknowledge that. That's not my opinion. That's fact."
I can't wait to hear what Mike Richter has to say about all this.
February, 16, 2010
2/16/10
12:35
PM ET
Everybody loves a
good quarterback argument
.
[+] Enlarge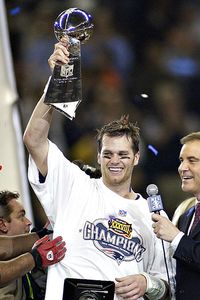 MPS/US PresswireTom Brady is a two-time Super Bowl MVP -- but he hasn't reached legendary status yet, according to one analyst.
Here's a list that endeavors to provide a definitive answer to the following question, but probably will get folks yapping at each other: Who is the greatest Super Bowl quarterback of all time?
Cold, Hard Football Facts kingpin Kerry J. Byrne rolls out all the statistical data from the
20 quarterbacks who've played in more than one Super Bowl
and ranks them purely on how they performed on the biggest stage.
Reputation doesn't matter one iota. That's why Jim Plunkett is slotted waaaaaaaaaaay ahead of John Elway.
Byrne breaks them down into four categories -- Legends, Champions, Cling-ons and Gimps -- and backs up the ranking, complete with a spreadsheet that lists all of their stats.
Legends
1. Joe Montana
2. Terry Bradshaw
3. Jim Plunkett
4. Troy Aikman
5. Bart Starr
Champions
6.
Tom Brady
7.
Brett Favre
8. Roger Staubach
9. Kurt Warner
10. Len Dawson
11.
Peyton Manning
Cling-ons
12. Bob Griese
13.
Ben Roethlisberger
14. John Elway
15. Joe Theismann
Gimps
16. Jim Kelly
17. Fran Tarkenton
18. John Unitas
19. Earl Morrall
20. Craig Morton
August, 10, 2009
8/10/09
2:50
PM ET
Posted by ESPN.com's Tim Graham
While I was immersed in Pro Football Hall of Fame weekend in Canton, Ohio, a few items I normally would have blogged about didn't get addressed.
Here's one.
Fittingly, it rewrites NFL history.
Mike Tanier of "The Fifth Down" blog at NYTimes.com directed us to some fascinating research performed by Scott Kacsmar at Pro-football-reference.com.
What Kacsmar recently discovered is that John Elway's distinction as the greatest fourth-quarter comeback quarterback of all-time is a myth.
The honor belongs to Dan Marino.
It was so often referenced that Elway conducted 47 fourth-quarterback comebacks. Problem is, comebacks aren't an official NFL stat. Kacsmar found that teams defined a fourth-quarterback comeback differently. The Denver Broncos were liberal with their interpretation, while the Miami Dolphins were conservative.
The Broncos gave Elway credit for a fourth-quarter comeback if they went into the fourth quarter tied and then pulled ahead. Included in that oft-referred to 47 was a game that ended in a push.
The Dolphins, meanwhile, considered only games in which Marino took the field in the fourth quarter while behind and he engineered a winning drive.
Kacsmar standardized a definition and crunched the data again.
Final tally: Marino 36, Elway 34.
If you're into stats and historical data, I recommend clicking on the links to Kacsmar's research for other intriguing info. His analysis shows Johnny Unitas also had more fourth-quarter comebacks than Elway.
Around the AFC East, Kacsmar has New England Patriots quarterback Tom Brady down for 20 (Drew Bledsoe finished with 24) and Miami Dolphins quarterback Chad Pennington down for seven so far.
September, 3, 2008
9/03/08
11:59
AM ET
Posted by ESPN.com's Tim Graham
DAVIE, Fla. -- One of the more hackneyed sports theories around is that a player who hangs around too long wears out his welcome and those who finish their careers in a different uniform tarnish their legacies.
Yet we have to really stoke our synapses to remember Michael Jordan as a Washington Wizard, Eric Dickerson as an Atlanta Falcon, Bobby Orr as Chicago Blackhawk or Babe Ruth as a Boston Brave (look it up).
Brett Favre, who started 253 straight games for the Green Bay Packers, is about to start No. 254 as a New York Jet. He will make his official debut Sunday against the Miami Dolphins.
"I do feel like a Jet," Favre said today on a conference call with Dolphins reporters. "The uniform feels right on me."
Favre isn't thinking about the ways Johnny Unitas or Joe Namath went out -- depressingly and in another team's clothes.
"Maybe moreso [Joe] Montana with Kansas City," Favre said. "If it works out, great. That's what I expected to do. If it doesn't, so be it. But I won't know unless I try. I know I still can play.
"If the odds are against me, you can say that from the outside looking in. I'm up for the challenge.
"And you know what? Five years from now, 10 years from now who really cares one way or the other? What matters is right now, and I enjoy being on this team."