September, 4, 2010
9/04/10
5:21
PM ET
Check
here
for a full list of roster moves.

Biggest surprise:
Many believed the Bills could keep an extra running back, either veteran
Chad Simpson
or undrafted rookie
Joique Bell
, because
Marshawn Lynch
and
Fred Jackson
have been banged up. Simpson and Bell had strong summers, but the Bills cut them both. It's also notable the Bills have given up on 2008 second-round pick
James Hardy
. The 6-foot-5, 220-pound target never looked as good in action as he did in a uniform. He had injury problems, missing almost all of last year while recovering from a knee injury. He had sports hernia surgery in the offseason. Undrafted rookies outperformed him in camp.
No-brainers:
There was no reason to keep rookie quarterback
Levi Brown
on the 53-man roster. He was drafted in the seventh round out of Troy as a long-term project. He's a safe bet to clear waivers and be added to the practice squad, but if another team snags him, no big loss. The move means the Bills likely will keep backups
Ryan Fitzpatrick
and
Brian Brohm
, each of whom started for them last year.
What's next:
On a team that hasn't made the playoffs in 10 years, few positions should be safe. That fact is emphasized by the number of undrafted rookies who made the squad. Bills general manager Buddy Nix will monitor the waiver wire and scrutinize all the veterans who've been dumped into the free-agent pool to see if there are any fits. The Bills will try to improve their offensive line depth and defensive front seven, especially.
September, 2, 2010
9/02/10
1:53
PM ET
Buffalo Bills
Miami Dolphins
New England Patriots
New York Jets

August, 23, 2010
8/23/10
5:18
PM ET
After watching prized draft choice
C.J. Spiller
befuddle the
Indianapolis Colts
' first-team defense Thursday night and undrafted rookie
Joique Bell
hold his own, the
Buffalo Bills
shouldn't be in a panic over
Fred Jackson
's broken hand.

Jackson
Besides,
Marshawn Lynch
's sprained ankle should be better in time for the season opener. The Bills' backfield should be OK until Jackson is fully recovered.
That said, the Bills certainly would feel much better with Jackson in uniform.
He was Buffalo's top contributor last season, becoming the first NFL player to rush for 1,000 yards and amass 1,000 yards on kickoff returns. He gained 2,516 combined yards (rushing, receiving, returns), the fourth-highest total in league history.
I checked in with ESPN injury expert Stephania Bell about Jackson's outlook for the regular season. She was skeptical Jackson would be effective on opening day, but wouldn't rule it out.
On the first possession of the Bills' preseason opener Aug. 13, Jackson broke the fourth metacarpal on his left hand. That's the long bone that goes from the wrist to the lower knuckle of the ring finger. Thankfully for the Bills, he didn't require surgery to implant a pin.
The prognosis has Jackson returning in four to six weeks. Four weeks would be two days before the Sept. 12 regular-season opener against the
Miami Dolphins
in Ralph Wilson Stadium.
Bell's main concern for Jackson would be the requirement of extra protection on the hand even after four weeks. A splint or cast would make holding onto the ball more difficult. If Jackson chose to carry the ball in his right, then using his left to ward off defenders would be problematic.
"Many times a bone in the hand, you get pretty decent healing in four weeks," Bell said. "The standard for a fully healed fracture is six weeks. The question is whether you let him play in some kind of heavy splint or a cast. That would be the requirement at four weeks.
"Is it more important for him to be carrying the ball with his left hand or keeping his left hand from delivering a stiff arm?"
Perhaps the wise move would be to go with Spiller, Lynch and Bell until Jackson's completely healed.
"I would not be surprised if he was not available for a week or two," Bell said. "But if he's eager to get back and the Bills feel it can be adequately protected and he can perform, the door isn't closed on him playing either."
August, 19, 2010
8/19/10
11:22
PM ET
TORONTO -- The
Buffalo Bills
bounced back from a putrid performance in their preseason opener to beat the
Indianapolis Colts
34-21
on Thursday night in the Rogers Centre.
Some notes and observations from the game:
Trent Edwards might have won the starting quarterback job with how he responded to one specific play. On a third-and-10 play in the first quarter, Colts defensive end Robert Mathis crushed Edwards while throwing. The hit knocked off Edwards' helmet and chipped a tooth. Two possessions and five plays later, Edwards hooked up with Lee Evans for a 70-yard touchdown bomb.
Bills coach Chan Gailey said of the sequence: "I never thought anything less would happen to be honest with you. All of our guys have moxie. You've got to have moxie to play quarterback in this league. I was impressed with that, really impressed with it. I asked after he got hit 'Are you OK?' He didn't even flinch. ... I think he's a tough guy."
If the Bills can count on three home-run plays a week, they'll be fine. Their touchdowns were a 31-yard C.J. Spiller run, a 78-yard Terrence McGee interception return and a 70-yard bomb to Evans.
Spiller's run snapped a string of 20 straight preseason possessions without a touchdown for the first-team offense. He's going to be fun to watch, one of those players who has a legitimate shot to score every time he touches the ball because he makes tacklers miss.
Backup quarterback Brian Brohm didn't get the most glorious opportunity to make an impression or gain ground on Edwards. Brohm could have gotten a series against the Colts' first-team defense, but Gailey sent Edwards out for a fifth possession with 11:49 left in the second quarter. Brohm entered the game with 6:05 left in the half.
Brohm's performance was OK against the Colts' backups. He threw a lot of high-percentage short stuff, completing 14 of 21 attempts for 125 yards with no touchdowns or no interceptions. He had a wonderful chance to throw for his first NFL touchdown right before halftime. The Bills had second-and-goal from the 5, but Brohm misfired on two passes. The Bills kicked a field goal.
Brohm set up the goal-to-go situation with a gorgeous pass and catch by Chad Jackson along the right sideline for a 26-yard gain.
Would have been nice to see Brohm air it out on third and long. In the third quarter, Brohm dumped off to Chad Simpson for 4 yards on a third-and-13 play. On a third-and-12 play two series later, the Bills ran.
Spiller was busy without Fred Jackson (broken hand) and Marshawn Lynch (sprained ankle). Spiller averaged only 14 carries his senior season at Clemson. He ran 10 times for 54 yards in a quarter and a half of work.
Spiller looked scintillating on his touchdown scamper, but his jitters and jukes didn't fool the Colts all the time. He averaged 2.6 yards on his other nine carries. He had runs that went for minus-6, minus-2, zero and 1 yards.
Overshadowed by Spiller was undrafted rookie running back Joique Bell, who ran 11 times for 80 yards and a touchdown. He's making a statement. Simpson, conversely, ran eight times for 8 yards.
The Bills' defense gave Peyton Manning some problems. He completed 8 of 15 passes for 91 yards and one touchdown with one interception. His 66.3 passer rating was less than half of Edwards'.
After an ugly opener against the Washington Redskins six days earlier, the defense rebounded with a great first series. Defensive lineman Marcus Stroud batted down Manning's first attempt. Cornerback Leodis McKelvin nearly intercepted a long ball to Reggie Wayne. Nose tackle Kyle Williams stuff Joseph Addai for a 3-yard loss on a screen pass.
Gailey said he was just wanted to give him more time in pass-rushing situations, but it's disconcerting to see last year's 11th overall draft choice, Aaron Maybin, on the field at the end of a preseason game.
Bills cornerback Ellis Lankster had another rough game. Taj Smith got behind him for a 43-yard touchdown strike from Curtis Painter in the second quarter.
Despite 35 points in the first quarter, the Rogers Centre was rather sterile again, just like the previous three Bills games played here. The announced crowd was 39,853 fans.
The crowd, however, got interesting in the final minutes. Perhaps the best play of the night: A Rogers Centre security guard chasing down a fan who sprinted onto the field with 1:55 left in the game. The fan had about a 20-yard head start, but the guard caught up to him and slammed his head to the turf. As the guard walked back past the Colts sideline, Wayne went out of his way to give him a high-five.
August, 15, 2010
8/15/10
2:30
PM ET
Buffalo Bills
running backs
Fred Jackson
and
Marshawn Lynch
likely will miss the rest of the preseason, reports Buffalo News beat writer Mark Gaughan.

Jackson

Lynch
Gaughan, citing an unnamed league source, states
Jackson will be out four to six weeks with a broken left hand
. Lynch will miss three to four weeks with a sprained ankle.
Three preseason games are left. The regular-season opener is four weeks away: Sept. 12 against the
Miami Dolphins
in Ralph Wilson Stadium.
Both backs were hurt on the opening drive of Friday night's lopsided preseason loss to the
Washington Redskins
.
Rookie running back
C.J. Spiller
will get that many more touches through the rest of the preseason. He was the ninth overall draft choice, but he doesn't provide the same substance as Jackson or Lynch.
Spiller, a dominant player in college, was hardly a workhorse at Clemson. He averaged only 15.4 carries a game his senior year.
Former
Indianapolis Colts
reserve
Chad Simpson
and undrafted rookie
Joique Bell
will get quality reps in the coming weeks.
August, 14, 2010
8/14/10
11:54
AM ET
Some observations from the
Buffalo Bills
'
42-17
loss to the
Washington Redskins
at FedEx Field on Friday night ...
You can see why the Bills hotly pursued Mike Shanahan to be their overlord. The Redskins went 4-12 last season, but looked like a far more polished team under Shanahan than the Bills did under their new coach, Chan Gailey.
Buffalo was sharp on its opening drive, despite losing running backs Fred Jackson (hand) and Marshawn Lynch (ankle) to injuries. Trent Edwards completed all but one of his five passes for 44 yards. Every throw was to a different target. A 20-yard Lynch run was wiped out by a penalty.
That was about all that went right for the Bills' starters or second-stringers. It seemed unfair to watch veteran quarterback Rex Grossman hook up with prospect Devin Thomas on a 44-yard touchdown in the third quarter. The Bills don't nearly have that kind of depth.
This is how Buffalo ended a span of seven straight possessions, beginning with its second and lasting deep into the third quarter: interception, punt, punt, punt, punt, punt, punt.
Of those seven series, only one began inside the Bills' own 20-yard line. None went farther than their own 38. Five of those six punts were of the three-and-out variety. They had another in the fourth quarter.
It didn't matter what Redskins offensive unit was on the field when it came to figuring out the Bills' new 3-4 defense. Not helping was inside linebacker Paul Posluszny being scratched. He missed the first part of training camp while recovering from groin surgery and should be OK.
The Bills were destroyed in every phase. The first game without special teams coordinator Bobby April, and Bruce DeHaven's return to Buffalo, was ugly. The Bills allowed a 77-yard punt return for a touchdown. Ellis Lankster fumbled away a punt return.
Outside linebacker Aaron Maybin played deep into the fourth quarter and appeared to get pushed around. He finished with two tackles and was called for roughing the passer on what should have been an incomplete pass on third-and-6 in the first quarter. The Redskins eventually scored a touchdown.
But Maybin did record his third sack in an NFL uniform, getting to Miami Dolphins castoff John Beck in the fourth quarter. All three of Maybin's sacks have been in preseason games.
For you Dolfans out there, Beck struggled with his third team. He completed two of seven attempts for 27 yards, fumbled once and was sacked twice.
On a positive Bills note, backup quarterback Ryan Fitzpatrick closed out a drive late in the third quarter with a 5-yard touchdown pass to David Nelson. The score capitalized on a 43-yard Chad Simpson run two snaps earlier.
Nelson finished with a game-high five catches for 47 yards.
With Jackson and Lynch sidelined, Simpson and undrafted rookie Joique Bell had their moments. Bell ran five times for 52 yards, including a 28-yard touchdown.
Brian Brohm didn't play. Many Bills fans hoped Brohm would win the starting job, because he presents unknown possibilities that Edwards and Fitzpatrick don't. Seventh-round draft choice Levi Brown completed three of seven passes for 28 yards and an interception.
Gailey said Brohm will play Thursday night against the Indianapolis Colts, while Fitzpatrick sits out.
August, 14, 2010
8/14/10
9:22
AM ET
The road to winning back his job as the
Buffalo Bills
' featured back seemed to get significantly easier for
Marshawn Lynch
.
Fred Jackson
, who took over the role in late November and finished with 1,062 yards, suffered a hand injury on the first possession of Friday night's preseason opener against the
Washington Redskins
at FedEx Field.
"We hope to be able to get him back for the first game," Bills coach Chan Gailey told reporters after the game. "Not sure."
Later on the opening drive, Lynch limped off the field with an ankle injury, leaving rookie
C.J. Spiller
atop the depth chart.
Spiller might sound like an attractive alternative because he was the ninth overall draft choice, but he's a scatback and doesn't possess the bruising, physical traits Jackson and Lynch have.
"When we lost those two guys we lost an awful lot of stuff we were trying to do in this ball game," Gailey said. "Those of you who watch practice saw a lot of the two-tailback stuff, and we were trying to use that quite a bit tonight. That kind of went out the gate when those two guys went down."
The injuries open the door for former
Indianapolis Colts
backup
Chad Simpson
and undrafted rookie
Joique Bell
to make the squad.
June, 24, 2010
6/24/10
7:12
PM ET
ORCHARD PARK, N.Y. --
Marshawn Lynch
has accepted the fact he's still a member of the
Buffalo Bills
.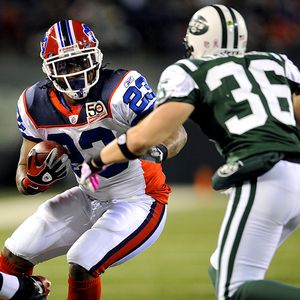 Rich Kane/Icon SMIBills running back Marshawn Lynch is excited to see what the rival Jets are doing, both on the field and in the video game world.
But when he thinks about stepping outside of reality, he can't wait to play with the
New York Jets
.
Lynch has been captivated by all the offseason moves the Jets have made. When the "Madden 11" video game comes out in August, the Jets will be Lynch's team.
"I'm probably not supposed to say that, but I'm excited to see what the Jets are going to do," Lynch told me after Thursday's minicamp practices. "I'm real excited.
"Now that's a team that I'm going to pick and play with on Madden. That's real talk."
Lynch certainly will have a better chance to win with the Jets than he will with his own team on "Madden 11."
The Jets have a team rating of 89
, fourth-highest on the game. The Bills scored a 67, higher than only the
St. Louis Rams
.
I asked Lynch what Jets acquisition has impressed him most.
He nodded emphatically as I went down the line:
Antonio Cromartie
?
Santonio Holmes
?
Jason Taylor
?
LaDainian Tomlinson
?
"Ooooo, see? They made so many moves it's hard to just pinpoint one," Lynch said. "I am a running back, and LT ... Man, one of the best that ever did it. I'm going to be excited to see him twice a year. Santonio and [Darrelle] Revis and Cromartie over there, that's going to be interesting."
Lynch acknowledged the Jets are gambling with team chemistry. They've brought in some large personalities and parted ways with leaders such as running back
Thomas Jones
and kicker
Jay Feely
.
"They are taking some risks," Lynch said. "Hopefully the risks they take are going to pay off for us. But that's going to be something fun to watch."
Don't think Lynch has surrendered his Buffalo allegiance.
After months of speculation Lynch would be traded and his delayed arrival to the practice field, he claimed he's excited about how the Bills' backfield is shaping up among himself,
Fred Jackson
and rookie
C.J. Spiller
. Undrafted rookie
Joique Bell
also is in the mix.
"It's going to be a great thing to see on paper, fantasy, live, in practice, in video games," Lynch said. "However you can see us get down to action and regardless of who the No. 1 is, even if I'm No. 5, it's going to be beautiful to watch us play."
June, 5, 2010
6/05/10
11:56
AM ET
By
ESPN.com staff
| ESPN.com
May, 27, 2010
5/27/10
1:00
PM ET
»
NFC On the Radar
:
East
|
West
|
North
|
South
»
AFC
:
East
|
West
|
North
|
South
A player, coach or issue that should be on your radar as training camp approaches.
ORCHARD PARK, N.Y. -- Rookie running back
Joique Bell
has been off the radar his whole life.
[+] Enlarge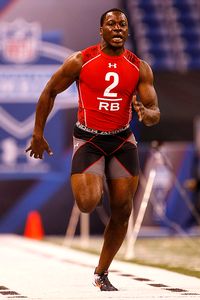 Scott Boehm/Getty ImagesJoique Bell chose to sign with Buffalo after receiving offers from six teams.
"It's always motivating me," Bell told me after
Buffalo Bills
practice Wednesday. "I was overlooked from high school, coming out of college. I just want to get a series in and show my talent."
Your eye might skip over Bell when scanning the Bills' roster for running backs, unless you're trying to figure out how to pronounce his first name (it's Joyk). He's on a team with two 1,000-yard rushers (
Fred Jackson
and
Marshawn Lynch
) and the ninth overall 2010 draft pick (
C.J. Spiller
).
But when the final roster is selected in early September, Bell has a decent chance to be on it. He's probably fourth on the depth chart now. Uncertainty surrounding Lynch's status could elevate Bell quickly.
"As long as I get a shot, that's all I wanted," Bell said. "Now it's up to me.
"I'm not getting caught up in the numbers or thinking 'They're about to cut this or that.' Regardless of whether you [speculate] or not, they're going to cut you if they want to. So I'm going to come out here and play my butt off every day and see where that takes me."
Circumstances kept him from being recruited like he wanted out of Benton Harbor, Mich. An injury to his high school quarterback forced Bell to fill in his senior year. Colleges didn't see him as a running back. Michigan and Michigan State projected him at safety. So he went to Detroit's Division II Wayne State where he could get the touches he craved.
Bell kept Division II record book editors busy. He rushed for 6,728 yards (eighth in NCAA history) and 88 touchdowns. As a senior, he won the Harlon Hill Trophy as Division II's best player. He ran for 2,084 yards and 29 touchdowns, while adding 293 receiving yards.
All of that -- against such schools as Ferris State, Hillsdale and Tiffin -- wasn't enough to get him drafted. The NFL invited him to its scouting combine. Despite a 40-yard dash time in the 4.6 range, he thought he might get drafted as high as the fourth round, but no team selected him.
Teams buzzed after the draft, trying to sign him as a free agent. He said he received six offers and nearly signed with the
New England Patriots
, but he and agent Manvel Trice thought the Bills provided the best opportunity.
"Obviously, I'm not too far under the radar because an NFL team has picked me up," Bell said. "That's a blessing."
May, 17, 2010
5/17/10
11:14
AM ET
Miami Dolphins
Buffalo Bills
New England Patriots
New York Jets
April, 30, 2010
4/30/10
10:23
AM ET
By
ESPN.com staff
| ESPN.com
Buffalo Bills
Miami Dolphins
New England Patriots
New York Jets

April, 26, 2010
4/26/10
9:15
AM ET