August, 3, 2013
8/03/13
9:22
PM ET
CANTON, Ohio -- Bill Parcells' day at the Hall of Fame got off to an unexpected start.
Former pupil Bill Belichick made the trip to Canton to support his mentor, despite their frosty relationship in recent years. The two even shared
a somewhat awkward embrace
. It was that kind of historic day in Canton to mend fences.
Parcells wasn't the easiest coach to play for or -- as Belichick would attest -- coach under. But Parcells was one of the all-time great coaches and talent evaluators. That rare combination led Parcells to become the only coach inducted in the 2013 Hall of Fame class.
"Losers assemble in little groups and complain about the coaches and the players in other little groups," Parcells said, echoing a quote from Hall of Fame safety Emlen Tunnell. "But winners assemble as a team, and tonight I get to do just that."
Parcells was known for turning franchises around. He led the
New York Giants
and
New England Patriots
to Super Bowl appearances. Parcells also led the
Dallas Cowboys
and
Miami Dolphins
(as president) to winning seasons. He spent much of his time explaining his dynamics of building a team with accountability,
and also thanked many of the people
who helped him become successful.
But an underrated part of Parcells' legacy is his talented coaching tree. Three Super Bowl-winning coaches (Belichick, Sean Payton and Tom Coughlin) learned how to coach under Parcells. Coughlin and Belichick, in particular, were both in attendance and will someday join Parcells in the Hall of Fame.
Parcells did things his way, and most of the time he was right. The results speak for themselves.
August, 3, 2013
8/03/13
8:00
PM ET
CANTON, Ohio -- It has been a banner 2013 for the
Baltimore Ravens
.
First, the Ravens won their second Super Bowl in franchise history in February. Then, future Hall of Fame linebacker Ray Lewis retired as a champion at the top of the NFL ladder.

Ogden
On Saturday, Baltimore's landmark calendar year continued as former left tackle Jonathan Ogden became the first homegrown Raven to enter the Pro Football Hall of Fame. Not only was Ogden a first-round pick, but he was the Ravens' first pick in franchise history in 1996.
Ogden helped lift the Ravens to where they are today. He put a bow on his 12-year football career Saturday by also becoming the first player enshrined of the 2013 class.
"I just really want to thank the fans and the city of Baltimore," Ogden said Saturday. "When I came to the Ravens in 1996, we had no team, we had no history. We didn't even have team colors. We just had a name. … The Ravens were new to everybody."
Baltimore general manager Ozzie Newsome introduced Ogden. According to Newsome, who is one of the NFL's top talent evaluators, Ogden played left tackle as good or better than player in history. Newsome said the keys were Ogden's immense size and the feet of a defensive back.
Ogden reached 11 Pro Bowls in 12 seasons and won a Super Bowl. He was drafted in the first round in 1996 along with Lewis, who was in attendance and will surely follow Ogden to Canton in five years.
Odgen began his speech Saturday with a joke. He mentioned how former running back and draft bust Lawrence Phillips was also being considered by the Ravens with their first ever pick.
As Ogden mentioned, Baltimore made the right choice and the rest was NFL history.
August, 3, 2013
8/03/13
6:00
PM ET
CANTON, Ohio -- The NFL's 2013 Hall of Fame enshrinement is about one hour away. It appears the weather will cooperate for this year's speeches, which is set for 7 p.m. ET.
The temperature in Canton is in the mid-70s with clear skies. That will cool off some during the night, but there doesn't appear to be much chance for rain. Occasionally, Hall of Fame weather can be unpredictable with this outdoor venue.
The crowd is filling in at Fawcett Stadium to hear the speeches of Jonathan Ogden, Dave Robinson, Larry Allen, Bill Parcells, Curley Culp, Warren Sapp and Cris Carter. Don't forget to join me at 7 p.m. ET on ESPN.com for a
live chat from Canton
.
August, 3, 2013
8/03/13
5:25
PM ET
CANTON, Ohio -- The 2013 Hall of Fame is set to begin at 7 p.m. ET Saturday. It should be a nostalgic and emotional night as the NFL celebrates another deep and talented Hall of Fame class.
Here is the order of tonight's enshrinement speeches:
Enjoy the speeches, and remember to join ESPN.com at 7 p.m. ET for our
live Hall of Fame chat
during the enshrinement.
March, 19, 2013
3/19/13
11:32
AM ET
The new-look
Miami Dolphins
, who made major upgrades in free agency, will be among the first teams to take the field in 2013. The Dolphins will kick off the NFL preseason against the
Dallas Cowboys
in the Hall of Fame Game on August 4, the NFL announced.
The Dolphins created a buzz last week by signing big-name free agents such as receiver
Mike Wallace
, linebacker
Dannell Ellerbe
and tight end
Dustin Keller
. Miami has played in the Hall of Fame Game three previous times and has an 0-3 record.
This game celebrates the 2013 Hall of Fame class, which includes Larry Allen, Bill Parcells, Cris Carter, Warren Sapp, Jonathan Ogden, Dave Robinson and Curley Culp.
February, 1, 2013
2/01/13
2:00
PM ET
The Hall of Fame Class of 2013 will be announced on Saturday. Former Buffalo Bills receiver Andre Reed is among the list of finalists for the seventh time and will anxiously wait for his name to be called.
That brings us to our latest "Poll Friday" question in the AFC East blog: Does Reed deserve to get into the Hall of Fame? It's time for our community to play the part of the voting committee.

Reed recorded 951 receptions, 13,198 yards, 87 touchdowns and seven Pro Bowls in his 16-year career. Most of it was spent with the Bills, with whom he appeared in four straight Super Bowls.
There will be a lot of competition for five modern-era spots this year. Hall of Fame finalists include greats like Cris Carter, Charles Haley and first-timers Jonathan Ogden, Michael Strahan and Warren Sapp.
Should Reed's name be among this year's final five? Using our SportsNation poll, vote on Reed's Hall of Fame candidacy. You can also share your thoughts in the comment section below.
February, 9, 2011
2/09/11
8:28
AM ET
I once heard Tom Donahoe, the former Buffalo Bills president and general manager, call quarterback Drew Bledsoe a future Pro Football Hall of Famer.
Then again, Donahoe used to say a lot of things.
I was reminded of this when taking a glance at players who will make their first appearance on the Hall of Fame ballot for 2012.
Buffalo News reporter Mark Gaughan, who's on the Hall of Fame selection committee and last weekend was elected president of the Pro Football Writers Association, blogged the
top newcomers to consider the next few years
.
[+] Enlarge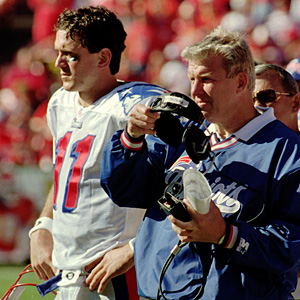 AP Photo/Ed ZurgaBill Parcells and his former quarterback Drew Bledsoe will be on the Hall of Fame ballot next year.
The lists are helpful in speculating when fan favorites such as Andre Reed and Curtis Martin will get their Canton calls. They both were finalists this year -- Reed for the fifth time, Martin for the first -- but
weren't added to the 2011 induction class Saturday
.
Perhaps that development was fitting for Martin because his coach with the New England Patriots and New York Jets will be on the ballot again. They could get in together in 2012.
Bill Parcells has been a finalist twice, but not since 2002 because rules for coaches changed. They now must wait five years from their last game to be eligible for induction, and Parcells returned to the sidelines with the Dallas Cowboys in 2003.
Is Parcells a Hall of Famer? I know Miami Dolphins fans aren't too thrilled with him these days, but he did add to an already remarkable legacy -- two championships, different teams to the Super Bowl, a few organizational turnarounds -- by guiding the Dolphins from 1-15 to the AFC East title as their football operations boss.
Also on the ballot next year will be Bledsoe, running backs Corey Dillon and Tiki Barber, fullback Mike Alstott, guard Will Shields and coaches Bill Cowher and Marty Schottenheimer.
Bledsoe had a fine career with the Patriots, Bills and Cowboys and ranks eighth all-time in passing yards. But he was a Pro Bowler only four times and never was first-team All-Pro. Bledsoe was helpful in getting the Patriots their first championship, so he does have a ring. But that was Tom Brady's team.
Dillon also was a four-time Pro Bowler and won a Super Bowl with the Patriots. He ranks 17th in rushing yards and never led the league in a major rushing category.
Schottenheimer played for the Bills and Patriots before winning 61 percent of his regular-season games as head coach of the Cleveland Browns, Kansas City Chiefs, Washington Redskins and San Diego Chargers. His 200 victories rank sixth all-time, but his 5-23 playoff record will hurt.
That group of first-time candidates -- plus the newcomers for 2013 -- bodes well for Reed. There won't be any new receivers for him to box out. He already has jockeyed ahead of contemporaries Cris Carter and Tim Brown by making the cut from 15 to 10 in the selection process the past two years. Carter and Brown haven't.
Gaughan highlighted first-year players for next few classes.
2013:
Quarterback Vinny Testaverde, offensive linemen Larry Allen and Jonathan Ogden, defensive tackle Warren Sapp, defensive end Michael Strahan.
2014:
Running back Shaun Alexander, receiver Marvin Harrison, linebacker Derrick Brooks, safety Rodney Harrison and coaches Tony Dungy, Jon Gruden and Mike Holmgren -- if they don't return to sideline work.
2015:
Quarterback Kurt Warner, receivers Isaac Bruce and Torry Holt, tackles Orlando Pace and Walter Jones and linebacker Junior Seau.