August, 21, 2011
8/21/11
10:33
PM ET
Thoughts from the Jets 27-7 preseason win over the Cincinnati Bengals.

WHAT IT MEANS:
Rebounding from a so-so performance last week, the
New York Jets
improved in all phases and defeated the helpless Cincinnati Bengals on a rainy Sunday night at New Meadowlands Stadium.
Plaxico Burress
was the star, but this was more than a one-man show. Midway through the preseason, the Jets (1-1) have to feel good about themselves. And there appeared to be no major injuries.
LIKE OLD TIMES:
Burress made his Jets debut and gave the rain-soaked fans what they wanted -- a moment to talk about. The moment came with 51 seconds left in the second quarter, when he made an over-the-shoulder, 26-yard touchdown catch. With his back to
Mark Sanchez
, Burress threw his 6-foot-5 body into a dive, securing the high, arching pass as he skidded across the wet turf.
With that one play, Burress announced his return to football. After nearly two years in prison, he was back, demonstrating the kind of athleticism you wouldn't expect from a 34-year-old receiver that spent that much time in the big house. It came against a backup cornerback named
Fred Bennett
, but that didn't matter. It was all about body control, hand-eye coordination and sticky hands.
Burress played 30 of 32 plays in the first half, finishing with three catches for 66 yards. Translation: A smashing debut.
SANCHEZ ROCKS:
After an efficient but largely non-descript performance last week, Sanchez (12-for-20, 173 yards, two TDs) delivered some big plays in the passing game. The protection was better this week, thanks to the return of All-Pro center
Nick Mangold
. He led the offense to two touchdowns (drives of 16 and 99 yards) and a field goal in seven possessions, wrapping up the night with a 10-play, 99-yard touchdown drive.
Until then, the Sanchez-led offense was like the weather -- blah. In fact, the Jets started 0-for-6 on third down. The turning point was a 43-yard pass to a wide-open
Dustin Keller
, providing good field position after being backed up at their 1. From there, Sanchez hit Keller on a third-down catch, setting up the Burress highlight-film catch.
WIDE-OPEN OFFENSE:
For the second straight week, the Jets relied heavily on a three-receiver attack. In fact, they used their "11" personnel package (3 WRs, 1 TE, 1RB) on 19 of 32 plays in the first half. With
Derrick Mason
(knee) sitting out, they used Burress,
Santonio Holmes
(16-yard TD) and rookie
Jeremy Kerley
in three-wide packages.
NO GROUND AND POUND:
By placing an emphasis on the passing attack -- a necessity, given the new parts -- the running game was out of sync.
LaDainian Tomlinson
got the start with
Shonn Greene
(foot) out of the lineup, and the 32-year-old looked a bit sluggish. He rushed for 16 yards on nine carries. Tomlinson got a lot of work, appearing in 31 of 32 plays in the first half.
Joe McKnight
and
Bilal Powell
didn't see significant time until the second half.
OPPORTUNISTIC D:
The Jets roughed up the offensively challenged Bengals, intercepting three passes --
Eric Smith
,
Jim Leonhard
and
Brashton Satele
. The three turnovers set up 17 points for the Jets, and that was pretty much the story of the game. Keep in mind, the Bengals no longer have Carson (I Wanna Retire) Palmer at quarterback. They started rookie
Andy Dalton
and replaced him with journeyman
Bruce Gradkowski
.
WELCOME MAYBIN:
Bills castoff
Aaron Maybin
, the 11th overall pick in the 2009 draft, made his presence felt in his Jets debut. After only three days of practice with the team, Maybin recorded a strip sack on Bengals third-string QB
Jordan Palmer
. Hey, that might have been enough to grab a spot on the 53-man roster.
August, 28, 2010
8/28/10
9:46
PM ET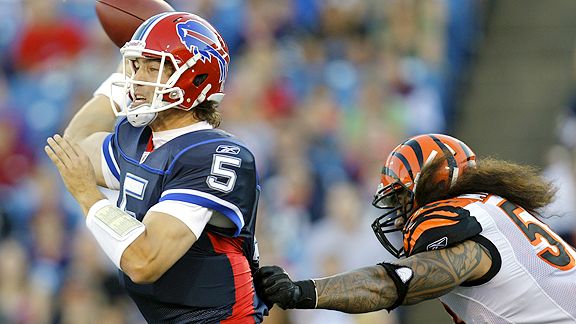 AP Photo/ David DupreyTrent Edwards has the starting quarterback job locked up after another solid preseason performance.
ORCHARD PARK, N.Y. -- Thoughts from the press box at Ralph Wilson Stadium, where the
Buffalo Bills
beat the
Cincinnati Bengals
on Saturday night
35-20
:
If there was any doubt before -- or if Bills fans were in denial and still clinging to hope Brian Brohm would win the gig -- Trent Edwards is Buffalo's quarterback.

On the first possession, Buffalo had minus-12 yards aside from a pass interference penalty. The Bengals sacked Edwards the only time he tried to pass. But Edwards rebounded on the second drive, methodically taking the Bills down the field. He completed all five of his passes for 48 yards and connected with Roscoe Parrish for a 12-yard touchdown.

Edwards' stat line: 13-of-17 for 153 yards and one touchdown with no interceptions. He had a 122.9 quarterback rating.

C.J. Spiller had another brilliant game. He ran 12 times for 52 yards and two touchdowns and two receptions for 33 yards in a half of work. He had a 20-yard run and a 26-yard reception.

As mentioned in my notes column following the Bills' victory over the Indianapolis Colts last week, Spiller is going to have a lot of negative-yardage runs because of his style and the Bills' offensive line. He had runs of minus-7 and minus-11 yards. But he's a threat to break away every single time.

The Bills showed off a little Wildcat. Spiller took a direct snap and ran 6 yards for a first down. In case you were wondering, Edwards remained on the field, split wide right. In the fourth quarter, rookie running back Joique Bell also took a direct snap and ran for 4 yards.

Parrish is one of those players fans always want to see more of, but size always seemed to be an impediment to increased involvement. Think Leon Washington with the New York Jets. Maybe new Bills head coach Chan Gailey has been able to figure something out. Parrish caught all four balls thrown to him for 56 yards and a touchdown.

Maybe the Bills were showcasing Ryan Fitzpatrick for a potential trade (hello, Arizona?). Otherwise, Brohm can't like the fact he quarterbacked only two series late in the fourth quarter. Brohm threw one pass, an incompletion.

Buffalo's secondary didn't have the same success against Carson Palmer that it did against Peyton Manning. Palmer completed all but two of his 11 passes for 95 yards and two touchdowns for a 142.2 rating.

Second-year outside linebacker Aaron Maybin, the 11th overall draft choice last year, may have gotten some traction. He didn't start even though Reggie Torbor was out with an undisclosed injury. Chris Ellis started instead. But Maybin did force J.T. O'Sullivan into an intentional grounding call with some heavy pressure in the third quarter and sacked Jordan Palmer twice in the fourth quarter.

James Hardy, a second-round draft pick in 2008, didn't make much of an impression in his bid to stay on the roster. He had one catch for 30 yards (great pass from Fitzpatrick) and a drop. That was all.

Undrafted rookie receiver David Nelson had another strong game: two receptions for 34 yards, including a 20-yard touchdown.

Third-year cornerback Reggie Corner looked like he might be on the roster bubble in a deep defensive backfield. He helped himself in the fourth quarter by intercepting Jordan Palmer and dashing 20 yards for a touchdown.

Reserve cornerback Ellis Lankster, meanwhile, had another rough night. Quan Crosby beat him for a 44 yard pass play one series after Corner's touchdown. Lankster broke up a pass on fourth-and-goal from the 6, but he got away with pulling on Dezmon Briscoe's collar. Lankster was called for illegal hands to the face to wipe out an Arthur Moats 9-yard sack.

The Bills strength in recent years has been their special-teams play. Special teams coordinator Bobby April bolted for Philadelphia, and the transition to Bruce DeHaven has not been smooth. Their kickoff coverage unit has been awful. The Bengals averaged 32.7 yards per return and rarely started a drive inside their own 30-yard line.