December, 6, 2013
12/06/13
6:01
PM ET
With just four games left in the regular season, each weekend will come into focus as it relates to possible postseason scenarios. Week 14 is the first weekend that the
New England Patriots
have an opportunity to punch their ticket to the playoffs, and they can do so in two different ways.
The Patriots can capture their fifth consecutive AFC East division title with a win against Cleveland and a Dolphins loss to the Steelers. They can also qualify for the playoffs by beating the Browns and having the Ravens lose to Minnesota.
But the
Cleveland Browns
stand in the way, and though the team's record suggests a struggling season (they're just 4-8), we saw last Sunday that the disparity in talent across the NFL is much narrower than records often suggest, as the then 2-9 Texans gave the Patriots all that they could handle.

Just as the Patriots refused to look past the Texans in the week leading up to their game in Week 13, they're not taking the bait to play the what-if game on playoff talk this week. The team has conveyed that while making the playoffs and winning the division is an annual goal, the focus this week remains on the Browns.
And with that in mind, here's the five things we'll be watching for as the Patriots host the Browns this Sunday afternoon at Gillette Stadium.
1. First half efficiency.
One of the themes of the week in talking to Patriots players has been the need to start faster against Cleveland. In the past two weeks, the Patriots have trailed by an average of 17 points at halftime. Though those leads have not proved insurmountable -- they've overcome each of them -- the Patriots fully understand they cannot sustain this pattern of slow starts and expect to win every week. Pinpointing specifically what has gone wrong has not been easy, as the consensus appears to be that the Patriots simply need to execute better and avoid first-half turnovers.
2. Return of Ridley?
After sitting out last week because of fumbling issues, will running back
Stevan Ridley
be back in the mix? That's one of the biggest questions surrounding this Sunday, as the third-year back continues to be a player of note. The Patriots were able to run the ball effectively enough to win in Ridley's absence last Sunday, but he's their most talented rusher and a potential game-changer. If he sits again, one could wonder if he'll become part of the running back rotation at any point this season, barring an injury. If he returns, how much will he be utilized?
[+] Enlarge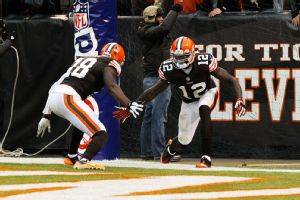 Nick Cammett/Diamond Images/Getty ImagesJosh Gordon has caught 24 passes for 498 yards and three TDs in the Browns last two games.
3. Slowing Gordon.
No hyperbole here --
Josh Gordon
has ascended to the level of the NFL's elite wide receivers. With nearly 500 yards receiving over his past two games, Gordon has soared to second in the NFL in receiving yards for the season, and is averaging the second most receiving yards per game in a single season in NFL history (124.9).
Aqib Talib
shared praise for Gordon this week, comparing him to the likes of
Calvin Johnson
and
Andre Johnson
, and it would seem likely that Talib will be used to shadow and try to contain Gordon on Sunday. He's done well to limit other top receivers, but this Sunday could be his biggest test yet.
4. Run defense.
Injuries have dramatically impacted the Patriots' ability to stop the run, as they've slid down to 31st in the NFL in rushing defense, allowing more than 138 yards per game. The Broncos and Texans each had their way on the ground against the Patriots, and they'll need to tighten the clamps this Sunday against Cleveland. If there was ever an opponent to help the team get back on track, the Browns are one of the candidates, as they rank fifth-worst in the NFL at just 82.3 rushing yards per game, including just 3.7 yards per carry. They have a rotation of backs that includes veteran
Willis McGahee
and capable pass-catcher
Chris Ogbonnaya
. The Patriots must slow whoever takes the lead role on Sunday.
5. Keeping Brady upright.
New Browns defensive coordinator Ray Horton has roots with the
Pittsburgh Steelers
and a pressure-oriented front that he brought with him to both Arizona and now Cleveland. While serving as the Cardinals' coordinator in 2012, Horton schemed up perhaps the best game plane to slow down the Patriots that they saw all season, as Brady was sacked four times (he was sacked just 23 times in the other 15 games) and the Patriots were held to a season-low 18 points. The personnel is different in Cleveland, but Horton has some of the same elements at his disposal, and finding a way to slow down this attack much more effectively than they did a season ago will be critical for the Patriots on Sunday.
September, 5, 2013
9/05/13
7:00
AM ET
Here are the most interesting Miami Dolphins stories Thursday from around the web: Morning take: Expectations are high for Tannehill in Year 2, but they're not that high. Tannehill simply has to play solid football most weeks. He doesn't need to match a Hall of Famer.
Morning take: The Dolphins' top three picks are all banged up. Dion Jordan is recovering from a shoulder injury, and corners Jamar Taylor (groin) and Will Davis (toe) look unlikely to play on Sunday. Miami has a lot of talent and should be able to sustain these injuries.
Morning take: Tannehill, Mike Pouncey, Cameron Wake, Dannell Ellerbe, Paul Soliai and Richie Incognito make up a good group of veterans. Miami has a good locker room and that shouldn't be a problem this year.
Morning take: Gordon is serving a two-game suspension, and this definitely benefits the Dolphins. Gordon is a playmaker who could have been a threat for the Browns.
July, 12, 2012
7/12/12
8:09
AM ET
Here are the most interesting stories Thursday morning in the AFC East:
Morning take: Tebow has handled himself well since the big acquisition and subsequent trade. Tebow is a consummate professional with high character, and that counts for a lot.
Morning take: The Bills were one of 21 teams reportedly in attendance for Gordon's workout, so nothing is guaranteed. Gordon is getting a lot of interest, and that could propel his stock maybe to the third round.
Morning take: Burnett was a big free-agent signing in 2011 who got off to a slow start. But the second half of the season he showed why the Dolphins paid him big bucks to come to Miami. Burnett needs to carry that momentum into this season and play well for 16 games.
Morning take: Allen is a veteran who has some versatility, but he's probably a long shot. The Patriots have a lot more invested in draft picks and higher-priced free agents at defensive back.
July, 11, 2012
7/11/12
8:00
AM ET
Here are the most interesting stories Wednesday morning in the AFC East:
Morning take: I agree with Moon if I'm picking Brady to quarterback one big game. But Brady is 34, and for the long haul you have to take Aaron Rodgers.
Morning take: I don't see that one. Douglass is on an island – Revis Island apparently.
Morning take: Ochocinco was always fluid getting off the line. That's one of the biggest aspects to putting up numbers throughout his career. Can he still get the job done?
Morning take: Every team in the AFC East showed up to the workout. Other than the Patriots, I don't think it's a bad idea to take a risk at the right price.
July, 10, 2012
7/10/12
5:34
PM ET


The
New England Patriots
and
New Orleans Saints
have been in discussions for weeks about practicing together in training camp. On Tuesday, the two teams made it official.
The Saints and Patriots will
hold group practices
on Aug. 7-8 at Gillette Stadium, leading into their preseason meeting on Aug. 9. This will be a good time for the Patriots and Saints to hit other players. Sometimes things can get chippy in training camp, because teammates are tired of pounding one another in the sweltering heat.
This should be great for both teams, as long as there are no big injuries.
Here are other happenings Tuesday around the division:
July, 10, 2012
7/10/12
7:30
AM ET
Here are the most interesting stories Tuesday morning in the AFC East: Morning take: The Dolphins should be interested in all receivers with potential. I'm not convinced the team is happy with its current group. The Dolphins have the draft capital with two third-round picks next year thanks to the Brandon Marshall trade.
Morning take: Sanchez took a beating last season, and probably had wear and tear, but no surgery was needed. I'm a little tired of Burress talking about his former team seemingly to keep his name in the news while he searches for a job.

Morning take: Buffalo has all of its draft picks signed, and rookies now can join the team on a voluntary basis. First-year players like Stephon Gilmore, Cordy Glenn and Graham all could have big roles this season.
Morning take: McDonald isn't a big name, but his versatility to play guard and center gives him a shot. McDonald's chances mostly rest on the availability of starting guards Logan Mankins and Brain Waters early in the season.

July, 9, 2012
7/09/12
1:57
PM ET

The
Buffalo Bills
will be one of several teams attending former Baylor receiver Josh Gordon's pro day on Thursday in Houston, a source tells the AFC East blog. Gordon is an intriguing and athletic prospect who is entering
the NFL's supplemental draft.
Buffalo had a great offseason, but questions still linger at wide receiver. That could explain the Bills showing some interest in Gordon. Buffalo re-signed top receiver
Steve Johnson
, but a host of unproven players are competing for the No. 2 receiver role. That list includes
Donald Jones
,
Marcus Easley
and rookie third-round pick
T.J. Graham
.
The Bills might be one of the teams willing to add another receiver at the right price. Gordon, who is listed at 6-foot-3 and 225 pounds, last played at Baylor in 2010, where he recorded 42 receptions for 714 yards and seven touchdowns. Early reports suggest he could go anywhere from the second-to-fourth round of the supplemental draft.