August, 26, 2013
Aug 26
2:09
PM ET
FOXBOROUGH, Mass. -- A few thoughts on today's roster moves by the Patriots:
1. The team now has 77 players on the roster. Two more moves must be made by Tuesday at 4 p.m. ET.
2.
Tim Tebow
survives ... for now. This is one of the notable storylines of the week, as it appears that Tebow is fighting for a job. Bill Belichick told 98.5 The Sports Hub before last Thursday's preseason game that he had about 80 percent of the 53-man roster set. Tebow, based on his performance in the preseason, would seemingly be part of the other 20 percent, which means Thursday night's preseason finale against the Giants could be big for him.
3. None of the moves are a surprise. A player like veteran linebacker
Niko Koutouvides
, whose primary contributions come as a core special-teamer, could always return during the season if the need arises (similar to last year).
4. With defensive tackle
Armond Armstead
landing on the reserve/non-football illness list, he isn't eligible to start practicing until after the sixth week of the season. So this adds a little more context as to where things stand with his health after he had surgery for an infection at some point before training camp. He remains under contract to the Patriots but won't count against the roster. The Patriots had been counting on Armstead to be a big part of their plans and depth remains thin behind starters
Vince Wilfork
and
Tommy Kelly
.
5. Rookie defensive tackle
Cory Grissom
(South Florida) was a strong practice squad candidate, but with him landing on injured reserve, it opens the door for another rookie tackle to stick on the practice squad (
Joe Vellano
,
Anthony Rashad White
the top candidates). It also led to the re-signing of defensive tackle Scott Vallone to the roster to address a depth shortage.
6. At receiver, third-year player
Kamar Aiken
was competitive early in camp but an injury derailed him. Also, rookies
Kenbrell Thompkins
,
Aaron Dobson
and
Josh Boyce
seemed to generate more momentum and were a bit more consistent over the course of camp.
7. We didn't have offensive tackle/guard
Markus Zusevics
making the final roster, but others did, which reflected his standing as a bubble blocker around No. 8 on the depth chart. There seems to be a pretty big drop-off after the top six or seven offensive linemen so this remains an area the Patriots figure to explore on the waiver wire and free agency.
August, 24, 2013
Aug 24
5:00
AM ET
By Tuesday, the Patriots must trim their roster from 84 to 75 players, the first of two major cut-downs that will take place in the next week (they'll need to be at 53 players by next Saturday).

There are many factors that go into roster decisions, and the cut-down to 75 players might not be reflective of those players that the team feels have the least amount of talent or value. Rather, there could be some players released on Tuesday (or even before) that the Patriots feel they have fully evaluated and don't project to land on their active roster or practice squad. Others, meanwhile, remain a work in progress from an evaluation standpoint.
With all that in mind, here's our guess at nine players who could be released on or before Tuesday's mandated deadline.
Wide receiver Kamar Aiken.
Limited in recent days due to an undisclosed injury, Aiken has fallen behind the trio of rookie receivers on the depth chart. He's an intriguing mix of size and speed, but he couldn't consistently get on the field for reps when healthy.
Punter Ryan Allen.
Perhaps a surprising name to appear on this list, but our feeling is that
Zoltan Mesko
has separated himself in the punting competition. Allen has a strong leg and a decorated college résumé, which could land him work with another team.
Wide receiver Johnathan Haggerty.
Haggerty has seen limited action in preseason games and has worked largely with the opportunity group during practices. The former Bears and Browns receiver is the kind of player who the team can keep on its list of street free agents if it ever needed to bring a body in quickly.
Cornerback Brandon Jones.
Jones has been dealing with an undisclosed injury in recent days, so he could be given the waived/injured designation if the team parts ways with him. The Rutgers product is near the bottom of the cornerback depth chart.
Tight end Evan Landi.
Recently signed, Landi may not last long with the Patriots. Though
Rob Gronkowski
remains on the physically unable to perform (PUP) list, the Patriots have been able to get by with four tight ends, and if
Daniel Fells
returns soon, Landi could be the odd man out.
Cornerback LeQuan Lewis.
Lewis was brought aboard when the Patriots' cornerback depth decreased due to injuries to both
Ras-I Dowling
and
Alfonzo Dennard
. If either returns soon, Lewis seems like a candidate to go.
Offensive lineman Brice Schwab.
The Patriots have a group of young linemen who could be vying for a practice squad spot, but given the thin interior-line depth, Schwab, a tackle prospect, could be squeezed out of a roster spot.
Running back George Winn.
The Patriots are deep and talented in the backfield, though Winn could end up on a practice squad somewhere else around the league.
Long snapper Mike Zupancic.
With
Danny Aiken
already on the roster, there's little need for the Patriots to carry a second snapper.
August, 22, 2013
Aug 22
5:00
AM ET
Tonight the Patriots play their third preseason game, which almost always represents the closest thing to regular-season action, as teams typically play their starters for substantially longer than other preseason games.


It would come as no surprise to see
Tom Brady
and
Vince Wilfork
on the field in Detroit into the third quarter, while there are other players whom we aren't expecting to see at all, highlighted below.
Non-Football Injury List/Physical Unable to Perform players
TE
Rob Gronkowski
(PUP)
WR
Mark Harrison
(NFI)
DT
Armond Armstead
(NFI)
Players who were absent from practice this week
WR
Danny Amendola
DE
Jermaine Cunningham
CB
Brandon Jones
Players who were limited during Tuesday's practice
DE
Justin Francis
OT/G
Marcus Cannon
TE
Daniel Fells
CB
Ras-I Dowling
WR
Kamar Aiken
A trio of others to keep an eye on includes defensive backs
Devin McCourty
and
Alfonzo Dennard
, as well as offensive lineman
Dan Connolly
. McCourty and Connolly have yet to play in a preseason game (both are recovering from offseason shoulder surgery), but they were on the field for practice this week.
Additionally, McCourty shed the red non-contact jersey he had worn throughout much of camp. Dennard, meanwhile, has been limited of late, but could return to action after missing the team's second preseason game.
If the 11 players who we expect not to play in the game do in fact sit out, the Patriots will have 73 players in uniform for the contest. That total could shrink if McCourty, Dennard or Connolly is once again unable to suit up.
July, 26, 2013
Jul 26
12:00
PM ET
»
NFC Eight in the Box:
East
|
West
|
North
|
South
»
AFC:
East
|
West
|
North
|
South
One key positional battle for each AFC East team as training camps get underway.

Buffalo Bills:
Buffalo is one of two AFC East teams with a high-profile quarterback battle. Veteran
Kevin Kolb
will attempt to beat out rookie first-round pick
EJ Manuel
in training camp. Kolb is the early favorite because of experience. He signed a two-year contract with the Bills after stops with the
Arizona Cardinals
and
Philadelphia Eagles
. Manuel was the only quarterback drafted in the first round this year and is an intriguing prospect. He has good size, mobility and a solid arm. However, Manuel never put it all together at Florida State. The Bills and new head coach Doug Marrone believe they can coach up Manuel and make him a complete quarterback. But it will take time.

Miami Dolphins:
An interesting and unexpected position battle has developed at defensive end between first-round pick
Dion Jordan
and 2012 third-round pick
Olivier Vernon
. Jordan is Miami's No. 3 overall pick who is expected to make an immediate impact. However, major shoulder surgery in February caused him to miss practice time up until Wednesday, the third day of training camp. In the meantime, Vernon took advantage of the opportunity to play with the starting defense in the spring and summer and has been a force. He looks much improved from his rookie year and has been disruptive in the first week of camp. Jordan eventually is expected to be a cornerstone of Miami's defense. But Vernon is making a strong case to start in Week 1 after holding the position all during organized team activities, minicamp and the first week of training camp.

New England Patriots:
The Patriots are searching for a starting receiver. Free-agent pickup
Danny Amendola
will replace former starter
Wes Welker
. However, the spot
Brandon Lloyd
left behind is wide open. Will it be a veteran like
Michael Jenkins
or
Lavelle Hawkins
? What about a rookie like
Aaron Dobson
or an unknown like
Kamar Aiken
? Your guess is as good as anyone's at this stage. The Patriots have a lot of questions about their passing game. Pretty much the only sign of stability right now is future Hall of Fame quarterback
Tom Brady
, who has a tall task of keeping the offense at the top of NFL with limited weapons.

New York Jets:
New York is the second division team with a significant quarterback competition. Veteran
Mark Sanchez
, the starter since 2009, will attempt to hold off rookie second-round pick
Geno Smith
. It's been a lukewarm competition in organized team activities and minicamp, but both players are very confident that they will win the job in training camp. Sanchez has led the NFL in turnovers the past two seasons and is down to his last shot to prove he's a franchise quarterback. Smith has some good physical ability but didn't play in a pro-style offense at West Virginia. He needs time to adjust to the pro game, and that could factor into a close race.
July, 25, 2013
Jul 25
2:30
PM ET
After a rough offseason, the
New England Patriots
will begin their 2013 season Friday with the start of training camp.
New England remains the preseason favorite to win the AFC East. But this team is weaker than previous years due to several offseason circumstances.

Here are three things to watch in Patriots camp:
1. Can New England block out distractions?
Analysis:
Patriots head coach Bill Belichick
did a smart thing
Wednesday. He faced the
Aaron Hernandez
situation head-on before training camp, because questions were coming either way. Belichick relieved some of the media pressure surrounding Hernandez's arrest on murder and other charges and the team's subsequent release of the star tight end. But this story will follow the Patriots to some degree all summer and beyond. The players must prove they can overcome the loss on the field as well as answer Hernandez questions off it. New England is a team which despises distractions, but this will be a challenge.
2. Will wide receivers step up?
Analysis:
It's been a question all offseason. Now, it's time for some answers. Which receivers will step up in New England's offense?
Danny Amendola
, if he stays healthy, is a proven commodity. But the rest of the Patriots' receivers have plenty of question marks. New England lost a ton of production by not bringing back 2012 starters
Wes Welker
and
Brandon Lloyd
. This year's group includes veterans
Michael Jenkins
,
Lavelle Hawkins
,
Kamar Aiken
and rookies
Aaron Dobson
and
Josh Boyce
. Future Hall of Fame quarterback
Tom Brady
is good at raising the level of his supporting cast -- but it is asking a lot of Brady to try to lead this group to another Super Bowl title.
3. How much better is the defense?
Analysis:
One of the bright spots for the Patriots this offseason has been the additions on defense. New England spent resources in free agency and the draft to improve this side of the football. The Patriots signed veteran free-agent safety
Adrian Wilson
and defensive tackle
Tommy Kelly
to toughen up the defense. They also drafted three defenders in the first three rounds to infuse some youth and energy. If other young defenders such as
Chandler Jones
and
Dont'a Hightower
take their games to another level, the Patriots defense could make good strides in 2013.
June, 21, 2013
Jun 21
10:00
AM ET
The
New England Patriots
have been the dominant force in the AFC East for the past dozen years. Since head coach Bill Belichick and quarterback
Tom Brady
formed their power pairing in 2001, the Patriots have won 10 division titles, made five Super Bowl appearances and won three championships.
No AFC East team has come close to matching New England's consistency over that span. But there appears to be a young, up-and-coming group on the horizon in the
Miami Dolphins
, who were very aggressive this offseason. Miami spent more than $200 million in free-agent contracts, including $117 million in guaranteed money, and traded up to get No. 3 overall draft pick
Dion Jordan
to boost its pass rush. The Dolphins made all of their offseason moves with the goal of closing the gap with New England.
Can Miami provide a legitimate threat to the Patriots in 2013? ESPN.com AFC East blogger James Walker and ESPNBoston.com's Mike Reiss debate.
James Walker:
Mike, I think we both called this back in December when the
Patriots pulled out a tough 23-16 win
against the Dolphins at Sun Life Stadium. We saw something that Sunday that showed Miami could be a problem for New England in future seasons. The effort was there, but Miami just didn't have the horses to beat the Patriots, and that's a big reason the Dolphins used so many resources in the draft and free agency to boost their roster. The Dolphins got much better in the passing game by adding tight end
Dustin Keller
and receivers
Mike Wallace
and
Brandon Gibson
. They are younger and more athletic at linebacker with
Dannell Ellerbe
and
Philip Wheeler
, and cornerback
Brent Grimes
could be a stud in the secondary this season if he stays healthy. The Jordan pick was also made to improve Miami's pass rush and to pressure Brady twice a season. Miami made a lot of smart moves this offseason. But, Mike, should the consistently dominant Patriots be concerned about the Dolphins?
Mike Reiss:
James, for 2013, the Dolphins clearly look like the AFC East opponent closest to the Patriots. One contrast that stands out to me is the moves both teams made on offense this offseason -- the Dolphins decisively added more weapons, while the Patriots currently have an abundance of questions in the passing game. So looking at this from a Dolphins perspective, I think that's something to feel good about right now. Of course, it all comes back to the development of second-year quarterback
Ryan Tannehill
. If he doesn't take the next step, and the Dolphins struggle to protect him, it won't matter much. The other part that I think looks good for Miami is when the games against the Patriots will be played -- Oct. 27 in New England and Dec. 15 in South Florida. That's probably how you want it set up, avoiding the cold-weather game in the Northeast late in the season.
Walker:
That's a very good point, Mike. Miami played in Foxborough in the final game of the 2012 regular season and
was pounded 28-0
. I don't see the Dolphins winning at Gillette Stadium this season, but their chances do increase in October. However, that December meeting at Sun Life Stadium could be very important, with both teams possibly fighting for playoff positioning and the division title. I agree that the most important player for Miami this season is Tannehill. The biggest advantage the Patriots have had for a long time in the AFC East is at quarterback. Brady, in my mind, is one of the top five all-time quarterbacks. The Dolphins,
Buffalo Bills
and
New York Jets
do not have anyone close to matching Brady over the past dozen seasons. But Miami might have something in Tannehill. The game didn't look too big for him last season. Tannehill has a good poise about him, and physically he's a good athlete who can make all the throws. With vastly improved weapons,
I expect Tannehill to make a nice jump
this season. As he improves, so will the Dolphins. But we can't have a "Double Coverage" involving the Patriots without discussing Brady, who will be 36 in August. I've said several times in the AFC East blog that New England's passing attack will take a step back this season. The Patriots lost too much production at receiver and have various issues involving star tight ends
Rob Gronkowski
and
Aaron Hernandez
. Mike, how do you view Brady and New England's passing attack in 2013?
[+] Enlarge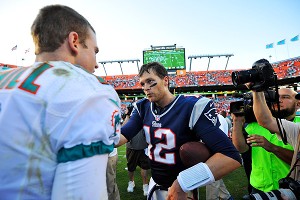 Steve Mitchell/USA TODAY SportsAre Ryan Tannehill, left, and Miami ready to be the top division rival for Tom Brady's Patriots?
Reiss:
Based on what we saw in June's minicamps, the Patriots' passing attack wasn't up to the standard we've seen in recent seasons. In the three-receiver set,
the top players Brady was throwing to
were 10-year veteran
Michael Jenkins
, free-agent signee
Danny Amendola
and either third-year man
Kamar Aiken
or rookie free agent
Kenbrell Thompkins
. The Patriots also didn't have top tight ends Gronkowski (back/forearm) and Hernandez (recovering from shoulder surgery) on the field. If that's the way it unfolds when the games start to count, I think it's fair to expect a step back. But, as we've seen in the past, things can change from June to September, and I'd expect that to be the case for the Patriots. I still think they'll be tough to defend. Amendola looks terrific at this point. Hernandez, assuming some of these recent legal issues don't keep him off the field, makes a big difference. I think
Julian Edelman
can help them if healthy. There's always the possibility of an acquisition, similar to the early-season signing of
Jabar Gaffney
in 2006 that paid solid dividends for them. No doubt, there are a lot of questions right now, and I think the concern some have in New England about the passing attack is fair. But as you've pointed out, they still have Brady throwing the football, and that's one guy I wouldn't bet against. He's done more with less in the past (e.g., 2006). It's interesting to me that we've reached this point without touching on the defense; in the end, you wonder if that will ultimately be the key for both of these teams.
Walker:
Absolutely, Mike. It usually comes down to defense late in the season, and that's where New England fell short. The Patriots rely too much on their offense, and it cost them last season in the AFC Championship Game loss to the
Baltimore Ravens
and two seasons ago against the
New York Giants
in the Super Bowl. We were both at those games, and the problem was the same: pass defense. New England was 29th against the pass last season and 27th in yards
allowed after the catch
(YAC), according to ESPN Stats & Information. That means the Patriots' defensive backs are not covering well or tackling well. The addition of safety
Adrian Wilson
should help from a tackling and physicality perspective, but I don't think he's much of an upgrade in coverage. Ironically, Miami has similar issues defending the pass. The Dolphins were ranked 27th in pass defense in 2012. Miami's cornerbacks were too inconsistent, which is why the Dolphins signed Grimes in free agency and drafted cornerbacks --
Jamar Taylor
and
Will Davis
-- in the second and third rounds. Grimes looks really good in offseason workouts coming off an Achilles injury. He must stay healthy for Miami's secondary to have success. Veteran
Richard Marshall
is average, but he's the other starting cornerback right now. The Dolphins hope one of their young draft picks can step up in sub packages or eventually into the starting lineup. It's strange to think how similar these defenses are, Mike. Both the Patriots and Dolphins are solid against the run but need to improve their pass rush and pass coverage.
Reiss:
For the Patriots, the hope is that continuity leads to success. They return their entire starting defense, with the one change coming at defensive tackle next to
Vince Wilfork
because the team decided to move on from co-starters
Kyle Love
and
Brandon Deaderick
. So you have the same secondary together again, with a full season of No. 1 cornerback
Aqib Talib
, who was acquired midway through last season and changed the way they played defense in some respects. You're also committing to
Devin McCourty
for a full season at safety, at which he showed promise in 2012. Add in the size and physicality of Wilson (6-foot-3, 230 pounds) in some form at safety, which was something they didn't have last season, and it looks like a net gain for the Patriots. In theory, that should lead to better communication and better results. Then, of course, it comes back to the pass rush that has been a consistent topic around the team over the past five seasons or so. Does 2012 first-round draft choice
Chandler Jones
become the dominant pass-rusher the Patriots hope he can be? He was impressive in the first half of last season before an ankle injury slowed him down a bit. Does fellow 2012 first-rounder
Dont'a Hightower
become a true three-down linebacker? The defense looked much further ahead of the offense in spring workouts, which hasn't been the case in recent seasons. There is some positive momentum for them, but can they sustain it when it counts?
Walker:
Mike, in terms 2013 outlook, I think the AFC East has a chance to put two teams in the playoffs this season. I view the Patriots as a little
worse than last season's team
, and the Dolphins are improved. That alone should close the gap. But it was so wide to begin with that the Patriots are still preseason favorites in my book. However, the Dolphins are a young team on the rise with a lot of potential. A good season for Miami would be to grab a wild card in the AFC and split its two games with New England in the division. If that's the case, then we could see the start of a new and competitive rivalry in the AFC East for the next several seasons.
Reiss:
It seems like every season has brought a new challenger to the Patriots, James, but none of the other three teams in the AFC East has been able to sustain. In fact, last year at this time, I think many of us were saying some of the same things about the Bills (after signing
Mario Williams
, among other moves) as we are about the Dolphins now. So I'm interested to see if the Dolphins can be that team to not just close the gap in 2013, but in future years as well. Maybe part of the reason I have doubts is that we've seen this script play out before and it hasn't happened. The Patriots do have some big questions, and those can't be overlooked, but I still think they win the division by at least two games.