March, 2, 2015
Mar 2
4:30
PM ET
Here is a
Miami Dolphins
list to consider: Dimitri Patterson, Nolan Carroll,
Cortland Finnegan
and
Jamar Taylor
.
These are all players who started at cornerback opposite Pro Bowler
Brent Grimes
in the past two seasons.
The Dolphins continued their roster purge Monday
by releasing Finnegan
, who signed a two-year, $11 million contract last season. The move makes sense from the standpoint it saves the team $5.475 million in cap space to pursue free agents. Finnegan also started 12 games and was up and down last season.
[+] Enlarge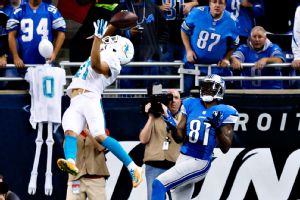 AP Photo/Rick OsentoskiBrent Grimes appears to be the only constant for the Dolphins' secondary over the past few seasons.
However, Miami's trend of rotating starting cornerbacks every year is troubling. Cutting Finnegan guarantees the Dolphins will have their third starting cornerback opposite Grimes in Week 1 in the past three years. The Dolphins have tried veterans (Patterson, Finnegan), they've tried going young (Taylor) and something in between (Carroll). Yet, nothing has panned out.
Miami needs to find a stable, No. 2 cornerback this offseason via free agency or the draft. Grimes is one of the top cornerbacks in football, but teams will continue to test the other side until the Dolphins find a long-term solution. Miami was sixth in pass defense last season but struggled at times in key moments, especially against top quarterbacks such as
Tom Brady
,
Aaron Rodgers
and
Peyton Manning
.
The solution could come from using a first-round draft pick. The Dolphins
own the No. 14 overall pick
and have a shot at top-rated cornerback prospects
Trae Waynes
of Michigan State and
Kevin Johnson
of Wake Forest. In fact, ESPN draft expert Todd McShay
projected Johnson to Miami
in his latest mock draft.
The Dolphins also could look to free agency, where expensive players such as
Byron Maxwell
,
Kareem Jackson
and
Antonio Cromartie
are available. Another option is to stay in house with Taylor or
Will Davis
, who were second- and third-round picks in 2013, respectively. This will be a challenging decision for Dolphins general manager Dennis Hickey and new vice president Mike Tannenbaum.
But what the Dolphins cannot do is sign another one-year band-aid at cornerback. The goal for Miami this offseason should be to avoid searching for a fourth starting cornerback in four years in 2016.
January, 10, 2013
1/10/13
11:15
AM ET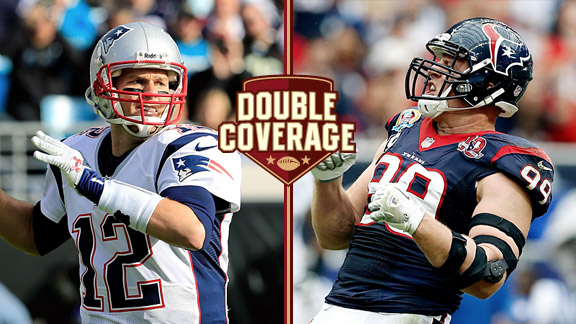 Getty ImagesThe Texans sacked Tom Brady, left, just once in their first meeting with the Patriots. Can J.J. Watt and the front seven do a better job in the rematch?
The Patriots seemingly snickered after they blew out Houston on "Monday Night Football" back on Dec. 10.
The Texans arrived in New England wearing letterman jackets that they thought showed team unity, but instead came off as high schoolish, particularly after they were easily dispatched in what
Andre Johnson
called the biggest game in franchise history.
For the Patriots it was the next game on the schedule.
Before the Texans got on the bus, middle linebacker
Bradie James
said the Patriots had delivered
a lesson
in championship football. The Texans headed back to Houston, humbled and officially in a slump. They lost two of their next three, fumbling away the AFC's No. 1 seed and a first-round bye.
A win over Cincinnati in the wild-card round earned the Texans a trip back to Gillette Stadium.
Can the Texans put up a better fight as major underdogs Sunday? James Walker of the AFC East blog joins me to discuss the game.
Paul Kuharsky:
Tom Brady
shredded the Texans in that regular-season game, James. He threw four touchdown passes in no time, recognizing Houston couldn't keep up with his targets, particularly
Aaron Hernandez
. Now, Brady has
Rob Gronkowski
back.
Do you see any way the Texans can get Brady off his game at home in the playoffs?
James Walker:
The key to stopping Brady is not a secret: You must beat him up. Brady doesn't like getting hit in the face, especially at age 35. The problem is that is much easier said than done. New England is extremely good at self-scouting and schemes very well to keep Brady upright. Houston got only one sack against Brady in the first meeting, so it was no surprise that he threw four touchdowns. I expect New England to once again keep some running backs and tight ends in protection to keep Houston's pass rush off Brady. The Texans will need to throw caution to the wind and blitz more defenders than New England has blockers, and that's where the chess match begins. Brady is tremendous at reading the blitz and rarely gets fooled with coverages. That's why he's so difficult to beat. Speaking of quarterbacks, what do you expect from Houston counterpart
Matt Schaub
in his first divisional-round playoff game?
[+] Enlarge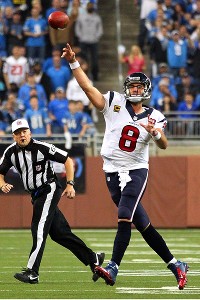 Mike Carter/US PresswireMatt Schaub's ability to connect on big plays downfield could be key for the Texans.
PK:
Schaub finally had his first playoff experience last week and he's now 1-0 in the postseason. But facing Cincinnati at home and New England on the road are two different things. He did fine against the Bengals, but I felt like coach Gary Kubiak was especially careful not to require many throws that were even moderately risky -- especially after Schaub threw that bad pick-six. Schaub has a bit of an unfair reputation for not being good in big games, mostly because he hasn't been in many big games. To spring an upset here, he'll have to supplement the run game with some big plays and, obviously, avoid killer mistakes. To have a chance, the Texans need to really ride
Arian Foster
. He has gone over 100 yards in all three of his playoff games. He had 19 touches in that regular-season blowout. To maximize their chances, I'd say he's got to have close to 30 this time.
JW:
Paul, I agree: Foster is the biggest key for the Texans in this game. He enters with some momentum after rushing for 140 yards and a touchdown last week against the Bengals. Getting Foster 30 or more productive carries would not only wear on New England's defense, it would keep the Patriots' high-scoring, up-tempo offense off the field. New England has thrived this year by getting off more plays and offensive possessions than its opponents. Houston's best chance is to slow down the game and make it ugly. Teams that beat the Patriots this year, such as San Francisco and Baltimore, ran the football well and limited New England's possessions.
PK:
What's the status of the Patriots' run game?
Stevan Ridley
ran fine in the regular-season game, gaining 72 yards on 19 carries. He earned a little doghouse time late in the season because of some fumbling issues. Has he regained the trust of Bill Belichick and the staff? And how much does it matter? It's not as though New England needs to run or is afraid to play a game without handing it off a lot and we know that they will keep throwing it even in a blowout situation. So does it even matter if they can run it?
JW:
Trust is big in New England, and Ridley has yet to earn it in the playoffs. Last year Ridley fumbled in the divisional round and didn't play for the remainder of the postseason. The Patriots do not have the luxury to bench him again this year, which makes Ridley a key player to watch. New England's offense usually passes to set up the run, but the ground game is more important than most people think. The Patriots rarely blow leads because they can run successfully when they need to. That time usually comes in the second half once they're ahead.
[+] Enlarge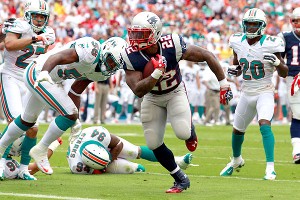 AP Photo/John BazemoreStevan Ridley may not figure heavily in the game plan, but he needs to make the most of his opportunities and limit mistakes.
I don't expect Ridley to be a huge part of the game plan. His carries probably will be in the teens. But he needs to make the most of each carry and take care of the football. If Ridley doesn't step up, look for the Patriots to go to a more dependable and sure-handed option such as
Danny Woodhead
. The Texans' defense allowed 42 points and 419 yards in the first meeting. What adjustments will Houston's defense need to make to be more successful in the rematch?
PK:
The coverage has to be way tighter.
Johnathan Joseph
played in the first meeting but had not been practicing and had missed time with groin and hamstring injuries.
Brandon Harris
was starting for the first time as the nickel after
Brice McCain
's foot injury. The Texans set out to slow
Wes Welker
and they did, then got killed by everyone else. They know they aren't going to get more than a sack or two on Brady because of how he gets rid of the ball and how skilled he is at changing protections. I expect they'll mix it up on Hernandez and Gronkowski but they won't be afraid to treat them as receivers.
The secondary had a bad night in Foxborough and a bad final quarter of the season. Joseph and
Kareem Jackson
and safeties
Glover Quin
and
Danieal Manning
are all better cover guys than they showed that night, when they were even getting beaten by Donte' Stallworth, who had been back in the league for barely five minutes. They simply have to be better if the Texans are going to be in this game.
JW:
I was with you in Houston last weekend, and I noticed the secondary played much better than the last time I saw the Texans in Foxborough. Joseph looked more like himself and did a good job, for the most part, on Bengals Pro Bowl receiver
A.J. Green
. On the other hand, I think an intriguing matchup will be Patriots corner
Aqib Talib
against Houston's Johnson, who had another monster season. Big games and matchups like this are why the Patriots acquired Talib in a midseason trade. He instantly became New England's best cover corner. The Patriots usually play a lot of zone, but they've been able to mix zone and man coverages a lot better in the second half of the season with Talib in the lineup. Houston will have a few opportunities to take shots down the field with Johnson against Talib one-on-one, and I think whoever wins those battles will have an impact on this game.
PK:
It'll be hard for the Texans to pull a surprise if there aren't a couple of big Schaub-to-Johnson connections.
Houston will arrive in New England with an "us-against-the-world" mentality, because the Texans are heavy underdogs. The Patriots aren't invincible. But if they start fast, they may look that way to the Texans yet again.
November, 21, 2010
11/21/10
4:36
PM ET
EAST RUTHERFORD, N.J. -- A few thoughts on the
New York Jets
' comeback victory against the
Houston Texans
.
What it means:
Bill Parcells used to have a saying: "Sometimes God is playing in these games." Someone is watching over the Jets, who staged the miracle of miracles. After blowing a 16-point lead, they went 72 yards in 39 seconds -- with no timeouts -- to stun the Texans.
Santonio Holmes
-- yes, him again -- scored the game winner with 10 seconds left,
30-27
, giving the Jets their most improbable win in recent memory.


Miracle Mark:
Mark Sanchez
did it again, overcoming a so-so day to complete his final four passes. The biggest pass was a 42-yard strike to
Braylon Edwards
, setting up Holmes' game-winner. It was Sanchez's third fourth-quarter comeback win of the season. Say this for him: The kid never gives up.
Holmes, sweet Holmes:
How good is Holmes? Holmes, who scored the game winner last week in Cleveland, made the biggest play of the game again. He should market the "Tone Time" slogan, because it's something special. He scored two touchdowns, finishing with seven catches for 126 yards. Holmes provides a big-play dimension the Jets haven't had at wide receiver in a long time.
Defensive collapse:
Shame on the defense, letting the Texans score 14 unanswered points in the fourth quarter. They left tight end
Joel Dreessen
uncovered for a 43-yard touchdown. On their ensuing possession, the Texans marched 73 yards on seven plays, as the defense mounted little resistance. There was no pass rush and miscommunications in the secondary. Maybe coordinator Mike Pettine should return the play calling to Rex Ryan because the defense seemed clueless in crunch time.
Fumble-itis:
Shonn Greene
never will be an elite running back until he learns to protect the ball. Greene coughed it up in the fourth quarter -- wasn't even a hard hit -- and so began the Texans' comeback from the Jets' 43. Greene was pulled from the game, replaced by
LaDainian Tomlinson
.
The McCain mutiny:
Brice McCain
is the Texans' No. 3 cornerback, but he rotates with rookie
Kareem Jackson
and
Glover Quin
. The Jets made a concerted effort to attack McCain whenever he was on the outside, covering Holmes or Edwards. McCain played pillow coverage -- soft -- leaving himself vulnerable to quick slants.
Big Wood hurt:
RT
Damien Woody
, the emotional leader of the Jets' offensive line, injured his right knee in the first quarter and didn't return. A Houston defender rolled up his leg from behind, causing the knee to bend awkwardly. A significant injury would be a blow, as Woody is a vital cog in the running game. He was replaced by
Wayne Hunter
.
What's next:
It's a quick turnaround for the Jets, who face the
Cincinnati Bengals
(2-8) Thanksgiving night at home. They will have light practice Monday, followed by a full practice Tuesday. That they're playing at home is a big advantage on a short week. Get ready for the verbal ping-pong match between Revis and
Chad Ochocinco
.
September, 1, 2010
9/01/10
8:01
AM ET
When the
New England Patriots
put veteran
Leigh Bodden
on season-erasing injured reserve Tuesday, they were forced to deal with likelihood they'll have the NFL's least experienced cornerback tandem in 2010.
Second-year pro
Darius Butler
and rookie
Devin McCourty
are the probable starters, a combined five NFL starts between them in a division that includes
Brandon Marshall
,
Santonio Holmes
and
Braylon Edwards
.
ESPN researcher Keith Hawkins poked around, checked the latest projected depth charts from Ourlads Scouting Services and found the Patriots would have the league's greenest cornerbacks by far.
But the
Miami Dolphins
have the third-youngest duo. And until
Darrelle Revis
ends his holdout, the
New York Jets
will have the fifth youngest.
Here are the youngest cornerback combos projected for opening day with combined seasons, games and starts:
Butler and McCourty, Patriots: one season, 14 games, five starts (all Butler).
Glover Quin and Kareem Jackson, Houston Texans: one season, 15 games, 12 starts (all Quin).
Sean Smith and Vontae Davis, Dolphins: two seasons, 32 games, 25 starts.
Dominique Rodgers-Cromartie and Greg Toler, Arizona Cardinals: three seasons, 45 games, 25 starts.
Antonio Cromartie and Kyle Wilson, Jets: four seasons, 64 games, 39 starts (all Cromartie).
Brandon Carr and Brandon Flowers, Kansas City Chiefs: four seasons, 63 games, 60 starts.
Cortland Finnegan and Jason McCourty, Tennessee Titans: five seasons, 76 games, 50 starts.
The other three cornerbacks on the Patriots' roster don't offer much experience either.
Jonathan Wilhite
has made 12 starts over his three NFL seasons.
Terrence Wheatley
has one start in two seasons.
Kyle Arrington
has zero starts in one season.
April, 9, 2010
4/09/10
2:12
PM ET
ESPNBoston.com is starting to roll out footage from the draft party it presented in Foxborough, Mass., for
New England Patriots
season-ticket holders.
The event featured a panel discussion moderated by ESPN reporter Michael Smith. On the dais were analysts Tedy Bruschi and Todd McShay, ESPNBoston.com reporter Mike Reiss and Patriots Football Weekly assistant editor Andy Hart.
In this clip, the panel discusses who the Patriots might select with the 22nd overall pick.
McShay's top candidates (in the order he listed them) are Texas outside linebacker
Sergio Kindle
, Michigan outside linebacker
Brandon Graham
, Georgia Tech receiver
Demaryius Thomas
, Boise State cornerback
Kyle Wilson
and Alabama cornerback
Kareem Jackson
.
Reiss mentions Florida center
Maurkice Pouncey
as the "safest pick in the first round at that 22 spot." Hart claims Kindle is "the perfect fit. Bill [Belichick] wants big, athletic, fast outside linebackers. Sergio Kindle fits that."
Bruschi adds that tight end might be the position Belichick targets at No. 22, with
Jermaine Gresham
of Oklahoma and
Rob Gronkowski
of Arizona the best of the lot.
"I sort of have a feeling like Coach Belichick is searching for Mark Bavaro somewhere, somehow, somewhere," Bruschi said. "He was a great Giant tight end, and it's like he's been looking for him a little bit. Where is that guy out there? Gresham and Gronkowski, those two guys may be that."