March, 30, 2011
3/30/11
10:39
AM ET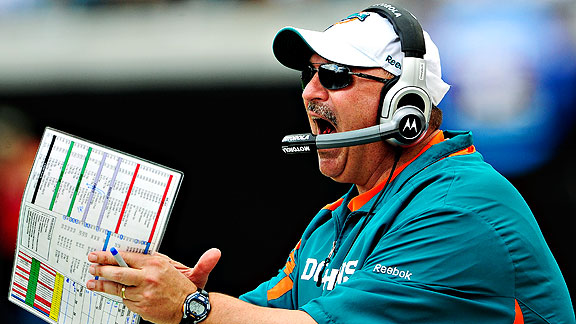 Sam Greenwood/Getty ImagesDolphins coach Tony Sparano felt it was necessary to add former players to his coaching staff.
Miami Dolphins
receiver
Brandon Marshall
scoffed in September that broadcast analyst Sterling Sharpe had no right to judge him.
Marshall claimed Sharpe didn't do enough on the field
to earn the privilege.
Imagine, then, how much disdain Marshall would harbor for criticism from those who didn't play in the NFL at all.
When you consider Marshall's logic and the sort of position coaches he has worked with, you get a sense of how unstable a situation can be.
As a rookie, he learned from former Pro Bowl receiver Steve Watson. But since 2007, Marshall's coaches have been Jeremy Bates, Jedd Fish and Adam Gase with Denver and Karl Dorrell last year with Miami. None of them played in the NFL. Neither Fisch nor Gase played in college.
Probably not the kinds of guys you'd expect to make a connection.
Dolphins head coach Tony Sparano rearranged his coaching staff after last season. He moved Dorrell into the quarterbacks vacancy and promoted Steve Bush from a quality-control role -- usually considered entry-level -- to receivers coach. Bush hasn't been an NFL position coach before. In 2008, the Dolphins hired the one-time Syracuse assistant away from West Genesee High in upstate New York.
Some help was in order, and not just for Bush.
Sparano made it a point to add former players to his coaching staff because he identified a deficiency. He needed more voices to reach his players.
Although the Dolphins parted ways with running backs coach James Saxon, they hired Ike Hilliard to assist Bush and Bryan Cox to coach pass rushing and promoted Dan Campbell from intern to tight ends coach.
"I feel good about the way we were able to put the staff together with the infusion of ex-players onto the staff," Sparano said last week at the NFL owners meeting in New Orleans.
"A little bit of that flavor and that knowledge on your coaching staff helps a lot. Sometimes, as coaches, we can get tunnel vision and forget about what the players' needs are. When you get an ex-player on your staff -- somebody that's really not far removed -- it helps you a lot."
A breakdown of AFC East coaching staffs shows there are multiple philosophies on former NFL players as assistants.
The Dolphins went into last season with two position coaches who played in the NFL: assistant head coach and secondary assistant Todd Bowles and Saxon. They now have four assistants with a combined 557 games.
Buffalo Bills
head coach Chan Gailey has one former NFL player on his staff, but none coaching a position. Former defensive back Adrian White, a veteran of seven seasons, handles quality control.
New England Patriots
defensive line coach Pepper Johnson is the lone member of Bill Belichick's crew to have experienced NFL action. Johnson played linebacker for four teams over 13 years.
Then there's Rex Ryan's staff, populated by six former NFL players with 62 seasons and 829 games. Matt Cavanaugh coaches quarterbacks, Anthony Lynn running backs, Henry Ellard receivers, Mike Devlin tight ends, Mark Carrier defensive line and Dennis Thurman defensive backs.
I reached out to three former coaches who played in the NFL -- Tom Flores, Herm Edwards and Ted Cottrell -- to get their opinions on the significance of having on-field experience on staff.
"It's always been a thing with the players," said Cottrell, an
Atlanta Falcons
linebacker and successful defensive coordinator for the Bills, Jets,
Minnesota Vikings
and
San Diego Chargers
, "where they think in the backs of their minds, 'Well, you haven't played this game. You don't know what we're going through. You haven't done this, Coach.' But if you have some playing experience on your staff, it helps offset that."
As valuable as those players-turned-coaches are, they're difficult to find. The best players don't necessarily make the best coaches because what came to them naturally can't always be conveyed through instruction.
[+] Enlarge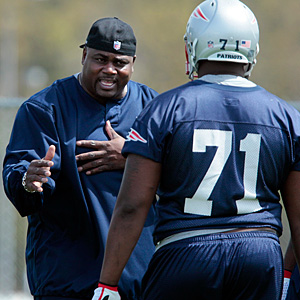 AP Photo/Elise AmendolaPatriots defensive line coach Pepper Johnson is the only member of Bill Belichick's staff with NFL playing experience.
Flores found a way to make it work. He and Mike Ditka are the only two in NFL history to win a Super Bowl ring as a player, assistant coach and head coach. Flores played quarterback for the Bills,
Oakland Raiders
and
Kansas City Chiefs
before guiding the Raiders to pair of Super Bowl titles.
"Some of the young kids coming out have no idea," Flores said. "They think they invented the game. Sometimes you have to bring them back to reality.
"But you also don't want somebody who keeps saying, 'Well, when I played ... When I played ... When I played ...' The player thinks, 'I don't give a damn when
you
played.
We're
playing now.'"
The transition from player to coach is difficult. Many players focus so much on their specific jobs when they're active that they don't become students of the overall game or learn how their roles fit into the overall puzzle. Others find it difficult to stop acting like a player when their careers are over.
Still, the ex-player element can be crucial in various instances.
"Sometimes you need a bridge with a former player," said Edwards, who played cornerback for the
Philadelphia Eagles
and was head coach for the Jets and Chiefs. "His voice is going to speak volumes, especially during the rough times because he's done it; he's been through it. He can give them, 'OK, this is what we gotta do' speech.
"He's going to respect because he played, but can he teach? That's the whole key. Players will figure that out."
Not all coaches are comfortable hiring former players, particularly those fresh off the field. Cottrell claimed there's a fear of subversion, that the former player will relate better to the locker room than the man in charge.
"Who do you think the players on the roster will gravitate towards more?" Cottrell asked. "The guy who played in the NFL and is young, or the older guy who didn't play?"
The former player, I responded.
"Damn right they would," Cottrell said. "That's why some coaches are intimidated to hire them. That's the truth. They don't want that guy around."
Added Edwards: "I've seen that happen. There's no doubt about that. That's when you're paranoid, but there are coaches like that."
Even so, Edwards conceded insurrections aren't an unfounded conspiracy theory.
"If you've got a former player in his positional meeting room, saying, 'Man, the coach doesn't know what he's talking about,' then you've got no shot as a head coach," Edwards said. "That's why you've got to be particular on who you hire."
The Patriots have a more institutional coaching staff. Their message is easy to deliver when players consider Belichick has won three Super Bowls and four conference championships in the past decade.
Rather than rely on former players, Belichick has core assistants such as offensive line coach Dante Scarnecchia (28th season with New England) and running backs coach Ivan Fears (15th season).
Belichick grooms assistants from gophers into coordinators and even head coaches. A steady stream of his acolytes -- Eric Mangini, Josh McDaniels, Brian Daboll, Bill O'Brien, Matt Patricia -- got their NFL starts under Belichick with no pro playing experience.
New England's cyclical process protects organizational doctrine from outside influences. Johnson, the lone ex-player on the staff, played 10 of his 13 seasons under Belichick.
"Belichick has a certain philosophy, and you want everybody to be on the same page," Flores said. "Sometimes, when you bring in guys that have been too many other places, they're not going to be on your page because they've been trained someplace else.
"If you bring up assistants through the ranks, then they'll be trained the way you want them to be. Everybody has to buy into the same program."
At the other end of the spectrum are the Jets.
Ryan obviously values former players. Their presence on the staff contributes to the Jets being an attractive destination for free agents, and Cottrell surmises the Dolphins have noticed.
"From a coaching standpoint, he looks at the Jets and wants to catch them in the division," Cottrell said. "He thinks, 'Rex has six guys that have played the game who are coaching. Uh oh. Rex has got an advantage on me.'
"That's got to be in the back of his mind. You've got to win your division to get into the playoffs, and when you look at your coaching staff, you see you don't matchup in that area."
Or, in the case of adding Hilliard at least, maybe it was as simple as noticing the Dolphins didn't match up with Marshall.
March, 22, 2011
3/22/11
6:21
PM ET
NEW ORLEANS -- The
Miami Dolphins
are believed to be
one of at least five teams fined for impermissible coach-player contact
during a dead period under the previous collective bargaining agreement.
NFL commissioner Roger Goodell revealed the sanctions at the end of his Tuesday afternoon news conference to conclude the NFL owners meeting at the Roosevelt Hotel.
Dolphins quarterback
Chad Henne
told reporters last month he
had been meeting with new offensive coordinator Brian Daboll
and quarterbacks coach Karl Dorrell to go over the playbook and strategies.
Under the CBA that just expired, supervised practice or skull sessions were forbidden from the end of the previous season until March 15. Clauses in the rule state "players are not permitted to participate in organized workouts, practices or meetings of any kind" and "players may not be directed or supervised by position coaches during this period."
The Palm Beach Post previously cited NFL spokesman
Greg Aiello as saying the league would not pursue the violations
. When asked at the news conference why the league wouldn't punish multiple teams who reportedly had broken the rules, Goodell said "five teams have already been contacted on those violations."
When asked for clarification on whether or not the teams would be fined, Goodell said "they have been."
Neither Goodell nor Aiello divulged which teams had been fined, but Goodell's remarks were in response to a question I asked him specifically about the Dolphins' situation. A Dolphins spokesman declined to comment.
NFL general counsel Jeff Pash told Palm Beach Post reporter Ben Volin afterward "The commissioner sort of rather strongly suggested that
one team in South Florida might have crossed the line
."
After the news conference, Aiello said the onus for a complaint would be on a player or the union before a fine would be levied.
Aiello didn't add specifics other to say the rules were put in place to protect the players from too many offseason obligations. Even with the CBA scheduled to expire March 15, the NFL expected teams to honor the agreement.
March, 11, 2011
3/11/11
6:45
PM ET
»
NFC labor impact
:
East
|
West
|
North
|
South
»
AFC
:
East
|
West
|
North
|
South
A team-by-team look at how a continued labor impasse and extended NFL freeze on transactions would affect the division:

Buffalo Bills:
The Bills are a young team that built momentum toward the end of last season. They went 4-4 in the second half. Over a six-game stretch in October and November, they went 2-4, and each loss was by three points to an eventual playoff team. Three of those losses were in overtime.
A prolonged work stoppage would stunt Buffalo's development. Coach Chan Gailey is entering his second year but his first offseason with
Ryan Fitzpatrick
as starting quarterback. The Bills also could draft a quarterback next month but they wouldn't be able to sign him or work with him until there's a new collective bargaining agreement.
Inexperienced players with one or two years dot the roster: running back
C.J. Spiller
, guards
Eric Wood
and
Andy Levitre
, nose tackle
Torell Troup
, outside linebackers
Aaron Maybin
and
Arthur Moats
and safety
Jairus Byrd
. They would benefit from as much prep time as they can get.

Miami Dolphins:
The Dolphins' offense will have serious difficulty taking shape if there's a long work stoppage. Incumbent quarterback
Chad Henne
wouldn't be on the securest footing if we were heading into a normal offseason. The Dolphins were frustrated enough to remove him as their starter twice last year. Now he's working with a new offensive coordinator, Brian Daboll, and new quarterbacks coach, Karl Dorrell, who never has been a quarterbacks coach before.
Henne got a head start on his offseason by meeting with Daboll and Dorrell to try to absorb as much of the playbook as he could. Henne intends to communicate Daboll's philosophies to his teammates with informal workouts in South Florida.
That's where the Dolphins can have an advantage if they remain diligent. A large percentage of their players maintain homes in South Florida, making it easy for them to assemble for group sessions.
All of Henne's work could be rendered moot if the Dolphins want to acquire another quarterback, but then they'll have another problem. Until there's a new CBA, teams cannot sign free agents or make player trades. That means the Dolphins are in limbo if they want to make a play for an intriguing group of candidates that includes
Kevin Kolb
,
Kyle Orton
,
Carson Palmer
,
Donovan McNabb
and
Vince Young
.

New England Patriots:
If any team can withstand a protracted work stoppage, it's the reigning AFC East champions. The Patriots have a solid roster filled with veterans, particularly on offense. Their coaching staff remained mostly intact. They're flush with draft picks.
The biggest impact probably would be felt on defense, where the Patriots sometimes started four rookies: end
Brandon Deaderick
, outside linebacker
Jermaine Cunningham
, inside linebacker
Brandon Spikes
and cornerback
Devin McCourty
.
Although a couple of veteran defenders returning from injuries (defensive end
Ty Warren
and cornerback
Leigh Bodden
) should help stabilize them, the Patriots will have difficulty coaching up their youngsters and improving their terrible third-down defense in a compacted offseason.
Another issue could be the way the Patriots flip through interchangeable parts. The Patriots are adept at discovering undrafted free agents and reclaiming other teams' castoffs, while constantly overturning the bottom of their roster. With no CBA, those roster moves cannot happen.

New York Jets:
Free agency will be the Jets' biggest issue if a work stoppage drags out. They have the most free agents in the AFC East and declined to re-sign any of them, aside from placing the franchise tag on inside linebacker
David Harris
. The Jets didn't want to make any decisions until they knew what the next CBA looked like. That created several questions up and down the roster.
Receiver is the biggest question mark.
Santonio Holmes
and
Braylon Edwards
are without contracts, and quarterback
Mark Sanchez
needs a strong supporting cast. On defense, safety is a concern with
Brodney Pool
,
Eric Smith
and
James Ihedigbo
about to be free agents, too.
No CBA means the Jets won't be able to sign incoming free agents either. Polls have shown players around the league would love to play for Rex Ryan more than any other coach. But the Jets can't use that to their advantage until there's a new deal.
March, 11, 2011
3/11/11
9:03
AM ET
The NFL long has been a quarterback-dominated league.
But quarterbacks will be more important than ever in 2011 if a protracted labor stoppage wipes out offseason workouts or encroaches on training camps.
ESPN.com senior writer John Clayton wrote a column on the topic, stressing
teams with stability at quarterback could emerge way ahead
of those that do not once a new collective bargaining agreement is brokered.
Several clubs, two in the AFC East, are evaluating their quarterback situations and are open to addressing their needs through free agency, trades or the draft.
[+] Enlarge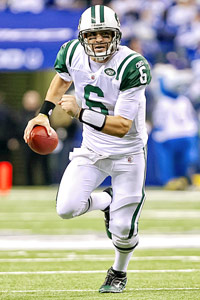 Icon SMIMark Sanchez has the second most starts in the AFC East, but who will he be throwing to next season?
We have no idea when free agency will commence or player trades will be permitted. The longer teams must wait on those options, the less time there will be to learn playbooks and develop chemistry with receivers.
With that in mind, let's rank each situation in the AFC East based on how much its quarterback and infrastructure (stability of his supporting cast) will be able to withstand NFL dormancy.
New England Patriots
The Patriots have one of the NFL's most consistent situations.
Tom Brady
is the reigning MVP, guided his team to a 14-2 record and has all of his receivers coming back.
He and
Deion Branch
have an eerie chemistry that resurfaced immediately despite 3 1/2 years apart. I don't think Brady and
Wes Welker
need to worry about getting on the same page, but I wouldn't be shocked if they worked out regularly again like they did last summer, while Welker was rehabbing from his knee injury. Brady proved how quickly he can integrate new blood by the way he used rookie tight ends
Rob Gronkowski
and
Aaron Hernandez
.
Patriots offensive coordinator and quarterbacks coach Bill O'Brien will call the plays for the third season. The Patriots, like the
Indianapolis Colts
with
Peyton Manning
, will be just fine if there's a lengthy lockout.
New York Jets
Fact:
Mark Sanchez
has the second-most NFL starts of any No. 1 quarterback in the AFC East. He's only 24 years old, but Sanchez has started 37 games, one more than
Ryan Fitzpatrick
and 10 more than
Chad Henne
.
Jets offensive coordinator Brian Schottenheimer and quarterbacks coach Matt Cavanaugh have been with Sanchez from the beginning. Sanchez also is a self starter in the offseason. He convened a "Jets West" camp for his receivers last summer in California.
A potential problem is that Sanchez will have trouble gathering receivers this offseason because they don't know if they'll be back.
Santonio Holmes
and
Braylon Edwards
are free agents. But receiver
Jerricho Cotchery
and tight end
Dustin Keller
are on the roster.
Buffalo Bills
Even if the Bills draft a quarterback, a long lockout probably would ensure Fitzpatrick remains the starter by wiping out rookie camps and other critical orientation time. Fitzpatrick is a savvy veteran, a calming influence for the Bills' offense. He incorporates head coach Chan Gailey's concepts and has the support of his locker room.
Based on how Fitzpatrick played as the season wore on, there's no reason to believe the Bills suffered from a lack of chemistry. When receivers
Roscoe Parrish
and
Lee Evans
went down with injuries, Fitzpatrick had no trouble getting undrafted rookies
David Nelson
and
Donald Jones
involved.
But the Bills still could benefit from informal practices during a work stoppage. Top receiver
Steve Johnson
told me this week they have none scheduled.
Miami Dolphins
Henne created a stir when he divulged he had been, against the NFL's wishes, going over the playbook with new offensive coordinator Brian Daboll and new quarterbacks coach Karl Dorrell. The NFL declined to pursue, and that was doubly good news for the Dolphins. They avoided punishment and got a head start before the league turned into a pumpkin.
But Henne would appear to be at a disadvantage despite the extra help. The Dolphins have declined to give him any kind of legitimate public endorsement. He's entering his fourth season, presents more questions than answers and is working with a new playbook. Top receiver
Brandon Marshall
suggested after the season he had more chemistry with third-string quarterback
Tyler Thigpen
than Henne.
Henne also revealed the Dolphins have informal workouts and a location arranged. That's much easier to do in Broward County than, say, Western New York. Good thing, too, because Henne can use all the help he can get to morph into the franchise quarterback the Dolphins hoped he would be.
March, 1, 2011
3/01/11
11:39
PM ET
The NFL will not investigate or discipline the
Miami Dolphins
for holding coach-player meetings that appear to violate rules under the current collective bargaining agreement.
Dolphins quarterback
Chad Henne
revealed Monday that he, new offensive coordinator Brian Daboll and new quarterbacks coach Karl Dorrell had been
getting together frequently to go over strategy
.
Under the current CBA, which is mere hours away from expiring, players are forbidden from such interaction until March 15.
The NFL warned teams about following the rules, as detailed by
Sports Illustrated
and the
Cleveland Plain Dealer
in recent days. But spokesman Greg Aiello e-mailed Palm Beach Post reporter Ben Volin to say the
league wouldn't take a hardline stance on the issue
.
"There are rules that have been in place for many years for the time period between the end of a season and the beginning of offseason workout programs," Aiello wrote. "They are designed to protect the players and give them some down time. It's the interpretation of Article 35 of the CBA."
Article 35 deals with offseason workouts. Punishment for violations of this article is a fine for the head coach.
A league memo distributed to teams last year stated prior to March 15 "players are not permitted to participate in organized workouts, practices or meetings of any kind" and "may not be directed or supervised by position coaches during this period" at the team's facility.
March, 1, 2011
3/01/11
12:56
AM ET
Miami Dolphins
quarterback
Chad Henne
expressed excitement Monday over his interaction with new offensive coordinator Brian Daboll and the playbook.
Henne should have kept his mouth shut.
Better yet, the Dolphins should have paid attention to what was going on around the league and not held coach-player meetings in the first place.
Miami Herald columnist Armando Salguero pointed out
Henne's comments indicate the Dolphins violated NFL rules
for coach-player interaction during a dead period.
Teams would love to cram as much prep time before the collective bargaining agreement expires Thursday. Once that happens, teams and players no longer have a working relationship and all contact is verboten.
But teams aren't allowed to coach up their players at this time either because the CBA limits such interaction. No meetings are allowed. No direction from positional coaches is allowed.
The league had sent cease-and-desist memos to multiple teams. Cleveland Plain Dealer reporter Tony Grossi wrote Sunday the
Cleveland Browns
were one. Sports Illustrated's Peter King wrote Monday the
St. Louis Rams
were another.
King explained the NFL is being cautious
because there's "too much of a chance for something like that to end up in a court case, if one ever were filed by the union, with the NFLPA saying players were being pressured by the team to work out during the lockout."
At a charity golf outing Monday at PGA National in Palm Beach Gardens, Fla.,
Henne admitted he, Daboll and quarterbacks coach Karl Dorrell
have held skull sessions over the new playbook and direction of the offense.
"I took some vacation time, maybe a week or two here or there, but once we signed Coach Brian Daboll, I tried to get into there as quick as I could to learn the offense," Henne told Miami Herald reporter David J. Neal. "I've been meeting with him for the last month now.
"I feel pretty comfortable with what he's teaching and what the offense is going to be about just in case -- who knows what's going to happen this Thursday? -- that I can pass it on to the guys and help the guys out."
Henne and some teammates already have found a place in South Florida to stage workouts during the likely work stoppage.
Henne claimed to like Daboll's offense, describing it as similar to the
New England Patriots
' with a dash of
New York Jets
. Daboll was receivers coach for the Patriots before joining the Jets as quarterbacks coach in 2007. He spent the past two seasons as Browns offensive coordinator.
The problem is, Henne's not supposed to know Daboll's offense at all right now.
How the NFL handles this case will be interesting.
If the Dolphins aren't punished, then other teams will be justifiably upset for not being allowed to get their quarterbacks (many of them young) and offensive coordinators (many of them new) together.
February, 16, 2011
2/16/11
12:00
PM ET
With the offseason in full swing, let's take a look at one major question facing each AFC East team as it begins preparations for the 2011 season:

BUFFALO BILLS
Can the defense become a difference-maker?
That abysmal 0-8 start and a record meager enough to lock down the third overall pick in the draft suggest the Bills were an utter mess in 2010. Statistically, they were on both sides of the ball.
Yet there's an unquestionably different vibe about the Bills' offense despite ranking 28th in points, 25th in yards, 18th in rushing offense and 24th in passing offense. Bills fans debate whether
Ryan Fitzpatrick
is an adequate starter. Running back
Fred Jackson
and wide receiver
Steve Johnson
are fan favorites.
There's a general belief head coach Chan Gailey has his young offense trending upward.
Buffalo's defense generates no such sentiment despite similar rankings: 28th in points, 24th in yards, 32nd in run defense and a misleading third in pass defense -- because opponents didn't need to throw. Opposing quarterbacks still recorded the league's fifth-highest passer rating against the Bills.
Buffalo needs an overhaul on defense, and they appear willing to try. Gailey brought in old pal Dave Wannstedt as assistant head coach and linebackers assistant. Wannstedt's influence is uncertain at the moment, but he has better credentials than defensive coordinator George Edwards, who oversaw a switch from a 4-3 to a 3-4 and, in the end, mashed them together.
The Bills also re-signed outside linebacker
Shawne Merriman
. He's a reclamation project. But who knows? At least they're trying.
Much more must be done. The Bills have a foundation player in defensive tackle
Kyle Williams
, but he's surrounded by flotsam. Inside linebacker and leading tackler
Paul Posluszny
is a free agent. Merriman was worth the gamble because the Bills are desperate for pass-rushers with 2009 first-round pick
Aaron Maybin
looking like a bust and a half.
The draft won't solve all their problems, and general manager Buddy Nix is averse to patching holes with free agents. Unless the Bills strike big in the draft and Merriman turns out to be worth the risk, expect the defense to cost them more games in 2011.

MIAMI DOLPHINS
Will Chad Henne be their long-term quarterback?
The Dolphins revealed a lack of faith in Henne in 2010. They benched him twice.
The first time was an out-and-out demotion. In Week 10 -- with
Tom Brady
performing like an MVP,
Mark Sanchez
well on his way to the playoffs again and Fitzpatrick giving Bills fans something to cheer about -- the desperate Dolphins replaced Henne with
Chad Pennington
. There's no telling how long Henne would have remained on the sideline if Pennington didn't reinjure his throwing shoulder shortly after kickoff.
The next time Tony Sparano pulled Henne was in the season finale, a blowout loss to a Patriots squad that rested some of its best players and had nothing to play for. Henne completed six of his 16 passes, threw an interception and had a 25.8 passer rating. Not the way any quarterback wants to enter the offseason.
Henne was the Dolphins' supposed quarterback of the future. They drafted him in the second round in 2008, the year they took his Michigan teammate
Jake Long
first overall. Henne hasn't worked out yet. He studied under Pennington for a season and then took over in 2009, when Pennington got hurt two games into the season.
In his two nearly full seasons, Henne, at best, has looked decent. Great games have been rare. He has frustrated Dolfans more often than not. Henne has a career 75.3 passer rating. He has thrown six more interceptions than touchdown passes.
There are no guarantees Henne will remain Miami's starter, although the prediction here is that he will be in 2011. A new infrastructure is in place, and whenever a young quarterback has new idea men around, there's a tendency to extend opportunities -- especially when owner Stephen Ross, a Michigan man himself, has promoted Henne as a future Dolphins legend.
The Dolphins said goodbye to offensive coordinator Dan Henning and hired Brian Daboll, formerly of the
Cleveland Browns
. Henne's position coach, David Lee, left to be offensive coordinator at Mississippi. Receivers coach Karl Dorrell was switched to quarterbacks.
Will new voices be enough to inspire Henne to another level? I'm skeptical. While it's easy to scapegoat Henning -- and to an extent Lee -- for the offense's struggles, it should be noted Henning and Lee were considered geniuses when Pennington ran the offense and the Wildcat became an NFL trend. I doubt Henning and Lee turned vapid when Henne became quarterback.

NEW ENGLAND PATRIOTS
Will the defense remain a weakness?
Week by week, the Patriots' defense evolved into a commendable unit. In four of their last five regular-season games, they allowed 20 combined points. Two of those opponents were playoff teams.
They sent four defensive players to the Pro Bowl: nose tackle
Vince Wilfork
, inside linebacker
Jerod Mayo
, cornerback
Devin McCourty
and safety
Brandon Meriweather
. Three of them were starters.
Not bad.
The numbers tell a different story. The Patriots ranked eighth in points allowed, but 25th in yards allowed, 11th in run defense and 30th in pass defense. The Patriots were dead last in third-down efficiency. They let opponents move the chains 47 percent of the time. They improved over the final few games, but in December they were on track to record the
fifth-worst defense on third down since the NFL-AFL merger
.
The Patriots gave up 34 points to the Browns, 30 points to the Bills and 24 points each to the
Detroit Lions
and
Cincinnati Bengals
.
Bill Belichick's defense can improve simply with another year of experience and the return of a couple of key contributors who missed 2010 with injuries.
The Patriots were young on defense. They started four rookies a couple of times. Their top secondary -- cornerbacks McCourty and
Kyle Arrington
, safeties Meriweather and
Patrick Chung
-- went into the season with four combined NFL seasons.
Not only will the defense improve by being another year older and wiser, but they'll also be reinforced when defensive end
Ty Warren
and cornerback
Leigh Bodden
come back.
Hip surgery wiped out Warren's season. Warren was a fixture at left end and forced the Patriots to juggle their line continually. A shoulder injury sidelined Bodden, and while McCourty emerged as a Pro Bowler, Bodden's presence over undrafted sophomore Arrington would have given the Patriots a much more formidable secondary.
New England's obvious need is a pass-rusher. With two draft choices in each of the first two rounds and the wherewithal to lure a free agent, there are plenty of reasons to expect New England's defense to upgrade in 2011.

NEW YORK JETS
Can the Jets retain their loaded receiving corps?
The Jets are in a bad spot when it comes to free agency in general, but particularly in regard to their wide receivers.
Contracts are up for
Santonio Holmes
,
Braylon Edwards
and
Brad Smith
. They accounted for 17 of the club's 39 touchdowns.
Holmes spent the first four games on suspension, but he and Edwards combined for 105 receptions, 1,591 yards and 12 touchdowns. Smith was less of a threat in the receiving game, but he lined up as an option quarterback. He threw a touchdown pass and returned two kickoffs for touchdowns.
Jets general manager Mike Tannenbaum declared his intentions to re-sign them all, but he added the plan was in pencil and expressed considerable doubt he would hammer out any deals before March 3, when the collective bargaining agreement is expected to expire.
Until there's a new CBA, nobody knows what free agency will look like. When will the signing period commence? How many seasons of NFL experience will determine restricted or unrestricted free agency? What will salary-cap parameters be?
That's why bringing back all three receivers will be unlikely. Once they hit the open market, the Jets will have to compete with the rest of the league for three players who will be coveted.
The Jets acquired Holmes and Edwards because they had baggage, but they have enhanced their reputations immensely. Holmes served his suspension and was on his best behavior. Edwards defied his rap as a habitual ball-dropper.
The always-respected Smith once again proved to be a versatile weapon at a time when such players are in high demand.
The Jets must keep at least two of them. They can't afford to give Sanchez less to work with. The young quarterback has many admirable traits, but he has shown little capacity to carry the offense himself. Sanchez requires a strong support staff.
The Jets might be able to get away with losing one of these receivers. Tight end
Dustin Keller
was sensational while Holmes was suspended. Through the first four games, Keller had 19 receptions for 234 yards and five touchdowns. Then Keller got lost in the offense and didn't score another TD.
January, 27, 2011
1/27/11
6:30
PM ET
All four AFC East starting quarterbacks are under contract and in place for 2011.
Yet each comes with his own set of intriguing circumstances and at least one major question for next season.
[+] Enlarge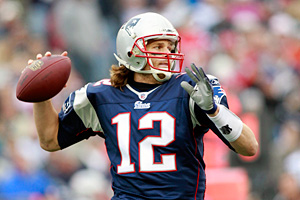 Greg M. Cooper/US PresswirePatriots quarterback Tom Brady led the NFL in TD passes this season.
Even the resident superstar,
New England Patriots
quarterback
Tom Brady
, hasn't won a playoff game in three years and faces a recovery from foot surgery.
The other three --
Mark Sanchez
,
Ryan Fitzpatrick
and
Chad Henne
-- certainly don't come with any guarantees.
Sanchez's sophomore season seems like a success in the afterglow of another deep postseason run with the
New York Jets
, but he still has a long way to go to deserve his Sanchize nickname.
The
Buffalo Bills
like Fitzpatrick but could be tempted to draft a quarterback with the third overall pick. The
Miami Dolphins
already could be searching for Henne's replacement.
With those issues in mind, let's look ahead to the 2011 season by breaking down each quarterback in the context of what we learned about him in 2010.
I've ranked them in terms of impact and asked Scouts Inc. analyst Matt Williamson to weigh in with his thoughts.
1. Tom Brady

Big 2011 question:
How long can he keep doing it?
Pluses:
Brady showed he can win with practically any supporting cast. His teammates have been transitory regardless of perceived significance (e.g.
Randy Moss
). Even with inexperienced help and a few retreads, Brady obviously was the league's MVP and earlier this week was
announced as the only unanimous All-Pro selection
.
Brady is the ultimate field general. He manipulates defenses, makes quick decisions at the line of scrimmage and delivers the ball with pinpoint accuracy. He broke the record for consecutive throws without an interception and led the NFL in touchdown passes.
Minuses:
The combination of age and injuries are the biggest concern -- if there is one. Brady will turn 34 before next season begins and had foot surgery last week to repair a stress fracture. It was his second major operation in three years. At this rate, we can't expect Brady to be in his prime four or five more years. The window is closing.
Brady, though, doesn't rely on mobility. Perhaps his biggest shortcoming -- a flaw that opened the door for people to make a case for
Michael Vick
as MVP -- is that Brady doesn't make plays with his legs. As Williamson noted, Brady's not the best improviser when a play breaks down.
Brady also has lost three straight postseason games. While some would chalk that up to happenstance, it's a trend that certainly will be on Brady's mind the next time they make it, which should be in a year.
Williamson's take:
"To me, he's still the king of the castle. It's pretty hard to argue against Brady or
Peyton Manning
. The bar is set so high that 30 teams in the league would kill for either of those guys to be their quarterback, and that will be true a year from now.
"He's so competitive. His work ethic is so great. He can throw the football as well as anyone. His supporting cast is phenomenal. His head coach isn't going anywhere. If your biggest problem is 'How much longer is he going to last?' then that's not much of a problem. The guy's great."
2. Mark Sanchez
Big 2011 question:
Can he evolve into a truly great quarterback in his third season?
[+] Enlarge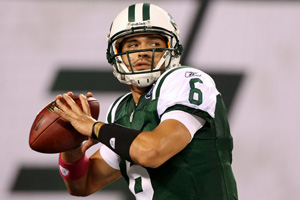 Alan Maglaque/US PresswireJets quarterback Mark Sanchez continued to play his best in big games this season.
Pluses:
Sanchez seemed ordinary for major chunks of 2010. I would have ranked Fitzpatrick ahead of him halfway into December. But Sanchez proved to be a money quarterback with two more road playoff victories and another solid performance in the AFC Championship game.
Sanchez is developing into a clutch quarterback
, a topic I examined in a column last week. Authorities such as Bill Parcells and Sam Wyche have been impressed with Sanchez's ability to rise to the occasion. His postseason stats dwarf his regular-season numbers. He has five fourth-quarter comebacks and won back-to-back overtime road games this season, something that never had been done before.
Sanchez is only 24 years old and already has played in six playoff games. His combination of age, experience and potential will keep him in the spotlight for a long time. Jets backup quarterback
Mark Brunell
told me last week that Sanchez is "going to be an elite quarterback someday."
Minuses:
There are plenty of negatives to keep Williamson and me from jumping on the Sanchez bandwagon. Sanchez is inconsistent from game to game and inaccurate with his throws. He's prone to turnover flare-ups, proving he can be rattled. He has trouble coping with blitzes.
Sanchez completed 54.8 percent of his attempts, third-worst in the NFL. He threw only 13 interceptions (wonderful number compared to the 20 he threw as a rookie). But Football Outsiders charted 15 more dropped interceptions, an excessive number. Football Outsiders managing editor Bill Barnwell noted Sanchez should have thrown more interceptions than a year before because he had only five dropped as a rookie. Defenders held onto 80 percent of potential picks in 2009, but just 46 percent this season.
So Sanchez's abysmal 75.3 passer rating (fifth from the bottom and behind Henne) downplayed how scattershot he was. Take away Sanchez's four games with 100-plus passer ratings and he threw six touchdowns and 12 interceptions.
You can see why the Jets need to maintain their infrastructure and not become dependent on Sanchez yet.
Williamson's take:
"I have been a huge basher of him. I think he's been vastly overrated. To talk about him as a top 10 quarterback, top 12 or 15 quarterback, is crazy to me. But these last two games have opened my eyes. I will give him much more benefit of the doubt now.
"I still need to put an asterisk next to him. In the AFC Championship Game, that's as good as he's going to play, and that's good enough for the Jets to win. They have the formula. He has great receivers, a great line and one of the best defenses in the league. But he still has issues. His best moments are something that anybody can do. He still struggles with the blitz. His arm is still average. He's not a guy who can attack outside the numbers. He can't drive the ball deep downfield.
"I'd rather play against him than with him. Still, he plays his best when it matters most, and most quarterbacks don't. His intangibles are really encouraging. I don't think the stage ever is too big for him."
3. Ryan Fitzpatrick
Big 2011 question:
Will he be the long-term answer or just a stopgap?
[+] Enlarge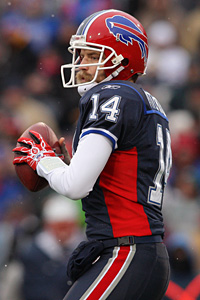 Luc Leclerc/US PresswireBuffalo quarterback Ryan Fitzpatrick could enter next season as the Bills' starter after some inspired play this season.
Pluses:
Fitzpatrick was a journeyman backup who could be on the verge of his first full-fledged offseason as somebody's starting quarterback. The Bills brain trust opted for
Trent Edwards
at the start of training camp and gave him all of the first-team reps. But two games into the season, new head coach Chan Gailey had seen enough and inserted Fitzpatrick.
Despite Fitzpatrick's limited interaction with the first-teamers, he provided a noticeable spark with his mobility and deep throws. The coaching staff and his teammates almost immediately seemed to have renewed faith in the offense. He helped previously anonymous receivers such as
Steve Johnson
and
David Nelson
turn into dangerous contributors.
Fitzpatrick also became easy for Bills fans to root for. He was a seventh-round draft choice out of Harvard who nearly became the first Bills quarterback to throw 30 touchdowns in a season since Jim Kelly. Fitzpatrick challenged defenses and took chances downfield.
Minuses:
Fitzpatrick is 28 and probably has hit his ceiling. He might be satisfactory as a caretaker, but his prospects as a playoff quarterback are dubious. He was a backup his first five years in the league and didn't stand out in 15 starts with the
St. Louis Rams
and
Cincinnati Bengals
. The fact he signed with the Bills to be a backup in 2009 reflected his worth on the open market.
Fitzpatrick is fun to watch because he takes chances, but his swashbuckling tendencies get him into trouble. He's liable to feather a pass between two defenders or throw a horrendous interception on any given play. He committed five turnovers in Week 16 against a Patriots team that had nothing to play for.
General manager Buddy Nix told Buffalo News reporter Mark Gaughan this week that the
Bills need to draft a quarterback in April
. Whether the Bills grab
Cam Newton
or
Blaine Gabbert
with the third overall pick will clarify the plan for Fitzpatrick as a long-term solution.
Williamson's take:
"I don't think Fitzpatrick is the answer. I don't think he can ever be in the top 50 percent of starting quarterbacks in this league. He can get you to 8-8, but in the end you're going to want to replace him. But I wouldn't fault the Bills at all to say 'Let's give him another year. Let's give him an entire offseason as The Man.' They should say 'This is your team, and we're going to go out and get you a receiver, a defense and a blocker or two.'
"The Bills can jump off that bridge a year from now. The Bills can't reach on a quarterback in the first round and have him sit behind Fitzpatrick. That organization has too many issues. Their needs are too great to spend No. 3 money on the 12th-best player in the draft. You tread water with Fitzpatrick for now and hope he gets a little better."
4. Chad Henne
Big 2011 question:
Will he be able to seize the starter's job again?
Pluses:
Henne was benched once and pulled from a game late in the season. He had a rough year, but he's 25 years old -- young enough to be considered a prospect yet with substantial experience. Henne was a four-year starter at Michigan and sat for a year behind
Chad Pennington
before taking over the Dolphins' job in 2009.
Henne has a strong arm and can make all the throws. He's also tough, missing only one week with a knee injury that the South Florida Sun-Sentinel reported would "more than likely" end his season. Henne returned in Week 12 and, on the other side of the country with the season on the line, threw for 307 yards and two touchdowns against the
Oakland Raiders
.
Henne could benefit from some new voices. Offensive coordinator Dan Henning retired, and quarterbacks coach David Lee took a job with Ole Miss. The Dolphins hired young offensive coordinator Brian Daboll, who has been exposed to Brady and
Brett Favre
. Receivers coach Karl Dorrell, the former UCLA head coach, will be Henne's position coach.
Minuses:
The Dolphins publicly expressed their dissatisfaction in Henne by benching him. He flopped in 2010 even though the Dolphins made one of the offseason's biggest acquisitions, trading two second-round draft choices and committing a metric ton of cash to star receiver
Brandon Marshall
. Henne also had one of the league's top slot receivers,
Davone Bess
.
But Henne's erratic play doomed their season. He produced a trio of three-interception games and posted a passer rating below 70 five times.
Henne plays like a robot. Every motion appears purposeful, as though it was programmed, rather than coming naturally. He doesn't perform well off the script, can lock onto receivers and freezes in the pocket.
Williamson's take:
"If we had this conversation 365 days ago, I would have been all about Chad Henne. I was very much a believer in him before this season. There wasn't one player in the league who let me down more than Henne. I thought he was on the verge of being really good.
"The Dolphins really handcuffed him with the play-calling and lack of a vertical passing game. That hurt him. He needs to throw the ball a lot. He needs to go deep. He needs to use his arm.
"But when you watch him play the game now, he's not even close to being good enough. I think a change of scenery would do him a world of good, but they can't afford to get rid of him for nothing. They would be foolish not to bring competition in for him.
"I like his skill set and think he can be very good, but he looks the worst I've ever seen him, and I was involved at trying to recruit him out of high school to Pitt. He was horrible this year."
January, 26, 2011
1/26/11
3:32
PM ET
Miami Dolphins
Buffalo Bills
New England Patriots
New York Jets