January, 20, 2011
1/20/11
1:02
PM ET
FLORHAM PARK, N.J. -- The
Baltimore Ravens
thought they could pull a fast one for a Week 4 game against the
Pittsburgh Steelers
.
The Ravens needed to add a safety and signed free-agent
Ken Hamlin
. To make room, they cut veteran defensive lineman
Trevor Pryce
with the intention of bringing him back after the game.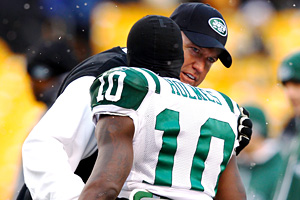 Jared Wickerham/Getty ImagesOne of coach Rex Ryan's best moves was getting receiver Santonio Holmes for a fifth-round pick last offseason.
They didn't expect Rex Ryan would swoop in.
Ryan, the former Ravens defensive coordinator, immediately identified Pryce as a player who could help the
New York Jets
and signed him within a day.
"He knows exactly what he wants," Pryce said Wednesday at his locker stall in the Jets' facility.
"He has in his mind what a football team's supposed to be and what kinds of parts and pieces you need for a football team and the personalities and what a guy can do."
Snagging Pryce was the kind of sudden move that illustrates Ryan's analytical conviction and the Jets' willingness to pull the trigger on a deal that can improve their roster.
Since Rex Ryan has taken over as Jets head coach, they have undergone substantial roster turnover and reached the AFC Championship Game both years. They will play the Steelers on Sunday at Heinz Field for a ticket to the Super Bowl.
When the Jets lost to the Colts in AFC title game last year, it was a great sign for a team on the make. One would expect a reluctance to tinker with a good thing.
But by June, Ryan and general manager Mike Tannenbaum had turned over 25 percent of their roster. Only eight teams, most of them rebuilding organizations, had gotten rid of more players.
"If I thought there was any flaw about somebody else, maybe from a character standpoint as far as what kind of leader they were as a teammate and all that type of stuff, we just moved on," Ryan said. "Not saying they can't play in the NFL; they just couldn't play for us.
"I wanted guys that are great teammates, that care about each other, that are committed to winning and committing to building each other up. And that's what we have. We have a whole team of those right now."
Only 23 players on the Jets' active roster were here when Ryan arrived in 2009.
The Jets intrepidly have pulled several high-profile moves to accumulate players they want. They traded up to draft quarterback
Mark Sanchez
in 2009 and acquired receiver
Braylon Edwards
a few games into the season.
Over the past offseason, they made highly favorable trades for receiver
Santonio Holmes
and cornerback
Antonio Cromartie
. They signed castoff veterans such as running back
LaDainian Tomlinson
, outside linebacker
Jason Taylor
and safety
Brodney Pool
.
"We don't make moves just to stay the same or make moves just to be selling newspapers or something," Ryan said. "The moves that we made went to better our football team.
"Our only purpose of making the moves we made in the offseason was to better our chances of winning a Super Bowl, and I think now you see some of those moves really paying off for us."
Pryce explained Ryan has an affinity for "people that have beat up on him. If you've beaten him before, he wants you. If you can't beat them, put them on your team."
Holmes certainly falls in that category. The Jets got him from the Steelers for a measly fifth-round pick.
"I just wanted him," Ryan said. "I never cared about the compensation. Let Tannenbaum figure that out. I just knew that anybody that beat me that bad, that I'd just as soon have him on our team. Three games in a row when I was in Baltimore, he beat us."
Holmes came cheaply because he'd gotten into trouble so frequently and the Steelers, with quarterback
Ben Roethlisberger
making ghastly headlines at the time, were tired of dealing with character issues. The NFL was on the verge of suspending Holmes the first four games of the season for substance abuse.
Holmes has been an asset for the Jets. He had 52 receptions for 746 yards and six touchdowns and has been on his best behavior.
A reporter asked Pryce why the Jets have been able to make the Holmes acquisition work so well when the Steelers felt compelled to give up on the former Super Bowl MVP.
"We all have issues," Pryce said. "If you figure that we all have issues, then his issues are just another issue. If all of us are covered in mud, he doesn't stick out."
Ryan's ability to quickly and astutely recognize a commodity and then integrate him into the locker room is masterful and a critical reason the Jets have gotten within one step of the Super Bowl two years in a row.
Pryce predicted Ryan won't be satisfied with success when it comes to assembling his roster for 2011 either.
"There's probably 12 or 15 guys you know he'd love to have around the league," Pryce said. "When they get released, which they will, they'll all be here one way or another."
December, 30, 2010
12/30/10
4:25
PM ET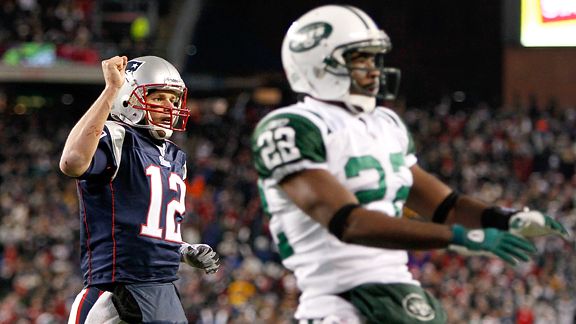 Jim Rogash/Getty ImagesTom Brady, left, has gone a remarkable 319 attempts without an interception this season.
Mere mention of the stat elicits astonished replies. Professional athletes and coaches -- grown men who have seen a few things in their day -- stammer in awe.
"That's ... That's ... That's ... That's something else,"
Baltimore Ravens
cornerback
Chris Carr
said.
Buffalo Bills
quarterback
Ryan Fitzpatrick
found the number "mind-boggling," and he owns a Harvard economics degree.
"It's ... I mean,"
Miami Dolphins
coach Tony Sparano said before a contemplative pause to gather his thoughts. "It blows my mind a little bit, to be honest with you."
New England Patriots
quarterback
Tom Brady
has thrown four interceptions this year. He hasn't misfired once since Oct. 17, a record span of 319 attempts and counting.
Brady has been the ultimate mistake minimalist. With one game left in a phenomenal season, he could finish with the lowest interception percentage of any quarterback to start more than 10 games.
"Even the best quarterbacks have something they give away,"
New York Jets
safety
Brodney Pool
said. "He really doesn't. It's hard for opposing DBs to get a clue. He's very smart. He knows where to go with the ball and knows the weaknesses of the coverages.
"You can try to hold a coverage, but even if you trick him one time he'll come back the next time and you won't know what hit you."
Brady has a 0.84 interception percentage. The NFL record of 0.41 was set by former Brady backup
Damon Huard
with the
Kansas City Chiefs
in 2006. Huard threw one interception, but that was with 10 starts and only 244 attempts.

Carr

Pool
Brady's interceptions have been limited to two games. If the Dolphins don't pick him off Sunday in Gillette Stadium, then Brady will join
Steve DeBerg
as the only quarterbacks not to be intercepted in 14 starts. DeBerg also threw four interceptions in 1990, but Brady already has 32 more attempts than DeBerg had that year.
Pool and Carr comprise half the membership of the exclusive "I Intercepted Brady In 2010 Club." Also in are Jets cornerback
Antonio Cromartie
and former Ravens safety
Ken Hamlin
, now of the
Indianapolis Colts
.

Hamlin

Cromartie
Neither Pool nor Carr keeps the footballs from his big plays. In retrospect, Pool says he regrets not hanging onto his Brady ball.
"You know what?" Pool admitted. "I thought about that after the game: 'Man, that was Tom Brady. That's pretty special.' I should've kept it."
That baby was a limited edition.
"I don't keep any balls," Carr said. "A ball is a ball to me. It probably would end up lost in my house, laying around somewhere."
That's right. Carr's chances of losing that ball -- even with nobody trying to steal it -- probably would be higher than Brady's.
"Sport Science" examined the
likelihood of a quarterback not throwing an interception
in 319 straight attempts.
Since Brady's last interception, quarterbacks around the league have thrown 296 of them, 2.9 percent of all attempts. Based on those averages, the chances of dodging an interception on 319 straight throws would be 0.00837 percent -- or one in 11,947.
Math is one thing. Where a fellow quarterback such as Fitzpatrick or an opposing coach like Sparano has comprehension problems is when they consider how Brady has skirted all those happenstances that cause interceptions.
A tip, a bobble, a defender hitting the quarterback's arm as he throws, a receiver falling down, a badly gripped football in the snow, a wind gust altering trajectory just enough ...
Brady's season is even more incredible when considering the Patriots receivers are second only to the
Detroit Lions
in drops this year. ESPN Stats & Information has charted 36 drops for the Patriots and a league-worst 11 for
Wes Welker
.
"A tipped ball has haunted us three or four times this season in different ways, whether it's just fluttering up in the air or lands on the ground," Sparano said. "To think that not one of those --
not one
of those things -- is happening in 300-plus attempts is pretty impressive."
Most of the four interceptions Brady did throw weren't his fault. Three of them were deep balls. Two were long passes to
Randy Moss
, who's no longer on the team. Moss twice tipped the ball into the air before Pool swooped in and made a tippy-toe grab at the sideline. The play originally was ruled incomplete and overturned on video review.
Hamlin fielded Brady's last interception, a Hail Mary skyball that sailed 48 yards through the air and into the end zone on the last play before overtime against the Ravens.
Since that play, Brady has completed 65 percent of his passes for 2,536 yards and 24 touchdowns.
Carr stressed that interception-avoidance isn't about luck with Brady. He's a great quarterback within a proficient offensive structure. The Patriots often have a lead and rarely play from more than one score behind, erasing the need for Brady to force throws late in games.
"It's more quarterback than system," Carr said. "If you put any other quarterback in that system, he's not going to have that streak. You put Brady in any system and he's going to be successful."
Joe Montana
threw at least seven interceptions each season he made 10 starts.
Dan Marino
never threw fewer than nine interceptions in any season he started at least 10 games.
John Elway
had double-digit interceptions every year he played.
Brett Favre
threw a career-low seven interceptions once as a starter, but never fewer than 13 interceptions any other season.
Peyton Manning
has a pair of four-interception games this year.
Drew Brees
has one also.
A search of Pro-Football-Reference.com turns up seven Hall of Fame quarterbacks with at least seven "quadriception" games on their ledgers since 1960. George Blanda had 18, Joe Namath 15 and Terry Bradshaw 12.
Brady owns five four-interception games.
Yet he's one game away from closing out a four-interception
season
.
Criminy, the Patriots' defense has returned that many interceptions for touchdowns this year.
"He doesn't stare down receivers like some quarterbacks do," Carr said. "He looks off receivers when he does throw the ball down the field. When the receiver's not there, he's going to throw the ball away. When it's time to take a sack, he's going to take a sack.
"He has confidence that 'Hey, if the throw's there I'm going to make it. If it's not, we're going to live to play another series, and we'll score then.' He takes what the defense gives him."
Brady hasn't thrown any interceptions on passes that traveled 10 yards or fewer in the air, ESPN Stats & Information notes. And before you dismiss that zero as unimpressive because those are higher-percentage throws, keep in mind Drew Brees has thrown 12 interceptions in this range.
Eli Manning
has thrown 13.
Brady has 358 passing attempts of 10 yards or shorter. Every quarterback with at least 115 attempts in this category has been intercepted.
Carr noted Brady didn't make a mistake on his interception, a deep pass over the middle to Welker. Carr said the Ravens tricked Brady by doing something unexpected.
But when asked to recount the play, Carr showed deference to Brady's and the Patriots' shrewdness. The Ravens might meet the Patriots again in the playoffs.
"I'm always thinking ahead," Carr said with a chuckle. "I know how smart Brady and them are. They'll read the article. Somebody in the organization will go back and watch the film and get a little bead on that. They're always looking for that advantage."
November, 7, 2010
11/07/10
11:52
AM ET
September, 30, 2010
9/30/10
11:53
AM ET
Rex Ryan reportedly has snatched up another of his former
Baltimore Ravens
stars.
ESPN's Adam Schefter, citing an unnamed league source, reports the
New York Jets
on Thursday
agreed to contract terms with four-time Pro Bowl
defensive end
Trevor Pryce
. The Ravens terminated Pryce's contract so they could add safety
Ken Hamlin
to the roster.
Pryce, 35, has faded, but he has a reputation for being a strong leader, something that couldn't hurt in the Jets locker room. He ranks third among active players with 90 sacks and had a team high 6.5 last year. But he didn't start for the Ravens this season and has one tackle.
Ravens coach John Harbaugh said Wednesday they intended to re-sign Pryce, a move that would allow them to save money on a reduced contract.
"You've got roster issues that you deal with," Harbaugh said. "It's not something we wanted to do. Trevor is a big part of what we're doing here, and we anticipate getting him back. It's just what we had to do for now."
Pryce took a $2.5 million pay cut during the offseason to remain with the Ravens. He was replaced in the starting lineup last year by
Dwan Edwards
, now with the
Buffalo Bills
.
The Jets will play the Bills on Sunday afternoon in Ralph Wilson Stadium.
AFC EAST SCOREBOARD
Thursday, 10/16
Sunday, 10/19