April, 29, 2010
4/29/10
8:33
PM ET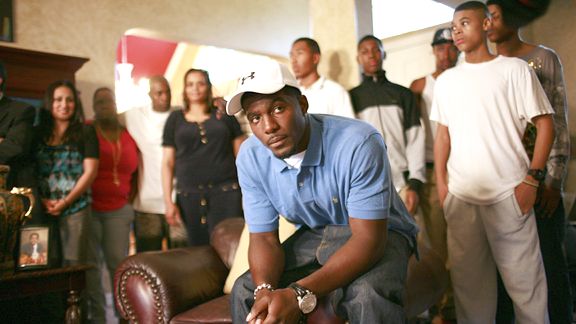 AP Photo/Tom PenningtonJeff Ireland's question to Dez Bryant (above) has stirred debate over NFL interview techniques, but former personnel director Ken Herock thinks teams should be able to ask players whatever they want.
Ken Herock's business is preparing prospects for NFL interviews.
He's not interested in 40-yard dash times or bench press repetitions. His mission is training college kids to make an impression when it's time to shake hands with general managers, scouts and head coaches before the draft.
The former NFL personnel director grooms them to be ready for anything because no subject is off the table -- not even questions about whether your mother is a hooker.
"I don't feel there are any topics off-limits," Herock said Thursday afternoon. "If anybody thinks they're off-limits, put yourself in the eyes of an employer that's going to hire a 21-year-old and pay him $15 million or $20 million."
Herock finds nary a problem with the controversial question
Miami Dolphins
general manager Jeff Ireland posed to Oklahoma State receiver
Dez Bryant
in a pre-draft interview.
Ireland asked if Bryant's mother was a prostitute. She has served 18 months in prison for selling crack and had admitted to abusing PCP, cocaine and marijuana.
"If somebody just comes out and says 'We hear your mom's a prostitute. Can you explain that situation to me?' I don't think there's anything offensive asking that question," Herock said.
Herock has serious credentials on the matter. He played as an AFL tight end for six seasons and has been a personnel executive for the
Oakland Raiders
,
Tampa Bay Buccaneers
,
Atlanta Falcons
and
Green Bay Packers
.
"

What's this big issue about? Big deal. I would want to know those things, and how do you find out unless you ask?

"

-- Former personnel director Ken Herock
For the past nine years
Herock has trained players to make a golden first impression
on NFL personnel evaluators in pre-draft interviews. Herock has worked with more than 600 players. A dozen, including University of Florida quarterback
Tim Tebow
, Boise State cornerback
Kyle Wilson
and Alabama linebacker
Rolando McClain
, were selected in the first round last week.
"I deal with this constantly," Herock said. "I have players whose parents are on drugs, are in jail, abandoned them, kicked them out of the house. I have to make sure my player is prepared to handle that in the right way when they're asked.
"I'm addressing these issues beforehand so they know how to answer every issue that's brought up to them."
Ireland's question to Bryant was revealed
in a Yahoo! Sports column Tuesday. Ireland called Bryant to apologize after the story was published, and the Dolphins released a statement on Ireland's behalf.
On Wednesday, the
NFL Players Association issued a statement
critical of Ireland, Dolphins owner Stephen Ross issued a statement to say
the club would conduct an internal review
and the NFL admonished Ireland's question as crude.
"What's this big issue about? Big deal," Herock said. "I would want to know those things, and how do you find out unless you ask?
"But it sounded offensive, asking that question the way it was asked. Maybe he came on real strong, but before I would ask that question, I would know for sure that she was. I wouldn't go on any hearsay. I don't think it's offensive to ask that if there was truth to it, but before I asked, I would make sure there was validity."
Another former NFL executive doesn't wonder why the question is such a big story. What puzzles him is why pre-draft interviews have gotten to be so consequential in the first place.
"I can never remember us or anybody else turning down a good player based on a bad interview," said Larry Lacewell, the
Dallas Cowboys
scouting director for 13 years.
Lacewell's tenure spanned from Jimmy Johnson to Bill Parcells. Ireland worked as a national scout under Lacewell for four seasons.
"We didn't take a player just because he had a good interview, and we sure as hell didn't turn one down because of a bad interview," Lacewell said. "These kids either come in there nervous and scared or like trained dogs.
"If you had depended on [11-time Pro Bowl offensive lineman]
Larry Allen
for an interview, you might not have hired him as a janitor. I'd love to hear from a team that didn't draft Larry Allen because he couldn't talk."
Bryant was considered the best receiver in this year's draft, but some believed he slid because he interviewed poorly.
As it would turn out, the Dolphins filled their need at receiver by acquiring
Brandon Marshall
from the
Denver Broncos
and traded out of their original draft position at No. 12. The Cowboys drafted Bryant with the 24th overall pick.
"There's a certain way to ask questions, and I think [Ireland] asked with the wrong approach," Herock said. "But I would have prepared my player to answer that question to where it wouldn't be offensive to him.
"They already know about his family. They just want to see how he reacts and how he's going to explain it and how he's going to handle it.
"I don't think that question was out of line."
April, 21, 2009
4/21/09
2:59
PM ET
| | |
| --- | --- |
| | |
| | AP Photo/Mary Schwalm |
| | New England coach Bill Belichick will get what he wants with the Patriots' 11 draft picks. |
Posted by ESPN.com's Tim Graham
If you dislike the New England Patriots, then you really must be dreading what they can accomplish this weekend.
The Patriots hold 11 selections in the draft. Four of them are among the first 58. Six of them are in the top 97.
The New York Jets, by comparison, own six picks in the whole 256-slot shooting match.
Seems unfair, doesn't it? When you consider how well the Patriots evaluate prospects -- they've selected eight All-Pros through Bill Belichick's nine drafts -- this year's holdings must seem borderline obscene to opposing fans.
"You're talking about the best 100 players," ESPN analyst and former NFL head coach Herm Edwards said. "Regardless of how you have them graded, you're doing pretty good if you have a chance to get two of them. Now you have a chance to get six of them? Well, a lot of things are sitting on your plate."
While the rest of the AFC East has dealt with humility off and on for the past decade, the Patriots work the system to remain perennial Super Bowl contenders.
The Patriots won 11 games last year without all-everything quarterback Tom Brady. He's on his way back, making his services the NFL's greatest offseason acquisition. The Patriots also found enough room to add running back Fred Taylor, tight end Chris Baker and cornerbacks Leigh Bodden and Shawn Springs.
Now they have more picks than they can use. There's no way 11 draftees will make the 53-man roster of a team that expects to play in the Super Bowl each winter.
Maybe the St. Louis Rams could accommodate 11 rookies. Not the Patriots.
So what will the Patriots do with their precious assets?
Almost certainly, they will trade some of their picks. They will either move up to pounce on a player they want, spin them off into 2010 or both.
"If Belichick trades three or four picks, he still has eight guys coming out of the draft," retired NFL executive Ken Herock said. "That's pretty damn good. And it's probably the eight he wants."
Here's the rundown of where New England's picks are slotted and how they obtained the extras:
First round: 23rd overall.
Second round: 34th (from the Kansas City Chiefs for quarterback Matt Cassel and linebacker Mike Vrabel), 47th (from the San Diego Chargers at last year's draft) and 58th.
Third round: 89th and 97th (compensatory).
Fourth round: 124th.
Fifth round: 170th (compensatory).
Sixth round: 199th and 207th (compensatory).
Seventh round: 234th.
So many selections will affect the Patriots in multiple ways.
Their roster has the chance to get appreciably younger, and youth is critical in helping a front office manage the salary cap. Their developmental players should get better. Their special teams should improve, especially since those units are populated with young defensive players, and the Patriots carry mobile 3-4 linebackers and extra defensive backs.
More importantly, that kind of stockpile affords the Patriots considerable flexibility this weekend. Their first appointment is scheduled 2 1/2 hours after the draft begins at 4 p.m. But they won't have to wait for the 23rd choice if they don't want to.
"You get the opportunity to move up," said Herock, who handled player personnel for the Oakland Raiders, Tampa Bay Buccaneers, Atlanta Falcons and Green Bay Packers before he retired in 2001.
"That's the big thing with all the draft picks. If you really like somebody and you know he can play and you know he fits your system, and he's a guy you want and he's 10 picks away, you can go get him instead of worrying 'Will he last until I pick?' "
"If Belichick wants a player, he's going to go get him, believe me, in this draft."
What helps give the Patriots a commanding outlook this weekend is their roster. They don't have significant needs two years removed from the Super Bowl and coming off an injury-plagued 11-win season.
A more attractive Vrabel replacement at outside linebacker is on the short list. The Patriots reportedly have been interested in trading for Carolina Panthers pass rusher Julius Peppers, and owner Robert Kraft hasn't hidden his adoration of free agent Jason Taylor.
New England, therefore, has the luxury of bolstering any position it chooses with the highest-rated player on the draft board. Needs won't dictate selections as they will for most clubs.
"They're not going to be pressured to do anything," said Edwards, the former Jets and Chiefs head coach. "Other people are going to call them. When they're picking in the second round, teams are going to say 'We've got to get our guy now because if we don't then we'll miss out. Let's trade with New Engla
nd.'"
New England has a proven evaluation system in place, but an important draft accomplice won't be there for the first time in Belichick's tenure. Former vice president of player personnel Scott Pioli left the Patriots to become Kansas City's general manager.
Herock and Edwards suggested Pioli's absence would be virtually undetectable.
"Bill has been a survivor prior to Pioli," Herock said. "When Scott Pioli came in, he was a novice. Where did he get his ultimate training from? From Bill Belichick. So Bill will train the next guy that comes in.
"Bill will see the players. Bill will study them. Bill will know all the players. He goes at it and knows what's going on. The handprint has always been Belichick's."
The Patriots replaced Pioli with Floyd Reese, who drafted three rookies of the year as Tennessee Titans general manager. Reese was named senior football advisor. They also promoted Nick Caserio to director of player personnel.
"Bill knows what he wants on offense and defense," said Edwards, who was fired by Pioli in Kansas City. "They'll be well-organized in their room. Their philosophy is their philosophy, and they'll go after the players they've identified that can play for them."
Edwards sounded convinced it wouldn't matter a smidgeon if Belichick had hired Waylon Smithers to be his new sidekick.
"They drink different water up there than everybody else," Edwards said. "Whatever they give those guys, they end up being pretty good."
Give the Patriots 11 opportunities to fortify their roster, and it's easy to be envious of their continued wealth.
November, 22, 2008
11/22/08
10:00
AM ET
| | |
| --- | --- |
| | |
| | Stew Milne/US Presswire |
| | Should the Patriots bank on Tom Brady returning to full health or should they invest in a young quarterback on the rise? |
Posted by ESPN.com's Tim Graham
An innocent question to stimulate conversation ignited outrage.
One reader demanded I resign from ESPN.com. Another implored my bosses to terminate my blog completely. They wrote in to ridicule my intelligence, mock my background and question my journalism ethics.
All for asking a question to which I didn't give my opinion.
What I dared to do was broach the subject of what's going on with the New England Patriots quarterback situation and the uncertainty clouding it.
Sporting icon Tom Brady is rehabbing his surgically rebuilt, infection-prone left knee. Information has been scarce. So much is unknown.
Matt Cassel has developed into a bona fide NFL starter before our eyes, but he will be an unrestricted free agent after the season.
This is the exact question I posed before opening the floor to comments:
Do you bank on the superstar maintaining his elite status, or invest in the rising prospect, who years from now still should be in his prime when the veteran retires?
That line didn't seem inflammatory when I typed it, but after the backlash from incensed readers, I decided to check with some professionals to see whether they thought I had raised a legitimate issue or I was nuts.
Charley Armey
Background: Former St. Louis Rams general manager, New England Patriots assistant director of player operations.
Note: As Rams director of player personnel, Armey dealt with Trent Green's season-ending knee injury and emergence of unheralded Kurt Warner en route to a Super Bowl title.
The risk is too great not to move forward with the quarterback you have right now. You have to get him signed and give your team stability at the position. There's no absolute. That's the problem. You've got to protect yourself and the organization.

I would do whatever I had to do to sign him. I would try to structure the contract so that at some point in time I could deal the player if it's convenient but keep him around until Brady is back and 100 percent.

After Brady is back, you address what you do with both quarterbacks. You have to proceed as though Cassel will be your quarterback until proven otherwise. There are no other options for the Patriots. They have to get the guy signed.

This kid [Cassel] has proven that his arm is getting better and better. They've invested the money and the time to get him to this point. He's a commodity now. You can't let him get away for nothing. I would figure out how to get it done. I would not let him out of there, period.

But the deal can be done. [Cassel] ought to feel a strong sense of loyalty for to the organization for drafting him when they did, showing faith in him and investing in him the way they did.

You know who the quarterback is when he's healthy, but it sure is a nice problem when you have two. Otherwise, you're looking for a free-agent quarterback who's 105 years old to come in and be the backup.

It took Trent Green almost two years and maybe three years until he was comfortable on that knee. Some guys come back and are comfortable on it right away.

You don't know how [Brady's knee] is going to react until you start working out in game mode. He has to step up, take a hit, pivot on it, slide to the left, slide to the right, plant it, come off it. You won't know until you get in a game situation regardless of how the off-field rehab goes.