July, 8, 2010
7/08/10
12:00
PM ET
A weeklong look at current or former players or coaches with Hall of Fame potential in the division.
Buffalo Bills:
Steve Tasker
, special teams.
Claim to fame:
Tasker perhaps is the greatest special-teams ace in NFL history. He was a notable weapon on Buffalo's four consecutive AFC championship teams in the 1990s.
Case for enshrinement:
Tasker was so dominant in his role, the NFL changed its Pro Bowl rules to include special-teamers on rosters. He went to seven Pro Bowls, putting him in select company, and was named the MVP in 1993. He has been a semifinalist on the Hall of Fame ballot four times. The NFL Network named him the
ninth-best player -- of any position -- not in the Hall of Fame
.
Tasker blocked seven punts and made 204 special-teams tackles. He forced seven fumbles and recovered six. He returned kickoffs, punts and held on extra points and field goals. As a receiver, he caught 51 passes for 779 yards and nine touchdowns.
Case against enshrinement:
Special-teamers just don't get enshrined. Kicker Jan Stenerud is the only pure special-teamer with a bust. Legendary punter Ray Guy isn't in. No return specialist has been honored, either.
The common retort to that is one of the silliest sayings in football: Special teams are one-third of the game. Sorry, but that's not true. If each team plays a perfect defensive game and forces the opponent to go three-and-out on every possession, then special teams are needed once every four plays. And if football people truly believed special teams were that integral to the game, they would draft special teamers rather than fill out those units with offensive and defensive reserves.
Parting shot:
I'd like to see more special-teamers recognized in Canton. But unless there's a substantial change in selection philosophies, Tasker won't make it into the Hall of Fame.
Miami Dolphins:
Jake Scott, safety.
[+] Enlarge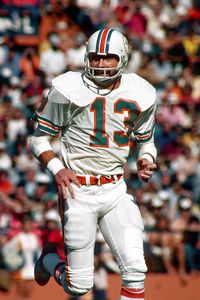 Malcolm Emmons/US PresswireMiami's Jake Scott was the MVP of Super Bowl VII.
Claim to fame:
Scott was among the greatest safeties and most dangerous punt returners of the 1970s. He was voted MVP of Super Bowl VII, when the Dolphins closed out their undefeated season.
Case for enshrinement:
Scott is one of the most overlooked players in NFL history. His career was relatively short, but it burned brightly. For five years in a row, starting with his second season, Scott went to the Pro Bowl and was named first- or second-team All-Pro.
Despite playing only nine NFL seasons, Scott recorded 49 interceptions, a total that ranked 18th all time when he retired. Hall of Fame safety Ken Houston played 14 seasons and finished with the same total. Scott still holds the Dolphins record with 35 interceptions. He added 14 more in three seasons with the
Washington Redskins
. Scott recovered 13 fumbles in his career.
He also was a slick punt returner. He holds Miami career records in returns and yardage and ranks third in average.
Case against enshrinement:
There's a stigma that comes with playing on the No-Name Defense. Only one player from that great unit, linebacker Nick Buoniconti, is in the Hall of Fame, and his cause certainly was helped by previous work with the Boston Patriots and by remaining in public view as a broadcaster.
Scott, meanwhile, became a recluse. He moved to Hawaii and for a time avoided attention at all costs. He reportedly declined the chance to be inducted into the College Football Hall of Fame because he wouldn't commit to attending the ceremony.
Also working against Scott, who never has made the cut to 15 modern-day finalists, is the dearth of safeties enshrined in Canton. Only seven have been inducted.
Parting shot:
Scott didn't play long enough to get traditional consideration. His best hope would be through the senior committee.
New England Patriots:
Adam Vinatieri
, kicker.
Claim to fame:
If Vinatieri is not the greatest clutch kicker in NFL history, then he's in a short conversation. He won the Patriots' first two Super Bowls with field goals in the final seconds.
Case for enshrinement:
Vinatieri has kicked for six Super Bowl teams, played in five Super Bowls and won four rings -- three with the Patriots and one with the
Indianapolis Colts
. He directly delivered a pair of Lombardi Trophies for the Patriots. He kicked a 48-yarder as time expired to win Super Bowl XXXVI and a 41-yarder with four seconds left to win Super Bowl XXXVIII.
In blizzard conditions at the end of the infamous Tuck Rule game, Vinatieri kicked a 45-yard field goal with 1:39 left in regulation to force overtime and then won it with a 23-yard field goal.
Vinatieri has been an All-Pro twice. He has kicked a record-tying five field goals in a postseason game twice and owns multiple playoff and Super Bowl records. He has scored the most points for a kicker (34) in Super Bowl history and converted the most field goals (seven) and extra points (13). His 177 postseason points rank first.
Case against enshrinement:
Stenerud is the only true kicker in the Hall of Fame.
Morten Andersen
and
Gary Anderson
will have to get in first, and the idea of quadrupling the number of kickers (if you consider Vinatieri the next one inducted after Andersen and Anderson) won't be an easy sell to the voters.
Vinatieri has led the NFL in scoring and field goals once and probably won't finish with attractive enough career stats. At 37 years old and showing signs of slowing down -- he played six games for the Colts last season because of hip and knee surgeries -- and he ranks 15th in scoring and 13th in field goals made. Players such as
John Carney
,
Matt Stover
and
John Kasay
have more. Vinatieri has kicked almost 100 fewer field goals than
Jason Elam
. Nobody envisions Canton when they think of those guys.
Parting shot:
Vinatieri provided two of the most indelible memories in Patriots history. As his career stands now, however, two big kicks won't overcome the circumstances of his position.
New York Jets:
Joe Klecko, defensive lineman.
[+] Enlarge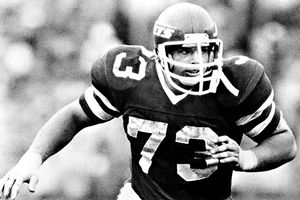 TSN/Icon SMIUnofficially, Joe Klecko recorded 20.5 sacks in 1981 as part of the New York Sack Exchange.
Claim to fame:
Klecko was a key member of the New York Sack Exchange defensive line. Many consider him the greatest Jet not in the Hall of Fame and one of the best sixth-round draft picks of all time.
Case for enshrinement:
Klecko was the first player to make the Pro Bowl at three positions. He went as a defensive end in 1981, a defensive tackle in '83 and '84 and a nose tackle in '85. To illustrate his importance, the Jets made his No. 73 the third number retired in club history after Joe Namath and Don Maynard.
Unlike the Fearsome Foursome or Purple People Eaters, the Sack Exchange doesn't have a single Hall of Fame representative. While Mark Gastineau's histrionics garnered the most attention, Klecko was the most complete player of the four. He was a dangerous pass-rusher and nasty against the run.
Klecko unofficially recorded 20.5 sacks in 1981 and notched at least one sack in 10 straight games, a franchise record.
Case against enshrinement:
What hurts Klecko is that he somehow remained relatively anonymous in New York. He was overlooked because he played thankless positions and was trumped by Gastineau's sack dances.
Klecko also played on some lousy teams. The Jets went to the playoffs only four times during his tenure (1977 through 1987). Once was in the strike-shortened 1982 season and he was hurt for the 1986 postseason.
Parting shot:
Klecko never has made the cut of 15 modern-era finalists. He might need to rely on the senior committee.
April, 10, 2010
4/10/10
1:33
PM ET
I have a few problems with the NFL's attempt to determine the
75 most valuable draft picks of all-time
.
The project was created to celebrate the 75th draft, which will begin April 22. Fans can vote through April 18.
On Thursday, the NFL provided a rundown of the
20 who've received the most votes so far
. The list indicated a popularity contest, not an actual consideration for draft value. One player among the list of 20,
New England Patriots
quarterback
Tom Brady
, was taken later than 82nd overall.
Not in the top 20? Pro Football Hall of Famers Deacon Jones, Roger Staubach, Ken Houston or Rayfield Wright, who were selected in the 14th, 10th, ninth and seventh rounds.
Also absent were former league MVPs Mark Moseley (14th round), Brian Sipe (13th round), Larry Brown (ninth round) and Terrell Davis (sixth round). Six-time Pro Bowler L.C. Greenwood (10th round), five-time Pro Bowler Tom Nalen (seventh round) and Bo Jackson (seventh round) weren't there either.
So I set out to post my own list on the blog.
I didn't get far.
Soon after I began sketching out my list, I noticed the ballot doesn't offer Wright as an option to begin with.
NFL.com set up the project by creating the pool
, 10 players from each team. Wright didn't make the cut. Another omission was Steve Largent, a fourth-round selection who retired as the all-time receptions leader.
The Houston Oilers drafted Largent. The Oilers/Tennessee Titans' list did, however, include Derrick Mason. And for those who might think Largent shouldn't qualify because he didn't play for the Oilers, know that kicker Gary Anderson is listed for the Buffalo Bills, tackle Leon Gray for the Miami Dolphins and punter Craig Hentrich for the New York Jets.
I gave up on the endeavor, but needed to expunge that draft-ranking jones from my system.
Thankfully,
I found an outlet at BuffaloBills.com
. It's running a satisfactory all-time draft poll that instructs visitors to "Select the 10 players you feel provided the team with the most value." So Anderson isn't an option.
Here's my Bills list:
1. Thurman Thomas, second round
2. Andre Reed, fourth round
3. Bruce Smith, first round
4. Jim Kelly, first round
5. O.J. Simpson, first round
6. George Saimes, sixth round (AFL)
7. Tom Sestak, 17th round (AFL)
8. Howard Ballard, 11th round
9. Darryl Talley, second round
10. Joe Ferguson, third round
Now I feel better.
The Bills' official list will be revealed April 22 at a season-ticket holder draft party.
June, 2, 2009
6/02/09
5:01
PM ET
Posted by ESPN.com's Tim Graham
We've seen this development coming for months.
Speculation around the league is that NBC will announce Wednesday that former New England Patriots safety Rodney Harrison is joining its broadcast crew.
| | |
| --- | --- |
| | |
| | : Greg Trott/Getty Images |
| | Do defensive back Rodney Harrison's stats merit him a place in the Hall of Fame? |
That would mean Harrison's playing days are done, and in five years he'll be considered for the Pro Football Hall of Fame.
Harrison suffered a season-ending torn right quadriceps in Week 7. It was his fourth significant injury in four seasons. His contract was up. He's 36 years old.
And when Harrison moonlighted as a broadcaster, he elicited rave reviews. He's comfortable on camera and offers strong opinions.
He established a June 1 deadline to decide what he would do. He declared he would play only for the Patriots, but it was time to part ways. Brandon Meriweather played well in his stead. Then they drafted Patrick Chung and signed free-agent Brandon McGowan, clear indicators they're moving on at Harrison's old position.
What will Harrison's legacy be?
He has borderline Hall of Fame credentials that are worth debating.
He's the lone player in NFL history with at least 30 sacks and 30 interceptions. He was defensive captain for two Super Bowl champions. He went to a pair of Pro Bowls, both as a San Diego Charger. He was named first-team All-Pro once for each team. He was a vocal leader and a ferocious hitter.
But Harrison also gained a reputation as the league's dirtiest player for his overly aggressive play, and the NFL suspended him four games in 2007 for violating the league's substance-abuse policy.
Perhaps Harrison's biggest hurdle to overcome for induction into Canton will be the fact just seven full-time safeties have gotten in: Jack Christiansen, Ken Houston, Paul Krause, Yale Lary, Emlen Tunnell, Larry Wilson and Willie Wood. None of them played after 1980, and only two played beyond 1972.
What do you think? Does Harrison belong in the Pro Football Hall of Fame?