April, 24, 2013
4/24/13
4:10
PM ET


Most experts agree that the NFL draft's most talented quarterback class was in 1983. Three Hall of Fame signal-callers came from that group in the first round, and ESPN's "30 for 30" series did a tremendous job documenting it Tuesday night.
A total of six quarterbacks were taken in the first round, with four AFC East teams drafting the position. Half of the division landed Hall of Famers and the other half whiffed.
Here is a recap of the first round of the 1983 draft for the AFC East:
The Bills drafted Jim Kelly No. 14 overall. He went on to lead Buffalo to four Super Bowls and became the franchise's all-time leading passer. The Bills dominated the AFC East and won the AFC from 1990-93 but came up short each time in the Super Bowl. Kelly is a staple in Buffalo and still lives there.
The Patriots drafted Tony Eason one pick after Kelly, at No. 15 overall. His career highlight was helping to lead New England to the Super Bowl during the 1985 season. But Eason was mostly a bust and only reached double figures in touchdown passes three times. He would have an injury-plagued career and posted a 28-23 record in as a starter in right seasons.
The Jets drafted Ken O'Brien No. 24 overall. Jets fans were disappointed that the team passed on Dan Marino for O'Brien -- and they were correct in their assessment. But O'Brien had a decent career that included two Pro Bowls, and he was actually 8-7 head-to-head against Marino during their AFC East rivalry in the 1980s and early 1990s. But O'Brien could never come close to matching Marino's overall numbers and victories. O'Brien was 50-59-1 as a starter in his career.
Fortunately for the Dolphins, Miami landed Marino at No. 27, the second-to-last pick of the first round. Marino went to a very good Dolphins team and a Hall of Fame coach in Don Shula. The pair turned out to be the second-winningest quarterback-coach combination of all time, trailing only New England's Tom Brady and Bill Belichick. Marino's super-quick release and arm was one of the best ever. But like Kelly, Marino never won a Super Bowl.
The old Baltimore Colts were also in the AFC East in 1983. They drafted quarterback John Elway No. 1 overall, and you know the rest: Elway did not want to play for Baltimore and threatened to play baseball. As a result, the Colts traded Elway to the Denver Broncos, where he went to five Super Bowls, won two titles and had the most accomplished career of this famed quarterback class.
It's mind-boggling to think of the possibilities with every AFC East team drafting a quarterback in 1983.
What if the Jets took Marino? What if the Bills passed on Kelly and he went to New England one pick later?
The history of the AFC East would've been entirely different.
June, 10, 2011
6/10/11
8:41
AM ET
Football Outsiders senior writer Mike Tanier has been charting the top five quarterbacks of every NFL team. In his
latest column, he broke down the AFC East's best
. You should click on the links to read Tanier's reasoning and interesting stats on each selection.
A first-round pick from the famed 1983 draft class appears on every list.

Buffalo Bills
Joe Ferguson
Jack Kemp
Quick take: It's strange to see Flutie on the Bills' all-time list. When I arrived in Western New York 11 years ago, the area was hotly divided over him and
Rob Johnson
. Some fans wanted Flutie to just go away. But I agree with the list and, as Tanier, points out in his piece, this goes to show how few great quarterbacks there've been over the years.

Miami Dolphins
Bob Griese
Don Strock
Earl Morrall
Quick take: The Dolphins have a two Hall of Famers in their history, but you can see how much trouble they've had finding a replacement for Marino when you consider their fourth- and fifth-best quarterbacks are known for being quality backups. Granted, Morrall came off the sideline to help maintain the undefeated 1972 season. But he started 14 times over five seasons with Miami and just 40 percent of his career games.

New England Patriots
Drew Bledsoe
Babe Parilli
Steve Grogan
Tony Eason
Quick take: This is the only AFC East team with an active quarterback on the list. The rundown couldn't be more straightforward to me. Maybe you could flip Grogan and Parilli because of longevity and the neck roll.

New York Jets
(
from a previous Football Outsiders column
)
Joe Namath
Richard Todd
Quick take: Tanier notes that if you wanted to rank Sanchez fourth right now, then he wouldn't argue. Neither would I, although I'd be more comfortable with Sanchez replacing Todd on this list. Tanier also claims if Pennington had avoided one of his lost seasons, he might be the greatest quarterback in Jets history -- from a statistical standpoint.
February, 25, 2011
2/25/11
2:15
PM ET
INDIANAPOLIS -- Quarterbacks have started passing through the NFL combine media center here at Lucas Oil Stadium.
They're always a popular group with reporters, but the interest is even higher this year, with so many teams in need of improving the position.
The
Buffalo Bills
and
Miami Dolphins
are among the teams most closely scrutinizing quarterbacks at the combine.
"I believe it's a really good year to be a quarterback," Washington quarterback
Jake Locker
said. "You look at the draft and there's a good number of teams looking at quarterbacks in the draft or to pick up in some way. So I think it's a good year to be able to come out and showcase what you can do and what you can bring to an organization."
Missouri quarterback
Blaine Gabbert
said the number of teams in need of quarterback help was a major factor in weighing his decision to turn pro a year early.
"You're looking at the top 15 teams [in the draft], potentially 10 teams could use a quarterback," Gabbert said. "I know every quarterback in this draft looked at that, not only me. That's kind of why I decided to come out."
Buffalo could be a destination for Gabbert with the third overall draft choice. It's also easy to imagine Locker in a Bills or Dolphins uniform. The Dolphins pick 15th.
Locker looks like an X factor in the draft. Some scouts love what they see. Others are down on his accuracy issues.
NFL Network analyst Mike Mayock has Locker listed as the second-best quarterback in this year's class behind Gabbert.
ESPN draft institution Mel Kiper doesn't project Locker as a first-round pick. Scouts Inc. rates Locker 26th among all prospects on their big board. Gabbert is sixth. Auburn quarterback
Cam Newton
is 28th.
Locker has been working out with former
New York Jets
quarterback Ken O'Brien in Irvine, Calif.
Locker described his chief strengths and weaknesses in his own words.
"I think I bring good character into a locker room," Locker said. "I'm somebody the guys can trust and believe in. And I also believe I have the opportunity to kind of improvise, create with my legs and extend plays and give guys an opportunity to work downfield.
"One thing that's not secret with anybody: Moving in the pocket and throwing in the pocket is something that I'm working on and will continue to work on."
Newton hasn't come through the media center yet.
Update: The NFL has announced Newton will speak to reporters Saturday instead of Friday.
January, 13, 2011
1/13/11
1:36
PM ET
Time for another edition of "Speed Dial," where I call a few folks from my Rolodex to get their takes on a particular subject.
Today's question: In light of what
New York Jets
cornerback
Antonio Cromartie
recently said about
New England Patriots
quarterback
Tom Brady
, is there a
line that can be crossed when it comes to trash talking
?
Ruben Brown,
Buffalo Bills
guard (1995-2003):
"Beauty is in the eye of the beholder. If it's said to a player who will respond, then, yes, there is a line. But when it's a pro like Tom Brady, this is just going to roll like water off a duck's back. He'll say 'There's another crazy guy, talking smack.'

"You're totally wasting your time. It's like trying to call Peyton Manning out. Tom Brady and the elite, elite players, there's no real need to trash talk. Would he say that to Ray Lewis? No, because Ray would knock his block off. Those guys' work speaks for itself. What has Cromartie done compared to Tom Brady? Cromartie's not a Tom Brady, so Tom doesn't have to worry about him.

"I don't know if he really hates Tom or he's just getting himself pumped up for the game. I know plenty of times I've been psyched up for a game. You get tired of hearing the same questions over and over and you just lash out and say 'Screw that guy. I'm sick of hearing about him.' "
Ken O'Brien, New York Jets quarterback (1984-92):
"I think there definitely is a line and things that should not be said. I just think, regardless of the parties involved, that it's a common-sense thing. It comes down to the way you would want to be treated and the way you're raised. Just because you get asked a question, there's no need to sensationalize. In that situation, I think if you had time to think about it, you wouldn't want to say that.

"I don't even look at it in terms of being professional or affecting competition. It's not going to affect the outcome, and knowing Tom a little I'll bet he didn't think about it for two seconds. I look at it as how you represent yourself to people. I just think there's no place for that. Life's way too short. Talk about things that are positive, and you'll serve yourself a lot better."
Sam Madison,
Miami Dolphins
cornerback (1997-2005):
"It's the heat of the moment, and right now you're talking about the playoffs. You see the way their leader, Rex Ryan, is treating the situation. His players are taking the same approach their coach is dishing out. That's something that's brewing in the locker room among those guys, and [Cromartie] just had the nerve to say it.

"But when you get into it with one of the best quarterbacks in the league, you have to be ready to back it up. It gives Tom Brady more bulletin-board material. But all year, when wasn't there bulletin-board material coming from that Jets regime? It's just the way everybody's building up for a big football game."
September, 27, 2010
9/27/10
2:35
AM ET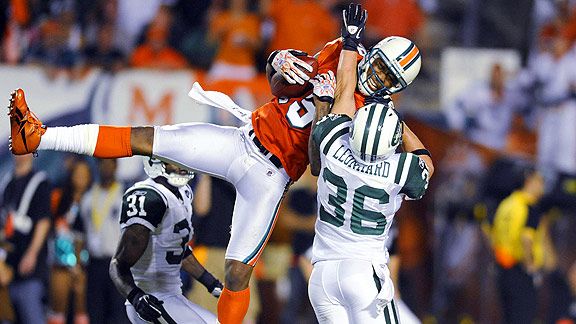 Steve Mitchell/US PresswireThe Jets defense gave up 23 points and 436 yards -- including a touchdown to Brandon Marshall.
MIAMI -- The numbers were gaudy, especially for a so-called running team.
The
Miami Dolphins
threw hither and yon against the
New York Jets
. Dolphins quarterback
Chad Henne
passed for the most yards in his pro career.
Brandon Marshall
had a big day even by his standards.
Davone Bess
and
Brian Hartline
inflicted additional damage. Tight end
Anthony Fasano
scored a touchdown.
The Dolphins, it seemed, could do whatever they wanted through the air.
"Yeah," Jets coach Rex Ryan snapped, "except score when it counted."
On their final play of a grueling Sunday night for the Jets' defenders, they intercepted Henne in the end zone to secure a
31-23 victory
in Sun Life Stadium.
After the two-minute warning, the Dolphins drove from their 31-yard line to the doorstep of tying the game. That's where the Jets finally stopped Henne from knifing them. Defensive back
Drew Coleman
came down with the interception on fourth down with 27 seconds on the clock.
"The pass defense was horrendous," Ryan said, "but we got it done, though. It was a team effort. Clearly, you've got to give credit to their football team. They do a nice job. They had some guys open, made some catches."
For the first time under Ryan, the Jets' offense had to rescue their defense. The defense hadn't allowed more than 17 points in a victory. Before Sunday night, they'd given up more than 14 points and won only twice during the Ryan regime.
"It feels good just to know that we can get their back," said Jets tight end
Dustin Keller
, who had six catches for 98 yards and two touchdowns -- all in the first half. "As great of a defense as they are, occasionally they're going to have a bad game. We just know that we can pull up the slack for them like they've done for us so many times."
The real estate the Jets yielded was frightening. The Dolphins rolled up 436 yards.
Peyton Manning
and the
Indianapolis Colts
were the only ones to amass more yards last year, gaining 461 to eliminate the Jets from the postseason.
The most yards the Jets had allowed in a victory were 344 to the
San Diego Chargers
in the playoffs.
Henne threw for 363 yards himself Sunday night, the most Ryan's defense has given up through the air. Henne found Marshall 10 times for 166 yards and a touchdown. It wasn't the best night for
Antonio Cromartie
.
[+] Enlarge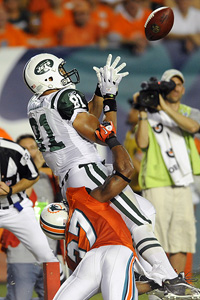 Steve Mitchell/US PresswireDustin Keller led the Jets with 98 yards and two touchdowns.
"They completed a lot more than we expected," Jets safety
Jim Leonhard
said. "They had it rolling. They got in a good rhythm. It was tough. You don't expect them to throw for that many yards. We weren't making plays as a secondary. They hit us a few times, but we fought to the end."
Henne was particularly sharp on third downs, completing nine of his 14 attempts for 123 yards, six first downs and one touchdown. He converted four third downs of 6 yards or longer, including a 15-yarder and a 10-yarder in the third quarter.
The Dolphins' offense was so effective, on a nine-play, 76-yard touchdown drive in the second quarter, they didn't face
any
third downs. The possession was aided by rookie cornerback
Kyle Wilson
's pass interference on a second-and-22 play.
When does
Darrelle Revis
get back?
The Jets will play the
Buffalo Bills
next week in Ralph Wilson Stadium. That might sound slightly more difficult than a bye week, but for those who didn't pay attention Sunday, the Bills' offense woke up against the
New England Patriots
.
The Bills scored one fewer point than the Jets did Sunday.
Ryan Fitzpatrick
threw for 247 yards and a pair of touchdowns.
After that, the Jets play host to
Brett Favre
and the
Minnesota Vikings
at the Meadowlands.
The Jets, however, got another strong game out of their offense on a night reminiscent of the great
Dan Marino
-
Ken O'Brien
shootouts.
Henne might have recorded the more prolific stats, but
Mark Sanchez
had the better night: 15-of-28 for 256 yards, three touchdowns, no interceptions and a 120.5 passer rating -- and the W.
Sanchez threw for three touchdowns for the first time as a pro last week. Now he's done it twice in a row.
"I remember telling the offense before that sometimes the offense is going to have to pick up the defense," Ryan said. "That'd be what happened today. I told them in the locker room 'You know, I had confidence in our offense, but I don't know I really believed that statement.' "
Asked to elaborate about why he didn't have total faith in his offense, Ryan backed off a little.
"I always knew our offense could play to this level," Ryan said. "I just never thought our defense could play to this level, to be honest with you."
September, 13, 2010
9/13/10
6:50
PM ET
ESPN's Jeremy Schaap visited with former New York Jets quarterback Ken O'Brien and former Baltimore Ravens kicker Matt Stover before Monday night's game.

O'Brien gave his take on where the Jets' offense stands with second-year quarterback Mark Sanchez.

"Everything's new when you're a rookie," O'Brien said. "Everything jumps at you, the speed of the game. What they did well, I think they go back and look at it, they ran the ball really well. When you run the ball well and don't turn the ball over and you have a defense that's going to create turnovers for you and you just be consistent, you're going to score a lot of points. You don't want to get into a situation where you try to do too much.

"You want to be able to run the ball and pound it. You want to complete your third-down passes, but then you have the whole play-action-pass game that's going to open up for you. That's where they're going to be their best."


April, 16, 2010
4/16/10
4:11
PM ET
This must be some sort of record.
In three straight posts, I mention NFC West blogger Mike Sando.
The guy's all over the place.
Sando has completed a project to determine the
five greatest draft classes since 1967
, when the NFL and AFL combined for a common draft.
Sando, using a criteria that sorts through individual awards and championships, concluded the best were 1983, 1996, 1981, 1969 and 1985.
A lot of AFC East stars played roles in making those drafts great.
Jim Kelly, Dan Marino, Ken O'Brien and Tony Eason were among that glorious quarterback class of 1983. Miami Dolphins receiver Mark Clayton and Buffalo Bills outside linebacker Darryl Talley also were selected that spring.
Dolphins linebacker Zach Thomas, found in the fifth round, was a highlight of the 1996 class.
The 1981 class included New York Jets running back Freeman McNeil, New England Patriots tackle Brian Holloway and outside linebacker Hugh Green, who later played for the Dolphins.
Bills running back O.J. Simpson was the first pick if the 1969 draft. Ten picks later, the Dolphins took defensive end Bill Stanfill.
Another notable No. 1 Bills pick started off the 1985 draft: defensive end Bruce Smith. The Bills also snagged receiver Andre Reed in the fourth round. Special-team ace Steve Tasker was a ninth-round pick for the Houston Oilers before making seven Pro Bowls for Buffalo. Another big name that year was Jets receiver Al Toon.
February, 26, 2010
2/26/10
8:56
PM ET
INDIANAPOLIS --
I doubt Bill Belichick will be too impressed
with this declaration.
Nevertheless, NFL Network analyst Charley Casserly made a bold statement Friday about this year's draft class.
[+] Enlarge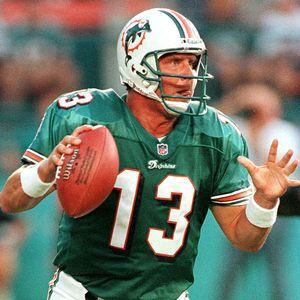 RHONA WISE/AFP/Getty Images Dan Marino was the 27th player drafted from the very successful Class of '83.
The former
Washington Redskins
and
Houston Texans
executive asserted the players taken in this year's first round will be the greatest collection of talent since the most celebrated class turned pro nearly three decades ago.
"This is the best first round I've seen since 1983," Casserly said at the NFL scouting combine in Lucas Oil Stadium.
Of the
28 players selected in the first round in 1983
, six have been inducted into the Pro Football Hall of Fame. They went to 77 Pro Bowls and won nine Super Bowls.
The 1983 quarterback class is legendary. All five AFC East clubs selected quarterbacks.
The
Baltimore Colts
took John Elway first overall. The
Buffalo Bills
drafted Jim Kelly 14th. One spot later, the
New England Patriots
chose Tony Eason. The
New York Jets
got Ken O'Brien 24th, and the
Miami Dolphins
used the 27th pick on Dan Marino.
Other first-round stars included running backs Eric Dickerson and Curt Warner, offensive linemen Chris Hinton, Jimbo Covert and Bruce Matthews and defensive backs Joey Browner, Gil Byrd and Darrell Green.
Casserly claimed only that crew will surpass the one that comes together in April.
With a rookie salary cap expected to be part of the next collective bargaining agreement, 53 underclassmen declared for this year's draft so they can sign under the current CBA, which allows rookies to get whatever they can.
"In talking to general managers throughout the league, decision-makers," Casserly said, "I think it's the result of two things. Last year, there was a concentrated effort to keep players in school. Conversely, both sides in the labor negotiations have talked about a rookie wage scale.
"So when you have those two things working, players without a motivation to stay in school will say 'The players who stayed in last year, you have a perfect storm to have the best junior crop you've had since all the way back to '83.' So I think this is the best first round I've seen going into a draft since 1983."
December, 23, 2009
12/23/09
6:43
PM ET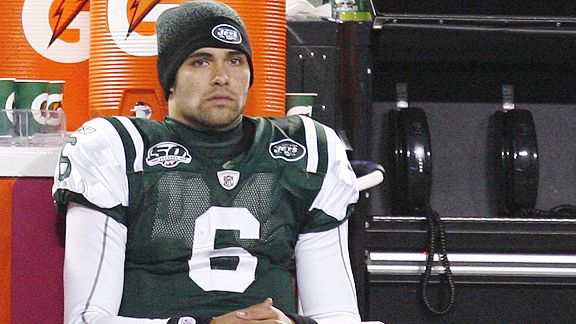 Andrew Mills/The Star-Ledger via US PRESSWIREWas making quarterback Mark Sanchez a full-time starter in his first season the right call by the Jets?
Soon enough, Rex Ryan will have been correct.
The rookie coach mistakenly said the
New York Jets
had been eliminated from the playoff race Sunday after crumbling to the
Atlanta Falcons
. Turns out, there still is a mathematical ray of hope.
For now.
The Jets sacrificed a season that appeared destined for the playoffs. They rank No. 1 in scoring defense, total defense and passing defense. They lead the NFL in rushing offense.
That sort of formula should have clinched a postseason berth by now.
Problem is,
Mark Sanchez
is part of the equation, too.
But was the Jets' decision to start Sanchez straight out of college complete rubbish?
The Jets threw away their season, but maybe it will have been worth it in the long run.
"When you're going to develop an outstanding quarterback, you're just going to have to bite the bullet and not look back," former
St. Louis Rams
head coach and offensive guru Mike Martz said.
The dilemma when it comes to rookie quarterbacks is whether it's more beneficial to put them in the huddle or to let them watch from the sidelines for a season.
"In the big picture, it's all a step in the right direction," said former Jets quarterback Ken O'Brien, who didn't take a snap his entire rookie season in 1983. "The best way to learn is to play."
That theory is not absolute.
"Some guys, like
Peyton Manning
or
Troy Aikman
, take that first-year beating, and it makes them better for the long run," Scouts Inc. analyst Matt Williamson said. "Some guys are not mentally strong enough to overcome a terrible rookie year, and the confidence can be shot."
The Jets seemed like geniuses three weeks into the season. They were 3-0, and Sanchez was performing beyond his years. The former University of Southern California star played as though he'd been in the league two or three years already, apparently turning what
Matt Ryan
and
Joe Flacco
achieved last year into a trend.
Since then, Sanchez's season has been spotted by a series of youthful indiscretions that ranged from immature (scarfing down a hot dog during a game) to reckless (injuring his knee while diving head-first three days after
New York Yankees manager Joe Girardi taught him how to slide
).
The hot start is a distant memory. Entering Week 16 against the
Indianapolis Colts
, the Jets are 7-7 and on the fringes of the playoff race.
The recurring theme, however, will be those interceptions. They came in big bunches. Three, four, sometimes five at a time.
Sanchez has thrown at least three interceptions in four of his 13 starts. The Jets went 0-4 in those games, losing by an average of 9.3 points. They dropped two of them at the Meadowlands by a field goal.
"There are times when he's looked great against complex schemes," said Jon Ritchie, an analyst for ESPN's "First Take" and former
Oakland Raiders
and
Philadelphia Eagles
fullback, "and there are times when he's looked confused out there. That's what everyone expected."
USC coach Pete Carroll was labeled a unappreciative whiner when Sanchez decided he would forego his senior season and enter the draft.
Carroll claimed Sanchez wasn't ready. Sanchez started one full season, and while he posted remarkable numbers, he would head to the NFL with only 16 collegiate starts. The learning curve would be one harsh arc.
The Jets traded up to draft Sanchez fifth overall and make him the face of the franchise. He would have to fall flat on his facemask to not win the job from veteran
Kellen Clemens
in training camp. Sanchez signed a five-year contract, which also escalated his timetable. Six years is the common length of a highly drafted quarterback's first deal.
"It's a tough situation for anybody to come in right out of college, where you didn't play much, and plug in," O'Brien said. "It just takes time."
What has been troubling about Sanchez's development is that Ryan and offensive coordinator Brian Schottenheimer have needed to simplify it as the season has progressed. Ryan, who is dyslexic, applied one his own comprehension tricks and
color-coded Sanchez's play-calling wristband
to underscore the importance of ball security.
"He doesn't seem to be learning from his mistakes or getting better in any way," Williamson said. "He still really doesn't understand coverages or the speed of the game at this level. He isn't seeing things clearly and is either very rushed or too slow in everything he does."
Martz and O'Brien insisted Sanchez will come around.
Martz stressed the importance of the Jets acquiring more help for Sanchez at receiver and spending a lot of time working together during his first full NFL offseason. Dropping top receiver
Braylon Edwards
into Sanchez' lap in Week 5 didn't do him any favors.
"There's a little bit of a disconnect with them, which is understandable," said Martz, who 10 years ago in St. Louis ran the record-setting offense dubbed "The Greatest Show on Turf."
"That rapport and that chemistry, it takes a long time to develop. I don't think people realize how difficult that is. There's thousands of throws that need to happen."
Sanchez has been one of the NFL's worst play-action passers. He ranks 27th in the NFL with a 58.8 play-action passer rating, completing 52 percent of his throws with three touchdowns and seven interceptions.
"It's just a matter of repetition," O'Brien said. "It's a lot more beneficial to watching yourself on film and having recall of which decisions to make. You can figure out 'This is what I did last time and I was knucklehead. Let's forget about that.'
"You store it all away. Your mind becomes a vault. You have to click through all those pictures, that video game in your head and dial in that right formula the next time you come across it."
As for the toll a disappointing first season can have, jangled confidence shouldn't be an issue with Sanchez. His leadership intangibles might be what carry him.
"The good players, they have such a deep-seated belief in themselves that they might be shaken a bit," Martz said, "but they just can't be moved off the mark. He's got too much going."
Teammates recognize that. Ritchie, who went to the playoffs with
Rich Gannon
and
Donovan McNabb
, noted the guys in the locker room are willing to forgive mistakes and weigh the future benefits when they see a young quarterback committing himself at the facility, whether it be on the practice field or in the film room.
"Guys know that he's putting in all the time in and that he is sacrificing to do everything that he can to get better," Ritchie said. "He's a guy you love to have on your team and will be much improved. That rookie wall hits everyone, and you come to the conclusion that he's hit that.
"But a guy that has such an unbelievable attitude, positivity surround him all the time, can lead a group of men who have been playing in the league just with his sheer charisma. That played into their decision and I can't fault them there."
So don't be so anxious about throwing away this season, Jets fans.
When we look back on 2009, Sanchez will have junked the Jets' chance to make the playoffs. But Sanchez's long-term future might turn out to be worth forfeiting the postseason.
"He'll be so much better next year," Martz said. "It was absolutely the right thing to do. That team will evolve with him."
November, 1, 2009
11/01/09
8:06
AM ET
Posted by ESPN.com's Tim Graham
As will be the case for several other opponents over the final two months of the regular season, Sunday's game at the Meadowlands will be the
Miami Dolphins
' last in the Giants Stadium.
Unless, of course, the Dolphins and
New York Jets
were to meet in the playoffs.
In other words, this will be the finale.
George Bretherton of the NYTimes.com blog "The Fifth Down" presents a tribute to a storied rivalry by ranking the
top five Dolphins-Jets games in Giants Stadium
.
Be sure to click on the link to read Bretherton's reasoning and for YouTube clips from the games, but here's the list:
Monday Night Miracle: Jets 40, Dolphins 37 (Oct. 23, 2000).
Ken O'Brien shootout over Dan Marino: Jets 51, Dolphins 45 (Sept. 21, 1986).
Fake Spike Game: Dolphins 28, Jets 24 (Nov. 27, 1994).
Chad Pennington's return: Dolphins 24, Jets 17 (Dec. 28, 2008)
Marino throws five TDs and loses: Jets 38, Dolphins 34 (Nov. 27, 1988).
September, 1, 2009
9/01/09
8:11
AM ET

Posted by ESPN.com's Tim Graham

NOTE: This post might look familiar to some of you. It was posted Friday, right before the Great ESPN.com Server Crash of aught-nine, and wasn't salvaged in the recovery phase. So I share with you once again what I thought was an interesting nugget ...
There is a chance, of course, that
New York Jets
quarterback
Mark Sanchez
could get hurt before the season opener and not be able to play.
But let's assume he doesn't step into an uncovered manhole or get struck by a falling piano on his way to his big debut Sept. 13 against the
Houston Texans
.
Sanchez will break the NFL's longest-running streak of games without starting a rookie quarterback.
The Jets have gone 491 straight games -- over three decades worth -- without a newbie starter. The
Kansas City Chiefs
are next at 346 games.
The last Jets rookie quarterback to start was Matt Robinson in November 1977. He got the nod for one game that season and 20 times over his six-year career with the Jets,
Denver Broncos
and
Buffalo Bills
.
David Norrie started two games as a replacement player during the 1987 strike season, but technically wasn't a rookie. Norrie was an 11th-round draft pick of the
Seattle Seahawks
a year earlier.
Since Robinson, here is the list of quarterbacks who've started for the Jets:
Richard Todd
Pat Ryan
Ken O'Brien
David Norrie
Tony Eason
Kyle Mackey
Browning Nagle
Boomer Esiason
Jack Trudeau
Bubby Brister
Frank Reich
Neil O'Donnell
Glenn Foley
Vinny Testaverde
Ray Lucas
Rick Mirer
Quincy Carter
Brooks Bollinger
August, 7, 2009
8/07/09
2:00
PM ET
| | |
| --- | --- |
| | |
| | George Gojkovich/Getty Images |
| | After amassing 200 sacks over a 19-year NFL career, Bruce Smith will enter the Pro Football Hall of Fame on Saturday . |
If the speech Bruce Smith gave the afternoon the Buffalo Bills added his name to their Wall of Fame is any indication, then the legendary defensive end will proclaim his greatness again Saturday night, when he's inducted into the Pro Football Hall of Fame.
Smith hasn't been shy about
declaring himself the greatest
pass-rusher who ever lived.
2009 Hall of Fame Induction Coverage
Saturday in Canton, Ohio, six men will be hailed as the latest members of the Pro Football Hall of Fame. Bruce Smith, Rod Woodson, Ralph Wilson, Randall McDaniel, and posthumous honorees Derrick Thomas and Bob Hayes form the Class of 2009. The ceremonies will air live, beginning at 7 p.m. ET, on ESPN and ESPNHD. Follow ESPN.com's coverage.
" Our future HOF nominees: Story | Podcast


" Chat: Hall of Fame inductee Rod Woodson

" Chat: Hall of Famer Warren Moon

" Wickersham: Wilson valued for impact
" Scouts Inc.: Top 5 CBs in the NFL today

" Walker: Is Rod Woodson the best CB ever?
" Graham: Bruce Smith, Sackmaster
" Blogs: More Hall of Fame coverage
Funny thing is, Smith's temerity is unnecessary. His numbers speak for themselves.
Smith is a first-ballot Hall of Famer. Since the NFL made sacks an official stat in 1982, no other player has amassed more sacks than Smith's 200. He played 19 years, his final four with the Washington Redskins. He recorded double-digit sacks a record 13 seasons. He played in four Super Bowls. He twice was the Associated Press' Defensive Player of the Year. He was a first-team All-Pro eight times, a Pro Bowler 11 times. The NFL selected him for two all-decade teams.
Not a bad career if you're into that kind of stuff.
Smith has had his problems off the field. After two previous drunken-driving arrests that didn't lead to convictions, he was found guilty of it last month in Virginia Beach, an incident that has tempered the Hall of Fame merriment somewhat. Virginia Beach canceled festivities to honor Smith.
But Smith will take center stage in Canton, where he will assume his place among the all-time greats. He's the greatest No. 1 overall draft pick who didn't play quarterback.
And he'd probably tell you so.
Rather than speak to Smith about how remarkable he was, it's more insightful to speak with those who competed with him and against him.
Tony Paige, Virginia Tech teammate and former New York Jets running back:
"When he visited Virginia Tech, I was the guy that hosted him and showed him around the campus. He was one of the top recruits in the country. We played basketball that weekend, and this defensive lineman was dunking. He was 6-4, about 285 pounds coming out of high school, a phenomenal athlete. I think he a ran a 4.6 [in the 40-yard dash]. Any time you get a 6-foot-4, 285-pound man running the court like that, you knew right away this guy was going to be special."
Chris Spielman, former Detroit Lions and Bills linebacker:
"There've been two players in my career that every single week they did something that made me rewind the film 10 times. That would be Barry Sanders and Bruce Smith."
Jim McNally, former NFL offensive line coach and Buffalo native:
"He was so slippery. He could make himself small by dipping and turning and lowering his hips. He didn't stand up and come at you like a lot of guys. He was slithery."
Paige:
"He pushed guys around him because he practiced hard, played hard, studied the game. That's why he's going into the Hall of Fame. He wasn't just a gifted athlete. He always wanted to be better. He had that something on the inside you can't teach, a passion to succeed on every snap."
Jim Ritcher, former Bills left guard:
"When he arrived, he had so much talent. I've never seen a guy so quick off the ball. Recently, I was just showing one of my sons how quick Bruce was. I was showing him film on Bruce. Just as fast as that ball was coming back, that's how fast Bruce was coming off the ball. It was amazing."
Richmond Webb, former Miami Dolphins left tackle:
"He took no plays off. It was going to be 60 minutes of hell."
Steve Tasker, former Bills special-teamer:
"There was no question there were times he was not only the best defensive end, but maybe the best player at any position in the NFL."
Spielman:
"He'd do something that would make you say 'Come on now. Seriously. You're not doing that to an NFL player, are you?' He was something."
Merlin Olsen, Hall of Fame defensive tackle:
"Bruce was very, very quick coming off the line and coming up field far enough to force that offensive tackle to move violently to try to stay with him. Once you get those tackles moving, you have the chance to do all kinds of things with him. Not only did he have incredible quickness, he was so powerful. He could bull rush you if he wanted to. The offensive tackle knew that was possible
, so he couldn't get on his heels."
Ken O'Brien, former Jets quarterback:
"He had everything going on. He was big. He could power a guy. He could head slap him. He could swim move him. He could spin. He did all these things naturally. You have to figure however many sacks he finished with, two-third of those he was double- and triple-teamed."
Ritcher:
"Every day I had to practice against him was an eye-opener. Being able to study Bruce every day, I can imagine it would be a nightmare for other teams. I practiced against him so much. It was an all-day sucker going against Bruce."
O'Brien:
"We always had a guy that would come up with some injury that week."
Tasker:
"He'd get a shot on the quarterback that would cripple a horse."
Ritcher:
"That had to be terrifying for a quarterback, to know that no matter who they had at tackle -- and he could be a great tackle -- Bruce was going to get to you at some point. That had to be pretty terrifying to know, going into the game, this guy on your blind side is coming at you."
O'Brien:
"If you wanted to block him with one guy, there really was no way. He was going to expose that. It took a while for some people to pick up on it, that traditional methods of blocking weren't going to work."
McNally:
"Whoever was facing him the next game was nervous all week. They double-teamed him with guards, with running backs. Back when you could still get away with it, receivers were chipping him."
Tasker:
"We just got beat in a playoff game in Cleveland, the game when Ronnie Harmon dropped the ball. We were in the locker room, sitting there after a shootout, Bernie Kosar versus Jim Kelly, both teams over 30 points and we dropped a touchdown. So the score should have been even higher. He was getting dressed in his suit, kind of all by himself. I was standing near him. Now, we'd been around the block. We'd been the Bickering Bills. There'd been turmoil on the club, the last three or four games being the turning point for our organization. But Bruce said out loud to nobody in particular, 'You know it was the defense that lost it today. We let them score 40 points. That was our fault.' He was bumming out that the defense had done that, not that we dropped a touchdown. I'll never forget that. He took that loss hard. He also took some responsibility on his own shoulders. He knew there was responsibility that went along with being a great player."
Bill Belichick, New England Patriots coach and former New York Giants defensive coordinator:
"You had to game plan for Bruce Smith like you had to game plan for [Lawrence] Taylor. ... He was slick. A lot of times you look at the play and you say, 'OK, it looks like we got him blocked.' And then he gets off it somehow and is pressuring the quarterback. Similar to Taylor, even when they got blocked, they didn't stay blocked."
Olsen:
"In terms of having to set a game plan, he's exactly the same kind of person as Lawrence Taylor. If you didn't account for him, you were going to have trouble."
Tasker:
"I used to chuckle because he'd be in great shape and come into training camp and be injured and not practice. There was nothing wrong with him. He just didn't like training camp. They were built for veteran players and still Bruce would take the first three weeks off. That doesn't mean he wasn't ready."
Ritcher:
"He was named defensive player of the year a number of times, and when he wouldn't show for camp, we'd smile and know that was Bruce going for his money. Your career is so short. Bruce played 19 years, which is incredibly long, but most guys had to get the money while they could get it, and he was at the top of his game."
Spielman:
"He and [head coach] Marv Levy had an understanding. They were a perfect match. Marv had a saying, 'I don't need you to beat the Bills.' Bruce did what he had to do to get ready. He came to play."
Webb:
"You knew when you went to Buffalo you weren't going to hear snap counts. The thing that really stood out was I knew that he had to be one of the favorite players. If the game was tight and they would go to a TV timeout, when they would come back and blow whistle, he would make this quick motion with his hand, and the noise in the stadium was deafening. I was always amazed he could make that one little hand gesture and the crowd was right with him. That's not right."
O'Brien:
"He had a great sense of humor. He and Tony Paige would joke around. Therefore, Bruce Smith and I would joke around on the field. He was funny. I don't know if you're old enough to remember 'The Gong Show.' He used to have a little dance he used to do. He did it the week before and down at the line of scrimmage, he came up to me and said, 'Gene Gene, huh?' "
Tasker:
"We used to laugh at him. He'd say it when he was playing because, man, the guy would back it up. We go into New York on a Monday night. He gets four sacks and a forced fumble and just tears the New York Jets up. In the game, he unveiled this spin move nobody had seen before. I know there were a lot of left tackles watching the game that night and spitting their coffee out. 'What are you supposed to do with that?!' There's no defense for that. You have to expect that move to stop it. It was unbelievable. It was like a pitcher throwing a perfect game and then, all of a sudden, he throws a pitch he's never thrown in the middle of it. It was like Nolan Ryan throwing knuckleballs for strikes."
O'Brien:
"We tried to run some sort of reverse to maybe get him to bite with a pass rush. It was a quarterback's dream, where I get to block him and take him out. The play got stopped while I'm running outside toward him. He started laughing and said, 'Kenny, what are you doing to do? This reverse isn't going to work.' He would tell you about each formation and dissect the play as it went on. I always thought he would make an excellent coach if he ever had the inclination."
Webb:
"Bruce was probably known more as a pass-rusher and not so much against the run, but I think what he did as time went on, he worked on another area of his game. If they said he couldn't do it, he went out and proved them wrong. I liken it to Michael Jordan. When he came into the NBA, it was offense, dunks, blowing people's minds away as an entertainer. Then he started working on his defense and became defensive MVP, and as he became older he worked on that fadeaway shot. Just like Jordan, Bruce was a great athlete and a student of the game."
Spielman:
"I played with Bruce at the tail end of his career. What I remember is how he reshaped his body to go from 300-plus pounds to the point when I played with him in Buffalo and he was about 270. That was amazing, and it probably extended his career to be a dominant player at a much lighter weight."
Jay Fielder, former Dolphins quarterback:
"By the time I was playing it was little more toward the end of Bruce's career with the Redskins. He still was a great player. He wasn't defensive-player-of-the-year material like he was in the early or mid-'90s, but he was a guy you still had to keep an eye on."
Tasker:
"When he said that he's the best defensive end ever in the National Football League, I agree. In the time that we played, and I remember thinking this while we were playing, there were times he was the best player at any position in the league."