October, 19, 2011
10/19/11
12:34
PM ET
Buffalo Bills
center
Kent Hull
died Tuesday at his home in Mississippi. He was a key figure on Buffalo's offensive line during the Bills multiple postseason runs in the 1990s.
Here are statements on Hull from Bills owner Ralph Wilson, former Buffalo coach Marv Levy and former teammate
Jim Kelly
:
Ralph Wilson
"I am so very saddened to hear of the passing of Kent Hull. Kent was a terrific player for us, who was often overshadowed by some of the bigger names we had in our Super Bowl years. But Kent was one of the key components of our team and of our high-powered offenses in the 90's that enjoyed so much success. But he was so much more than just a good player on a good team. He was a great leader on and off the field and respected by everyone who knew him. He was a true gentleman who was as nice as anyone you'd ever want to meet and as tough as any player I've ever known. If you were lucky enough to have Kent as a friend, you had a cherished friend for life. This is a sad day for me and all of us in the Bills organization as well as all of our fans. I will miss Kent very much, but will always remember fondly the great man and great player that he was. I want to offer my deepest sympathies to his wife Kay and his entire family in this most difficult time."
Marv Levy
"Kent Hull was one of the most memorable players that I coached during my long 47-year career. He was one of the most outstanding young men I've ever known. Kent was a fantastic teammate and a great leader. He had outstanding ability and was a wonderful family man. Kent was revered by his teammates, coaches, all of the great Buffalo Bills fans and certainly by me."
Jim Kelly
"Words fall short when the pain runs so deep. I'm finding it hard to describe what this loss means to me and my family. Kent Hull was my best friend. A man of great courage, faith and character. He will be missed and never forgotten. My family and I will continue to pray for Kent's wife Kay and his two children, Drew and Ellen as they grieve the loss of this great man."
June, 1, 2011
6/01/11
11:00
AM ET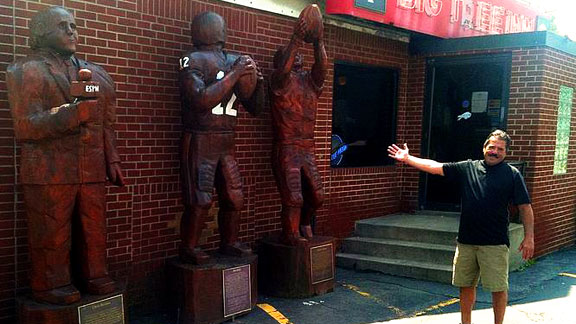 Tim Graham/ESPN.comOwner Dan DeMarco of the Big Tree Inn in Orchard Park, N.Y. The wooden statues, from left, are Chris Berman, Jim Kelly and Andre Reed.
The NFL lockout has put players and owners in limbo. The ripple effects are also felt by people whose lives or businesses touch their teams. Here are their stories:
ORCHARD PARK, N.Y. -- The Big Tree Inn has been a
Buffalo Bills
institution for decades.
The beloved watering hole and wing joint is about 600 yards of Abbott Road sidewalk away from Gate 4 at Ralph Wilson Stadium. Signed jerseys from
Jim Kelly
,
Thurman Thomas
,
Andre Reed
,
Kent Hull
,
Bruce Smith
and
Darryl Talley
adorn the walls of the modest 1,600-square-foot space.
Ruben Brown
, the perennial Pro Bowl guard, has his own corner.
The Big Tree Inn is a gathering spot for fans and a rite of passage for the players who pass through during the week -- and after home games -- to hang out with hardcore patrons. Wise visiting players place to-go orders for the bus ride to the airport or the outbound flight.
Reed called the Big Tree "a hallowed place," which, when he walks through the door, gives him the same feeling others might get when they walk into Fenway Park or Yankee Stadium.
"That was the first place I walked into as a so-called Bills rookie at that time," Reed said. "Every time you walk in there, you get a sense of what the Bills are all about."
You can imagine how much a Ralph Wilson Stadium neighborhood restaurant with 12 employees would rely on NFL games to remain profitable. With the lockout threatening to wipe out exhibitions and maybe even regular-season dates, Big Tree Inn owners Dan DeMarco and Brian Duffek are nervous.
"We're just praying," Duffek said on a quiet Tuesday afternoon at the bar. "If this is the crowd we have on a Sunday in October, we've got a big problem."
The Big Tree is as much of the game-day routine for many Bills fans as putting on a parka. Duffek said home games account for about 30 percent of the Big Tree's annual revenues. The till already had been shorted by games the Bills outsourced to Toronto through 2012.
In addition to the business' bottom line, bartenders could lose out on hundreds of dollars in tips each day. Hours likely would be cut for the whole staff.
"Everybody says 'There's only eight or nine home games,' but people don't realize that a home-game crowd starts showing up on Thursdays and pour into Mondays," DeMarco said from behind the bar. "People flock in from out of town and fill the motels around here. They give us four or five days of business every home game."
DeMarco joked about his regular crew of "season-ticket holders" who prefer to watch the home games at his place rather than in person.
A large wood carving of Reed stands outside the entrance, alongside versions of Kelly and ESPN's Chris Berman. Bottles of Reed's Over the Middle Sauce are stationed around the bar.
"It's been cemented in my life," Reed said. "When we became a team in the late 1980s and early 1990s, the Big Tree was a huge part of that.
"The camaraderie was always evident when we showed up there and, over some beers and some wings, would talk about our team and what our goals were. Every Friday we went to the Big Tree, talked about the week's practice and could be ourselves away from the coaches and the stadium. A lot of tension was released there. A lot of things were gotten off our chests in that place. Any time I go back up there, it's a lot of memories."
There are a lot of ghosts wafting around the Big Tree, but Sundays could make the place look like a ghost town if the lockout endures.
February, 4, 2011
2/04/11
3:05
PM ET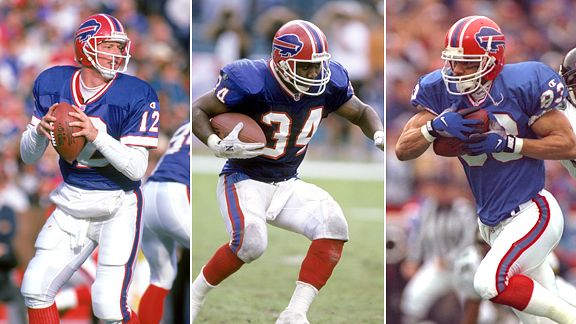 Getty ImagesJim Kelly, Thurman Thomas and Andre Reed were key cogs in four Bills Super Bowl teams put together by former Bills GM Bill Polian.
Can a team put too many players into the Pro Football Hall of Fame?
Bill Polian doesn't think so.
Polian assembled the
Buffalo Bills
teams that went to four straight Super Bowls. Five members of those teams already have bronze busts in Canton: quarterback
Jim Kelly
, running back
Thurman Thomas
, receiver
James Lofton
, defensive end
Bruce Smith
and head coach Marv Levy. Bills owner Ralph Wilson has been enshrined, too.
"It seems like every second or third year somebody gets inducted into the Hall of Fame and we have a reunion and get to reflect on it," Polian told me Thursday night. "It's a big family that has stuck together and still stays in touch.
"It's a blessing. To be associated with guys like that? It's a special, special group."
Polian insisted more Bills belong in the Hall of Fame and is bothered that wide receiver
Andre Reed
hasn't gotten in yet.
Reed could get the Canton call Saturday
. He is among the 15 finalists who will be evaluated by the selection committee for five openings on the 2011 class.
"It's shocking to me that he's not viewed as a shoo-in Hall of Famer," Polian said. "Andre Reed was our biggest big-play player on a team that went to four Super Bowls. How he could not be included in the Hall of Fame when he's one of two guys who dominated is beyond me.
"Go with the facts. Don't go with perception. Go with reality because if you go with reality, you have to say Andre Reed belongs, without question. To me, it's just baffling."
That would give the Bills five Hall of Famers
who played or coached all four Super Bowl teams. Lofton played on only three of them. Bills owner Ralph Wilson also has been inducted.
Put that group up against the
New England Patriots
, who won three Super Bowls in four years.
"The teams are comparable," Polian said.
There
aren't that many slam-dunks
from all three of New England's championship rosters.
Head coach Bill Belichick and quarterback
Tom Brady
are surefire Hall of Famers. Beyond that,
Adam Vinatieri
has a strong case for his heroics, but there are no guarantees for kickers. Jan Stenerud is the only Hall of Fame kicker or punter. Maybe defensive end
Richard Seymour
or cornerback
Ty Law
will be considered.
Beyond that, much of the Patriots' roster was comprised of semi-stars such as linebackers
Tedy Bruschi
and
Mike Vrabel
, who went to one Pro Bowl apiece, and transients.
That the 1990s Bills will send more players to Canton than the 2000s Patriots is fascinating to me. It shows how incredible the Patriots have been at navigating free agency and the draft to maintain a consistent winner with a fluctuating roster -- and how truly magnificent that collection of talent was for Buffalo.
"That'll never happen again," Reed told me last week. "You won't see an assemblage of players like that -- at least not in Buffalo. I know that."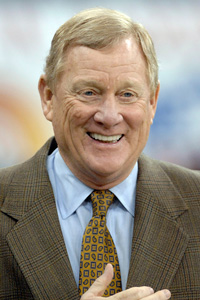 Al Messerschmidt/Getty ImagesFormer Bills GM Bill Polian thinks seven players from Buffalo's 1990s Super Bowl teams should be Hall-of-Famers.
Those Bills teams also featured offensive linemen
Kent Hull
and
Jim Ritcher
, linebackers
Cornelius Bennett
,
Shane Conlan
and
Darryl Talley
and special-teams star
Steve Tasker
.
Polian is an advocate of Tasker's induction into Canton, too.
"Steve Tasker was, pound-for-pound, the greatest special-teams player ever to play," Polian said. "If you value special teams, then Steve Tasker belongs in the Hall of Fame. I am also an unabashed Ray Guy fan.
"I've seen every player that's played in this game since 1977, and I can tell you Ray Guy literally changed the game -- as did Steve Tasker."
So that would make at least seven Hall of Famers from the 1990s Bills if Polian had his way.
When you consider how much talent Polian gathered with the Bills -- and his success with the
Carolina Panthers
and
Indianapolis Colts
since then -- there's no way you can't consider Polian himself.
But for now, Andre Reed is on deck.
"Andre is clearly, clearly, clearly deserving to be inducted," Polian said. "By any measure in the era he played, Andre Reed is a Hall of Famer."
September, 29, 2010
9/29/10
11:35
AM ET
Indianapolis Colts
fixtures
Peyton Manning
and
Jeff Saturday
are about to set a record.
Unless an injury befalls one of them, Sunday's game against the
Jacksonville Jaguars
will be the 158th start together for Manning and Saturday.
That will be the most quarterback-center exchanges since the NFL-AFL merger in 1970, breaking the record held the past 14 years by
Jim Kelly
and
Kent Hull
with the
Buffalo Bills
.
"The chemistry between those two is a must for a quarterback to be successful," Kelly said. "I was blessed because I had Kent Hull for more than 90 percent of the snaps that I took in the NFL."
Although the quarterback gets the credit for audibles at the line of scrimmage, something Manning is famous for, the center plays a crucial role.
"We would go up to the line and Kent would turn to me and say 'Get out of it,' " Kelley said. "He knew based on the alignment of the nose tackle whether it was a 3-4 or a 4-3. He always knew if the play was going to work by their initial alignment when we'd get up there. I wouldn't even ask any questions or wait to look."
In the AFC East,
New England Patriots
quarterback
Tom Brady
and center
Dan Koppen
are on the verge of breaking into the top five. They've started 103 games together and should surpass Phil Simms and Bart Oates on Halloween. Brady and Koppen have been to four Super Bowls together and won the first three.
New York Jets
quarterback
Mark Sanchez
and All-Pro center
Nick Mangold
have a long way to go to catch up, but they're next at 19 starts.
The
Miami Dolphins
have rotated their centers every year. Young quarterback
Chad Henne
and center
Joe Berger
started six games last year and all three this year.
New Buffalo Bills starting quarterback
Ryan Fitzpatrick
has started nine games with center
Geoff Hangartner
.
June, 30, 2010
6/30/10
12:30
PM ET
Notable players:
QB
Jim Kelly
, RB
Thurman Thomas
, WR
Andre Reed
, WR
James Lofton
, C
Kent Hull
, DE
Bruce Smith
, OLB
Cornelius Bennett
, OLB
Darryl Talley
, ILB
Shane Conlan
, CB
Nate Odomes
, ST
Steve Tasker
.
[+] Enlarge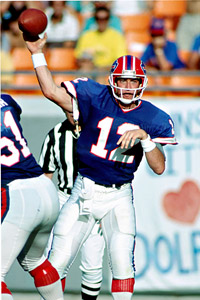 US PresswireJim Kelly threw 24 touchdown passes and just nine interceptions in 1990.
Analysis:
The
Buffalo Bills
went to an unprecedented four straight Super Bowls in the 1990s and lost them all.
Buffalo's best shot was its first, and not merely because it came down to a last-second field goal attempt that went wide right. That squad was its most complete on both sides of the ball.
The 1990 Bills are known as one of the best teams not to win the Super Bowl. Their 13-3 record is tied for the best in franchise history. They ranked first in scoring offense and sixth in scoring defense. Kelly led the NFL in passer rating, Thomas led in yards from scrimmage and Smith was voted defensive player of the year.
The Bills rolled through the regular season. They went undefeated at home and seemed to be surging down the homestretch. They outscored their first two playoff opponents 95-37, but went up against the NFL's best defense when they met the
New York Giants
in the Super Bowl.
The Bills led the Giants by nine points in the second quarter and held a two-point lead in the fourth quarter. But the Bills trailed by a point when Scott Norwood lined up from 47 yards away for what would have brought Buffalo its first major championship. The kick sailed wide of the upright.
Most impressive win:
The Los Angeles Raiders went into the AFC Championship Game at Rich Stadium with only four losses while allowing an average of 16.4 points. The Bills annihilated the Raiders 51-3 with the help of six interceptions. The score was 41-3 at halftime.
Norwood not to blame:
Did Norwood really choke? To claim he did is to suggest a successful kick was probable. The fact is, Norwood never had made a field goal longer than 49 yards in his six NFL seasons. That meant 47 yards was about the limit of his range. He made 6 of 10 attempts from 40-plus yards that season. The fateful attempt also was on grass, a surface he was kicking on for only the fourth time.
Honorable mention
1964:
The Bills won their first of back-to-back AFL championships with a squad that ranked first in total offense and defense. They outscored opponents by an average of 11 points a game.
1991:
The Bills rebounded from their "Wide Right" heartbreak, repeating their 13-3 record and reaching the Super Bowl again. They scored at least 34 points nine times.
1993:
Buffalo won the AFC championship a fourth straight time. The offense ranked sixth in total yards, while the defense ranked fifth in yards allowed and had a league-high 47 takeaways.
August, 9, 2009
8/09/09
12:11
AM ET
| | |
| --- | --- |
| | |
| | US Presswire |
| | Bills legends Ralph Wilson Jr. and Bruce Smith were inducted into the Hall of Fame on Saturday night. |
CANTON, Ohio -- There was little doubt what anyone who stepped to the microphone needed to do to get a reaction from the crowd at the
Pro Football Hall of Fame induction ceremony
Saturday night in Fawcett Stadium.
Roger Staubach is no dummy. When he wanted to generate more applause for Bob Hayes' family, he announced they were from Buffalo. They aren't, but Staubach knew his audience.
Carl Peterson, the former
Kansas City Chiefs
executive who spoke for the late
Derrick Thomas
, made it a point to remind everyone Marty Schottenheimer played for the
Buffalo Bills
back in the day. Schottenheimer, already an emotional mess from listening to the memories of the great linebacker, trembled even more when the fans cheered.
And when Rich Eisen tried to tell some jokes about
Rod Woodson
and heard crickets, he should have just pumped his fist into the air and screamed "Buffalo!" Then he would have gotten a response. A big one.
Canton is the new South Buffalo this weekend.
Fans made the four-hour drive to watch two more of their Bills -- founder Ralph Wilson Jr. and defensive end Bruce Smith -- get inducted.
On Sunday night, the current Bills will play the
Tennessee Titans
in the annual Hall of Fame Game. It will be the Bills debut for future Hall of Fame receiver
Terrell Owens
.
Of the 12,695 fans in attendance Saturday night, a third reportedly hailed from the 716 area code.
| | |
| --- | --- |
| | |
| | AP Photo/Tony Dejak |
| | Buffalo fans were in full force at Saturday's Hall of Fame inductions. |
Not even a steady afternoon rain would deter them. Diehards wearing jerseys of almost every former Bills star you could imagine streamed into town to hear Wilson and Smith deliver speeches in their yellow jackets.
"Certainly feels like a home game," Smith said with a smile after he walked to the lectern. Calls of "Bruuuuuuuuuce" cascaded from the concrete bleachers.
Wilson and Smith bookended the evening
. Wilson's presenter, ESPN's Chris Berman, played to the crowd by asking them to recite their favorite catchphrase with him: "No one circles the wagons like the Buffalo Bills."
After Randall McDaniel, Hayes, Woodson and Thomas were honored, Smith went last.
His presenter, former Bills defensive coordinator Ted Cottrell, asked all the Bills who played on those Super Bowl teams to stand. Of course, Jim Kelly, Thurman Thomas, James Lofton and Marv Levy were on the stage. Mixed among the crowd were Darryl Talley, Andre Reed, Steve Tasker, Kent Hull, Will Wolford and others.
Bills fans, who haven't seen their team in the playoffs since the 1999 season, wistfully cheered each name as it was announced.
Smith's speech was wonderfully paced. He paid homage to his family and his mentors. He thanked the
Washington Redskins
and his agent. He mentioned each of his doctors by name.
Then, about 12 minutes into his speech, when he was supposed to be wrapping it up, he really got started, heaping praise on Buffalo.
"What a ride it was," Smith said before ticking off the accomplishments: four straight AFC titles, the K-Gun offense, the Comeback Game.
"And the record-breaking attendance set by the greatest fans in the NFL," Smith said.
Fawcett Stadium erupted.
"Thurman Thomas, you're undoubtedly the most complete running back of our era," Smith said while lauding his former mates. "My life would be a little less right if I didn't have you to laugh and joke with.
"P.S. I hid your helmet."
Fawcett Stadium erupted again. Without so many Bills fans in attendance, the crickets probably would have resumed chirping.
January, 14, 2009
1/14/09
7:26
PM ET
Posted by ESPN.com's Tim Graham
Earlier, we explored the likelihood more members of the Buffalo Bills team that lost four Super Bowls would make the Pro Football Hall of Fame than the three-time champion New England Patriots.
But how many of those Bills will make it?
I asked ESPN's John Clayton what he thought. Clayton is in the Hall of Fame writer's wing and an influential voice on the Hall of Fame's Board of Selectors.
Head coach Marv Levy, quarterback Jim Kelly and running back Thurman Thomas already are enshrined. So is receiver James Lofton, who played in two of the Bills' four Super Bowls. Defensive end Bruce Smith, receiver Andre Reed and owner Ralph Wilson are finalists this year.
Clayton predicted Smith would be a first-ballot Hall of Famer, but Reed will keep waiting for the call. Clayton also claimed Steve Tasker doesn't belong in the Hall of Fame.
Although some Bills fans bang the drum for guys like Kent Hull, Jim Ritcher, Cornelius Bennett and Darryl Talley, none are anywhere near the Hall of Fame radar and won't be getting in. Ever.
This is the third year Reed is a finalist. Most players who become finalists eventually are inducted. Exceptions, however, include Miami Dolphins guard Bob Kuechenberg (eight times), Oakland Raiders cornerback Lester Hayes (four times) and Raiders quarterback Ken Stabler (three times).
"Reed probably will get there," Clayton said. "But when Jerry Rice or Tim Brown [become eligible], he'll get pushed back another spot. The fact is, Reed's maybe four or five years away from getting in."
Clayton disagrees with legions of Bills fans who believe Tasker should be inducted. The NFL Network ranked the special-teams maven ninth on its list of the top 10 eligible players not in the Hall of Fame.
"How can you put Tasker in when a guy like Derrick Thomas isn't?" Clayton asked.