August, 19, 2013
8/19/13
2:15
PM ET
The
Buffalo Bills
have been busy on the NFL's transaction wire over the past week. With the team's third preseason game approaching -- they travel Saturday to face the
Washington Redskins
-- the Bills have begun the process of paring down their 90-man roster.

Here's a snapshot look at their moves since last Tuesday, which have cleared eight roster spots:
Aug. 13:
Waived P Brian Stahovich
Aug. 14:
Waived/injured TE
Mike Caussin
; signed LB
Jamaal Westerman
Aug. 15:
Placed Caussin on injured reserve; waived DT Aaron Tipoti
Aug. 18:
Placed WR
Kevin Elliott
on injured reserve; waived OT
Tony Hills
, WR
Terrell Sinkfield
, CB
Don Unamba
, and S
Mark LeGree
Aug. 19:
Released K
Rian Lindell
In the last week, the Bills have settled their kicker battle by releasing Lindell, as well as their competition at punter by cutting Stahovich. Meanwhile, Tipoti and Caussin had missed most of training camp with injuries, and Elliott suffered a season-ending injury in Friday's preseason game.
As of Monday afternoon, the Bills' roster stands at 82 players. All NFL teams must trim their roster to 75 players by Aug. 27 at 4 p.m. ET.
Here's an early look at where the Bills can make some further snips to their squad:
Offensive line
-- The Bills are carrying 15 offensive linemen on their active roster. According to the Buffalo News' Jay Skurski, only
Keith Williams
and
Thomas Welch
were held out
of practice Monday. Meanwhile, tackle
Chris Hairston
remains on the active/physically unable to perform list. Moving him to the reserve/PUP list would clear a roster spot, but keep him out at least the first six weeks of the regular season. Either way, the Bills look to carry only about half of these 15 players into the regular season.
Defensive line
-- The Bills have a pair of big-name players who are working back from injuries (
Mario Williams
and
Kyle Williams
), which could lead Buffalo to stay heavy on their defensive line numbers through the final two weeks of the preseason. Yet a longshot such as
Izaan Cross
(11 snaps vs. Minnesota) could be part of the 75-man trim.
Safety
-- Even as franchise-tagged
Jairus Byrd
remains unsigned, there's not a whole lot of intrigue at this position.
Aaron Williams
and
Da'Norris Searcy
have filled in well in Byrd's place and will stay in those spots for now. Beyond that, the Bills invested two draft picks in safeties (
Jonathan Meeks
and
Duke Williams
), and unless there's a late injury, they also will be in the mix. That might mean
Jordan Dangerfield
(13 snaps vs. Minnesota) and
Dominique Ellis
(eight snaps vs. Minnesota) could be soon on the outs.
August, 16, 2013
8/16/13
6:15
PM ET

Buffalo Bills
defensive end
Mario Williams
(foot) will not play in tonight's preseason game against the
Minnesota Vikings
, the team announced.
Williams played two series in the Bills' preseason opener last Sunday, and has been limited throughout training camp with a foot injury.
"He keeps getting treatment to take care of his body," coach Doug Marrone said Wednesday. "Again, we're just trying to be smart up and down, resting him for some time, just so he can make sure he just gets ready. Especially coming off this short week."
The Bills said Williams will dress for the game, meaning he would be available to play in an emergency.
Other Bills not playing tonight:
Not listed among the inactives are quarterback
Kevin Kolb
, wide receivers
Brad Smith
and
Kevin Elliott
, tight end
Scott Chandler
, and linebacker
Keith Pough
. All missed Sunday's win over Indianapolis.
August, 11, 2013
8/11/13
6:00
AM ET

The
Buffalo Bills
open their preseason on Sunday at the
Indianapolis Colts
. In a rare afternoon preseason game, kickoff is at 1:30 p.m ET.
Here's what to watch for:
Manuel's first chance to shine. With veteran Kevin Kolb dressing but serving only as the emergency quarterback, rookie EJ Manuel has a prime opportunity to get a leg up on the quarterback battle through the rest of the preseason. The biggest question is how much he'll play. Coach Doug Marrone refused to tip his hand on Friday night, but it wouldn't be surprising to see Manuel take the first half and another rookie, Jeff Tuel, take over for the second half.
Who steps up among rookie wideouts? With Stevie Johnson (hamstring) out for at least this game, second-round pick Robert Woods and third-round pick Marquise Goodwin will get live game reps with Manuel. The Bills began their first practice of training camp with a long-ball drill; expect them to take some deep shots early on Sunday. With Brad Smith and Kevin Elliott also not expected to play due to injury, look for Chris Hogan, who has stood out thus far in camp, to see extensive action. Finally, it's worth monitoring when undrafted receiver Da'Rick Rogers enters the game; if it isn't until late, it won't help his chances of making the final cut, which is less than three weeks away.
Does Hackett put his stamp on offense early? At 33, Nathaniel Hackett is one of the younger offensive coordinators in the NFL. His up-tempo, energetic personality has left its mark on the Bills' offense, which aims to wear down defenses with a speed-oriented, no-huddle approach. But if Hackett reveals too much of his strategy in preseason contests, it will give opponents an opportunity to dissect the scheme on film, so expect something more toned-down on Sunday. With Manuel seeing his first game action in the NFL, it may be best to slow the offense down until he gets comfortable.
Where does the pass rush come from? Marrone said Friday that defensive end Mario Williams (foot) will be a game-time decision. At this point in the preseason, it seems unlikely the Bills would risk putting Williams on the field. After Williams, there is a significant drop-off among proven pass-rushers, something that has arguably flown under the radar in training camp. The Bills seem to be expecting big things out of Jerry Hughes, who will be returning to Indianapolis, where he was a former first-round pick. The team also appears high on Jamie Blatnick, who should see significant playing time Sunday. The first time the Colts are in a third-and-long situation, it will be worth noting who is on the field and what pressure they generate against an improved Colts offensive line.
Left guard another battle to monitor: Beyond the obvious competition at quarterback, the Bills have an open left guard spot that is far from being decided. The focus will be less on who starts -- it could be Colin Brown, Doug Legursky, or someone else -- and more on how they perform when in the game. Marrone hasn't seemed satisfied with the battle so far and has been working closely with the offensive line in practice. You can bet that he will be taking a close look at the film for that position on Monday morning.
August, 3, 2013
8/03/13
5:01
PM ET
While the biggest news out of
Buffalo Bills
training camp on Saturday was quarterback
Kevin Kolb
slipping on a wet rubber mat and injuring his knee, the morning practice was also the first with live contact.

Coach Doug Marrone dialed up the intensity at the end of the session, allowing live tackling for 15 plays, the first eight of which
were at the goal line
, according to WGR 550's Joe Buscaglia.
The offense had the decisive edge in that period, scoring six times, including twice on catches by offensive linemen on the field as eligible receivers.
Buscaglia also noted that defensive end
Mario Williams
, who continues to be limited by a sore foot, had his workload in practice increased Saturday. He took part in positional drills after spending most of the week on the sideline for everything except the walk-through at the beginning of practice.
Wide receiver
Steve Johnson
(hamstring), cornerback
Justin Rogers
(hamstring), tight end
Mike Caussin
(hip), and wide receiver
Kevin Elliott
(shoulder)
did not practice on Saturday
, Buscaglia reported.
Roster move:
The Bills signed wide receiver
Terrell Sinkfield
on Saturday afternoon, bringing their roster to 90 players. Sinkfield is an undrafted rookie out of Northern Iowa who had previous stints with the
Miami Dolphins
and
Green Bay Packers
.
August, 2, 2013
8/02/13
2:18
PM ET

The
Buffalo Bills
returned to the practice field on Friday, and the biggest news was wide receiver
Stevie Johnson
leaving
with a left hamstring injury
. Bills coach Doug Marrone said after practice that he did not know the severity of the injury, and that Johnson will be evaluated by Buffalo's doctors. The NFL Network reported Johnson will have an MRI.
"It would be a major concern when we talk about it during the season, but right now, I think a veteran player that has proven himself, we'll just see what the doctors say," Marrone said.
Tight end
Mike Caussin
also left practice Friday with a hip injury.
Otherwise, here are some observations from the practice, which was the Bills' fifth of training camp:
Defensive tackle Kyle Williams, who has been held out of team drills early in training camp while he works his way back from Achilles surgery, saw some reps during 11-on-11 drills today, according to Joe Buscaglia of WGR 550.
After Marrone said Wednesday that he wasn't pleased with the results of the competition at left guard, Doug Legursky took more first-team reps on Friday, in place of Colin Brown, Buscaglia noted.
Wide receiver Kevin Elliott, who left Wednesday's practice with a shoulder injury, remained out of action on Friday, according to Mark Gaughan of the Buffalo News.
July, 31, 2013
7/31/13
12:22
PM ET
PITTSFORD, N.Y. -- The
Buffalo Bills
were back on the practice field Wednesday morning, holding their second full-padded session of training camp.
Passing along some observations:
Williams back, but does not participate
: Defensive end
Mario Williams
was back in uniform after leaving training camp to have his sore foot evaluated. Williams worked with the strength and conditioning staff on the sidelines, and did not participate in practice. Meanwhile, tight end
Scott Chandler
(ACL) and defensive lineman
Kyle Williams
(Achilles) continued to be held out of team drills. Head coach Doug Marrone said the team has built in rest days for Chandler, who had knee surgery in January.
[+] Enlarge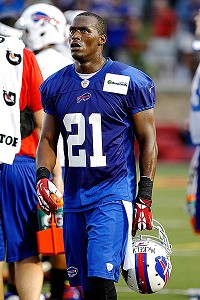 Kevin Hoffman/USA TODAY SportsBills coach Doug Marrone came away impressed with the play of defensive back Leodis McKelvin on Wednesday.
Rogers sits out; McKelvin gets bumped up
: Cornerback
Justin Rogers
was not in uniform on Wednesday after suffering a right hamstring injury in Tuesday's session. Marrone said after practice that Rogers will be out "for a short period of time." Rogers began training camp with the first team and was replaced by
T.J. Heath
on Tuesday. However, veteran
Leodis McKelvin
ran with the first team on Wednesday, with Heath and
Crezdon Butler
playing cornerback for the second group.
"He made a heck of a play on a comeback [pattern]," Marrone said of McKelvin after practice. "When you're out for that long, it takes some time. He's really coming along nicely. We're excited about that."
Elliott carted off
: Second-year receiver
Kevin Elliott
was carted off the practice field with a right shoulder injury. Elliott made an impressive diving catch during 11-on-11s against top cornerback
Stephon Gilmore
, but came down hard on his shoulder and looked to be in pain on the sideline. Elliott is the mix for a back-end roster spot.
Other injuries
: Marrone said a pair of running backs were hobbled with ankle injuries on Wednesday. Veteran
Tashard Choice
came up slow during a punt drill and talked to trainers, but later came back onto the field for 11-on-11 work. Meanwhile,
Zach Brown
suffered an ankle injury that Marrone said doctors will examine.
Manuel gets first-team action
: Rookie quarterback
EJ Manuel
ran the first-team offense during the initial 11-on-11 period of practice after spending most of his time with the second team to begin training camp. Veteran
Kevin Kolb
led the top group for the final two 11-on-11 periods. For the second consecutive practice, Manuel avoided making any critical mistakes while in the pocket, but looked to face more blitz pressures than he has in previous sessions.
Kolb was intercepted during an early 7-on-7 drill by Gilmore, who undercut rookie running back
Kendall Gaskins
on a short pattern. Kolb was later intercepted by safety
Da'Norris Searcy
on a pass intended for rookie receiver
Marquise Goodwin
, and also had some throws that sailed behind receivers
T.J. Graham
and
Robert Woods
. On the plus side, it was Kolb who lofted a well-thrown ball to Elliott on the play where he was injured.
Dime package gets work
: The Bills had six defensive backs on the field for a stretch of their final 11-on-11 period. Safety
Duke Williams
was one of the players coming on, with
Bryan Scott
replacing
Nigel Bradham
at linebacker. Along the defensive line,
Manny Lawson
and
Alex Carrington
provided the pass rush. On the second unit, rookie
Nickell Robey
manned the slot, intercepting quarterback
Jeff Tuel
late in the period.
Punters look even
: The punt unit returned to action Wednesday, with
Shawn Powell
and
Brian Stahovich
both impressive during both special-teams periods. However, returners had issues during the first period, with Woods and Graham both muffing catches, drawing the ire of special-teams coordinator Danny Crossman.
Good day at the office for
: McKelvin. The changes at cornerback continue for the Bills, and McKelvin was the latest to take reps with the first team. He didn't disappoint, showing tight coverage and breaking up a throw from Kolb to Woods during 11-on-11s.
Bad day at the office for
: Kolb. It's tough to compare him side-by-side to Manuel since Kolb is usually seeing the best unit from the defense, but Kolb continues to struggle at times with his accuracy and decision making. He's in the spotlight given the quarterback situation, so his mistakes are more magnified than those of other players.
What's next
: Players are off Thursday before returning to practice Friday morning from 8 to 11:10.