November, 18, 2009
11/18/09
3:59
PM ET
Just maybe,
Buffalo Bills
owner Ralph Wilson will make the out-of-character hire his fans have been begging for.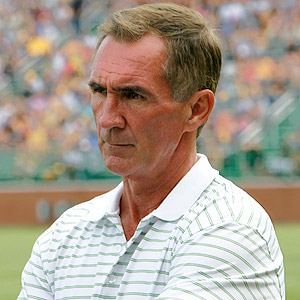 AP Photo/Keith SrakocicMike Shanahan took this season off from football after being fired by the Denver Broncos.
ESPN's Adam Schefter reports the
the Bills have contacted Mike Shanahan
about being their next head coach and are in the process of arranging to meet.
The Bills on Tuesday fired Dick Jauron and named defensive coordinator Perry Fewell the interim coach.
Shanahan won a pair of Super Bowls with the
Denver Broncos
. He had two losing records in his 14 seasons with the Broncos. His career record, including two years with the
Oakland Raiders
, is 146-98.
The Broncos fired Shanahan for finishing 8-8 last year and failing to make the playoffs despite a 4-1 start and being three games above .500 in mid-December. He decided to take a year off to contemplate his options but stayed around the game. He was Bill Belichick's guest at
New England Patriots
training camp this summer.
Shanahan would be an unusual hire for the Bills because Wilson has a history of hiring up-and-comers or retreads who don't command a big salary or organizational control. Shanahan, who would have his pick of most openings for 2010, would expect big money and would insist on being the loudest voice within the organization.
Schefter also mentions former
New Orleans Saints
and
St. Louis Rams
head coach Jim Haslett and former
San Diego Chargers
head coach Kevin Gilbride as possibilities. Haslett played linebacker for the Bills. Gilbride is a former Bills offensive coordinator.
Schefter, a former Broncos beat writer for the Denver Post, co-wrote a book "Think Like a Champion" with Shanahan in 1997.
February, 25, 2009
2/25/09
4:20
PM ET
| | |
| --- | --- |
| | |
| | Andy Marlin/Getty Images |
| | After success in Baltimore, Rex Ryan takes over the reins in New York. |
Posted by ESPN.com's Tim Graham
INDIANAPOLIS -- Rex Ryan doesn't hear much about nepotism these days. His work has spoken for itself too long and too loudly for such mockery.
He's head coach of the New York Jets, thank you, after establishing the Baltimore Ravens as an elite defense and then maintaining it for nearly a decade.
"By me circling back here, busted down to college football and all that kind of stuff, I think I made my mark," Ryan reflected last week at his first NFL scouting combine as a head coach. "I know I earned it."
A dozen years ago, however, his coaching career was being defined by repeated accusations he and his twin brother, Rob, didn't belong in the NFL and wouldn't have been there if not for their father.
Buddy Ryan gave Rex and Rob their first NFL coaching jobs, hiring them as defensive assistants with the Arizona Cardinals. Neither of the twins had been a full-time coach at the Division I-A level, let alone in the pros.
What happened in Arizona wasn't pretty.
"That was brutal," Rex Ryan said last week with a weary smile. "We couldn't stop a nosebleed."
Arizona quickly grew tired of Buddy's act. He was brash before he arrived. Punching fellow coaches, public insults, bounties ... that behavior can be tolerated if you win.
But the Cardinals were losers. The Ryan boys came under fire. They were portrayed as symbols of their father's failure.
As for Ryan, his blatant nepotism is finally catching up to him, and those close to the situation now realize it. -- Atlanta Journal Constitution, Nov. 26, 1995
Buddy Ryan lasted two seasons as Arizona's head coach and general manager. He was fired, and the fact his sons were on the staff played a significant role. He also was criticized for signing tackle Larry Tharpe, whose agent was Ryan's oldest son, Jim.
"It was a nasty time because one bullet got all three of you," Rex Ryan said. "We're all gone. I think dad knew that was a possibility when he hired us.
"The first year, when we had the best defense in the National Football League, he really never heard a whole lot about nepotism, but the next year you did."
[Ryan] hired two clueless assistants who didn't have any pro coaching experience -- sons Rex and Rob. Players fought each other in locker rooms before games. Buddy's defense was 26th in the 30-team league, his offense was 27th in scoring. The only thing he led the league in was arrogance. -- Washington Post, Dec. 28, 1995