June, 18, 2014
Jun 18
11:00
AM ET
Veteran defensive tackle
Kevin Williams
told ESPN.com NFL Nation Vikings reporter Ben Goessling that he
took a little less money
to sign with the
Seattle Seahawks
than the
New England Patriots
. With the specifics of Williams' contract now known, there is some added context on how far the Patriots were willing to extend financially.
Williams
Via colleague Field Yates, Williams' deal breaks down this way:
Term/total value:
One year, $2.1 million
Signing bonus:
$250,000
Base salary:
$1.5 million ($250,000 guaranteed)
Incentives:
Up to $350,000 in per-game roster bonuses
With Williams electing to sign in Seattle, here is a snapshot look at the Patriots' defensive tackle depth chart, with a quick-hit thought on each player:
Vince Wilfork (6-2, 325):
Captain and 11-year veteran is making progress in his return from a ruptured Achilles last September. Looks to be moving well.
Tommy Kelly (6-6, 310):
Another 11-year veteran, he took another step in his return from a torn ACL by participating in 11-on-11 drills Tuesday.
Dominique Easley (6-2, 288):
First-round draft choice is coming off two torn ACLs over the past 22 months, suffered in college, and has yet to take the field this spring.
Chris Jones (6-1, 309)
Second-year player was claimed on waivers last year and led all Patriots defensive tackles in snaps played in 2013. Best when penetrating.
Sealver Siliga (6-2, 325):
After a slow start to his career, the run-stuffer looks like he has built some momentum as a developmental prospect behind Wilfork.
Armond Armstead (6-5, 305):
The former Southern Cal and Canadian Football League standout has been sidelined for most of spring camps after missing all of last season with an infection.
Joe Vellano (6-2, 300):
Hard-working second-year player from Maryland is a lunch pail type of guy who plays with top effort.
Marcus Forston (6-3, 305):
Second-year player has spent multiple seasons on the practice squad and has filled in when injuries hit.
L.T. Tuipulotu (6-1, 305):
Undrafted free agent from Utah is on the developmental track.
Seali'i Epenesa (6-1, 310):
Undrafted free agent from UCLA was signed on Tuesday.
December, 1, 2010
12/01/10
3:20
PM ET
ORCHARD PARK, N.Y. -- What is
Kyle Williams
?
Is he a nose tackle? Is he a defensive end?
Buffalo Bills
head coach Chan Gailey balks at categorizing him. Williams himself can't really declare either.
One thing's for sure: Williams is a quality defensive lineman wherever he lines up and deserves to be selected for the Pro Bowl.
[+] Enlarge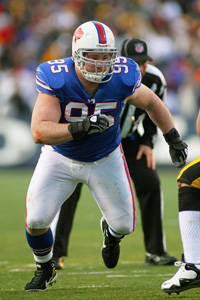 Rick Stewart/Getty ImagesKyle Williams has taken the Bills' transition to the 3-4 in stride, collecting five sacks this season.
"Kyle's not a typical anything," Gailey said. "He really isn't. He's an amazing guy. He's got unusual quickness, unusual competitiveness, unusual strength.
"He just doesn't have the body that everybody thinks is a typical noseguard. Everything else is typical noseguard except faster."
Williams officially is listed as a nose tackle. He leads the Bills and all NFL nose tackles with five sacks, an unusually high amount for that position. Nose tackles often come off the field on passing downs. He has recorded a team-high 13 tackles for loss.
Tackles aren't an official stat, but in-game statisticians say Williams leads all NFL defensive linemen with 60, while the Bills' coaching film credits him with 72.
Versatility has been Williams' biggest asset. He has lined up over the center, outside the tackle and every gap in between. He'll need to be even more adaptable with defensive end
Dwan Edwards
likely out with a hamstring injury for Sunday's game against the
Minnesota Vikings
.
"You can either play football, or you can't," Williams said, a comment that might appear arrogant in print but comes off humble in his Louisianan twang. "If you allow me to go out and just play and get after guys, I don't really care what we're doing. I could get the job done no matter what they're asking me to do."
Williams wasn't sure what would happen when the Bills' new coaching staff converted them into a 3-4 defense.
He had a great 2009 season. In just 14 games he collected a career-high four sacks as a 4-3 defensive tackle. FootballOutsiders.com credited him with nine hits and 13 hurries. His nine hits ranked fourth among all NFL defensive tackles behind
Darnell Dockett
,
Kevin Williams
and
Cory Redding
. Dockett and Kevin Williams were Pro Bowlers last year.
Another remarkable stat from Football Outsiders: Kyle Williams made 8.6 percent of the Bills' defensive plays (tackles, pass deflections, interceptions, fumbles forced and fumble recoveries) in his 14 games last year. No other NFL defensive tackle made that many.
"I didn't know how [the new 3-4 defense] was going to look as far as what they were going to be asking me to do," Kyle Williams said. "I knew that I could be productive no matter what they were asking me to do.
"They tell me what they want me to do and how they want me to play certain things. Then there's other defenses that we're in and they just want me to go out and just play and make some things happen."
Williams has been generating some Pro Bowl buzz lately. That's tough for a defensive lineman to do on a 2-9 club with the 26th total defense and absolute worst run defense.
"It would be a great honor," Williams said. "but at this point, the way the year's gone for us, it'd be a bittersweet deal. I'd much rather get attention being on a team that's going into a playoff run or that's fighting for the division lead.
"But I'm going to kind of do what I've always done. I'm going to go out and practice hard. I'm going to play hard. If anything like that happens, it happens. I can't control that. All I can control is how I work and trying to beat the Vikings this week."
October, 11, 2010
10/11/10
10:50
PM ET
EAST RUTHERFORD, N.J. -- Halftime notes from the Meadowlands, where the
New York Jets
are beating the
Minnesota Vikings
9-0:
The game was delayed by lightning in the area. The rain lessened until late in the second quarter, and then the skies opened like mad.
ESPN Stats & Information pointed out on the "Monday Night Live" chat (still live through the end of the game) that Mark Sanchez and Michael Vick are the only two NFL quarterbacks with at least 25 attempts and no interceptions this season.
The Vikings' offense doesn't look any different with Randy Moss running deep. Brett Favre has targeted Moss twice, but they failed to connect until there was 4:30 left in the second quarter. Moss has just that one grab for 7 yards.
Favre's stat line: 3-of-7 for 31 yards, two sacks for 16 yards and a lost fumble.
The Jets' defense has lived up to its billing. They have held the Vikings to 51 net yards and no third-down conversions.
Rex Ryan can't be happy with the penalties. The Jets have been flagged five times for 50 yards already.
Jets running back LaDainian Tomlinson continues to amaze. He is outperforming Vikings star running back Adrian Peterson so far. Tomlinson has 61 yards on 10 carries against the league's ninth-rated run defense. He also has four catches for 16 yards. Peterson has eight carries for 34 yards and no receptions.
Jets receiver Santonio Holmes hasn't made a huge impact, but he has come close. Sanchez has tried to find him deep a few times, but underthrew him on what could have been a 44-yard touchdown up the left sideline. Vikings cornerback Asher Allen broke up a potential long gain down the right sideline.
On the "Monday Night Live" chat, we wondered how many future Hall of Famers are on the field in this game. Tomlinson, Jason Taylor, maybe Darrelle Revis and Nick Mangold for the Jets ... Favre, Moss, Peterson, Steve Hutchinson, maybe Jared Allen and Kevin Williams for the Vikings ... Did we miss any?
August, 1, 2010
8/01/10
3:40
PM ET
A few AFC East players tested positive for bumetanide
in 2006 and 2007, but were improperly granted clemency by the NFL's drug-testing administrator, court records obtained by St. Paul Pioneer Press reporter Brian Murphy suggest.
The failed tests occurred before the league cracked down on StarCaps, the diuretic that led to the suspensions of
Minnesota Vikings
defensive tackles
Pat Williams
and
Kevin Williams
.
Deposition transcripts reveal
Miami Dolphins
tackle
Vernon Carey
,
New York Jets
right tackle
Damien Woody
(with the
Detroit Lions
at the time), former
New England Patriots
fullback
Patrick Pass
, former Patriots defensive end
Marquise Hill
, former
Buffalo Bills
cornerback
Nate Clements
, former Bills running back Damion Shelton and former Bills and Patriots receiver
Jonathan Smith
also failed drug tests but were exonerated.
All of the positive tests were linked to StarCaps. The diuretic contained bumetanide, a substance banned by the NFL because it's a common steroid-masking agent because it dilutes urine.
The Pioneer Press story explained Dr. John Lombardo, who oversaw the NFL's testing procedures, exonerated the players because they told him they ingested bumetanide unwittingly. But the NFL does not accept ignorance as a defense under its drug policy.
When Woody tested positive in August 2007 but was not referred to the league for discipline, the deposition stated NFL vice president Adolpho Birch confronted Lombardo.
"I essentially said I didn't feel comfortable setting the score without warning players they were going to be disciplined for diuretics," Lombardo said in his deposition.
"We knew about this StarCaps stuff, and so I think at that point I probably just explained to [Lombardo] 'What are you talking about?' " Birch said in his deposition. "The policy is that diuretics, if this is the result of inadvertent use through a supplement, that's a violation under the policy as clear as day and I don't understand what was going on."
Pat and Kevin Williams are suing the NFL to have their four-game suspensions overturned.
March, 10, 2010
3/10/10
9:38
PM ET
The
Buffalo Bills
have been slow to act in free agency. That's not unusual for them, and new general manager Buddy Nix has stated his intention to build through the draft.
But this year the Bills have many holes to fill. They're overhauling their defense, converting to a 3-4. Suitable personnel is missing.
The Bills finally might act on their defensive conversion. Jason La Canfora of NFL Network reports the Bills will host defensive tackle
Jimmy Kennedy
on Thursday.
Can the 6-foot-5, 320-pound Kennedy handle the Bills' opening at nose tackle?
The Bills would have to project how he'd look at nose tackle because the four teams Kennedy has played for operate out of 4-3 defenses.
Kennedy's career has been a disappointment. The
St. Louis Rams
drafted him 12th overall in 2003. He has been with five teams (released by the
Denver Broncos
in 2007 before getting into a game) and has started only 31 games.
He is coming off a decent season with the
Minnesota Vikings
. They picked him up in late 2008 as an emergency replacement when the Williams Wall (defensive tackles
Pat Williams
and
Kevin Williams
) faced suspensions for violating the NFL's policy on performance-enhancing substances.
Kennedy was the primary backup in 2009 and, as NFC blogger Kevin Seifert writes, "made more plays than you would think, but probably had something to do with at least one Williams and
Jared Allen
usually being on the field with him."
Kennedy recorded 18 tackles, three sacks, four tackles for losses and seven hurries in the regular season. In three postseason games, he notched three tackles and one sack.
April, 28, 2009
4/28/09
12:29
PM ET
Posted by ESPN.com's Tim Graham
The Buffalo Bills are getting dragged into a federal lawsuit against the NFL, reports Brian Murphy of the St. Paul Pioneer Press.
Subpoenas are expected in a suit that aims to overturn four-game suspensions given to Minnesota Vikings defensive linemen Pat Williams and Kevin Williams for violating the league's substance-abuse policy.
The Williams Wall and three New Orleans Saints players were suspended last year after testing positive for the banned substance Bumetanide, an unlisted ingredient in the dietary supplement StarCaps.
The players insist they unknowingly ingested the banned substance and claim the NFL was complicit because it knew StarCaps would cause a positive test but didn't warn anybody.
To buttress the case against the NFL, attorney Peter Ginsberg alleges one of its franchises approved the product by making it available at the facility and plans to subpoena the Bills for documentation. Pat Williams used to play for the Bills.
Murphy writes that at a hearing last week Ginsberg contended StarCaps were "freely distributed" in the Bills' locker room and that "a number" of Bills used them.
The players insist they unknowingly ingested the banned substance and contend the NFL failed to notify them.
"We have never heard these allegations, and we are not aware of anyone representing the Bills distributing StarCaps, an over-the-counter weight-loss supplement, to players," Bills spokesman Scott Berchtold said in a statement to the Pioneer Press. "These allegations were made by an attorney and not by any players."