AFC East:

Kheeston Randall
September, 2, 2013
9/02/13
11:00
AM ET
The 2013 NFL regular season is upon us. Here is a look at whose stock is rising and falling for the
Miami Dolphins
:
Falling
1. Secondary depth:
Miami made some curious decisions with its secondary over the weekend, keeping reserve corner
R.J. Stanford
and seventh-round pick
Don Jones
on the 53-man roster. I didn't think either player was impressive in training camp or the preseason. This makes you question the health of rookie corners
Will Davis
and
Jamar Taylor
, who were drafted to provide immediate depth. Davis has been out for more than a week with a leg injury, and his status for Week 1 is unknown. Taylor has returned from his double hernia and groin strain, but he still doesn't look 100 percent heading into the regular season.
2. Kheeston Randall, defensive lineman:
Randall was not a name I considered when the Dolphins had to trim their roster Saturday night. For starters, he had a solid preseason and training camp. Second, he isn't practice-squad eligible, which means the Dolphins had no chance of reclaiming him after he was cut. But Miami had a lot of depth on its defensive line, and perhaps Randall won't be missed. Still, he was a solid rotational player who lost his job.
3. Receiver depth:
Miami kept just four receivers on its 53-man roster. That's certainly a small number entering Week 1. The Dolphins cut bubble players Marvin McNutt and Chad Bumphis, either of whom could have provided depth as the fifth receiver. But Miami runs a lot of three-receiver sets. Perhaps tailback and kick returner
Marcus Thigpen
could be the fifth receiver if the Dolphins fail to find another receiver this week via waivers.
Rising
1. Ryan Tannehill, quarterback:
It was a stellar and productive preseason for Miami's starting quarterback. Tannehill played in four exhibition games and had a 98.6 passer rating. He threw for 377 yards, three touchdowns and zero interceptions, and completed 60.7 percent of his passes. It's unlikely Tannehill will keep a 98.6 passer rating throughout the course of a 16-game regular season. But the Dolphins should be pleased with what they saw from their second-year quarterback. He at least has good momentum heading into Sunday's game against Cleveland.
2. Pat Devlin, quarterback:
The Dolphins' third quarterback was the biggest name on the team's bubble. It turns out Devlin survived the cuts on Saturday after a decent performance in the preseason finale against New Orleans, throwing for 259 yards and two touchdowns along with two interceptions. He has a lot to work on, but Miami's coaching staff saw enough in Devlin to keep him around as the developmental quarterback.
3. Dion Jordan, defensive end:
Jordan has been on the mend from the moment Miami drafted him No. 3 overall last April. But he seems optimistic about his shoulder recovery heading into Week 1 and could be a factor to start the regular season. Jordan re-injured his shoulder in the second preseason game against Jacksonville. He finally returned to practice last week, and is expected to have another full week of practices coming up. Barring any setbacks, Jordan could make it back in time for the games that matter. He would be another threat for Miami's defense.
September, 1, 2013
9/01/13
2:57
PM ET
The
Miami Dolphins
lost one of their top practice-squad candidates Sunday to an AFC East rival. The
New England Patriots
claimed former Dolphins defensive lineman A.J. Francis off the waiver wire,
according to Francis' Twitter account.
Francis was an up-and-coming defensive lineman for Miami, which had a lot of depth at the position. The Dolphins released both Francis and
Kheeston Randall
. It shouldn't take long for Randall to also find work.
New England, the reigning AFC East champs, is looking for big bodies and more youth up front on defense. The Dolphins were the last team to announce their roster cuts, but that still didn't stop a division rival from poaching at least one player.
September, 1, 2013
9/01/13
10:18
AM ET
MIAMI -- The
Miami Dolphins
made their roster cuts to 53 players
on Saturday evening
. In all, I correctly predicted 50 out of 53 players
on Friday
, which is a stellar 94.3 percent.

Here is a look at the three calls that I missed:
No. 1:
QB
Pat Devlin
Walker's bad pick:
WR
Marvin McNutt
Analysis:
Whether to keep or release Devlin was probably the toughest decision Miami's front office and coaching staff had to make. I predicted Devlin's release because Miami had two good quarterbacks (
Ryan Tannehill
and
Matt Moore
), and keeping him would impact depth at another position. The Dolphins went the other way and it impacted depth at wide receiver. Miami only has four receivers after cutting McNutt, who had a solid preseason. Maybe you can count five if you consider tailback and return specialist
Marcus Thigpen
as a legit slot option. The Dolphins run a lot of three-receiver sets and probably will add another player at that position in the coming days.
No. 2:
DB
Don Jones
Walker's bad pick:
DT
Kheeston Randall
Analysis:
This one is a head-scratcher. Nothing against Jones, but Miami's seventh-round pick was my biggest surprise to make the 53-man roster. In my opinion, Jones didn't show enough in training camp or the preseason to get the nod, especially at the expense of a good backup defensive lineman like Randall. Jones is a draft pick, and that always carries weight with general manager Jeff Ireland. It's early for Jones. Maybe he eventually turns into a player. But Randall is a good NFL player now and should find work soon.
No. 3:
LB
Josh Kaddu
Walker's bad pick:
LB
Austin Spitler
Analysis:
This one could have gone either way, especially since Kaddu and Spitler are both backup linebackers. Miami went for the younger player instead. I thought Spitler's experience and added value on special teams would be enough to get one of the final spots. But an argument could be made for either player. No complaints here with the Dolphins choosing Kaddu. However, all three players who made it are on the hot seat considering the Dolphins are expected to make waiver claims.
September, 1, 2013
9/01/13
5:00
AM ET
Quick-hit thoughts on the NFL and the
New England Patriots
:
1. The Patriots kept just two quarterbacks on their initial 53-man roster, marking the fourth time in the past five years they have done so. How does that compare to the other teams in the NFL? By my count, here is the breakdown for 2013 after Saturday's cut-downs:
Four quarterbacks: three teams
Three quarterbacks: 15 teams
Two quarterbacks: 14 teams
The next step that will be interesting to monitor is how many of the 14 teams with just two quarterbacks add a third to their practice squad.
2. With all seven draft choices making the Patriots' initial roster, plus five undrafted players, that initially gives the club 12 of its 51 spots filled by rookies. Add in six draft picks from last year still on the roster, plus 2012 undrafted running back
Brandon Bolden
, and that's 19 players within their first two years in the NFL (35 percent of a 53-man roster). The Patriots have a solid veteran core, and trend older at some positions (defensive tackle, for example), but all in all, this is a very young team.
3. Let's play the armchair-general-manager game for the Patriots when it comes to their defensive tackle need and see if we can hit the bull's-eye. Here were a few players at the position we could envision being of interest to the Patriots on the waiver wire:
Marvin Austin (Giants):
The second-round pick out of North Carolina in 2011 hasn't panned out, as his rookie season was wiped out by a torn pectoral muscle and he didn't break through last year. He is 6-foot-2 and 312 pounds.
As ESPN Giants reporter Dan Graziano noted
, the Giants are pretty deep at defensive tackle, so part of Austin's release was a numbers game.
[+] Enlarge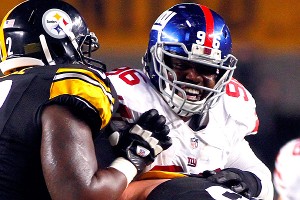 Justin K. Aller/Getty ImagesMarvin Austin, a second-round pick in 2011 who never found a groove with the Giants, could help New England at defensive tackle.
Kheeston Randall (Dolphins):
The 6-foot-5, 309-pounder who played collegiately at Texas appeared in 12 games for Miami last season. He was a 2012 seventh-round pick and has some physical traits (e.g. long arms) that might have some appeal to New England.
Adam Replogle (Falcons):
The undrafted rookie is 6-3 and 310 pounds, and started the final 47 games of his collegiate career at Indiana, where he was known for his work ethic and reliability. Patriots defensive line coach Patrick Graham had worked him out before the draft.
Torell Troup (Bills):
He has battled injuries in the past but has some physical traits (6-3, 327) that could be appealing as a bigger-bodied backup to
Vince Wilfork
and
Tommy Kelly
. Bill Belichick got to know him well on his annual pre-draft scouting trip in 2010. Troup, who played at Central Florida, was picked by the Bills in the second round that year. He has some partially guaranteed money in his contract, so it might be smarter, if interested, for the Patriots to see if he clears waivers and then bring him in.
4. While the Patriots are extremely thin at defensive tackle, which they figure to address with one of their open roster spots, it led us to check in on former New England tackles
Kyle Love
and
Brandon Deaderick
in Jacksonville. Both made the Jaguars' initial 53-man roster and are backups to
Sen'Derrick Marks
and
Roy Miller
, who were signed as unrestricted free agents this offseason. Deaderick missed the first two games of the preseason with a groin injury, but is now healthy. Looking back, it's only natural to wonder if the Patriots have any regret in parting ways with Love and Deaderick, as they created a void without having the reinforcements in place. In fairness, they were counting on Armond Armstead to play an integral role, but he later landed on the reserve/non-football illness list (he's out at least the first six weeks of the season) after undergoing surgery for an infection.
4b. One more check-in: Patriots 2009 second-round draft choice
Ron Brace
didn't make the initial 53-man roster with the Redskins. Given the depth questions at defensive tackle, would the Patriots consider bringing him back? Our guess: They probably look elsewhere.
5. Given the makeup of their initial roster -- with six receivers, five running backs, one fullback and three tight ends (one of whom,
Rob Gronkowski
, won't be ready for the season opener) -- the Patriots figure to trend more toward three-receiver and two-back sets than multiple-tight-end packages early in the season. So while this is a team that has a reputation as a two-tight-end offense, which goes back to 2011 with the dynamic duo of Gronkowski and
Aaron Hernandez
, the early part of this season is likely to have a different look. For the Sept. 8 opener at Buffalo, the three-receiver grouping might turn out to be the best matchup anyway, as the Bills are hurting at cornerback and it could hit their stress points from a depth perspective.
6. With
Elvis Dumervil
now in Baltimore, and
Von Miller
facing a six-game suspension to open the year, what's left for the Broncos at defensive end? The free-agent signing of veteran
Shaun Phillips
looks more significant now, as Denver will count on him to help fill the void along with
Derek Wolfe
(2012 second-round pick out of Cincinnati) and
Malik Jackson
(2012 fifth-round pick out of Tennessee). One lingering question is if the Broncos will be able to generate enough pass rush. As for Phillips, he jumped to the Broncos after spending the first nine years of his career with the Chargers, putting him in almost the same position as linebacker
Daryl Smith
, who signed with the Ravens after spending the first nine years of his career with the Jaguars. Both are stepping into important roles -- Phillips helping fill the Miller void and Smith part of the puzzle to account for Ray Lewis' absence -- which is a neat storyline for the Denver/Baltimore NFL season opener.
7. When it comes to the Patriots' rookie receivers, I think the pace of their progression goes in the reverse order of how they arrived: Undrafted
Kenbrell Thompkins
is furthest along, followed by speedy fourth-round pick
Josh Boyce
(Texas Christian) and then second-rounder
Aaron Dobson
(Marshall). The thought occurred to me as Thompkins was given the veteran treatment in the second half of Thursday's preseason finale, watching from the sideline as Boyce and Dobson were still on the field playing.
8. With news that the Bills signed center
Eric Wood
to a long-term contract extension, it served as a reminder that he was a player I believe the Patriots had targeted as one of their ideal choices in the 2009 draft. That was the year the team traded down twice -- from 23 (
Michael Oher
) to 26 (
Clay Matthews
) to 34, where they selected safety
Patrick Chung
. Had Wood been on the board at 34, I think he would have received strong consideration. Had they stuck at 26, maybe they would have taken him there. Not that the Patriots are currently hurting at center, as
Ryan Wendell
has developed into a solid starter, but there was a lot of smoke around the Patriots and Wood that year.
9. The Raiders did what I thought the Patriots might by keeping two punters on their initial 53-man roster, as they view both
Chris Kluwe
and
Marquette King
as assets. The thinking, it appears, is that maybe the Raiders could trade one of them for a draft pick, although it's hard to imagine that unfolding. As for New England, rookie
Ryan Allen
was so impressive that the Patriots didn't think he would clear waivers so they could bring him back on the practice squad (I thought that maybe by waiting a week or two, it would have a better chance of happening). So instead of keeping two, they just kept Allen and said goodbye to
Zoltan Mesko
, who should be punting somewhere in the NFL this season. He didn't lose the job as much as Allen won it.
10. Patriots players return to the practice field today and tomorrow. They were off Saturday, as owner Robert Kraft hosted his annual before-the-season party for players and their families on Cape Cod. The Patriots will also practice Monday, before a day off Tuesday.
August, 31, 2013
8/31/13
9:30
PM ET

Most significant move:
The Dolphins had several tough decisions to make at the bottom of their roster. Perhaps the biggest call was whether to keep three quarterbacks -- and Miami opted Saturday to keep third-stringer
Pat Devlin
. Devlin played nearly all of Miami's fifth preseason game against the
New Orleans Saints
and threw for 259 yards, two touchdowns and two interceptions. Devlin showed some good and some bad, and it was just enough.
Several other bubble players didn't make the team. Wide receiver
Marvin McNutt
and defensive linemen
Kheeston Randall
and
A.J. Francis
were all in the running for the 53-man roster; all three are strong candidates for Miami's practice squad. There's also the chance that any of the players cut will be scooped up by other teams. That probably explains why the Dolphins were the last NFL team to release their list of cuts Saturday night -- there had to be some gamesmanship involved.
Close calls:
Several Dolphins who made the 53-man roster won't be able to rest easy. Cornerback
R.J. Stanford
, defensive back
Don Jones
, tight end
Michael Egnew
and offensive tackle
Will Yeatman
are among several bubble players who still have jobs.
For Egnew and Stanford in particular, injuries during the course of training camp and the preseason helped their case. The Dolphins might not be finished adding players this weekend, however.
What's next:
Like most teams, Miami will examine the waiver wires closely. Miami spent $200 million in free agency this offseason but is far from a perfect team. The Dolphins can use additional depth at positions such as offensive line, tight end and now wide receiver. By cutting McNutt and
Chad Bumphis
, the Dolphins only have four receivers on their roster. That will change soon. Miami runs a lot of three-receiver sets and needs more players at the position.
It's also time for Miami to set its sights on a Week 1 road game against the
Cleveland Browns
. The Dolphins have playoff aspirations this season, but they must win their first road game to set the tone in 2013.
Dolphins cuts:
G
Chris Barker
, C
Sam Brenner
, WR Chad Bumphis, WR
Keenan Davis
, DT
A.J. Francis
, RB
Jonas Gray
, S
Keelan Johnson
, S
Jordan Kovacs
, T
Andrew McDonald
, WR Marvin McNutt, TE
Kyle Miller
, DE
Tristin Okpalaugo
, CB
Julian Posey
, CB
De'Andre Presley
, DT Kheeston Randal
l
, DT
Tracy Robertson
, LB
Lee Robinson
, LB
Austin Spitler
, WR
Brian Tyms
, OT
Jeff Adams
(waived/injured), QB
Aaron Corp
(waived/injured), LB
Antwan Applewhite
(terminated contract).