AFC East:

Kordell Stewart
January, 5, 2011
1/05/11
8:23
PM ET
The
Tennessee Titans
are parting ways with quarterback
Vince Young
, a Heisman Trophy finalist, rookie of the year and two-time Pro Bowler who apparently lost a battle of wills with head coach Jeff Fisher.
The
Titans announced they will either trade or waive Young
before next season. They must wait until Feb. 7 to waive him. He can't be traded until March 4. Young reportedly has a $4.25 million roster bonus due March 10.
[+] Enlarge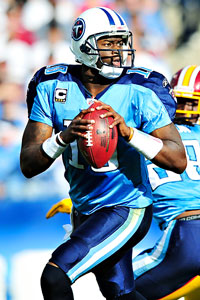 Grant Halverson/Getty ImagesVince Young could be a good fit in either Miami or Buffalo.
Young won't be unemployed next season. Could he find a home in the AFC East?
We can rule out the
New England Patriots
and probably the
New York Jets
, too.
Young could be considered an upgrade over
Mark Sanchez
, but Sanchez is the Jets' franchise quarterback. The Jets also have a wildly uncertain offseason ahead with so many soon-to-be free agents and high-priced older players.
But the
Miami Dolphins
and
Buffalo Bills
look like possible landing spots.
The Dolphins are down on
Chad Henne
, their supposed quarterback of the future who was benched during the season and never generated faith within the organization. In a radio interview Tuesday, star receiver
Brandon Marshall
criticized Henne's unwillingness to challenge defenses.
Young would provide the Dolphins with a totally new dynamic -- a mobile quarterback with a winning track record. Young not only would stimulate Miami's disenchanted fans, but also a stagnant team that ranked 30th in points, 21st in total offense, 21st in rushing offense and 16th in passing offense.
But the Dolphins can't make any decisions about whether Young would be a fit until they determine what to do with head coach Tony Sparano. He's still in place, but owner Stephen Ross reportedly has been flirting with Stanford head coach
Jim Harbaugh
and former
Pittsburgh Steelers
coach Bill Cowher.
The Bills would be another intriguing possibility. Head coach Chan Gailey is a big fan of incumbent quarterback
Ryan Fitzpatrick
, but Gailey has had success in the past with running quarterbacks.
Gailey was the Pittsburgh Steelers' offensive coordinator when
Kordell Stewart
was there and impressively used
Tyler Thigpen
while the
Kansas City Chiefs
' play-caller.
Plus, Bills owner Ralph Wilson isn't averse to chasing a big name. The Bills pursued
Michael Vick
before the 2009 season, according to Vick's adviser, Tony Dungy.
Then again, with the third pick in April's draft, the Bills almost certainly will have the option to select Auburn quarterback
Cam Newton
if they wanted him badly enough.
Would you like to see Young wearing your team's colors in 2011?
October, 29, 2010
10/29/10
1:32
PM ET
The
New York Jets
are coming out of their bye and as rested as they're ever going to be, while the
Green Bay Packers
already have 10 players on injured reserve. That gives ESPN analysts Mark Schlereth and Kordell Stewart confidence in picking the Jets to win Sunday at the Meadowlands.
August, 24, 2010
8/24/10
10:13
AM ET
The
Miami Dolphins
unleashed their Wildcat offense out of desperation.
Trying to build something under new head coach Tony Sparano after a 15-loss season, they opened the 2008 campaign 0-2. Their passing game couldn't stretch the field, but they did boast a deep and talented backfield.
If only they could figure out a way to utilize multiple running backs on a given play ...
Sound familiar,
Buffalo Bills
fans?
New head coach Chan Gailey has a quarterback known as Captain Checkdown, a stable of running backs and nothing to lose. He also isn't afraid to get creative. After all, he helped create the "Slash" role for Kordell Stewart with the
Pittsburgh Steelers
.
Gailey was asked Monday whether the Wildcat was possible in Buffalo.
"Oh, yeah," Gailey replied. "We consider everything. We're not so polished in one area that we can stay in that and beat people. We're going to have to consider everything."
In explaining his Wildcat philosophies, however, Gailey raised an important point that would apply not only to the Bills, but also any team interested in running the specialty offense, which features speed motion and a direct shotgun snap to a running back.
"Wildcat is an interesting proposition," Gailey said. "I don't know how long that thing will last if you don't throw out of it. You have to be able to throw out of that formation to make it last because pretty soon they're going to put everybody up there on defense.
"Defensive coaches are catching up slowly but surely. They'll get there. They're a smart group. You have to be able to have some diversity out of it in order to make something like that work."
Another significant problem for Buffalo -- and a major difference from Miami's situation in 2008 -- is they might not have the offensive line to pull it off. While a passing component is important, the Wildcat is based on a nasty ground attack. When the Dolphins relied on it in 2008, they often put tackles
Jake Long
and
Vernon Carey
next to each other on an unbalanced line.
Nonetheless, Gailey's comments got me thinking about the backgrounds of Wildcat-style playmakers around the AFC East.
Fred Jackson
and
Marshawn Lynch
each have thrown one pass in the NFL and it has gone for a touchdown. But the prime candidate to be a Wildcat threat is rookie
C.J. Spiller
, who possesses a combination of elusiveness and, apparently, an arm. Spiller threw a pair of touchdown passes at Clemson.
The
New York Jets
have a pair of threats. They've lined up running back
LaDainian Tomlinson
(seven career NFL touchdown passes) and receiver
Brad Smith
(played quarterback at Missouri)
in Wildcat roles at training camp
.
The
New England Patriots
haven't dabbled much in the Wildcat for a couple of obvious reasons. They don't seem to have a versatile enough running back, and it makes little sense to remove the ball from
Tom Brady
's hands even for a play or two.
But the Patriots could get tricky with receiver
Julian Edelman
, an option quarterback at Kent State. He was more dangerous as a runner than he was as a passer, but so is
Ronnie Brown
. The threat of being able to do both is enough to keep a defense honest, which was Gailey's point.
"You're trying to create some kind of diversion for the defense so that they don't know where the ball is going all the time," Gailey said. "If you can do that, you've got a chance to create more open spaces for the guy that does have the ball, and hopefully they don't know who has it all the time."
July, 21, 2010
7/21/10
9:27
AM ET
The
Buffalo Bills
have three identifiable running backs on their roster: a 2008 Pro Bowler, a 1,000-yard rusher last year and the ninth overall draft pick in 2010.
With such talent in the backfield, folks have wondered how new head coach Chan Gailey will delegate the touches among
Marshawn Lynch
,
Fred Jackson
and
C.J. Spiller
.
Those who assume Gailey will spread around carries with a semblance of equity shouldn't be so sure.
In fact, if Gailey doesn't designate a workhorse and ride him hard, it would be the first time he declines to do so since his rookie season as an offensive coordinator in 1988.
In an ESPN fantasy football column, Matthew Berry provides an
enlightening look at Gailey's history with running backs
since the
Dallas Cowboys
hired him to be head coach in 1998. The chart also included Gailey's subsequent play-calling gigs with the
Miami Dolphins
and
Kansas City Chiefs
.
As we can see, Gailey doesn't split carries. True, he had Emmitt Smith in Dallas, but Gailey saddled up Lamar Smith in two seasons with Miami and
Larry Johnson
, who played only 12 games for Kansas City in 2008.
Not included in Berry's chart are Gailey's pre-Dallas stops as offensive coordinator with the
Denver Broncos
(1988-89) and
Pittsburgh Steelers
(1996-97).
The trend of one dominant back generally remains.
In his first season as an NFL playcaller, Gailey had a pair of over-the-hill backs in Tony Dorsett and Sammy Winder. Dorsett had 181 carries for 703 yards, while Winder ran 149 for 543 yards. The next season, however, rookie Bobby Humphrey took over with 294 carries, nearly three times as many as Winder.
Jerome Bettis was Gailey's go-to guy in Pittsburgh. Eric Pegram managed 509 yards on only 97 carries in 1996, but the Steelers' second-leading rusher the next season was quarterback Kordell Stewart.
Gailey's track record shows an obvious preference for one back taking 300-plus handoffs.
NOTE: As readers correctly pointed out, Thurman Thomas was not Miami's second-most-productive back in 2000. That was J.J. Johnson. The chart has been adjusted, removing Thomas and inserting Johnson. Actually, quarterback Jay Fiedler had more rushing attempts than either of them.
December, 26, 2008
12/26/08
12:08
AM ET
With help from their elf, Dana Jacobson, ESPN analysts Kordell Stewart and Jamal Anderson hand out presents to those in need from around the league. The first two gifts go to Brett Favre and Matt Cassel.
December, 23, 2008
12/23/08
2:34
PM ET
| | |
| --- | --- |
| | |
| | Joel Auerbach and Rich Kane-US PRESSWIRE |
| | While Brett Favre gets the publicity, Miami's Chad Pennington has outperformed his successor in New York this season. |
Posted by ESPN.com's Tim Graham
Four months ago, the New York Jets made their choice. Sixteen weeks later, would they repeat their decision?
Enamored with the chance to add a legendary quarterback to their tricked-out roster, the Jets traded for Brett Favre in training camp. To make room they dumped Chad Pennington, a move that might doom not only the Jets, but also the entire AFC East.
The Miami Dolphins added Pennington right away, a landing pad that probably didn't concern the Jets aside from the two times they would meet him in the regular season.
But that single transaction changed the division's total dynamic. Due in large part to Pennington, the Dolphins are in position to win the AFC East with a victory over the Jets on Sunday in the Meadowlands and could help eliminate the New England Patriots, too.
The Patriots and Buffalo Bills sure would have preferred Josh McCown running the Dolphins' offense.
Funny how Favre's arrival in the Big Apple struck fear in the other three AFC East locker rooms and front offices. Pennington to Miami was an afterthought.
The season didn't unfold according to New York's expectations. While Favre inspired an intrepid mindset and helped the Jets soar to an 8-3 record after consecutive road victories over the Patriots and unbeaten Tennessee Titans, a nosedive has them barely alive in the playoff race.
Pennington, meanwhile, owns the second-highest passer rating in the NFL. He has methodically guided the 10-5 Dolphins into position to make the playoffs after a 1-15 season. All they have to do is beat the Jets.
"I honestly believe this, and it's not a fence-riding situation, but I think both teams are better off with the quarterbacks they have," former New York Giants coach Jim Fassel said. "I don't know that Brett Favre would fit in Miami, and if Chad Pennington was still with the Jets I don't think those two teams would be where they are today."
But in a do-or-die situation, and that essentially is what Sunday will be for both clubs, which quarterback would you trust to come through?
If the players were to show up at the Meadowlands and be told to mingle on the field for a pickup game, would you take Favre or Pennington when choosing up sides?
"Favre's struggling to throw the ball," said Matt Williamson of Scouts Inc. "He's becoming Chad Pennington, but a much worse version because he's still a risk-taker at heart.
"He's a less-accurate, less-intelligent decision-making version of Chad Pennington. All his bad qualities are coming out, and his good qualities aren't there."
But at least two offense-minded Super Bowl coaches, Fassel and Sam Wyche, still lean toward Favre in an all-or-nothing situation.
Wyche, who helped mold a young Joe Montana and led the Cincinnati Bengals to the 1988 AFC championship, is aware of Pennington's fine season. But Wyche remains drawn to Favre's intangibles.
"Brett has been the proven winner over time not only over Pennington but virtually everybody that's played in his era," Wyche said. "If you go into a must-win game and you got both guys on your team, which one do you start? You put the guy with the most experience in a crucial game like this."
Former Pro Bowl quarterback and current ESPN analyst Kordell Stewart paused a while before making his pick, but he also gravitated toward Favre, admittedly because of that inescapable romantic notion of the old veteran coming through.
"There could be some magic in the air," Stewart said. "If I had to choose between the two, from a momentum standpoint it would be easy to say Pennington, but it's hard to go against Brett Favre because of his makeup. I'm going to go with Brett Favre."
Joe Theismann couldn't disagree more. The former league MVP and Super Bowl champion scoffed at the possibility Favre would be the better option Sunday.
Theismann considered it laughable Favre was selected to the Pro Bowl ahead of Pennington.
"Chad should have been in the Pro Bowl," Theismann said. "I think Favre was a sentimental choice. Chad Pennington has done more for the Miami Dolphins and played at a higher level than Brett has for the Jets.
"If Brett plays smart football and doesn't try and force something, he can make more throws. But which Brett are you going to get? I know what I'm going to get with Chad. You need consistency at that position. You need to know your guy is not going make decisions to cost you."
Fassel stressed Jets fans couldn't have expected the same results had Pennington stayed. A change was necessary for all parties.
"What the Jets needed in a quarterback, beyond the numbers, is what Favre provided the minute he walked into that locker room," Fassel said. "He gave that whole team a lift. There had to be a switch made."
Favre's initial bounce has rebounded the other way.
His mistakes have been a colossal problem for the Jets. He leads the NFL with 19 interceptions. He has thrown only two more touchdown passes.
Several factors are playing into Favre's floundering. He never had the foundation of minicamp reps (then again, neither did Pennington) and appears to be hitting a wall whether it's due strictly to being 39 years old, an undisclosed injury, not committing himself to an offseason conditioning program or a combination.
Williamson of Scouts Inc. doesn't like what he sees. Favre's arm strength isn't there anymore, but when it comes time to make a decision on where to throw, his instincts tell the swashbuckling quarterback he still can pull it off.
"He throws from so many goofy angles and off balance, but he still tries to do it," Williamson said. "He's so tough, and there's guys in his face and he's throwing off that back foot, but now the ball just hangs in the air. He used to be able to get away with some of those things. He isn't anymore."
The Elias Sports Bureau found on passes that travel more than 20 yards downfield, Favre has completed 13 of 53 passes for 435 yards, five touchdowns, nine interceptions and a 53.1 passer rating. He had an 85.8 rating on such throws last year.
"He really believes that he can get the ball places that he throws it," Theismann said. "He believes it. Your eyes tell you 'The hole is there.' Your arm says 'I'm going to try,' but it doesn't quite get there."
Theismann and Wyche were in harmony
on one point regarding Favre.
They strongly suggested Jets coach Eric Mangini sit Favre down on Saturday night and break down the turnover situation in no uncertain terms.
"You have a long talk with him about chancy throws," Wyche said. "You say 'Let's get real here, Brett. Turnovers are unforgivable in a game that decides the playoffs. You play smarter than you ever played, and you've played smart a lot of times.'"
In addition to ball security, Theismann noted the Jets can't win unless Favre checks down and makes short, smart passes.
"If I'm in that meeting Saturday night," Theismann said, "I sit down with Brett and say 'Look, man. You've done everything you could for us, but I need you to do one more thing. I need you to be very conscientious of dumping the ball off and throwing underneath.'
"I would almost make him sign an affidavit to show I discussed it with him."
Favre is playing so poorly over the past month, many are predicting this must be his last season.
Over his past four games he has thrown one touchdown pass and six interceptions. His passer ratings for those increasingly meaningful games were 60.9, 60.8, 61.4 and 48.7. If not for a miracle defensive touchdown against the Buffalo Bills two weeks ago, the Jets would have lost every one of them.
"I'm not saying that his career's over, but it sure looks like it is," Williamson said. "Maybe he comes back like gangbusters and something heals that we don't know about and he trains hard over the offseason and looks like the rocket-armed guy we remember.
"But he isn't there now, and he isn't going to be there next week."
Williamson also noted Favre "looks like he doesn't want to get hit that much anymore. It looks like his body hurts."
This wasn't the situation New York envisioned when its mayor practically handed Favre a key to the city before throwing a pass for the Jets, or when Mangini named his newborn son Zach Brett Mangini in homage to the first-ballot Hall of Famer and expectant savior.
"I'm not a Brett Favre fan anymore. I don't believe in him anymore," Williamson said. "But who do I want for one game? He's still hard to bet against because he does have something you can't put on paper. When the chips are down that guy has come through so many times that if they're down by four points with two minutes left, I don't think it would shock anybody if he sucked it up and brought the team back.
"He still has that and he always will, but I don't want him as my quarterback. I want to play against him, not with him."
November, 21, 2008
11/21/08
2:26
PM ET
Posted by ESPN.com's Tim Graham
NFL Network analyst Rod Woodson disagrees with his former Pittsburgh Steelers teammate about what the Buffalo Bills should do about quarterback Trent Edwards.
Kordell Stewart on Thursday told me Buffalo must stick with Edwards, who has been struggling mightily for four games.
But on "NFL Total Access," Woodson said the Bills should make a switch for Sunday's game against the Kansas City Chiefs because the playoffs are on the line.
"You treat a quarterback just like a DB, a tackle, a tight end, a receiver," Woodson said. "If they're not playing well, you've got to give your team the best opportunity to win.
"I understand you don't want to play head games with a young guy like this, but you still owe it to your team to give your team the best chance to win and put those guys on the field."
While chatting with ESPN analyst and former Tennessee Titans general manager Floyd Reese on Friday, I asked what he thought about Edwards' amazing drop off.
Over the past four games, Edwards has thrown three touchdowns and eight interceptions.
"People want to talk a lot about the concussion" Edwards suffered in Week 5 against the Arizona Cardinals, Reese said. "I don't see that in the same vein. The concussion probably has come and gone.
"As it is with a lot of young quarterbacks, he's a reflection of what the team is doing well. They're turning the ball over. There's an inappropriate number of fumbles. They're not running the ball well. They're not getting the big plays out of the receivers like they did the first seven games of the season.
"A young quarterback can't carry a team in the NFL yet. He's so young. He's just a reflection of what's going on with everything else. If they could run the ball, then he could play-action pass, cut down on his interceptions the times he's getting hit, get the ball to Lee Evans more."
Reese said he thought Edwards was playing scared by the end of the first quarter of Monday night's loss to the Cleveland Browns.
As for Bills coach Dick Jauron's decision to run three straight times before unsuccessfully trying a game-winning field goal, Reese said, "Heck, he was probably scared to death to throw the ball, too."
November, 21, 2008
11/21/08
8:15
AM ET
Posted by ESPN.com's Tim Graham
More than most quarterbacks, Kordell Stewart has endured serious scrutiny.
| | |
| --- | --- |
| | |
| | AP Photo/David Duprey |
| | Former QB Kordell Stewart suggests the Bills stick with Trent Edwards, above, despite having thrown eight INTs over the past four games. |
"I sure could write the book on it," Stewart said.
Stewart estimates only three of his 11 NFL seasons weren't inflicted by some sort of quarterback controversy. That includes the season he spent with the Chicago Bears, playing under Dick Jauron.
Given Stewart's wisdom, I asked the ESPN analyst for insight into what Buffalo Bills quarterback Trent Edwards is going through and how Jauron should deal with it.
Jauron's Bills have lost four straight games and five of their past six. Their postseason hopes are in critical condition. Desperate for a victory, they will visit the abysmal Kansas City Chiefs on Sunday.
But nothing can be taken for granted with Edwards lately. The second-year pro has been dreadful. In Buffalo's four-game slump he has a 52.5 passer rating. He has thrown three touchdowns and eight interceptions. He has lost two fumbles and been sacked nine times.
Even considering Sunday's make-or-break stakes, Stewart categorically recommended Edwards remain Buffalo's quarterback.
"Ride it out and let the man play," Stewart told me from his home in Atlanta. "The last thing you need to have happen to you as quarterback is the feeling you're going to get yanked.
"It has to be a true dying situation before you let that happen because if you do, then what happens next? You're playing musical chairs and you look foolish."
Edwards looked like a Pro Bowler through six games. He guided the Bills to a 5-1 record, the only loss occurring when he suffered a concussion on his third pass attempt against the Arizona Cardinals in Week 5.
"Trent Edwards this season came out like a cannon explosion," Stewart said. "Since he had the concussion against the Cardinals, he hasn't been the same. If you go back and watch the first few games, he was on fire, no turnovers. He was really on point.
"Now, everything's crumbling."
But Stewart sees no upside to letting backup J.P. Losman give Buffalo's misfiring offense a try.
"I'm not a big fan of sitting the starter and putting the backup in," Stewart said. "You sat J.P. Losman down for Trent Edwards, so you have to ride Trent Edwards out. You have to let him play.
"You have to ask 'If I make this change, will I really have a chance to succeed with the next guy?' I really don't think they have a chance with J.P. Losman to make the playoffs."
Stewart was the target of wicked criticism during his eight years with the Pittsburgh Steelers. Fans called for his ouster more times than he could count.
He went 18-14 in his first two seasons, then fended off challenges from Mike Tomczak and Kent Graham before taking the Steelers to the AFC title game and earning a Pro Bowl selection for 2001.
"There was a time when it seemed like in the first half of all my games I had a tendency of throwing an interception or two," Stewart said. "Bill Cowher would tell the team 'Just get ready. We might not start off easy. We might turn over the ball a couple times. But just be patient, and we'll win the game.'
"That allowed me to have confidence and made me responsible. It's not like every time you make a mistake you get ran to the bench."
Stewart said the Bills need to "finagle the game plan" to put Edwards in a position where he can find a rhythm without hurting the team.
Stewart noted that opening the game with three possessions that end in a punt would be fine, especially after Edwards threw interceptions on his first, third and sixth passes Monday night against the Cleveland Browns.
"They need to manage his psyche and put him in positions to not fail," Stewart said. "They need to reprogram his mind. The coaches need to make sure the game is as easy as possible.
"It's one of the most sensitive positions out there. At quarterback, you're on your own. Going to the bench won't help the situation at all."