August, 24, 2013
8/24/13
4:45
PM ET
Buffalo Bills
wide receiver
Steve Johnson
will make his preseason debut on Saturday against the
Washington Redskins
.
Johnson had missed the first two preseason games with a hamstring injury, but was not among those players the Bills announced as inactive for Saturday's game.
The following players will not be in uniform for Buffalo:
Safety
Jairus Byrd
is not expected to play, but was not included in the Bills' announcement of inactives. If Byrd plays on Saturday, the team will lose its roster exemption for him, which is set to begin Tuesday and run through next Friday.
Other Bills expected expected to play for the first time this preseason are cornerbacks
Leodis McKelvin
and
Justin Rogers
.
August, 16, 2013
8/16/13
6:15
PM ET

Buffalo Bills
defensive end
Mario Williams
(foot) will not play in tonight's preseason game against the
Minnesota Vikings
, the team announced.
Williams played two series in the Bills' preseason opener last Sunday, and has been limited throughout training camp with a foot injury.
"He keeps getting treatment to take care of his body," coach Doug Marrone said Wednesday. "Again, we're just trying to be smart up and down, resting him for some time, just so he can make sure he just gets ready. Especially coming off this short week."
The Bills said Williams will dress for the game, meaning he would be available to play in an emergency.
Other Bills not playing tonight:
Not listed among the inactives are quarterback
Kevin Kolb
, wide receivers
Brad Smith
and
Kevin Elliott
, tight end
Scott Chandler
, and linebacker
Keith Pough
. All missed Sunday's win over Indianapolis.
August, 4, 2013
8/04/13
11:00
AM ET

PITTSFORD, N.Y. -- Travel to most NFL training camps, and this passing drill is the same: A ball boy snaps to a quarterback, who throws to a receiver practicing a specific route.
But make a stop at St. John Fisher College in upstate New York, site of the
Buffalo Bills
' training camp, and rookie quarterback
EJ Manuel
isn't receiving the ball from just another member of the equipment staff.
Instead, you'll see head coach Doug Marrone snapping it to Manuel.
It's appropriate, because the fate of Marrone, a former NFL offensive lineman, will be tied to the success of Manuel, the first quarterback chosen in April's draft.
Through his first week of an NFL training camp, Manuel has looked the part, avoiding the critical mistakes that rookie quarterbacks often make as the intensity of practice picks up.
Which raises the next point: These Bills want to play fast.
Offensive coordinator Nathaniel Hackett installed a no-huddle offense last season while working under Marrone at Syracuse, and will bring the same concepts -- borrowed from the Bills' "K-gun" offense of the early 1990s -- to Buffalo.
As training camp rolls on, Manuel has been eased into the first-team offense in practice, and he appears comfortable running Hackett's up-tempo system. Having poise in practice is one thing, though, and expecting Manuel and Hackett, who was last in the NFL as a quality control coach with the Bills in 2009, to light up NFL defenses this season is probably asking too much.
The Bills want to bring Manuel along slowly, and there will be growing pains along the way. So despite the rookie's passing the first few tests of training camp, don't look for Marrone to accelerate the process too much.
But for now, it's so far, so good for the 16th overall pick out of Florida State.
"He's going to be the face of our franchise," general manager Doug Whaley said. "And it's not too big for him."
THREE HOT ISSUES
[+] Enlarge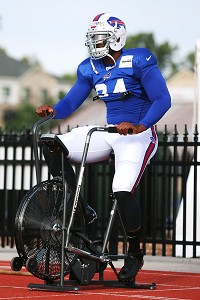 AP Photo/Bill WippertMario Williams was bothered by a wrist injury in 2012, and this year he has already missed time in training camp with a sore foot.
1. Can they stay healthy?
When the Bills took the practice field for the first time last weekend, nearly the entire roster was able to participate in practice, leading Marrone to note afterward how the team was fortunate to begin camp that healthy. Yet defensive end
Mario Williams
was one of the few exceptions, watching from the sideline because of a sore foot. He later left camp to have it examined by doctors, and the Bills' highest-paid player had not returned to practice by Friday.
Last season, Williams dealt with a wrist injury that limited his productivity until he underwent a procedure during the bye week. He came back strong, finishing with 10.5 sacks. But the Bills need more out of him, and his latest injury isn't a good sign for the team.
Likewise for wide receiver
Steve Johnson
, who pulled up with a hamstring injury during Friday's practice, and could miss time this preseason. The Bills dealt with a number of injuries to key players last season -- tight end
Scott Chandler
and running back
Fred Jackson
among them -- and they haven't built enough depth on their roster to withstand the blow of losing a player like Johnson.
2. When does Byrd return?
Safety
Jairus Byrd
remains unsigned and away from Bills training camp, another less-than-ideal situation for one of the team's top players. The Bills failed to reach a long-term deal with Byrd, who is the only franchise-tagged player in the NFL yet to sign his tender, by the July 15 deadline.
Ultimately, it would be surprising if Byrd doesn't report to the team by the start of the regular season. By doing so, he would earn a guaranteed $6.9 million, and still have the possibility of a long-term deal come next March.
The question is if the Bills can persuade Byrd to return earlier, forgo the risk of injury and use the preseason to get acclimated to the new defensive scheme. But one way or another, these situations tend to work themselves out, and Pro Bowl-caliber players like Byrd quickly get back up to speed.
3. Can Pettine turn around the defense?
It didn't take long last season for the Bills' porous defense to be exposed. The
New York Jets
, owners of the NFL's 28th-ranked scoring offense by season's end, hung 48 points on Buffalo in the season opener. Three weeks later, the
New England Patriots
erased a 21-7 third-quarter deficit to come away from Orchard Park with a 52-28 win, lighting up the Bills for 580 total yards.
Such performances, especially against division opponents, will drown the Bills again this season if new defensive coordinator Mike Pettine can't turn things around. Pettine is known for blitz-heavy schemes that pressure opposing defenses, but his defensive remake will also have to address a run defense that allowed opponents 145.8 yards per game last season, second-worst in the NFL.
Pettine has several pieces to work with, including Byrd, Williams and top cornerback
Stephon Gilmore
. The key will be filling holes elsewhere. Can rookie
Kiko Alonso
step in right away at inside linebacker? Can former third overall pick
Marcell Dareus
benefit from a fresh start and contribute along the defensive line? And where does the pass rush come from if Williams goes down with another injury? These are just a few of the questions facing Pettine and his staff.
REASON FOR OPTIMISM
Beyond the early positive signs from Manuel, the Bills' offense has the potential to be explosive, especially if healthy. They addressed deficiencies behind Johnson at wide receiver by drafting
Robert Woods
(second round) and
Marquise Goodwin
(third round). They have one of the NFL's better running backs in
C.J. Spiller
and a receiving threat at tight end in Chandler. The offensive line could prove problematic, but Hackett's fast-paced system could help take pressure off blockers.
Having not made the playoffs since 1999, the Bills' annual problem is getting over the hump in their division, which includes defeating New England. They will host the Patriots at Ralph Wilson Stadium in the Sept. 8 season opener, which is perfect timing for Buffalo. Fans will be excited, parts of Hackett's offense will yet to be revealed on film and Patriots tight end
Rob Gronkowski
may not be ready to play. It will be a challenge for Buffalo, but kicking the season off by beating New England would be big.
REASON FOR PESSIMISM
The NFL saw three rookie quarterbacks take their teams to the playoffs last season, but it's hardly been an annual occurrence. Manuel will need to exceed expectations if he is to repeat the successes of
Robert Griffin III
,
Russell Wilson
and
Andrew Luck
from last season. It won't doom his career if Manuel struggles for stretches this season (assuming he becomes the starter) and the results for the Bills follow suit. It's just the way things go in the NFL, and improvement can take time.
Beyond that, the Bills have a top-heavy roster that will require more than one season under Whaley to develop depth across positions. The offensive line lacks starting-quality players at at least one position, there are question marks behind Chandler at tight end and the defensive line includes several underachieving, younger players. The rigors of an NFL schedule may prove too difficult to overcome for the weak points on the roster.
OBSERVATION DECK
[+] Enlarge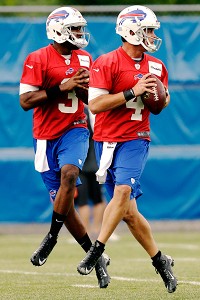 AP Photo/David DupreyThe Bills drafted EJ Manuel (left) in the first round, but Kevin Kolb has been ahead of him in taking most of the first-team reps at quarterback during camp.
" For all the talk about Manuel, it has been veteran
Kevin Kolb
taking the majority of the first-team reps at quarterback in camp. The Bills have dismissed talk of Kolb being a "placeholder" while Manuel adjusts to the NFL, but Kolb will have to step it up if he wants a legitimate shot at holding onto his role as the starter. He has struggled, and would hardly inspire confidence if under center on opening day.
" Spiller had a breakout season in 2012, but don't overlook Jackson, who could create an impressive one-two punch at running back. Jackson is 32 and coming off a knee injury that lingered last season, but is just two years removed from averaging 5.5 yards per carry in 2011. The Bills have used two-running back sets frequently in practice, and between Spiller, Jackson and
Tashard Choice
, they have backfield threats that will force defenses to adjust.
" The battle at wide receiver behind Johnson has several candidates, and the Bills haven't been afraid to throw different players into the mix with the first-team offense. From this standpoint, Goodwin has performed better in camp than Woods, who struggled with drops through the first few practices. Undrafted rookie
Da'Rick Rogers
figures to factor into the mix as well. It's no coincidence the Bills opened their first practice of training camp with a deep-ball drill; it's a receiver group that has the potential to take the top off of opposing defenses.
" Marrone has routinely named
Jamie Blatnick
and
Kourtnei Brown
when mentioning pass-rushers on his defense, especially following the surprising release of
Mark Anderson
shortly before training camp. But it may be more out of default than anything: the Bills lack depth at the outside linebacker position. Blatnick spent most of last season out of football after being released from Denver's practice squad, while it took Brown until Week 14 to hook onto Washington's practice squad. It's possible either player could emerge, but if Marrone has practice-squad-level players on the field to provide pass-rush during the regular season, the Bills will be in trouble.
" It's a similar situation along the defensive line, where the Bills are searching for options both alongside and behind Mario Williams and
Kyle Williams
. The top option is Dareus, but the Bills will need more quality play out of him if he takes 50 percent or more of defensive snaps. Other possibilities include more players who have largely underachieved in the NFL, including
Alex Carrington
and
Alan Branch
.
" The absence of Byrd in practice has been alleviated by an impressive start by
Aaron Williams
, the team's second-round pick in 2011. He struggled at cornerback through his first two seasons, but his switch to safety looks to be paying off early in camp. He has been around the ball and come down with interceptions.
August, 1, 2013
8/01/13
11:14
AM ET
After four days of training camp,
Buffalo Bills
players have the day off Thursday.
The team will remain at St. John Fisher College for training camp through Aug. 21, and don't play in their first preseason game until Aug. 11. Yet through the early stages of camp, we've been able to learn a few things about this team:

1. Manuel has started strong:
In this space on Sunday, it was noted that if quarterback
EJ Manuel
struggled to begin camp, then veteran
Kevin Kolb
would likely need to take on a bigger role to maintain the improvement of the offense as a whole during training camp. Yet through four practices, Manuel has looked sharper. Head coach Doug Marrone said Wednesday that the defense will "start to throw more stuff at him," a sign that the coaching staff is pleased with Manuel's progress at this point. Look for the Bills to ease Manuel into the first-team offense more following Thursday's off-day.
2. Middle of roster still murky:
From a talent standpoint, the Bills have some of the best players in their division at running back (
C.J. Spiller
), wide receiver (
Steve Johnson
), and cornerback (
Stephon Gilmore
). But at receiver, cornerback, and other positions, starting jobs are still up for grabs between large groups of young players. The incumbent starter at wide receiver,
T.J. Graham
, has looked solid through four days of camp, but rookies
Robert Woods
,
Marquise Goodwin
, and
Da'Rick Rogers
are all still far away from securing specific roles on the roster, and could still compete for the No. 2 job. At cornerback,
Leodis McKelvin
looks like he may be ready to settle into the No. 2 role after being eased into the start of training camp, but
Justin Rogers
could still push him for that job once he returns from injury. And at outside linebacker,
Manny Lawson
and
Jerry Hughes
are at the top of the depth chart, but
Marcus Dowtin
,
Jamie Blatnick
, and
Kourtnei Brown
are also in the mix.
3. Offensive line a concern:
Marrone said on Sirius XM NFL Radio on Tuesday that depth along the offensive line is "a little bit of a concern," and added Wednesday that the Bills are looking to add someone to their competition at the open left guard spot. Through four practices,
Colin Brown
has seen the majority of first-team reps, while
Doug Legursky
began to see time with the top unit on Wednesday. The Bills have 17 offensive linemen on their roster, but Marrone's comments suggest that they may have more developmental players than those they can rely on for their 46-man game day roster. Meanwhile,
Chris Hairston
-- who looks to start at right tackle -- remains on the active/physically unable to perform list.
4. Recent history proves hard to shake:
The Bills are on their fourth head coach in five seasons, while they also made a change at general manager this offseason. Marrone wasn't here last season when defensive end
Mario Williams
was slowed by a wrist injury, but the biggest news from a national perspective this week was Williams leaving camp to have his sore foot examined and some related tension between Marrone and reporters over the details of the injury. The feeling on this end is that Marrone, as a first-year head coach, was looking for a clean slate and should get one, but he is also inheriting a high-profile player in Williams, where every development will be under the microscope.
Roster move:
The Bills signed cornerback Don Unamba on Wednesday evening, bringing their roster to 89 players. Unamba is an undrafted free agent out of Southern Arkansas who signed with the
St. Louis Rams
after April's draft.