August, 31, 2010
8/31/10
9:58
AM ET
On the day the
New Orleans Saints
held their Super Bowl parade, long before the free-agency period opened and the draft took place,
Scouts Inc. analyst Gary Horton examined the top three needs
of every NFL team heading into the offseason.
Now that we've gone through offseason workouts, minicamps, training camps and three preseason games, let's take a look at each AFC East need and determine whether it was addressed.
Buffalo Bills
1. Outside linebacker:
At the time of Horton's analysis, he didn't know
Aaron Schobel
would retire. Schobel would have been Buffalo's best pass-rusher in its new 3-4 defense. The Bills signed free agent
Reggie Torbor
and are hoping a group that also includes
Chris Kelsay
,
Chris Ellis
and
Aaron Maybin
will suffice.
Need addressed? No.
2. Left tackle:
The Bills chose to stick with
Demetrius Bell
. The Bills still haven't drafted a tackle earlier than the fifth round since 2002. Of the two they did draft, fifth-rounder
Ed Wang
is hurt and seventh-rounder
Kyle Calloway
already has been released. The Bills did sign
Oakland Raiders
free agent
Cornell Green
to play right tackle.
Need addressed? No.
3. Quarterback:
The Bills did next to nothing at quarterback, drafting long-term project
Levi Brown
in the seventh round and letting
Trent Edwards
,
Ryan Fitzpatrick
and
Brian Brohm
shoot it out. Edwards won a not-so-open competition.
Need addressed? No.
[+] Enlarge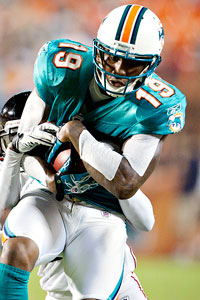 Jonathan Brownfield/US PresswireThe acquisition of Brandon Marshall filled a huge void in the Dolphins' passing game.
Miami Dolphins
1. Wide receiver:
Did the Dolphins address this need? Hmmm ... Let's see ... Oh, wait. That's right. They traded for
Brandon Marshall
, who has recorded triple-digit receptions in three straight seasons. Marshall was one of the most enormous transactions of the offseason.
Need addressed? Yes.
2. Free safety:
The Dolphins drafted
Reshad Jones
in the fifth round, but sophomore
Chris Clemons
has held down the position admirably. It won't be tough to outplay last year's starter,
Gibril Wilson
.
Need addressed? Yes.
3. Nose tackle:
The situation actually got worse and worse after Horton formed his analysis.
Jason Ferguson
was suspended eight games for violating the NFL's policy on performance-enhancing drugs. The Dolphins re-signed Ferguson, but then he retired. The Dolphins didn't draft a nose tackle, choosing to convert defensive end
Randy Starks
instead. Starks is undersized for a traditional 3-4 nose tackle, but Dolphins coach Tony Sparano has claimed Starks' speed has upgraded the position.
Need addressed? Yes.
New England Patriots
1. Outside linebacker:
Horton wrote "This defense must generate pass-rush pressure from its outside linebackers, but the Pats are devoid of playmakers and have virtually no depth at this position." They've gotten shallower with the release of
Adalius Thomas
, who started their playoff game.
Tully Banta-Cain
and
Derrick Burgess
are back and penciled in as the starters. The Patriots drafted pass-rusher
Jermaine Cunningham
53rd overall, but he has been too hurt to get on the practice field.
Need addressed? No.
2. Wide receiver:
Wes Welker
was looking at a potentially long rehab at the time Horton wrote his offseason preview.
Randy Moss
' age also was a concern. But Welker's recovery has been quick. Moss has looked phenomenal. Emerging youngsters
Julian Edelman
,
Brandon Tate
and third-round draft pick
Taylor Price
should be more than enough.
Need addressed? Yes.
3. Defensive end:
Little did Horton know how badly the Patriots would need help here. Left end
Ty Warren
is done for the year because of a hip injury. Right end
Jarvis Green
split for the
Denver Broncos
. The Patriots signed free agent
Gerard Warren
and have moved last year's super reserve,
Mike Wright
, into the starting lineup.
Need addressed? No.
New York Jets
1. Defensive end:
Horton's concern was with the age of incumbents
Shaun Ellis
and
Marques Douglas
. Ellis is back. Douglas was a free agent who departed for the Dolphins. The Jets didn't draft any defensive linemen and didn't sign any notable free agents there. They did move
Vernon Gholston
from outside linebacker to defensive end.
Need addressed? No.
2. Safety:
Compared to the Jets' banner acquisitions,
Brodney Pool
was a blip. The
Cleveland Browns
gave up on him because of recurring concussions, but the Jets' medical staff found his problem was related to migraine headaches. He's a multifaceted safety with a nose for the ball, interception four passes in 10 games last year.
Need addressed? Yes.
3. Wide receiver:
The Jets practically stole
Santonio Holmes
from the
Pittsburgh Steelers
for a fifth-round draft choice. Holmes was the MVP of Super Bowl XLIII and was coming off a 1,248-yard season. But character issues, underscored by a four-game suspension to start the season, made him a bargain.
Need addressed? Yes.
August, 30, 2010
8/30/10
4:52
PM ET
Buffalo Bills
Miami Dolphins
New England Patriots
New York Jets

May, 5, 2010
5/05/10
1:46
PM ET
Football Outsiders writer Vince Verhei has conducted a post mortem on the AFC East draft to identify remaining holes for every roster.
Here's a
synopsis of Verhei's findings for an ESPN Insider article
.
Buffalo Bills
Not surprisingly, the offensive line stands out as the biggest problem. Football Outsiders pinpointed the line as the primary concern heading into the draft, and the Bills waited until the fifth and seventh rounds to make their only O-line picks, tackles
Ed Wang
and
Kyle Calloway
.
Verhei writes that while ninth overall pick
C.J. Spiller
still could shine, "On third-and-long, though, prospects seem dismal. Bills quarterbacks could spend a lot of time on the Ralph Wilson Stadium turf -- or on the disabled list."
Miami Dolphins
The Dolphins cut free safety
Gibril Wilson
and hotly pursued
Ryan Clark
before he re-signed with the
Pittsburgh Steelers
. So they recognized the need, then waited until the fifth round to draft
Reshad Jones
, who will compete with
Tyrone Culver
(two career starts in three NFL seasons) and
Chris Clemons
(two starts last year as a rookie).
"One of these men will be the last line of defense on a team with serious playoff aspirations in 2010," Verhei writes.
New England Patriots
Verhei identifies outside linebacker as the biggest weakness, but doesn't seem as down on this void as with the others. The Patriots drafted Florida pass-rusher
Jermaine Cunningham
in the second round. But Verhei calls
Tully Banta-Cain
's 10 sacks "a one-year fluke" and describes the rest of the depth chart as a collection of quasi-capable castoffs.
New York Jets
Two areas that seemed most pressing for the Jets heading into the draft were safety and getting younger along the defensive line. The Jets didn't select a safety or a D-lineman among their four picks.
Verhei sees defensive line as the biggest problem.
Marques Douglas
, a 12-game starter, remains unsigned and probably isn't coming back. The Jets have moved
Vernon Gholston
from outside linebacker to end.