June, 25, 2010
6/25/10
9:22
AM ET
Buffalo Bills offensive lineman and soccer fanatic Kirk Chambers will share his World Cup thoughts with the AFC East blog throughout the tournament.
In about the time it will take you to read this paragraph, the tenor of the world's most spectacular sports tournament changed for the United States. Like a lightning strike, the U.S. turned a stoppage-time counterattack into the
most dramatic World Cup goal it ever has scored
to beat Algeria 1-0, win the pool and avoid going home dejected.
[+] Enlarge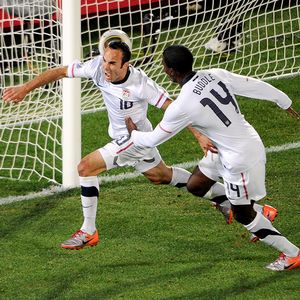 Adam Jacobs/Icon SMILandon Donovan (10) celebrates his goal with forward Edson Buddle.
"You go from despair to complete exhilaration in the 13 seconds it took to go from one end to the other," Bills offensive lineman Kirk Chambers said.
Chambers
didn't see Landon Donovan convert the rebound
Wednesday morning. Chambers was on the practice field for the first day of Bills minicamp. "I have to work -- like a lot of people," he said. But when a Bills employee rushed out to inform Chambers of the result, they embraced in celebration.
Chambers loves soccer, but he had been a bit grumpy before Wednesday.
In his previous World Cup analysis for the AFC East blog, he focused on the
frustrating flopping phenomenon that makes it tough
for Americans to watch and the misery of the
blown call that prevented the U.S. from beating Slovenia
in its previous pool match.
Had Donovan not scored 45 seconds into four minutes of injury time, then the disallowed goal against Slovenia would have been the signature moment of the World Cup stateside.
"There may be some fans converted here," Chambers said. "Without that goal, then it's just another World Cup where the U.S. disappoints. If three more minutes run off the clock and there's no goal, we have another four years to ho-hum about not making it through group play again.
"It was a big goal. Of course, football is my first love, but this proves that soccer is a fun sport. There really is a lot to love. You just have to put a little effort into it."
Chambers watched Wednesday's white-knuckler on DVR, but he will be able to soak in Saturday morning's match against Ghana at home. Bills camp breaks Friday, allowing Chambers to enjoy U.S.-Ghana with his brothers at home in Provo, Utah.
Chambers should be 2-0 in picking matches so far. He forecasted a 2-1 U.S. victory over Slovenia (should have been a 3-2 victory) and nailed his 1-nil prediction for Wednesday.
He thinks the U.S. will beat Ghana 2-1.
"Ghana, I think we owe them a little payback for kicking us out of group play the last go-round," Chambers said. "They look like a pretty strong side.
"A lot of the U.S. play is just being scrappy. They have to keep that, stay within their game, tighten up on defense and make those runs at the goal when they can."
June, 11, 2010
6/11/10
8:43
AM ET
Buffalo Bills offensive lineman Kirk Chambers will share his World Cup thoughts with the AFC East blog throughout the tournament.
A dozen years later, the moment remains vivid in
Kirk Chambers
' mind.
German forward Oliver Bierfhoff, near the right sideline, sent an arcing pass to Jurgen Klinsmann into the penalty box. Klinsmann controlled the ball with his chest and quickly blasted a shot. U.S. goalkeeper Kasey Keller dived in vain.
Keller didn't see the ball go into the net, but Chambers did.
[+] Enlarge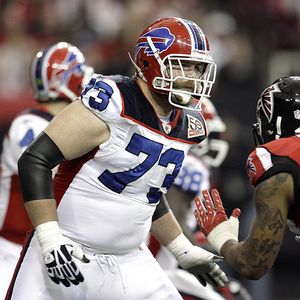 Brett Davis/US PresswireKirk Chambers is looking forward to following the World Cup.
"That specific play," said Chambers, a sixth-year offensive lineman for the
Buffalo Bills
, "sticks out in my mind almost better than some football plays I've been involved with."
Chambers, a Utah kid watching the 1998 World Cup while in Berlin to serve a Mormon mission, was disappointed yet captivated when Klinsmann clinched a 2-0 victory over the U.S. in pool play.
"The place was just in a frenzy," he said.
There's football, and there's futbol. Chambers has a passion for both.
In the coming weeks, Chambers will share his
2010 World Cup
thoughts here on the AFC East blog. He will be monitoring the games and storylines throughout the tournament, which begins Friday morning. He has
filled out an ESPNsoccernet Bracket Predictor
that you can follow.
"I love the game," Chambers said of soccer. "I grew up playing primarily football and basketball, but in high school I never played pickup basketball. It was always pickup soccer with my friends.
"But I didn't really understand what soccer was to the rest of the world until I spent two years in Germany."
Chambers, an avid Real Salt Lake fan, acknowledged it requires work for the average American to appreciate soccer.
"It takes a little effort to enjoy," Chambers said. "When I watch an amazing run at the goal and see someone flip a ball some crazy way, I know how that affects me.
"It's a very simple sport, but it requires creativity on the fly to make something simple look exceptional."
At 6-foot-7 and 315 pounds, it's difficult to pretend Chambers might've had this option had he played soccer instead of football in high school. But if given the option to play in the NFL or the Premier League, he said he would stick with America's game.
Still, he admitted soccer's non-stop action can be more riveting than football.
"What I've really come to appreciate during international matches, I feel tension from the opening kickoff until the end of the game," Chambers said. "There's an internal tension caused by the nervousness of what's going to happen.
"Football is so much stop and go and TV timeouts and off the field and on the field. In soccer, there's a nervousness that grips you until the ref blows the match dead."
Chambers said being a U.S. soccer fan can be heartbreaking because the squad is competitive internationally but hasn't been able to break through. I could hear the irritation in Chambers' voice when he recalled how the
U.S. blew a 2-0 lead and lost to Brazil
in last year's Confederation's Cup final.
Chambers is pumped about America's midfield -- with Landon Donovan and Clint Dempsey -- and expressed thanks for goalie Tim Howard. Chambers, however, is concerned with defensive lapses shown in friendlies.
"It's a bittersweet thing being a U.S. fan," Chambers said. "We're right at the doorstep of becoming a respectable team. It's exciting to follow that."