AFC East:

LaVar Arrington
February, 4, 2010
2/04/10
7:16
PM ET
FORT LAUDERDALE, Fla. -- The
Buffalo Bills
transition to a 3-4 defense couldn't have been better news for pass-rusher
Aaron Maybin
.
Last year's 11th overall draft choice struggled through an awful rookie season as a 4-3 defensive end. Maybin's undetectable performances frustrated a fan base that hoped for an impact player and could rattle off a dozen names the Bills could've had instead.
[+] Enlarge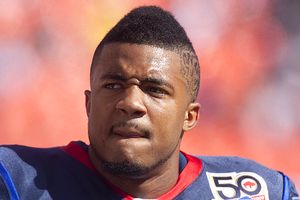 Ronald C. Modra/Getty ImagesThe Bills calculated that Aaron Maybin made only 18 tackles during his rookie season.
The Bills on Thursday announced they will switch to a 3-4 with new defensive coordinate George Edwards. That would move Maybin to outside linebacker.
Maybin's mentor, former
Washington Redskins
linebacker
LaVar Arrington
, had an immediate reaction to the news.
"Love it! I love it!" said Arrington, who has been spending time on Radio Row in the Super Bowl media center. "For Aaron, I think it's the perfect defensive scheme. He's a bookend. He's not a true, run-stop defensive end, where you keep him out there, going head-to-head-to-head-to-head with those 300-pound guys every single play.
"You give him more of an opportunity to be successful if you get him in positions where he's in space, getting the offensive linemen in an uncomfortable situation with having to deal with him in open space."
Maybin was a middle-schooler in Ellicott City, Md., when he met Arrington at a community event staged by
Baltimore Ravens
linebacker
Ray Lewis
. Arrington and Maybin hit it off. Their bond became stronger when Maybin decided to attend Penn State, Arrington's alma mater.
Arrington also knows Edwards well. Edwards was the Redskins' assistant defensive coordinator and linebackers coach in 2002 and took over all of the coordinating duties in 2003. Arrington went to the Pro Bowl each of those seasons.
"I think George Edwards being signed is an awesome deal," Arrington said.
Maybin was overmatched as a rookie. He was a one-year starter at defensive end for Penn State and entered the draft after his junior season. He bulked up once he joined the Bills, but never looked right in his uniform.
Maybin didn't start a game for a team that went into the season desperate for an improved pass rush. Based on stats calculated by the Bills' coaching staff, Maybin made 18 tackles, two for losses. He had zero sacks and no forced fumbles.
"The more Aaron Maybin has a chance to develop and mature mentally and physically and emotionally, he's going to be a special player in this league," Arrington said. "I just hope that he gets a fair opportunity to get to that point."
A 3-4 outside linebacker can be sleeker than a 4-3 defensive end. That will allow Maybin to carry a more natural weight on his 6-foot-4 frame and "be himself," Arrington said. "He doesn't have to be out of his character for that position."
Maybin must learn how to work out of a two-point stance and master some basic pass coverages.
"I think he's athletic enough to adapt and adjust," Arrington said. "You've got to figure that as a bookend he's going to drop into the hook, into the curl and he may have the flat. They may, once they see how he develops, have him carry routes.
"But for the most part they're going to have him in certain drop zones anyway. He should be able to adjust to that."
May, 1, 2009
5/01/09
1:40
PM ET
| | |
| --- | --- |
| | |
| | Ned Dishman/Getty Images |
| | The Buffalo Bills hope rookie defensive end Aaron Maybin can provide a serious pass-rush threat that was missing in 2008. |
Posted by ESPN.com's Tim Graham
ORCHARD PARK, N.Y. -- The scene was typical for a teenage boy and his father.
Together in a van on a long drive, the father began to preach a little. In this particular case, he really was a preacher. With nowhere to escape, his son stared out the window and looked for anything amid the passing landscape to distract him from the lecture.
Only this wasn't some mundane interlude. The teen wasn't ignoring the speech or rolling his eyes. He was absorbing every word. The tears welled.
"It was a very pivotal time for me in my life," Buffalo Bills rookie defensive end Aaron Maybin said of the intimate talk he had four years ago with his father.
| | |
| --- | --- |
| | |
| | NFL.com Video |
| | Aaron Maybin talks about what he will bring to the table as a member of the Buffalo Bills. |
Maybin was 17 and on his way to Penn State for a Nike camp. College football recruiters from across the country had begun to notice his athletic ability. He had the size, the speed, the explosiveness that made them slobber. He was on the verge of landing a full scholarship to practically any college in the East.
"Everything was really starting to come together," he said.
Michael Maybin reminded Aaron of what they had endured, shared some painful regrets. Aaron's mother died while delivering his little sister. He was 6.
Michael Maybin was the 12th of 14 children and the son of a steelworker. Nobody in the family earned a college degree. He attended Penn State for a while but didn't finish. That kept him from being the provider he wanted to be.
"Before we both knew it we both were looking out the window, trying not to make eye contact with each other because we were both crying," Aaron Maybin said. "He spent a lot of time relaying how badly he wanted to see his son be successful.
"That was a time when he allowed himself to be vulnerable and express to me how much he really loved me. We expressed to each other what our feelings were. We both put it out on the table how important it was for us to see that moment happen for us the right way."
One day after his father's seminal speech, Aaron Maybin was incandescent at that Nike camp. Penn State coach Joe Paterno offered him a scholarship that opened the door for all sorts of glorious possibilities.
The tears returned Saturday. Aaron Maybin's dream of being in the NFL came true.
The Bills drafted him 11th overall. He left Penn State a year early, but he's looking at a contract that will pay him around $4 million a year and about $14 million in guarantees.
"This whole thing is mind-blowing," said Michael Maybin, a fire inspector and associate minister at Transformation Church of Jesus Christ in Baltimore. "He went into a press conference at his school as Aaron Maybin, a defensive end heading to Penn State and walked out a corporation."
April, 29, 2009
4/29/09
3:51
PM ET
Posted by ESPN.com's Tim Graham
ORCHARD PARK, N.Y. -- Former Penn State and NFL star LaVar Arrington was knocking around the Buffalo Bills' facility Sunday with his protégé, Aaron Maybin.
Arrington has been mentoring him for years. Maybin was in middle school when he met the three-time Pro Bowler, so one could understand why Arrington was wearing a Bills T-shirt a day after they made Maybin the 11th overall pick in the draft.
| | |
| --- | --- |
| | |
| | AP Photo/John Ulan |
| | Cameron Wake collected 31 sacks during two seasons with the CFL's BC Lions. |
I'll have more on Maybin and his inner circle later this week, but I also had the opportunity to ask Arrington about another Penn State pass-rusher who's entering the AFC East this year.
The Miami Dolphins in January signed Canadian Football League sackmaster Cameron Wake, who played under the name Derek Wake at Penn State.
Wake arrived at Happy Valley with comparison's to Arrington, who turned pro the year Wake got there. Wake, however, left Penn State undrafted. He got into banking, then personal training and had to reinvent himself with the BC Lions, recording 31 sacks in two seasons.
The Dolphins signed him to a four-year, $5 million deal, the richest contract ever given to a CFL import.
"That's a heck of a story," Arrington said. "He's like Cinderella Man. That's one of those stories where you've got to say 'Man, if you don't believe that dreams can come true, then he's one of those you have to look at.'
"He has to say 'If I didn't go that extra mile, if I didn't work a little bit harder, I actually cheated myself out of possibly realizing my dream.' That personifies what he represents."
Arrington remains blown away by Wake's athleticism, but pointed to a lack of dedication that often drew Joe Paterno's ire.
"He went there and was athletic as all get-out," Arrington said. "There never was a question about his athletic ability. It was a question about his desire and his intensity.
"What happened from that time when he left Penn State to when he started playing in Canada, I don't know. But it wasn't the same man. It's not the same guy. That's pretty awesome that he's getting an opportunity to play in the NFL after all that."