June, 10, 2013
6/10/13
11:30
AM ET
For a team as consistently successful as the
New England Patriots
, you would think most players would leave the organization with glowing reviews. But that's often not the case in New England.
Many notable former Patriots are disgruntled for one reason or another. You can go as far back as
Lawyer Milloy
and
Willie McGinest
during the dynasty years. Recently, starting defensive tackle
Kyle Love
was furious when he was released after being diagnosed with diabetes. And Pro Bowl receiver
Wes Welker
told Yahoo! Sports this week about New England's stuffy football culture and the differences he sees in his new team,
Denver Broncos
.
"I feel like I can be myself a little more, for sure,"
Welker said candidly
. "All [the Broncos] told me was, 'Just be yourself.'"
Are the Patriots too uptight?
Welker certainly is describing New England as a place where it's hard for players to be themselves. As a media member, I can vouch that New England's locker room usually doesn't offer much insight or personality. Players appear reluctant, and almost afraid, to say anything worthwhile about an opponent, injury or an upcoming game. It comes from the top with head coach Bill Belichick, who simply wants to coach football and views anything else as a distraction.
You cannot argue with the Patriots' success the past 13 years under Belichick. His record includes five Super Bowl appearances and three titles. However, New England has also become infamous for expecting players to act like robots when they're on the team and later treating them like replaceable parts when it's time to kick them to the curb. That combination has rubbed some people, like Welker, the wrong way.
Welker also says that Patriots quarterback and good friend
Tom Brady
was not happy with New England's letting Welker go in free agency. Brady, partly due to New England's tight-lipped culture, essentially avoided the topic this offseason and said he is moving forward with replacement receiver
Danny Amendola
. It's permissible for Welker to speak the truth now that he's in Denver.
"He was upset about it, and part of me was a little upset about it too," Welker said. "But things happen for a reason, and I'm excited about the opportunities here and the type of team we have and things that we can do."
Football is meant to be fun, and perhaps the Patriots define fun only by winning, which happens a lot in New England. But it seems that a higher percentage of players than usual leave Foxborough with some kind of complaint.
September, 23, 2011
9/23/11
2:27
PM ET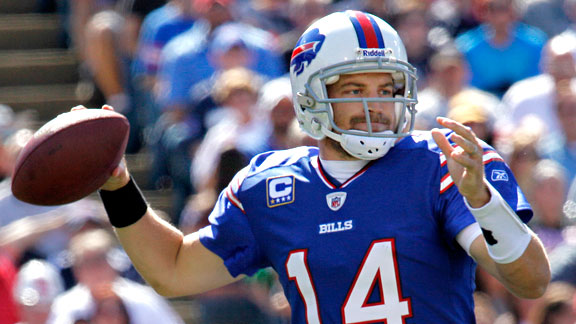 AP Photo/Derek GeeIn three starts against the Patriots, Buffalo quarterback Ryan Fitzpatrick is 0-3.
Eric Mangini summed up the AFC East showdown between the
Buffalo Bills
and
New England Patriots
best on SportsCenter this week.
"The Bills think that they're good, but they don't really know whether or not that they're good," said the former
New York Jets
and
Cleveland Browns
head coach. "And this is going to be the litmus test, because New England
is
good. So [Buffalo] is trying to figure out where they fit in the AFC East, and this is when they find out."
Buffalo is in search of contender status. League-wide respect is just four quarters away Sunday when the Bills host the Patriots at Ralph Wilson Stadium.
The Bills are a nice, early season story. They are the league's biggest surprise at 2-0.
But nationally, few outside Buffalo's locker room predict the Bills to be a legitimate threat to the big boys. Buffalo is ranked No. 16 in
ESPN.com's Power Rankings
, behind nine teams with worse records. The Bills are more than a touchdown underdog at home against the Patriots (2-0). The Patriots and quarterback
Tom Brady
have looked like a machine in their first two games and are a viable Super Bowl contender.
New England has what Buffalo wants. And to be a contender, you have to beat a contender.
The Patriots swept the Bills in two games last season by a combined score of 72-33. Buffalo has lost 15 straight to New England. The Bills haven't beaten the Patriots since the "
Lawyer Milloy
Game" on Sept. 7, 2003.
Buffalo has to overcome a lot of bad history this weekend.
"This year we're all about changing the attitude. We have to go into this knowing that we're capable of winning this ballgame," Bills receiver
David Nelson
told the AFC East blog. "We have to know that we have the capability on offense to move the ball, and on defense to stop them and on special teams to make big plays. That's all we can control. We can't control what other people think about us."
Much of Buffalo's success will come down to starting quarterback
Ryan Fitzpatrick
. Sunday's matchup is expected to be high scoring. Fitzpatrick will try to keep up with Brady, who is
on a torrid pace.
New England's offense is getting most of the hype. But Buffalo's offense is leading the NFL in scoring with 79 points the first two games. The Patriots are third with 73 points, behind the Bills and
Detroit Lions
(75).
Buffalo's spread offense is giving opponents headaches. But Fitzpatrick has had issues with New England's defense in the past. Fitzpatrick has thrown for 676 yards, three touchdowns and six interceptions in three career starts against the Patriots. He's 0-3 in those meetings.
"I think that in general they always present a tough challenge for us," Fitzpatrick admitted this week. "Obviously the streak and the number of games we've played without beating them, they're tough."
Do the surprising Bills have staying power? Win or lose, that will be the biggest question following Sunday's game.
The AFC East is stacked with three undefeated teams. A strong case can be made that it is the
best division in football
after two weeks. The Bills have the tough task of competing with the Patriots and New York Jets (2-0) four times this season.
Buffalo has a shot if the offense continues to play well. The Bills have tremendous balance through the air and on the ground. Buffalo running back
Fred Jackson
leads
the NFL
in rushing with 229 yards after two weeks. The defense also has improved from last season. It was dominant in Week 1 against Kansas City but gave up a lot of big plays in last week's 38-35 win against the
Oakland Raiders
.
The Bills are gradually turning their franchise around. Buffalo is 6-4 in its past 10 games under second-year head coach Chan Gailey.
"I think that our guys understand hard work. They understand about going out and getting better each day," Gailey said. "They have learned the systems better. We picked up some good players that have helped us on both sides of the ball, and when everybody gets closer to the same page, you give yourself a chance to be more successful."
The Bills also are the kind of team fans can gravitate to. They're underdogs with virtually no star power. Many of Buffalo's best players were outcasts, people who were let go or overlooked by other teams.
Fitzpatrick, 28, is a journeyman quarterback who was a backup with the
St. Louis Rams
and
Cincinnati Bengals
. Jackson, 30, spent time in NFL Europe. No. 1 receiver
Stevie Johnson
was drafted by Buffalo in the seventh round. Nelson, who caught
the game-winning reception
against Oakland,
wasn't drafted.
On defense, Buffalo added veteran linebackers
Nick Barnett
and
Shawne Merriman
because their previous teams felt they were too injury-prone. Even Gailey has baggage; he was fired abruptly by the
Dallas Cowboys
as head coach and by the
Kansas City Chiefs
as offensive coordinator.
"I think we all have a common bond. We're all understanding each other," Nelson said. "We know we have been through so much. I think it motivates us and gives us that special bond to work hard for each other. We want to be there for each other and make this special."
Fitzpatrick agrees that being overlooked as individuals helped Buffalo come together as a team.
"We're a team full of guys looking to make a name for themselves. We're looking to make a name for our team," Fitzpatrick said. "Although most of us are unheralded, nobody really knows us, we think that we're pretty good and we think that we've got a lot of talent on our roster."
Upsetting New England would give the Bills the respect they are looking for. Most trends
point to the Patriots
. But this season's Bills have defied the odds.
September, 4, 2011
9/04/11
8:00
AM ET
Remember the
Lawyer Milloy
signing by the
Buffalo Bills
in 2003?
Meriweather
New England Patriots
and coach Bill Belichick cut Milloy just before the regular season. The Bills -- New England's Week 1 opponent -- swooped in, quickly signed the safety, and Milloy helped pound the Patriots, 31-0.
Could history repeat itself eight years later with another solid safety:
Brandon Meriweather
? I think it's worth a shot for the
Miami Dolphins
. Miami will be underdogs against the Patriots on "Monday Night Football."
New England just
released Meriweather on Saturday
. Not only is Meriweather a good player, but he carries plenty of institutional knowledge about New England's defense, which appears to be using more 4-3 concepts and alignments this season. (
Belichick won't confirm that
, by the way.)
Wouldn't the Dolphins' coaching staff benefit from learning New England's defensive keys and tendencies from Meriweather? Couldn't Dolphins quarterback
Chad Henne
use an additional edge entering his dual with NFL MVP
Tom Brady
?
If a motivated Meriweather can have the "Milloy effect" against the Patriots in Week 1 -- leading to a Miami upset -- that alone would be worth the investment. On top of that, the two-time Pro Bowler is an upgrade over what the Dolphins currently have this year.
In fact, I can't think of any reason the Dolphins shouldn't pick up the phone to see if Meriweather is interested in Miami.
Can you?
December, 8, 2010
12/08/10
4:29
PM ET
Rex Ryan tore a page out of Bill Belichick's motivational playbook in hopes of helping the
New York Jets
overcome Monday night's humiliating loss to Belichick's team.
A day and a half after the
New England Patriots
destroyed the Jets 45-3 in Gillette Stadium, Ryan took a ball from the debacle and buried it while his players watched before Wednesday's practice. Ryan laid the game ball to rest behind a goal post at the team's facility.
"We were shocked," cornerback
Darrelle Revis
said. "Nobody was saying anything."
That's what Belichick did -- in 2001.
After a 30-10 loss to the
Miami Dolphins
dropped the Patriots to 1-3. Belichick put a game ball in a black box and placed it in a hole near the practice field. When the players reported, Belichick led them to the hole. He told them to bury the game and move on.
Lawyer Milloy
and
Troy Brown
kicked dirt over the ball and spat on the mound.
The Patriots lost only two more games to claim the AFC East and then win their first Super Bowl. Ryan's twin brother, Rob Ryan, was the Patriots' linebackers coach at the time.
So now you know where Rex Ryan got the idea.
The NFL is a copycat league even when it comes to football funerals.
November, 19, 2010
11/19/10
9:48
AM ET


ESPN analysts Mark Schlereth and Tedy Bruschi preview Sunday's mammoth showdown between the Indianapolis Colts and New England Patriots in Gillette Stadium.

Schlereth and Bruschi each pick the Patriots to win, citing an efficient offense under Tom Brady and too many injuries for the Colts.
March, 16, 2010
3/16/10
2:48
PM ET
March, 12, 2010
3/12/10
1:50
PM ET
To mark the NFL's 75th draft next month, the league has launched a neat venture to sort out the 75 greatest draft picks and
determine the all-time most valuable selection
.
NFL.com editors narrowed each team's list of candidates down to the top 10, which seems a little unfair to the organizations steeped in history. The Dallas Cowboys' 20th most impressive pick is more deserving than the Houston Texans' sixth.
[+] Enlarge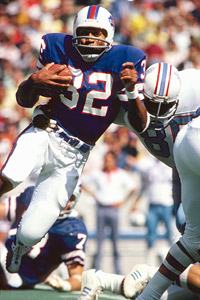 Malcolm Emmons/US PresswireO.J. Simpson is one of the best selections the Bills ever made.
I disagree with the decision to include players who didn't suit up for the teams that drafted them. For instance, tackle Leon Gray is listed for the Dolphins, kicker Gary Anderson for the Bills and punter Craig Hentrich for the Jets.
How can they be considered great draft picks if the teams that evaluated them declined to include them on their final rosters? Sounds to me like they were accidental draft picks more than savvy selections.
But if that's how they're going to do it, then I'd like to see Gary Fencik, a 10th-round pick in 1976, listed under the Dolphins.
Anyway, each team has 10 candidates fans can choose from when voting through April 18 at NFL.com. Parts of the list will be revealed on NFL.com and the NFL Network beginning April 19. The top 10 will be saved for the draft telecast.
The AFC East candidates, in alphabetical order:
Buffalo Bills:
Gary Anderson (seventh round, 1982); Ruben Brown (first round, 1995); Joe DeLamielleure (first round, 1973); Jim Kelly (first round, 1983); Reggie McKenzie (second round, 1972); Andre Reed (fourth round, 1985); O.J. Simpson (first round, 1969); Fred Smerlas (second round, 1979); Bruce Smith (first round, 1985); Thurman Thomas (second round, 1988).
Miami Dolphins:
Dick Anderson (third round, 1968); Larry Csonka (first round, 1968); Leon Gray (third round, 1973); Bob Griese (first round, 1967); Sam Madison (second round, 1997); Dan Marino (first round, 1983); Jake Scott (seventh round, 1970); Dwight Stephenson (second round, 1980); Jason Taylor (third round, 1997); Zach Thomas (fifth round, 1996).
New England Patriots:
Tom Brady (sixth round, 2000); Nick Buoniconti (13th round, 1962); John Hannah (first round, 1973); Mike Haynes (first round 1976); Lee Roy Jordan (second round, 1963); Ty Law (first round, 1995); Curtis Martin (third round, 1995); Lawyer Milloy (second round, 1996); Richard Seymour (first round, 2001); Andre Tippett (second round, 1982).
New York Jets:
Joe Fields (14th round, 1975); Mark Gastineau (1979); Craig Hentrich (eighth round, 2000); Keyshawn Johnson (first round, 1996); Joe Klecko (sixth round, 1977); Mo Lewis (third round, 1991); Joe Namath (first round, 1965); Marvin Powell (first round, 1977); John Riggins (first round, 1971); Wesley Walker (second round, 1977).
September, 23, 2009
9/23/09
4:30
PM ET
| | |
| --- | --- |
| | |
| | Jared Wickerham/Getty Images |
| | Tom Brady and the Patriots haven't looked like world-beaters through two games, but talk of their imminent demise may be exaggerated. |

Posted by ESPN.com's Tim Graham
Step away from the pier, Patriots fans.
Before you rope a cinder block around your Florsheims and leap into the harbor over the way your team has looked through the first two weeks, understand it's too early to jump.
Wait until the water's colder.
"They're only 1-1 for crissakes," ESPN analyst Herm Edwards said. "It's September."
That's right; the
New England Patriots
did win a game. Although it's easy to think of them as 0-2 after the way they've matched up against a pair of AFC East teams.
The Patriots should be winless. The
Buffalo Bills
donated a victory in the season opener, when
Leodis McKelvin
fumbled a kickoff inside the final two minutes and begged
Tom Brady
to be the hero. Brady obliged.
But there were no Brady gallantries last Sunday. The hyperactive
New York Jets
defense agitated him all afternoon, and the Patriots lost 16-9 at the Meadowlands.
The visceral reaction is doom. But it's too soon to draw any conclusions about the Patriots' chances this year.
"In November, you'll know," Edwards said. "When you hit November, you know your team and you know where you stand realistically."
A loss on Sunday versus the
Atlanta Falcons
in Gillette Stadium would give the Patriots their first losing record since they dropped the 2003 season opener to the Buffalo Bills. They haven't had a losing record after two games since they were 3-4 in 2002.
"I know most people are looking at it as 'Oh, they're done. They're finished,'" said Je'Rod Cherry, who played on all three of New England's championship teams and now works as a college football analyst for ESPN360.
"I've seen this before. I don't think people should panic."
June, 26, 2009
6/26/09
9:45
AM ET
Posted by ESPN.com's Tim Graham
To get in the spirit of ESPN.com's all-decade week, I asked readers on Monday to select their AFC East team for the 20-aughts.
Although some insisted on submitting ballots that included a 4-4-4 defensive scheme and somebody kept signing on under different usernames to stuff the box for guard Adam Levitre (I think "they" meant Buffalo Bills rookie Andy Levitre), the results were sound.
Here are your picks along with my own.
| | |
| --- | --- |
| | |
| | Al Pereira/NFL |
| | The Jets' Curtis Martin eclipsed 1,000 yards rushing in five seasons this decade. |
OFFENSE
Quarterback: Tom Brady.
Of note: One vote came in for anybody other than the two-time Super Bowl MVP. Chad Pennington was the recipient.
My pick: Brady.
Running back: Curtis Martin.
Of note: There have been some stellar rushing seasons in the AFC East, but not much longevity. Martin's closest competition was Ricky Williams. Beyond that, nobody received more than two mentions. Thurman Thomas, who had 28 carries this decade, got a vote.
My pick: Martin.
Fullback: Tony Richardson.
Of note: Richardson's career credentials are remarkable. He has blocked for five 1,000-yard rushers. But last year was his first in the AFC East.
My pick: Larry Centers. He spent only three seasons in the AFC East, but he had 80 catches for the Bills in 2001, earning him Pro Bowl honors.
Receivers: Randy Moss, Laveranues Coles.
Of note: The only thing worse than Richardson getting votes after one year would be Terrell Owens after zero. Thankfully, nobody made that mistake. Moss and Coles were clearly ahead of the field, with Lee Evans coming in third and Chris Chambers fourth.
My picks: Moss, Eric Moulds.
Tight end: Randy McMichael.
Of note: Aside from Brady, no player was more unanimous at his position than McMichael.
My pick: McMichael.
Tackles: Vernon Carey, Matt Light.
Of note: Only four tackles were nominated, with Light edging out Jason Peters by one vote. Kareem McKenzie was a distant fourth.
My picks: Light, Peters.
Guards: Logan Mankins, Stephen Neal.
Of note: Ruben Brown, a nine-time Pro Bowler at left guard, received only six votes.
My picks: Brown, Mankins. If Neal can learn right guard without playing a down in college, then Brown can learn how to play there on my team.
Center: Kevin Mawae.
Of note: Nick Mangold came in second with half as many votes as Mawae, a player many readers felt should have been on the NFL's all-decade offense instead of Olin Kreutz.
My pick: Mawae.
DEFENSE

Defensive ends: Jason Taylor, Richard Seymour.
Of note: Not even close.
My picks: Taylor, Seymour.
Defensive tackles: Vince Wilfork, Pat Williams.
Of note: Williams edged out Kris Jenkins, who's coming off his lone season in the AFC East.
My picks: Wilfork, Ted Washington. Washington was a Pro Bowler for the Bills in 2000 and won a Super Bowl with the Patriots in 2003.
Linebackers: Zach Thomas, Mike Vrabel, Tedy Bruschi.
Of note: Thomas was omitted from the NFL all-decade defense, but he received the most votes of any AFC East linebacker. Joey Porter finished fourth, four votes behind Bruschi.
My picks: Thomas, Vrabel, Takeo Spikes. Many folks overlook Spikes because his teams never had success.
Cornerbacks:
Ty Law
,
Asante Samuel
.
Of note: Aside from Brady, nobody received more votes at his position than Law.
My picks: Law, Patrick Surtain. While Samuel was a Pro Bowler in 20
07, he started only three seasons for the Patriots. Surtain went to three Pro Bowls and was named All-Pro once this decade.
Safeties: Rodney Harrison, Brock Marion.
Of note: Marion edged Lawyer Milloy by a single vote.
My picks: Lawyer Milloy, Marion. Harrison had one All-Pro season with New England. Milloy was a two-time Pro Bowler and had productive seasons for the Patriots and Bills.
SPECIAL TEAMS
Kicker: Adam Vinatieri.
Of note: Some clown voted for Olindo Mare.
My pick: Vinatieri.
Punter: Brian Moorman.
Of note: Tom Tupa received a couple votes, but Moorman was the obvious selection.
My pick: Moorman.
Kick returner: Terrence McGee.
Of note: Leon Washington might have been impacted by readers splitting their votes for him between punt and kickoff returner.
My pick: Washington. He ran back three kicks in 2007, led the NFL in all-purpose yards last year and still might be getting better.
Punt returner: Roscoe Parrish.
Of note: He led the NFL in punt return yardage the past two years.
My pick: Parrish.

December, 27, 2008
12/27/08
3:12
PM ET
Posted by ESPN.com's Tim Graham
Taylor in Virginia Beach, Va., writes: Tim, Throughout this entire season, I've hated you, then loved you, then hated you. And you know what I realize? You're a damn fine writer. I enjoy your columns (for or against my Jets) because quite frankly, you tell it like it is. I just wanted to let you know, you've got a fan here in Virginia Beach, VA. Best of luck to you and yours in the coming new year. As for my beloved AFC East: I see Miami wiping the floor with Gang Green this weekend. So for the Jets, season's over (wow, that actually hurt to type). It's odd the feeling I get when I see Chad excelling with the Fins. I love the guy, was sad to see him go, but with the way the Jets have been playing/coached, it's just salt in the wound to know Pennington will be the one to seal our fate.
Tim Graham: Taylor, this is the favorite e-mail I've ever received from a reader, and only a small fraction of my appreciation relates to your compliment. I can't thank you enough for a) getting it, and b) taking the time to share your thoughts.
When your team is playing well, you'll probably enjoy what I write. When your team is playing poorly, you'll probably dislike what I write. When your team is mediocre, you probably won't care what I write.
---
Mr. Anonymous from Boston writes: Tim..you are a buffalo guy and probably know a bit of what's going on in Buffalo. Do the insiders at OBD think the problem is in coaching, or the personnel or both. Firing everyone and starting over doesn't seem to make sense. What do you think Buffalo is going to do as they try and improve in the ever competitive AFC East.
Tim Graham: Your guess is as good as mine. It's difficult to gauge what's going on at One Bills Drive because, let's face it, they're making it up as they go. There's no general manager, and while chief operating officer Russ Brandon is handling that role, owner Ralph Wilson calls the shots. Two months ago, the Bills gave Dick Jauron a three-year extension. The season isn't over and Wilson is second-guessing the decision.
---
Mauricio in Mexico City writes: Why in the coach of the year award bill b. is not even mentioned what he has done this year with that team is amazing. I also believe that is way easier to coach when your team has no expectations (no pressure) at all thats case with the dolphins, ravens, and falcons. What greater expectation can you have that have a team that when 18-1 an lose the superbowl there is not tougher situation in sports i think, even the superbowl champs have the excuse if the lose that they won the superbowl (we you finally win a you super bowl you can play more free). And we are not talking yet about the major injuries and the ability to insert John Does into a team and make them compete , Benjarvus, Gary Guyton, Cassel how many thought that Cassel after a horrible preseason was going to be cut. Thanks
Tim Graham: I couldn't agree with you more, Mauricio. I have written several times over the past few weeks that Bill Belichick deserves at least to be in the conversation for coach of the year. I don't think he will be the consensus pick (there are many versions of the award). I predict most of the honors will go to Atlanta Falcons coach Mike Smith, with Miami Dolphins coach Tony Sparano also getting some love.
But Belichick's success this year despite myriad injuries has been nothing short of spectacular. If you don't think so, ask yourself this: How many wins would your favorite team have managed without its starting quarterback for the whole year, No. 1 running back for 13 games, No. 2 running back for eight games, No. 3 running back for three games, starting strong safety for 10 games, starting outside linebacker for seven games, and starting inside linebacker for three games?
---
Mack from Waverly, Tenn., writes: Hey Tim. Ive heard that Lawyer Milloy is in the last year of his contract with the Falcons. If thats true do you think he might possibly return to the pats to finish his career. They could defenitly use his veteran leadership back there since it looks like Harrison is done. Do u think its possible?
Tim Graham: A shortage of leadership won't be an issue for the Patriots because of their established, proven philosophy and the type of players they pursue. Once in the organization, younger players are molded by the veterans and the coaching staff. So adding Lawyer Milloy merely for leadership isn't necessary.
Besides, second-year pro Brandon Meriweather has a bright future. He's versatile. He plays in all the packages, can blitz and has four interceptions.
Here is a recent quote from Belichcik about how well Meriweather has filled in for Rodney Harrison:
I think in every area of Brandon's game he continues to get better. He's played a little bit more down closer to the line of scrimmage than he has in the past in sub situations or when he was in there with Rodney. He has shown to be a good tackler, good in run support and good around the line of scrimmage. He has done a good job in the deep part of the field and in some man-to-man coverage situations that he has been asked to play in, like the St. Louis game where we were facing four wide receiver personnel. He was playing the inside corner position on that.
Through the course of the season he has been asked to do a lot of different things. He has really improved in all of them. I think he's having a good year. He has certainly come a long way as a player in these two seasons and continues to get better. He is a really dependable guy. He's smart and makes very few errors back there in the secondary, not just himself, but also in terms of the overall communication back there with the group. He is playing with a lot of confidence, and we have a lot of confidence in him because of the way he's been playing.
---
Greg in Boston writes: With the Patriots playing at 1 the Jets could be elimated from the playoffs by the time their game starts. This allows Mangini to bench players in a game that means nothing to them if the Patriots win...securing the playoff spot to the Dolphins. The time change for that game could hurt the Patriots chances.
Tim Graham: No matter what, the Jets' postseason hopes will be alive when they take the field Sunday because they still have a shot at the second wild-card berth. The Jets must win, and the Jaguars would need to beat the Ravens in another 4:15 p.m. kickoff.
---
Isaac in New York writes: I don't know if I'm just missing something, but looking at the playoff scenarios for this weekend (http://sports.espn.go.com/nfl/news/story?id=3711069) I can't figure out what would happen if the Jets defeat the Dolphins, the Patriots lose to the Bills, and the Ravens lose to the Jaguars. I get that the Jets would win the AFC East, but with the Ravens, Patriots, and Dolphins all at 10-6, who would have the last wildcard spot?
Tim Graham: If the Dolphins, Patriots and Ravens each finish 10-6, then the Ravens would get in. In the case of a three-way tie, the first deciding factor is applying the division tiebreaker to determine the top
team from that division. The Dolphins have that edge based on a better conference record. Then the Ravens would get in because they beat the Dolphins head to head.
---
Warren in Syracuse, N.Y., writes: I have been trying to figure this out but I'm not good at this kind of stuff. My question is, if the Jets beat Miami this Sunday, can the Dolphins still make the playoff's?
Tim Graham: The Dolphins must beat the Jets to finish with 11 wins because the Jets would claim the division title on head-to-head record, and the Ravens (even if they lose to the Jaguars) would get the second wild-card berth because they beat the Dolphins on Oct. 19.
---
Igor in Brooklyn, N.Y., writes: I was wondering if you could tell me what the record for most INTs by a quarterback in a pro bowl year is. I feel like Farve could have another NFL record. Also on a similar topic I was wondering if the 2 quarterbacks with the highest passer rating in a season have ever both been left out of the pro bowl.
Tim Graham: Brett Favre has thrown 19 interceptions with one regular-season game left. I'm not sure what the record is, but Terry Bradshaw was an All Pro with 20 interceptions in 1978 and went back to the Pro Bowl the next year with 25 interceptions. Dan Fouts was an All Pro in 1979 and a Pro Bowler in 1980 despite throwing 24 picks both times.
Ken Stabler threw 20 interceptions in only 13 games but went to the Pro Bowl in 1977. Joe Namath played in the AFL all-star game despite throwing 28 interceptions in 1967 and went to the Pro Bowl with 21 interceptions in 1972.
---
JKato in Boston writes: If the Jets make the playoffs this year, would this be one of the most disappointing playoff scenerioes in recent memory for the AFC East? I'm not completely saying that they don't deserve to go if they win even after the Losman fiasco, but there are such great stories like Matt Cassel's emergence as a great starter or even...gulp...Chad Pennington's second chance at starting will a rival team.
Tim Graham: No matter what, the AFC East will be represented by a compelling tale in the playoffs. The Patriots are playing better than any other AFC East team heading into the season finale, and the Dolphins are pulling off one of the great single-year rebounds in NFL history.
But if the Jets can squeeze into the postseason, you have Brett Favre's last hurrah (potentially). If the Jets can figure out how to snap out of their malaise and play more like the team that knocked off the Patriots and undefeated Tennessee Titans in successive weeks, then they can do some damage in the playoffs.
---
Randy Barnes from Perryton, Texas, writes: I think that your comments about Farve being outperformed by Chad Pennington are just to inflame situations and stir up controversy. Get a life.
Tim Graham: You're absolutely correct, Mr. Barnes. I'm the only person discussing the fact Chad Pennington is playing better than Brett Favre this season. If not for me, football fans would be focusing on the scintillating Brandon Fields versus Reggie Hodges showdown that will transpire Sunday at the Meadowlands.
---
Mr. Anonymous from Parts Unknown writes: If the 3rd tiebreaker after overall record, and division record in common games and the only difference between Miami and NE (if they both win out) is a NE win over AZ, wouldn't NE be in over Miami?
Tim Graham: The first tiebreaker within a division race is head-to-head record, then division record, then record against common opponents. The Dolphins and Patriots split their games and would finish with identical 4-2 division and 11-3 common-opponent records.
But the fourth tiebreaker is AFC record, and the Dolphins would be 8-4, while the Patriots would be 7-5.
---
Dennis in Medford, Mass, writes: Win or lose on Sunday, every Dolphin fan should be proud of the turnaround and grit the team has shown this year.
Tim Graham: I couldn't agree with you more, Dennis. Although it would sting for Dolfans if their team can't finish the season with authority and make the playoffs, you can't dispute how special the season has been. The Dolphins clearly are on the right track.
---
J.R. in Florida writes: Tim, I have question about the Jets-Phins game this weekend. Which team is hungrier; who wants the win more?
Tim Graham: Based on what I've seen in recent weeks, I would have to say the Dolphins seem to be playing with more of an edge. The Jets' season has been on the line for three weeks, and they haven't responded like a playoff team should. The Dolphins, on the other hand, are taking care of business.
---
Al in Fredericksburg, Va., writes: Tim, I really enjoy reading everything you write about the AFC East and beyond. What do you think about the quarterback situation that will arrive in New England. With Tom Brady's knee back on track, is it for sure that the Patriots will franchise Matt Cassel and keep the quarterback who has lead them to a play off berth in the last 6 years?
Tim Graham: Thank you for the compliment, Al. Glad you enjoy the blog. My prediction is that the Patriots will put the franchise tag on Matt Cassel. To let a valuable asset like him get away, especially after all of the time and money the Patriots have invested to get him to the level he's playing, would be disheartening.
The Patriots would have to pay Cassel the average of the NFL's top five highest-paid quarterbacks. There are no guarantees Tom Brady will be completely healthy for next year. Once the Patriots are convinced Brady will be OK, then they could trade Cassel on their terms rather than lose him to free agency and get nothing in return.
---
Kelly in New Jersey writes:
Tim I just heard that the Denver-San Diego game will be flexed for the final Sunday night game of the year. WHY?!?!?!?! I could not think of any reason as to why this game is deserving of being moved to Sunday night in comparison to the Dolphins-Jets game. What is wrong with the NFL?!?!?
Tim Graham: While I disagree with the NFL's decision to pass over the Dolphins-Jets game for prime time, I understand why they chose Broncos-Chargers. It's the only game on the schedule in which the winner goes to the playoffs and the loser goes home. If the NFL had flexed Dolphins-Jets, there's a possibility the game would end with two teams not going to playoffs if the Patriots and Ravens win as expected and the Dolphins lose. That would make for a dud prime-time finale.
---
Dan in Boston writes: I want to know how it is fair that New England can go 11-5 and miss the playoffs. Does the NFL need to change its playoff format? I'd say yes. Its SO unfair how the Broncos and Cardinals can go 8-8 and get in, but the Pats can go 11-5 and miss it. If that does happen, the Pats will bge not 3, but FOUR games up on the Broncos because we beat them already this season. I think the NFL needs to go back to 3 divisions, or just let the REAL top 6 into the playoffs.
Tim Graham: I'm picking up what you're laying down, Dan. But if the N
FL sent the six teams with the best record to the playoffs, then divisions will be irrelevant. If divisions become irrelevant, then rivalries lose their meaning.
---
Joe from Parts Unknown writes: You ever play football Tim.
Tim Graham: Why, yes, I have. I'm sure the readers would love to hear about it. ... I started both ways for three years at my high school as a receiver, part-time quarterback and defensive back. I punted, returned kickoffs and held on extra points and field goals. We went to the playoffs my sophomore year and got knocked out in the quarterfinals by O.J. McDuffie's team. I received a Division I-AA scholarship offer, but decided to pursue my other love, high jumping, in college.
If you give me your address, Joe, I'll send you an autograph.