February, 2, 2011
2/02/11
9:10
AM ET
Joe Namath, still the last quarterback to take the
New York Jets
to the Super Bowl,
visited "The Herd with Colin Cowherd."

Namath talked about the pageantry of Super Bowl week compared to when he played in it 42 years ago, the crop of young quarterbacks in the NFL, what he thinks of
Pittsburgh Steelers
quarterback
Ben Roethlisberger
and his latest take on Jets quarterback
Mark Sanchez
.
"He's a winner," Namath said of Sanchez. "I played for a coach in college called Paul 'Bear' Bryant. I heard him describe somebody, it was Lee Roy Jordan at the time, a linebacker for Alabama. Coach Bryant really simplified things in a way: 'When I say he's a winner, I promise you can use him and he's going to be all right.'
"Sanchez in just these two years, to two championship games -- of course, he had two pretty good teams -- I think his future is unlimited, man. But he needs the team. All quarterbacks need a decent team, a good team, an offensive line.
"But Sanchez, the players have grown to rely on him. His work ethic has been absolutely outstanding, and he's a humble guy. He's a sharp kid. I really like him, and the future's really bright."
Namath is a Western Pennsylvania native but is picking against the Steelers for the second straight game because of their flimsy offensive line. Namath also predicted the Jets would beat them in the AFC Championship Game.
March, 12, 2010
3/12/10
1:50
PM ET
To mark the NFL's 75th draft next month, the league has launched a neat venture to sort out the 75 greatest draft picks and
determine the all-time most valuable selection
.
NFL.com editors narrowed each team's list of candidates down to the top 10, which seems a little unfair to the organizations steeped in history. The Dallas Cowboys' 20th most impressive pick is more deserving than the Houston Texans' sixth.
[+] Enlarge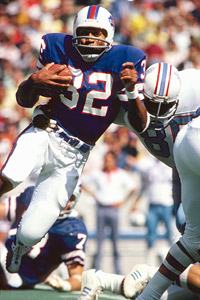 Malcolm Emmons/US PresswireO.J. Simpson is one of the best selections the Bills ever made.
I disagree with the decision to include players who didn't suit up for the teams that drafted them. For instance, tackle Leon Gray is listed for the Dolphins, kicker Gary Anderson for the Bills and punter Craig Hentrich for the Jets.
How can they be considered great draft picks if the teams that evaluated them declined to include them on their final rosters? Sounds to me like they were accidental draft picks more than savvy selections.
But if that's how they're going to do it, then I'd like to see Gary Fencik, a 10th-round pick in 1976, listed under the Dolphins.
Anyway, each team has 10 candidates fans can choose from when voting through April 18 at NFL.com. Parts of the list will be revealed on NFL.com and the NFL Network beginning April 19. The top 10 will be saved for the draft telecast.
The AFC East candidates, in alphabetical order:
Buffalo Bills:
Gary Anderson (seventh round, 1982); Ruben Brown (first round, 1995); Joe DeLamielleure (first round, 1973); Jim Kelly (first round, 1983); Reggie McKenzie (second round, 1972); Andre Reed (fourth round, 1985); O.J. Simpson (first round, 1969); Fred Smerlas (second round, 1979); Bruce Smith (first round, 1985); Thurman Thomas (second round, 1988).
Miami Dolphins:
Dick Anderson (third round, 1968); Larry Csonka (first round, 1968); Leon Gray (third round, 1973); Bob Griese (first round, 1967); Sam Madison (second round, 1997); Dan Marino (first round, 1983); Jake Scott (seventh round, 1970); Dwight Stephenson (second round, 1980); Jason Taylor (third round, 1997); Zach Thomas (fifth round, 1996).
New England Patriots:
Tom Brady (sixth round, 2000); Nick Buoniconti (13th round, 1962); John Hannah (first round, 1973); Mike Haynes (first round 1976); Lee Roy Jordan (second round, 1963); Ty Law (first round, 1995); Curtis Martin (third round, 1995); Lawyer Milloy (second round, 1996); Richard Seymour (first round, 2001); Andre Tippett (second round, 1982).
New York Jets:
Joe Fields (14th round, 1975); Mark Gastineau (1979); Craig Hentrich (eighth round, 2000); Keyshawn Johnson (first round, 1996); Joe Klecko (sixth round, 1977); Mo Lewis (third round, 1991); Joe Namath (first round, 1965); Marvin Powell (first round, 1977); John Riggins (first round, 1971); Wesley Walker (second round, 1977).