April, 10, 2010
4/10/10
1:33
PM ET
I have a few problems with the NFL's attempt to determine the
75 most valuable draft picks of all-time
.
The project was created to celebrate the 75th draft, which will begin April 22. Fans can vote through April 18.
On Thursday, the NFL provided a rundown of the
20 who've received the most votes so far
. The list indicated a popularity contest, not an actual consideration for draft value. One player among the list of 20,
New England Patriots
quarterback
Tom Brady
, was taken later than 82nd overall.
Not in the top 20? Pro Football Hall of Famers Deacon Jones, Roger Staubach, Ken Houston or Rayfield Wright, who were selected in the 14th, 10th, ninth and seventh rounds.
Also absent were former league MVPs Mark Moseley (14th round), Brian Sipe (13th round), Larry Brown (ninth round) and Terrell Davis (sixth round). Six-time Pro Bowler L.C. Greenwood (10th round), five-time Pro Bowler Tom Nalen (seventh round) and Bo Jackson (seventh round) weren't there either.
So I set out to post my own list on the blog.
I didn't get far.
Soon after I began sketching out my list, I noticed the ballot doesn't offer Wright as an option to begin with.
NFL.com set up the project by creating the pool
, 10 players from each team. Wright didn't make the cut. Another omission was Steve Largent, a fourth-round selection who retired as the all-time receptions leader.
The Houston Oilers drafted Largent. The Oilers/Tennessee Titans' list did, however, include Derrick Mason. And for those who might think Largent shouldn't qualify because he didn't play for the Oilers, know that kicker Gary Anderson is listed for the Buffalo Bills, tackle Leon Gray for the Miami Dolphins and punter Craig Hentrich for the New York Jets.
I gave up on the endeavor, but needed to expunge that draft-ranking jones from my system.
Thankfully,
I found an outlet at BuffaloBills.com
. It's running a satisfactory all-time draft poll that instructs visitors to "Select the 10 players you feel provided the team with the most value." So Anderson isn't an option.
Here's my Bills list:
1. Thurman Thomas, second round
2. Andre Reed, fourth round
3. Bruce Smith, first round
4. Jim Kelly, first round
5. O.J. Simpson, first round
6. George Saimes, sixth round (AFL)
7. Tom Sestak, 17th round (AFL)
8. Howard Ballard, 11th round
9. Darryl Talley, second round
10. Joe Ferguson, third round
Now I feel better.
The Bills' official list will be revealed April 22 at a season-ticket holder draft party.
March, 12, 2010
3/12/10
1:50
PM ET
To mark the NFL's 75th draft next month, the league has launched a neat venture to sort out the 75 greatest draft picks and
determine the all-time most valuable selection
.
NFL.com editors narrowed each team's list of candidates down to the top 10, which seems a little unfair to the organizations steeped in history. The Dallas Cowboys' 20th most impressive pick is more deserving than the Houston Texans' sixth.
[+] Enlarge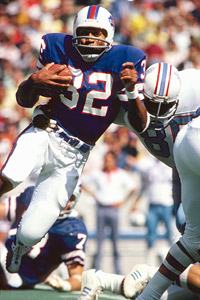 Malcolm Emmons/US PresswireO.J. Simpson is one of the best selections the Bills ever made.
I disagree with the decision to include players who didn't suit up for the teams that drafted them. For instance, tackle Leon Gray is listed for the Dolphins, kicker Gary Anderson for the Bills and punter Craig Hentrich for the Jets.
How can they be considered great draft picks if the teams that evaluated them declined to include them on their final rosters? Sounds to me like they were accidental draft picks more than savvy selections.
But if that's how they're going to do it, then I'd like to see Gary Fencik, a 10th-round pick in 1976, listed under the Dolphins.
Anyway, each team has 10 candidates fans can choose from when voting through April 18 at NFL.com. Parts of the list will be revealed on NFL.com and the NFL Network beginning April 19. The top 10 will be saved for the draft telecast.
The AFC East candidates, in alphabetical order:
Buffalo Bills:
Gary Anderson (seventh round, 1982); Ruben Brown (first round, 1995); Joe DeLamielleure (first round, 1973); Jim Kelly (first round, 1983); Reggie McKenzie (second round, 1972); Andre Reed (fourth round, 1985); O.J. Simpson (first round, 1969); Fred Smerlas (second round, 1979); Bruce Smith (first round, 1985); Thurman Thomas (second round, 1988).
Miami Dolphins:
Dick Anderson (third round, 1968); Larry Csonka (first round, 1968); Leon Gray (third round, 1973); Bob Griese (first round, 1967); Sam Madison (second round, 1997); Dan Marino (first round, 1983); Jake Scott (seventh round, 1970); Dwight Stephenson (second round, 1980); Jason Taylor (third round, 1997); Zach Thomas (fifth round, 1996).
New England Patriots:
Tom Brady (sixth round, 2000); Nick Buoniconti (13th round, 1962); John Hannah (first round, 1973); Mike Haynes (first round 1976); Lee Roy Jordan (second round, 1963); Ty Law (first round, 1995); Curtis Martin (third round, 1995); Lawyer Milloy (second round, 1996); Richard Seymour (first round, 2001); Andre Tippett (second round, 1982).
New York Jets:
Joe Fields (14th round, 1975); Mark Gastineau (1979); Craig Hentrich (eighth round, 2000); Keyshawn Johnson (first round, 1996); Joe Klecko (sixth round, 1977); Mo Lewis (third round, 1991); Joe Namath (first round, 1965); Marvin Powell (first round, 1977); John Riggins (first round, 1971); Wesley Walker (second round, 1977).