June, 28, 2011
6/28/11
2:00
PM ET
»
Best of NFC
:
East
|
West
|
North
|
South
»
AFC
:
East
|
West
|
North
|
South
As part of the Best of the NFL Week on ESPN.com, here are five bests for the AFC East:
Best hands, Davone Bess:
Just to get a rise out of everybody, I could have gone with
New York Jets
receiver
Braylon Edwards
here. After all, he dropped only one ball last season on 98 targets and 53 receptions. But I couldn't bring myself to do it based on his track record. So I'm going with Bess, the
Miami Dolphins
' slot receiver, who drops one on occasion, but that's expected given his volume. The past two seasons, Bess has dropped 10 passes -- but on 233 targets and 155 receptions.
[+] Enlarge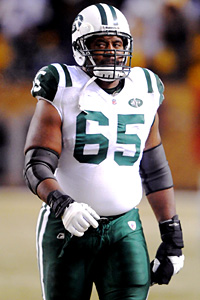 Kirby Lee/US PRESSWIREJets offensive lineman Brandon Moore, a.k.a. Meat.
Best celebrator, Steve Johnson:
The flamboyant receiver endeared himself to
Buffalo Bills
fans with his breakout 2010 season. He caught 82 passes for 1,073 yards and 10 touchdowns. But his signature moment -- well, his
positive
signature moment -- came in Week 11 against the
Cincinnati Bengals
. He caught eight passes for 137 yards and three touchdowns. He further showed up the self-proclaimed "Batman and Robin" duo of
Terrell Owens
and
Chad Ochocinco
. Johnson scored a TD and triumphantly lifted his jersey to reveal a T-shirt with a line from the Joker: "Why so serious?"
Best trash talker, Channing Crowder:
Not many players would get into a verbal sparring match with an NFL coach, but the Dolphins linebacker gleefully engaged Rex Ryan two summers ago. Crowder's diatribes are enthralling, although sometimes dotted with malapropisms. After he accused
Baltimore Ravens
fullback
Le'Ron McClain
of spitting in his face, Crowder went on a rant that invoked Anne Frank when trying to mock officials for being blind. He meant Helen Keller.
Best nickname, Meat:
That's what the Jets call right guard
Brandon Moore
. Why is it the best nickname? I don't know. Because it makes me laugh when I hear it, I guess. Maybe because it reminds me of the dialogue between Crash Davis and Nuke LaLoosh in "Bull Durham."
Best intimidator, Darrelle Revis:
He's not a snarling, frothing menace on the other side of scrimmage. But when it comes to eliminating top receivers, Revis is the best in the business -- and the opposition knows it. He causes dread in coaches, quarterbacks and receivers the week they play the Jets.
November, 10, 2010
11/10/10
10:09
PM ET
Wednesday was jammed with so much AFC East news, I wanted to compile a few items that might've gotten overshadowed by bigger stories.
Buffalo Bills
Head coach Chan Gailey classified the leg injury outside linebacker
Shawne Merriman
sustained as "minor." Gailey hasn't officially ruled him out for Sunday's game against the Lions, but
the chances Merriman makes his Bills debut appear slim
.
"You've got to realize he hasn't played a lot of football," Gailey said of Merriman. "He hasn't had pads on in a while, all that kind of stuff. You want him out there, but he's not quite ready. We're not going to put him out there till he's ready. That's the No. 1 thing."
Miami Dolphins
The
NFL didn't find conclusive evidence to punish
Ravens fullback
Le'Ron McClain
for allegedly spitting in Dolphins linebacker
Channing Crowder
's face.
"You can see it on film," Dolphins defensive tackle
Tony McDaniel
said
in a South Florida Sun-Sentinel article
. "For them not to take any action, it says it's all right for us to spit on each other. Maybe they'll start something by not fining him for that."
New England Patriots
Patriots quarterback
Tom Brady
missed Wednesday's practice with a sprained foot, but
is expected to play Sunday against the Steelers
.
The signing of kicker
Shayne Graham
isn't intended to be temporary. The Patriots placed
Stephen Gostkowski
on
season-ending injured reserve with a torn quadriceps
muscle. The switch is a bad one for New England. Gostkowski was an All-Pro two seasons ago. Graham was on the street after missing two field goals for the Bengals in a first-round playoff loss to the Jets.
New York Jets
Inside linebacker
Bart Scott
fired another shot at Lions head coach Jim Schwartz, who belittled
Scott's claim the Lions are the NFL's dirtiest team
. Schwartz said "consider the source."
"Listen, I don't have to play Detroit for another four years," Scott said. "I couldn't care less what that man has to say. Don't even exist to me anymore. Does it really matter? I don't have to see him ever again. Do I have to see him at the Super Bowl? Playoffs? Probably not. In the parking lot? ... We're playing the Browns. I'm not going to oblige him. He'll be watching TV in January."
November, 8, 2010
11/08/10
3:03
PM ET
Miami Dolphins
head coach Tony Sparano said he has video evidence that supports inside linebacker
Channing Crowder
's claim that
Baltimore Ravens
fullback
Le'Ron McClain
spit in Crowder's face during the third quarter of Sunday's game.
Sparano spoke about the alleged incident for the first time Monday and indicated he would forward video to the NFL. McClain denied spitting at Crowder, one of the NFL's most notorious trash talkers, who went on
an epic postgame tirade in the locker room
.
"It's upsetting to me," Sparano said. "There's a lot of things that go on in this game from a talking standpoint and trash-talking standpoint. I'm standing there on the sideline yesterday, and I had a player talking trash to me from the other team, and I didn't say one word to the guy.
"Now, that being said, that's part of the game. I get it. I mean, that's whatever floats your boat out there, OK? Really, I don't think it's part of the game, OK? But to some of them that's what gets them going.
"But this whole deal here about spitting in somebody's face, nowhere in this game do I see any place for that. I just don't."
November, 7, 2010
11/07/10
8:14
PM ET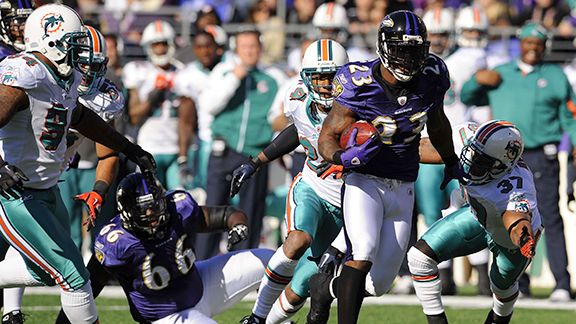 Rafael Suanes/US PresswireWillis McGahee and the Ravens amassed 402 offensive yards against the Dolphins.
BALTIMORE -- The
Miami Dolphins
weren't going to finish the season with an undefeated road record. They were due to lose away from Sun Life Stadium. In that regard, Sunday's result from M&T Bank Stadium shouldn't make Dolfans depressed.
But in many ways, how the afternoon unfolded for the Dolphins was more alarming than one defeat to a formidable opponent.
The Dolphins are frustrated and confused and -- worst of all -- sounded like they were doubting themselves after the
Baltimore Ravens
thumped them
26-10
.
Halfway into the season, the Dolphins are a .500 club that doesn't seem to know what it is or what it can be.
"I think it's obvious right now we can't beat the great teams," Miami receiver
Brandon Marshall
said. "We can't beat the good teams. I can't put my finger on it. We just shoot ourselves in the foot."
The Dolphins' losses are to each of the teams
rated No. 1 through 4 in ESPN.com's latest Power Rankings
. The
New England Patriots
,
New York Jets
and
Pittsburgh Steelers
previously defeated them.
The schedule has been unkind, but Dolphins
owner Stephen Ross predicted they would go to the Super Bowl
. The Dolphins can't go 0-4 against the best teams in the league and consider themselves near elite.
On a day when the
Cleveland Browns
walloped the Patriots, a Dolphins' victory would have muddled up the AFC East standings.
But about a quarter into the game, the Ravens demonstrated they were in command.
Had Baltimore not continually frittered away opportunities, the score would have been much more lopsided. Baltimore was pathetic in the red zone, finishing with a touchdown once on seven trips.
The Ravens had the edge on offense, defense and special teams. They had the ball for 38 minutes, 22 seconds and rolled up 402 total yards. They doubled the Dolphins' 73 rushing yards. The Ravens didn't punt.
The Dolphins pride themselves on being a physical club, but they were dominated that way.
"We didn't tackle worth a crap," Dolphins head coach Tony Sparano said barely above a whisper. "We're a lousy tackling football team today, and we gave them opportunities by not getting people on the ground a couple times out there, didn't execute calls properly, checkdowns to backs end up being big plays."
Ravens running back
Ray Rice
was virtually ignored by defenders a few times. Rice had a game-high seven catches for 97 yards in addition to his 83 yards rushing.
"It was a ridiculous performance by our defense," Dolphins inside linebacker
Channing Crowder
said.
Crowder's frustrations boiled over in the third quarter
, when Ravens fullback
Le'Ron McClain
allegedly spit in his face. McClain denied Crowder's accusation.
The Dolphins' offense was sensational on its first possession, and the effect should have been inspiring for a struggling crew that went into the weekend with the NFL's second-fewest touchdowns.
Ronnie Brown
ran six times for 45 yards. His first two carries went for 12 and 14 yards. Brown capped the drive with a 12-yard touchdown run, making it appear way too simple.
"We were knocking them off the ball," Dolphins quarterback
Chad Henne
said. "But then we didn't execute as well."
Brown had one more carry in the first half and two more in the second half.
The Dolphins didn't score another touchdown. They got inside the Ravens' 30-yard line twice more and managed one field goal. Late in the second quarter, they had a third down at the Ravens' 1-yard line and called a play-action pass. Henne's throw knuckled out of tight end
Anthony Fasano
's reach.
"That's a throw that I need to make," Henne said. "That was my fault. He was wide open."
Henne had a rough afternoon. He threw three interceptions -- not all his fault -- and didn't have a touchdown pass. Over his past three games, he has one TD and five interceptions.
Henne drew the ire of Miami's coaching staff three plays into the second half. On a third-and-10 play, he was forced to scramble and rather than fight for the first down, slid feet first for a 7-yard gain.
F-bomb screams about Henne's decision were audible from the Miami coaches booth adjacent to the press box.
Although the Ravens missed a field goal in the second quarter, they made more plays on special teams.
The Dolphins had 10 men on the field on a Ravens punt, leaving cornerback
Cary Williams
uncovered for a 13-yard first-down reception one play after the alleged spitting incident and subsequent skirmish. The Dolphins nearly gave up a safety on a kickoff return.
So what are the Dolphins? Are they a contender? Are they as average as their 4-4 record would suggest? Are they victims of a tough schedule?
Halfway into the season, they don't have a handle on any of those answers.
"We've been inconsistent all year, game to game, series to series," Marshall said. "We won't beat anybody playing the way we do with this up-and-down football. We've got to find solutions and eliminate these problems we're having."
November, 7, 2010
11/07/10
6:24
PM ET
BALTIMORE -- When a handful of reporters approached
Miami Dolphins
linebacker
Channing Crowder
to talk about Sunday's 26-10 loss to the
Baltimore Ravens
, we expected to hear his usually colorful and blunt assessment of the game.
He sounded a bit agitated and inserted a few too many profanities for the FCC's liking, but he otherwise was of good humor for a couple minutes. That was until South Florida Sun-Sentinel reporter Mike Berardino asked what seemed like a throwaway question about a third-quarter skirmish.
Crowder replied with an accusation that touched off fireworks
in both locker rooms a half hour after the game ended. Crowder claimed Ravens fullback
Le'Ron McClain
spat into his face.
"I just got told not talk about it, so I can't talk about it," Crowder said, then proceeded anyway. "But Le'Ron McClain spit in my face. He spit in my face. That's some real ho s---. So if you talk to him, tell him he's a ho. And if he ever comes to Miami, he's got to see me."
Crowder said referee John Parry's officiating crew wasn't sympathetic.
"Then they said something about they let [Dolphins linebacker]
Karlos Dansby
get away with a facemask the play before," Crowder said. "Who the f--- cares? A guy just spit in my face! I don't give a damn about Karlos pulling somebody's facemask. Like they didn't see [Dolphins quarterback]
Chad Henne
get hit twice when he slid. Yeah, a little Stevie Wonder and Anne Frank."
Crowder might have been done talking right then, but I had to ask what he meant by Anne Frank.
"Who was that? Is that the blind girl?" Crowder said.
Helen Keller, I suggested.
"Helen Keller," he said. "I don't know who the f--- Anne Frank is. I'm mad right now. F--- it. I'm not as swift as I usually am.
"That's the first time I've ever been spit in my face in my life. And that's the worst thing you can do to a man as another man, spit in somebody's face. Why would you do that? Why would you try to? Because you're scared of me? Really? Spit on me and then walk away real fast and let your team protect you? That's what he did."
McClain denied spitting at Crowder and admitted saliva might've flown out of his mouth while they were jawing, facemask-to-facemask.
McClain was smiling in an aw-shucks manner over the incident and did a good job of being diplomatic, noting Crowder probably was just frustrated about the loss.
Ravens receiver
Derrick Mason
had some choice words for Crowder, a notorious trash talker who once took on
New York Jets
head coach Rex Ryan.
"You have to be able in this sport to be able to back up what you talk, and for some reason this guy every time he says something he doesn't back it up," Mason said. "He's not a marquee player. I don't think they even want him on this team, but they have no one to replace him. So he has to be there.
"He's in the game, and he's getting knocked down. He's getting pushed out of the way. The guy is horrible. Honestly, the guy is horrible. He's probably a good guy. Not taking that away from him, but he's horrible. He's not a good football player. Honestly, he needs to go back and watch the film and humble himself and not say anything."
September, 13, 2010
9/13/10
10:38
PM ET
EAST RUTHERFORD, N.J. -- The
New York Jets
opened their season Monday night with a
10-9
loss to the
Baltimore Ravens
at the New Meadowlands.


What it means:
With so much hype building throughout the summer about the Jets and their lofty aspirations, they made a disappointing first impression. The Jets failed to score a touchdown, couldn't get their defense off the field, were amazingly sloppy and failed to capitalize on three first-half turnovers.
With the
New England Patriots
and
Miami Dolphins
winning on Sunday, the Jets are a game behind in the AFC East race. That might not sound significant with 15 games remaining, but a loss in September means the same as a loss in December.
What I liked:
The run defense was stellar. They limited the vaunted Ravens' backfield of
Ray Rice
,
Willis McGahee
and
Le'Ron McClain
to 47 yards on 31 carries.
For all their foibles on both sides of scrimmage, the Jets never let the game get away from them. They stayed in the game with aggressive defense and sensational special-teams play.
Jim Leonhard
had two punt returns for 54 yards.
I loved what I saw out of
Joe Flacco
, especially after he almost got decapitated on his first play and particularly for what he did on third down. He completed nine of his 14 attempts on third down for 137 yards. Every completion gained a first down.
What I didn't like:
New York's offense was pathetic. They couldn't run. They couldn't throw. They couldn't convert third downs. They couldn't kneel out the first half clock without getting flagged for too many men on the field. They failed to convert a single third down until their final possession.
At the end of the game, I looked at
Mark Sanchez
's stats on my laptop thought "I must've forgotten to hit refresh since the second quarter." Nope. Sanchez went into his last possession 7-of-14 for 47 yards. He finished 10-of-21 for 74 yards.
Shonn Greene
had a rough night. He fumbled twice in the first half (he lost one) and dropped a critical pass with about five minutes left in the game and the Jets still trying to find traction. Greene finished with five carries for 18 yards.
The Jets should be even more ecstatic to have
Darrelle Revis
in uniform because the two cornerbacks who were supposed to cover for him until he returned --
Antonio Cromartie
and
Kyle Wilson
-- were picked on. Flacco hit several big plays against both. Cromartie had three costly penalties to give the Ravens first downs. Flacco was 20-of-38 for 248 yards -- against last year's top-rated pass defense.
Trending:
The Jets were obnoxiously undisciplined. They committed 10 penalties for 100 yards in the first half alone. They gave up six first downs on penalties, allowing the Ravens to break a franchise record. For the game, the Jets were flagged 14 times for 125 yards. That better not be a systemic problem for the Jets.
Unsung hero:
Punter hasn't been a major strength for the Jets in a while, but
Steve Weatherford
was great Monday night. He pinned the Ravens inside the 15-yard line four times and inside the 5-yard line twice.
Injuries of note:
The Jets lost star nose tackle
Kris Jenkins
on their second defensive possession to a knee injury. He slowly walked off the field under his own power, just as he did last year, when he sustained a season-ending knee injury in the sixth game.
What's next:
On a short week, the Jets have to get ready for the Patriots, who showed Sunday they're still a force to be reckoned with by crushing the
Cincinnati Bengals
38-24.
September, 13, 2010
9/13/10
8:02
PM ET
EAST RUTHERFORD, N.J. -- The
New York Jets
defense has absorbed a nasty blow a handful of plays into their season.
Nose tackle
Kris Jenkins
, one of their best players, has hurt his left knee again. He has left the field in Monday night's game against the
Baltimore Ravens
.
Jenkins was injured about 6 1/2 minutes into the game, while making a tackle on Ravens running back
Le'Ron McClain
.
Jenkins was flat on his back for a couple minutes with a few teammates kneeling next to him. Defensive tackle
Sione Pouha
seemed to be praying over him until Jenkins sat up, slowly got to his feet and gathered himself before easing off the field under his own power. Jenkins immediately left the Jets' sideline and headed for the trainers' room.
He had a season-ending knee injury six games into last season. The Jets still managed to finish with the NFL's top-rated defense, but he's considered critical as the keystone to their 3-4 defensive front.
Jets coach Rex Ryan recently raved about Jenkins' recovery from the injury.
"I think he's better this year than he was last year," Ryan said. "The way he approaches practices and the way he's working.
"The way he has approached it, his thing is he's trying to get better fundamentally. When you have a veteran who is willing to accept coaching, willing to do things and look at himself critically from a technique standpoint, he's willing to improve, regardless of his age. That's what you're seeing.
"We are seeing a phenomenal Kris Jenkins and he was phenomenal to begin with. He's really become a better technique player, which is scary for the league, I would think."
July, 22, 2010
7/22/10
8:49
AM ET
An interesting cyberdebate unfolded beneath an item I wrote Wednesday about
Buffalo Bills
coach Chan Gailey's ground-game tendencies.
The piece was inspired by a column written by ESPN fantasy analyst Matthew Berry, who noted
Gailey has an undeniable history of designating one workhorse
running back during his stops as a head coach and offensive coordinator over the past 22 years.
Some writers scoffed, insisting Gailey's trend wouldn't apply in Buffalo because they have three capable backs in
Marshawn Lynch
,
Fred Jackson
and rookie
C.J. Spiller
.
In the process, reader migarvin21 boldly declared the Bills have the NFL's best trio of backfield mates.
As is the hallmark of a spirited debate, some immediately shot down migarvin21's opinion, while others offered support.
When I expressed skepticism, readers Bills451 and Jpicc8049 dared me to name a team with three better backs.
As I responded in the comments section, I would take the
Baltimore Ravens
' (
Ray Rice
,
Willis McGahee
,
Le'Ron McClain
) and the
Dallas Cowboys
' (
Marion Barber
,
Felix Jones
,
Tashard Choice
) trios over the Bills. Other readers mentioned the
Washington Redskins
(
Clinton Portis
,
Larry Johnson
,
Willie Parker
).
But it's tough to compare trio for trio because most good teams don't rely on a third running back.
I'd also take the one-two punches of the
Carolina Panthers
(
DeAngelo Williams
,
Jonathan Stewart
) and
New York Giants
(
Ahmad Bradshaw
,
Brandon Jacobs
) over the Bills' threesome. Some fans would prefer
Chris Johnson
or
Adrian Peterson
by himself to sprinkling touches among Jackson, Lynch and Spiller.
Motivated by the discussion, I put together my AFC East preseason backfield rankings for 2010. The order is determined not by the offensive lines or the coordinator's playbook. This is purely on the talent of the top three backs for the upcoming season.
1. Miami Dolphins:
Yes,
Ronnie Brown
always seems to be hurt, and
Ricky Williams
is 33 years old. But they are the best tandem in the division. Brown's versatility and explosiveness is what turned the Wildcat into a fad. In a recent Sporting News column,
an NFL scout rated Brown the fourth-best back
and said if it weren't for injuries he'd be the league's most complete. The Dolphins also have a true fullback in
Lousaka Polite
, who is automatic in short-yardage situations.
2. Buffalo Bills:
The Bills are too unproven to be in the conversation for best NFL trio -- for now. We can justify the argument if we base it on how well they
could
be. But neither Jackson nor Lynch has established himself as a go-to back. Jackson topped 100 yards two times last year. Aside from trampling the
Indianapolis Colts
' junior varsity in the season finale, Jackson rushed for more than 70 yards twice against a team with a winning record. Lynch looked like a monster his first two seasons then plummeted out of favor last year. Spiller doesn't have an NFL touch.
3. New York Jets:
They boasted the NFL's best attack last year, averaging 172.2 yards a game. But leading rusher
Thomas Jones
is gone. Sophomore
Shonn Greene
looked like the real deal in the playoffs but needs to show he can be the workhorse for a full season.
LaDainian Tomlinson
is a surefire Hall of Famer, but he's 31 and looked ragged last year with the
San Diego Chargers
. Fullback
Tony Richardson
will be 39 by the end of the season.
4. New England Patriots:
They're a grab bag. They have the perpetually uninspiring
Laurence Maroney
and three veterans --
Kevin Faulk
,
Fred Taylor
and
Sammy Morris
-- who are 33 or older. They're good enough to get by, as evidenced by the fact the Patriots finished 12th in rushing last year, but none of the backs is good enough to be dominant. Maroney was the leading rusher with 194 carries for 757 yards, a 3.9-yard average. Faulk was next with 335 yards.
December, 29, 2008
12/29/08
12:15
AM ET
| | |
| --- | --- |
| | |
| | AP Photo/Julie Jacobson |
| | Quarterback Chad Pennington helped lead Miami's historic turnaround from a 1-15 season. |
Posted by ESPN.com's Tim Graham
EAST RUTHERFORD, N.J. -- The Miami Dolphins were reveling in their improbable accomplishment. From worst to first they went, a feat clinched with a 24-17 victory Sunday over the New York Jets at the Meadowlands.
Already they wore commemorative gray ball caps, emblazoned with their logo underneath "Division Champions" in block letters and with "Playoffs" displayed on the headband. White T-shirts told the same tale.
"Usually, my wife wants the T-shirt," Dolphins nose tackle Jason Ferguson said of his beloved swag, "but not this time."
Defensive end Vonnie Holliday took off his AFC East championship hat and slowly panned it, point blank, before a throng of camera lenses. He wanted the naysayers and the doubters to take a close look at it.
As the music thumped in the visitors' locker room, first-year Dolphins general manager Jeff Ireland leaned against a wall, watched his players and soaked in the moment.
Moments before he and owner Wayne Huizenga phoned football operations boss Bill Parcells, who didn't make the trip, to share the celebration.
"He was excited for about 30 seconds," Ireland said of his brief chat with Parcells, "and then he said, 'Let's get back to business.' "
Miami's historic turnaround from a 1-15 season was 12 months in the making. Ireland said, "we're going to let this soak in for 12 hours. Then we'll get back to work."
For the first time in seven seasons, the Dolphins will play a 17th game. They will host the Baltimore Ravens on Sunday.
While the Dolphins take a moment to rejoice, assistant director of player personnel Brian Gaine is hard at work compiling the advance scouting reports. Gaine won't have to start from scratch on this one because the teams already have met this season -- and it wasn't pretty for Dolfans.
Baltimore handled Miami like few teams this year, posting a comprehensive 27-13 victory in Dolphin Stadium on Oct. 19.
"In the playoffs, everybody starts off 0-0," Ferguson said. "So if they're holding that up, saying they beat us last time and we're going to be the same team. ... We're definitely going to be a totally different team. We worked hard since then."
Both teams have gone on torrid runs since then. The Dolphins won nine of their last 10 regular-season games, their lone loss coming against the New England Patriots.
The Ravens used their success over the Dolphins to kick off a stretch of nine victories in their last 11 games, beating the Philadelphia Eagles, Washington Redskins and Dallas Cowboys along the way. The Ravens' only losses in that span were to the New York Giants and Pittsburgh Steelers.
"The Ravens are an outstanding football team," Dolphins coach Tony Sparano said. "We know that. It's a tremendous defense, and they beat us already. The Jets beat us the first time they played us as well.
"We're well aware of how good a football team they are. They're playing tremendously
right now. I think our guys are playing pretty good, too."
With that in mind, let's take a glance at what transpired in Week 7 between the Ravens and Dolphins:
1. One of Chad Pennington's poorer games.
Pennington is worthy of MVP consideration for what he has provided the Dolphins, but his game against the Ravens was disappointing. His stat line looked decent enough: He completed 24 of 35 passes for 295 yards and one touchdown with an interception for a 92.0 passer rating.
But Pennington's interception changed the game. Perhaps his worst decision of the year came when he threw it directly to Ravens linebacker Terrell Suggs in the flat. Suggs had nothing between him and the end zone 44 yards away to break a 3-3 tie and give the Ravens a lead they wouldn't relinquish.
2. The Ravens ran roughshod.
The Ravens gained 139 rushing yards, the most by a Dolphins opponent until the Kansas City Chiefs ground out 180 yards in Week 16. But the Ravens amassed 101 of their rushing yards in the second half to demoralize the Dolphins as the game wore on.
Willis McGahee ran 19 times for 105 yards and a touchdown and caught two passes for 47 yards.
This should make Dolfans swallow hard: Le'Ron McClain, who has been a bull lately, was used sparingly in Week 7. He had only six carries for 17 yards. In McClain's last six games he rushed for 531 yards and five touchdowns.
3. The Ravens defense made bigger plays.
The Dolphins' offensive line generally kept Pennington safe, allowing one sack. But in addition to Suggs' touchdown, the Ravens bottled the Dolphins' eccentric Wildcat offense and reduced running backs Ronnie Brown and Ricky Williams to non-factor status.
The Dolphins ran for only 71 yards. One yard came from the Wildcat, which had been dazzling in the three weeks leading into that game.
"We got a lot of work ahead of us," Brown said Sunday after beating the Jets. "We can't make the mistakes we made today. We're going to have to come out and play fundamental football."
Brown also said the Ravens have "a lot of guys that can make plays, but the funny thing about it is on the offensive side of the ball we have guys that can make plays."
4. Rookie quarterback Joe Flacco wasn't disrupted enough.
The Dolphins got to Flacco twice all afternoon, and it wasn't enough. Flacco, making his sixth career start, completed 17 of 23 passes for 218 yards and one touchdown. He didn't
throw an interception and finished with a 120.2 passer rating, his best of the year.
"I know what we've got to do," Ferguson said. "Our defense has got to really try to play with their defense. Their defense plays with a lot of emotion. They make a lot of plays for them.
"We really got to match their defense. Our offense is going to handle their business, but we've got to help them out and play great."
5. Baltimore owned the fourth quarter.
The Ravens kept the ball for 10 minutes, 20 seconds in the final quarter. They ran 19 plays to the Dolphins' 11, including a three-and-out series.
The Ravens converted two of their four third downs, while the Dolphins failed on two third downs and one fourth down.
But the Dolphins have been solid in the fourth quarter over the past month. They've won several close games down the homestretch.
Asked Sunday about Miami's fourth-quarter prowess, Ferguson rapped his knuckles on the side of his locker stall while talking proudly.
"It sounds good," Ferguson said. "Let me get some wood ..."
Knock, knock.
"Because all I know we own the fourth quarter lately ..."
Knock, knock.
"And I'm going to continue doing it.
"We worked hard all through the game, and knowing in the fourth quarter we had a chance to win, we made plays on defense. The offense got a field goal. That was it then. We felt the momentum change."
We'll find out next Sunday if the Dolphins have changed momentum enough to knock off a team that beat them handily 10 weeks ago.
December, 11, 2008
12/11/08
3:59
PM ET
Posted by ESPN.com's Tim Graham
Fan balloting for the Pro Bowl is over, and they don't think any New England Patriots or Buffalo Bills belong in the Pro Bowl.
Although the coaches and players still need to add their input before the rosters are announced Dec. 16, the popularity contest counts for one-third of the process and is fun to track.
Five AFC East representatives finished atop their positions, including three Miami Dolphins, two of them rookies: outside linebacker Joey Porter, tackle Jake Long and kicker Dan Carpenter.
The other two were New York Jets: quarterback Brett Favre and guard Alan Faneca.
Here are some highlights gleaned from the final voting:
Patriots receiver Randy Moss finished 18 votes behind Broncos wideout Brandon Marshall.
Titans rookie Chris Johnson made a late chare to overtake Ronnie Brown, who had led every previous week in voting.
Favre finished with the second-most votes in the NFL.
The Carpenter campaign was a success.
Jets kick returner Leon Washington nearly caught Darren Sproles, who had been way out in front.

Quarterback
1. Brett Favre, Jets (880,833)
Comment: Favre finished with the most votes of any AFC player and second to only Saints quarterback Drew Brees. Peyton Manning was second among AFC quarterbacks, nearly 300,000 votes behind Favre.
Running back
2. Ronnie Brown, Dolphins (481,293)
4. Thomas Jones, Jets (311,784)
5. Marshawn Lynch, Bills (245,694)
Comment: Titans rookie Chris Johnson came from behind to eclipse Brown by a healthy margin with 543,170 votes.
Fullback
3. Tony Richardson, Jets (159,459)
5. Heath Evans, Patriots (80,596)
Comment: LeRon McClain finishes on top with 192,854 votes.
Wide receiver
2. Randy Moss, Patriots (416,773)
Comment: Moss fans made a superb push, but their man came up an amazing 18 votes short of catching Broncos receiver Brandon Marshall.
Tight end
None.
Comment: No AFC East tight end broke the top five in any given week.
Center
3. Nick Mangold, Jets (207,609)
Comment: Mangold couldn't catch Kevin Mawae or Jeff Saturday.
Guard
1. Alan Faneca, Jets (343,531)
5. Logan Mankins (117,639)
Comment: Faneca had almost twice as many votes as second-place Eugene Amano.
Tackle
1. Jake Long, Dolphins (207,114)
2. D'Brickashaw Ferguson, Jets (200,304)
3. Matt Light, Patriots (160,819)
Comment: Long led from the start and pulled away.
Defensive end
None.
Comment: No AFC East representative ever cracked the top five.
Defensive tackle
3. Kris Jenkins, Jets (184,745)
5. Richard Seymour, Patriots (124,308)
Comment: Seymour makes his debut in the top five in the final week. Jenkins topped out at No. 2. Albert Haynesworth finished 61 votes shy of 400,000.

Outside linebacker
1. Joey Porter, Dolphins (328,619)
Comment: Porter finished ahead of second-place James Harrison by about 46,500 votes.
Inside linebacker
4. Tedy Bruschi, Patriots (90,063)
5. Jerod Mayo, Patriots (81,318)
Comment: Ray Lewis was untouchable with 315,738 votes.
Cornerback
None.
Comment: No AFC East corner appeared in the top five -- not even Darrelle Revis -- because it's a loaded position.
Strong safety
4. Yeremiah Bell, Dolphins (36,021)
5. Brandon Meriweather, Patriots (28,922)
Comment: Troy Polamalu's 393,211 votes were more than three times as many as second-place Bob Sanders.
Free safety
4. Kerry Rhodes, Jets (66,582)
Comment: Ed Reed won in another runaway election with 279,083 votes.
Kicker
1. Dan Carpenter, Dolphins (171,312)
Comment: Stuffing the ballot box worked for the undrafted rookie's supporters.
Punter
5. Brian Moorman, Bills (61,965)
Comment: Shane Lechler won with 108,116 votes.
Kick returner
2. Leon Washington, Jets (124,657) Washington pulled down roughly 13,000 more votes than Darren Sproles over the past week but still came up short by less than 4,000.
Special teamer
3. Patrick Cobbs, Dolphins (85,821)
4. Larry Izzo, Patriots (82,653)
Comment: Ravens specialist Brendon Ayanbadejo finished first with 160,423 votes.
December, 2, 2008
12/02/08
8:01
PM ET
Posted by ESPN.com's Tim Graham
Apparently there's a campaign taking place in Big Sky Country to send Dan Carpenter to Honolulu.

Carpenter
Carpenter, the Miami Dolphins' undrafted rookie kicker from Montana, is having an impressive season, but not enough to skyrocket him to first place among all AFC kickers in fan balloting for the Pro Bowl on his own merit.
Carpenter wasn't in the top five two weeks ago. He made his debut last week with 50,793 votes. In one week, he generated 92,381 more votes to shoot past Tennessee Titans kicker Rob Bironas.
For comparison, Tennessee Titans defensive tackle Albert Haynesworth, an MVP candidate who leads balloting among all defensive players, received 50,472 votes over the past week.
As of Tuesday, Carpenter has amassed 143,174 total votes in fan balloting, which continues until Dec. 9. Fan votes account for one-third of the process. Players and coaches will cast their votes from Dec. 9-12. The Pro Bowl teams will be announced Dec. 16.
New England Patriots kicker Stephen Gostkowski leads the AFC with 107 points, three more than Bironas. Carpenter is 12th in the AFC with 77 points, but he has made 11 consecutive field goals, a Dolphins rookie record and the most in the NFL since Gostkowski did it in 2006.
November, 25, 2008
11/25/08
5:23
PM ET
Posted by ESPN.com's Tim Graham
New York Jets quarterback Brett Favre continues to be the AFC's most popular quarterback in balloting for the Pro Bowl.
Favre ranks third among all NFL players with 525,825 votes in fan balloting, which continues until Dec. 9. Fans account for one-third of the process, with players and coaches also helping decide who goes to Honolulu.
Here are the position-by-position tallies of where AFC East players rank within the conference:
Quarterback
1. Brett Favre, Jets (525,825 votes)
Comment: He has about 152,000 more votes than second-place Jay Cutler.
Running back
1. Ronnie Brown, Dolphins (346,059)
4. Marshawn Lynch, Bills (181,613)
Comment: Tennessee Titans rookie Chris Johnson is behind Brown by about 36,000 votes.
Fullback
3. Tony Richardson, Jets (95,559)
Comment: Richardson still third, but he's closing the gap a bit on LeRon McClain, about 22,000 votes ahead.
Wide receiver
4. Randy Moss, Patriots (235,279)
Comment: Moss finally had a Pro Bowl-worthy game with three touchdowns against Miami. He trails first-place Brandon Marshall by 50,000 votes.
Tight end
None.
Comment: No AFC East tight end should be in the top five.
Center
3. Nick Mangold, Jets (126,938)
Comment: Mangold is hopelessly way behind Kevin Mawae and Jeff Saturday.
Guard
1. Alan Faneca, Jets (215,134)
5. Logan Mankins (74,936)
Comment: Bills guard Derrick Dockery falls out of the fourth spot, while Mankins deservedly debuts in the top five.
Tackle
1. Jake Long, Dolphins (137,556)
2. D'Brickashaw Ferguson, Jets (125,602)
3. Matt Light, Patriots (100,824)
Comment: Again, the only AFC East left tackle not in the top five is former Pro Bowler Jason Peters.
Defensive end
None.
Comment: Still no Richard Seymour?
Defensive tackle
4. Kris Jenkins, Jets (105,282)
5. Marcus Stroud, Bills (93,589)
Comment: Stroud slips from third to fifth, while Jenkins rises from fourth to third. Albert Haynesworth has more then twice as many votes as second-place Casey Hampton with 263,064 votes.
Outside linebacker
1. Joey Porter, Dolphins (198,283)
Comment: Chatty sackmaster has about 42,000 more voted than second-place James Harrison.
Inside linebacker
4. Tedy Bruschi, Patriots (60,658)
5. Jerod Mayo, Patriots (52,290)
Comment: Rookie of the Year candidate Mayo debuts on the list and deserves to finish higher than Bruschi. Regardless, Ray Lewis is uncatchable.
Cornerback
None.
Comment: Darrelle Revis is being overlooked because of such big names as Champ Bailey and Cortland Finnegan.
Strong safety
4. Yeremiah Bell, Dolphins (22,977)
5. Donte Whitner, Bills (22,945)
Comment: Bell and Whitner switch positions on the list. Whitner's shoulder injury is keeping him off the field and certainly will affect his votes. Troy Polamalu is in first by a large margin.
Free safety
4. Kerry Rhodes, Jets (46,198)
Comment: Ed Reed is way out in front with more than three times as many votes as Rhodes.
Kicker
5. Dan Carpenter, Dolphins (50,793)
Comment: Stephen Gostkowski is tied for the NFL lead with 103 points and can't get any Pro Bowl love.
Punter
3. Brian Moorman, Bills (44,599)
Comment: Moorman moves up from fourth and is only 22,000 votes behind leader Shane Lechler.
Kick returner
2. Leon Washington, Jets (63,709)
Comment: Washington jumps up from fourth but still is 25,000 votes from Darren Sproles. Bills specialist Roscoe Parrish falls out of fifth.
Special teamer
2. Patrick Cobbs, Dolphins (55,894)
3. Larry Izzo, Patriots (43,462)
Comment: Cobbs and Izzo flip-flop spots. Cobbs is only about 4,000 votes behind Anthony Madison.
November, 18, 2008
11/18/08
7:28
PM ET
Posted by ESPN.com's Tim Graham
Brett Favre is the AFC's most popular quarterback in balloting for the Pro Bowl.
Favre ranks third among all NFL players with 402,514 votes in fan-based balloting, which continues until Dec. 9. Fan balloting counts for one-third of the process, with players and coaches also helping decide who goes to Honolulu.
Among AFC East players, what I found most interesting about the early returns is the dearth of Buffalo Bills among the top five at the various positions. Bills fans are passionate, especially when their team is winning, and online balloting began Oct. 13.
Here are the position-by-position results and how AFC East players rank within the conference:
Quarterback
1. Brett Favre, Jets (402,514)
Comment: He has almost 94,000 more votes than second-place Jay Cutler.
Running back
1. Ronnie Brown, Dolphins (284,794)
4. Marshawn Lynch, Bills (154,637)
Comment: The Wildcat has helped propel Brown to prominence, but he's deserving without gadgets.
Fullback
3. Tony Richardson, Jets (70,237)
Comment: LeRon McClain of the Ravens is first with about 25,000 more votes.
Wide receiver
4. Randy Moss, Patriots (188,138)
Comment: Strictly on reputation. Jets receivers Laveranues Coles and Jerricho Cotchery are having seasons every bit as good.