November, 7, 2013
Nov 7
12:00
PM ET
The
New England Patriots
have received significant contributions from their rookie class this season. In Bill Belichick's 14 years as head coach, this season ranks near the top of the list, if not at the top, in this area.
Following up Field Yates'
progress report
on second-year players from this morning, here is a rookie breakdown (alphabetical order):
Allen
Punter Ryan Allen:
The undrafted free agent ranks 10th in the NFL with a 46.4 average and 16th in net punting (39.9) as he's proven to be up to the task of replacing veteran
Zoltan Mesko
. He's also the holder on field goals, and
Stephen Gostkowski
is 22 of 23 this season. Allen's eight touchbacks are tied for the NFL high, which is an area for improvement.
Guard Chris Barker:
Claimed on waivers from the Dolphins at the final roster cutdown, the undrafted free agent from Nevada dressed for the first three games of the season as veteran backup
Will Svitek
was working his way back from a knee injury, but hasn't played on offense. This looks like a red-shirt year for him as the Patriots have avoided the risk of another team claiming him on waivers (Dolphins?) should they try to move him to the practice squad.
Linebacker Steve Beauharnais:
The seventh-round draft choice from Rutgers has dressed for three games, but hasn't played on defense. This appears to be more of a red-shirt year for him.
Receiver Josh Boyce:
The fourth-round draft choice from Texas Christian played in the first five games (1 catch, 24 yards) but has been inactive for the past four as veteran
Austin Collie
was viewed as a more consistent option. Boyce is one of the fastest receivers on the team, but appears to need a little more time to put it all together.
Defensive end Michael Buchanan:
The seventh-round pick from Illinois opened the season as the primary right defensive end in sub packages, but a few struggles with rush-lane integrity (Oct. 6 vs. Bengals and Oct. 20 vs. Jets) led to the signing of veteran
Andre Carter
, who has since taken over that role. Buchanan contributes on special teams and is now No. 4 on the overall defensive end depth chart, with obvious upside.
Linebacker Jamie Collins:
The second-round pick from Southern Mississippi has been a core special teams player and was integrated a bit more defensively after linebacker
Jerod Mayo
was lost to a season-ending injury Oct. 13. But after flashing a bit Oct. 20 vs. the Jets, he was pushed around in the first half against the Dolphins on Oct. 27 and has played sparingly on defense since. He has all the tools, but appears to need a bit more time.
Dobson
Receiver Aaron Dobson:
The second-round pick from Marshall has come on strong in recent weeks, elevating to the top spot on the depth chart as the X outside target. He has 31 receptions for 454 yards with four touchdowns, and at 6-foot-3 and 200 pounds gives the Patriots a combination of size and speed that they haven't had at the position since Randy Moss.
Safety Duron Harmon:
Considered a reach as a third-round pick, the Rutgers product has been a top backup behind starters
Devin McCourty
and
Steve Gregory
, playing in some sub packages. He also filled in on special teams when core player
Tavon Wilson
was out with a hamstring injury. Teammates have talked about his smarts and his professional approach.
Defensive tackle Chris Jones:
Claimed on waivers from the Buccaneers on Sept. 11, he earns our vote for Patriots "rookie of the first half" with five sacks in six games played. At 6-foot-1 and 309 pounds, his quickness has been an asset as an interior rusher, and he's been competitive from a strength/physical standpoint on run plays. Waived by the Texans, who drafted him in the sixth round, he briefly landed in Tampa before the Buccaneers let him go and the Patriots pounced. He has proven to be a steal.
Ryan
Cornerback Logan Ryan:
The third-round pick from Rutgers has made some big plays, such as an interception return for a touchdown against the Jets on Oct. 20, as he's been thrust into a top reserve role in recent weeks with
Aqib Talib
out. At 5-foot-11 and 195 pounds, he has mostly been competitive in coverage and shown a willingness to play the run.
Receiver Kenbrell Thompkins:
The undrafted free agent from Cincinnati has slid down the depth chart the past two weeks after serving mostly as the primary X option on the outside (23 catches, 334 yards, 4 TDs) through the first seven games. He made the big game-winning catch against the Saints on Oct. 13, but has since been passed on the depth chart by Dobson.
Defensive tackle Joe Vellano:
The undrafted free agent from Maryland is one of the surprises of the season. After opening the season as the No. 3 option behind
Vince Wilfork
and
Tommy Kelly
, he has been thrust into a starting role as both veterans have been lost to season-ending injuries. At 6-foot-2 and 300 pounds, he might be viewed as undersized by some, but he wins with technique and scrappiness.
October, 24, 2013
Oct 24
2:45
PM ET
FOXBOROUGH, Mass. --
New England Patriots
rookie cornerback
Logan Ryan
made one of his best plays of the season in returning an interception 79 yards for a touchdown on Sunday. But his actions as he crossed the goal line, when he leaped and grabbed his crotch, that have generated more attention (including a $10,000 fine from the NFL).
Ryan
Ryan addressed the actions when asked by reporters on Thursday.
"First off, I just want to apologize to all the fans and all the viewers who had to witness that," he said, later adding that the worst part for him was seeing his mother after the game as she expressed her disapproval. "I own up to it 100 percent. It's not acceptable. It's not acceptable for me and this team. I want to put it behind me and I want to move on, and focus on Miami, and let people know it won't happen again. That's not who I am."
Ryan, the third-round draft choice out of Rutgers, has seen his playing time increase in recent weeks as he was charted on the field for a season-high 66 snaps Sunday. With top cornerback
Aqib Talib
missing Sunday's loss to the Jets, Ryan mostly was utilized as the team's No. 3 corner.
The following are Ryan's defensive snap counts this season (including penalties):
at Jets:
66
vs. Saints:
33
at Bengals:
4
at Falcons:
20
vs. Buccaneers:
20
vs. Jets:
0
at Bills:
2
Patriots coach Bill Belichick was complimentary of Ryan's play against the Jets.
"I thought Logan gave us some solid plays out there," Belichick said earlier this week. "Obviously the big play on the interception, had some good coverage plays; had some other plays that I'm sure he would love to have back that could have been a little better."
As for Ryan himself, he said: "It's been a lot of fun. It's been a learning experience. I have a lot to learn and a lot to grow, but I'm surrounded by great players on our team."
August, 31, 2013
Aug 31
5:00
AM ET
August, 30, 2013
Aug 30
11:55
AM ET
FOXBOROUGH, Mass. -- Picked-up pieces after reviewing the first quarter of the Patriots' 28-20 preseason win over the Giants:

1. It seemed like the Patriots wanted to take a closer look at veteran safety
Adrian Wilson
and his effectiveness as a blitzer. Wilson blitzed on the first play of the game (the ball was out quickly) and then on the third-and-7 play (incomplete pass) that ended the Giants' second drive. On the second blitz, Wilson was met by running back
Andre Brown
and ridden out of the play, as quarterback
Eli Manning
stepped up to make his throw on the run. Then there was a third blitz from Wilson on the Giants' opening play of the third drive (off the defensive left side), when Manning completed a 37-yard pass to receiver
Louis Murphy
as Wilson was again picked up by running back
David Wilson
. He then blitzed again on the Giants' touchdown later in the quarter (wasn't close to disrupting the play). As the Patriots consider whether Wilson has a spot on their 53-man roster, I could envision them looking at these blitzes today and attempting to determine if Wilson can help them in that role.
2. Rookie defensive end
Michael Buchanan
(6-6, 255) was disruptive off the defensive left side, showing good power and multiple pass-rush moves, as well as how his long arms can affect passing lanes for opposing quarterbacks. In addition, he showed strength and technique to effectively set the edge, which is a necessity for any end (4-3) or outside linebacker (3-4) in the team's scheme. We got a good look at that on the Giants' second offensive play when Buchanan locked up with pulling guard
Chris Snee
, held his ground, and kept Wilson hemmed in as he was stopped for a modest 1-yard gain.
3. A good contrast to that play was seen later in the quarter on Wilson's 16-yard run on a pitch from Manning around left end. The Patriots' run force broke down, with right end
Jake Bequette
taking his first step inside, which was enough to lose containment. With linebacker
Dane Fletcher
also sealed off by left tackle
Will Beatty
, and cornerback
Marquice Cole
cleared out of the area because he was covering receiver
Hakeem Nicks
, it left a wide swath of real estate for Wilson. Some credit goes to the Giants for a well-blocked run, but it looked like it also could have been executed better from the Patriots' standpoint.
4. The top seven offensive linemen appear set for the Patriots (
Nate Solder
,
Logan Mankins
,
Ryan Wendell
,
Dan Connolly
,
Sebastian Vollmer
,
Marcus Cannon
,
Will Svitek
), so I spent some time watching the reserves beyond that to see if anyone stood out. Center
Matt Stankiewitch
(6-4, 305) would be the choice. The first play might have been his worst -- he was pushed back into quarterback
Ryan Mallett
by
Linval Joseph
-- but he seemed to settle in nicely over the remainder of the first quarter against first-unit competition. His athleticism to get to the second level of the defense was seen on receiver Josh Boyce's 18-yard reverse, when he sealed off linebacker
Dan Connor
. A nice play like that was later balanced off by failing to hold his block against defensive tackle
Mike Patterson
as Patterson pressured Mallett early in the second quarter. Like most rookies, Stankiewitch will benefit from some physical development, but he showed a scrappiness that made us take note.
5. There is a risk-reward that comes with every blitz, and the risk was evidenced on the Giants' first touchdown. On third-and-2 from the Patriots 3-yard line, the defense sent seven rushers. That created a man-to-man situation with receivers and defensive backs, with rookie cornerback
Logan Ryan
matched up against Nicks. The rush didn't get there and Manning had time to lock in on Nicks to complete a relatively easy touchdown. If you're going to send seven, that's a case where the rush has to get there quickly to help out the defensive backs. Didn't happen in that case.
August, 29, 2013
Aug 29
7:43
PM ET
August, 29, 2013
Aug 29
10:30
AM ET
The Patriots' release of
Ras-I Dowling
on Wednesday opens a spot on the cornerback depth chart. In previous projections, I had Dowling making the team, in part because the salary-cap charge to cut him was greater than the salary-cap charge to keep him.
Dowling projected as a No. 4 or 5 option at the position, with the chance to elevate up the depth chart if he could stay healthy.
Dowling
If I had to make an educated guess on why the Patriots ultimately cut Dowling, who was one of the club's 10 offseason award winners, it's likely tied to health. Dowling hasn't played this preseason after coming up hobbled in an early training camp practice, and there sometimes comes a point when the team and player just can't get on the same page in terms of when the player is ready to return. Sort of like what we saw with cornerback Leigh Bodden a few years ago.
So now let's look at what's left at the position, with our projected depth chart and a quick-hit thought:
Aqib Talib
(6-1, 205) -- Plays on the left side and can be used to sometimes shadow a top receiver as the club's top cover man.
Kyle Arrington
(5-10, 190) -- Because of injuries and legal uncertainty surrounding
Alfonzo Dennard
, he is the clear-cut No. 2 right now; can move inside to the slot in nickel.
Logan Ryan
(5-11, 195) -- Third-round draft choice from Rutgers draws some similarities to Arrington -- physical, hard-nosed, smart and plays inside and outside.
Dennard (5-10, 200) -- Played well as the No. 2 option last season, but hasn't been on the field much in training camp, and also has legal issues swirling.
Marquice Cole
(5-10, 195) -- Five-year veteran is considered a top locker-room presence; on the field, he's primarily a slot option who can be a factor on special teams. Viewed by some as being on the bubble.
Justin Green
(5-11, 195) -- Undrafted free agent from Illinois has practice-squad potential.
Stephon Morris
(5-8, 190) -- Undrafted free agent from Penn State was re-signed last week after suffering an injury.
One other factor to consider is that
Devin McCourty
(5-10, 195) could sometimes factor into the cornerback mix. While he's spent the majority of his time at safety, he has position flexibility.
August, 23, 2013
Aug 23
12:38
PM ET
DETROIT -- A look at the snaps played by Patriots defenders in the first half, when most of the top players were in the game, and analyzing what it might mean (includes penalties):
CB
Kyle Arrington
-- 36 of 36
S
Steve Gregory
-- 36 of 36
DE
Chandler Jones
-- 36 of 36
DE
Rob Ninkovich
-- 36 of 36
CB
Aqib Talib
-- 36 of 36
DT
Tommy Kelly
-- 26 of 36
LB
Dont'a Hightower
-- 23 of 36
LB
Brandon Spikes
-- 23 of 36
DT
Joe Vellano
-- 23 of 36
CB
Logan Ryan
-- 19 of 36
S
Duron Harmon
-- 18 of 36
S
Devin McCourty
-- 16 of 36
S
Adrian Wilson
-- 15 of 36
DE
Marcus Benard
-- 13 of 36
LB
Jerod Mayo
-- 13 of 36
LB
Jamie Collins
-- 11 of 36
DT
Marcus Forston
-- 10 of 36
LB
Dane Fletcher
-- 6 of 36
QUICK-HIT THOUGHTS:
The biggest personnel notes on defense were with starting defensive tackle
Vince Wilfork
being held out of the game, which gave the coaching staff an extended look at rookie free-agent Joe Vellano. Also, starting linebacker Jerod Mayo only played in the dime package, so rookie Jamie Collins started alongside Brandon Spikes and Dont'a Hightower and Dane Fletcher also came on for two series in the base defense. ... Against a strong vertical passing offense, it's probably not a coincidence that Steve Gregory got the start next to Devin McCourty at safety as they are considered the team's best cover safeties. It will be interesting to see if that changes against teams who aren't as threatening in that area of the game, which could open the door for a bigger safety (e.g. Adrian Wilson) to step in to that role. Wilson played solely in the dime package in the first half, in a linebacker-type role. That bumped
Tavon Wilson
out of that spot. ... Rookie Logan Ryan served as the fifth defensive back in the nickel. ... McCourty's playing time was limited as it was his first action this preseason as he's been managed closely after offseason shoulder surgery. ... Chandler Jones and Rob Ninkovich, as expected, are the top ends and they won't come off the field often. ... Tommy Kelly looks like a difference-maker at defensive tackle and the type of player who would never leave the field, but the Patriots probably want to find some time to give him a breather at times, which is what we saw Thursday night. ... Marcus Benard came on in sub situations as an interior rusher, which was the niche that
Jermaine Cunningham
(currently injured) had carved out for himself early in 2012.
August, 23, 2013
Aug 23
9:15
AM ET
DETROIT -- At an initial glance, a look at players whose performance was "up" in the Patriots' loss to the Lions, and those at the opposite end of the spectrum:
Up
Rob Ninkovich
-- Defensive end was all over the field, finishing with six tackles and a half-sack.
Logan Ryan
-- Rookie cornerback is pressed into action with the top sub defense and is competitive, at one point batting a pass away from tight end
Tony Scheffler
.
First-unit third-down defense -- While not a specific player, the entire unit gets a nod as it holds the Lions to 2-of-9 in the first half, with three stops inside the red zone.
Down
Brandon Bolden
/
Shane Vereen
-- Running backs both lose fumbles in the first half.
Zach Sudfeld
-- Rookie free-agent tight end loses a fumble on the team's opening drive, ending what had been a promising march.
Adrian Wilson
-- Safety plays linebacker-type role in dime package but seems to be a step behind.
August, 17, 2013
Aug 17
1:25
AM ET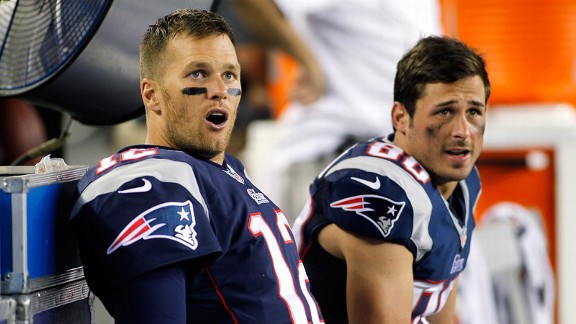 Stew Milne/USA TODAY SportsTom Brady and Danny Amendola got some quality work done early against Tampa Bay.
FOXBOROUGH, Mass. -- The
New England Patriots
improved to 2-0 in the preseason with a
25-21 win
over the
Tampa Bay Buccaneers
on Friday night, their first exhibition game at Gillette Stadium of 2013.
The win wraps up a second straight week of joint practices, as the Buccaneers spent Tuesday, Wednesday and Thursday working alongside the Patriots in advance of the game.
Below are 12 takeaways from Friday's action, including some underlying storylines that may have gone unnoticed upon first glance:
1. So much for the concerns about how a recent knee injury might impact
Tom Brady
's performance, as the quarterback was masterful two days after going down in a scary moment during Wednesday's practice. Brady had just one incompletion on the evening, carving the Buccaneers defense on an opening-drive score and looking precise on nearly every one of his throws. Brady had his usual command of the offense, and continues to be in sync with his new cast of receivers, led by
Danny Amendola
.
2. Amendola was the best receiver on the field Friday night, and he showed off what makes him unique as a player: his precise route running, stop-on-a-dime quickness with the ball in his hands, and the ability to stress a defense up the field as well. Amendola sneaked behind the defense on a post for a score, and the spacing on the route was an important takeaway. The 2013 version of the Patriots offense, at least in early viewings, has shown an ability to spread a defense thin both horizontally and vertically. They have some perimeter presence with
Aaron Dobson
and
Kenbrell Thompkins
, but also some slot stressers in Amendola and the tight ends. This isn't to say that this year's offense will be better than last year's, just different.
3. After the game, Patriots coach Bill Belichick explained he that decided to receive after winning the coin toss in order to give his team a chance for a fast start. The move paid off with a touchdown for his offense, and the defense followed suit, forcing a stop on the Bucs' opening drive. The first defensive play from scrimmage was a blitz-up-the-middle sack from linebacker
Brandon Spikes
, one of three first-quarter sacks for the Patriots. That's a critical component to this defense's success, as they struggled to pressure the various Eagles quarterbacks last week. Each of the Patriots' starters at defensive end,
Chandler Jones
and
Rob Ninkovich
, recorded at least one sack as well.
[+] Enlarge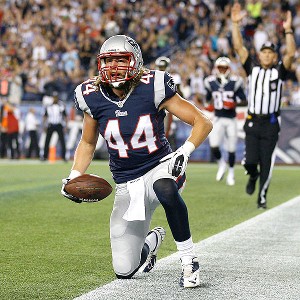 Stew Milne/USA TODAY SportsZach Sudfeld caught this two-point conversion from Tom Brady and later added a 22-yard TD from Ryan Mallett.
4. There were some ups and downs from
Ryan Mallett
during the second quarter, as he came in to relieve Brady, completing 12-of-20 passes, including a 22-yard score to tight end
Zach Sudfeld
. We've learned before that the evaluation process of a backup quarterback extends far beyond preseason game action, as many will recall an uneasy 2008 preseason for
Matt Cassel
that left many outside of the organization uncomfortable with the thought of him as a fill-in starter. Cassel went on to help the team to 11 wins that season, reinforcing that we have to look at preseason games as just a piece of the puzzle. Mallett flexed his effortless arm strength on some throws, while he had misses that you'd count on him to make if he were the starter. The most important takeaway from tonight is an evaluation of a player's traits. For Mallett, we still want to see more before making a hard-line evaluation one way or another.
5. There's been an abundance of talk about the Patriots' rookie receivers during training camp (and we'll include Sudfeld in that group), but it was the one who was drafted highest, Aaron Dobson, who appeared to have the smallest role in the early portion of the game. Dobson took just one snap during the opening drive, far fewer than Kenbrell Thompkins, and that could be a sign that Dobson is further down the depth chart at this time. The two are different types of perimeter receivers, with Thompkins a more refined route runner and with better quickness, but Dobson holds the edge in size and length, an important set of traits in the red zone and competitive catch situations.
6. Nose tackle
Vince Wilfork
didn't play a heavy dose of snaps tonight (neither did
Jerod Mayo
), which gave us a chance to check out the rotation of defensive tackles behind him. Veteran
Tommy Kelly
is effectively the second starter in our estimation, but the picture becomes much less clear after that.
Marcus Forston
flashed on a goal-line play that resulted in a tackle for loss, while undrafted rookies
Cory Grissom
and
Joe Vellano
also showed some ability to generate interior push. Forston was a surprise to make the 53-man roster last season as an undrafted free agent, and the door appears to be open for another undrafted free agent to land on the active roster this year, especially if
Armond Armstead
is unable to return before the start of the regular season.
7. A few special-teams thoughts: Kickoff coverage was an area of strength for the Patriots throughout the 2012 season, but tonight it fell short of expectations. The Bucs returned their first kickoff 63 yards, far too much to give up. On the positive side, ace special-teamer
Matthew Slater
had a textbook take-down in punt coverage from his gunner position, a role he drew praise from Bill Belichick for earlier this week. Finally, for the second straight game, we'll give the edge to punter
Zoltan Mesko
over
Ryan Allen
in the competition (this week was a clear victory for the incumbent starter). Allen was unable to pin a plus-50 punt deep in Tampa territory, and Mesko had a substantial edge in overall average (44.3 to 39).
8. While the Patriots feel good about their starting trio of cornerbacks --
Aqib Talib
,
Alfonzo Dennard
and
Kyle Arrington
-- the depth at the position is an area to monitor. Rookie
Logan Ryan
had the defensive play of the night, hauling in an interception for a touchdown. That comes after last week's failed interception against the Eagles. Veteran
Marquice Cole
provides some slot presence and special-teams value, but Ryan duplicates much of what Cole is able to do. If
Ras-I Dowling
is unable to return soon from injury, Ryan could effectively work himself into the fourth cornerback job, which could turn into third cornerback duties if Alfonzo Dennard faces jail time stemming from his July arrest.
9. Preseason games aren't always predictive of what the regular season will hold, but we saw quite a few two-back sets from the Patriots early on in the game. That's not something we saw much of last season or even last week, but fullback
James Develin
was on the field to start the game and played a handful of snaps on the Patriots' 15-play opening drive. When Josh McDaniels returned to New England, there was a belief that he might bring more two-back sets with him. Although that wasn't the case in 2012, we saw a steady dose of it on Friday night. Develin could be in competition with
Michael Hoomanawanui
for a roster spot.
10. There may not even be a starting job for him to win, but second-round pick
Jamie Collins
had strong stretches on defense Friday night, the second time in as many preseason games that he's impressed. The rangy, long 23-year-old worked almost exclusively as a strong-side linebacker from a stand-up alignment, which appears to be the role he has settled into (and one that
Dont'a Hightower
handles among the starting group). What will be interesting is to see if his movement skills are enough to translate into a prominent coverage linebacker role in sub defensive packages. One area that stood out for Collins tonight: his ability to stack and shed in the running game, an area we though he could improve upon from his college tape.
11. Left tackle
Nate Solder
took some heat this week after allowing his defender to rush through him during practice, which led to Brady going down and dinging his knee. Truth be told, that's a part of playing left tackle in the NFL -- there are many talented rushers -- but it looked like Solder had a steady performance tonight. That's par for the course for the 25-year-old, viewed by many as a high-upside left tackle, but he deserves credit for bouncing back after what was likely a long Wednesday night for him.
12. For the second consecutive week,
Jake Ballard
was used as the blocking tight end with the starting offense. From our initial viewing, it looked like another strong effort from the burly tight end, as he helped to set the edge and kick-start the running game. He played 19 snaps tonight, seven more than his 12 against the Eagles.
August, 16, 2013
Aug 16
11:30
PM ET
FOXBOROUGH, Mass. -- At an initial glance, a look at those players whose performance was "up" in the
New England Patriots
'
25-21 victory
over Tampa Bay, and those at the opposite end of the spectrum:
UP
Danny Amendola:
In 20 snaps played, he is targeted seven times and makes six catches for 71 yards and a touchdown. The type of night we grew used to seeing from
Wes Welker
from 2007-2012.

Tom Brady :
In command for the second week in a row, Brady shows no signs that his injured left knee will be a factor. With all the new faces on offense, the results look similar with him leading the charge.
Logan Ryan:
One week after the rookie cornerback drops a relatively easy interception, he cashes in this week, with a 53-yard pick-6 of
Mike Glennon
.
Brandon Spikes:
Linebacker is a tone-setter on defense. His steamrolling of Buccaneers running back
Doug Martin
to register a sack on the Buccaneers first play is impressive. Few players, if any, hit harder.
Zach Sudfeld:
Rookie free-agent tight end snares a two-point conversion from Brady and makes an impressive 22-yard touchdown grab up the seam on a deflected pass from
Ryan Mallett
.
DOWN
Ryan Allen:
Rookie punter who had been challenging incumbent
Zoltan Mesko
has a touchback on a plus-50 attempt and then doesn't strike the ball as well as he desires on a 35-yard punt in the third quarter.
Logan Mankins:
Left guard is penalized for a personal foul on the team's first drive, one of the only blemishes for the first-unit offense.
Tim Tebow:
Quarterback doesn't generate positive momentum in the second half and throws an errant high pass that is intercepted.
Tavon Wilson:
Holding penalty in the end zone in the second half gives the Buccaneers a new set of downs.
Kickoff coverage:
Giving up returns of 63 and 40 yards in the first half isn't going to cut it.
June, 10, 2013
Jun 10
8:00
AM ET
Here are the most interesting stories Monday in the AFC East: Morning take: Reporters have often been criticized for pointing out the Jets are a circus. But this is an example of a former Jet player on the inside agreeing with that assessment.
Morning take: The Dolphins want offset language added that would reduce the cap hit if Jordan is released. I find it odd that Miami is thinking about such a thing before he plays his first down.
Morning take: Patriots coach Bill Belichick really liked Rugters' defense last year and Ryan was one of its best players. New England needs depth at cornerback and Ryan has a shot to eventually fill one of those roles.
Morning take: This is good news to hear. Kelly successfully had the cancer removed and is expecting a full recovery.
April, 26, 2013
Apr 26
10:57
PM ET
It was a busy third round for the AFC East. Let's provide a brief recap of all the events.
It was another busy day in the AFC East. But the major story of Day 2 in the division is New York taking former West Virgina quarterback
Geno Smith
. Here is
my column on the move
.