April, 22, 2011
4/22/11
2:53
PM ET
While working on
a feature about Tom Modrak's draft record
as
Buffalo Bills
vice president of college scouting, ESPN researcher John Fisher dug up some interesting data.
The Bills actually were the AFC East's most efficient club when it came to drafting starters since Modrak came aboard in 2002.
Several factors certainly play into that from team to team. Importance of the position, holes that allow for immediate contributions and reliance on free agents to fill out a roster all make a difference. So do the number of players drafted.
But, in general, I thought it was an interesting snapshot to share. Because the research was done to put Modrak's tenure in perspective, numbers are from 2002 through the present.

Buffalo Bills
First through third rounds:
28 players; 804 starts (15th)
Fourth through seventh rounds:
45 players; 417 starts (eighth)
Analysis:
Among AFC East teams, only the
New England Patriots
generated more starts within the first three rounds. No other division opponent found more starts from the fourth round and beyond. The Bills have whiffed badly on some early picks, as noted in Thursday's story about Modrak. But they have done well in locating solid help in the later rounds, namely 1,000-yard receiver
Steve Johnson
(seventh round), Pro Bowl defensive lineman
Kyle Williams
(fifth round) and top cornerback and Pro Bowl kick returner
Terrence McGee
(fourth round).

Miami Dolphins
First through third rounds:
25 players; 599 starts (31st)
Fourth through seventh rounds:
43 players; 333 starts (16th)
Analysis:
The Dolphins have done well with their recent first-round picks. Although receiver
Ted Ginn
with the ninth pick in 2007 was controversial, they found keepers with tackles
Jake Long
and
Vernon Carey
and running back
Ronnie Brown
. But the second and third rounds have been a wasteland: quarterbacks
John Beck
and
Pat White
, running back
Lorenzo Booker
, receivers
Patrick Turner
and
Derek Hagan
, linebacker
Eddie Moore
. Miami's best later-round pickups since 2002 have been franchise-tagged nose tackle
Paul Soliai
(fourth round), Pro Bowl safety
Yeremiah Bell
(sixth round) and tight end
Randy McMichael
(fourth round).

New England Patriots
First through third rounds:
31 players; 823 starts (12th)
Fourth through seventh rounds:
50 players; 379 starts (11th)
Analysis:
The Patriots have found their share of gems in the later rounds, including four eventual Pro Bowlers. They picked up cornerback
Asante Samuel
and kicker
Stephen Gostkowski
in the fourth round, center
Dan Koppen
in the fifth and quarterback
Matt Cassel
in the seventh. They've also done incredibly well with their first-round selections. Five of their past six first-rounders have gone to the Pro Bowl. Where the Patriots have been shaky is in the second and third rounds. They've gotten receiver
Deion Branch
, tight end
Rob Gronkowski
, tackle
Sebastian Vollmer
and safety Patrick Chung there, for instance, but they've also misfired with quarterback
Kevin O'Connell
, receivers
Chad Jackson
and
Bethel Johnson
and cornerback
Terrence Wheatley
.

New York Jets
First through third rounds:
24 players; 766 starts (19th)
Fourth through seventh rounds:
32 players; 314 starts (18th)
Analysis:
The Jets' start totals look worse because they haven't drafted as many players as the other AFC East teams. Their early round players average 32 starts, about 5 1/2 more than the Patriots. But the team that accumulated the most starts here -- the
Jacksonville Jaguars
with 1,172 -- averaged an extraordinary 43 per player. The Jets obviously failed with 2008 sixth overall pick
Vernon Gholston
and 2003 fourth overall pick
Dewayne Robertson
, but they've generally identified quality players inside the first three rounds, including All-Pros
Nick Mangold
and
Darrelle Revis
and franchise quarterback
Mark Sanchez
.
October, 15, 2010
10/15/10
11:15
AM ET
After they dumped quarterback
Trent Edwards
and traded running back
Marshawn Lynch
in consecutive weeks, a lone member of the
Buffalo Bills
' 2007 draft class remained on the roster.
Just three years later, one keeper is a lousy return.
But consider how the rest of AFC East drafted in 2007.
Only six of 30 AFC East draftees from 2007 still are with the team that drafted them: two
New York Jets
, two
Miami Dolphins
, one New England Patriot and one Bill. (See chart below.)
[+] Enlarge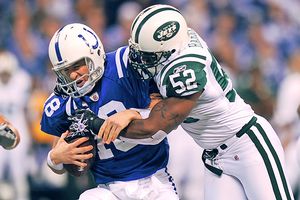 Anthony J. Causi/Icon SMIThe Jets traded second-, third- and sixth-round choices to move up and select David Harris.
The Jets were most effective. They drafted just four players. Their first two have been stars, and the last pick helped them acquire a standout receiver. They traded up to select star cornerback
Darrelle Revis
14th overall and top inside linebacker
David Harris
47th. Seventh-round pick
Chansi Stuckey
was sent to the
Cleveland Browns
in the trade that landed receiver
Braylon Edwards
.
The Patriots were the least efficient on nine picks, but they had only two selections inside the first four rounds. Their lone keeper was Pro Bowl safety
Brandon Meriweather
in the first round.
The Dolphins made 10 selections in what was the final draft class for general manager Randy Mueller and the only one for rookie head coach Cam Cameron. They famously misfired on ninth overall pick Ted Ginn, who was traded for a fifth-round pick this offseason, and second-round quarterback
John Beck
. Still around are defensive tackle
Paul Soliai
and punter
Brandon Fields
.
The last man standing from Buffalo's seven-man 2007 draft class is second-round linebacker
Paul Posluszny
.
So that's a 20 percent retention rate for the AFC East on all draftees and a 40 percent rate for those selected in the top three rounds.
With help from ESPN researcher Keith Hawkins and the Elias Sports Bureau, I wanted to find out how those percentages compared leaguewide.
Poorly, it turns out.
Of the 225 players chosen in other divisions that year, 100 have remained with the teams that drafted them. That's 44.4 percent overall, more than twice the AFC East rate.
When narrowing the field to players taken within the first three rounds, 89 prospects were absorbed into other divisions, and 54 have stuck, a success rate of 60.7 percent.
A few notes turned up by the research:
The Dolphins are the only team that has gotten rid of their top four picks.

Twenty-six teams have parted ways with at least one of their picks from the first three rounds.

Of the 19 teams that had at least one pick in each of the first three rounds, only the Pittsburgh Steelers retained all of them (Lawrence Timmons, LaMarr Woodley, Matt Spaeth).
April, 27, 2009
4/27/09
11:36
PM ET
Posted by ESPN.com's Tim Graham
While I was flying back to South Florida from my draft weekend in Buffalo, the Miami Dolphins announced Monday night they released quarterback John Beck.
The Dolphins have given up on a decorated college quarterback the previous front office drafted with the 40th overall selection a mere 24 months ago. Beck was supposed to be the quarterback of the future.
Monday's move underscores what the Dolphins emphasized after they drafted West Virginia's Pat White: They consider him a quarterback who also will play some receiver, not a ballhandler who can throw a little.
But what stands out to me is how abysmal Miami's 2007 draft class turned out to be. Conventional wisdom states a draft class should be evaluated after three years. This one has been gutted after two years.
That was former general manager Randy Mueller's last year and the only draft head coach Cam Cameron participated in before Wayne Huizenga hired Bill Parcells to handle football operations. Parcells fired Mueller and Cameron.
Of the 10 players Miami drafted in 2007, only three remain on the roster: a receiver, a punter and a reserve defensive tackle.
First round
Ted Ginn, Ohio State receiver: Still on the roster ... A sometimes-flashy receiver and return man but has done little to prove the Dolphins didn't reach by taking him ninth overall.
Second round
John Beck, Brigham Young quarterback: Released on Monday.
Samson Satele, Hawaii center: Traded to Oakland Raiders in March for a sixth-round draft choice and flopped fourth-round picks.
Third round
Fourth round
Paul Soliai, Utah defensive tackle: Still on the roster ... Zero career starts ... Dolphins gave him two one-game suspensions for undisclosed reasons.
Sixth round
Reagan Mauia, Hawaii fullback: Failed to make the team out of training camp last year.
Drew Mormino, Central Michigan offensive lineman: Failed his physical and was waived in May 2008.
Seventh round
Kelvin Smith, Syracuse linebacker: Played four games in 2007 ... Waived during 2008 training camp.
Brandon Fields, Michigan State punter: Still on the roster.
Abraham Wright, Colorado defensive end: Didn't play as a rookie. ... Waived in May 2008.