June, 5, 2012
6/05/12
12:30
PM ET
We continue our series on players in the AFC East who have a lot to prove. Today we take a look at the New York Jets' starting right tackle.

Wayne Hunter, Jets
2011 stats:
16 starts
What he must prove:
Hunter must prove he's a starting right tackle. The 2011 season was his first as a full-time starter, and it was a disaster. Despite his size (6-foot-5, 318 pounds), Hunter was pushed around too often. He gave up a lot of sacks and was inconsistent week to week. Jets quarterback
Mark Sanchez
suffered a career-worst 39 sacks last year, and there were times I didn't think Sanchez would finish the game. Hunter's struggles had a lot to do with it. New York's coaching staff said Hunter looks ready for a better season. But it remains to be seen if this is valid or just lip service.
Walker's 2012 outlook:
I'm not too optimistic about Hunter's prospects this season. He has a long way to go based on what I saw last season. Hunter and
Marc Colombo
, who recently retired, were by far the two worst tackles in the AFC East last season. It would be surprising if Hunter suddenly becomes a consistent right tackle -- but any improvement on Hunter's part is an upgrade. Maybe Hunter plays better in two or three more games than he did last year. That would make a difference for the Jets.
April, 20, 2012
4/20/12
2:00
PM ET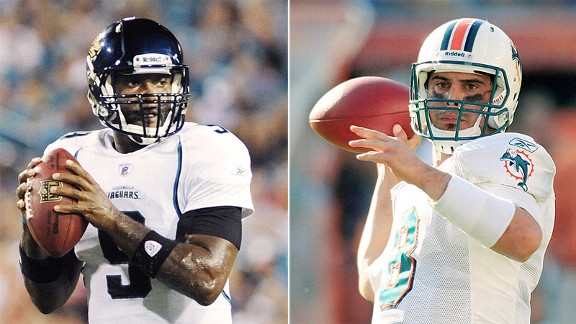 Getty ImagesWith David Garrard and Matt Moore battling to be the starter, Miami's most glaring need is at QB.
Sorry to be the bearer of bad news,
Miami Dolphins
fans. But it's probably going to be awhile before your team is a legitimate playoff contender again.
A disastrous offseason has gutted this once-promising team. Now, Miami is in full rebuild mode under rookie head coach Joe Philbin.
Miami is not a quick or easy fix. Here are five reasons why the Dolphins are a long way away from being a contender and probable for another top-10 draft pick in 2013:
Reason No. 1: Dolphins don't have a quarterback
Times are changing in the NFL. It's quickly coming to the point where if you don't have a quarterback, you don't have a chance.
Miami is going into the season with a quarterback competition between career backup
Matt Moore
and againg veteran
David Garrard
, who hasn't played football since 2010. Moore is the favorite coming off a career year in 2011 and was 6-6 as a starter. Garrard, 34, is a wild card after being out of football last season.
Neither player is a great fit for Miami's new West Coast offense. It's a scheme based on precision passing and throwing the ball about 60 percent of the time. Philbin was a former offensive coordinator with the
Green Bay Packers
. If Philbin expects Moore or Garrard to step in and fill the role of
Aaron Rodgers
next season, the coach is terribly mistaken.
It's hard for Miami to be a viable contender until it figures out its quarterback position. That won't happen next season with Garrard and Moore. Neither is the long-term solution.
Reason No. 2: No offense
Not only does Miami not have a franchise quarterback, it also lacks a supporting cast to put together a successful offense. The Dolphins could have one of the worst offenses on paper.
[+] Enlarge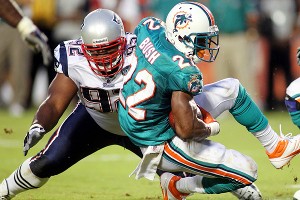 Marc Serota/Getty ImagesWith a lack of big-play receivers in Miami, opponents will likely target RB Reggie Bush in 2012.
The Dolphins certainly have one of the worst receiver groups. The team traded away Pro Bowl receiver
Brandon Marshall
to the Chicago Bears for a pair of third-round picks, leaving
Brian Hartline
(35 receptions for 549 yards in 2011) as the No. 1 option. Slot receiver
Davone Bess
(51 receptions, 537 yards) is projected as the No. 2 receiver, while
Legedu Naanee
and
Clyde Gates
compete for playing time. None of these receivers strike fear in the defense to keep opponents from stacking the line against tailback
Reggie Bush
and the running game.
The right side of Miami's offense line also is a problem. The Dolphins lost their starting right guard (
Vernon Carey
) and starting right tackle (
Marc Colombo
) in free agency. With uncertainty at quarterback, below-average receivers and major holes on the right side of the offensive line, Miami's offense is not set up for early success. The draft will help, but Miami can't fill all these needs with rookie players.
Reason No. 3: Shaky ownership, front office
Is it more perception or reality with Miami's leadership? Both have hurt the team.
The perception is the Dolphins have a shaky operation at the top. Owner Stephen Ross has deep pockets but hasn't shown the ability to build a stable, winning franchise. And Ross' trust in embattled general manager Jeff Ireland wasn't a popular decision.
The reality is Ross has the resources and wants to win. But Ross isn't a "football guy," and his unwavering trust in Ireland has caused a ripple effect.
Ireland's track record as a talent evaluator is decent. But he doesn't appear to be well-liked in NFL circles. Several players and former players have bashed Ireland publicly. Even
Peyton Manning
-- although very politely -- informed the Dolphins he wasn't comfortable with the team's leadership when Miami pursued the quarterback in free agency. Head coach Jeff Fisher also chose the
St. Louis Rams
over the Dolphins this offseason, in part, because he felt the stability at the top was better in St. Louis.
Winning will help this perception. That will convince top free agents to eventually come to Miami. But that wasn't the case for Ross and Ireland this offseason.
Reason No. 4: Defense is overrated
I like Miami's defense. But for all the hype this group is getting, the Dolphins' defense is fairly overrated.
Miami was ranked No. 15 in total defense in 2011. You would think this was a top-five defense based on the good press it is getting. In reality, it was middle of the pack. More importantly, the Dolphins were ranked 25th against the pass.
Miami still has holes in its secondary. Miami cut its best safety and leading tackler --
Yeremiah Bell
-- this offseason. The Dolphins will go with a patchwork group of
Reshad Jones
,
Tyrell Johnson
or converted corner
Richard Marshall
at safety. That means bombs away for opposing quarterbacks like
Tom Brady
,
Matt Schaub
and others on Miami's schedule this season. It's going to be tough to win games if you can't pass or stop the pass in today's NFL.
The Dolphins also don't have enough pass-rushers. Outside linebacker
Cameron Wake
is the biggest threat. Perhaps Miami could find another pass-rusher to go with Wake in this draft. But if the Dolphins can't get to the quarterback and struggle at safety, the defense could be middle of the pack again.
Miami's defense has its strengths. It is stout against the run, for example, and rarely allows a 100-yard rusher. But contrary to popular belief, the Dolphins aren't dominant enough defensively to win games on just one side of the ball. A sputtering offense will hurt this group.
Reason No. 5: Division rivals are simply better
Miami was 6-10 last season and finished third in the AFC East via the head-to-head tiebreaker over the
Buffalo Bills
(6-10). But a case can be made that the Dolphins are the only team in the division that took a few steps back this offseason.
As we mentioned, the Dolphins traded their best receiver, cut their leading tackler and failed to find a viable starting quarterback. Add in the fact that the team has an entirely new coaching staff and has to learn a new offense and defense, and you're sure to have growing pains. I doubt this team can better last year's record and finish with seven or more wins.
The reigning AFC champion
New England Patriots
have the NFL's easiest schedule and are much better than Miami. That's a no-brainer. But the Buffalo Bills,
my sleeper pick in 2012
, also are much improved, and the
New York Jets
still have a talented roster. The Dolphins appear headed for fourth place in the division. At best, Miami can finish third if something bad happens this year in New York or Buffalo.
Add up these five reasons, and it's clear Miami is much closer to the bottom of the league than the top. Look for the Dolphins to secure another top-10 draft pick and continue their lengthy rebuilding process into 2013.
March, 1, 2012
3/01/12
11:00
AM ET
The AFC East blog
continues this week's series
on ranking team needs entering free agency and the NFL draft.

Next up is the
Miami Dolphins
, who finished 6-10 last season.
No. 1 need: Quarterback
Analysis:
This has been talked about for months now. The Dolphins need a franchise quarterback who can get them to the next level.
Matt Moore
did a solid job for Miami last year and had a 6-6 record as the starter, including six wins in his last nine games. He's 13-12 as a starter for his career. If the Dolphins want to go 8-8 every year, Moore is the guy. But Miami has bigger aspiration of building a championship team. That is why the team is expected to explore options like
Peyton Manning
and
Matt Flynn
.
No. 2 need: Right tackle
Analysis:
In addition to all the quarterback questions, Miami also will need someone to protect that player's front side. Starting right tackle
Marc Colombo
struggled last year and will be an unrestricted free agent. He was a favorite of former Dolphins head coach Tony Sparano and is not expected to return to Miami. The Dolphins also need to decide what to do with veteran guard
Vernon Carey
, another unrestricted free agent. But finding a quality replacement at offensive tackle is more difficult than finding a good guard. Fortunately for the Dolphins, this is a good draft class for offensive tackles.
No. 3 need: Safety
Analysis:
The Dolphins are mostly set in the secondary.
Vontae Davis
and
Sean Smith
are two young corners approaching their primes, and safety
Yeremiah Bell
recorded his fourth consecutive 100-tackle season in 2011. But there is one missing piece at safety in Miami's secondary.
Reshad Jones
, 24, showed some promise filling in during the second half of the season, but he's not a game-changer or the long-term solution. The Dolphins could use a playmaker on the back end of the defense.
Agree or disagree? Vote on Miami's biggest offseason need using our SportsNation poll.
February, 28, 2012
2/28/12
1:00
PM ET

There has been plenty of offseason speculation that the
Miami Dolphins
would be interested in trading up from the No. 8 overall pick, presumably to land Baylor quarterback
Robert Griffin
III.
But something that hasn't been discussed nearly as much in this draft is the idea of Miami trading down. Should the Dolphins consider it?
I think it makes a lot of sense. Miami's needs in the first round (quarterback, right tackle, safety) may not be available or too high for the No. 8 overall pick.
For example, quarterbacks
Andrew Luck
and Griffin III would both be targets of interest for the Dolphins. But both are expected to go within the top two picks. Texas A&M quarterback
Ryan Tannehill
also could be of interest, considering his ties with Miami offensive coordinator Mike Sherman, but not at No. 8. If Miami trades back, the interest in Tannehill would increase.
Right tackle is a huge position of need for Miami with starter and pending free agent
Marc Colombo
not expected back. But smart teams do not draft right tackles in the top eight. Left tackles are much more valuable.
Also, is there a safety worthy of the eighth pick in this draft? I don't see it.
If Miami uses the pick, I think the team should look at the best pass-rusher on the board at No. 8. The Dolphins have outside linebacker
Cameron Wake
(8.5 sacks), but I don't think you can ever stockpile enough pass-rushers in today's NFL. The Super Bowl champion
New York Giants
are a great example.
But taking a pass-rusher wouldn't fill Miami's biggest needs, which is why the team should also consider trading out of the No. 8 pick in April.
February, 15, 2012
2/15/12
1:00
PM ET
I am almost always against taking a right tackle in the top 10. But the more I think about it, the more I am starting to make an exception for the
Miami Dolphins
. I think they should at least consider the possibility.

Here are several reasons:
No. 1: RT is a big need
The entire right side of the Dolphins' offensive line could need reconstructing in 2012. Right guard
Vernon Carey
and right tackle
Marc Colombo
are both unrestricted free agents. Colombo is not expected to return, but Carey has a chance. Pass protection at times was an issue for Miami. Drafting a first-round right tackle to pair with Pro Bowl left tackle
Jake Long
would solve that issue for the next quarterback (
Peyton Manning
?
Matt Flynn
?) coming in. It's also another way to help build the offense.
No. 2: This is a good draft for offensive tackles
Offensive tackle is one of the deepest positions this year. There are three or four offensive tackles projected to go in the first round. The Dolphins at No. 8 or No. 9 will have a shot at most of them. There also is less pressure playing on the right side. That rookie would have a chance to succeed right away in Miami. The Dolphins drafted center
Mike Pouncey
in the first round last year and could have two long-term building blocks.
No. 3: Long is entering a contract year
Coming off a season-ending biceps injury, it's too risky to give Long a huge extension right now. The Dolphins most likely will let 2012 play out and see how Long bounces back. Long had arguably his worst season in 2011. He battled through injuries, and to his credit he never used them as an excuse. But long term, what if injuries are catching up to Long? What if Miami is afraid to give Long a
Joe Thomas
contract? Thomas received a seven-year, $84 million extension last year from the
Cleveland Browns
. If the Dolphins aren't willing to do the same with Long, it may be wise to draft a first-round tackle with potential to play the left side in a year or two.
With that said, it still makes me cringe for any team to take a right tackle with the No. 8 or No. 9 pick. Miami has other needs it can address. But I'm a little more open to the idea than I was before.
September, 9, 2011
9/09/11
1:30
PM ET
»
NFC Final Word
:
East
|
West
|
North
|
South
»
AFC
:
East
|
West
|
North
|
South
Five nuggets of knowledge about Week 1:
[+] Enlarge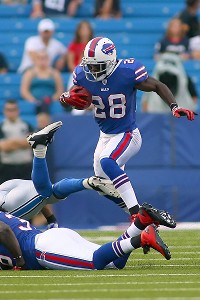 Photo by Rick Stewart/Getty ImagesRunning back C.J. Spiller could help Buffalo slow down Kansas City's pass rush.
Handling Hali:
Something to watch carefully when Buffalo visits Kansas City is how the Bills handle linebacker
Tamba Hali
. If left alone, he will torment Bills left tackle
Demetrius Bell
. If Buffalo designates a tight end next to Bell to assist with Hali or assigns a running back to chip him, that leaves the rest of Buffalo's protection scheme vulnerable against pass-rushers
Justin Houston
,
Glenn Dorsey
and
Wallace Gilberry
. Kansas City also has a strong secondary. I have a hard time believing that Buffalo will have much success through the air this week. One guy who could really help their cause if used properly is running back
C.J. Spiller
.
Inexperienced Cowboys:
Dallas visits the Jets on Sunday night. This is a terrible matchup for the Cowboys' offense. Instead of older, heavy-footed road graders up front, the Cowboys' offensive line has an influx of athletic, but very young, starters. This could pay off in time, because they should be much better equipped to pass-block and get out on the screens and draw plays that favor
Felix Jones
. But for now, I expect huge growing pains. Ultra-talented Cowboys first-round pick
Tyron Smith
will not play because of a knee injury. I expect Dallas' protection schemes to have plenty of breakdowns. That is an awful situation against a defense coached by Rex Ryan. Compounding matters for the Cowboys are the matchups on the perimeter.
Miles Austin
and
Dez Bryant
are as good a pair of starting wideouts as you will find. But Austin isn't 100 percent healthy, and
Darrelle Revis
will shut down whichever wide receiver he covers.
Antonio Cromartie
is a very good man-to-man cover man who thrives against bigger wide receivers like Austin and Bryant. However, it should be noted that New York's third-down defense last season gave up too many big plays.
Test for New England:
New England travels to Miami for the early "Monday Night Football" game. Although it struggled this preseason, particularly against the Lions, I still consider New England's offensive line one of the very best. But they will be tested in a huge way on the road. In the Miami heat, the fatigue factor will favor the home team. Miami has an extremely physical and deep 3-man defensive line. Led by
Cameron Wake
, the Dolphins' edge pass-rushers are a real handful for any protection scheme. New England might be without starting right tackle
Sebastian Vollmer
, so we might see first-round pick
Nate Solder
in his first action.
Pressure from Patriots:
When Miami has the ball, I expect Bill Belichick to dial up a lot of front-side pressure.
Chad Henne
is not very mobile, and he can struggle with pressure right in his face.
Jake Long
returns, after missing the preseason, to man his left tackle spot. I worry about the right side of the Dolphins' offensive line, particularly starting right tackle
Marc Colombo
. He should be out-manned by players such as
Shaun Ellis
and
Jermaine Cunningham
, let alone the added front-side pressure. Compounding the problem, right guard
Vernon Carey
has little experience at guard.
Anthony Fasano
is an excellent blocking tight end and will have to spend much of his time on the right side, but the Miami running backs are either small and lacking physicality (
Reggie Bush
) or lacking experience (
Daniel Thomas
) in protection.
Stopping the run:
The Bills' defense was awful against the run last season, but I am betting that it improved with the drafting of
Marcell Dareus
and some other additions. I expect the run defense to be particularly stout up the middle, where Dareus,
Kyle Williams
and
Nick Barnett
play. However, the changes might not pay off big against the Chiefs because
Jamaal Charles
is such a great runner outside the tackles. I also expect
Dexter McCluster
's role as a ball carrier to increase.
September, 8, 2011
9/08/11
5:00
PM ET
By
John Parolin, ESPN Stats & Information
| ESPN.com
Despite optimism before the 2010 season (owner Stephen Ross predicted a Super Bowl appearance in June), the Dolphins finished with a 7-9 record and lost four of their last five games of the season.

The Patriots in particular made quick work of Miami in their two meetings last year, winning both matchups by a combined score of 79-21. There was plenty of room for improvement for coach Tony Sparano's team, and New England will be the first to see how much progress Sparano and his staff made in the lockout-shortened offseason.
Here are three areas to watch for from the Dolphins:
* Dolphins quarterback
Chad Henne
has really struggled with his intermediate and deep throws against the Patriots' pass defense. In two games last year, Henne completed four of his 12 pass attempts of 11-plus yards with two interceptions. Henne's teammate
Tyler Thigpen
didn't exactly solve the problem, posting an identical 4-for-12 line with a touchdown and an interception. Overall, Dolphins quarterbacks had the lowest completion percentage (33.3 pct) and yards per attempt (6.7) while throwing the most interceptions (three) of any Patriots opponent in 2010 on throws of 11-plus yards. Offensive coordinator Brian Daboll indicated Henne this season will have more freedom to audible out of plays based on reads at the line, something the Patriots may try to exploit with different pre-snap defensive looks and pressures.
* While Henne and the Miami passing attack received media scrutiny a year ago, the Dolphins also struggled a year ago rushing the ball up the middle. The Dolphins averaged only 3.5 yards per rush up the middle (T-27th in NFL), despite attempting 247 of those rushes last season, and the Patriots had particular success slowing Miami's ground game, holding the Dolphins to 1.9 yards per rush up the middle (second-best among Dolphins opponents). Miami revamped its running game in the offseason, bringing in running backs
Reggie Bush
,
Daniel Thomas
and now
Larry Johnson
to handle rushing duties behind a new-look offensive line. First-round draft pick
Mike Pouncey
and free-agent right tackle
Marc Colombo
are the two newcomers to an offensive line that features All-Pro left tackle
Jake Long
.
September, 1, 2011
9/01/11
3:50
PM ET
Of the five panelists asked to pick the AFC East, four had the Dolphins finishing third and I picked them to finish second.
Here's my intelligence report
on Miami:
Five things you need to know about the Dolphins:

1. Henne must improve:
Chad Henne
needs to play better in 2011 than he did a year ago. He just didn't convert enough big plays to throw as many interceptions as he did (19). Still, I do think he was slightly unfairly criticized and I think he can revive his career, especially since Miami was quite proactive this offseason in getting him a lot of help at surrounding positions. And as Football Outsiders so adeptly notes, Henne was the most "unlucky" quarterback in the league last year as far as interceptions -- no quarterback paid more for his mistakes. This offense also has to get more aggressive with play calling. But any way you cut it, the Dolphins will go only as far as Henne can take them.
2. Defense is elite:
I love the Dolphins' defense. Led by a very deep but greatly underappreciated defensive line, I fully expect Miami to have one of the top three or four defenses in the league.
Vontae Davis
and
Cameron Wake
are budding superstars with a ton of big-play potential, but young complementary players like
Sean Smith
and
Koa Misi
are also quite effective -- and should only be getting better. This defense needs to do a better job of taking the football away, and I don't love its free safety situation, but all in all, there are only a couple of NFL defenses that I rank ahead of the Dolphins'. And Mike Nolan is one of the best defensive coordinators in the league.
3. The Reggie Bush effect:
As a former second overall pick in the draft, many consider the often-injured Bush a bust. I am not going to say that Bush was worth such a lofty draft slot, but I will tell you that he can make a major difference in Miami. Bush is as much wide receiver as he is running back, which makes accounting for him extremely difficult when he is on the field. Do you play nickel or base defense when he is the lead back? If you chose the smaller, more athletic defensive personnel, Miami will run the ball with Bush. If you chose the heavier base set, the Dolphins can split Bush away from the formation and get a coverage mismatch against a linebacker. His stats are not extraordinary, but Bush's effect on the game can be. Bush and
Brandon Marshall
should quickly become Henne's best friends.
4. Offensive line rebuilt:
Henne isn't very fleet of foot. He struggles against interior pass-rush pressure, which was a big problem a year ago. In turn, Miami used its mid first-round pick on the best interior offensive lineman in the draft,
Mike Pouncey
, who is penciled in as the starting center. Former right tackle
Vernon Carey
has moved to right guard. That move is a bit curious, though, as I have major reservations about now-starting right tackle
Marc Colombo
. The plan is that the revamped line should help an ailing running game while also providing better interior protection for the immobile Henne.
5. More team speed:
Miami clearly made a concerted effort to become a faster team this offseason. On offense, the Dolphins added a burner at wide receiver,
Clyde Gates
, who should open room for the Dolphins' other skill positions. We touched on Bush's potential effect in this offense, but clearly he is an improvement just in terms of his pure speed compared to the running backs from a year ago. Miami desperately needs more big plays on offense. On defense, the addition that really sticks out is every-down linebacker
Kevin Burnett
, who is replacing the slower run-stuffing
Channing Crowder
. Burnett's athletic ability and extreme versatility should serve Miami very well, especially when dealing with the Patriots' wide array of tight ends and running backs who can torture a defense from a matchup standpoint. He should make a very formidable inside linebacker pair with
Karlos Dansby
in Miami's 3-4 scheme.
August, 19, 2011
8/19/11
11:37
AM ET
By
Brian Biggane, Special to ESPN.com
| ESPN.com
The one major question about the
Miami Dolphins
the entire offseason was never sufficiently answered.
So what is the deal at quarterback, anyway?

Chad Henne
was the unequivocal choice of general manager Jeff Ireland and coach Tony Sparano at this time last year. There was boundless confidence that the team's second-round pick in 2008 was ready to take the reins of an offense that was expected to be made more proficient by the addition of wide receiver
Brandon Marshall
.
The results were not pretty. On five occasions, all at home, Henne had the opportunity to win or tie a close game with a fourth-quarter scoring drive, and on all five he failed. Three of the subsequent losses were to also-rans Buffalo, Detroit and Cleveland, leaving Miami with a second straight 7-9 finish.
The failures almost cost Sparano his job, as owner Stephen Ross took a run at Jim Harbaugh, and for a time it seemed Henne might be replaced when Ireland engaged in negotiations for Denver's
Kyle Orton
that ultimately came up empty. When the dust settled, former Carolina Panthers QB
Matt Moore
had been brought in as a backup, but nothing had really changed. Henne was still the one.
The team around him does appear to have gotten better. Coordinator Mike Nolan's defense, sixth in the league a year ago, has remarkable depth on the defensive line and is better at linebacker with the additions of
Kevin Burnett
and
Jason Taylor
. Ireland addressed a deficiency in speed at the skill positions with the acquisitions of
Reggie Bush
and fourth-round wideout
Clyde Gates
. First-round pick
Mike Pouncey
, a center, has brought stability to the offensive line.
But in the 12 years since
Dan Marino
retired, it has always come back to the quarterback. This year is no different.
Even Marshall, who at one point late last season said he was "not sure" he and Henne could coexist, had good things to say about his beleaguered quarterback, who was actually booed at one preseason practice at Sun Life Stadium.
"Chad has been amazing this summer, getting the guys together," Marshall said. "He's been the face of leadership."
Sparano was even more forthcoming.
"I've seen more people going to Chad for answers," he said. "You would have to envision when you're at Indianapolis or a place like that people are going to Peyton [Manning] for the answers. Well, more people are going to Chad for the answers now, and that's a direct reflection of what this young man has done."
Henne and
Peyton Manning
in the same sentence … now that's a stretch for even the most loyal Dolphins fan.
Five days after Sparano made those comments, Henne started the first preseason game at Atlanta and was intercepted twice in five throws while Moore, playing with and against second-teamers, was solid.
It may or may not happen, but certainly all the pieces for a year of quarterback controversy are in place.
THREE HOT ISSUES
[+] Enlarge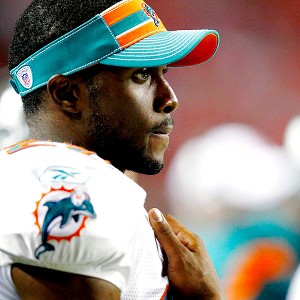 Josh D. Weiss/US PresswireWill Reggie Bush be able to revitalize a stagnant running game?
1. Can Bush and rookie Daniel Thomas make people forget Ronnie Brown and Ricky Williams?
From 2005-10 either Brown or Williams led the Dolphins in rushing, and four of those six years they finished 1-2. Both are getting older -- Williams is 34, Brown 29 -- and the running game ranked 30th in yards per carry (3.7) and 21st in yards per game (102.7) last season. Ireland decided it was time to move on. Thomas, a second-round pick, led the Big 12 in rushing at Kansas State the past two seasons and at 6 feet and 230 pounds, he can pound the middle. Bush, who has missed 20 games to injury the past two seasons, expressed a desire to be the feature back upon his arrival but seems more likely to line up all over the field. "The lack of experience is definitely a concern," admitted Sparano, whose stable of backs also includes unproven
Kory Sheets
and
Lex Hilliard
.
2. How will the season unfold for Marshall?
The simple fact that Marshall was perceived to have a down year when he had 86 catches last season -- tied for second in franchise history behind O.J. McDuffie's 90 in 1998 -- demonstrates how high the expectations are for the man known as "The Beast." Marshall's off-field problems, which included the arrest of his wife after Marshall was found stabbed at his home in April, culminated with him being diagnosed and treated for borderline personality disorder this offseason. In camp this summer, it seemed every time Marshall went out for a pass, Henne was the one throwing it. If Gates can be the home run threat Miami lacked after trading
Ted Ginn
Jr. last season, Marshall could benefit greatly.
3. Will new offensive coordinator Brian Daboll bring spice to a boring offense?
Miami's top two receivers last season, Marshall and
Davone Bess
, averaged 11.8 and 10.4 yards per catch, respectively. No wonder Henne came to be known as "Checkdown Chad." But in the Dolphins' first scrimmage this year, Daboll unveiled four-receiver sets and had Bush lined up everywhere from the backfield to wideout. Despite having
Josh Cribbs
, Daboll's offense didn't exactly light up the scoreboard in Cleveland, finishing 29th in total offense and 25th in yards per play. Sparano prefers the ground-and-pound, but Henne and Daboll must demonstrate they can keep up with prolific offensive units, such as New England, San Diego and Houston -- which happen to be Miami's first three opponents.
BIGGEST SURPRISE
If a former first-round pick can qualify as a surprise, second-year defensive end
Jared Odrick
has earned that distinction. Odrick was lost early in the opener against Buffalo last season with a broken leg. His comeback was then stopped six weeks later by a broken ankle, ending his season. Worse, it turned out his first injury was eerily similar to one he suffered as a sophomore at Penn State, raising questions as to whether he could remain healthy enough to be counted upon. But in the early weeks of camp, Odrick was a force, as he and partner
Tony McDaniel
moved ahead of last season's starters,
Randy Starks
and
Kendall Langford
, in team drills. That quartet, as well as
Phillip Merling
and
Ryan Baker
, give Miami inordinate depth at defensive end.
BIGGEST DISAPPOINTMENT
After losing
Justin Smiley
to chronic shoulder injuries, the Dolphins had a vacancy at right guard in 2010 and drafted
John Jerry
out of Mississippi in the third round. Jerry, the younger brother of Atlanta defensive tackle
Peria Jerry
, got 10 starts but struggled to beat out journeyman
Pat McQuistan
. When Miami selected Pouncey in the first round of this year's draft,
Richie Incognito
, who played both guard spots at times last season, was put on the left side and John Jerry was given the opportunity to win the right guard spot. After seeing unsatisfactory results in the first two weeks of camp, Sparano moved
Vernon Carey
over from right tackle and brought in free-agent
Marc Colombo
, who had been let go by Dallas.
OBSERVATION DECK
[+] Enlarge

Scott Cunningham/Getty ImagesThe Dolphins hope that pick Clyde Gates will be able to stretch the field like Ted Ginn Jr. did.

Two relatively obscure rookies provided two of the more intriguing storylines of training camp. Gates, of Abilene Christian, whose father was released from prison last fall after serving a lengthy sentence for first-degree murder, was one. Seventh-rounder Jimmy Wilson of Montana, who spent 26 months in jail before being acquitted of a first-degree murder charge, was the other. Gates, who ran the 40-yard dash in 4.37 at the combine despite nursing a sore groin, provides needed speed at wide receiver, and Wilson is a big hitter and ball hawk in the secondary.

While first-round pick Pouncey was drawing favorable comparisons to his Steelers All-Pro twin brother, Maurkice, for his blocking and intelligence, his struggles snapping the ball were an ongoing concern as camp progressed. Mike Pouncey, who moved to center as a senior at Florida after his brother left early, had some nightmarish games on shotgun snaps with the Gators and clearly doesn't have the technique down yet.

Marshall isn't known for being shy around a microphone, but he wasn't in a talkative mood the first three weeks of camp. He spoke only once, to reveal his diagnosis for borderline personality disorder, and took only a handful of questions. Of course, Marshall was in the middle of the Henne soap opera last season, so there was speculation he didn't want to stir up the water this year as he continues to undergo treatment for his disorder.

The only real battle for a starting job in camp has been at free safety. Third-year man Chris Clemons, last season's starter, was trying to hold off Reshad Jones, who made a favorable impression in limited opportunities as a rookie in 2010. Jones had a sack and an interception against Tennessee in one of his two starts and seems to be more of a playmaker.

The biggest mystery in camp surrounded the status of Pro Bowl tackle Jake Long, who was put on the physically unable to perform list early and did not work at all the first three weeks. Sparano said Long's injury did not involve his knee, which along with his shoulder required surgery after last season.ÿ
August, 13, 2011
8/13/11
3:14
PM ET
Observations on the
Miami Dolphins
'
28-23 preseason win
against the
Atlanta Falcons
.


More required from Henne:
I have been in the Dolphins' corner all offseason on their approach at the quarterback position: Build the supporting cast around
Chad Henne
and give him another chance to succeed. His game versus Atlanta didn't help his cause at all. His first pass of the night was well behind
Anthony Fasano
, who could not handle it.
John Abraham
, who dropped into coverage on a zone blitz, intercepted it. It wasn't as though Henne was confused by the scheme or under a lot of pressure in the pocket. He just missed an easy, short throw to his tight end. His second first-quarter interception also was released from a clean pocket. In this case, it looked as though he just was unable to fit the ball in over the cornerback (
Brent Grimes
, who made the interception) and in front of the safety in what was most likely a Cover 2 look. That won't do. I wonder how much the Dolphins fans attending training camp will boo Henne now. To his credit, Henne did improve after throwing the second interception, although he was facing many of the Falcons' backup defenders.
Miami was the inferior team:
When the starters were playing, it was pretty clear the Falcons are the better team. There is no shame in that for the Dolphins, because Atlanta is clearly one of the top few teams in the NFL. But Miami was beaten in just about all areas when both team's best players were on the field. After Henne's opening interception, the Falcons totally owned Miami's defense and promptly made the score 7-0 in dominant fashion.
Line play:
I have been
singing the praises of Miami's defensive line
this entire offseason. It faced a stiff test against a rugged and well-coached Falcons' front five that returns four of five starters from a year ago. Atlanta is not especially athletic, but boasts one of the best offensive lines in the league. Miami's defensive front did not offer much resistance against the Falcons' downhill power running game.
Michael Turner
had too many holes to run through.
Offensive tackles:
Because the great
Jake Long
is injured, Miami started
Lydon Murtha
at left tackle. Newly signed
Marc Colombo
started on the right side, and
Vernon Carey
slid in to right guard.
Ray Edwards
didn't play for the Falcons, but Atlanta -- led by Abraham -- is still pretty strong at defensive end. Murtha and Colombo are not an athletic pair at all, and they were far from perfect. But they played better than I had expected. Murtha had a tougher outing than Colombo, which is not a surprise. I still have my doubts about Colombo as a starter.
Nolan didn't show much:
This isn't an excuse for the Dolphins' front to get abused by simple downhill run plays, but it was pretty clear after watching this game that Mike Nolan didn't want to put a lot of his defensive playbook on tape. There were very few blitzes and little pre-snap movement. The top guys on the Dolphins' defense didn't play a lot of snaps in this contest. The depth of the Dolphins' defense did show up well as the game went along. I am still very confident that Miami will have one of the best defenses in football this season.
April, 23, 2009
4/23/09
8:55
AM ET
Posted by ESPN.com's Tim Graham
The response from Buffalo Bills fans will be either laughter or a gag reflex when they learn Mike Williams is working on an NFL comeback.
Williams is one of the NFL's biggest draft busts of the past decade. The Bills used the fourth overall selection in 2002 to select the 6-foot-6, 370-pound Texas tackle.
Williams was ripped for his lack of desire. He couldn't make it through four seasons, finishing his career with five starts in 2005. He had a back problem, but that wasn't considered the real reason he retired after the Bills cut him.
"I know people have questions about me," Williams told Dallas Morning News reporter Barry Horn. "I know they are not questions about my talent. They are questions about my heart."
Williams and quarterback J.P. Losman have been the poster children for the Bills' 21st century failings.
But looking back on the 2002 draft class, Williams was the top prospect at a position of need. The next five tackles off the board were Bryant McKinnie (seventh overall), Levi Jones (10th), Marc Colombo (29th), Mike Pearson (40th), Chester Pitts (50th) and Langston Walker (53rd).
Horn looks back at Williams' bright future when he left Texas and retraces all of the troubles with Buffalo.
But Williams is only 29 years old. There is time to salvage a more meaningful career. He has been living and working out with Derrick Dockery, the high-priced left guard Buffalo released in February.
"I have a new love for the game," Williams told Horn. "I know I have a lot more than people think or what they saw."