January, 19, 2013
1/19/13
11:00
AM ET


Last week
in the AFC East blog
we questioned
Tim Tebow
's NFL future. The
New York Jets
cannot wait to get rid of the polarizing quarterback and the hometown
Jacksonville Jaguars
want nothing to do with him.
But this week things are suddenly looking up for Tebow. Two recent head-coaching hires could provide two more possibilities.
Marc Trestman, the new coach of the Chicago Bears, has ties with Tebow. The former CFL coach and quarterback guru worked with Tebow before the 2010 NFL draft. Trestman has always had high praise for Tebow. If Trestman still believes in Tebow, he can have the quarterback on the cheap this offseason to backup starter
Jay Cutler
.
Chip Kelly, the new coach of the Philadelphia Eagles, has no official tie to Tebow. But it is no secret that Kelly likes mobile quarterbacks to run his up-tempo style of offense. Tebow also can be acquired for virtually little, which may attract some teams. But Tebow's throwing issues and poor mechanics make this less of a possibility, even as a backup.
For now, add Chicago to the list of potential landing spots in the 2013 "Tebow Sweepstakes." Philadelphia? Not so much.
March, 7, 2010
3/07/10
5:57
PM ET
The
Buffalo Bills
are intrigued enough by quarterback
Tim Tebow
that they're going to
conduct a private workout with him
after the University of Florida's pro day March 17.
NFL.com personnel guru Gil Brandt also reports the
Seattle Seahawks
will hold an individual workout with Tebow, the most famous question mark of next month's draft.
Tebow didn't throw at the NFL scouting combine because he's trying to revamp his awkward delivery to look more orthodox.
The Heisman Trophy winner
has been working out with a quartet of specialists
, including former Bills quarterbacks coach Sam Wyche. His other tutors also have AFC East ties: former
New York Jets
offensive coordinator Zeke Bratkowski, former Jets receivers coach Noel Mazzone (Arizona State offensive coordinator) and former
Miami Dolphins
offensive coordinator Marc Trestman (head coach of the CFL's Montreal Alouettes).
February, 24, 2010
2/24/10
10:34
AM ET
Tim Tebow won't throw at the NFL scouting combine this week, but the coaching quartet trying to salvage the University of Florida star's quarterbacking future claims he's making significant progress as a pro-style passer.
In case you haven't noticed, all four of the
contractors brought in for "Home Makeover: Tebow Edition"
have AFC East ties.
[+] Enlarge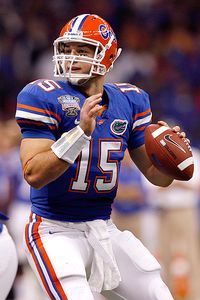 Matthew Stockman/Getty Images Tim Tebow has a team of coaches preparing him for the NFL.
The men trying to renovate Tebow's throwing mechanics are former offensive coordinator Zeke Bratkowski, Arizona State offensive coordinator Noel Mazzone, retired coach Sam Wyche and Montreal Alouettes head coach Marc Trestman.
Bratkowski served on the
New York Jets
' staff from 1985 through 1989 and again in 1995 and '96 as offensive coordinator. Mazzone was the Jets' receivers coach from 2006 through 2008. Wyche coached the
Buffalo Bills
quarterbacks in 2004 and '05. Trestman was the
Miami Dolphins
' offensive coordinator in 2004.
ESPN's Adam Schefter wrote a feature on the reclamation project. He noted Bratkowski is focusing on an improved, over-the-top delivery.
Tebow's footwork also is a concern because the Gators were a shotgun-exclusive team. He must learn how to master the center-quarterback exchange and the type of dropbacks he must be comfortable with as a pro.
The coaches sound like they're happy with how their project is coming along.

"You're not looking at the same quarterback," Bratkowski said in Schefter's feature. "To say we're there 100 percent where we want to be, no. But we'll be more improved come pro day than we are at this point in time now."
Wyche told Bengals.com reporter Geoff Hobson that
Tebow's mechanical flaws are minor
and could be corrected within a week once he gets into an NFL program.

"If you don't think he can line up at quarterback in the NFL, then you don't know about lining up in the NFL," Wyche told Hobson. "The last thing I told him when I left was not to change how accurate he is and his touch. The two things you have to have in a quarterback are accuracy and intelligence. If you don't, you're going to be finding another one pretty quickly. And [Tebow] is as smart as a whip."
Trestman cited Tebow's mind as his greatest asset to helping him make the transition.

"His intelligence level is as high as any quarterback I've encountered coming out of college," Trestman said in Schefter's feature. "His intelligence is off the charts. After spending time with Tim, it was evident that he learned a lot of football in his four years at Florida -- a lot.

"As a result he has been able to quickly adapt and make corrections in his throwing motion and footwork that will allow him to get the ball out faster and improve his accuracy. He has more than enough arm strength and shown he can make all the throws at the next level. He has only been at it for a few weeks. So I can only anticipate he will continue to improve."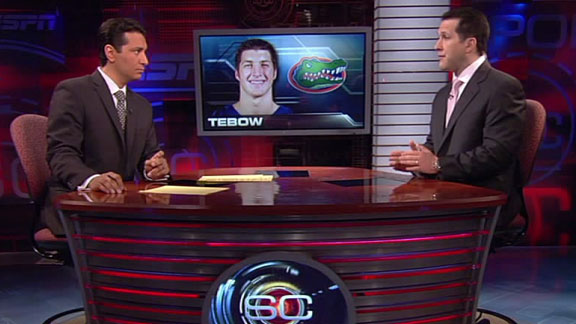 December, 23, 2009
12/23/09
8:11
AM ET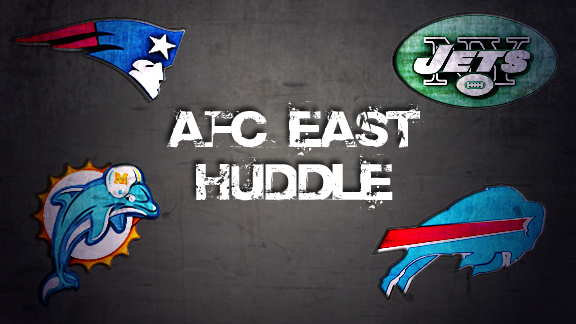 ESPN.com's John Clayton addresses the major issues for every club in the AFC East. Take a look at the names listed in the tags to get an idea of what kind of ground Clayton covers.
November, 27, 2009
11/27/09
9:13
AM ET
CBS Sports analyst Charley Casserly, a former general manager who could return to an NFL front office for 2010, shared his insight about the Buffalo Bills' coaching search on "The NFL Today."
"What the Bills coaches were told is this: Perry Fewell will be given serious consideration for the job. In fact, they were told he has a leg up right now because he's coaching the team. They were also told they were going to look at coaches who are available right now for interviews. One was Mike Shanahan. They interviewed him this past week on Tuesday.
"Also two other names I would look at: One is Jim Haslett, former NFL head coach also presently head coach of the Florida Tuskers, undefeated in the UFL; and head coach Marc Trestman of the Montreal Alouettes, with the top records in the CFL. I think both will get consideration. At the end of the year, one guy I would really look at hard here for them to see is Russ Grimm, the assistant head coach of the Arizona Cardinals.
"My personal opinion, I don't see Mike Shanahan ending up coaching the Buffalo Bills next year. I think what he'll look for is a team that is more playoff-ready, a team closer to being in the playoffs than the Buffalo Bills are right now."
November, 25, 2009
11/25/09
1:30
PM ET
ESPN's Adam Schefter reports the
Buffalo Bills
met with
coaching candidate Mike Shanahan for seven hours
Monday night and Tuesday morning in Denver.
The report suggests Bills chief operating officer Russ Brandon interviewed for Shanahan rather than vice versa.
"We had an excellent meeting," Shanahan told Schefter on Wednesday. "I was really impressed with Russ Brandon and everything he had to say. We're going to stay in touch and see what develops."
The Bills are expected to take their time in making a hire and will interview several more candidates before they find the permanent replacement for Dick Jauron, who was fired last week and replaced with defensive coordinator Perry Fewell on an interim basis.
Almost all of the top-tier candidates have rebuffed the Bills' attempts to talk about the job. Substantive reports have stated Jon Gruden, Bill Cowher and Mike Holmgren have turned them down.
The next wave of candidates might include the likes of Brian Billick, Jim Fassel, Mike Martz and Jim Haslett, but the Bills seem hot for an offensive-minded coach, which could work against Haslett, a former Bills linebacker.
Billick had an 80-64 career record and won a Super Bowl with the
Baltimore Ravens
. Defense was the foundation of those Ravens teams, but Billick is a lifelong offensive coach who had a star quarterback only once in his nine seasons there. Billick won 13 games with
Steve McNair
in 2006.
Fassel went 58-53 as head coach of the
New York Giants
and won an NFC title. Bills fans might note some similarities between their team and the one Fassel took over in 1997. The Giants went 6-10 the year before, but Fassel guided them to a 10-5-1 record and the NFC East championship with Danny Kannel and Dave Brown as his quarterbacks.
Martz coached The Greatest Show on Turf with the
St. Louis Rams
for six seasons. He went 53-32 and won an NFC title. His offense ranked No. 1 in the NFL in 2000 and 2001 with such stars as
Kurt Warner
,
Torry Holt
and Marshall Faulk.
Another offensive-oriented coach who has been mentioned is longtime NFL offensive coordinator Marc Trestman, who has been tearing up the Canadian Football League as head coach of the Montreal Alouettes.
But one major hang-ups the Bills will have is their quarterback situation. They have no obvious starting quarterback on their roster. The organization apparently has given up on
Trent Edwards
, and
Ryan Fitzpatrick
isn't held in high regard. Newly acquired third-stringer
Brian Brohm
is a project.
Many coaches' names will be associated with the opening. Expect some surprises along the way.
November, 18, 2009
11/18/09
10:15
AM ET
ESPN.com's John Clayton takes a spin around the AFC East to discuss the Dick Jauron firing,
Ronnie Brown
's injury, the fallout from Bill Belichick's fourth-down decision and a change on the Jets' coaching staff.
November, 17, 2009
11/17/09
6:49
PM ET
Now that the
Buffalo Bills
have fired Dick Jauron, who are the candidates to be their head coach in 2010?
Here are some thoughts on a few potential candidates in no particular order: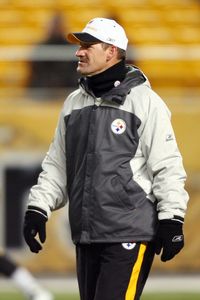 Jason Bridge-US PRESSWIREHiring former Pittsburgh Steelers coach Bill Cowher would be a splashy move for the Bills.
Bill Cowher:
It would take a gigantic change of philosophy for Bills owner Ralph Wilson to sign off on a larger-than-life coach such as Cowher. Wilson's modus operandi has been to pursue coaches who don't command a high salary and don't expect organizational control. Cowher essentially has his choice of any openings and will need to be dazzled by an offer the Bills have no history of making.
Mike Holmgren:
See Cowher.
Mike Shanahan:
See Holmgren.
Jon Gruden:
See Shanahan.
Tony Dungy:
See all of the above. Plus, he seems to enjoy retirement. He had peace of mind in leaving one of the NFL's elite franchises. It would be a colossal stunner if he would consider joining one of the decade's least successful clubs.
Marty Schottenheimer:
The former
Cleveland Browns
,
Kansas City Chiefs
and
San Diego Chargers
head coach has a reputation for getting his teams into the playoffs but not Super Bowls. Bills fans certainly would settle for that. Schottenheimer spent four seasons playing linebacker for Buffalo, winning an AFL championship his rookie year.
Jim Haslett:
Many observers see the former
New Orleans Saints
and
St. Louis Rams
head coach as the perfect choice. Teams often like to go with a coach that has a different personality from the one they just fired. Haslett would be that. He's fiery. He also has a history with Buffalo. He played linebacker for the Bills from 1979 through 1985 and got his start in coaching as an assistant for the University of Buffalo.
Brian Billick:
If the Bills wanted a coach with an offensive background, Billick is available. He was
Baltimore Ravens
coach for nine seasons, winning the Super Bowl in 2000.
Mike Martz:
Similar to Billick, he's an offensive coach with Super Bowl credentials and currently works for the NFL Network. He coached The Greatest Show on Turf with the Rams for six seasons.
Jim Fassel:
Fassel likely would be reasonably priced. He has been eager to get back into the NFL since he was fired as the Ravens' offensive coordinator in 2006. Fassel was head coach of the
New York Giants
from 1997 through 2003, winning one NFC title.
Perry Fewell:
The Bills' defensive coordinator has been named interim head coach. He never has been a head coach at any level, but when clubs look for an interim coach from within, they generally look to the offensive or defensive coordinator. Offensive coordinator Alex Van Pelt was installed 10 days before the regular season and hasn't exactly done a bang-up job.
Bobby April:
Buffalo's assistant head coach and special-teams coordinator would seem to be a candidate based on how highly he's respected around the league. But it doesn't bode well that Wilson bypassed him for Fewell.
Other names to consider:
Todd Bowles (
Miami Dolphins
secondary), Ted Cottrell (former Bills defensive coordinator), Jason Garrett (
Dallas Cowboys
offensive coordinator), Turner Gill (University of Buffalo head coach) Leslie Frazier (
Minnesota Vikings
defensive coordinator), Mike Leach (Texas Tech head coach), Paul Pasqualoni (Dolphins defensive coordinator), Brian Schottenheimer (
New York Jets
offensive coordinator), Marc Trestman (Montreal Alouettes head coach).
February, 4, 2009
2/04/09
10:57
AM ET
| | |
| --- | --- |
| | |
| | AP Photo/John Ulan |
| | After proving himself in the CFL, Cameron Wake (91) hopes to capitalize on an opportunity with the Miami Dolphins. |
He had been somebody, the best linebacker from a place that cranks them out with such assembly line efficiency it's known as Linebacker U. He was a captain. He was important.
Then -- poof -- Derek Wake vanished. No NFL team drafted the freakish athlete who both thrilled and irritated Penn State coach Joe Paterno.
The
New York Giants
signed Wake as a rookie free agent in 2005. They cut him in June, having seen enough not to bother with a look-see at training camp.
And that, apparently, was that. Wake disappeared into an office here, a fitness center there. He wasn't famous anymore. The Big Man on Campus was shuffling bank papers, and they weren't even his. Bank advisors don't receive signing bonuses, and when he quit that job to become a personal trainer, the move didn't make the transaction wires.
One season came and went. Then another.
Wake slipped out of football's consciousness and into everyman oblivion. He stopped being somebody.
Yet he was somewhere, turning himself into somebody else.
"Everybody has their past," Wake said last week from his parents' home in suburban Washington, D.C. "I guess mine was a little more unorthodox than most."
Derek Wake had humbly gone about his life since the Giants axed him. But defensive end
Cameron Wake
popped up in the Canadian Football League in 2007 with about as much subtlety as a karate chop to the throat.
Cameron Wake was a whipsaw pass rusher with an insatiable craving for quarterbacks. Helpless tackles would've preferred trying to split an atom with a spork to blocking him. His sack totals for the BC Lions were obnoxious: 16 as a rookie, 23 last season. The CFL honored him as its best defensive player both seasons.
NFL scouts broke out their passports to spy Cameron Wake in person. He was a marvel to behold. But when his agent, Paul Sheehy, contacted teams to gauge their interest, some had no idea who Cameron Wake was. He didn't turn up in their scouting files.
Derek Cameron Wake had reinvented himself, all right. The former NFL washout, now playing under his middle name, became a hot commodity. Seventeen NFL clubs showed interest, and each of the eight teams that worked him out offered a contract.
The
Miami Dolphins
outbid the
Indianapolis Colts
,
Buffalo Bills
and
Denver Broncos
with the richest contract in CFL-to-NFL history, a four-year deal potentially worth almost $5 million with nearly $1 million in guarantees.
He turned 27 last week and hasn't participated in an NFL training camp.
"From the first day I played football to signing the letter of intent to play at Penn State to sitting on the couch to signing a multimillion dollar deal," Wake said, "it's a crazy, crazy road. My head's still spinning."