July, 22, 2010
7/22/10
8:49
AM ET
An interesting cyberdebate unfolded beneath an item I wrote Wednesday about
Buffalo Bills
coach Chan Gailey's ground-game tendencies.
The piece was inspired by a column written by ESPN fantasy analyst Matthew Berry, who noted
Gailey has an undeniable history of designating one workhorse
running back during his stops as a head coach and offensive coordinator over the past 22 years.
Some writers scoffed, insisting Gailey's trend wouldn't apply in Buffalo because they have three capable backs in
Marshawn Lynch
,
Fred Jackson
and rookie
C.J. Spiller
.
In the process, reader migarvin21 boldly declared the Bills have the NFL's best trio of backfield mates.
As is the hallmark of a spirited debate, some immediately shot down migarvin21's opinion, while others offered support.
When I expressed skepticism, readers Bills451 and Jpicc8049 dared me to name a team with three better backs.
As I responded in the comments section, I would take the
Baltimore Ravens
' (
Ray Rice
,
Willis McGahee
,
Le'Ron McClain
) and the
Dallas Cowboys
' (
Marion Barber
,
Felix Jones
,
Tashard Choice
) trios over the Bills. Other readers mentioned the
Washington Redskins
(
Clinton Portis
,
Larry Johnson
,
Willie Parker
).
But it's tough to compare trio for trio because most good teams don't rely on a third running back.
I'd also take the one-two punches of the
Carolina Panthers
(
DeAngelo Williams
,
Jonathan Stewart
) and
New York Giants
(
Ahmad Bradshaw
,
Brandon Jacobs
) over the Bills' threesome. Some fans would prefer
Chris Johnson
or
Adrian Peterson
by himself to sprinkling touches among Jackson, Lynch and Spiller.
Motivated by the discussion, I put together my AFC East preseason backfield rankings for 2010. The order is determined not by the offensive lines or the coordinator's playbook. This is purely on the talent of the top three backs for the upcoming season.
1. Miami Dolphins:
Yes,
Ronnie Brown
always seems to be hurt, and
Ricky Williams
is 33 years old. But they are the best tandem in the division. Brown's versatility and explosiveness is what turned the Wildcat into a fad. In a recent Sporting News column,
an NFL scout rated Brown the fourth-best back
and said if it weren't for injuries he'd be the league's most complete. The Dolphins also have a true fullback in
Lousaka Polite
, who is automatic in short-yardage situations.
2. Buffalo Bills:
The Bills are too unproven to be in the conversation for best NFL trio -- for now. We can justify the argument if we base it on how well they
could
be. But neither Jackson nor Lynch has established himself as a go-to back. Jackson topped 100 yards two times last year. Aside from trampling the
Indianapolis Colts
' junior varsity in the season finale, Jackson rushed for more than 70 yards twice against a team with a winning record. Lynch looked like a monster his first two seasons then plummeted out of favor last year. Spiller doesn't have an NFL touch.
3. New York Jets:
They boasted the NFL's best attack last year, averaging 172.2 yards a game. But leading rusher
Thomas Jones
is gone. Sophomore
Shonn Greene
looked like the real deal in the playoffs but needs to show he can be the workhorse for a full season.
LaDainian Tomlinson
is a surefire Hall of Famer, but he's 31 and looked ragged last year with the
San Diego Chargers
. Fullback
Tony Richardson
will be 39 by the end of the season.
4. New England Patriots:
They're a grab bag. They have the perpetually uninspiring
Laurence Maroney
and three veterans --
Kevin Faulk
,
Fred Taylor
and
Sammy Morris
-- who are 33 or older. They're good enough to get by, as evidenced by the fact the Patriots finished 12th in rushing last year, but none of the backs is good enough to be dominant. Maroney was the leading rusher with 194 carries for 757 yards, a 3.9-yard average. Faulk was next with 335 yards.
April, 13, 2010
4/13/10
9:33
PM ET
According to a report by Yahoo! Sports writer Charles Robinson, the
Buffalo Bills
haven't been actively trying to move running back
Marshawn Lynch
, but they'll entertain offers and are
open to trading Lynch for a package that includes a second-round pick
.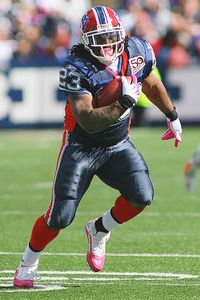 Rick Stewart/Getty ImagesIn three seasons with the Bills, Marshawn Lynch has rushed for 2,601 yards, but he has run into trouble away from the field.
Yeah, good luck with that.
A second-round pick?
Robinson, citing an unnamed sources, reports the
Seattle Seahawks
have had internal discussions about making a play for Lynch.
Lynch has the potential to be elite
. That's why the Bills drafted him 12th overall three years ago. He rushed for over 1,000 yards in his first two seasons and made a Pro Bowl.
But Lynch, much like
Santonio Holmes
, is one misstep away from a long suspension. Lynch began last season with a three-game suspension for repeated misbehavior. He was involved in a hit-and-run incident in Buffalo and made a plea deal on gun charges in California. He has been accused of other transgressions, too.
A second-round pick for a player with Lynch's rap sheet seems expensive.
The Scouts Inc. draft board
projects Cal's
Jahvid Best
and Ole Miss'
Dexter McCluster
as second-round picks in this year's draft.
Talented running backs aren't that difficult to discover. Lynch eventually lost his starting job to
Fred Jackson
, a Division III product who wasn't drafted at all.
Here's a list of running backs who have been drafted in the third round:
Shonn Greene
,
Frank Gore
,
Steve Slaton
and
Jamaal Charles
. In the fourth round:
Marion Barber
,
Brandon Jacobs
and
Darren Sproles
.
If you'll allow me to mix up positions, the
New York Jets
acquired Holmes for a fifth-round choice. There's a belief the
Denver Broncos
will accept a high second-round pick for
Brandon Marshall
.
Buffalo might very well pull the trigger on a Lynch trade, but if the front office can finagle a second-round draft pick out of another team, then it will be a substantial coup.
October, 7, 2008
10/07/08
4:43
PM ET
Posted by ESPN.com's Tim Graham
Preseason rumors floated around that the Miami Dolphins were interested in unloading Ronnie Brown.
The injury-prone running back screwed up his thumb in an exhibition game, further delaying his return to total health. Questions lingered about his recovery from a season-ending right knee injury seven games into 2007, and now this.
An early Miami exit for Brown seemed plausible. Everyone is well aware of Bill Parcells' disdain for players who repeatedly get hurt.
Meanwhile, Ricky Williams was asserting himself and looking more like the former NFL rushing leader he was in 2002 and less like the head case that plagued so many front offices before. Williams projected as the feature back until Brown (if he stayed) could regain his stride. So many sports-medicine experts insist a player can't fully recover from ACL surgery for about 18 months.
With all that in mind, Brown never left and he is back. The Dolphins are thankful.
"Ronnie's getting more confident each week," Dolphins head coach Tony Sparano said after Sunday's 17-10 victory over the San Diego Chargers. "You're starting to see him run with power now, some confidence."
Brown ran 24 times for 125 yards and a touchdown against the Chargers. The week before he turned in an epic performance on the New England Patriots: 17 carries for 113 yards and four touchdowns and one passing touchdown.
His production coincides with Miami's unveiling of their Wildcat offense, in which he accepts a direct shotgun snap. But the Dolphins have called Wildcat plays only 17 times in their two victories over last year's AFC title game teams.
However, don't be fooled into thinking his stats are Wildcat-driven. Brown's recent play merely is a reminder of how great he is.
Many forget Brown was the NFL's leader in yards from scrimmage when he suffered his knee injury in Week 7. Take away that partial game and he has rushed for more than 100 yards in six of his past eight games.
By the Numbers: Runs for 1st Downs
Running Back
Runs for 1st Down
Ronnie Brown
59
Marion Barber
50
Edgerrin James
47
Clinton Portis
47
Joseph Addai
47
LaDainian Tomlinson
46
Adrian Peterson
46
Brandon Jacobs
41
Marshawn Lynch
40
Larry Johnson
39
Brian Westbrook
39
Note: These numbers are specific to weeks where Ronnie Brown was in action (Weeks 1-7 last season and all weeks thus far in 2008).
Scouting the past two seasons and removing the time Brown missed, ESPN researchers Jonathan Costa and Puneet Nanda compiled some staggering numbers.
The stats show that when Brown's healthy he's as productive as fantasy football superstars such as LaDainian Tomlinson, Brian Westbrook, Adrian Peterson, Marion Barber and Clinton Portis.
For those with a minimum 10 games, Brown leads all running backs in touchdowns per game at .91, a fraction ahead of Tomlinson. Brown is second to Westbrook in yards from scrimmage at 121.9 yards per game.
Brown ranks seventh with 80.7 rushing yards a game and third with 41.2 receiving yards per game. Westbrook and Peterson are the only others who rank among the top seven backs in both categories.
Brown also ranks seventh in yards per carry at 5.0 and third in yards per catch at 9.8.
Specific to the weeks Brown has played the past two seasons (Weeks 1 through 7 last year and Weeks 1 through 5 this year), Brown has the most rushing first downs of anybody -- by far. He has 59 first-down runs, nine more than Barber, known as the ultimate smashmouth back.
Over those same games, Brown is third behind Peterson and Barber with 25 runs of 10 yards or more.