April, 26, 2012
4/26/12
3:10
PM ET
Did
New England Patriots
head coach Bill Belichick watch
ESPN.com's blogger mock draft
on Monday? It seems that way after Thursday's report by Albert Breer of the NFL Network that New England
has had talks
with the
Seattle Seahawks
about moving up to the No. 12 pick.

In Monday's blogger mock draft, I had those same trade talks with NFC West/Seattle general manager Mike Sando. The Seahawks are open to moving down in this draft, and New England has plenty of draft capital to move up, although it's not the road the Patriots often take.
Looking at the point chart, Sando and I worked out a trade to send New England's two first-round picks (No. 27 and No. 31) to Seattle for its first- and fourth-round picks. The Patriots could be considering a similar trade. But the big question is, who's the target who reportedly caught New England's eye to try to pull off such a big move?
For me, it was Alabama safety
Mark Barron
. He's the best safety in this draft and would make an immediate impact to fix New England's 31st-ranked pass defense. I also think Barron is one of the safest picks in this draft and a great match for the Patriots. But there are other players, such as defensive lineman
Michael Brockers
or cornerback
Stephon Gilmore
, the Patriots could have interest in.
Of course, phones are ringing all over the NFL today, and this is just one of many scenarios. But I think this is one possibility worth keeping an eye on.
April, 26, 2012
4/26/12
1:30
PM ET

The
Buffalo Bills
are in the rumor mill a lot this week leading up to the NFL draft. Just a couple
days after being linked
to former Alabama safety
Mark Barron
at No. 10, Charlie Casserly of
the NFL Network reports
Buffalo is looking to move up the No. 3 to take former USC left tackle
Matt Kalil
.
According to the report, Buffalo is willing to trade its first- (No. 10) and second-round (No. 41) picks to the
Minnesota Vikings
for the No. 3 overall pick. According to ESPN.com's point chart, the third pick (2,220 points) is worth more than the No. 10 (1,300) and No. 41 picks (490) by 410 points. That means the Bills probably have to sweeten the pot by throwing in extra mid-round picks.
Going after Kalil makes sense for the Bills. The team needs a franchise left tackle, and Kalil is clearly the best at his position. But is Kalil worth a first-, second- and, say, a fourth-round pick to move up? Buffalo has other needs to fill such as cornerback, linebacker and wide receiver. That second-round pick is especially valuable to the Bills.
Would you make this trade if you're Bills general manager Buddy Nix? Or would you sit tight at No. 10?
The NFL draft begins tonight at 8 p.m. ET.
April, 25, 2012
4/25/12
3:30
PM ET
The Buffalo Bills reportedly
are "very interested"
in former Alabama safety Mark Barron just one day before the NFL draft.

Here are some additional thoughts on Buffalo potentially adding a safety at No. 10:
As we mentioned earlier, this smells like a smokescreen. The timing is peculiar. Barron hasn't been linked to the Bills this entire offseason, but suddenly that's the case on draft week. Buffalo could be one of the teams looking to trade down, and this may be a case of drumming up interest in the pick. Teams like the Dallas Cowboys (No. 14) and the New York Jets (No. 16) are strong targets for Barron. The Bills would benefit if one of those teams or someone else wants to move up to No. 10 to grab Barron.
On the flip side, Buffalo does have the tendency to draft the best available player. Remember C.J. Spiller? The Bills were fine at running back and took Spiller with the No. 9 overall pick in 2010. Spiller is still fighting starting running back Fred Jackson for playing time three seasons later. It's debatable whether Barron is a top-10 pick, but that may be the case on Buffalo's board.
Speaking of top 10, safety usually is not a position taken that high. The last time it happened in Buffalo, it didn't work out well. The Bills drafted former Ohio State safety Donte Whitner at No. 8 in 2006. The move was considered a major reach for the Bills, which turned out to be true. Whitner wasn't a bad player. He just wasn't a dominant player and was criticized for it in Buffalo. That is the kind of pressure that comes when a safety is drafted in the top 10. It's expected that safety must be a special talent.
Finally, I think it's a mistake for Buffalo to draft Barron. Yes, Barron is a great prospect and the best safety in this draft. But the Bills are fine with George Wilson and Jairus Byrd at safety next season. Barron would have to compete to take one of those jobs, and it's possible Barron wouldn't start right away as a rookie. The Bills have other needs at left tackle, receiver, corner and linebacker where a rookie is sure to make an immediate impact. There should be quality players available at those four positions that can better help the Bills.
April, 25, 2012
4/25/12
8:00
AM ET
Here are the most interesting stories Wednesday morning in the AFC East: Morning take: In the week of the draft, this has smokescreen written all over it. Buffalo has two starting-caliber safeties and other needs, such as left tackle, receiver and corner. This sounds like drumming up interest for the No. 10 overall pick.
Morning take: Light made up his mind that he's calling it a career. The Patriots are well-prepared after taking first-round pick Nate Solder in 2011.
Morning take: Clinkscales had his hits (Nick Mangold, Darrelle Revis) and misses (Vernon Gholston) in New York. But it appears he is taking his talents to the Oakland Raiders.
Morning take: Wake's show/no-show routine might get interesting. It appears things will get resolved. But I don't think this issue goes away until Wake gets a new contract.
April, 24, 2012
4/24/12
5:25
PM ET
We have another interesting poll in the AFC East blog. This week we ask which division team is most likely to pull off a first-round trade during Thursday's NFL draft.
There is expected to be some moving and shaking.
Monday's blogger mock draft
was a good example of all that can happen on draft day. But which AFC East team is most likely to trade up or down in the first round?
Will it be the
Miami Dolphins
? Miami holds the No. 8 pick and is interested in Texas A&M quarterback
Ryan Tannehill
. Will Miami trade up to the No. 3 pick to secure Tannehill?
What about the
Buffalo Bills
at No. 10? It's an odd spot to be in, considering Buffalo's needs. Will the Bills consider trading up or down to get a franchise-caliber player they covet?
The
New York Jets
have 10 picks in this draft. That's a lot of draft capital to make a move up. Will Jets general manager Mike Tannenbaum move up to get a pass-rusher like
Melvin Ingram
of South Carolina or safety
Mark Barron
of Alabama?
Finally, the
New England Patriots
are known for their draft-day trades. The reigning AFC champs hold two picks (No. 27 and No. 31) in the first round. Will the Patriots move up to get a better prospect or trade out the first round, which is what they're known for?
Using our SportsNation poll, vote on which team is most likely to make a first-round trade. You can also share your thoughts in the comments section below.
March, 29, 2012
3/29/12
9:00
AM ET
Wednesday
we opened the floor
for our first blogger mock draft of 2012. My vote counts for half and the community board counts for the other half.
The AFC East will stay true to our board. Here are the final results:

Miami Dolphins (No. 8 overall)
Analysis:
The Dolphins are in a tough spot, despite having the best pick in the division. I do not like Tannehill at No. 8. But the Dolphins botched their quarterback situation so badly this offseason that I think they almost have to take Tannehill if he's available.
Matt Moore
and
David Garrard
are not the long-term solutions and have just one year left on their contracts. Tannehill provides some hope, even if he's just holding a clipboard in 2012. Reiff would fill a need, but I wouldn't draft a right tackle in the top 10. I think Ingram would be solid at No. 8 to provide a pass rush opposite outside linebacker
Cameron Wake
.

Buffalo Bills (No. 10 overall)
Analysis:
I was surprised how fast Floyd is moving up everyone's draft board. Buffalo fans lately are in love with the Notre Dame product. Floyd was the top choice on the community board. I'm still a little nervous about Floyd in the top 10, but he did make the end of my list. I still like Reiff here at left tackle. Buffalo rotated three players there last year, and they need a bookend to protect quarterback
Ryan Fitzpatrick
's blind side.

New York Jets (No. 16 overall)
Analysis:
Power to the people on this one. I had the same three players as Jets fans in the AFC East blog. But Upshaw and Barron are so close in my book that I'm getting out of the way. If both are on the board, I'm trusting my Jets scouts and going with Upshaw. You'd better be right, Jets scouts. The New York media will get on my case very hard if I pass up the best safety in the draft for a bust, knowing that safety was a huge need.

New England Patriots (No. 27 and No. 31 overall)
Analysis:
With two picks at the end of the first round, we went with the top five options. I knew this ballot would be all over the place. But here is what I like most: The final board is defense, defense, defense. That is something we can all agree on. Mercilus was the consensus top pick for myself and Patriots fans. Konz did make the top three, but he would be a backup behind
Dan Connolly
. Any defensive pick in the first round this year has a chance to start right away for New England's 31st-ranked defense.
March, 19, 2012
3/19/12
7:59
PM ET

The
Miami Dolphins
made a tough roster cut Monday evening when they released veteran safety and team leader
Yeremiah Bell
.
This was strictly a financial move for the Dolphins. The Sun-Sentinel reports it
will save $4.3
million in cap room. The Dolphins may try to re-sign Bell at a cheaper price, but they would have to outbid other suitors as an unrestricted free agent.
On the field, Bell was one of the team's most consistent defenders and led the Dolphins last season with 107 tackles. He also was key to keeping Miami's locker room together, despite a rough 0-7 start.
The move leaves Miami thin at safety. Last week the team signed versatile cornerback
Richard Marshall
, who made the move to safety for the first time last season with the
Arizona Cardinals
. It appears more certain Marshall will play safety for Miami if Bell doesn't return.
The free-agent crop of safeties has dried up, so Miami may look to add help in the draft. Perhaps Alabama's Mark Barron now is in play with the No. 8 overall pick. Currently, Miami's starting secondary consists of cornerbacks
Sean Smith
and
Vontae Davis
teaming with safety
Reshad Jones
and possibly Marshall.
Bell doesn't hit the free-agent market at a bad time. I can think of two AFC East teams -- the
New England Patriots
and
New York Jets
-- that could use more help at safety.
March, 14, 2012
3/14/12
2:26
PM ET


We saw this one coming.
Three teams in the AFC East need safety help, and it looks like a pair of division teams will be competing for the top safety remaining in free agency.
According to Jason Cole of Yahoo! Sports, the
New York Jets
and
New England Patriots
are
both showing interest in
former
Washington Redskins
safety
LaRon Landry
. New York and New England both struggled against the pass in the middle of the field last season. New England, in particular, had the NFL's 31st-ranked pass defense.
The Jets could be looking for two starting safeties this offseason.
Jim Leonhard
is an unrestricted free agent who had a season-ending knee injury, and
Eric Smith
struggled last season. Landry would be one solid piece in free agency. New York also could use the No. 16 overall pick to land Alabama safety
Mark Barron
, who is the best college prospect at that position.
Teams like the Eagles, Lions and Bears also are reportedly showing interest in Landry.
March, 9, 2012
3/09/12
4:30
PM ET
The AFC East blog continues its look at top prospects with potential to land in the division.
This week, we examined Texas A&M quarterback
Ryan Tannehill
and Alabama safety
Mark Barron
. Today, we take an in-depth look at Iowa offensive tackle
Riley Reiff
.
The
Miami Dolphins
,
New York Jets
and
Buffalo Bills
all have a need at tackle. Reiff says he can help any team looking for a versatile offensive lineman who can play both tackle spots and guard.
"I'll go wherever a team wants [me] to go," Reiff said at the NFL combine. "I played some right tackle in college. I'd be happy to move over and play wherever the team needs me to play."
Here are a few takeaways from
Scouts Inc.'s in-depth report on Reiff

:
Pass protection (above average): "Above average balance for size and can mirror defenders. Resets feet and absorbs bigger bull-rushers. Long and quick enough to protect the edge when footwork is sound, and appeared to make strides in this area last year. However, concerned about ability to protect blind side at the next level at this point."
Run blocking (above average): "Can get under defenders and drive them off the ball when keeps pads down, though needs to be more consistent in this area. Takes adequate angles to second level, and can cut off backside linebacker."
Toughness (above average): "Developed more of a mean streak as the season progressed last year, and has the potential to improve score if he continues to progress in this area. Flashed ability to drive defenders eight yards downfield and then put them on their back. Covers downfield and gets under defender's skin."
Scouts Inc. graded Reiff a 94, which is No. 10 among NFL prospects. Should the Bills, Jets or Dolphins show interest?
March, 8, 2012
3/08/12
11:00
AM ET
The AFC East blog continues its look at top draft prospects who are potential targets for the division.
[+] Enlarge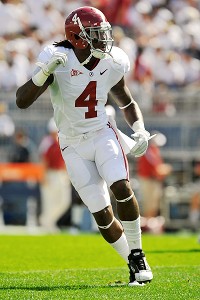 Randy Litzinger/Icon SMISafety Mark Barron rates above average in ball skills and run support, according to Scouts Inc.
On Wednesday we took a look at Texas A&M quarterback
Ryan Tannehill
. Thursday, with the help of Scouts Inc., we will look in-depth at Alabama safety
Mark Barron
. The
New York Jets
,
Miami Dolphins
and
New England Patriots
all have needs at safety.
"I like making plays, period," Barron said at the NFL combine. "I would say the interception (is best) because that's more of a game-changer. That affects the game more. I like hitting and making interceptions."
Here are a few takeaways from Scouts Inc.'s report on Barron:
Instincts/recognition (average): "More decisive in early-season tape we studied than he was late in the season. But overall recognition skills are good. Another coach-on-the-field type. Diagnoses routes quickly in coverage."

Ball skills (above average): "Knows when to play the ball and when to play the body. Has good instincts and takes quality angles to the ball. Hands are good for the position. Production matches what we see on tape."

Run support (above average): "Plays under control. Diagnoses run quickly and fills hard in support. Shows adequate pop at the point of attack. Overall tackling skills are good but not great. The more space he's in the less effective he becomes in run support. Top-end speed is decent at best."
Scouts Inc. graded Barron a 94, which 12th among all college prospect. I think Barron's skills are a good fit for the AFC East. Agree or disagree?
February, 21, 2012
2/21/12
1:00
PM ET
About 300 prospects will arrive in Indianapolis for the NFL scouting combine. Stocks will rise and fall over the next several days, as we get closer to the NFL draft.
Here are seven things to keep an eye on the AFC East:
Coin flip:
The
Miami Dolphins
will find out in Indianapolis where they will pick in April's NFL draft. The league will hold a coin flip between Miami and the
Carolina Panthers
to determine who holds the No. 8 and No. 9 overall pick. Both teams finished with the same record and same strength of schedule this past season.
Pass-rushers at a premium:
Every AFC East team, to some degree, needs more help rushing the passer. Keep an eye on athletic defensive ends and/or outside linebackers who really stand out at the combine. The
Buffalo Bills
and
New England Patriots
, in particular, are two teams looking for a dynamic pass-rusher. Both teams could be aiming to find one in the first round.
Double trouble:
The Patriots are one of three teams with two picks in the first round. Traditionally, Patriots head coach Bill Belichick likes to trade back for additional picks. But I have a feeling New England will do the unexpected this year. That could mean either trading up or simply using their two first-round picks in the slots provided. New England has a bevy of needs, particularly on defense. The Patriots could use help at all three levels defensively.
Safety first:
The
New York Jets
need a safety (or two) more than any team in this draft. New York's defense was beat over the middle often last season by pass-catching tight ends.
Jim Leonhard
is a free agent coming off a season-ending knee injury and isn't expected to sign with a team until he's 100 percent. Starter
Eric Smith
struggled mightily and the Jets could use an upgrade there. Alabama's
Mark Barron
is the top safety prospect in the draft and often linked to New York with the No. 16 overall pick. The Dolphins and Patriots also are in the market for a safety.
The Dolphins-Tannehill connection:
A player who really has a chance to improve his stock at the combine is Texas A&M quarterback
Ryan Tannehill
. Quarterbacks
Andrew Luck
and
Robert Griffin
III have received all the attention during the season, but Tannehill has a chance to move up in the first round with a good combine and workouts. New Miami offensive coordinator Mike Sherman coached Tannehill at Texas A&M and is high on the quarterback. Would Miami consider Tannehill at No. 8 or No. 9? Probably not. But things can always change if Tannehill's stock skyrockets in the coming weeks.
Watch the interviews:
Teams have a chance to interview a certain number of prospects at the combine. Watch for who the Bills, Jets, Patriots and Dolphins decide to spend personal time with next week.
Don't forget free agency:
There will be plenty of talk about free agency at the combine, which is scheduled to start in a few weeks. There are many free-agent storylines in the AFC East. For example, the Bills will enter their final talks with pending free-agent receiver
Steve Johnson
. If progress can't be made in Indianapolis, Johnson will most likely hit the open market. Will the Patriots use the franchise tag on
Wes Welker
? What will the Dolphins do at quarterback? How will the Jets slash payroll? These are all questions that will be asked at the combine.
December, 8, 2011
12/08/11
2:30
PM ET

If
the season ended today
, the
Buffalo Bills
(5-7) would have the No. 13 overall pick in next year's NFL draft.
So what direction should the Bills go in the first round?
Buffalo should focus on the defensive side of the football. You don't want to peg a team this early, especially since Buffalo could use upgrades in several areas. But I have a hard time seeing the Bills ignoring their defense early in the draft. Their 3-4 scheme hasn't worked all year. The Bills can't stop the run consistently or rush the passer.
I think the defensive line will be fine. Buffalo spent the No. 3 overall pick on
Marcell Dareus
last year and will have former Pro Bowler
Kyle Williams
returning from injury. What I think the Bills need most is an impact outside linebacker. Someone who can get to the quarterback and be a difference-maker against the run. Buffalo thought
Shawne Merriman
could return to form and still be that player, and that hasn't been the case.
The problem is finding a 3-4 outside linebacker always is a challenge. Often teams project college defensive ends to make the switch, which can be hit or miss. See
Aaron Maybin
in Buffalo.
Another option is to upgrade Buffalo's secondary. The Bills don't have a lot of impact players on the back end. I think they're OK but not great at corner, although former first-round pick
Leodis McKelvin
has been a disappointment. The Bills like 2011 second-round pick
Aaron Williams
and have high hopes for him. The team also could look at safety. I like
George Wilson
and
Jairus Byrd
. Wilson was having perhaps the best year of his career until his recent injury and Byrd makes plays but also has been hurt. If Buffalo targets another safety, perhaps Alabama's Mark Barron, to pair with one of those players or add depth next year, it might work.
A dark-horse option could be Okalahoma State wide receiver
Justin Blackmon
. Buffalo's top receiver --
Steve Johnson
-- will be an unrestricted free agent after the season. It is not a lock that Johnson returns, and that could leave a big void in the passing game. The Bills just gave quarterback
Ryan Fitzpatrick
a $59 million extension and want to make sure he has enough weapons around him. If Buffalo doesn't want to use the franchise tag on Johnson and can't agree on a long-term contract, wide receiver could suddenly be a target.
The Bills are at No. 13 now, but there is a chance Buffalo finishes with a top-10 pick by season's end. They have lost five in a row and will be underdogs in most of their remaining games.
Here is Buffalo's schedule:
Dec. 11: at San Diego (5-7)
Dec. 18: vs. Miami (4-8)
Dec. 24: vs. Denver (7-5)
Jan. 1: at New England (9-3)