June, 20, 2012
6/20/12
11:00
AM ET
DAVIE, Fla. – During Tuesday's minicamp,
Chad Ochocinco
sprinted up the right sideline as fast as he could.
After the
Miami Dolphins
' newest receiver gained a step on cornerback
Sean Smith
, quarterback
David Garrard
threw a back-shoulder pass deep that forced Ochocinco to make a quick adjustment. Ochocinco spotted the ball, stopped on a dime and leaped over Smith while keeping his feet in bounds to make an acrobatic catch. It was one of several great plays the 34-year-old receiver made in Miami's first day of minicamp.
"He definitely has 'it,'" Smith said of Ochocinco. "I know a lot of people wrote him off. If you look at his numbers last year, they weren't productive. But he's out here, his routes are crisp and he's coming out of his breaks. He looks good. He's definitely going to be one of those guys who turns heads this year."
Although it's just one practice, Ochocinco was the
best receiver on the field
for Miami on Tuesday. It's been awhile since that was the case.
[+] Enlarge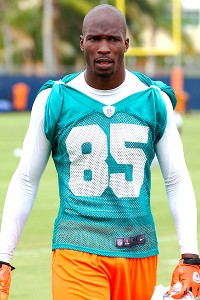 AP Photo/J Pat Carter"He definitely has 'it'," new teammate Sean Smith said after getting beaten by Chad Ochocinco.
The six-time Pro Bowler spent most of his 2011 season on the bench with the
New England Patriots
. Ochocinco recorded a career-low 15 receptions for 276 yards. He fell as low as fourth or fifth on New England's depth chart before finally being released June 7. It was the first time in the NFL that Ochocinco was ever cut.
Now, for the first time in a long time, Ochocinco has something to prove. Ochocinco was very business-like in his approach this week, and he looks determined to show his critics he still has something left in the tank.
"I'm getting back to what we're all used to seeing, the basic fundamentals of how I came to what I am," Ochocinco said. "I think I kind of lost that. Now, I'm looking to go back to Chad Johnson, just making it live again."
Sometimes it takes going back home to get back to your roots. Ochocinco grew up in Miami and went to Miami Beach High School. As soon as he was cut by the Patriots, he came back to South Florida to work out with his friend and fellow free agent
Terrell Owens
.
The receiver-deprived Dolphins worked Ochocinco out a few days later and signed him to a modest one-year contract. It's a team he always rooted for growing up. Ochocinco cited "The Marks," as in Mark Clayton and Mark Duper, and quarterback Dan Marino as some of his favorite players.
More importantly, the Dolphins are more accepting than the Patriots to let "
Ocho be Ocho
." He is charismatic and has a unique personality. At any moment, Ochocinco can say something funny, something from way out in left field. It's a big part of who he is, and the Patriots and head coach Bill Belichick took that away from him. Ochocinco had the muzzle on his mouth from the day he arrived until the conclusion of the Super Bowl. It was an uncomfortable year to say the least.
But Ochocinco is back to having fun again in Miami. He's already chirping to the defense and his quarterbacks, which is something he was scared to do in New England. Ochocinco was that way earlier in his career, and that's when he was confident and played his best football.
"Chad thinks he's open on every play," said Garrard. "Even when it's the punt team [on the field], he's open. So it's been great. He will remind you that whoever he's got on him, he's open."
Smith said he wants Ochocinco to let his personality show this season, because that will help the receiver be more comfortable as a player.
"As a player and a teammate, I would like for him to go out and be him," Smith said. "Let it loose, and give it everything you got. If you have to talk when you play, talk when you play, as long as you back it up."
Ochocinco is winning over his new teammates and coaches in Miami. That's a great first step. No one has ever questioned Ochocinco's work ethic. He's always been a hard worker and showed up for Dolphins camp in great shape.
Miami rookie head coach Joe Philbin told a story this week displaying Ochocinco's dedication to getting back to his old form.
"Last Wednesday we had a team meeting and we called off practice to go and perform some community service," Philbin said. "This is my 10th year in the NFL and I have been around practices that have been canceled and I've never been around a player that wanted to practice, but Chad wanted to practice, so he's been good. So far it seems that he is fitting in well."
At the end of Ochocinco's meeting with the media Tuesday, he said "enjoy the show."
Perhaps Ochocinco has something in store for 2012 that will surprise a lot of people.
March, 1, 2011
3/01/11
10:18
AM ET
This blog item doesn't pertain to the AFC East sincerely.
But it's too fun to pass up. I'll find a way to stretch it.
ESPN Radio host Doug Gottlieb has assembled a tournament bracket to
determine the greatest sports video game of all-time
. You cast the votes.
Thirty-two entries made the field, and it's difficult to argue with the No. 1 seeds in each of the four regions: Tecmo Super Bowl, NHL '94, Mike Tyson's Punch-Out and NBA Jam.
That's a murderer's row and darn near an exact lineup of my personal favorites.
The Madden franchise is represented by its 2005 version (Ray Lewis cover) and is a controversial No. 2 seed in the Tecmo Super Bowl region. That will be an elite eight matchup for the ages.
The Madden edition I recall most fondly is '92. I was so dominant my big brother actually would find opponents for cash games that required an hour-long drive to a neutral site. I was undefeated in those showdowns. That's listed on my resume.
I'm truly terrible on the PlayStation3 model. I'm more of a "Red Dead Redemption" guy these days. Anybody know where I can pick up a John Marston rookie card?
What a snub not to see Earl Weaver Baseball in the tournament. Yet Duck Hunt made the cut. Incredible.
I was disappointed to see my beloved SNK Baseball Stars as a No. 7 seed. Arch Rivals, the arcade game that devoured my quarters in the basement of the Baldwin-Wallace College student union, is the No. 5 seed in the same region.
So let's make this an AFC East-related post somehow.
For your stroll down memory lane, here are the top Tecmo Super Bowl players from the division. I mistakenly listed the 1994 Super Nintendo version earlier. I've also added the Indianapolis Colts to round out the division. Thanks to readers redvenomweb and ucnu112 for their help on tracking down the 1991 rosters:
Buffalo Bills -- Bills QB (licensing issue), running back Thurman Thomas, receiver Andre Reed, defensive end Bruce Smith.
Indianapolis Colts -- Quarterback Jeff George, running back Albert Bentley, receiver Bill Brooks.
Miami Dolphins -- Quarterback Dan Marino, running back Sammie Smith, receivers Mark Clayton and Mark Duper.
New England Patriots -- Quarterback Steve Grogan, running back John Stephens, receiver Irving Fryar, linebacker Andre Tippett.
New York Jets -- Quarterback Ken O'Brien, running back Blair Thomas, receiver Al Toon.
Now who wants to run down with me to the 7-11 to pick up a couple two-liters, a bag of Funyons and some beef jerky, then pull up the footstool and pop in a cartridge?
December, 24, 2010
12/24/10
4:00
PM ET
»
NFC Final Word
:
East
|
West
|
North
|
South
»
AFC
:
East
|
West
|
North
|
South
Five nuggets of knowledge about Week 16:
Notable Miami Dolphins could experience their final games at Sun Life Stadium.
Teams never remain exactly the same from year to year, but the Dolphins might experience more turnover than most organizations before next season. Thanks to a 1-6 home record entering Sunday's game against the
Detroit Lions
, head coach Tony Sparano's job carries no guarantees. Offensive coordinator Dan Henning likely will be gone. Defensive coordinator Mike Nolan should be considered for head coaching vacancies. Running backs
Ronnie Brown
and
Ricky Williams
also will leave the field not knowing if they'll be back.
[+] Enlarge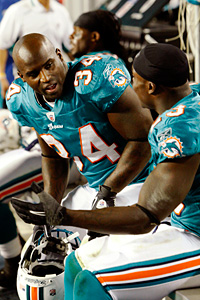 AP Photo/Wilfredo LeeSunday could be the final Dolphins home game for Ricky Williams, 34, and Ronnie Brown.
Mark Sanchez's shoulder injury is disconcerting.
Reports out of New York indicate Sanchez will play Sunday against the
Chicago Bears
at Soldier Field, but the mere idea his status is in question reminds us who the Jets' backup quarterback is.
Mark Brunell
is 40 years old. Since 2006, he has started one game and attempted 31 passes. The Jets are on the cusp of clinching a playoff berth. Although Sanchez is rated 28th among all NFL passers, he makes improvisational plays with his legs a rusty quadragenarian cannot. The Jets' chances would diminish substantially if Brunell were forced to take over.
The New England Patriots are in a "hat and T-shirt game."
ESPN analyst and former Patriots linebacker
Tedy Bruschi
emphasized the importance of donning division championship regalia, which the Patriots can do with a victory or tie against the
Buffalo Bills
in Ralph Wilson Stadium (or if the Jets don't win in Chicago).
"Those hats and T-shirts mean something. It means you've accomplished something," he said
in the latest "Bruschi's Breakdown" at ESPNBoston.com
. "There have been plenty of teams that have been wild-card teams and gone to the AFC or NFC Championships and have nothing to show for it -- no division title or anything. When you win your division, it says something, right there on the hat and T-shirt: 'Division Champs.' I was always proud to put those T-shirts on, and you want a set of three -- division, conference and you all know what the last one is. It starts with that first one, though."
Buffalo's defense deserves some credit.
The Bills' defense has been ranked at or near the bottom of the league all season. But it has quietly put together some impressive performances. The Bills have allowed more than 16 points in regulation time just once since Thanksgiving and have given up only 20 points over their past two games. Encompassing the entire season, Buffalo still has the NFL's worst run defense. But take away
Cleveland Browns
bulldozer
Peyton Hillis
' first five carries on the opening drive in Week 14, and the Bills have held Hillis, Ricky Williams and Ronnie Brown to 118 yards on 31 carries.
AFC East players are approaching some milestones.
With two games left, it's appropriate to take a look at some season stats. Bills receiver
Steve Johnson
needs two touchdown receptions to set the team record. Bills running back
Fred Jackson
needs 189 yards to hit 1,000 in back-to-back seasons.
Ryan Fitzpatrick
is seven touchdown passes away from 30, which would trigger a promise from
Buffalo News columnist Jerry Sullivan to run down Hertel Avenue in his underwear
. Dolphins receivers
Brandon Marshall
and
Davone Bess
need three catches to break the team record for two receivers set by Mark Duper and Mark Clayton in 1984.
Cameron Wake
needs 4.5 sacks to tie the Dolphins record of 18.5 held by Bill Stanfill and
Jason Taylor
. Patriots quarterback
Tom Brady
must average 219.5 passing yards to hit 4,000 for the fourth time. Patriots running back
BenJarvus Green-Ellis
is 176 yards from hitting quadruple digits.
Wes Welker
needs 17 receptions to get 100 a fourth straight season. Jets running back
LaDainian Tomlinson
is 114 yards from reaching 1,000 for the first time in three seasons.
April, 16, 2010
4/16/10
4:11
PM ET
This must be some sort of record.
In three straight posts, I mention NFC West blogger Mike Sando.
The guy's all over the place.
Sando has completed a project to determine the
five greatest draft classes since 1967
, when the NFL and AFL combined for a common draft.
Sando, using a criteria that sorts through individual awards and championships, concluded the best were 1983, 1996, 1981, 1969 and 1985.
A lot of AFC East stars played roles in making those drafts great.
Jim Kelly, Dan Marino, Ken O'Brien and Tony Eason were among that glorious quarterback class of 1983. Miami Dolphins receiver Mark Clayton and Buffalo Bills outside linebacker Darryl Talley also were selected that spring.
Dolphins linebacker Zach Thomas, found in the fifth round, was a highlight of the 1996 class.
The 1981 class included New York Jets running back Freeman McNeil, New England Patriots tackle Brian Holloway and outside linebacker Hugh Green, who later played for the Dolphins.
Bills running back O.J. Simpson was the first pick if the 1969 draft. Ten picks later, the Dolphins took defensive end Bill Stanfill.
Another notable No. 1 Bills pick started off the 1985 draft: defensive end Bruce Smith. The Bills also snagged receiver Andre Reed in the fourth round. Special-team ace Steve Tasker was a ninth-round pick for the Houston Oilers before making seven Pro Bowls for Buffalo. Another big name that year was Jets receiver Al Toon.
March, 31, 2010
3/31/10
1:00
PM ET
»
NFC History
:
East
|
West
|
North
|
South
»
AFC
:
East
|
West
|
North
|
South
»
Draft Watch
:
Biggest needs
(2/17) |
Busts/gems
(2/24) |
Schemes, themes
(3/3) |
Recent history
(3/10) |
Needs revisited
(3/17) |
Under-the-radar needs
(3/26) |
History in that spot
(3/31) |
Draft approach
(4/7) |
Decision-makers
(4/14) |
Dream scenario/Plan B
(4/21)
Each Wednesday leading up to the NFL draft (April 22-24), the ESPN.com blog network will take a division-by-division look at key aspects of the draft. Today's topic: History in that spot.

Buffalo Bills:
The ninth spot has been a minefield in recent years. Although it's a premium pick, it hasn't produced a Pro Bowler. The
Washington Redskins
selected cornerback
Carlos Rogers
in 2005. He has been a consistent starter, but missed most of 2007 with a knee injury.
Detroit Lions
outside linebacker
Ernie Sims
started every game in his first three seasons but made only eight last year because of a shoulder injury and has been a disappointment. The
Miami Dolphins
used their ninth pick in 2007 on receiver
Ted Ginn
, a maddening player for Dolfans because he plays small.
Cincinnati Bengals
outside linebacker
Keith Rivers
has played in only 20 games in his two seasons, and
Green Bay Packers
defensive tackle
B.J. Raji
started one game as a rookie last year.

Miami Dolphins:
The 12th selection has been far more rewarding than the ninth over the past five years, producing four players who have been selected to six Pro Bowls. The
San Diego Chargers
found linebacker
Shawne Merriman
there in 2005, followed by
Baltimore Ravens
defensive tackle
Haloti Ngata
, Bills running back
Marshawn Lynch
and
Denver Broncos
left tackle
Ryan Clady
. Last year's No. 12 has a bright future, too. The Broncos grabbed running back
Knowshon Moreno
, who rushed for 947 yards and seven touchdowns as a rookie.

New England Patriots:
Some intriguing players have fallen to the 22nd pick, which the Patriots own. The
Minnesota Vikings
were thrilled to see receiver
Percy Harvin
still on the board last year. The
Dallas Cowboys
snatched
Felix Jones
in 2008, and he could be their featured back this year. Although it didn't work out, the
Cleveland Browns
thought they'd drafted their franchise quarterback when they landed Notre Dame star
Brady Quinn
at No. 22 in 2007. In the two drafts before that, the
San Francisco 49ers
chose defensive end
Manny Lawson
and the Baltimore Ravens landed erratic receiver
Mark Clayton
.

New York Jets:
The 29th overall selection has been good to the Jets before. That's where they picked up All-Pro center
Nick Mangold
in 2006. Other teams haven't been nearly as fortunate in that slot, but the
New York Giants
seem to have found a top prospect last year with receiver
Hakeem Nicks
. The others drafted at No. 29 over the past five years are 49ers defensive tackle
Kentwan Balmer
, Ravens guard
Ben Grubbs
and former Colts defensive back
Marlin Jackson
.
April, 11, 2009
4/11/09
7:10
PM ET
Posted by ESPN.com's Tim Graham
Two AFC East clubs remain alive in SportsNation's NFL draft class tournament.
The third-seeded 1985 Buffalo Bills and the eighth-seeded 1983 Miami Dolphins advanced to the quarterfinals. They'r coming out of different brackets and can face each other in the final to determine the best draft class of all-time.
But an all-AFC East championship doesn't appear likely. The Dolphins are up against the top-seeded 1974 Pittsburgh Steelers, a class that produced four Pro Football Hall of Famers: receivers Lynn Swann and John Stallworth, center Mike Webster and linebacker Jack Lambert.
The '83 Dolphins class featured quarterback Dan Marino, receiver Mark Clayton and punter Reggie Roby.
The '83 Bills are matched against a surprise quarterfinal entrant, the 22nd-seeded 1983 Denver Broncos.
The Bills have defensive end Bruce Smith, receiver Andre Reed and quarterback Frank Reich. But the '83 Broncos featured one of the greatest draft picks ever. Linebacker Karl Mecklenburg was selected in the 12th round. John Elway doesn't factor because he was drafted by the Baltimore Colts.
ESPN Stats & Information ranked the top draft class from each of the 32 clubs and seeded them into a five-round bracket to determine the best of all-time. SportsNation visitors are voting for the winners of each matchup.
The 1977 New York Jets and 1973 New England Patriots were eliminated in the tournament's first round.
ESPN Insiders can click on each team for fascinating, detailed analysis on each team, including honorable mention classes and the greatest draft picks in franchise history.
April, 1, 2009
4/01/09
4:48
PM ET
Posted by ESPN.com's Tim Graham
ESPN Stats & Information rated 13,808 draft picks to assemble a field of the NFL's top 32 draft classes for a tournament to determine the best of all-time. Fans will have a chance to vote starting Thursday.
Each team is represented and has been seeded No. 1 through No. 32 based on the best class in franchise history.
The classes were chosen using a formula that awarded points to each player for various individual and teams accomplishments.
1 point: Super Bowl loss
2 points: Offensive rookie of the year
2 points: Defensive rookie of the year
2 points: Pro Bowl
3 points: Super Bowl victory
3 points: second-team All-Pro
4 points: first-team All-Pro
6 points: AP Defensive Player of the Year
6 points: AP Offensive Player of the Year
8 points: AP Most Valuable Player
15 points: Hall of Fame
The Buffalo Bills earned the third seed because of their 1985 draft class, which included defensive end Bruce Smith, receiver Andre Reed and quarterback Frank Reich.
The Miami Dolphins are the No. 8 seed behind their 1983 draft class that featured quarterback Dan Marino, punter Reggie Roby and receiver Mark Clayton.
The New England Patriots are a fine example of how the formula isn't perfect. They're seeded 19th because some of their greatest players still are active and, therefore, ineligible for the Hall of Fame. Four of their top six classes, according to ESPN Stats and Information, have been drafted in the past 14 years. They are the best overall since 2000, when Bill Belichick came aboard.
But the formula rates the Patriots' best draft class as 1973, the year they drafted one of their few Hall of Famers, guard John Hannah, and running back Sam Cunningham.
The New York Jets are seeded No. 25 based on their 1977 draft class. The selected offensive lineman Marvin Powell, receiver Wesley Walker and defensive tackle Joe Klecko.
ESPN Insider subscribers can see detailed breakdowns and find out which classes received honorable mentions for each club.