May, 9, 2014
May 9
1:30
PM ET
DAVIE, Fla. -- The NFL draft's first round is in the books for the
Miami Dolphins
. They selected former University of Tennessee right tackle
Ja'Wuan James
at No. 19 overall to boost their offensive line.
But what's next for the Dolphins in Rounds 2 and 3?
Here is a preview of where the Dolphins stand:
Friday's picks
: No. 50 (second round) and No. 81 (third round)
Remaining needs
: Guard, linebacker, safety
Analysis:
The Dolphins filled a major need at right tackle by drafting James, but
many question whether it
was a good value pick. Either way, it's time for Miami to move forward. The Dolphins still have several needs to address. There is still a hole at guard on the offensive line. Miami signed free agent
Shelley Smith
but the other spot is wide open. Currently
Sam Brenner
,
Nate Garner
and
Dallas Thomas
are all backups competing for that spot. The Dolphins also could use help at middle linebacker.
Dannell Ellerbe
played out of position last year and struggled. He could move outside if the Dolphins find a potential starting middle linebacker in the second or third round. Miami missed on former Alabama middle linebacker
C.J. Mosley
, who was taken by the
Baltimore Ravens
at No. 17. The Dolphins also could use depth at tight end, receiver and running back, although they have starters at those positions. The draft still have some good prospects in Day 2 available at those positions.
Potential targets
: UCLA G
Xavier Su'a-Filo
, TE
Austin Seferian-Jenkins
, WR
Marqise Lee
, RB
Carlos Hyde
, RB
Tre Mason
, LB
Chris Borland
May, 8, 2014
May 8
12:00
PM ET
If the extra two weeks of waiting made you anxious, imagine how the
New York Jets
feel. They've been waiting 16 months.
John Idzik's rebuilding plan, set in motion when he was hired in January 2013, is built largely around the draft --
this
draft. He accumulated four compensatory picks and acquired a future pick from the
Darrelle Revis
trade, giving him a total of 12 selections -- tied with the
St. Louis Rams
for the most. Idzik was relatively conservative in free agency, using only about half the salary-cap space -- a tactic that raises the stakes even higher.
The fun starts Thursday night. The Jets own the 18th pick -- for now. What to watch for:
1. Biggest needs:
The Jets need a lot of things, but cornerback should at the top of the list. Their pass defense was dreadful, allowing nearly 4,000 yards, and the only thing they did in free agency was replace a descending
Antonio Cromartie
with an injury-prone journeyman,
Dimitri Patterson
. Rex Ryan's defense is predicated on cornerback play, and his current secondary will get shredded against a "Missiles of October" schedule --
Philip Rivers
,
Peyton Manning
and
Tom Brady
in a 12-day span. Idzik doled out $30 million in guarantees to sign outside free agents, with only $1 million going to the defense. As one longtime personnel executive said, "Feed the defense. The only way the Jets win is if they dominate on defense." Obviously, the other glaring need is wide receiver. If you need an explanation, you must have slept through last season.
2. Moving up:
Yes, the Jets are interested in trading up, according to a league source. Presumably, their target is
Odell Beckham Jr.
, a smooth, explosive and versatile wide receiver. If this is the plan, they'd better get ahead of the
New York Giants
(12), who also covet the former LSU star. Based on the draft value chart, they'd have to surrender a third-round pick and two fourth-rounders to switch places with the
Tennessee Titans
(11). You'd have to question the wisdom of such a move. It's a deep draft, and they could land a comparable player at 18. The Jets have eight tradable picks (compensatory selections can't be dealt), affording Idzik flexibility if he wants to step out of character and ... you know, be aggressive.
3. Names to watch:
Wide receiver
Brandin Cooks
is a popular mock-draft choice for the Jets. Good prospect, solid character, but some scouts wonder if he can be more than a slot receiver because of his size (a shade under 5-foot-10). Wide receiver
Marqise Lee
also is in the conversation, but this would require a leap of faith, essentially betting he'd be the 2012 version and not the 2013 Lee. The top corners are
Darqueze Dennard
and
Justin Gilbert
, although it's quite possible one or both could be gone. Dennard is the better scheme fit, but Gilbert has more upside because of his elite ball skills.
4. Outsider's view:
This is how a rival personnel director sees the Jets' situation at 18: "They have two specific team needs -- wide receiver and cornerback. It's a tough decision, but it would be a more difficult decision if there was no value at those position at that point in the first round. But that won't be the case. There will be value at those spots. I also wouldn't dismiss the tight end (
Eric Ebron
). They're also living with two safeties (
Dawan Landry
and
Antonio Allen
) that are borderline starting caliber, so I wouldn't be surprised if they go
Ha Ha Clinton-Dix
or
Calvin Pryor
."
5. Perspective, please
: As you're watching it unfold, remember this: The Jets aren't a couple of players away, or even one draft away, from being a legitimate championship contender. They finished a soft 8-8, and before you take issue with that description, consider this: They were outscored by 97 points, the largest negative point differential for a .500 or better team since the merger in 1970. This draft is just another step in the process, albeit a big step.
May, 7, 2014
May 7
6:00
PM ET
The hottest wide receiver in the draft not named
Sammy Watkins
is
Odell Beckham Jr.
, who reportedly has multiple teams (including the
New York Jets
) trying to trade up for him. A not-so-hot receiver is
Marqise Lee
, whose disappointing season may have hurt his stock.
There they were Wednesday, standing about 50 feet apart during a pre-draft interview session in Lower Manhattan. They're believed to be on the Jets' target list, along with fellow receiver
Brandin Cooks
. There's a good chance Lee and Cooks will be available with the 18th pick -- if the Jets keep the 18th pick.
Lee could turn out to be a bargain at 18. Going into the 2013 season, the former USC star was projected as a top-10 pick, coming off a monster year (118 catches for 1,721 yards) in which he won the Biletnikof Award as the top receiver in the country. But he injured his knee, missed three games and was hampered in others.
"I wasn't able to do the things I did in the 2012 season," said Lee, who finished with only 57 receptions for 791 yards. "I was kind of restricted as far as movement-wise. It was something I couldn't control. If I could control it, I'd never be in a situation where people are having that debate, 'Is Marqise as good as he was in 2012?'"
The Jets have done a lot of homework on Lee. Offensive coordinator Marty Mornhinweg attended his pro day, and they had him to Florham Park to meet with team officials. As for Beckham, the Jets have plenty of intel on him. His former special-teams coach at LSU -- Thomas McGaughey -- is now the Jets' special teams coach. They got a chance to reminisce on his recent visit to the Jets' facility.
Asked if he expects McGaughey to lobby on his behalf, Beckham smiled. He'd rather stay out of the prediction business.
"Every team seems interested. They all say they're going to take you," he said. "You never really know who's looking at you."
Beckham passed on an opportunity to proclaim himself the best receiver in the draft, as others have done. Scouts are smitten with his NFL-ready skills, his explosiveness and fluidity as a route runner.
"My film speaks for itself," he said. "It's really all about what a team needs and what a team likes."
The Jets need a receiver. And, make no mistake, they like Beckham. A lot.
May, 7, 2014
May 7
10:00
AM ET
Hang in there, folks, only one more day to the draft. Here, I rank the top eight options for the
New York Jets
at 18, based on how I believe they have them rated on their board. Included are quotes from three people outside the organization -- two personnel executives and one scout, all of whom spoke on the condition of anonymity:
Odell Beckham Jr., wide receiver, LSU
: "If
Sammy Watkins
weren't in this draft, Beckham would be the top receiver. I think he's better than [Mike] Evans. ... He's a helluva prospect. He has size, speed, separation ability, route running. He can be an inside-outside guy. He has good to very good potential. He excites me. If I had him, I'd feel very good about the future of the position. You can move him around; he has versatility. He operates like an NFL receiver. He's NFL-ready. ... He's a pretty clean kid. No problems with his work ethic. This kid can play."
Eric Ebron, tight end, North Carolina
: "He's talented. He's a legit pass-catching threat. He can defeat man or zone. He's not that big [6-foot-4 1/2, 250], but he's plenty fast. He has a high ceiling. ... For the Jets, he'd be complementary to [Jeff] Cumberland. You'd have your two-tight end sets locked in stone. He'd provide Marty Mornhinweg with flexibility. You'd have Cumberland in the running game [as a blocker], with Ebron giving you another threat in the passing game. ... I know people say he can't block, but he's not devoid of blocking skill. I think you can train him."
Darqueze Dennard, cornerback, Michigan State
: "He'd be a good value at 18. ... He has average size [5-11, 199], but he has good strength. He's a physical kid. He can play press, he can play man. He's good in zone. He's instinctive. He's a pretty good tackler. ... I think he's a scheme fit for the Jets. He's consistent, dependable, a good No. 2 corner."
Brandin Cooks, wide receiver, Oregon State
: "He's an outstanding athlete. He's sudden. He has quick explosion. He's a ball catcher, not a body catcher. He has good ball skills. He's not big [5-10], but he's a tough kid. He'll be a very good slot player. ... If you put him outside the numbers, you may have to scheme it up for him in terms of formations. He'll be a viable starter on the outside at some point, but he's a Day 1 starter in the slot. ... He's like a midget. To me, he's a luxury, a specialty-type player."
Justin Gilbert, cornerback, Oklahoma State
: "He has good height [6-0], good length and good enough speed. His ball skills are terrific. You wish he were a little more physical. ... I think he fits [Rex Ryan's] defense and what he's trying to do. He'd be a good complement to
Dee Milliner
. I think Rex could teach him to be more physical."
Kyle Fuller, cornerback, Virginia Tech
: "He's a good scheme fit for their defense. He can play that press-man that Rex likes. He's a real instinctive player. He's not as disciplined with some of his techniques as you'd like, so I think there would be a developmental stage. But, in their secondary, I think he could come in and compete for a starting job."
Bradley Roby, cornerback, Ohio State
: "He's more talented, more of an athlete and more explosive than Dennard, but he's not as polished. ... You have to do your due diligence [with regard to off-the-field incidents]. It's a measured risk. There are some red flags in his background. Enough to omit him from your draft board? No, I don't think it's at that point, but you're measuring risk."
Marqise Lee, wide receiver, USC
: "He had a better '12 than '13. I see him as a No. 2 receiver. He has good size [6-0], good speed and good hands -- not great hands. He had some drops last year. He has a lot of good qualities. Does he have a lot of great qualities? Maybe not, but he'll be a solid pro. ... We have him rated ahead of Cooks. He's just a better all-around player, a safer pick."
May, 6, 2014
May 6
1:00
PM ET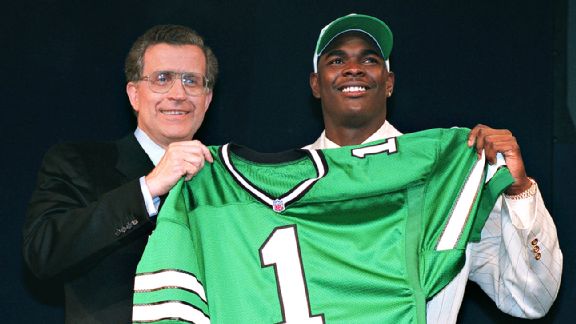 AP Photo/Wally SantanaKeyshawn Johnson is the last wide receiver drafted by the Jets who reached multiple Pro Bowls.
Many experts are calling this the deepest draft for wide receivers in recent memory. In theory, this should bode well for the receiver-needy
New York Jets
, who haven't drafted a star pass-catcher since Al Toon (only a slight exaggeration), but there's an alarming trend that could blow up the plan.
The bust rate at receiver is rising.
Because of changes in the college game, where wide-open, up-tempo passing attacks create distorted receiving statistics, it's not easy to pick a winner at wide receiver. What's more, the odds of finding an immediate impact player are remote. Of the last 12 receivers picked in the first round, dating to 2010, only one reached 1,000 yards in his rookie season -- the
Cincinnati Bengals
'
A.J. Green
.
Fans starved for offense probably will rejoice if the Jets select
Odell Beckham Jr.
or
Brandin Cooks
with the 18th pick, but it's important to keep expectations in the proper perspective. When it comes to receivers, it rarely happens overnight. Sometimes, it doesn't happen at all.
The proliferation in college passing puts the onus on NFL scouting departments to separate the real prospects from the
faux
prospects. It's a complicated task. Scouts have to weigh myriad factors, including style of offense, level of competition, the proficiency of the quarterback, etc.
Example: USC's
Marqise Lee
, who won the Biletnikoff Award in 2012 as the nation's top receiver, fell off dramatically last season. But how much of that can be attributed to instability at the quarterback position? He dropped 12 percent of the passes thrown to him, but was he hampered by a knee injury?
It goes both ways. Some teams may look at Cooks, who caught 128 passes for 1,730 yards at Oregon State, and decide he was a product of the system.
"There is no question, it's a different game," said Terry Bradway, the Jets' senior director of college scouting. "But the one thing we've tried to do -- and I think we get a little bit better at it every year -- is evaluate the player and the person. You try to tie them together as best you can, and I think that can give you a pretty good indicator of what kind of success they might have."
A longtime personnel executive, speaking on the condition of anonymity, said he puts an emphasis on toughness and intelligence when evaluating wide receivers.
"Intangibles are important," he said. "You can't be dumb. In college, you can be as dumb as a box of rocks and still be good. In the NFL, if you're not mentally sharp, it slows your progress. I look at toughness, too. I'd never take a receiver unless he has toughness. If you have a Ferrari, you don't want it spending time in the garage."
He mentioned two former Jets,
Keyshawn Johnson
and
Jerricho Cotchery
, as examples of what he covets in a receiver. Neither was known for speed coming out of college, but they were smart and fearless, leading to long careers.
Size is important, too. If you look at some of the top young receivers -- Green,
Julio Jones
,
Alshon Jeffery
,
Demaryius Thomas
and
Dez Bryant
-- they're all taller than 6-foot-1. Of the top five prospects in this year's draft, only one tops the 6-1 mark -- Texas A&M's
Mike Evans
.
Nick Caserio, the
New England Patriots
' director of player personnel, said two aspects of the college game make it harder to evaluate receivers: The up-tempo style and the lack of press coverage. Teams run plays so frequently, he said, that receivers often return to the same spot and run the same play. Defenses stay vanilla with their coverages in an attempt to combat the pace of the offense. Caserio also said a "very small" number of teams use press coverage.
"The majority of the time, the defender is 5, 6, 7 yards off, so [the receiver] has free access into the defense [and] there's less that he has to deal with at the line of scrimmage," he said. "Now you fast forward [to the NFL]. I would say the majority of the time you're going to have a defender in your face at the line of scrimmage."
Some of the best receivers in the NFL were lesser-known players coming out of college. Of the top 20 wide receivers last season, based on number of receptions, only seven were first-round picks.
The Jets, of all teams, know how hard it can be to find a quality receiver. In 2012, they were so impressed with
Stephen Hill
that he received a mid-first-round grade on their draft board, prompting them to trade up in the second round. They figured his impressive size-speed ratio would compensate for his lack of experience in a pro-style offense. They figured wrong. Some in the organization were surprised by his inability to get off the line of scrimmage.
It's not just a Hill thing, it's a Jets thing. They've been trying for decades to find the next great receiver, but their strikeout rate is Dave Kingman-esque. Since Toon in 1985, they've drafted 28 receivers. Do you know how many have reached multiple Pro Bowls?
One.
Keyshawn.
Starting Thursday, the Jets will step into the batter's box again. Maybe, just maybe, they'll finally connect.
April, 24, 2014
Apr 24
4:40
PM ET
ESPN draft analyst Todd McShay spoke to NFL Nation reporters for an hour Thursday, discussing prospects, team needs and trends. A few takeaways that pertain to the
New York Jets
:
1. His top-rated wide receivers are (in order):
Sammy Watkins
,
Mike Evans
,
Odell Beckham Jr.
,
Brandin Cooks
and
Marqise Lee
. He suspects that as many as 21 receivers could be picked in the first four rounds. Clearly, McShay believes there's a gap between Cooks and Lee. "Comparing him to Odell Beckham Jr. and Brandon Cooks, he's fast -- Marqise Lee is -- but he's not quite as fast as we all thought," McShay said. "You saw it with his 40 time and, more importantly, when you go back and watch tape."
2. McShay can't envision any scenario in which tight end
Eric Ebron
slips into the middle of the first round. Too bad; he'd be a nice fit with the Jets (18th pick).
3. He said
Darqueze Dennard
is the top press corner in the draft, making him the best fit for the Jets, but McShay doesn't think he'll last to the 18th pick. In his latest mock, McShay picks
Justin Gilbert
for the Jets, but he second-guessed the selection, wondering if Gilbert is a scheme fit. "He's not very good at press," said McShay, describing Gilbert as a non-physical player. He doesn't sound like a Rex Ryan kind of corner, but would the Jets be willing to look past the shortcoming because of his elite playmaking skills?
4. McShay described cornerback
Bradley Roby
as "a classic boom-or-bust pick." Roby has been linked to the Jets in some mock drafts, including my most recent mock. "He could be the best DB in this class five years from now or he could wind up being another first-round cornerback that doesn't pan out in the league because he didn't do what he had to do mentally from a preparation standpoint," McShay said.
5. McShay was smitten with wide receiver
Cody Latimer
, whose stock has been rising for weeks. He watched five tapes of Latimer and was "blown away by his skill set." Latimer, who is 6-foot-2 and runs a 4.4 in the 40, could sneak into the bottom of the first round.
March, 16, 2014
Mar 16
11:00
AM ET
A few thoughts and observations on the
New York Jets
:
1. Reality bites
: The irony of the
Eric Decker
signing is that general manager John Idzik, who has spent a year trying to eliminate the Jets' "Hard Knocks" image, took on a player with his own reality TV show. Decker and his wife, country singer Jessie James, are preparing for their second season on E!'s "Eric and Jessie: Game on." The season premiere is March 30. His former team, the
Denver Broncos
, said last year it had no problem with Decker doing the show. "To each his own," team exec
John Elway
said.
[+] Enlarge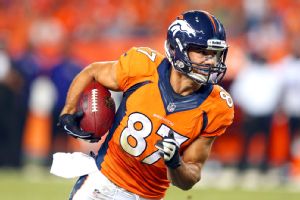 AP Photo/Paul SpinelliIt doesn't appear that new Jets receiver Eric Decker's reality show was a huge deterrent in the team's decision to sign him.
Privately, the organization wasn't thrilled, especially when Decker's impending free agency was mentioned in one of the early shows. It wasn't a distraction to the team because there were no cameras at the facility. Obviously, it didn't affect Decker, as he finished with 87 receptions for 1,288 yards. It was one if E!'s top-rated new shows, so they booked another season -- obviously, long before he signed his five-year, $36.25 million contract with the Jets. The network didn't waste any time jumping on the New York angle, releasing new promos: "New Team, New City (and coming soon), New Baby."
Some people wonder if Decker picked the Jets over the
Indianapolis Colts
because he wanted to raise the show's profile by playing in the No. 1 media market. He downplayed that notion, saying he picked the Jets with football in mind. As for his wife's input, Decker said, "She obviously wants what's best for me in my profession. She spent a lot of time in New York with her career when she was younger, and she's excited again to have an opportunity to work now again and to be able to have some resources and things. I think that overall it is a great decision and place for us as a family and career wise."
Idzik isn't a show-biz kind of guy, and I find it hard to believe he likes the idea of a player having his own show. It creates the perception that he's bigger than the team. But in the end, the No. 1 reality was this: Idzik was willing to put aside any concerns to land their top-rated free-agent receiver. The GM hasn't been made available to comment on any of his signings.
2. Decker vs. Holmes
: Not to pick on
Santonio Holmes
or anything, but ...
Decker produced five 100-yard receiving games last season, one more than Holmes managed in four years with the Jets. Decker is counting $4 million on this year's cap, $6.5 million less than Holmes would've counted. Just saying.
3. Strength in numbers
: The Jets have six experienced wide receivers under contract, and they could add another two through free agency and the draft. Overkill? Not really. Teams always look beyond the current year when making personnel moves, and when the Jets look at 2015, they see only two of those six receivers under contract -- Decker and
Stephen Hill
. That's why stockpiling makes sense.
4. Go west, men
: Offensive coordinator Marty Mornhinweg , accompanied by two members of the scouting department, attended two important pro days on the West Coast -- USC and Oregon State. The main attractions were wide receivers
Marqise Lee
and
Brandin Cooks
, respectively. In each case, the Jets' contingent spent private time with the players. It's not unusual for Mornhinweg to scout on the road. In fact, he attended
Geno Smith
's pro day last year, taking him out to dinner the night before. With the 18th pick, the Jets are thinking strongly about a receiver.
5. Revis Inc.:
Darrelle Revis
' contract with the
New England Patriots
sheds light into his thinking as a player/businessman. Technically, it's a two-year, $32 million deal, but the second year is bogus because of a $25 million cap charge. They added a second year for cap purposes and because Revis is hellbent on a $16 million-per-year average. Has been since 2010, when he staged his second holdout with the Jets. At the time, he proposed a 10-year, $160 million deal. He refused over the years to bend on the APY, finally finding a team (the
Tampa Bay Buccaneers
) willing to pay it. Why $16 million? I think it goes back to
Nnamdi Asomugha
's $16 million-a-year deal from the
Oakland Raiders
in 2009. As soon as Revis surpassed Asomugha as the top cornerback, in the eyes of many, he considered $16 million his birthright.
For an interesting take on the Revis contract from the Patriots' perspective, check out
ESPN.com colleague Mike Reiss
.
6. California dreaming
: The quarterback-needy Raiders are targeting two players likely to be released --
Matt Schaub
and
Mark Sanchez
(in that order), according to a report by
ESPN.com colleague Paul Gutierrez
. Sanchez makes a lot of sense. Joey Clinkscales, the team's director of player personnel, is a former Jets executive and was heavily involved when they drafted Sanchez in 2009.
The Jets are running out of time to make a decision on Sanchez, who's due a $2 million roster bonus March 25. If they don't sign another quarterback (
Michael Vick
?) before then, what then? Do they turn to Sanchez, trying to get him to take a major pay cut? If Sanchez balks, he will be released -- unless the Jets pay the $2 million, buying more time. It's not Idzik's style to cut a player before his replacement is on the roster. It hurts leverage. If the Raiders want him badly enough, maybe they'd be willing to make a trade.
7. Tony the recruiter
: Former Jets offensive coordinator Tony Sparano, now the Raiders' offensive-line coach, was instrumental in recruiting right tackle
Austin Howard
. Said Howard: "I really love his style of coaching. Once we got that call, it was honestly a no-brainer decision to get on the plane and make the trip out to Oakland." Obviously, the five-year, $30 million contract had something to do with it, too. Sparano was a key Howard ally in the summer of 2012, when the Jets replaced
Wayne Hunter
.
8. A tale of two kickers
:
Nick Folk
was the only kicker this year to receive a franchise-tag designation, which usually translates to a top-of-the-market contract. In Folk's case, his four-year deal is actually similar to what
Dan Carpenter
just landed from the
Buffalo Bills
-- at least in terms of first-year compensation. Folk gets $3.6 million in total compensation (the amount of the franchise tender), Carpenter scores $3.425 million. Carpenter was given a chance, albeit brief, to take Folk's job last preseason, but he lasted only a few days. Now he's making nearly as much as him.
9. DRC on ED
: Came across this quote from Super Bowl week. Broncos cornerback
Dominique Rodgers-Cromartie
was asked which of his team's receivers is the hardest to cover. His answer:
Wes Welker
. "
Demaryius Thomas
and Eric Decker are great receivers, but you can kind of break their moves down," he said. "Wes, he does too much." DRC could end up reunited with Decker.
10. Hurting at OLB:
It didn't get any attention, but the Jets decided not to tender restricted free agent
Garrett McIntyre
, making him unrestricted. It would've cost them $1.4 million. It came as a surprise because McIntyre was a decent backup, good for about 20 defensive snaps per game. With
Calvin Pace
also an unrestricted free agent, the Jets are perilously thin at outside linebacker.
March, 6, 2014
Mar 6
2:00
PM ET
In his
latest mock draft

, ESPN draft analyst Todd McShay predicts USC wide receiver
Marqise Lee
for the
New York Jets
, who own the 18th pick.
Lee was off the board for the Jets in McShay's previous mock draft (he had them taking Oregon State wide receiver
Brandin Cooks
), but this time there's a run on defensive players from the 13th pick to the 17th, allowing Lee to fall. In this scenario, he'd be the third receiver selected, behind Clemson's
Sammy Watkins
(
Oakland Raiders
, No. 5) and Texas A&M's
Mike Evans
(Detroit Lions, No. 10). Interestingly, North Carolina tight end
Eric Ebron
still is there for the Jets, which would make for an interesting choice. Obviously, the decision could be based on how they address those needs in free agency.
If the Jets take Lee, they'd be looking past his disappointing 2013 season, betting that his 2012 performance (he won the Biletnikoff Award as the nation's top receiver) is a better gauge of his talent. A similar situation unfolded in 2012. Defensive lineman
Quinton Coples
was a beast at North Carolina in 2010, but slipped the following year for a variety of reasons. He became a human pinata before the draft, with critics taking shots at him. The Jets chose him 16th overall. How's it working out? Too soon to say. Coples' physical talent is undeniable, but he has given credence to some of the pre-draft concerns by displaying a lukewarm motor at times. Lee's work ethic is said to be outstanding.
February, 23, 2014
Feb 23
8:15
PM ET
If your favorite team needs a wide receiver, like the
New York Jets
do, you've come to the right draft.
Most talent evaluators are calling this an exceptionally deep draft for receivers, a notion that was reinforced Sunday at the NFL scouting combine. It was speed day in Indianapolis -- the receivers, running backs and quarterbacks ran their 40s -- and the Jets had to walk away smiling at their scouting reports. If they can't find a quality wideout in the first or second round, something is wrong.
[+] Enlarge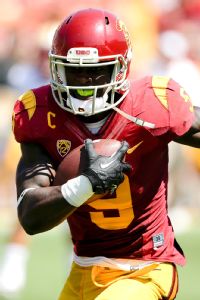 AP Photo/Chris CarlsonMarqise Lee's 4.52 40 time could mean he'll still be around when the Jets draft in the first round.
Clemson's
Sammy Watkins
solidified his status as the top receiver, running an official 4.43 in the 40 -- a time that surprised no one. Texas A & M's
Mike Evans
, a shade under 6-5, helped himself with a 4.53. With so many receiver-needy teams in the top half of the first round, it would be a surprise if Watkins (a possible top-5 pick) and Evans last for the Jets at No. 18.
The speculation will shift to USC's
Marqise Lee
, who did himself no favors by running a 4.52. A shade under 6-0, weighing 192 pounds, Lee was expected to run a sub-4.5. He'll get another shot at his pro day and private workouts. If he stays in the 4.5s, it could work to the Jets' benefit, perhaps ensuring he'd be there at 18. Everybody knows he can make plays -- he was the best receiver in the country in 2012 -- but teams obsess over 40 times.
Speed isn't always an accurate indicator of performance. The NFL Network threw out a cool stat (I hope I remember it correctly), noting that of the 15 receivers with the fastest 40 times in recent combines, only one (Mike Wallace) cracked the 1,000-yard mark in a season.
That said, a great 40 time is worth noting if there's on-the-field production to back it up. Such is the case with Vanderbilt's
Jordan Matthews
, who raised his stock with an impressive combine. Not known for his speed, he ran a 4.46. The dude is 6-3 with the biggest hands (10.3 inches) of any receiver at the combine. Oh, and he's the all-time leading receiver in the SEC. What's not to like? He probably worked his way into the first round. I'm told the Jets were very impressed with him in their private interview.
Other notable 40s: Oregon State's
Brandin Cooks
is short at 5-9 3/4, but he ran 4.33, the fastest time for a receiver. LSU's
Odell Beckham Jr.
will draw first-round consideration after posting a 4.43. He also dazzled in various agility drills.
In case you're wondering, the fastest guy in Indianapolis Sunday was Kent State running back
Dri Archer
, who burned a 4.26 -- narrowly missing Chris Johnson's combine record (4.24).
February, 6, 2014
Feb 6
3:00
PM ET
ESPN draft analysts
Mel Kiper Jr.

and
Todd McShay

revealed their latest mock drafts Thursday, with the following selections for the
New York Jets
(No. 18 overall):

Kiper
:
Marqise Lee
, wide receiver, USC
McShay
:
Brandin Cooks
, wide receiver, Oregon State
My take
: McShay deals a curveball with the Cooks pick. As far as I can tell, this is the first mock draft in which Cooks has been linked to the Jets. In McShay's 2.0, the top three wideouts -- Lee,
Sammy Watkins
(Clemson) and
Mike Evans
(Texas A&M) are off the board by the time the Jets pick -- a scenario that could play out on draft day. Cooks put up monster numbers last season as a junior (128 receptions, 1,730 yards and 16 touchdowns), but be careful: He played on a pass-happy team in a pass-happy conference. Cooks is closer to being a possession receiver than a game-breaker (averaged only 13.5 yards per catch), and the Jets -- in a perfect world -- need a home run threat. Nevertheless, McShay raises a potential dilemma for the Jets: If the top three are gone, do they pick for need (wide receiver) or take another position?
Kiper has been consistent with Lee going to the Jets; it was the pick in his 1.0 mock. I've said it before about Lee: He looked like a top-five pick in 2012, but his production dropped in half last season when he was nicked up. Like Cooks, Lee is an underclassman, adding importance to the upcoming scouting combine. Teams don't have exact measureables on the underclassmen, so the spotlight will be intense at the combine.
January, 15, 2014
Jan 15
3:00
PM ET
Mock draft season is upon us, with ESPN draft guru Mel Kiper Jr. serving up
his 1.0 version

. His projection for the
New York Jets
at No. 18: USC wide receiver
Marqise Lee
.
I can almost hear the cheers among Jets fans at Radio City. I can also hear some boos.

Without a doubt, Lee would address the team's No. 1 need. After finishing 31st in passing offense, the Jets absolutely need a dynamic playmaker on the perimeter. Could Lee be that guy? Based on his 2012 performance, yes. It was a monster year, as he finished with 118 catches, 1,721 receiving yards and 14 touchdowns and became the first receiver in school history to win the Biletnikoff Award. But his numbers dropped significantly in an injury-plagued 2013: 57 catches, 791 yards and four touchdowns.
There is also a stigma attached to former USC receivers. For whatever reason, they struggle in the NFL. From all indications, Lee has the heart and work ethic to succeed at the next level. A player in his position -- a disappointing final season -- needs to wow talent evaluators in the pre-draft process. Get ready for four months of Lee-to-the-Jets speculation.
December, 30, 2013
12/30/13
7:00
AM ET
MIAMI -- It has been nearly three years since that magical day in Foxborough, where the
New York Jets
delivered their biggest win since that other magical day in the franchise's history, Super Bowl III, in 1969.
In January 2011, Rex Ryan conquered his nemesis, the
New England Patriots
, creating a big, loud and cocky green monster that figured to wreak havoc for seasons to come. But instead of the Incredible Hulk, they turned into Shrek -- ugly and goofy.
On Sunday, the Jets completed their third consecutive non-playoff season. It's their longest postseason drought since the dark ages of the 1990s, when they failed for six straight years under four different coaches. Their record since 2011 is just 22-26.
Without question, they overachieved in 2013, squeezing eight wins out of a young roster devoid of stars. Ryan did a commendable job in a rebuilding year
and will return in 2014
, the team announced after a season-ending 20-7 victory in Miami.
For GM John Idzik, the honeymoon is over. It's on him, and he faces an offseason with many challenging issues. Such as:
Augment the quarterback position:
This is the biggest decision facing the Jets. They have to decide if
Geno Smith
is a true No. 1 quarterback or whether they should hedge their bet by bringing in legitimate competition. They have 16 games on tape to evaluate.
While Smith's late-season rally reduces the need to make a major acquisition, the smart play would be to add a competent veteran. Problem is, it's hard to find that guy, a No. 1/No. 2 quarterback.
Mark Sanchez
fits the description, but there are health and salary-related questions, not to mention the entire issue of whether they'd want to re-create last summer's competition. Been there, done that.
An interesting target would be
Kirk Cousins
, who probably will be dangled in trade talks by the
Washington Redskins
. He wouldn't come cheaply in terms of compensation, maybe a second-round pick. That's a lot to surrender for a possible backup, but they have to look at the long view. He'd be an asset that appreciates in value.
They could go for
Matt Schaub
, the 2006 version of Cousins. Schaub would bring some baggage to the party, assuming he's released by the
Houston Texans
, but he's still only 32 and would be a worthwhile reclamation project/insurance policy.
What about the draft? Unless Idzik absolutely falls in love with someone (
Johnny Manziel
, anyone?), it wouldn't make much sense to sink a first-round pick into a quarterback, one year after using a No. 2 on Smith.
Jay Cutler
could be the big fish in free agency if the
Chicago Bears
let him hit the market, but he'd be a disaster in New York.
Rebuild the offense:
The Jets' skill-position talent has deteriorated steadily since 2010. Since 2011, they're ranked 26th in scoring, due largely to a lack of playmakers and poor quarterback play. They've ignored this side of the ball under the defensive-minded Ryan. It's time to pour money and resources into the offense so they compete in an offense-obsessed league.
They need a new tight end and two new wide receivers, preferably a game-breaker.
Stephen Hill
was supposed to be that guy, but he can't be counted on after two disappointing seasons.
The free-agent market for receivers is thin --
Eric Decker
of the
Denver Broncos
might be the best -- so look for Idzik to address the need in the draft. There are a couple of good ones,
Sammy Watkins
(Clemson) and
Marqise Lee
(USC), assuming they turn pro. The top free-agent tight end is
Jimmy Graham
, but there's little chance he gets away from the
New Orleans Saints
.
[+] Enlarge
AP Photo/Alan DiazWill Antonio Cromartie, a Pro Bowl cornerback in 2012, be playing in the Jets' secondary in 2014?
Spend money:
Facing a tight cap situation last offseason, Idzik operated on a shoestring budget, doling out modest contracts. Cap space won't be an issue this time. With
Darrelle Revis
coming off the books, and with
Mark Sanchez
and
Santonio Holmes
likely to be released (a total savings of $16.5 million), the Jets will have close to $40 million in cap space.
In theory, the Jets could stage their biggest spending spree since 2008, the year they acquired
Alan Faneca
,
Kris Jenkins
,
Calvin Pace
and
Damien Woody
, but Idzik believes in building through the draft. He owns eight choices, a total that could grow to 10 or 11 with expected compensatory picks.
This is "go" time for Idzik, a chance to show his acumen as a team-builder.
The first thing they should do is take care of couple of their own free agents, namely right tackle
Austin Howard
and kicker
Nick Folk
. Both earned long-term deals with their play in 2013. Linebacker Pace and guard
Willie Colon
are B-list free agents who have value for the short term.
Out with the old:
Sanchez, Holmes and
Antonio Cromartie
-- key players on the 2010 team that reached the AFC Championship Game -- are highly paid players with injury questions. It's possible all three could be playing elsewhere in 2014.
Holmes is a goner, for sure. They would've cut him two years ago if it weren't for $24 million in guarantees, one of the contracts that got Mike Tannenbaum fired. Sanchez fits the profile of what they need, but he's due a $2 million roster bonus in March -- and there's no way that will be paid. He'd have to agree to a massive pay cut, and that's unlikely to happen. Chances are, he'll be released.
Cromartie is a tough call, with a lot depending on his bad hip. His contract, which runs through 2014, is prohibitive -- a $15 million cap charge, including a $5 million roster bonus. He says he wants to retire a Jet, but let's see if he changes his tune when they propose a pay cut. Chances are, they'll cut him, letting him establish a market price before deciding whether to bring him back on a new deal.