AFC East:

Marvin Harrison
February, 9, 2011
2/09/11
8:28
AM ET
I once heard Tom Donahoe, the former Buffalo Bills president and general manager, call quarterback Drew Bledsoe a future Pro Football Hall of Famer.
Then again, Donahoe used to say a lot of things.
I was reminded of this when taking a glance at players who will make their first appearance on the Hall of Fame ballot for 2012.
Buffalo News reporter Mark Gaughan, who's on the Hall of Fame selection committee and last weekend was elected president of the Pro Football Writers Association, blogged the
top newcomers to consider the next few years
.
[+] Enlarge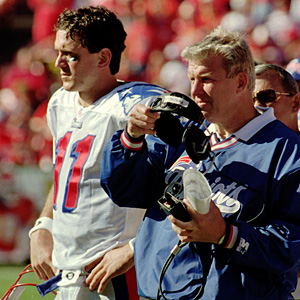 AP Photo/Ed ZurgaBill Parcells and his former quarterback Drew Bledsoe will be on the Hall of Fame ballot next year.
The lists are helpful in speculating when fan favorites such as Andre Reed and Curtis Martin will get their Canton calls. They both were finalists this year -- Reed for the fifth time, Martin for the first -- but
weren't added to the 2011 induction class Saturday
.
Perhaps that development was fitting for Martin because his coach with the New England Patriots and New York Jets will be on the ballot again. They could get in together in 2012.
Bill Parcells has been a finalist twice, but not since 2002 because rules for coaches changed. They now must wait five years from their last game to be eligible for induction, and Parcells returned to the sidelines with the Dallas Cowboys in 2003.
Is Parcells a Hall of Famer? I know Miami Dolphins fans aren't too thrilled with him these days, but he did add to an already remarkable legacy -- two championships, different teams to the Super Bowl, a few organizational turnarounds -- by guiding the Dolphins from 1-15 to the AFC East title as their football operations boss.
Also on the ballot next year will be Bledsoe, running backs Corey Dillon and Tiki Barber, fullback Mike Alstott, guard Will Shields and coaches Bill Cowher and Marty Schottenheimer.
Bledsoe had a fine career with the Patriots, Bills and Cowboys and ranks eighth all-time in passing yards. But he was a Pro Bowler only four times and never was first-team All-Pro. Bledsoe was helpful in getting the Patriots their first championship, so he does have a ring. But that was Tom Brady's team.
Dillon also was a four-time Pro Bowler and won a Super Bowl with the Patriots. He ranks 17th in rushing yards and never led the league in a major rushing category.
Schottenheimer played for the Bills and Patriots before winning 61 percent of his regular-season games as head coach of the Cleveland Browns, Kansas City Chiefs, Washington Redskins and San Diego Chargers. His 200 victories rank sixth all-time, but his 5-23 playoff record will hurt.
That group of first-time candidates -- plus the newcomers for 2013 -- bodes well for Reed. There won't be any new receivers for him to box out. He already has jockeyed ahead of contemporaries Cris Carter and Tim Brown by making the cut from 15 to 10 in the selection process the past two years. Carter and Brown haven't.
Gaughan highlighted first-year players for next few classes.
2013:
Quarterback Vinny Testaverde, offensive linemen Larry Allen and Jonathan Ogden, defensive tackle Warren Sapp, defensive end Michael Strahan.
2014:
Running back Shaun Alexander, receiver Marvin Harrison, linebacker Derrick Brooks, safety Rodney Harrison and coaches Tony Dungy, Jon Gruden and Mike Holmgren -- if they don't return to sideline work.
2015:
Quarterback Kurt Warner, receivers Isaac Bruce and Torry Holt, tackles Orlando Pace and Walter Jones and linebacker Junior Seau.
October, 14, 2010
10/14/10
6:19
PM ET
When it comes to running pass routes,
Brandon Marshall
claims
Miami Dolphins
teammate
Davone Bess
is elite.
[+] Enlarge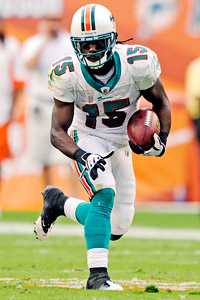 Richard C. Lewis/Icon SMIMiami receiver Davone Bess is tied for second in the NFL in third-down receptions with 10 for 109 yards.
Marshall doesn't merely mean on the Dolphins' roster or in the game today.
Marshall means of all-time, as in alongside
Jerry Rice
and
Torry Holt
and
Marvin Harrison
and
Wes Welker
and Steve Largent and Paul Warfield and Raymond Berry and ...
"In all of football," Marshall said of Bess, "he's one of the best route runners in all of football ever, not just in today's receivers. Ever."
While Marshall's assertion sounds quite hyperbolic, there's no denying Bess is one of the NFL's most underrated receivers. He wasn't drafted out of Hawaii in 2008 because he wasn't considered fast enough (40-yard dash in 4.7 seconds) or big enough (5-foot-10, 190 pounds).
"He plays big, man," Marshall said. "He's an all-around wide receiver."
Bess had to become a masterful route runner to make it in the pros. His meticulousness -- like
Greg Camarillo
for Miami before him -- is why Bess has been heavily involved in the Dolphins' offense since they signed him and why they traded Camarillo last month.
Bess' compact size actually helps him as a route runner more than the gazelles who lope up the sideline and rarely need to worry about gaining separation through craftiness or precision.
Bess has been one of the league's top third-down targets since last season. He's tied for second in the NFL in third-down receptions with 10 for 109 yards, one touchdown and eight first downs.
Marshall leads the league with 11 third-down receptions.
Anquan Boldin
is the only receiver with more third-down conversions than Bess.
In Week 4, Bess had one of his bigger games before heading into the bye. He made eight catches for 96 yards and a touchdown against the
New England Patriots
on Monday night.
"When you put in the tape, this guy's amazing, what he's able to make his body do," Marshall said of Bess. "He gets open almost every single play."
"The guy doesn't catch [76] balls last year just because. There's a reason for that, and he's on pace to probably catch almost 100 balls this year [84]. I'm excited for him, and I'm excited to be able to be on the other side and on the same side as him."
August, 6, 2010
8/06/10
3:35
PM ET
Andre Reed knew this wasn't going to be the year he entered the Pro Football Hall of Fame.
Jerry Rice and Emmitt Smith were eligible for the first time, and both were no-brainers. Space is limited in each class, and the voters weren't going to induct two receivers.
But Reed views 2010 as a step in the right direction. The legendary
Buffalo Bills
receiver
won't get into the Hall of Fame this weekend
, but he's walking up the front steps.
[+] Enlarge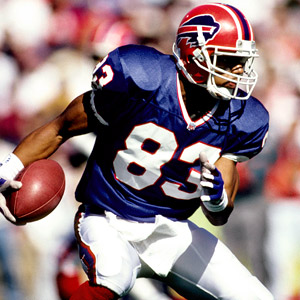 US PresswireAndre Reed finished his playing career with 951 receptions.
Reed this year finished among the 17 semifinalists a fourth time. Although the board of selectors didn't vote to enshrine him this year, he finished in the top 10, something he'd never done before.
"My phone was blowing up when we got to the final 10," Reed recalled of the selection process, which concludes Super Bowl weekend. "I hadn't gotten to the final 10 yet. You're only a stone's throw away then."
He also received more votes than Cris Carter for the first time, indicating Reed's candidacy is on the rise.
Reed's case is an interesting one that
has been explored on this blog before
. When the seven-time Pro Bowler retired in 2000, he ranked third all-time with 951 receptions. He has slid to eighth and probably will drop out of the top 10 this year.
Randy Moss
,
Torry Holt
and
Hines Ward
are closing in.
"That's just how it is," Reed said. "A lot of guys are going to have a lot of catches. The game has changed. Now it's pass to set up the run. Before it was run to set up the pass. But maybe catches won't be as much of a factor. It'll be how many championships, how many times did you go to the Super Bowl? It'll be more team-oriented because anybody can catch 800 balls nowadays.
"In 1989, I caught 88 balls. That was a career year. These guys are catching 100 balls left and right now.
Wes Welker
had 100 balls three years in a row. Is Wes Welker going to be a Hall of Famer? I don't know. It's an accomplishment to catch 100 balls a year, but ...
"
Keyshawn Johnson
caught 800 balls, but nobody really talks about him. Great receiver, but do you put him in?
Steve Smith
? Keenan McCardell? Those guys are on the wayside."
Reed was the best receiver on a team that won an unprecedented four consecutive conference titles. The Bills couldn't manage to win one Super Bowl, but that hasn't barred Reed's teammates from the Hall of Fame.
Twenty years from now
there likely will be more inductees from the Bills
of the 1990s than the
New England Patriots
of the 2000s. Already in are quarterback Jim Kelly, running back Thurman Thomas, defensive end Bruce Smith and head coach Marv Levy. So is James Lofton, who spent four seasons with Buffalo.
"I played in the best era of wide receivers ever, if you ask me," Reed said. "All the guys that are in my era are Hall of Famers. The next group of guys will be
Terrell Owens
and
Marvin Harrison
and Randy Moss.
"They'll be arguing about those guys, but it'll be a different argument because of how the game has evolved."
While folks are formulating those arguments, Reed is content to wait his turn.
"I'm humbled by it," he said. "I don't trip and say 'Aw, man!' If it's going to happen, it's not on my time. It's on somebody else's.
"My friends and family are more upset about it that I am. When it's my time, it's my time."
September, 27, 2009
9/27/09
6:20
PM ET

Posted by ESPN.com's Tim Graham
ORCHARD PARK, N.Y. --
Buffalo Bills
receiver
Terrell Owens
has maintained the NFL's longest active streak for games with at least one reception at 185.
The streak is in jeopardy.
Early in the fourth quarter against the
New Orleans Saints
in Ralph Wilson Stadium, Owens has zero catches.
Bills quarterback
Trent Edwards
tried to force a pass to Owens near the end of the third quarter, but the pass got deflected and intercepted.
Here's the list of employed players with the longest active streaks (
Marvin Harrison
hasn't retired, but he is at 190 and counting). Sunday's games not included.
August, 19, 2009
8/19/09
10:28
AM ET
Posted by ESPN.com's Tim Graham
Everybody knows the New York Jets want to upgrade at wide receiver.
But they haven't made an acquisition, and various we'll-be-just-fine comments made by coach Rex Ryan and players already on the roster convinced many observers the Jets weren't going to make a move.
If the Jets do go into the regular season with players they already have, it won't be for lack of trying, writes Rich Cimini of the New York Daily News.
Cimini reports the Jets are interested in landing a game-breaker and "have held preliminary discussions with a few teams," listing Brandon Marshall, Dwayne Bowe and Sinorice Moss as possibilities. Cimini notes free agent Marvin Harrison is an unlikely possibility.
The acquisition of a stud receiver such as Marshall or Bowe would send shivers through the rest of the AFC East and put a smile on rookie quarterback Mark Sanchez's face.
Receiver is the most unproven position on the Jets' roster, but an August upgrade would greatly increase their chances to make the playoffs.
Jerricho Cotchery made a team-leading 71 catches for 858 yards last season. Tight end Dustin Keller could have a productive second season.
The rest of the position is loaded with question marks that apparently aren't being answered to the front office's and coaching staff's satisfaction after a few weeks of training camp and one preseason game.
Chansi Stuckey had 32 receptions for 359 yards and three touchdowns last year. Brad Smith chipped in with a dozen catches. David Clowney made one, Wallace Wright zero.
June, 23, 2009
6/23/09
11:09
AM ET
Posted by ESPN.com's Tim Graham
A month ago, Randy Moss declared himself "the best wide receiver of all-time, hands down" and scoffed than anybody would dare think otherwise.
| | |
| --- | --- |
| | |
| | US Presswire |
| | Receivers Terrell Owens and Randy Moss may both end up in Canton one day, but neither cracked ESPN.com's all-decade team. |
Keep him away from computers for a while.
ESPN.com unveiled it's all decade-offense, and Moss wasn't on it. Neither was Buffalo Bills receiver Terrell Owens.
The selections at receiver -- with input from NFL general managers, scouts, coaches and players -- were Marvin Harrison and Torry Holt instead. As AFC West blogger Bill Williamson explained in the story, criteria included stats, championships and Pro Bowls. ESPN.com's all-decade defense was announced Monday.
Moss, of course, is missing a Super Bowl ring. But he was a four-time Pro Bowler this decade. He has averaged 77 catches for 1,164 yards and 12 touchdowns the past nine years.
"I don't really like to judge people or other athletes," Moss told me in a telephone interview. "I know what I'm able to do on the field, but the things I'm able to do to dictate how a defense plays the game, I don't think there's no other receiver but myself and Jerry Rice to be able to do that."
In the same interview, Moss also struck a more modest tone when talking about his elusive title.
"I don't really know where I rank at, but as long as I get a Super Bowl ring before I leave this game, I think my life and my goal would be complete in the NFL," Moss said.
Owens can say the same. Owens, like Moss, has played in one Super Bowl and lost but owns some gaudy career numbers. Both are headed for the Pro Football Hall of Fame.
Do you think there are other AFC East omissions?
Curtis Martin and Ricky Williams might come to mind, but there's no way either should supplant LaDainian Tomlinson.
One obvious name to consider is center Kevin Mawae. In his six seasons this decade with the Jets, he was selected for five Pro Bowls. Selected instead was Chicago Bears center Olin Kreutz.
Buffalo guard Ruben Brown, a perennial Pro Bowler who played four seasons with Kreutz in Chicago, told me one entertaining night at the Big Tree Inn in Orchard Park, N.Y., that Kreutz could be the greatest center in NFL history.
June, 20, 2009
6/20/09
9:45
AM ET
Posted by ESPN.com's Tim Graham
Before we get into this week's AFC East mailbag, I'd like to remind folks they can join me on Facebook.
You'll receive alerts to all of my blog posts the moment they hit cyberspace. You can interact with other AFC East fans (i.e. tell them how superduper your team is while calling their favorite players ninnies).
You can find me at various times of the day for a quick one-on-one chat, or you can post a question on my wall that I might use in my next mailbag.
We have a couple of Facebook submissions in this week's edition, in fact. Have a gander.
Joshua in San Diego wants to know how the tough AFC East schedule will impact the chances of Tom Brady having a big rebound season. He specifically mentions the cross-divisional matchups against the AFC South and NFC South, which feature some elite pass-rushers.
One of the keys to Brady's effectiveness is his ability to stand in the pocket, feel the coming defenders closing in and unflinchingly wait until the last possible moment to let the play develop before delivering.
As fabulously as Brady has looked throwing the ball in non-contact drills, there certainly is a mental component he hasn't encountered in his recovery from two torn knee ligaments. We won't know until preseason games how Brady reacts under live pressure.
All four AFC East offensive lines will have their hands full this year. Each team will face at least six of the top 11 sack leaders, and that doesn't include Jason Taylor.
Miami Dolphins outside linebacker Joey Porter is on that list, but they also play the Pittsburgh Steelers and the other divisional teams don't. That means the Dolphins get to face seven of the top 11, including James Harrison (16 sacks) and LaMarr Woodley (11.5).
The other top pass-rushers on the AFC East schedule are John Abraham (16.5), Julius Peppers (14.5), Mario Williams (12), Robert Mathis (11.5) and Dwight Freeney (11.5).
---
Nick, a Dolfan based in Montreal, wants to know which is least likely to occur: The New England Patriots miss the playoffs, or the Buffalo Bills make the playoffs.
I've gone on record with predictions -- as everything looks on paper in June; whatever that's worth -- that the Patriots will go to the playoffs and the Bills will finish last in the AFC East.
But I think there's a greater possibility the Dolphins edge past the Patriots again than the Bills rebound from a 0-6 divisional record to make the playoffs with five jumbled offensive line positions.
Can the Bills make the playoffs? Sure. I covered the 1-15 Dolphins. I've seen stranger things. But the last time I checked, Buffalo didn't hire Bill Parcells or make any corrections to their infrastructure. It's the same team plus Terrell Owens, a decent center, a backup running back and some rookies -- but minus a Pro Bowl left tackle.
That doesn't add up for me.
---
Jamal from Facebook is sick of all the Patriots haters -- obviously fixated on Spygate as the excuse for everything the club has accomplished -- who post in the comments section under the AFC East blog posts.
I wholeheartedly agree, Jamal. Some fans will latch onto anything that helps them justify why their favorite teams haven't had the same success. Officiating conspiracies are good for that, too.
I kept an open mind about the Spygate saga as it developed, but I've spoken to more than enough intelligent football people about it. I'm convinced the benefits of the verboten video were overblown.
ESPN analyst Herm Edwards is one of the discerning minds I've asked about it. Edwards, then the New York Jets' head coach, was so unimpressed he was captured waving to the Patriots' camera in one of the illegal tapes from 2004.
"If you're naïve to believe that helped him win a Super Bowl," Edwards said last week, "you're kidding yourself. I don't believe that."
June, 16, 2009
6/16/09
4:15
PM ET
| | |
| --- | --- |
| | |
| | AP Photo/David Duprey |
| | When all the Bills' running backs are active, free-agent signee Dominic Rhodes is probably No. 3 on the depth chart. |
Posted by ESPN.com's Tim Graham
ORCHARD PARK, N.Y. -- Dominic Rhodes was at the most exhilarating juncture of his career.
He was reveling in the glory as a Super Bowl champion, and he was more than a bit player for the Indianapolis Colts. He could have been the game's MVP.
Furthermore, Rhodes was headed to free agency. Convinced he deserved to be a starting back after years of mopping up for Edgerrin James and Joseph Addai, the big break was within sight.
Rhodes blew it.
He blew a .09, and he blew his best opportunity to show he could be somebody's leading man in 2007.
"That year, me and Travis Henry were the top backs in the free-agent market," Rhodes said last week after a Buffalo Bills minicamp practice. "I had high hopes for myself. I don't know, man."
Rhodes is certain his past transgressions still follow him. He has been arrested for DUI and domestic abuse. Two years ago, he was suspended as a repeat offender under the NFL's substance abuse policy.
As a free agent again this year, he wasn't pursued nearly as much as he figured. He did turn 30 in January. Signing a running back at that age is tantamount to buying a gallon of milk a day before the expiration date.
| | |
| --- | --- |
| | |
| | Stan Liu/US Presswire |
| | After being cut by the Raiders, Rhodes returned to Indianapolis last season and ran for 538 yards and six touchdowns. |
But Rhodes was coming off a productive season with the Colts. He gained 840 total yards as Addai's backup. He said he's happy to be with the Bills, but he thought he would've had more options.
"I was upset with how it went," Rhodes said. "I really figured I would get more interest and more teams would be coming to get me.
"But I sat back and realized some of the mistakes I made. I messed up."
Two weeks after running for a game-high 113 yards and a touchdown to help the Colts beat the Chicago Bears in Super Bowl XLI, Rhodes was failing field-sobriety tests at 3 a.m. on the Interstate-65 shoulder in Indianapolis.
Police arrested Rhodes for DUI, but the blunder didn't cost him right away. Three weeks later, the Oakland Raiders signed him to a two-year contract worth $7.5 million. And his legal problems improved. He pleaded guilty to reckless driving and had the DUI charges dropped.
Rhodes was in the clear. Or so he thought.
The NFL suspended him the first four games of 2007 as a repeat offender under its substance abuse policy. Rhodes forfeited almost $353,000 in game checks and fell out of favor with the Raiders' front office. They cut him after the season.
The undrafted overachiever from tiny Midwestern State had done so much to make it in NFL, but he prevented himself from experiencing all that was possible.
"More than the money, when you're 75 or 80 years old, you're going to look back on the opportunities missed," said Carolina Panthers quarterback Josh McCown, who was Rhodes' training camp roommate with the Raiders. "Those are going to be your regrets, regardless if there's a dollar sign attached or not. He realizes that was a missed opportunity. As a competitor in this business, you hate to miss any opportunity."
In 2002, Rhodes was arrested for domestic battery. Rhodes avoided a conviction. The judge placed him in a diversion program and mandated counseling.
"I'm not shying away from the fact I got in trouble," Rhodes said. "It's out there. People know. I'm ready to talk about it and make amends for it and help anyone else who needs help with it."
The timing of his DUI and the four-game suspension torpedoed his chance to become a feature back.
When he joined the Raiders, he fully expected to emerge as the starter. But in the first three games he was away from the team, LaMont Jordan rushed for 70, 159 and 121 yards. In Week 4, Jordan ran for 74 yards, while Justin Fargas ran for 179 yards.
"The four weeks off really hurt him in his heart because he missed being around us and playing the game," McCown said. "That's when it really set in what had happened.
"Even moving forward there was a thought process 'I'll sign with Oakland and win this appeal and go play and be opening day starter and parlay that into something bigger.' When the suspension came down, it was a blow to what he was hoping to get accomplished."
Rhodes played only six games for Oakland. He had only 24 yards through his first three appearances. He started the last two, rushing for more than 100 yards in each loss.
"I wished he would've gotten a chance to work in that offense the whole year," McCown said, "because I think he would have had a big year."
Rhodes returned to his comfort zone last season. Indianapolis was a security blanket.
Benevolent coach Tony Dungy welcomed him back. With such mainstays as Peyton Manning, Marvin Harrison, Reggie Wayne and Jeff Saturday, the offense hadn't changed. After seeing the grass was browner elsewhere, Rhodes was more willing to accept his backup role to Addai.
"We're barely a year and a half removed from my DUI," Rhodes said. "Teams were kind of scared of that. Teams that don't know you are scared. The Colts know me. They know that I'm not a bad guy."

Dominic Rhodes
#33 RB
Buffalo Bills


CAREER STATS
ATT
YDS
AVG
LNG
TD
777
3,114
4.0
77
26
Rhodes, who started four games last season when Addai was hurt, ran for 538 yards and six touchdowns. He caught 45 passes for 302 yards and three touchdowns. His nine combined scores matched the single-season career high he set as a rookie, when he filled in for James and rushed for 1,104 yards.
"One thing people forget is they think of him as a backup, but I think he's a little better football player than the perception," said former Colts coach Ted Marchibroda, who is a broadcast analyst for the team. "He did a great job filling in last year.
"I think he felt in his first stint with the Colts he should've been playing more, and he made it known. But not this time. He was real happy coming back with the Colts and did a good job."
But the offers didn't roll in. That was a nice development for the Bills, who failed to sign free agents Fred Taylor and Kevin Jones.
"I was excited to see him go back to Indy and hopefully rekindle what he had going there," McCown said. "When I saw he got to play in some games and was starting, I thought 'You know what? He's going to turn this into something good. It's going to work out for him.' I was surprised people didn't take more interest in him."
Rhodes signed a two-year contract that will pay him base salaries of $750,000 this year and $1.25 million next year. The deal included $450,000 in bonuses.
He's probably third on Buffalo's depth chart when everybody is active. Pro Bowl back Marshawn Lynch has been suspended for the first three games because of repeated malfeasance. Popular backup Fred Jackson should be the primary backup.
"The opportunity's there for me to get some touches," Rhodes said. "They wanted me the year I came into free agency after the Super Bowl, so I figured the second time is a charm.
"All I want to do is get out there and make some plays and just keep showing the league what I got and keep playing as long as I can."
Rhodes insists he's more mature than he used to be, that he has amended his lifestyle and learned from his mistakes.
Another misstep could lead to a season-long suspension.
"I have a chip on my shoulder," Rhodes said. "I came from a small school. I'm a smaller back. I run a lot different than most smaller backs. I'm a between-the-tackles guy and I'm always out there trying to prove a point and make sure people notice me when I'm on the field.
"That's just me. I'm always out to prove myself and give everything I got and make sure my teammates know I'm accountable."
January, 2, 2009
1/02/09
12:51
PM ET
Posted by ESPN.com's Tim Graham
DAVIE, Fla. -- This isn't an egregious error like the one committed for the Pro Bowl.
Whereas Brett Favre didn't warrant a trip to Honolulu ahead of Chad Pennington, it's difficult to argue Peyton Manning didn't deserve the MVP award.

Pennington
Manning won in a landslide. The Indianapolis Colts quarterback received 32 votes, way ahead of Pennington and Atlanta Falcons running back Michael Turner, who finished tied for second with four votes apiece.
The Miami Dolphins would not have won 11 games or qualified for the playoffs if Pennington hadn't come aboard in training camp. The New York Jets released Pennington to make room for Favre, and the Dolphins couldn't have been more thrilled.
"He's vital to this team. He really is," Dolphins coach Tony Sparano said. "With Chad coming in here and doing what he's done right now, he [has brought] a bunch of people together."
Players knew Pennington would be their captain before his first practice was over. He was that sharp, that smart, that charismatic.
Had Pennington not been available, the Dolphins would've used journeyman Josh McCown or rookie Chad Henne. Neither was dazzling in early practices. Henne might have had the edge.
"I love Chad, and I love the Jets for deciding to get rid of him," Dolphins linebacker Channing Crowder said.