March, 12, 2010
3/12/10
1:50
PM ET
To mark the NFL's 75th draft next month, the league has launched a neat venture to sort out the 75 greatest draft picks and
determine the all-time most valuable selection
.
NFL.com editors narrowed each team's list of candidates down to the top 10, which seems a little unfair to the organizations steeped in history. The Dallas Cowboys' 20th most impressive pick is more deserving than the Houston Texans' sixth.
[+] Enlarge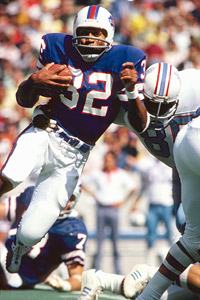 Malcolm Emmons/US PresswireO.J. Simpson is one of the best selections the Bills ever made.
I disagree with the decision to include players who didn't suit up for the teams that drafted them. For instance, tackle Leon Gray is listed for the Dolphins, kicker Gary Anderson for the Bills and punter Craig Hentrich for the Jets.
How can they be considered great draft picks if the teams that evaluated them declined to include them on their final rosters? Sounds to me like they were accidental draft picks more than savvy selections.
But if that's how they're going to do it, then I'd like to see Gary Fencik, a 10th-round pick in 1976, listed under the Dolphins.
Anyway, each team has 10 candidates fans can choose from when voting through April 18 at NFL.com. Parts of the list will be revealed on NFL.com and the NFL Network beginning April 19. The top 10 will be saved for the draft telecast.
The AFC East candidates, in alphabetical order:
Buffalo Bills:
Gary Anderson (seventh round, 1982); Ruben Brown (first round, 1995); Joe DeLamielleure (first round, 1973); Jim Kelly (first round, 1983); Reggie McKenzie (second round, 1972); Andre Reed (fourth round, 1985); O.J. Simpson (first round, 1969); Fred Smerlas (second round, 1979); Bruce Smith (first round, 1985); Thurman Thomas (second round, 1988).
Miami Dolphins:
Dick Anderson (third round, 1968); Larry Csonka (first round, 1968); Leon Gray (third round, 1973); Bob Griese (first round, 1967); Sam Madison (second round, 1997); Dan Marino (first round, 1983); Jake Scott (seventh round, 1970); Dwight Stephenson (second round, 1980); Jason Taylor (third round, 1997); Zach Thomas (fifth round, 1996).
New England Patriots:
Tom Brady (sixth round, 2000); Nick Buoniconti (13th round, 1962); John Hannah (first round, 1973); Mike Haynes (first round 1976); Lee Roy Jordan (second round, 1963); Ty Law (first round, 1995); Curtis Martin (third round, 1995); Lawyer Milloy (second round, 1996); Richard Seymour (first round, 2001); Andre Tippett (second round, 1982).
New York Jets:
Joe Fields (14th round, 1975); Mark Gastineau (1979); Craig Hentrich (eighth round, 2000); Keyshawn Johnson (first round, 1996); Joe Klecko (sixth round, 1977); Mo Lewis (third round, 1991); Joe Namath (first round, 1965); Marvin Powell (first round, 1977); John Riggins (first round, 1971); Wesley Walker (second round, 1977).
April, 1, 2009
4/01/09
4:48
PM ET
Posted by ESPN.com's Tim Graham
ESPN Stats & Information rated 13,808 draft picks to assemble a field of the NFL's top 32 draft classes for a tournament to determine the best of all-time. Fans will have a chance to vote starting Thursday.
Each team is represented and has been seeded No. 1 through No. 32 based on the best class in franchise history.
The classes were chosen using a formula that awarded points to each player for various individual and teams accomplishments.
1 point: Super Bowl loss
2 points: Offensive rookie of the year
2 points: Defensive rookie of the year
2 points: Pro Bowl
3 points: Super Bowl victory
3 points: second-team All-Pro
4 points: first-team All-Pro
6 points: AP Defensive Player of the Year
6 points: AP Offensive Player of the Year
8 points: AP Most Valuable Player
15 points: Hall of Fame
The Buffalo Bills earned the third seed because of their 1985 draft class, which included defensive end Bruce Smith, receiver Andre Reed and quarterback Frank Reich.
The Miami Dolphins are the No. 8 seed behind their 1983 draft class that featured quarterback Dan Marino, punter Reggie Roby and receiver Mark Clayton.
The New England Patriots are a fine example of how the formula isn't perfect. They're seeded 19th because some of their greatest players still are active and, therefore, ineligible for the Hall of Fame. Four of their top six classes, according to ESPN Stats and Information, have been drafted in the past 14 years. They are the best overall since 2000, when Bill Belichick came aboard.
But the formula rates the Patriots' best draft class as 1973, the year they drafted one of their few Hall of Famers, guard John Hannah, and running back Sam Cunningham.
The New York Jets are seeded No. 25 based on their 1977 draft class. The selected offensive lineman Marvin Powell, receiver Wesley Walker and defensive tackle Joe Klecko.
ESPN Insider subscribers can see detailed breakdowns and find out which classes received honorable mentions for each club.