February, 21, 2011
2/21/11
4:10
PM ET
Donte Whitner
seems intrigued by speculation the
Buffalo Bills
might be interested in newly unattached safeties
Bob Sanders
and O.J. Atogwe.
Whitner has been retweeting links to stories
that wonder if the Bills would chase either free agent as a replacement for him. Whitner's contract is about to expire, and he hasn't played up to his draft position. The Bills used the eighth overall pick on him in 2006.
Whitner, one of the NFL's more media-aware players, has retweeted five links so far Monday, including a
BuffaloRumblings.com poll that asks fans to choose
their ideal starting strong safety: Atogwe, Sanders, Whinter or
George Wilson
, also a free-agent-to-be.
Another story Whitner linked was from National Football Post writer
Matt Bowen
, a seven-year NFL safety whose last year was spent in Buffalo when Whitner was a rookie.
Bowen named
Buffalo the team that should most hotly pursue Sanders
.
Bowen writes:
There is some interest on the part of the Bills. Buffalo has a player in safety Jarius Byrd who will go after the football, but they need another impact player at the position. Donte Whitner wasn't the play maker Buffalo envisioned when they made him a first round pick, and with his contract up, the Bills could look at Sanders to possibly slide into the secondary in 2011. The question for defensive coordinator George Edwards would be where to play him: at free or strong.
Buffalo's interest level, of course, will be commensurate with Sanders' -- or Atogwe's or anybody else's -- price tag. Sanders was a first-team All-Pro for the
Indianapolis Colts
in 2005 and 2007, but he has played only nine games the past three years.
Buffalo already has taken a gamble on outside linebacker
Shawne Merriman
with a
contract predicated on whether he returns from the Achilles injury
that ended his season. If the Bills were to roll the dice with Sanders, then they still should re-sign Wilson or another reliable veteran who can be trusted to play long stretches.
May, 17, 2010
5/17/10
8:33
PM ET
All-galaxy cornerback
Darrelle Revis
reportedly wants $20 million.
No, I don't mean $20 million over the length of a multiyear contract, or in guarantees.
[+] Enlarge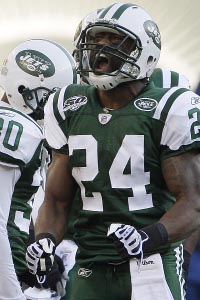 AP Photo/Julie JacobsonDarrelle Revis is reportedly asking for a $20 million per season deal.
I mean $20 million
a season
.
That's the figure National Football Post columnist Michael Lombardi reported Revis has requested to remain with the
New York Jets
. To be specific, Lombardi wrote
Revis' desired contract "exceeds $20 million a year."
Shortly after ESPNNewYork.com's Rich Cimini read this, he popped the eyeballs back into his head and noted in his blog that Revis' dream deal would be not only the richest contract for any cornerback,
but also more than a franchise quarterback
.
Peyton Manning
's annual average is $14 million.
But maybe Revis' request isn't so exorbitant. So suggests Matt Bowen, another National Football Post columnist and a former NFL defensive back.
Bowen notes
Revis is so integral to head coach Rex Ryan's defense
that it could unravel without him on the field. The Jets had the No. 1 total defense, scoring defense and pass defense in the NFL last year.
Ryan's defenses are predicated on aggression, and en elite cover corner is essential to making it work. Only a couple of cornerbacks can be compared to Revis when it comes to locking down receivers. Revis is phenomenal in both man and zone coverages and is an excellent tackler.
From Bowen:
Having a corner who requires little or no safety help is a luxury in this league. It allows Ryan the freedom to pressure more and call more combination coverages. This allows the free safety to slide to the opposite side of the field, cut to the slot receiver on an inside release, play the top of a triangle (think three-on-two), jump routes, etc.

Most of all, it allows Ryan to set up his players to make plays on the football. And that's what wins in New York right now when we talk about this style of defensive football.
It will be fascinating to see how Revis' contract situation develops. His agent is Neil Schwartz, who has a history of going to battle with Jets general manager Mike Tannenbaum over clients
Pete Kendall
and
Chris Baker
. A contract dispute kept Revis out for the first three weeks of his rookie training camp until he and Schwartz agreed to a satisfying deal. Revis signed a six-year, $30 million contract with $11 million in guarantees. He's scheduled to make a base salary of $550,000 this year, but that doesn't include bonuses.
Creating even more tension in Florham Park: Revis isn't the only contract concern for the Jets.
All-Pro center
Nick Mangold
wants a new contract before training camp. Then you have Pro Bowl left tackle
D'Brickashaw Ferguson
and inside linebacker
David Harris
, last year's leading tackler.
I wonder if those three will total $20 million a year combined.