January, 8, 2013
1/08/13
8:00
AM ET
Here are the most interesting stories Tuesday in the AFC East: Morning take: I would say No. 1 or No. 2 along with the Denver Broncos. We could have another Tom Brady-Peyton Manning showdown if both teams stay focused this weekend.
Morning take: Tucker has been a defensive coordinator since 2008 with Cleveland and Jacksonville. Tucker and New York Jets defensive coordinator Mike Pettine are the early candidates.
Morning take: Cavanaugh failed to make Mark Sanchez or Tim Tebow better; in fact, both players regressed this season. So this was no surprise.
Morning take: Miami exceeded expectations with a 7-9 record, and has plenty of cap room and draft picks to make a jump. Things could get interesting for the Dolphins in 2013.
August, 3, 2011
8/03/11
9:20
AM ET
By
ESPN.com staff
| ESPN.com
Buffalo Bills
With a new deal in place, Drayton Florence
finds himself in familiar territory
.
Former Bills linebacker Darryl Talley is getting a chance to see if
coaching is in his future
.
Miami Dolphins
Armando Salguero of The Miami Herald
: "I believe the Kyle Orton possibility is definitely not dead -- at least not yet. And I believe before this team finishes the preseason, it will find a way to stage a legit quarterback competition between [Chad] Henne and another quarterback not named Matt Moore, who is a third-stringer in my eyes."
Rookie Mike Pouncey is
turning some heads
in the early stages of training camp.
New England Patriots
Albert Haynesworth says his fresh start in New England provides a chance to "
restore my name
."
Bob Ryan of The Boston Globe
: "The issue before the Patriots is one of risk vs. reward. Is Albert Haynesworth, this seemingly intelligent, rational man, capable of behaving himself, both in the locker room and once he ventures out into the world? His lengthy track record suggests otherwise. Is the mere act of putting on a Patriots uniform going to make him a changed man?"
New York Jets
Quarterbacks coach Matt Cavanaugh on Mark Sanchez
: "He's acting like a junior in high school instead of a freshman. Freshmen are a little bit in awe and sometimes there's a false bravado. The next year, you're more comfortable and less intimidated. By junior year, you feel real good. You know everybody, everybody says 'Hi' in the hallway and you know the names of all the teachers."
Rookie defensive end Muhammad Wilkerson is
impressing the Jets' coaches
.
March, 30, 2011
3/30/11
10:39
AM ET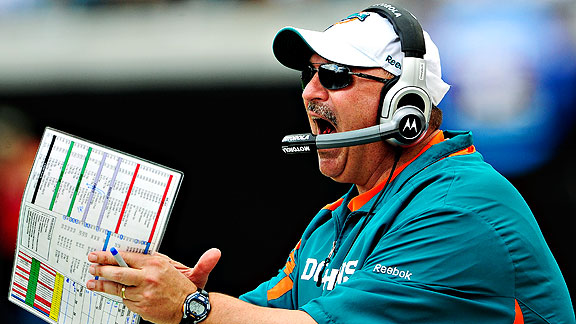 Sam Greenwood/Getty ImagesDolphins coach Tony Sparano felt it was necessary to add former players to his coaching staff.
Miami Dolphins
receiver
Brandon Marshall
scoffed in September that broadcast analyst Sterling Sharpe had no right to judge him.
Marshall claimed Sharpe didn't do enough on the field
to earn the privilege.
Imagine, then, how much disdain Marshall would harbor for criticism from those who didn't play in the NFL at all.
When you consider Marshall's logic and the sort of position coaches he has worked with, you get a sense of how unstable a situation can be.
As a rookie, he learned from former Pro Bowl receiver Steve Watson. But since 2007, Marshall's coaches have been Jeremy Bates, Jedd Fish and Adam Gase with Denver and Karl Dorrell last year with Miami. None of them played in the NFL. Neither Fisch nor Gase played in college.
Probably not the kinds of guys you'd expect to make a connection.
Dolphins head coach Tony Sparano rearranged his coaching staff after last season. He moved Dorrell into the quarterbacks vacancy and promoted Steve Bush from a quality-control role -- usually considered entry-level -- to receivers coach. Bush hasn't been an NFL position coach before. In 2008, the Dolphins hired the one-time Syracuse assistant away from West Genesee High in upstate New York.
Some help was in order, and not just for Bush.
Sparano made it a point to add former players to his coaching staff because he identified a deficiency. He needed more voices to reach his players.
Although the Dolphins parted ways with running backs coach James Saxon, they hired Ike Hilliard to assist Bush and Bryan Cox to coach pass rushing and promoted Dan Campbell from intern to tight ends coach.
"I feel good about the way we were able to put the staff together with the infusion of ex-players onto the staff," Sparano said last week at the NFL owners meeting in New Orleans.
"A little bit of that flavor and that knowledge on your coaching staff helps a lot. Sometimes, as coaches, we can get tunnel vision and forget about what the players' needs are. When you get an ex-player on your staff -- somebody that's really not far removed -- it helps you a lot."
A breakdown of AFC East coaching staffs shows there are multiple philosophies on former NFL players as assistants.
The Dolphins went into last season with two position coaches who played in the NFL: assistant head coach and secondary assistant Todd Bowles and Saxon. They now have four assistants with a combined 557 games.
Buffalo Bills
head coach Chan Gailey has one former NFL player on his staff, but none coaching a position. Former defensive back Adrian White, a veteran of seven seasons, handles quality control.
New England Patriots
defensive line coach Pepper Johnson is the lone member of Bill Belichick's crew to have experienced NFL action. Johnson played linebacker for four teams over 13 years.
Then there's Rex Ryan's staff, populated by six former NFL players with 62 seasons and 829 games. Matt Cavanaugh coaches quarterbacks, Anthony Lynn running backs, Henry Ellard receivers, Mike Devlin tight ends, Mark Carrier defensive line and Dennis Thurman defensive backs.
I reached out to three former coaches who played in the NFL -- Tom Flores, Herm Edwards and Ted Cottrell -- to get their opinions on the significance of having on-field experience on staff.
"It's always been a thing with the players," said Cottrell, an
Atlanta Falcons
linebacker and successful defensive coordinator for the Bills, Jets,
Minnesota Vikings
and
San Diego Chargers
, "where they think in the backs of their minds, 'Well, you haven't played this game. You don't know what we're going through. You haven't done this, Coach.' But if you have some playing experience on your staff, it helps offset that."
As valuable as those players-turned-coaches are, they're difficult to find. The best players don't necessarily make the best coaches because what came to them naturally can't always be conveyed through instruction.
[+] Enlarge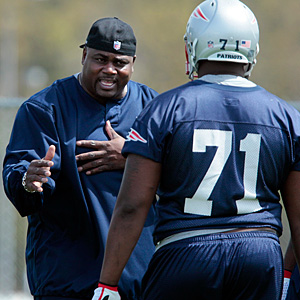 AP Photo/Elise AmendolaPatriots defensive line coach Pepper Johnson is the only member of Bill Belichick's staff with NFL playing experience.
Flores found a way to make it work. He and Mike Ditka are the only two in NFL history to win a Super Bowl ring as a player, assistant coach and head coach. Flores played quarterback for the Bills,
Oakland Raiders
and
Kansas City Chiefs
before guiding the Raiders to pair of Super Bowl titles.
"Some of the young kids coming out have no idea," Flores said. "They think they invented the game. Sometimes you have to bring them back to reality.
"But you also don't want somebody who keeps saying, 'Well, when I played ... When I played ... When I played ...' The player thinks, 'I don't give a damn when
you
played.
We're
playing now.'"
The transition from player to coach is difficult. Many players focus so much on their specific jobs when they're active that they don't become students of the overall game or learn how their roles fit into the overall puzzle. Others find it difficult to stop acting like a player when their careers are over.
Still, the ex-player element can be crucial in various instances.
"Sometimes you need a bridge with a former player," said Edwards, who played cornerback for the
Philadelphia Eagles
and was head coach for the Jets and Chiefs. "His voice is going to speak volumes, especially during the rough times because he's done it; he's been through it. He can give them, 'OK, this is what we gotta do' speech.
"He's going to respect because he played, but can he teach? That's the whole key. Players will figure that out."
Not all coaches are comfortable hiring former players, particularly those fresh off the field. Cottrell claimed there's a fear of subversion, that the former player will relate better to the locker room than the man in charge.
"Who do you think the players on the roster will gravitate towards more?" Cottrell asked. "The guy who played in the NFL and is young, or the older guy who didn't play?"
The former player, I responded.
"Damn right they would," Cottrell said. "That's why some coaches are intimidated to hire them. That's the truth. They don't want that guy around."
Added Edwards: "I've seen that happen. There's no doubt about that. That's when you're paranoid, but there are coaches like that."
Even so, Edwards conceded insurrections aren't an unfounded conspiracy theory.
"If you've got a former player in his positional meeting room, saying, 'Man, the coach doesn't know what he's talking about,' then you've got no shot as a head coach," Edwards said. "That's why you've got to be particular on who you hire."
The Patriots have a more institutional coaching staff. Their message is easy to deliver when players consider Belichick has won three Super Bowls and four conference championships in the past decade.
Rather than rely on former players, Belichick has core assistants such as offensive line coach Dante Scarnecchia (28th season with New England) and running backs coach Ivan Fears (15th season).
Belichick grooms assistants from gophers into coordinators and even head coaches. A steady stream of his acolytes -- Eric Mangini, Josh McDaniels, Brian Daboll, Bill O'Brien, Matt Patricia -- got their NFL starts under Belichick with no pro playing experience.
New England's cyclical process protects organizational doctrine from outside influences. Johnson, the lone ex-player on the staff, played 10 of his 13 seasons under Belichick.
"Belichick has a certain philosophy, and you want everybody to be on the same page," Flores said. "Sometimes, when you bring in guys that have been too many other places, they're not going to be on your page because they've been trained someplace else.
"If you bring up assistants through the ranks, then they'll be trained the way you want them to be. Everybody has to buy into the same program."
At the other end of the spectrum are the Jets.
Ryan obviously values former players. Their presence on the staff contributes to the Jets being an attractive destination for free agents, and Cottrell surmises the Dolphins have noticed.
"From a coaching standpoint, he looks at the Jets and wants to catch them in the division," Cottrell said. "He thinks, 'Rex has six guys that have played the game who are coaching. Uh oh. Rex has got an advantage on me.'
"That's got to be in the back of his mind. You've got to win your division to get into the playoffs, and when you look at your coaching staff, you see you don't matchup in that area."
Or, in the case of adding Hilliard at least, maybe it was as simple as noticing the Dolphins didn't match up with Marshall.
March, 11, 2011
3/11/11
9:03
AM ET
The NFL long has been a quarterback-dominated league.
But quarterbacks will be more important than ever in 2011 if a protracted labor stoppage wipes out offseason workouts or encroaches on training camps.
ESPN.com senior writer John Clayton wrote a column on the topic, stressing
teams with stability at quarterback could emerge way ahead
of those that do not once a new collective bargaining agreement is brokered.
Several clubs, two in the AFC East, are evaluating their quarterback situations and are open to addressing their needs through free agency, trades or the draft.
[+] Enlarge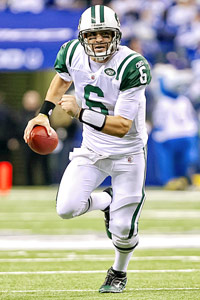 Icon SMIMark Sanchez has the second most starts in the AFC East, but who will he be throwing to next season?
We have no idea when free agency will commence or player trades will be permitted. The longer teams must wait on those options, the less time there will be to learn playbooks and develop chemistry with receivers.
With that in mind, let's rank each situation in the AFC East based on how much its quarterback and infrastructure (stability of his supporting cast) will be able to withstand NFL dormancy.
New England Patriots
The Patriots have one of the NFL's most consistent situations.
Tom Brady
is the reigning MVP, guided his team to a 14-2 record and has all of his receivers coming back.
He and
Deion Branch
have an eerie chemistry that resurfaced immediately despite 3 1/2 years apart. I don't think Brady and
Wes Welker
need to worry about getting on the same page, but I wouldn't be shocked if they worked out regularly again like they did last summer, while Welker was rehabbing from his knee injury. Brady proved how quickly he can integrate new blood by the way he used rookie tight ends
Rob Gronkowski
and
Aaron Hernandez
.
Patriots offensive coordinator and quarterbacks coach Bill O'Brien will call the plays for the third season. The Patriots, like the
Indianapolis Colts
with
Peyton Manning
, will be just fine if there's a lengthy lockout.
New York Jets
Fact:
Mark Sanchez
has the second-most NFL starts of any No. 1 quarterback in the AFC East. He's only 24 years old, but Sanchez has started 37 games, one more than
Ryan Fitzpatrick
and 10 more than
Chad Henne
.
Jets offensive coordinator Brian Schottenheimer and quarterbacks coach Matt Cavanaugh have been with Sanchez from the beginning. Sanchez also is a self starter in the offseason. He convened a "Jets West" camp for his receivers last summer in California.
A potential problem is that Sanchez will have trouble gathering receivers this offseason because they don't know if they'll be back.
Santonio Holmes
and
Braylon Edwards
are free agents. But receiver
Jerricho Cotchery
and tight end
Dustin Keller
are on the roster.
Buffalo Bills
Even if the Bills draft a quarterback, a long lockout probably would ensure Fitzpatrick remains the starter by wiping out rookie camps and other critical orientation time. Fitzpatrick is a savvy veteran, a calming influence for the Bills' offense. He incorporates head coach Chan Gailey's concepts and has the support of his locker room.
Based on how Fitzpatrick played as the season wore on, there's no reason to believe the Bills suffered from a lack of chemistry. When receivers
Roscoe Parrish
and
Lee Evans
went down with injuries, Fitzpatrick had no trouble getting undrafted rookies
David Nelson
and
Donald Jones
involved.
But the Bills still could benefit from informal practices during a work stoppage. Top receiver
Steve Johnson
told me this week they have none scheduled.
Miami Dolphins
Henne created a stir when he divulged he had been, against the NFL's wishes, going over the playbook with new offensive coordinator Brian Daboll and new quarterbacks coach Karl Dorrell. The NFL declined to pursue, and that was doubly good news for the Dolphins. They avoided punishment and got a head start before the league turned into a pumpkin.
But Henne would appear to be at a disadvantage despite the extra help. The Dolphins have declined to give him any kind of legitimate public endorsement. He's entering his fourth season, presents more questions than answers and is working with a new playbook. Top receiver
Brandon Marshall
suggested after the season he had more chemistry with third-string quarterback
Tyler Thigpen
than Henne.
Henne also revealed the Dolphins have informal workouts and a location arranged. That's much easier to do in Broward County than, say, Western New York. Good thing, too, because Henne can use all the help he can get to morph into the franchise quarterback the Dolphins hoped he would be.
February, 10, 2011
2/10/11
9:09
PM ET
The
New York Jets
won't let a conference opponent cherry-pick their coaching staff for an offensive coordinator.
The Jets already have announced they're keeping Brian Schottenheimer around, and they've spurned a team's request to speak to another assistant about becoming a coordinator.
ESPN.com senior writer John Clayton reports the
Tennessee Titans
approached the Jets about
offensive line coach Bill Callahan filling their coordinator vacancy
. The Jets declined because Callahan is under contract.
Callahan has overseen one of the NFL's best offensive lines the past three seasons. The Jets feature All-Pro center
Nick Mangold
and Pro Bowl left tackle
D'Brickashaw Ferguson
. Right guard
Brandon Moore
and right tackle
Damien Woody
are highly respected in the league.
Clayton, citing an unnamed source, said Callahan would like to be a coordinator again to enhance his allure as a future head coach candidate. Callahan was
Oakland Raiders
offensive coordinator for four years before being promoted to head coach in 2002. He became the fourth first-year head coach to take his team to the Super Bowl.
Callahan lasted only two seasons in Oakland. He became head coach at Nebraska and introduced the West Coast offense to a traditional ground-and-pound program.
Jets quarterbacks coach Matt Cavanaugh also has significant coordinator experience. He handled play-calling duties for the
Chicago Bears
,
Baltimore Ravens
and the University of Pittsburgh.
January, 21, 2011
1/21/11
3:27
PM ET
New York Jets
icon Joe Namath was a guest on "Mike & Mike in the Morning" and declared last week's victory against the
New England Patriots
second only to Super Bowl III in franchise history.
A triumph Sunday against the
Pittsburgh Steelers
at Heinz Field would knock last week's monumental game down a peg to No. 3 in the Jets' all-time order. It would send the Jets back to the Super Bowl -- finally.
"The Jets haven't played their best football yet. I believe that," said Namath, who
predicted a Patriots victory against the Jets last week at Gillette Stadium
. "I think they've improved over the season, and these last couple of games have been tremendous confidence builders.
"They know what they have to do, and that's not beat themselves. They need to play a game where they don't make the kind of self-destructing errors that they had earlier in the season with the broken assignments and the penalties and the turnovers."
Namath dismissed the notion Jets quarterback
Mark Sanchez
might wilt from the intensity of Sunday night's do-or-die showdown.
"For anyone to think that this big game is any different than the big games that Sanchez has faced in his young career, they're wrong, man," Namath said. "This fella's played already five playoff games and has done a fine job. I don't think Sanchez is going to be overwhelmed one little bit with this opportunity."
September, 1, 2010
9/01/10
11:40
PM ET
Rex Ryan is the face of the
New York Jets
and the star of the HBO series "Hard Knocks."
The head coach apparently is wary of not only being in front as a leader, but also alone.
In the latest episode of "Hard Knocks," an exasperated Ryan scolds his team for a growing lack of professionalism and a dearth of demonstrable leadership.
Previous scenes showed offensive coaches bemoaning a lack of confidence, veteran pass-rusher
Jason Taylor
showing up late multiple times and defensive players groping into a McDonald's bag for cheeseburgers
during
warmups for a practice at Hofstra University.
Ryan's speech to his players the night before playing the
Washington Redskins
:
"You guys know me, that I'm about as positive a guy as there is. I believe our team is better than every [expletive] team in the league. I believe our players are better than any players in the league, right? Those are true statements. That's how I believe.

"But the team's only going so far if I'm the only guy that leads. The team is only going so far. I'm not a great leader, OK? I'm not a great leader. I can't lead myself, this whole group of men. We ain't going to win, guys, if it's about me.

"I'm sitting back for us, waiting for us to understand the team that we said we're going to be. What the hell are we waiting on? What are we waiting on? Do you want it or not? Do you understand there's a price to pay?

"Can we have fun? You're damn right. I demand that we have fun. Now there's a difference between having fun and being a jackass. Our defense was a jackass when we went to Hofstra, eating a bunch of [expletive] cheeseburgers before we go stretch and all that. That's being a jackass.

"You can be a world champion, but not like this. We won't win it. We'll sit back and say 'Why didn't we do it?' We didn't do it because 'Where were our [expletive] priorities?' How about our offense? When are we going to put it together? Can we not run the ball down their throats every snap? Can we not throw it any time we want to [expletive] throw it?

"Let's make sure we play like the [expletive] New York Jets and not some slap [expletive] team. That's what I want to see tomorrow. Do we understand what I want to [expletive] see tomorrow?"
Earlier in the show, offensive coordinator Brian Schottenheimer admits his players aren't showing much assertiveness. Quarterbacks coach Matt Cavanaugh and running backs coach Anthony Lynn agree.
"We have some really talented guys," Cavanaugh says. "But none of them motivate vocally the group. So they all kind of look to each other like 'Yeah, we're pretty talented. Somebody's going to make a play here,' instead of saying 'I'll take this [expletive] game over.' "
Other highlights on this episode (there's only one more):
January, 25, 2010
1/25/10
6:36
PM ET
The
New York Jets
no longer are the same team that came within a half of reaching the Super Bowl.
A transition to 2010 already has begun. The club on Monday
parted ways with four assistant coaches
and a consultant.
The changes won't impact the infrastructure of Rex Ryan's staff and mostly eliminates overkill. All of the aides answered to a primary position coach.
Gone are special teams coach Kevin O'Dea, assistant secondary coach Doug Plank, assistant quarterbacks coach John DeFilippo and defensive quality control assistant Brian Smith.
Plank, the most recognizable name and the inspiration for Buddy Ryan's 46 defense, was fired. The other three assistants didn't have their expired contracts renewed.
Plank helped secondary coach Dennis Thurman. DeFilippo, who coached the
Oakland Raiders
' quarterbacks for two seasons before joining the Jets, was an underling to quarterbacks coach Matt Cavanaugh. Jets offensive coordinator Brian Schottenheimer also is an accomplished QB guru.
O'Dea became redundant last year, when venerable special-teams coordinator Mike Westhoff returned from a brief retirement driven by medical issues. The Jets also have special-teams assistant Ben Kotwica.
Quality control coaches are tantamount to entry-level assistants. Smith had been with the Jets three seasons in that capacity.
Also leaving is pass-rushing consultant Chuck Smith, whom outside linebacker Clavin Pace credited with his big season. The former
Atlanta Falcons
defensive end helped out in training camp and was asked to stick around. He's leaving to become the University of Tennessee's defensive line coach.
November, 22, 2009
11/22/09
11:25
PM ET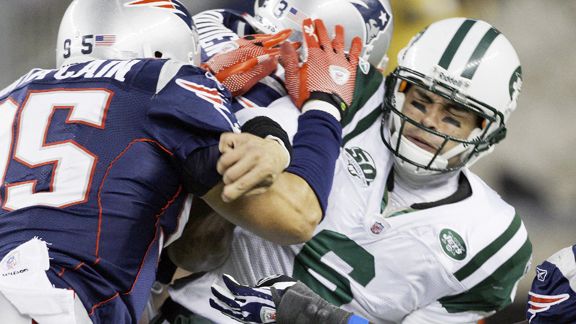 AP Photo/Charles KrupaNew England picked off four of Mark Sanchez's passes. Sanchez also lost a fumble.
FOXBOROUGH, Mass. -- The
New York Jets
squeezed tears out of their coach, but they couldn't squeeze production out of their rookie quarterback.
A quick scan of the box score will suggest the reason the
New England Patriots
won Sunday was
Wes Welker
's sublime performance. Maybe your eye will pick up
Tom Brady
's numbers, or the gargantuan discrepancy in first downs, total yards or time of possession.
But the problem that doomed the Jets, what eliminated any chance they had of winning in Gillette Stadium, sweeping the season series and keeping their playoff hopes from flatlining was
Mark Sanchez
.
What a donkey performance Sanchez turned in. He threw four interceptions. He committed three turnovers -- two picks and a fumble -- in the fourth quarter alone.
The Patriots converted Sanchez's giveaways into two touchdowns and a field goal.
They won 31-14
.
Patriots cornerback
Leigh Bodden
intercepted Sanchez three times, returning the first one 53 yards for a touchdown about nine minutes into the game. The play cast a pall over the rest of the game, and aside from a brief stretch in the third quarter where Sanchez appeared to collect himself, the Jets had no legitimate shot.
"They scored 17 points off of four turnovers by the quarterback, and that's how we lose," Sanchez said.
The Jets are 4-6, three games behind the Patriots and one game better than the last-place
Buffalo Bills
in the AFC East.
The tone surrounding the Jets' season has gone from inspiring to depressing, and their quarterback's performances have been corollary. He played like a veteran in the first few games yet has seemingly regressed.
After the game, Sanchez could be heard softly singing a song to himself as he buttoned up his dress shirt at his locker stall.
And maybe Jets coach Rex Ryan was whistling in the graveyard when he insisted he won't consider inserting veteran backup
Kellen Clemens
to give the rookie a break from what has turned into an unremitting series of disheartening displays.
"I don't think he's going to get any better sitting on the sideline," Ryan said of this year's fifth-overall draft pick. "Without question, he made a lot of mistakes today. There were some other guys that made a lot of mistakes as well. But he's got to learn from them.
"You can visualize all you want, watch tape and all that kind of stuff, carry a clipboard. But unless you get on the field, you're not going to get any better."
Sanchez has committed at least four turnovers three times this year.
He threw three interceptions (one for a touchdown) and lost a fumble (for a touchdown) in a 14-point loss to the
New Orleans Saints
in Week 4. He threw five interceptions in a sudden-death loss to the Buffalo Bills in Week 6.
Over the seven-game stretch in which the Jets have won one measly game and crumbled from Super Bowl contenders to AFC flotsam, Sanchez has thrown 14 interceptions and lost two fumbles.
That's more giveaways than a feel-good Oprah show. Of course, she leaves her audience giddy. Sanchez makes Jets fans queasy.
"I just tell him to pick his head up and keep playing football," Jets fullback
Tony Richardson
said, "because, obviously, he is very talented and can help this football team win.
"We are going to follow him 100 percent because he is the leader of this football team. When we watch the film, all of us could have done something to help win this ballgame. It's not just him."
Sanchez didn't have many answers Sunday. He said the first two interceptions were proper reads, but bad throws. He said the last two were the result of trying to do too much on plays that didn't work.
"Sometimes you just need to say 'Uncle' and end the play and be smart with the football," Sanchez said.
But he claimed he was prepared, said he was coming off his best practice week all year and threw only one incomplete pass Friday.
"I was feeling good about the gameplan," Sanchez said. "I knew it frontwards and backwards. But when you miss, a great defense like this will make you pay, and when you get down and try to create too much then they'll make you pay again.
"I've just got to progress and play smarter and not put the ball at risk."
Progress has been undetectable to anyone outside the organization.
"Would I say he's regressed? It's easy to say that when you compare to Week 2, but I think he's getting better," Ryan said.
Sanchez managed the Jets to a victory the first time they played the Patriots. He completed 14 of 22 attempts for 163 yards and one touchdown with zero interceptions at the Meadowlands in Week 2. He posted a 101.1 passer rating.
On Sunday, he was 8 of 21 for 136 yards and one touchdown -- a gorgeous, arcing 29-yard throw to
Jerricho Cotchery
. But those four interceptions left Sanchez with a 37.1 passer rating. His first half stat line was atrocious: 2 of 9 for 15 yards and two interceptions for a 0.0 rating.
"I'm learning a lot," Sanchez said. "It's hard to say by the stats that 'This kid's really improving,' but ... I've just got to take it one game at a time and then at the end of the season just look back at my performances and how I'm going to improve for next year."
Ryan admitted after the game he, offensive coordinator Brian Schottenheimer and quarterbacks coach Matt Cavanaugh might have to reassess their approach with Sanchez.
"Obviously, we've got to look at what we're asking him to do," Ryan said. "We've got to look in the mirror and see what we can do to help this guy.
"He's got all the tools. I think everybody sees that. We've just got to be patient with him. I think he's going to be an outstanding quarterback. I don't believe he's regressed to point where I would even consider ever benching him. He's our quarterback for the future, and he's our quarterback now."
February, 20, 2009
2/20/09
4:05
PM ET
Posted by ESPN.com's Tim Graham
INDIANAPOLIS -- New York Jets coach Rex Ryan found a veteran quarterback he liked and signed him.
But not the kind you'd envision.
Pelted with questions from reporters who aren't convinced the Jets' next quarterback is on their roster, Ryan explained a veteran presence already exists.
"If I could bring in a guy with 16 years NFL experience and, let's just say, two Super Bowls," Ryan said Friday at the NFL scouting combine, "I'd bring that guy in.
"That's what I did in hiring Matt Cavanaugh. So I think that's our veteran. We have a veteran quarterback presence in Matt Cavanaugh. I'm very comfortable with Matt being the mentor for these young quarterbacks."
The Jets hired Cavanaugh to be their quarterbacks coach. Cavanaugh, who played for four NFL teams, was the Baltimore Ravens' offensive coordinator when they won the Super Bowl. Ryan was their defensive line coach.
Cavanaugh also was the Chicago Bears offensive coordinator for two years and quarterbacks coach for the Arizona Cardinals and San Francisco 49ers. Ryan plucked him off the University of Pittsburgh staff.
Ryan has been consistent in his comments about how the Jets will replace Brett Favre.
The rookie head coach insists he's confident in Kellen Clemens, Brett Ratliff and Erik Ainge and that there will be an open competition. Ryan said "If you ask the organization, it's probably split right down the middle, who they think can do it" and called Ainge "the dark horse."
The Jets haven't denied they might draft a quarterback. They've interviewed the top-rated passers at the Senior Bowl and the combine.
But on the topic of bringing in a veteran, Ryan's response about Cavanaugh seemed to indicate they won't be on the lookout.
"The first thing I would think is, 'To do what? To be the backup quarterback?' " Ryan asked.
February, 9, 2009
2/09/09
8:11
PM ET
Posted by ESPN.com's Tim Graham
New York Jets rookie head coach Rex Ryan is placing the final touches on his staff.
The club on Monday announced the expected hire of quarterbacks coach Matt Cavanaugh and assistant quarterbacks coach John DeFilippo.
The Jets also promoted Ben Kotwica from defensive quality control coach to assistant special teams coach and switched Brian Smith from offensive quality control to defensive.
There aren't any major openings left to fill. Ryan retained offensive coordinator Brian Schottenheimer and previously hired Baltimore Ravens linebackers coach Mike Pettine as defensive coordinator. Ryan brought Mike Westhoff back to run special teams.
Cavanaugh spent the past four seasons as offensive coordinator for the University of Pittsburgh. He has been offensive coordinator for the Ravens (1999-2004) and Chicago Bears (1997-98). He played 14 seasons as a quarterback for the New England Patriots, San Francisco 49ers, Philadelphia Eagles and New York Giants.

DeFilippo spent the past two seasons as quarterbacks coach of the Oakland Raiders. He was offensive quality control assistant for the Giants two years before that.
Jets Staff: Who's In, Who's Out?
Position
Who's in?
Where from?
Who's out?
Where to?
Quarterbacks
Matt Cavanaugh
Pitt

Brian Daboll
Browns
Asst. quarterbacks

John DeFilippo
Raiders
--
--
Special teams

Ben Kotwica

Jets

Kevin O'Dea

Unattached

Running backs
Anthony Lynn
Browns
Jimmy Raye
49ers

Receivers
Henry Ellard
Rams
Noel Mazzone
Unattached
Defensive coordinator
Mike Pettine
Ravens
Bob Sutton
Jets
Defensive line
Kerry Locklin

Fresno State

Dan Quinn
Seahawks
Asst. D-line
--

--
Bryan Cox
Browns
Linebackers
Bob Sutton
Jets
Jim Hermann
Giants
Secondary
Dennis Thurman
Ravens
Jerome Henderson
Browns
Asst. secondary
Doug Plank
Falcons
--
--
Defensive quality
Jim O'Neil
E. Michigan
Andy Dickerson
Browns
Defensive asst.
Jeff Weeks
Raiders
--
--
February, 5, 2009
2/05/09
10:19
AM ET
Posted by ESPN.com's Tim Graham
New York Jets
Buffalo Bills
Miami Dolphins
New England Patriots