February, 6, 2014
Feb 6
3:00
PM ET
ESPN draft analysts
Mel Kiper Jr.

and
Todd McShay

revealed their latest mock drafts Thursday, with the following selections for the
New York Jets
(No. 18 overall):

Kiper
:
Marqise Lee
, wide receiver, USC
McShay
:
Brandin Cooks
, wide receiver, Oregon State
My take
: McShay deals a curveball with the Cooks pick. As far as I can tell, this is the first mock draft in which Cooks has been linked to the Jets. In McShay's 2.0, the top three wideouts -- Lee,
Sammy Watkins
(Clemson) and
Mike Evans
(Texas A&M) are off the board by the time the Jets pick -- a scenario that could play out on draft day. Cooks put up monster numbers last season as a junior (128 receptions, 1,730 yards and 16 touchdowns), but be careful: He played on a pass-happy team in a pass-happy conference. Cooks is closer to being a possession receiver than a game-breaker (averaged only 13.5 yards per catch), and the Jets -- in a perfect world -- need a home run threat. Nevertheless, McShay raises a potential dilemma for the Jets: If the top three are gone, do they pick for need (wide receiver) or take another position?
Kiper has been consistent with Lee going to the Jets; it was the pick in his 1.0 mock. I've said it before about Lee: He looked like a top-five pick in 2012, but his production dropped in half last season when he was nicked up. Like Cooks, Lee is an underclassman, adding importance to the upcoming scouting combine. Teams don't have exact measureables on the underclassmen, so the spotlight will be intense at the combine.
February, 6, 2014
Feb 6
11:25
AM ET
Should the
New York Jets
draft another quarterback? Yes, according to ESPN draft analyst Mel Kiper Jr. But not in the first round (No. 18 overall).
Smith
"I'd try to help
Geno Smith
and get a receiver like
Marqise Lee
(at 18), but you must look at some insurance if Smith is not the guy," Kiper Jr. said Thursday on a media conference call, adding: "I would look at the quarterback position in the third, fourth, fifth round, just as insurance, but I would use the early rounds to help out Geno Smith, and let him have some weapons around him to assist in his development."
I agree with Kiper Jr.; I think the Jets will add a developmental quarterback in the draft
and
acquire a veteran, providing competition for Smith and
Matt Simms
. General manager John Idzik is all about competition, especially at quarterback.
Kiper named four mid-round possibilities for the Jets:
Jimmy Garoppolo
, Eastern Illinois
Zach Mettenberger
, LSU
Aaron Murray
, Georgia
David Fales
, San Jose State
January, 23, 2014
Jan 23
5:00
PM ET
One of our first instincts following the NFL draft is to assess how teams fared in the process.

Following last year's draft, ESPN NFL draft expert Mel Kiper Jr. graded the Patriots' class as a C+, noting at the time: "I don't see a starter out of this draft in the short-term, but they added players with some really good traits. It's just a matter of development now."
With a full season of tape study under his belt, Kiper has re-graded each team's draft class, and the Patriots' mark improved to a B.
"Is there a star in this draft, or even a Pro Bowl-caliber player? Maybe not," Kiper writes. "But that doesn't mean the Patriots didn't do an incredible job of plugging gaps with rookies they drafted and those they picked up as undrafted free agents to keep the ship afloat as long as they did."
"Bill Belichick deserves a lot of credit for utilizing these guys to the best of their ability, but there isn't anyone who wows you in this class," Kiper also writes. "Still, the grade definitely jumps."
He also notes that the Patriots had the second most snaps played by a rookie class in the NFL, according to ESPN Stats & Info, while the team used 13 rookies in total.
Each of the seven drafted players made the active roster for the Patriots, with
Logan Ryan
,
Aaron Dobson
,
Jamie Collins
and
Duron Harmon
as the primary contributors.
Defensive tackle
Chris Jones
, a sixth-round pick of the Texans, and undrafted defensive tackle
Joe Vellano
also played extensively.
To see Kiper's full take on the draft re-grades (Insider content), click
HERE
.
May, 16, 2013
5/16/13
5:00
PM ET
Quarterbacks are the lifeblood of any NFL organization. With a franchise quarterback, a team can consistently contend. Without a quality quarterback, it's difficult to even make the playoffs.
Therefore, it's never too early to take a look at
2014 quarterback rankings

from ESPN's Mel Kiper Jr. Here is an early projection of the top signal-callers in next year's draft.
The 2014 quarterback class is stronger than this year's -- assuming Bridgewater and Manziel indeed decide to leave school early. The top three are Heisman Trophy candidates with a lot of hype. If this trio stays healthy and productive, teams will be looking at each prospect as a future first-round pick.
The AFC East saw two teams draft top-rated quarterbacks this year. The
Buffalo Bills
selected
EJ Manuel
No. 16 overall in the first round, and the
New York Jets
took
Geno Smith
No. 39, near the top of the second round. If both players show promise this season, the entire division could be out of the quarterback market.
The
New England Patriots
are set at quarterback with future Hall of Famer
Tom Brady
and young backup
Ryan Mallett
. The
Miami Dolphins
also believe they have a franchise quarterback in
Ryan Tannehill
. The 2012 first-round pick showed flashes as a rookie and is set to enter a crucial second season.
January, 16, 2013
1/16/13
12:00
PM ET
The NFL playoffs are down to the final four teams, which includes the New England Patriots. But it's never too early to begin predicting what will happen in April's NFL draft.
ESPN draft expert Mel Kiper Jr. produced
his first mock draft

of 2013.
Let's take a look at how he sees the draft going for the AFC East.

No. 8: Buffalo Bills
Kiper's pick:
Manti Te'o
, MLB, Notre Dame
Analysis:
This selection seemed like a good fit until recently. For starters, I didn't like what I saw from Te'o in the national championship game facing elite competition. Alabama exposed some holes in Te'o's game that could show up more consistently at the NFL level. Second, Buffalo's hire of Mike Pettine means the Bills will run a lot of 3-4 defense. That means Te'o must have the size and athleticism to attack or get around 300-pound NFL guards on a consistent basis. Alabama's guards consistently punished Te'o. He brings a lot to the table such as physicality, character and leadership. But Buffalo may be better served getting a linebacker with elite athleticism or filling another position.

No. 9: New York Jets
Kiper's pick:
Barkevious Mingo
, DE, LSU
Analysis:
I disagree with Kiper on this pick. Yes, Jets head coach Rex Ryan loves his defense. However, New York spent back-to-back first-round picks on its front seven by taking Muhammad Wilkerson (2011) and Quinton Coples (2012). Adding Mingo in the first round would seem like overkill when the Jets have plenty of needs, such as quarterback, receiver, tight end and safety. I think the Jets should draft offense for once and start focusing on scoring more points. New York can no longer try to win games 17-14.

No. 12: Miami Dolphins
Kiper's pick:
Cordarrelle Patterson
, WR, Tennessee
Analysis:
It's hard to gauge who is the best receiver in this draft and whether that player will be worth a top-12 pick. However, Kiper pegs Patterson as the first receiver off the board going to the Dolphins. It's early and player stocks change. But as of right now, I'm not convinced Patterson,
Keenan Allen
or any receiver in this year's draft should go in the first dozen picks. This feels a bit like a reach. However, Miami needs receivers to help develop rookie quarterback Ryan Tannehill.

No. 31: New England Patriots
Kiper's pick:
DeAndre Hopkins
, WR, Clemson
Analysis:
Wide receiver is a sleeper need for the Patriots. They score so many points that you sometimes forget depth is an issue and Pro Bowl receiver Wes Welker is about to become an unrestricted free agent. New England needs to add youth and athleticism to this group and Hopkins can provide it. His numbers were off the charts. Hopkins caught 82 receptions for 1,405 yards and 18 touchdowns. New England has the luxury of taking the best available player, but adding an athletic receiver is not a bad choice.
January, 3, 2013
1/03/13
2:30
PM ET


There are no sure-fire quarterback prospects in this year's draft, much like last year's
Andrew Luck
and
Robert Griffin III
. There wasn't a team in the league last year who doubted these two players were capable of leading NFL franchises. To no surprise, both rookie quarterbacks are making their postseason debuts this weekend.
But when it comes to this year's quarterback draft class, opinions are all over the place. That includes ESPN draft gurus Mel Kiper Jr. and Todd McShay. Both have different quarterbacks at the top of their early rankings.
Kiper likes

N.C. State's
Mike Glennon
as the No. 1 college quarterback.
McShay still

likes
Geno Smith
of West Virginia. Neither are top-20 prospects at this stage, according to Kiper and McShay. But these are their picks to be the first quarterback off the board.
This is bad news for the
Buffalo Bills
and
New York Jets
. Both will be looking for franchise quarterbacks in the offseason and have top-10 picks. But this is a very difficult draft to find one, especially early in the first round. Glennon and Smith both struggled mightily in their bowl games and showed a lot of flaws that can be exposed by NFL defenses.
Free agency may be the best route to find an immediate starter this year. The Bills have some cap room to work with
and can get rid
of
Ryan Fitzpatrick
and his non-guaranteed $7.45 million in 2013. The Jets are very tight on the cap, partly due to
Mark Sanchez
's guaranteed $8.25 million
salary next season
.
April, 29, 2012
4/29/12
10:00
AM ET
The 2012 NFL draft grades are officially in, and ESPN draft expert Mel Kiper Jr.
provided immediate reaction

to the selections in the AFC East.
Here is how the division fared:
These are mediocre draft grades for the division. The AFC East averaged about a C+ in Kiper's view.
I'm not a huge fan of grading drafts immediately after they happen. I prefer to wait at least a couple years to see how players pan out at the next level, which is a more accurate gauge.
Do you agree with Kiper's grades? Saturday night I went on Twitter to get instant reaction from AFC East fans, and most seemed happy with their respective teams. We won't start to know for sure until these rookies hit the field in the fall.
April, 25, 2012
4/25/12
5:30
PM ET
The time for mock drafts is coming to an end, as the actual NFL draft will be Thursday night. But ESPN draft experts Mel Kiper Jr. and Todd McShay provided their final mock drafts of 2012.
Here is how
Kiper

and
McShay

envision the first round going this week for the AFC East:

Miami Dolphins (No. 8 overall)
Kiper's pick:
Texas A&M QB
Ryan Tannehill
McShay's pick:
Tannehill
Analysis:
I haven't seen a mock draft in a while that doesn't have Tannehill going to Miami. The need for a quarterback of the future and Miami's interest in Tannehill are obvious. If he's there at No. 8, I agree that Tennehill is the pick. There's been some speculation that Tannehill could go as high as No. 3 or No. 4, but that rumor appears to be losing steam the week of the draft. Miami likes Tannehill, but certainly not enough to trade the farm. The Dolphins can sit tight and take their chances.

Buffalo Bills (No. 10)
Kiper's pick:
Notre Dame WR
Michael Floyd
McShay's pick:
Floyd
Analysis:
Both Kiper and McShay also agree on Buffalo's pick. As we mentioned several times in the AFC East blog, the Bills are in somewhat of an odd spot. I like Floyd as a prospect and he does fit a need. But I'm not a big proponent of taking wide receivers in the top 10, especially if they're not the top player at the position. I think the safest pick for Buffalo at No. 10 would be linebacker
Luke Kuechly
, but McShay and Kiper both have Kuechly off the board when Buffalo comes up. Floyd is a decent pick, but I would rather Buffalo trade back and get additional draft picks, if possible. Other receiver prospects such as
Stephen Hill
or
Alshon Jeffery
might be available to Buffalo at No. 41 near the top of the second round, and that would provide more value.

New York Jets (No. 16)
Kiper's pick:
North Carolina DE
Quinton Coples
McShay's pick:
South Carolina DE
Melvin Ingram
Analysis:
These are both interesting selections for the Jets. New York would be jumping for joy if Ingram is available at No. 16. It's one of the worst-kept secrets in the draft that the Jets are high on Ingram. He can add a pass-rush to Rex Ryan's defense. However, I'm skeptical that arguably the best pass-rusher in the draft will make it this far. Coples is a player whose stock is taking a dip. There are questions about his motor. I also think Coples is a better fit as a traditional 4-3 defensive end, as oppose to playing in a 3-4. Coples would be a decent value at No. 16, but he doesn't fit New York's scheme as well as Ingram.

New England Patriots (No. 27 and No. 31)
Kiper's picks:
Alabama OLB
Courtney Upshaw
and Notre Dame S
Harrison Smith
McShay's picks:
Boise State OLB
Shea McClellin
and Smith
Analysis:
Smith is being linked to New England a lot, and he is a prospect who is rising up the draft boards. The Patriots need help for their 31st-ranked pass defense. Smith has a good mix of intelligence and athleticism New England could use in its secondary. Both Kiper and McShay see the Patriots going outside linebacker with the No. 27 pick. I don't think New England could go wrong with Upshaw or McClellin. Both bring a good pass-rush.
February, 16, 2012
2/16/12
8:00
AM ET
Here are the most interesting stories Thursday morning in the AFC East:
Morning take: The Jets have been avoiding the Manning topic. They won't say they will pursue Manning, but they won't say they won't. Either way, I doubt the Jets would have a great chance.
Morning take: Kiper has the Patriots choosing Marshall outside linebacker Vinny Curry and defensive tackle Kendall Reyes of Connecticut. I would prefer New England to address the secondary at least once in the first round.
Morning take: This pick improved from a sixth-rounder based on Lynch's production. Every bit in the draft helps.
Morning take: Miami doesn't really need help at running back, but depth at this position is always needed. Messam will join a talented group that includes Reggie Bush and Daniel Thomas.
January, 18, 2012
1/18/12
4:15
PM ET
The
New England Patriots
are still playing in the AFC Championship Game Sunday. But it's not too early to start thinking about the NFL draft.
ESPN draft expert Mel Kiper Jr. provided
his first mock draft

of 2012. Here is what Kiper projects so far for the AFC East.

Miami Dolphins (6-10)
Pick:
No. 9
Kiper's selection:
Riley Reiff
, OT, Iowa
Walker's analysis:
Reiff is a good player and the Dolphins need an upgrade at right tackle. I see where Kiper is going here. But I'm not sure drafting that position in the top 10 is the best way to energize Miami's fan base. The Dolphins have already fiddled around with their coaching search. They won't hire a big name after losing out on Jeff Fisher. The best way to make up for it is to make a splash in the draft. I expect Miami to try to move up to get Baylor quarterback
Robert Griffin
III. But it's also hard to predict Miami without a head coach in place.

Buffalo Bills (6-10)
Pick:
No. 10
Kiper's selection:
Courtney Upshaw
, LB, Alabama
Walker's analysis:
With
Quinton Coples
likely off the board, Upshaw would be a solid pick for the Bills. This was reunite Upshaw with former college teammate Marcell Dareus, Buffalo's 2011 first-round pick. Upshaw has the ability to rush the passer, which is needed. He's also a productive talent. Buffalo could also look at other positions like the secondary and wide receiver, depending on what happens with free agent Steve Johnson.

New York Jets (8-8)
Pick:
No. 16
Kiper's selection:
Mark Barron
, S, Alabama
Walker's analysis:
Barron is another impact player from Alabama's great defense. The Jets have several needs, and a big one is at safety. New York may need two starting safeties. Jim Leonhard is a free agent coming off a season-ending knee injury, and Eric Smith had a brutal season. Top reserve Brodney Pool also is a free agent. Opponents took advantage of the Jets by avoiding their corners and exposing their safeties this season. Barron could step in right away and start in New York.

New England Patriots (13-3)
Pick:
No. 27 and No. 32
Kiper's selection:
Michael Brockers
, DL, LSU;
Andre Branch
, LB, Clemson
Walker's analysis:
We know for sure the Patriots will pick No. 27, because it's from the
New Orleans Saints
, who are out of the playoffs. But I thought it was interesting that Kiper also has New England picking No. 32. Did Kiper predict the Patriots will win the Super Bowl over the
San Francisco 49ers
(pick No. 31)? Anyway, I like that Kiper went defense and defense in the first round. But I think the positions could be different. The Patriots have some depth on the defensive line. They can address that in the later rounds. But New England has to address the secondary. It doesn't matter if it is at safety, corner or both. The Patriots need depth to improve their 31st-ranking pass defense. But a lot of it depends on who is available at the end of the first round.
January, 11, 2012
1/11/12
4:19
PM ET
The regular season is over and the grades are in for the 2011 draft.
ESPN draft guru Mel Kiper Jr. took a look back at the rookie production Wednesday. Here are his grades for the AFC East:

Buffalo Bills (6-10)
Key draft picks:
DL
Marcell Dareus
(first), CB
Aaron Williams
(second), OT
Chris Hairston
(fourth)
Kiper's grade:
B+
Analysis:
The Bills had a solid draft. Dareus took over some games for Buffalo and showed he could play defensive end and defensive tackle in a 3-4 defense. Dareus and a healthy defensive tackle
Kyle Williams
next year will be a tough pair to block. Williams had some injuries but showed enough flashes of potential. Hairston and third-round linebacker
Kelvin Sheppard
both filled in with mixed results when starters were injured. Those two should provide depth next year. The key is Buffalo didn't miss on many of its picks. But there's really no home runs in this group, with the exception of Dareus.

Miami Dolphins (6-10)

Key draft picks:
C
Mike Pouncey
(first), RB
Daniel Thomas
(second), FB
Charles Clay
(sixth)
Kiper's grade:
B
Analysis:
I liked Miami's draft this year, and it was a key ingredient for general manager Jeff Ireland to save his job. Miami only had six picks but made the most of them by getting five contributors. Pouncey is the present and future at center for the Dolphins and should be the starter there for the next decade. Miami also found its future backfield with Thomas at tailback and Clay at fullback. Both had great moments this season.
Clyde Gates
is fun to watch returning kicks. Even seventh-round corner
Jimmy Wilson
played 15 games (one start) and had one interception and a forced fumble.

New England Patriots (13-3)
Key draft picks:
OT
Nate Solder
(first), RB
Stevan Ridley
(third), CB
Ras-I Dowling
(second)
Kiper's grade:
C+
Analysis:
New England head coach Bill Belichick has been criticized for his drafts in recent years. He often trades down and takes a lot of players, and many times that leads to misses. Belichick drafted nine players this year with a few decent gems. Solder looks solid and could be a starting offensive tackle for a long time. He filled in for the injured
Sebastian Vollmer
and even played the extra blocking tight end position well. Ridley rushed for 441 yards this season. New England has a ton of running backs but it was Ridley who came on strong late in the year. I think New England was really counting on second-round corner Dowling to make a contribution, at least in sub packages. He has promise. But Dowling was hurt all year and the Patriots had no depth remaining in the secondary. New England was 31st in the league against the pass.

New York Jets (8-8)
Key draft picks:
DE
Muhammad Wilkerson
(first), WR
Jeremy Kerley
(fifth), QB
Greg McElroy
(seventh)
Kiper's grade:
C+
Analysis:
The Jets didn't get much rookie production with the exception of two players. Wilkerson started all 16 games and recorded 49 tackles and three sacks. He has a bright future. Kerley was a nice surprise for the Jets. He was good on special teams and eventually helped at receiver. We only mention McElroy because he recently caused a big stir by calling out the Jets and their toxic locker room in a radio interview. It may hurt his chances to return. But, from the sound of it, McElroy probably wouldn't mind a change of scenery.
November, 18, 2011
11/18/11
11:00
AM ET
The
Miami Dolphins
have won two in a row and have played themselves out of being front-runners in the Andrew Luck sweepstakes.
So where do the Dolphins go from here?
Miami (2-7) is in a four-way tie with the
Carolina Panthers
,
Minnesota Vikings
and
St. Louis Rams
for the second-worst record in the NFL. If the season ended today, the Dolphins would draft anywhere between the No. 2 and No. 5 picks next April.
[+] Enlarge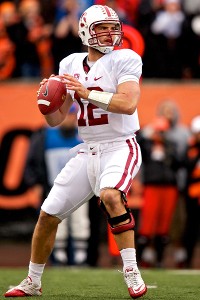 Craig Mitchelldyer/Getty ImagesAfter winning back-to-back games, the Dolphins may not get a chance to draft quarterback Andrew Luck.
That can certainly change as the season progresses. For example, the Dolphins are playing their best football of the season and seem to be relishing the spoiler role in November and December. Still, Miami seems destined for a top-10 pick.
With that said, here is a look at the top of ESPN draft analyst
Mel Kiper's Big Board
:
1. Andrew Luck, QB, Stanford

2. Matt Kalil, OT, USC

3. Trent Richardson, RB, Alabama

4. Landry Jones, QB, Oklahoma

5. Justin Blackmon, WR, Oklahoma State

6. Morris Claiborne, CB, LSU

7. Jonathan Martin, OT, Stanford

8. Quinton Coples, DE, North Carolina

9. Riley Rieff, OT, Iowa

10. Matt Barkley, QB, USC
A few things stand out. For starters, the Dolphins do not have needs at several of these positions.
There are three left tackles -- Kalil, Martin and Rieff -- in the top 10 that Miami would surely pass on. Miami already has one of the NFL's top left tackles in
Jake Long
, who was the No. 1 overall pick just three years ago.
Running back also isn't a need. Miami's
Reggie Bush
is playing well and rookie tailback
Daniel Thomas
is a prospect for the future the Dolphins really like. That rules out Trent Richardson.
Quarterback seems to be the most likely option. Luck seems to be out for now, and there are mixed reviews on Jones and Barkley. Kiper seems very high on Jones, deeming him the fourth-best prospect in the draft. If Miami wins a few more games and falls out of the top five, perhaps Barkley becomes an option.
Miami quarterback
Chad Henne
is coming off season-ending shoulder surgery and his contract is up after the season. He probably won't return. Backup
Matt Moore
has played well and has one year left on his contract. Depending on what happens the rest of the year, Moore could compete with Miami's top pick or buy time for the rookie to eventually take over long term.
But so much can change between now and April, especially if the Dolphins clean house after the season. The new people in charge may have their own blueprint on how to fix the team.