November, 17, 2011
11/17/11
7:00
AM ET
Here are the most interesting stories Thursday morning in the AFC East:
Morning take: Nothing against Mercury Morris. But why does the media always go to him when there's an undefeated team late in the season? There were plenty of great players from the unbeaten 1972 Dolphins. Let's hear their thoughts as well.
Morning take: For all the criticism of New England's defense, this group is solid against the run, ranking ninth in the NFL in yards allowed per game. Wilfork is a major reason. He's even helped the pass defense with a couple of unexpected interceptions.
Morning take: Where would the Bills be without Levitre? He may be the only lineman to start at guard, tackle and center this season.
Morning take: I'm excited to watch this game. I've seen both teams play in person this year and think it's an interesting style matchup. We will have plenty on this game throughout the day.
May, 23, 2011
5/23/11
10:58
AM ET
In honor of
Chad Ochocinco
's recent bull-riding exhibition, NFL.com blogger Adam Rank listed
the "top six NFL divas who need to go away."
There was a strong AFC East thread:
1972 Dolphins
Chad Ochocinco and Terrell Owens, Bengals receivers
Jay Cutler, Bears quarterback
Mark Sanchez, Jets quarterback
LaDainian Tomlinson, Jets running back
Albert Haynesworth, Redskins defensive tackle
Mercury Morris, the outspoken running back from that undefeated Dolphins team,
took offense in an interview with "The Finsiders,"
a podcast produced by the team.
"That's why you have these sour grapes like people calling us a diva," Morris said. "People don't really understand what it takes to get there. They think it's simply winning, it's more than that. Because of the 4,680 tries that they've had since the National Football League came into existence, it's only happened one time, and we're sitting in that seat."
June, 30, 2010
6/30/10
1:00
PM ET
Notable players:
QB Bob Griese, QB Earl Morrall, RB Larry Csonka, RB Mercury Morris, WR Paul Warfield, C Jim Langer, G Bob Kuechenberg, G Larry Little, DE Bill Stanfill, MLB Nick Buoniconti, SS Jake Scott, FS Dick Anderson.
[+] Enlarge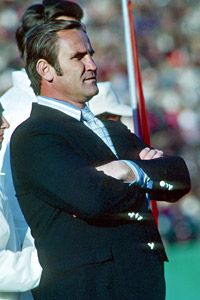 Malcolm Emmons/US PresswireDon Shula guided the 1972 Dolphins to a 17-0 record.
Analysis:
As it turns out, you can argue with perfection.
The obvious choice for the greatest team in
Miami Dolphins
history is 1972, the historic season in which they went undefeated and claimed their first championship.
But some important members of that team have claimed the 1973 edition was even better, although it lost two games against better competition before closing out the season with its second straight Super Bowl victory.
"The question is, do I think my team is better than it was a year ago?" coach Don Shula said after the follow-up title. "There's no question about it. I think we're a better football team than we were a year ago at this time. I think we've gone one step beyond last year's football team. Even though we were 17-0, a perfect season, going back-to-back on Super Bowls is more meaningful."
With all due respect to Coach Shula, perfection won't take a backseat here.
The '72 Dolphins played a pretty feeble schedule, but they ranked first in total offense, scoring offense, total defense and scoring defense. They beat their opponents by an average margin of 15.3 points in the regular season despite losing Griese to a broken ankle in October.
In the playoffs, they dispatched a pair of teams with double-digit victories, the
Cleveland Browns
and
Pittsburgh Steelers
.
The Dolphins easily beat the NFC's top-seeded
Washington Redskins
in the Super Bowl and would have shut them out if not for Garo Yepremian's flubbed field goal that turned into the Redskins' only points.
Most impressive win:
Down 10-7 in the third quarter and on the road against the Steelers in the AFC Championship Game, Griese replaced Morrall and directed a pair of touchdown drives in a 21-17 victory.
Forgiving schedule:
The Dolphins feasted on a schedule that was one of the weakest in NFL history. In the regular season, they played no playoff clubs and just two that finished with winning records. Six opponents won four or fewer games. The combined record of their regular-season foes was 70-122-4.
Honorable mention
1973:
Some assert Miami's back-to-back championship team was better than the one that went undefeated. It held opponents to single-digit points eight times, including the
Minnesota Vikings
in the Super Bowl.
1984:
Dan Marino
threw for 5,084 yards in propelling the Dolphins to a 14-2 record and the AFC championship. Marino's lone Super Bowl appearance ended in a miserable loss to the
San Francisco 49ers
.
1971:
Miami's motivation for its historic 1972 season was losing the Super Bowl to the
Dallas Cowboys
after going 10-3-1 and shutting out the Baltimore Colts in the AFC Championship Game.
1983:
Marino's rookie season was electric. He took over for David Woodley, who had guided the Dolphins to the Super Bowl in a strike-shortened season. Even more impressive was the No. 1-rated Killer B's defense.
April, 18, 2010
4/18/10
12:09
PM ET
In case you overlooked it, NFL editor Sheldon Spencer delivered an impressive series in which he assembled the best teams by draft round in NFL history.
The project was considerable, and the results make for a fun read.
A breakdown of AFC East representatives underscores how important a strong draft is to winning championships. All but a handful of those players belonged to a team that was great for a long time.
Five players who made the cut played for the
Miami Dolphins
' undefeated 1972 squad and won multiple Super Bowls.
Seven more played in at least on Super Bowl for the
New England Patriots
, with three joining as free agents.
Three played in four straight Super Bowls for the
Buffalo Bills
.
Before you take a look at the list, check out Spencer's explanation of
how the draft all-stars were selected
.
First round:
Bills defensive end
Bruce Smith
, Patriots defensive end
Richard Seymour
, Chargers linebacker
Junior Seau
(Dolphins, Patriots).
Second round:
Bills running back
Thurman Thomas
(Dolphins), Dolphins center Dwight Stephenson, Dolphins defensive tackle Bob Baumhower.
Third round:
Dolphins running back Mercury Morris, 49ers receiver
Terrell Owens
(Bills), Patriots linebacker
Tedy Bruschi
.
Fourth round:
Bills receiver
Andre Reed
, Patriots cornerback
Asante Samuel
.
Fifth round:
Dolphins running back Jim Kiick, Patriots tight end
Ben Coates
, Dolphins linebacker
Zach Thomas
, Chargers safety
Rodney Harrison
(Patriots).
Sixth round:
Patriots quarterback
Tom Brady
, Jets defensive tackle Joe Klecko, Dolphins defensive end Doug Betters, Ravens outside linebacker
Adalius Thomas
(Patriots).
Seventh round plus:
Dolphins defensive tackle Manny Fernandez, Ravens linebacker
Bart Scott
(Jets).
February, 4, 2010
2/04/10
9:44
AM ET
Mercury Morris, a running back for the Miami Dolphins' undefeated 1972 team, talks about being a part of the NFL's last unbeaten team after the Indianapolis Colts and New Orleans Saints made legitimate runs at the feat this season.
December, 27, 2009
12/27/09
7:43
PM ET
We haven't heard much out of Mercury Morris lately, but now that the
New Orleans Saints
and
Indianapolis Colts
have marks in their loss column, maybe he'll be crowing soon about the 1972
Miami Dolphins
remaining the last team to finish a season undefeated.
In the meantime, here's a statement the Dolphins released Sunday night from former coach Don Shula after the
New York Jets
beat the Colts 29-15.
"While the Jets' win today ended Indianapolis' streak and showed once again how difficult it is to go undefeated, I want to congratulate the Colts on a great run. Peyton Manning proved once again this season why he is one of the best quarterbacks in the history of the NFL, and it was certainly no surprise to see him lead the Colts to an NFL-record 23 straight victories. I have the utmost respect for Peyton and his teammates, [general manager] Bill Polian and the entire Colts organization, who have once again put together an outstanding season."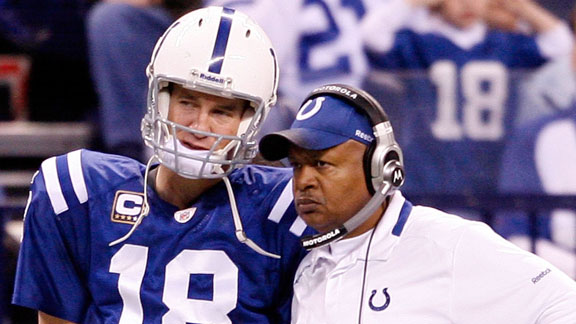 October, 21, 2009
10/21/09
9:33
AM ET
Posted by ESPN.com's Tim Graham
Ronnie Brown
needs 2 more yards Sunday against the
New Orleans Saints
to climb into third place on the
Miami Dolphins
' all-time rushing list. That would put two of the club's three most productive runners in their backfield at the same time.
Brown has 3,876 rushing yards, 1 yard behind Mercury Morris for third place in club history.
Brown's backfield mate,
Ricky Williams
, is second with 4,958 yards. Larry Csonka's 6,737 rushing yards are the most by a Dolphin.
Brown is off to one of the greatest starts by a Dolphins back through five games. His 443 rushing yards rank fourth (Williams is first and third with 565 yards in 2002 and 461 yards in 2003), while his six rushing touchdowns are tied for second most.
The last AFC running back with at least that many yards and six touchdowns through his team's first five games was
LaDainian Tomlinson
in 2005.
October, 15, 2009
10/15/09
1:31
PM ET

Posted by ESPN.com's Tim Graham
| | |
| --- | --- |
| | |
| | Steve Mitchell-US Presswire |
| | Running back Ricky Williams could be on his way to reaching a significant milestone. |
Two summers ago,
Ronnie Brown
and
Ricky Williams
talked openly about becoming the fourth running back tandem in NFL history to rush for 1,000 yards apiece.
Their plan didn't work out too well.
Brown fell 74 yards short of the mark. Williams gained a respectable 659 yards, but nowhere close to what he hoped.
Through five games, however, both are on track to accomplish the rare NFL feat.
As the Dolphins head into their bye week with essentially a third of the season behind them, Brown has rushed for 443 yards, putting him on pace the end the regular season with 1,417 yards.
Williams has rushed for 316 yards, projecting him to finish with 1,011 yards if he can keep it up.
Williams would make history.
It would be the fifth 1,000-yard season of his career, but his first since 2003. Five running backs have gone five years between 1,000-yard campaigns, but nobody has waited six years.
The list of players who went the longest between milestone seasons:
Mike Garrett 1967 and 1972
Ottis Anderson 1984 and 1989
Ernest Byner 1985 and 1990
Gary Brown 1993 and 1998
Mike Anderson 2000 and 2005
To save you the trouble of going to Google search, the other running back tandems to rush for 1,000 yards apiece were Larry Csonka and Mercury Morris for the Dolphins in 1972, Franco Harris and Rocky Bleier for the
Pittsburgh Steelers
in 1976,
Kevin Mack
and Byner for the
Cleveland Browns
in 1985 and
Derrick Ward
and
Brandon Jacobs
for the
New York Giants
last year.
Warrick Dunn
and quarterback
Michael Vick
also eclipsed 1,000 yards for the
Atlanta Falcons
in 2006.
October, 22, 2008
10/22/08
7:33
PM ET
Posted by ESPN.com's Paul Kuharsky
I'm sure Mercury Morris is a fun guy to talk to. I've seen and heard enough of him to know he's an interesting character.
I've also seen and heard enough of him.
Here's an e-mail I got from his publicist or someone pumping him up as available to talk about the league's last undefeated team, an annual event as ridiculous as the one centered around Punxsutawney Phil. (At least Groundhog Day gave us an entertaining movie and the unforgettable Ned Ryerson).
Paul,

WILL THE TITANS GO UNDEFEATED? TALK TO LEGENDARY RUNNING BACK MERCURY MORRIS OF 1972 UNDEFEATED MIAMI DOLPHINS

In the last 35 years, over 1000 teams have fallen by the wayside in pursuit of the 1972 Miami Dolphins undefeated record. Only 7 games into the season this year and there remains one lone unbeaten team, the Tennessee Titans.

Just last year, the New England Patriots tore through the regular season and playoffs with a bold arrogance that turned off many spectators, including members of the undefeated 1972 Miami Dolphins, namely legendary running back Mercury Morris.

This year, Mercury Morris is singing a different tune, actually hoping the Titans join his 1972 Dolphins in Perfectville. Considered the most outspoken member of the 1972 Dolphins, Morris had this to say:

"I'll be watching the Tennessee Titans and I hope to see them go unbeaten," Morris said. "We'd like a little company.

"I see many similarities in our two teams especially in the diverse running game, the fact that we were both playing with backup quarterbacks, the fierce defenses, and the great head coach at the helm.

"Every year, each team has just as much chance to win every game as it does to lose every game. It's called quantum physics and the laws of chance and probability. Thirty-one other teams have already gone down in flames, but the Titans have a 50-50 chance each week to win, and those chances never improve beyond 50-50 because on any given Sunday, anyone can win. As long as you keep that in perspective, you have a chance to win every game."

Is Morris a changed man or is this reverse psychology? If you want to speak to Mercury Morris directly, please respond to this e-mail and we can set something up.
After a few days of consideration -- OK, a few days of not cleaning up my inbox -- I've decided to take a pass. He's done an about face and now wants another undefeated team? Please.
Next year and every year I cover the league henceforth, I hereby pledge to root for every team in the league to be 1-1 after Week 2.
Then what will Mercury Morris do?
August, 22, 2008
8/22/08
12:12
AM ET
Posted by ESPN.com's Tim Graham
Whenever someone dies it's customary, regardless of whether they were loved or loathed, to speak reverentially out of respect to their memory and their loved ones.
The sudden passing of controversial NFL Players Association executive director Gene Upshaw late Wednesday elicited a somber reaction. Players and alumni who despised Upshaw's tactics so much they publicly ridiculed him quickly turned contrite.
At least one adversary, however, declined to observe the traditional bereavement moratorium.
"Gene was not totally a guy whose interest with the players was always there," former Miami Dolphins running back Mercury Morris told the Palm Beach Post for Friday's edition.
"I'd like to put some sugar all over it and do like people do when someone passes away, but the legacy he is leaving is not one people would want to pick up and run with. ... When I heard about his passing, I thought to myself that it is unfortunate he had to pass away now because we as former players were looking forward to the fight with the guy."
Upshaw became a lightning rod for criticism in recent years. Retired players railed against the NFLPA for not taking care of its destitute brothers. Many current players wanted to overthrow Upshaw because they felt misled on various issues.
In his column, Dave George also spoke with former Dolphins safety Dick Anderson, who served as NFLPA president in 1976 and '77 when Upshaw was vice president, and with former Dolphins defensive end Manny Fernandez, who replied "No comment" when asked about Upshaw's legacy.
August, 18, 2008
8/18/08
1:00
PM ET
Posted by ESPN.com's Tim Graham
| | |
| --- | --- |
| | |
| | Andy Lyons/Getty Images |
| | Dan Marino was a rookie All Pro and the youngest quarterback to start a Pro Bowl. |
Readers' pick: Dan Marino, QB
There was no way possible to get this one wrong. Dan Marino is the greatest Dolphin like the Beatles are the greatest band from Liverpool.
Marino finished with the third-highest percentage of any player in our franchise polls. Only by Barry Sanders and John Elway received higher shares.
Take a look at these numbers and then try to justify voting for Bob Griese:
Marino was a first-ballot Hall of Famer who retired as the most prolific passer in NFL history. His records, many since broken by Brett Favre, included most attempts (8,358), completions (4,967), yards (61,361) and touchdowns (420).
Marino was a rookie All Pro and the youngest quarterback to start a Pro Bowl. In his second season, he threw for 5,084 yards and 48 touchdowns. He had six 4,000-yard seasons. He passed for 400 or more yards 13 times and 300 or more yards 63 times, both NFL records. His 37 fourth-quarter comeback drives are second to Elway's 43.
OK, so Griese won a pair of Super Bowls and Marino didn't win any -- the only accomplishment missing from a stellar resume.
Marino never had the runners, never had a Larry Csonka or a Jim Kiick or a Mercury Morris. Year after year, he slung the Dolphins over his shoulder without a complete offense around him.
"The greatest disappointment as a team owner and a Dolphins fan," Dolphins owner Wayne Huizenga said at Marino's retirement announcement in March 2003, "is that you never won a Super Bowl."
That was the only disappointment.